Decorative Edge Shawl and Scarf Knitting Patterns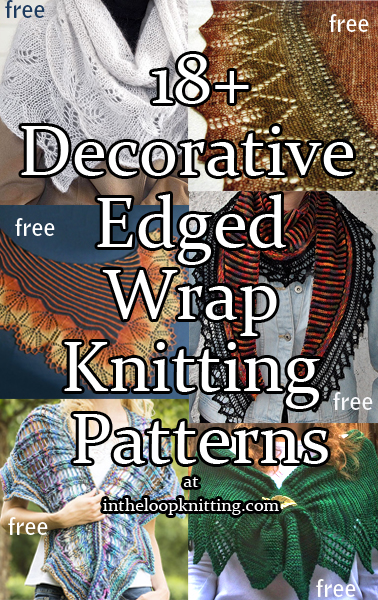 These shawls and scarves feature borders and edges of decorative lace or other stitches. The bodies of these shawls are usually an easy stitch like garter and stockinette to showcase the eye-catching edge.
To get the knitting patterns, scroll down the page to the individual pattern you want and click on the link to that pattern.
These patterns are not my designs but links to other designers who have generously shared their patterns. If you have questions about how to knit a specific pattern, please contact the designer directly.
All links on this site are for informational purposes, but please note that some links are to affiliate sellers that pay me a small commission on purchases.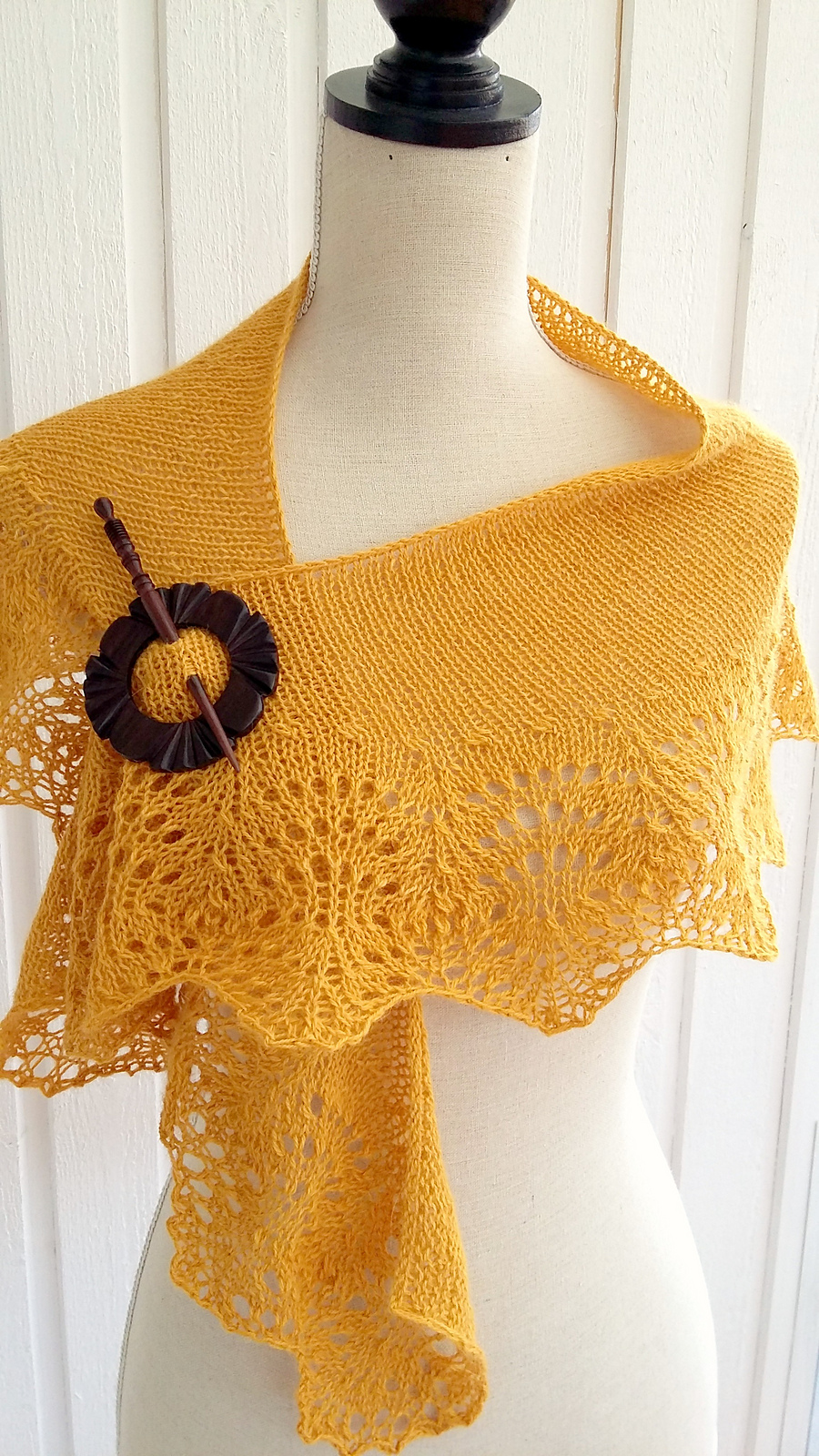 Sunburnt Shawl
Crescent shaped stockinette shawl with ostrich plume lace border. Designed by Nidhi Kansal. Pictured project took less than two skeins of the recommended sport weight yarn. Pictured project by drizzleofhoney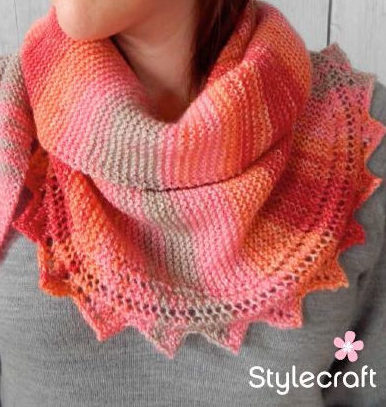 Sawtooth Edge Crescent Shawl
Easy garter stitch crescent shawl with lace edge takes just two skeins of the recommended yarn. Great with multi-colored yarn.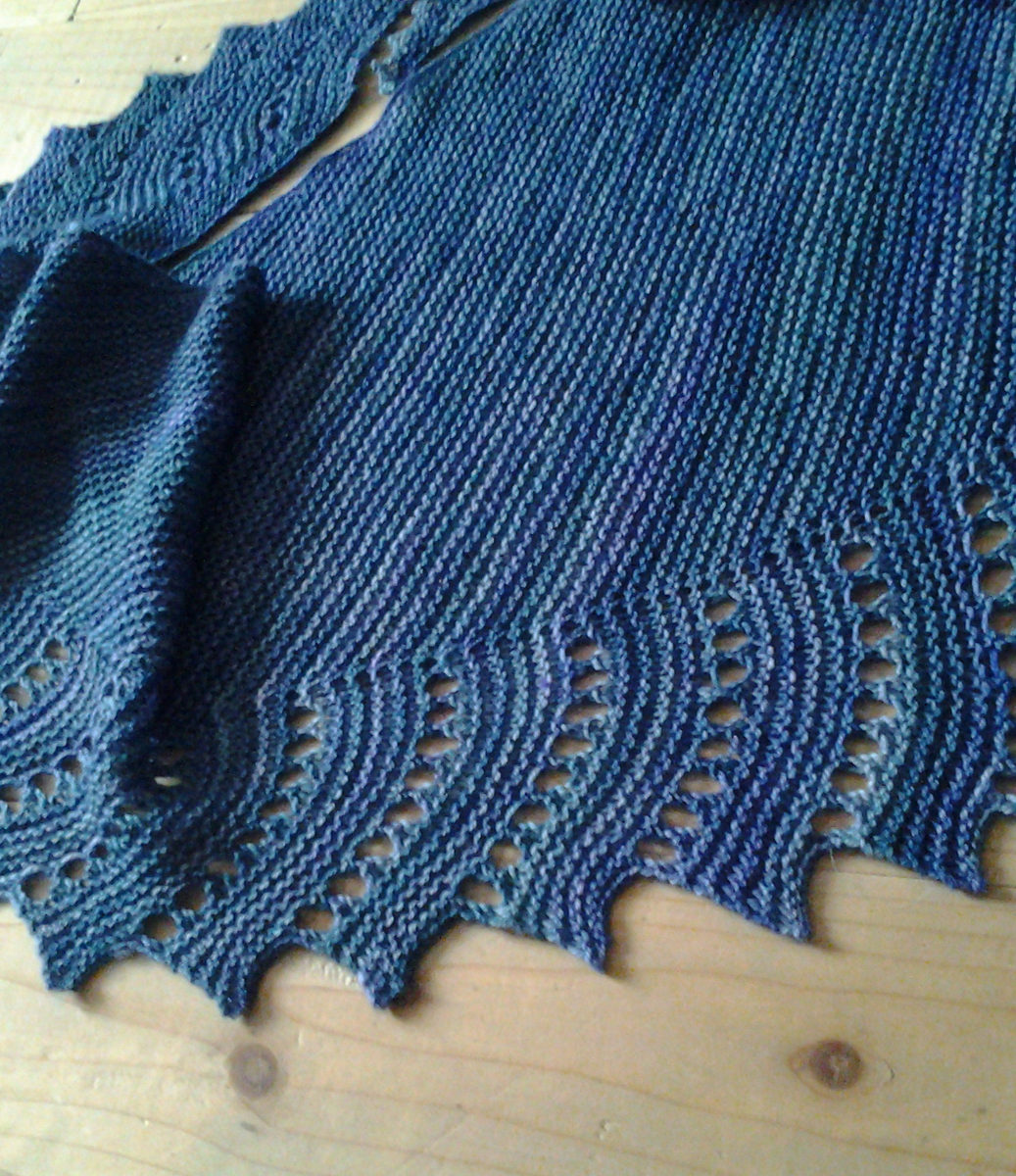 Close to You Shawl
Designed as one skein project (though you can use more for a larger shawl), this simple triangular shawl is knit with garter stitch and a eyelet zigzag border. Designed by Justyna Lorkowska. Great with multi-colored yarn! Pictured project by SerendipityStitch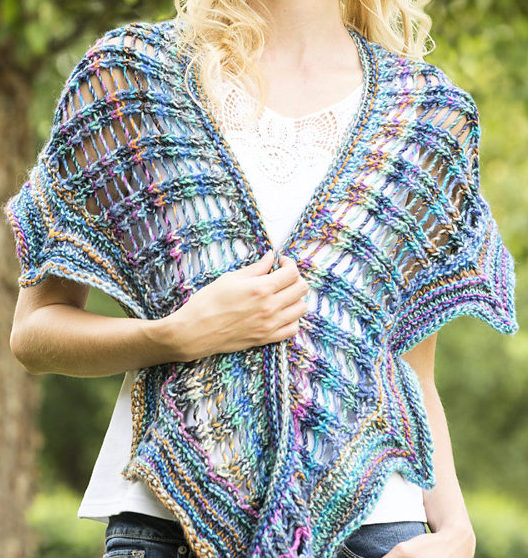 Dragon Lady Shawl
This shawl features an open mesh lace shaped with short rows with sawtooth edge. Designed by Amy Gunderson. Great with multi-colored yarn!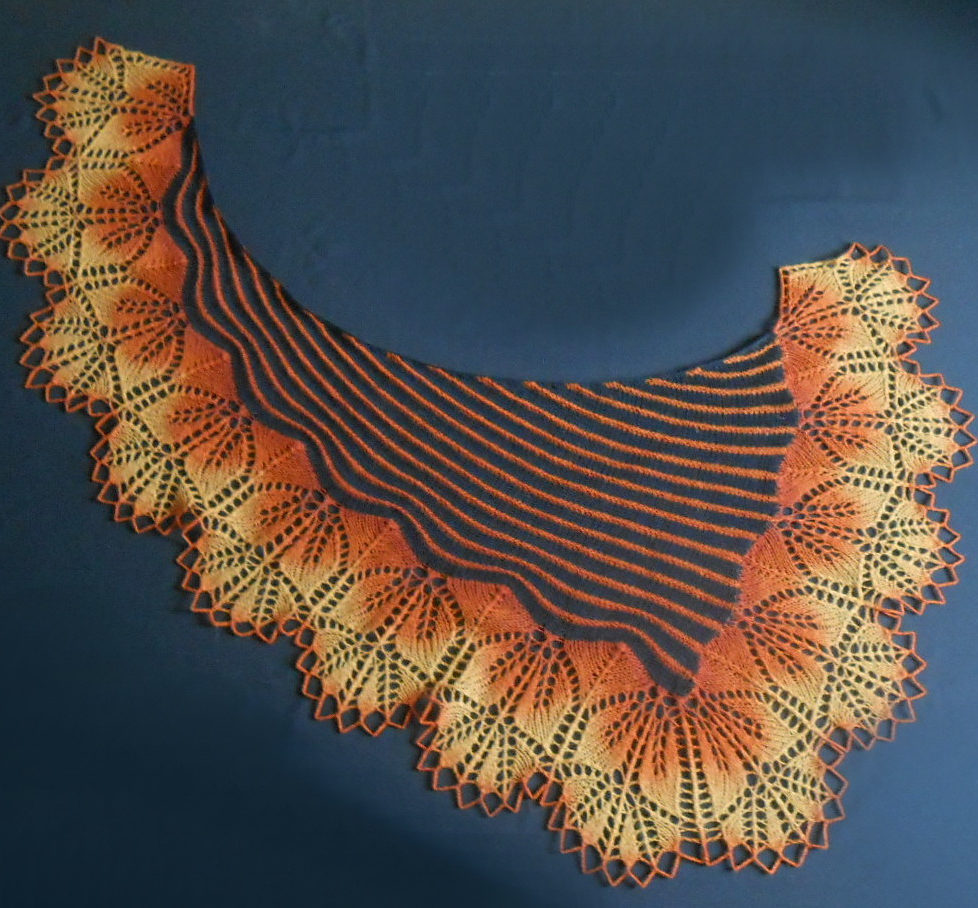 Autumn Shawl
This stunning shawl features a body of simple stockinette with purl stripes and edged with shaped floral lace. Designed by Irena D. Available in English and Russian. Great with multi-colored yarn!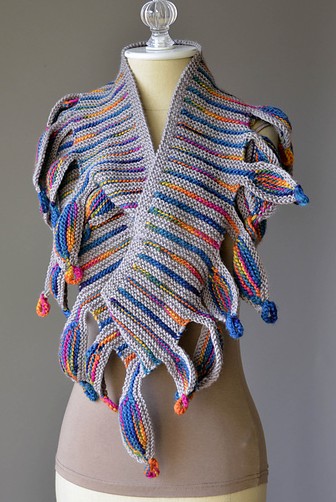 Jest Scarf
Amy Gunderson's scarf features colorful buds. Great with multi color yarn.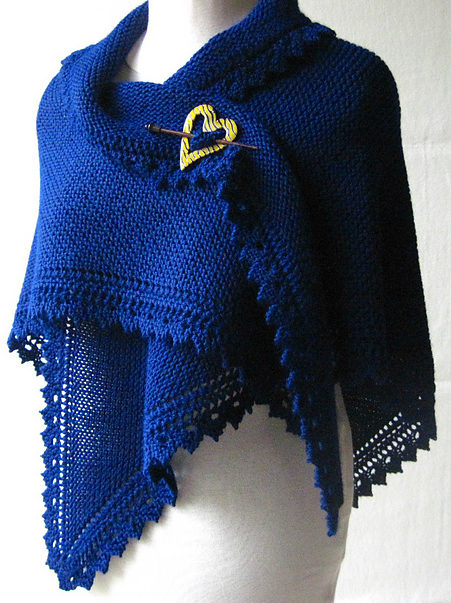 Truly Tasha's Shawl
Designed by Nancy Bush , this shawl features a knit body with a decorative lace border. Pictured project by scrandalla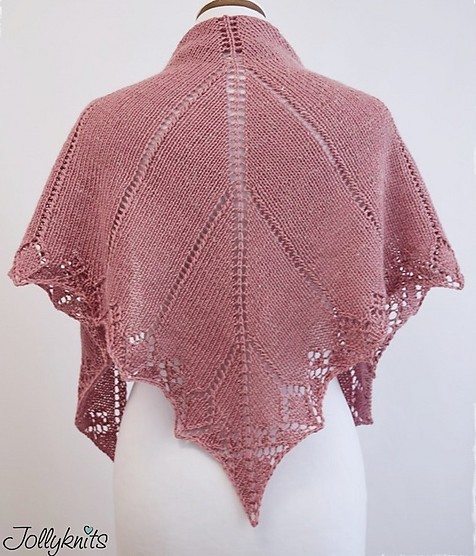 My First Lace Shawl
This shawl features a stockinette body with eyelets and decorative diamond shaped edge. Jolanda Schneider provides 29 pages of instructions and photo tutorials to help you knit your first lace shawl (or next lace shawl!)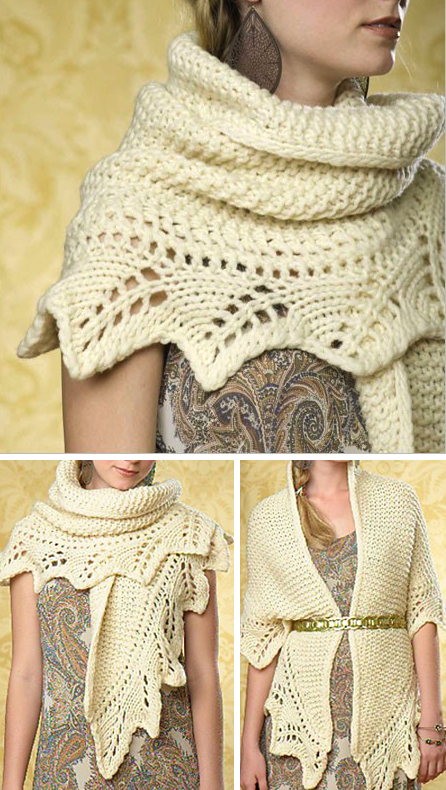 Grand Palais Shawl
This wrap is a garter stitch triangle with a decorative lace edging that is knit on to the shawl. Quick knit in super bulky yarn. Rated easy to intermediate by Ravelrers. Designed by Tanis Gray.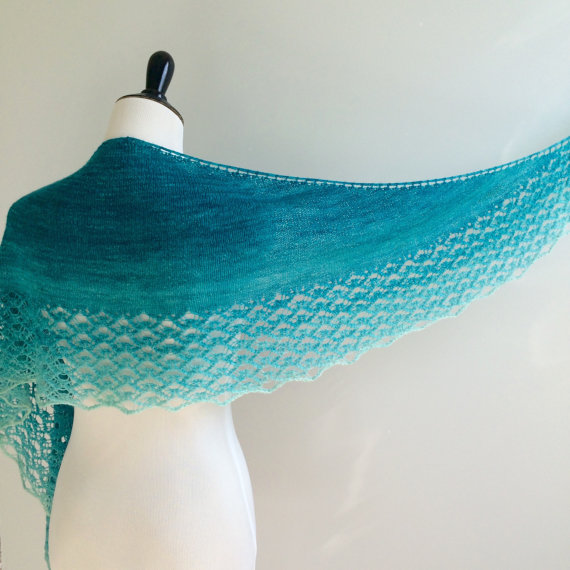 Havasu Falls
Havasu Falls is a crescent shaped shawl that is perfect for gradient yarns. Finished Size: 72 inches x 16 inches but easily customizable to get the size you want! Both charted and full written instructions are included. Get the knitting pattern on Etsy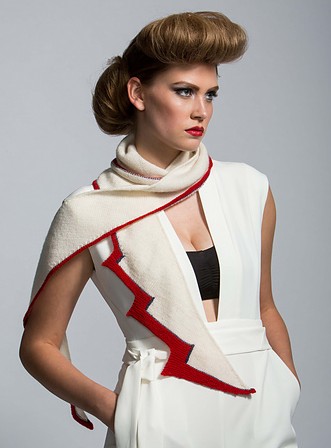 Oddity Scarf
Annie Watts designed this this eye-catching scarf. Knit from the top down with just a little bit of intarsia at the edge, this scarf is long enough to wrap snugly around your neck or to drape casually from your shoulders.

Plissados Scarf
Easy scarf or capelet featuring eyelet shaping and a fabulous ruffled border uses just one skein of the recommended yarn. Designed by Jean Clement, this pattern is one of the 53 patterns in the book Easy as 1-2-3 Skeins.

Dragon Tail Scarf
This unique scarf with bold geometric pattern and inverted scallop edge is an easy pattern.

Ishka Shawl
Ishka is an easy reversible stole, perfect for beginners in lace knitting, according to the designer. Looks great in variegated yarn!

Gothic Shawl
Terri Rosenthal's shawl is perfect for multi-colored yarn. One of 30 patterns in Noro Silk Garden: The 20th Anniversary Collection.
Terry Matz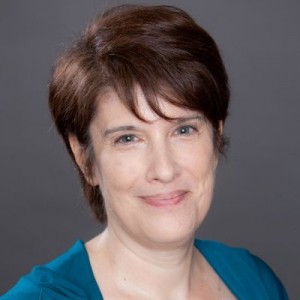 Terry is a knitting late-bloomer, learning to knit as an adult from Internet tutorials, because she wanted a craft that was useful, fun, and portable. Knitting hats for cancer patients inspired her to design her own patterns—available for free at her blog, intheloopknitting.com. Terry met her husband Ken at a science fiction convention and moved to the Kansas City area to be with him more than 30 years ago. Terry supports her yarn stash by creating websites and other digital media. Terry firmly believes in Knitting in Public—it's a great conversation starter!