Vests for Babies and Children Knitting Patterns
Vests are versatile garments for baby and children and easy projects for knitters. As an extra layer, vests won't hinder little arms and legs and warms without overheating. And many can be worn as sleeveless tops in warmer weather. And with no sleeves, they are quick projects for knitters!
To get the knitting patterns, scroll down the page to the individual pattern you want and click on the link to that pattern.
These patterns are not my designs but links to other designers who have generously shared their patterns. If you have questions about how to knit a specific pattern, please contact the designer directly.
All links on this site are for informational purposes, but please note that some links are to affiliate sellers that pay me a small commission on purchases.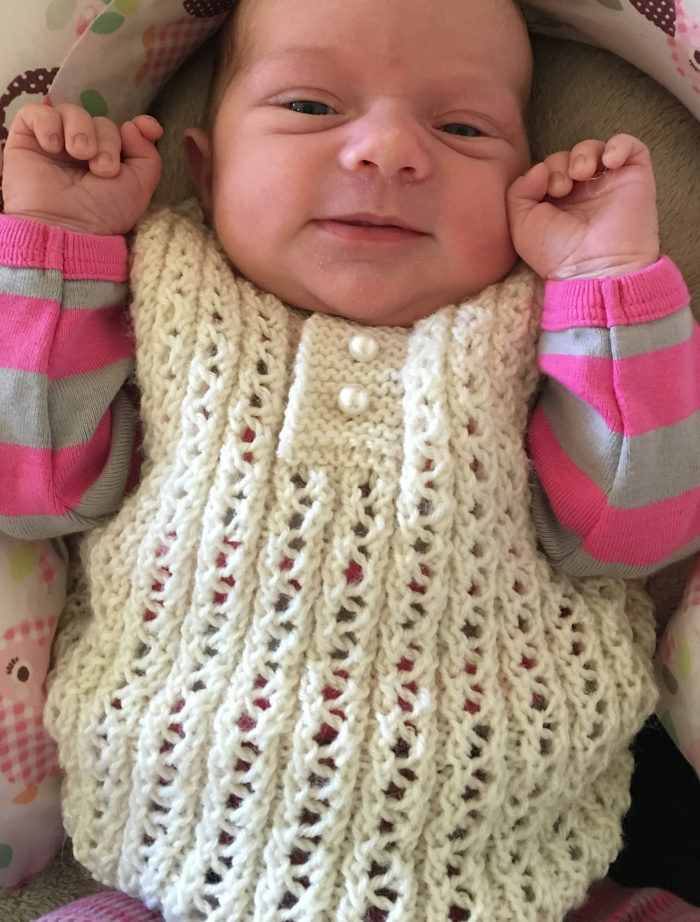 Eyelet Rib Baby Vest
Pullover baby vest is knit with a 4 row repeat eyelet rib pattern. Designed by Anne Dresow. Sizes 0-3 months, 6-12 months. Available in English and Danish. Sport weight.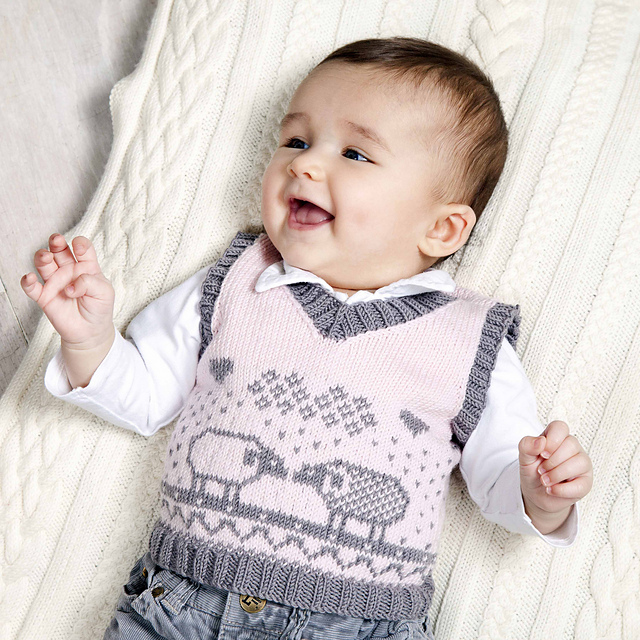 Milly Vest
Designed by MillaMia, this simple top features a fair isle pattern of sheep and hearts. To fit age 3-6 months, 6-12 months, 12-24 months, 2-3 years, 3-4 years, 4-5 years.
Tummy Warmer
Angela Tong's baby vest is knit in the round, seamlessly from the top down and uses a twisted-stitch honeycomb pattern to add insulation. Newborn, 3-6 months

Child's Side Buttoned Vest
Heather Lodinsky designed this easy vest with circle asymmetrical front. Child sizes: 2,4,6,8 years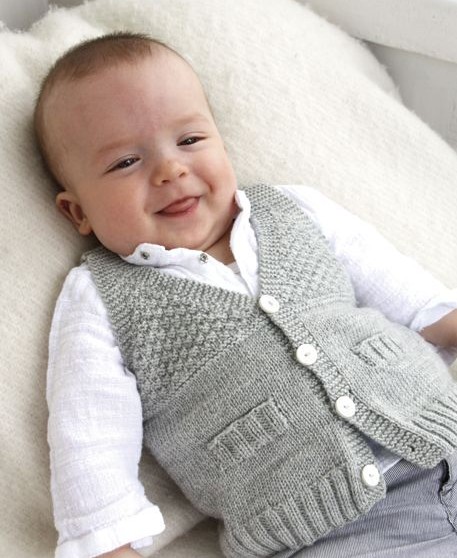 Junior Vest
Size: 1/3 – 6/9 – 12/18 months (2 – 3/4) years. DROPS Design created this v-neck buttoned best for your little sophisticate.

Melika Lacy Baby Vest Top
marianna mel's easy lace baby vest is knit in one piece with no seams. Two sizes: 6 months and 1 year.

Seeded Rib Vest
Jodi Lewanda's classic boy's vest also has a matching adult vest for dad. Child sizes: 2,4,6,8 years

Baby Argyle Vest and Hat
Jennie Harrell's vest closes at the shoulder for easy dressing. Sizes newborn, 6 months, 12 months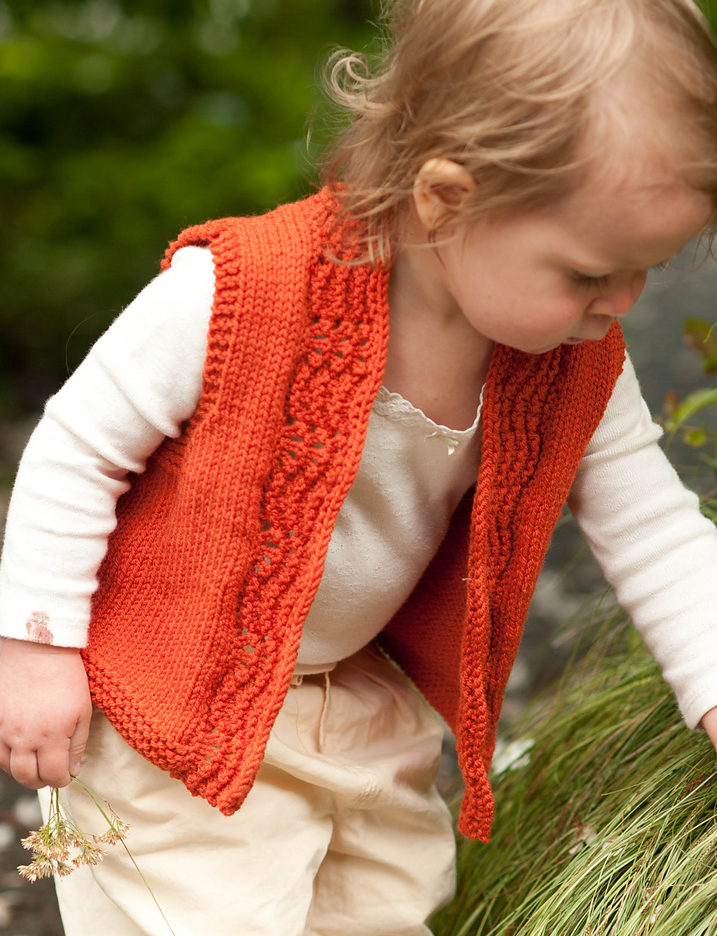 Clementine Baby Vest
Open front cardigan vest with lace edges. Sizes 0–6m (6–12m, 12–18m, 18–24m, 2T–3T, 4y, 6y). Designed by Carrie Bostick Hoge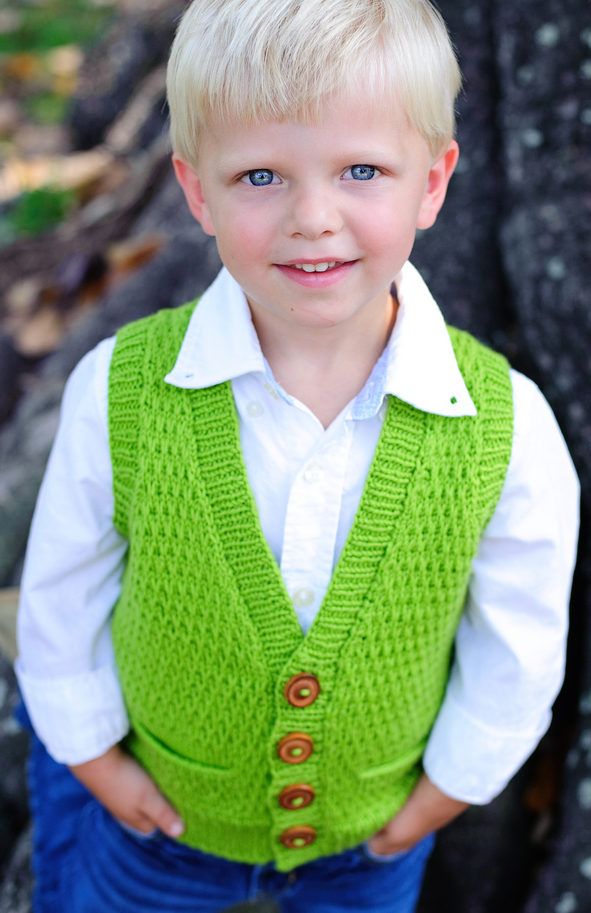 Tycoon Baby and Child Vest
This cardigan vest features a simple slip-stitch texture pattern, front pockets, a deep v-neck and buttons up the front. Sizes 6 months(12 months, 18 months, 2, 4)(6, 8, 10, 12). Designed by Kate Oates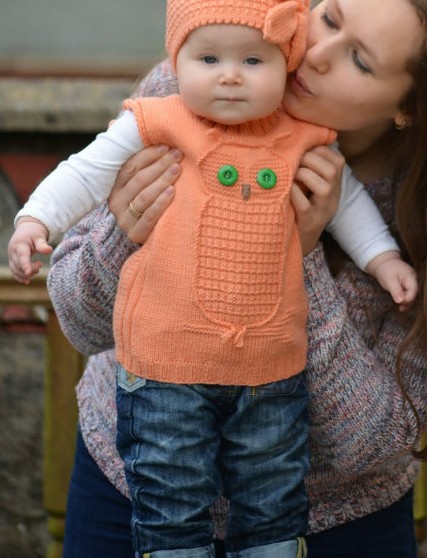 Wise Owl Vest
The pattern is made for three sizes: 6-9 months, 9-12 months and 12-18 months.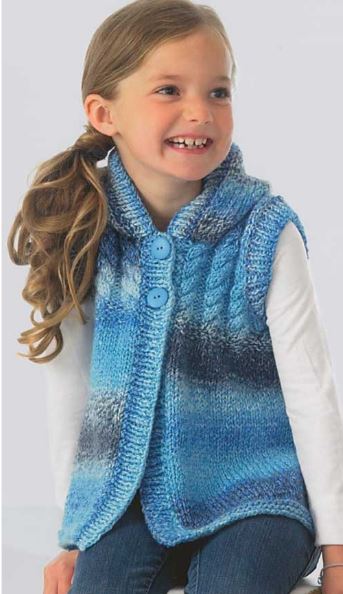 Hooded Vest
Knitting pattern for Hooded Vest for kids in chunky yarn featuring a cable yoke. Sizes 24(26,28,30-3/4, 32-3/4, 34-3/4)" Designed by James C Brett. Great with multi-color yarn!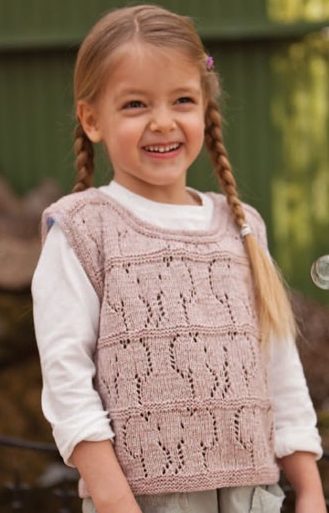 Elephant Vest
Child's vest with images of a baby elephant outlined in lace. Size 21 (22, 27, 28½)" chest circumference
[widget id="black-studio-tinymce-8″]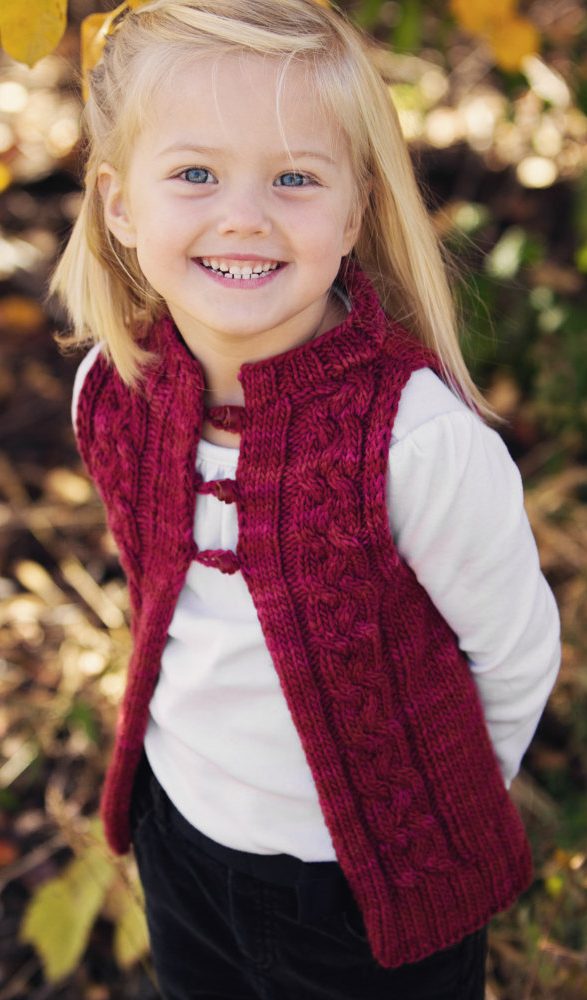 Dulce Cabled Vest in Baby and Child Sizes
Pattern includes sizes: 6 mos (12 mos, 2, 4, 6, 8, 10)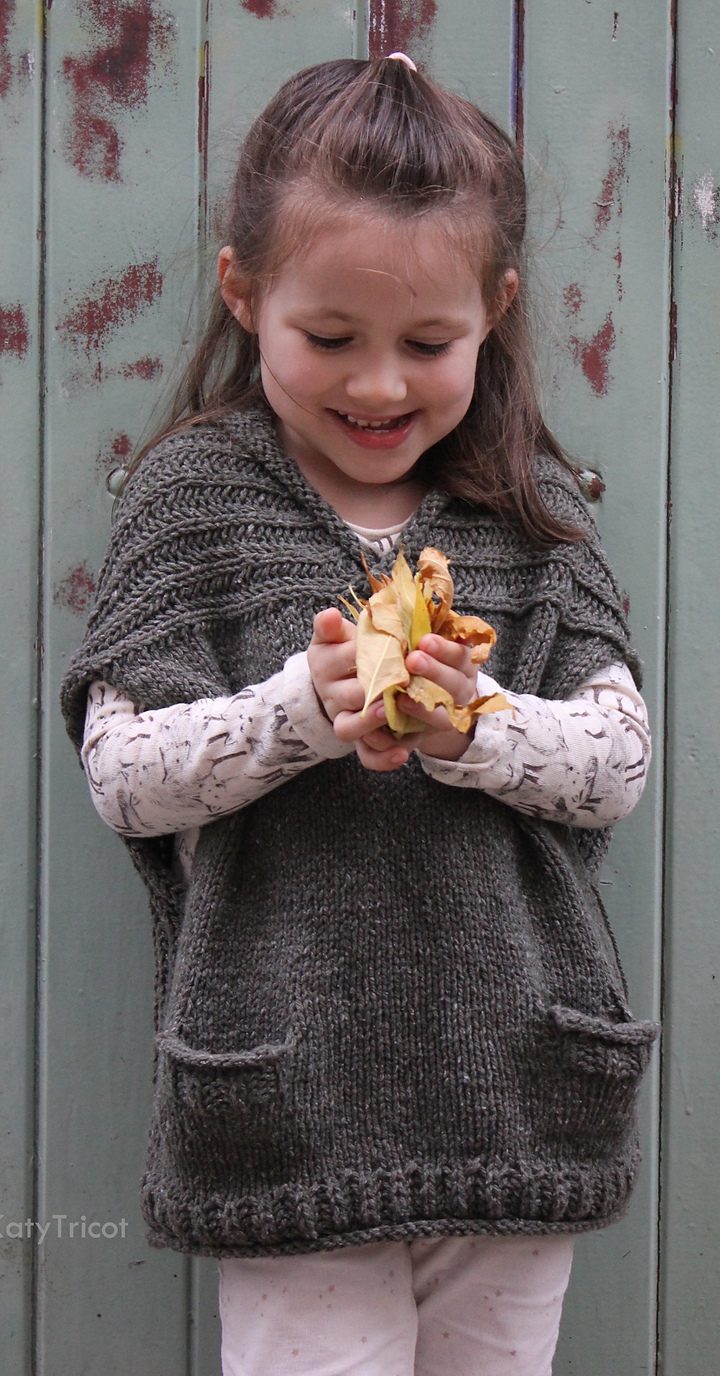 Comfort Vest in Child and Adult Sizes
Great Mommy and Me pattern! Ekaterina Blanchard's vest features pockets, brioche rib yoke, rolled neckline for sizes from 1 year to adult. Sizes: Child 1/2 (4/6, 8/10, 12/14) Adult 32/34 (36/38, 40/42, 44/46)
Terry Matz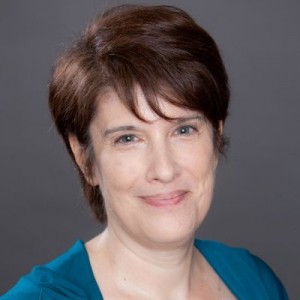 Terry is a knitting late-bloomer, learning to knit as an adult from Internet tutorials, because she wanted a craft that was useful, fun, and portable. Knitting hats for cancer patients inspired her to design her own patterns—available for free at her blog, intheloopknitting.com. Terry met her husband Ken at a science fiction convention and moved to the Kansas City area to be with him more than 30 years ago. Terry supports her yarn stash by creating websites and other digital media. Terry firmly believes in Knitting in Public—it's a great conversation starter!