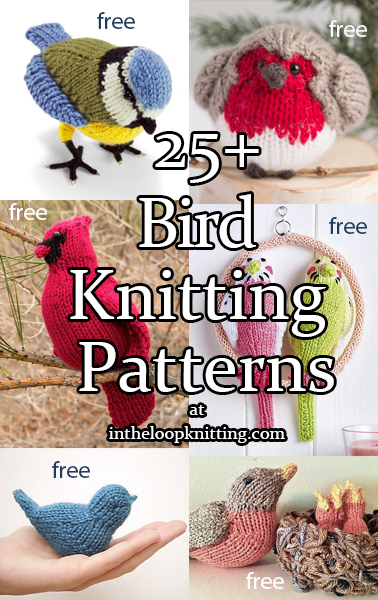 Knitting patterns for toys, accessories, and more inspired by a variety of birds including robins, bluebirds, budgies, and more.
To get the knitting patterns, scroll down the page to the individual pattern you want and click on the link to that pattern.
These patterns are not my designs but links to other designers who have generously shared their patterns. If you have questions about how to knit a specific pattern, please contact the designer directly.
All links on this site are for informational purposes, but please note that some links are to affiliate sellers that pay me a small commission on purchases.
Free Patterns

English Robin
Learn how to knit this adorable English robin bird toy, complete with a cherubic little body, wings, tail, and pointy beak. Megan Kreiner not only shows you how to knit the bird, but also demonstrates how to assemble all of the bits and pieces and attach it to a twig. Pattern and instructional video class available for free with a free trial at Creativebug OR purchase pattern and class individually.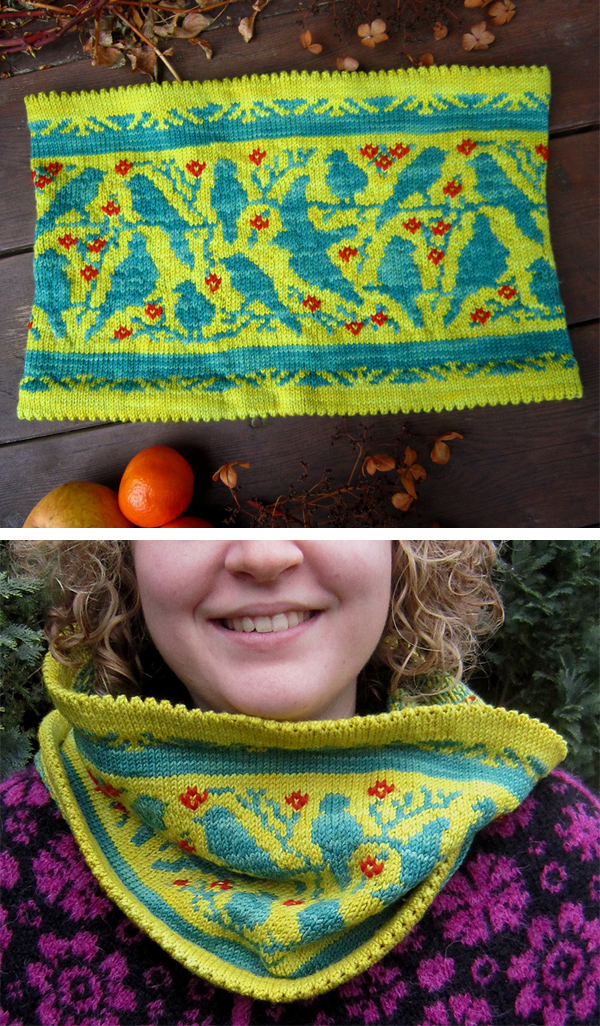 Birds Cowl
Perching and flying birds in stranded colorworks. Designed by Dela Hausmann. Available in English and German. Sport weight yarn.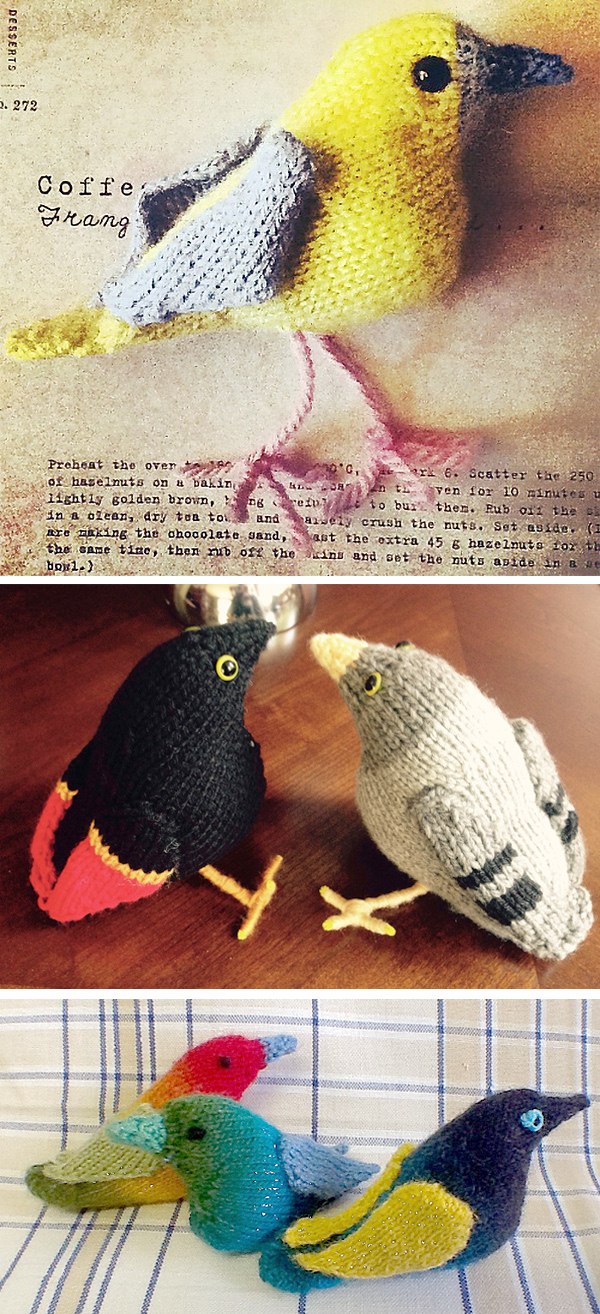 Feathered Friend
Bird softie worked in the round. Designed by Claire Garland and excerpted from her book Knit & Purl Pets. DK weight yarn. Pictured projects by the designer, mayan0861, and Mohairyone.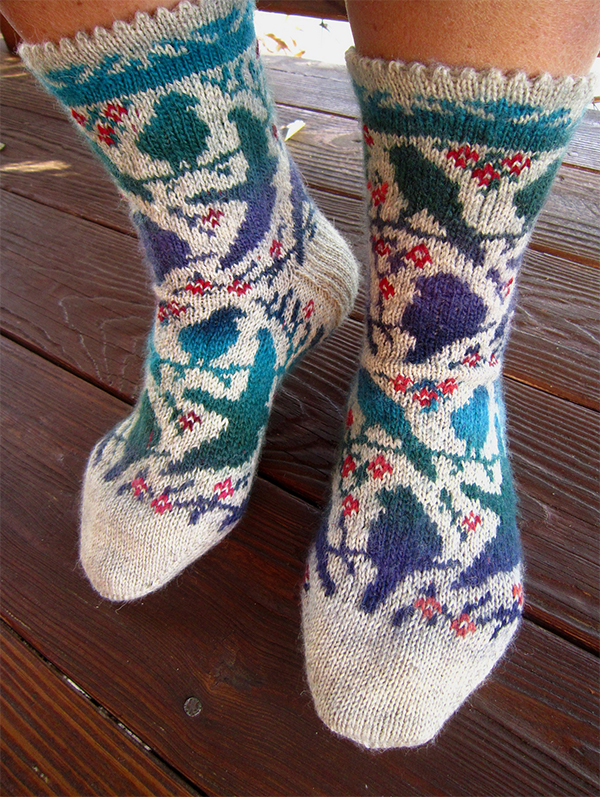 Bird Resting Place Socks
Perching and flying birds in stranded colorwork on socks. Designed by Dela Hausmann. Sizes US7.0−9.0 [German 38−43]. Available in English and German. Fingering weight yarn.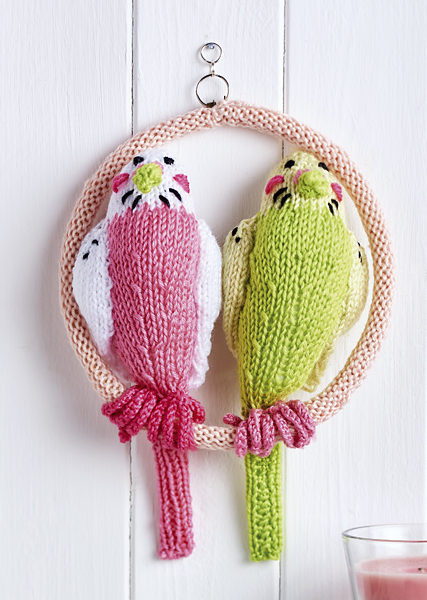 Bella and Basil Budgies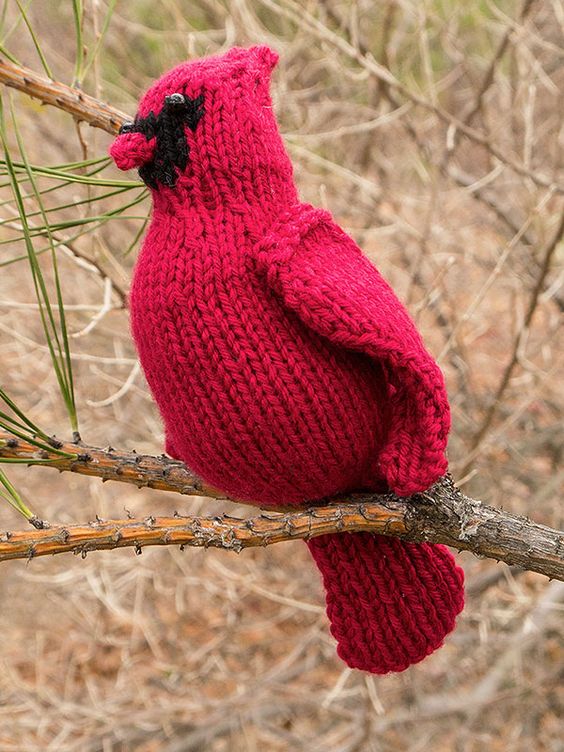 Francisco Cardinal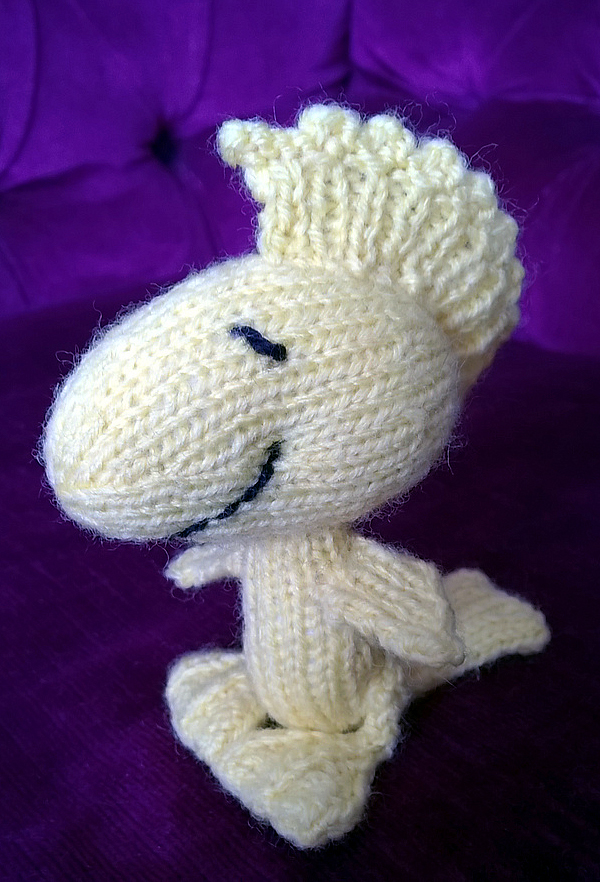 Woolstash
A cute little yellow bird, the companion and best friend to a very special dog. Quickly and easily made in a few hours using less than 25gms of yarn. Designed by Sara Hall. Pictured project by Lisia Designs. DK weight yarn.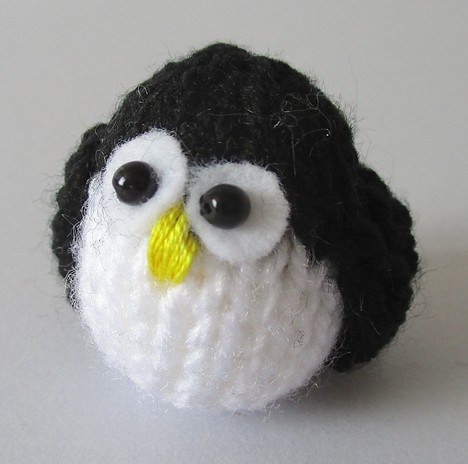 Teeny Penguin
Designed by Amanda Berry, this tiny toy is approximately 4cm tall.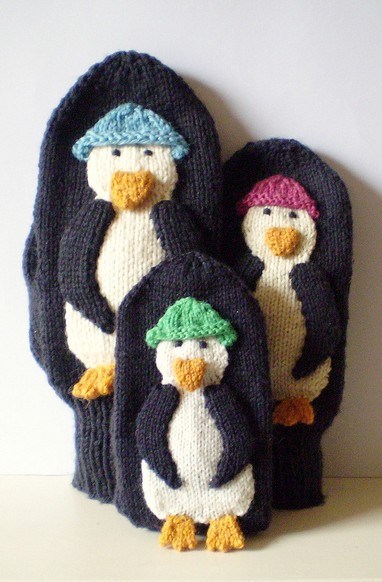 Penguin Mittens
Designed by Frankie Brown, these mittens come in small, medium, and large.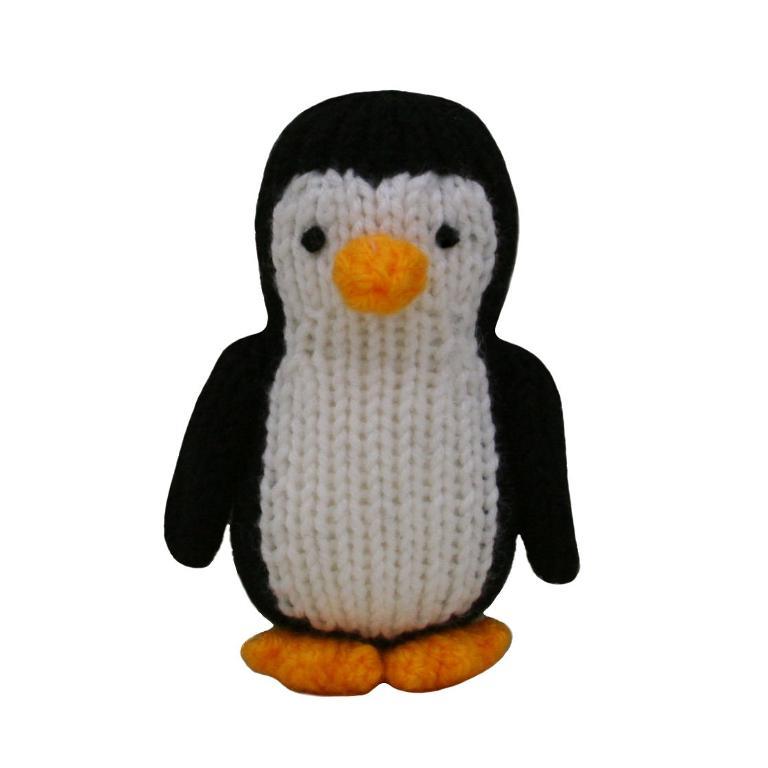 Penguin Toy
Designed by Knitables for their Noah's Ark pattern. Height approximately 10 cm (3.93 inches) / Width approximately 7 cm (2.75 inches)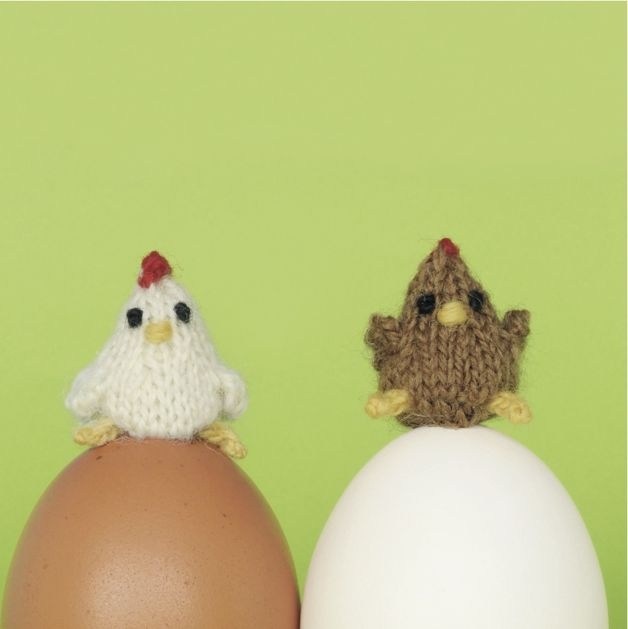 Teeny Tiny Mochimochi Chickens
These 1 inch chickens are from Anna Hrachovec's book Teeny-Tiny Mochimochi: More Than 40 Itty-Bitty Minis to Knit, Wear, and Give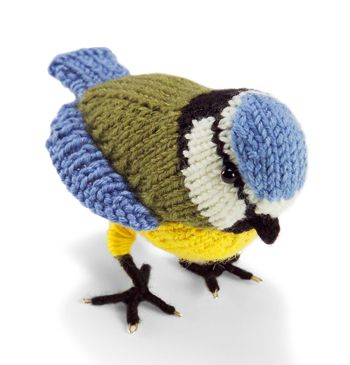 Blue Tit
This small bird softie is excerpted from Leslie Stanfield's book 75 Birds, Butterflies & Little Beasts to Knit & Crochet. This is not safe to be used as a toy, but you can make it safe for small children by not adding the legs and using French knots for the eyes instead of beads.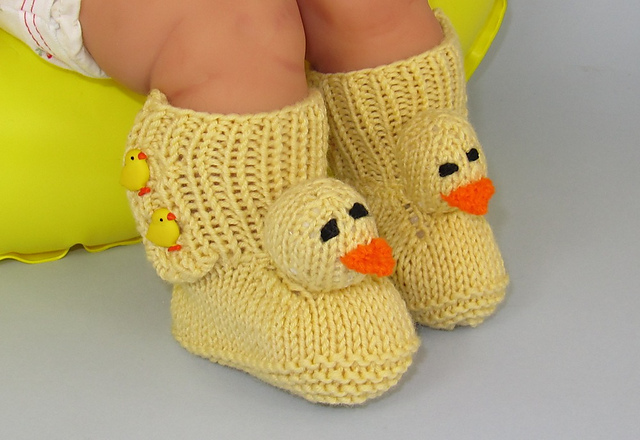 Baby Chick Booties
Christine Grant's booties are knit flat and sized for XS (preemie and tiny baby), S (newborn-3 months), M (3-6 months) and L (6-9 months)

Seamus the Owl Small Softee Free Pattern
Seamus is one of the most popular pins onmy Pinterest boards and you can see why with his cute little body and face.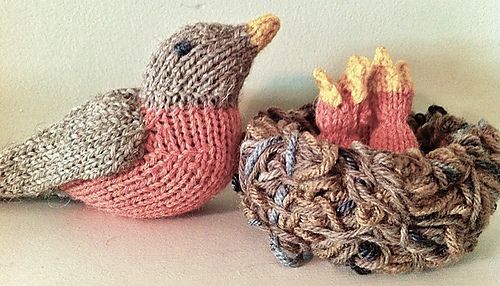 Spring Robin, Baby Robin, and Nest.
Sara Elizabeth Kellner has created another ingenious pattern. The robin is quick and simple knit, with the body worked in the round in one piece and the wings knit separately and then sewed on. Size of adult robig is about 8 inches long, and 2 1/2 inches wide. Pattern for the baby robin and instructions for the nest are also included.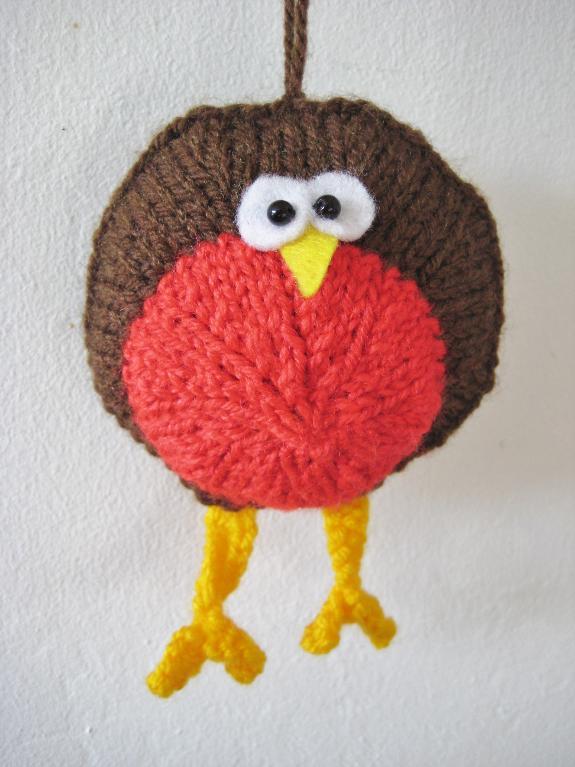 Round Robin Toy
Designed by Amanda Berry, this tiny Robin is designed with seaming instead of color changes. Approximately 8cm diameter (excluding the legs).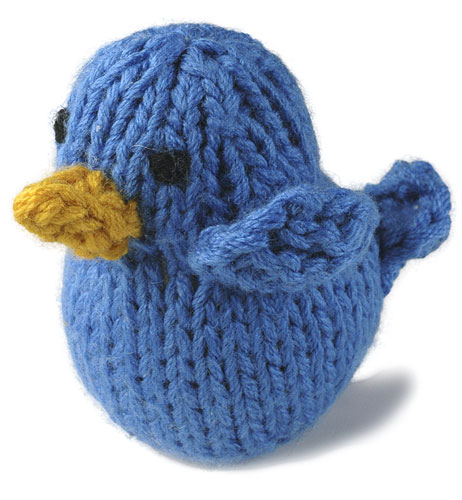 Bluebird of Happiness
Berroco designed this tiny bird is approximately 3" across x 3" high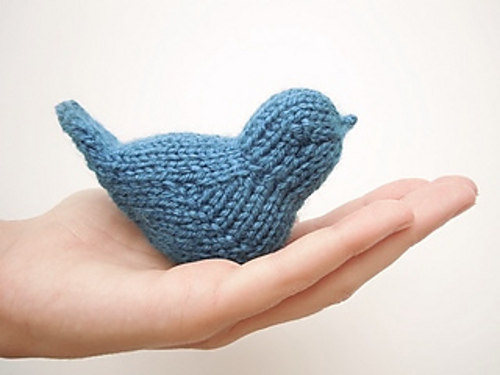 Bluebird of Happiness
Sara Elizabeth Kellner designed this small bird toy or ornament that can be knit in any color you want and can also be used as a hanging ornament. Knit a whole flock!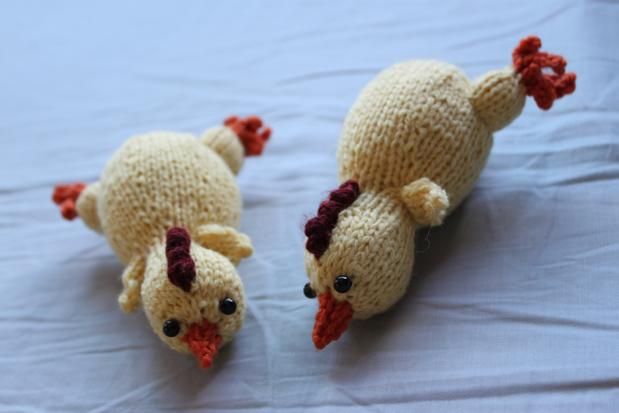 Rubber Chicken
Cassidy Clark designed this chicken for Knit Picks.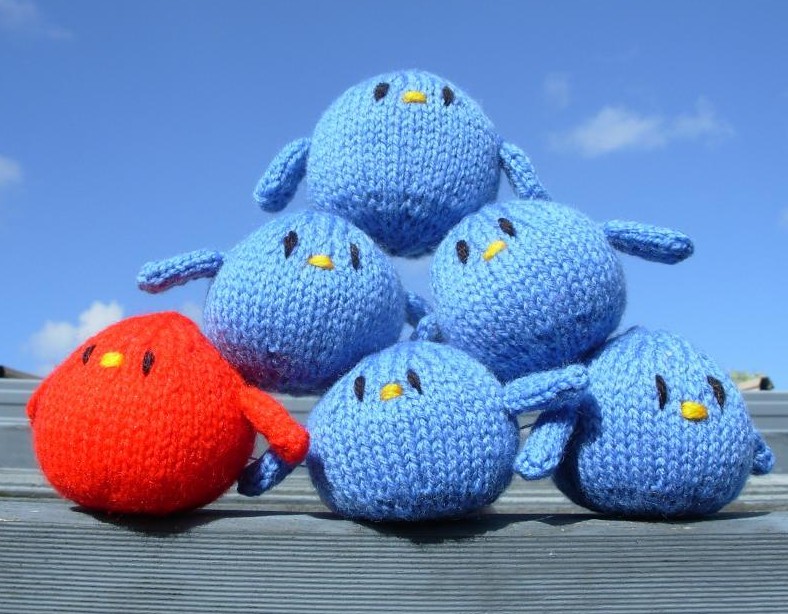 Twitter Tweet Toy
This easy pattern by Prue Loone is knit flat and seemed. Approx 3in (7cm) tall and 3in (7cm) wide. Great for leftover yarn.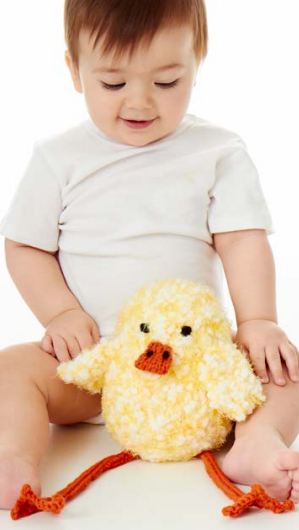 Happy Go Lucky Ducky
This cuddly duckling by Yarnspirations is approximately 7″ [18 cm], tall excluding legs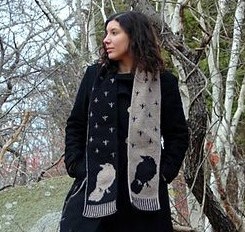 Crovus Scarf
Alasdair Post-Quin designed this reversible scarf for lovers of crows and ravens in double knit.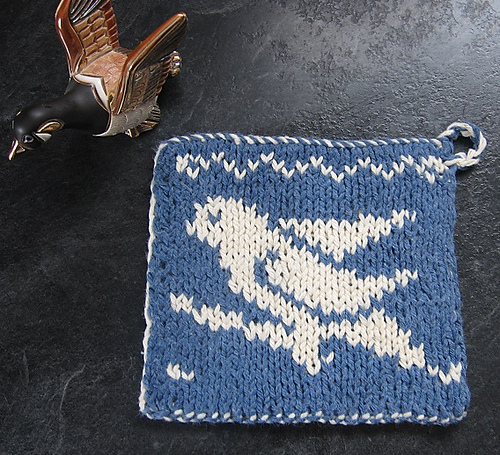 Double Knit Bird Dishcloth HotPad
Margaret MacInnis offers a pattern and tutorial for a bird motif double knit for dishcloth, hot pad or coaster.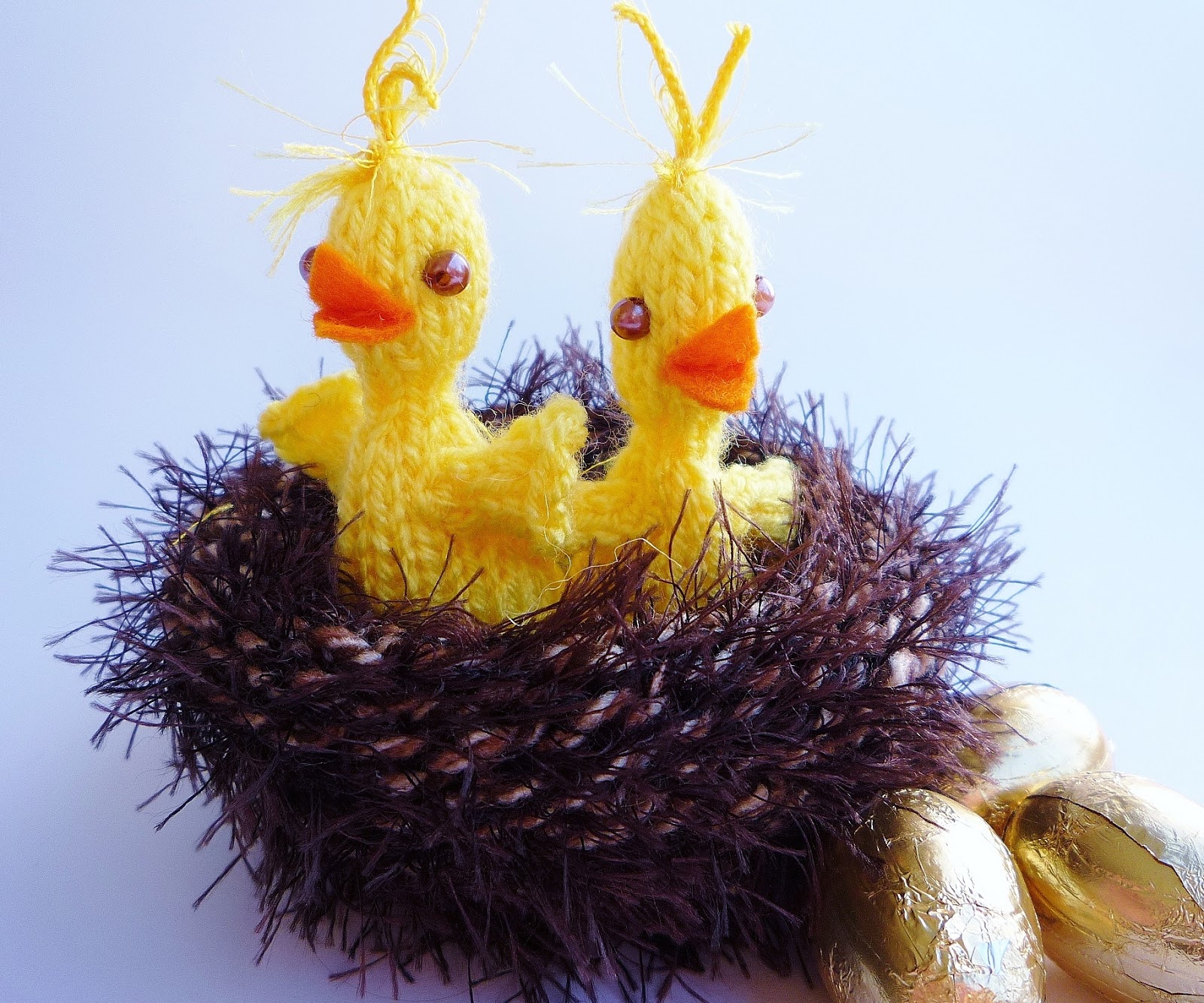 Chicks in Nest Candy Egg Holder
These baby birds are sitting pretty on chocolate eggs hidden in the nest!
Patterns for Purchase

Song Bird Afghan and Pillow
Create a gorgeous work of art with this colorful afghan and pillow set featuring 12 popular songbirds. Afghan is 41 inches (104 cm) wide x 55 inches (140 cm) high; pillow fits standard 14 inch (36 cm) pillow form. Uses worsted weight/aran yarns. Made in panels for easier knitting. Includes robin, bluebird, chickadee, cardinal, blue jay, oriole, whipporwill, and more. Any of the birds can be made into the pillow. Designed by Craft Designs for You.

Norman the Peacock
Peacock softie approximately 21cm/8¼in tall when seated and his tail feathers are around 35cm/13¾in at their widest point. His head is knitted using the intarsia method. All pieces are knitted flat on straight needles (although most can be knitted in the round). Designed by Trish Roberts. DK weight yarn.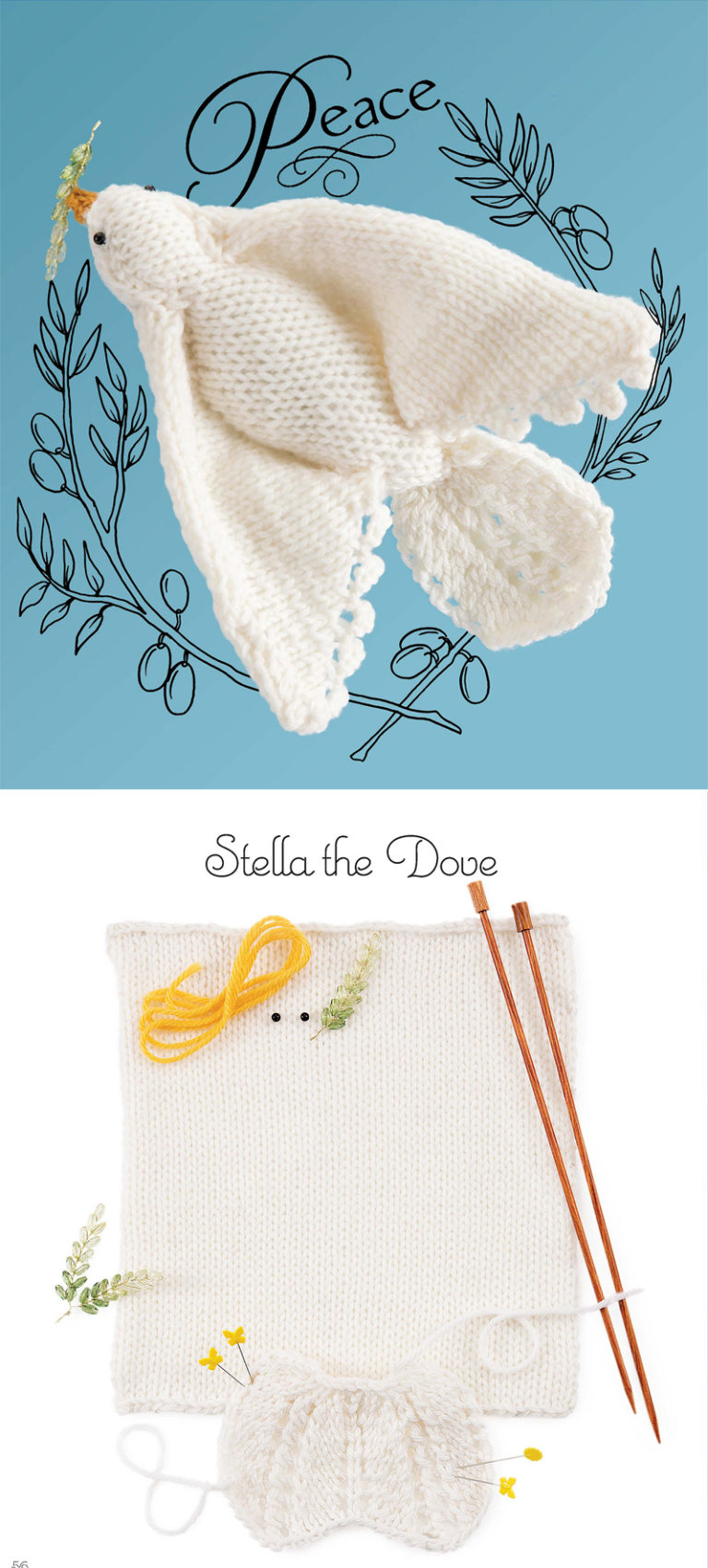 Dove Knit From a Square
Stella the Dove is constructed from a stockinette square with picot details that is folded and seamed into a bird toy shape. The lace tail is knit separately and sewn on. Stella can be knit to different sizes by using different yarn weights and gauges. One of the 25 animal patterns in Nicky Epstein's Knit a Square, Create a Cuddly Creature: From Flat to Fabulous – A Step-by-Step Guide.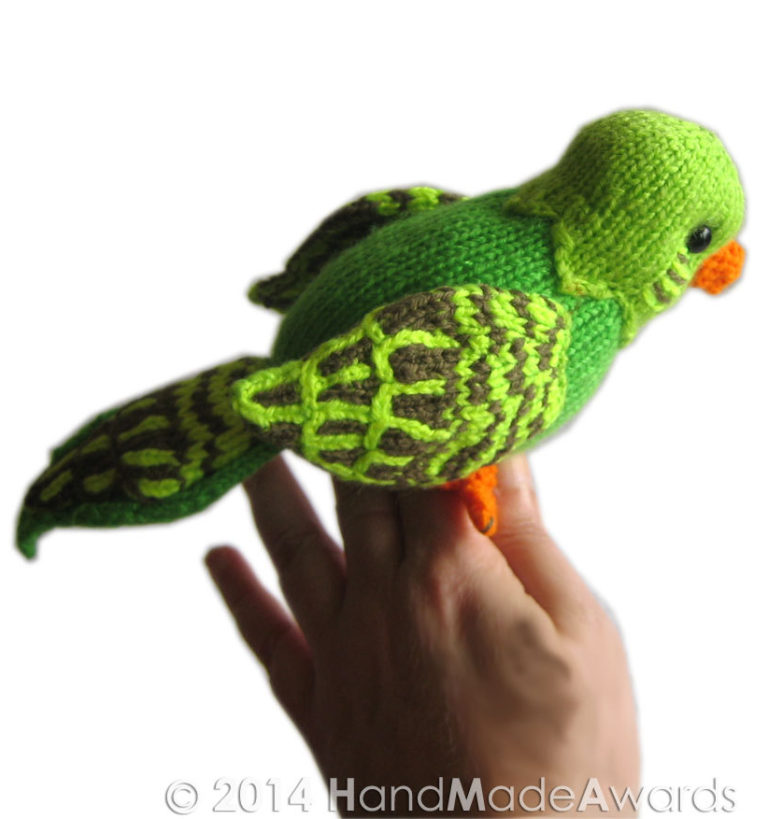 Budgie Parakeet Toy
I love parakeets and glad to find one to knit. Manolito Parakeet measures from top head to tail 4.13 inches-10.5 cm and from beak to tail 7.87 inches- 20 cm.

Penguin Pillow
This cute pillow cover is made to fit around a 14″ X 14″ pillow form.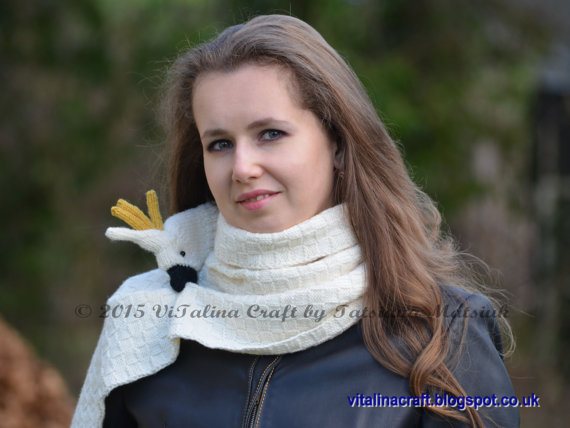 White Cockatoo Scarf
Scarf length approximately (excluding fringe): 152 cm/ 60 inches. Scarf width: 25 cm/ 10 inches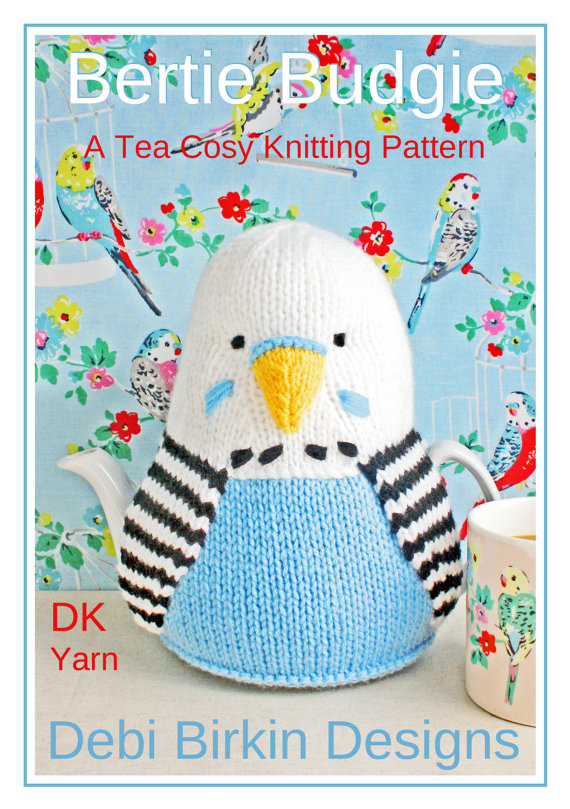 Budgie Tea Cosy
I love budgies and this tea cozy parakeet is adorable!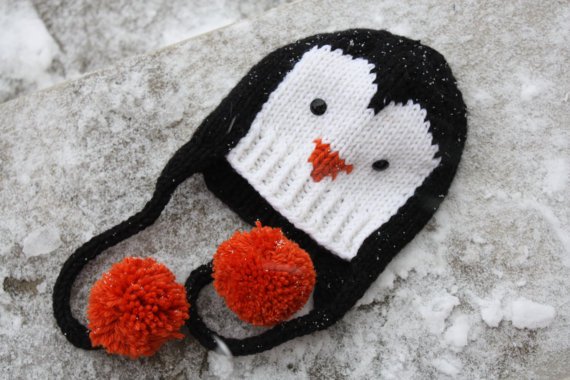 Waddles Penguin Toque
Worked seamlessly, from the top down, in stockinette stitch, this little hat can be knit up rather quickly!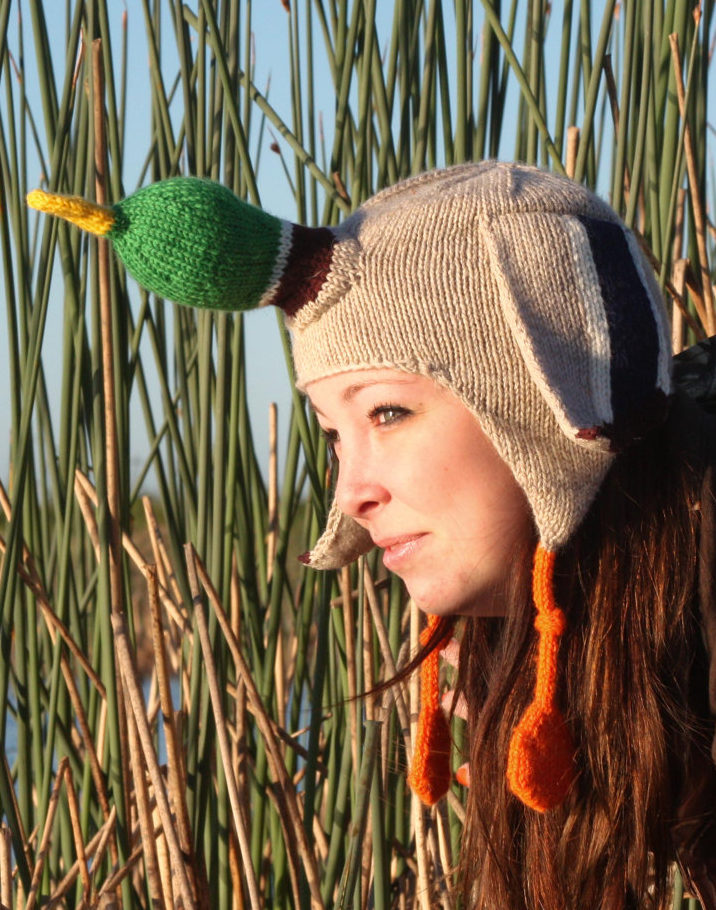 Duck Hat
The duck hat is an ear-flap hat with integrated legs and feet. The duck feet just make me chuckle.