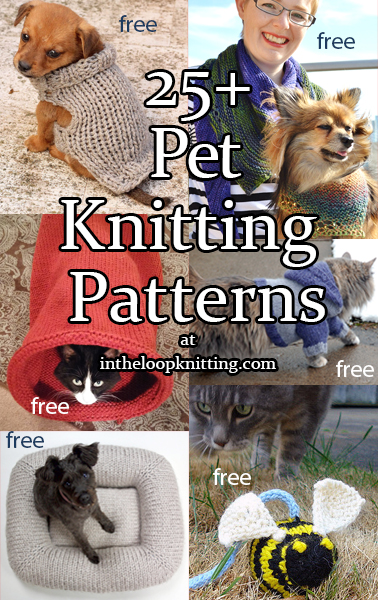 -->
Knitting patterns for your favorite animal companions including dog sweaters, cat beds, toys, and more
To get the knitting patterns, scroll down the page to the individual pattern you want and click on the link to that pattern.
These patterns are not my designs but links to other designers who have generously shared their patterns. If you have questions about how to knit a specific pattern, please contact the designer directly.
All links on this site are for informational purposes, but please note that some links are to affiliate sellers that pay me a small commission on purchases.
Free Patterns

Custom-Fit Dog Sweater
Wendy Bernard shows knitters a quick and easy way to whip up a personalized sweater for your dog using two knitted rectangles. The sweater can be customized for any size dog. Perfect stash-buster. Pattern and instructional video class available for free with a free trial at Creativebug.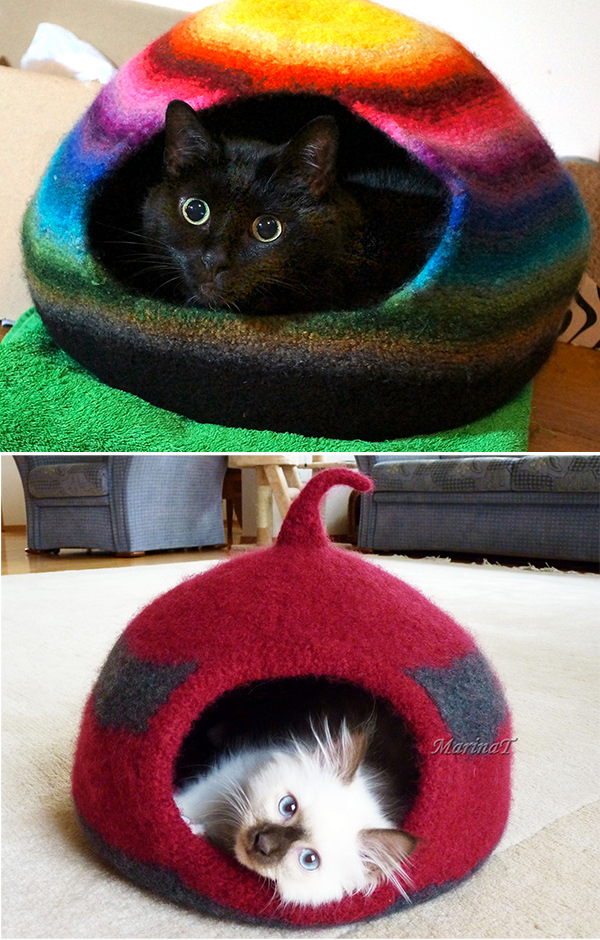 Cat Cocoon
Cat cave or bed that's knit with wool yarn in any design or size you want and felted. Rated easy by most Ravelrers. Great stashbuster for wool yarn.Worsted weight yarn. Designed by Yellow thread knits. Pictured projects by the designer and Masja76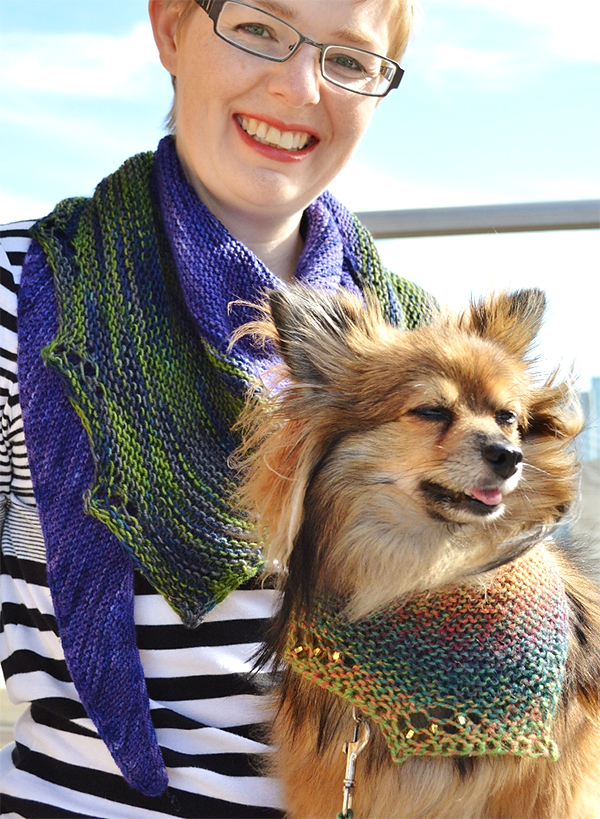 Matching Shawls for You and Your Pet
This makes me smile every time I look at it. For the humans - a triangle shaped asymmetric shawl or kerchief-style scarf in garter stitch with bold decorative lace edge for humans. For dogs, cats, or other small sidekicks - a matching decorative kerchief or cowl to fit dogs, cats, or other small sidekicks. Knit as a set or either one separately. SMASH and PUNY designed by Rebeka Darylin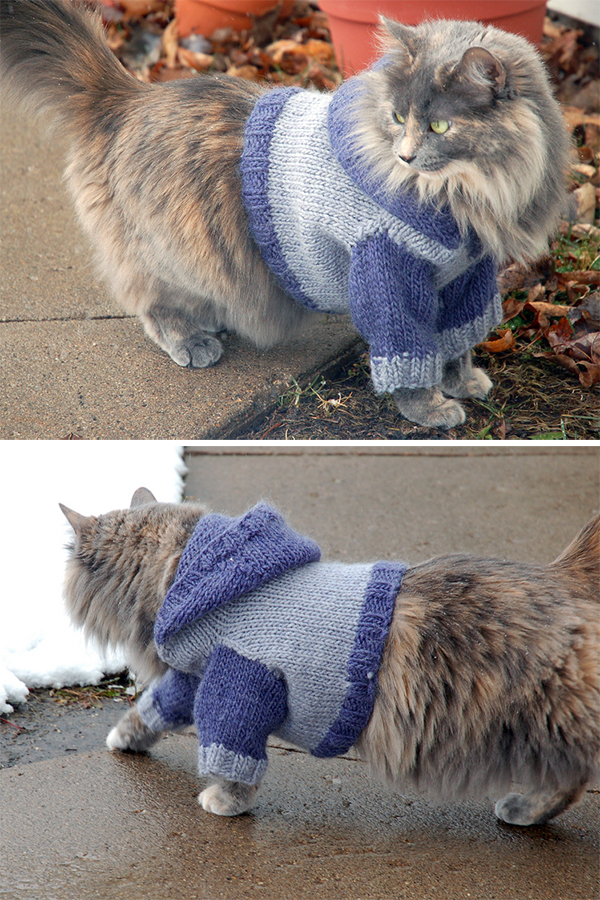 Cat Hoodie
Cat sweater with hood, which is mostly decorative. Though many Ravelrers reported their cats liking the sweater, few tolerated the hood pulled over their ears. Designed by Kristin Roach. Aran weight yarn.

Fetch Dog Toy
Bone-shaped dog toy that many Ravelrers say their dogs love. Pictured projects by the designer, KnitterGonnaKnit who added squeakers and had to knit two because her dogs wouldn't share, and yuki77 who enlarged the pattern 3 times to create a bone shaped pillow. Designed by Kris Knits who advises that you don't leave with pets unattended because the toys can be chewed apart. Aran weight yarn.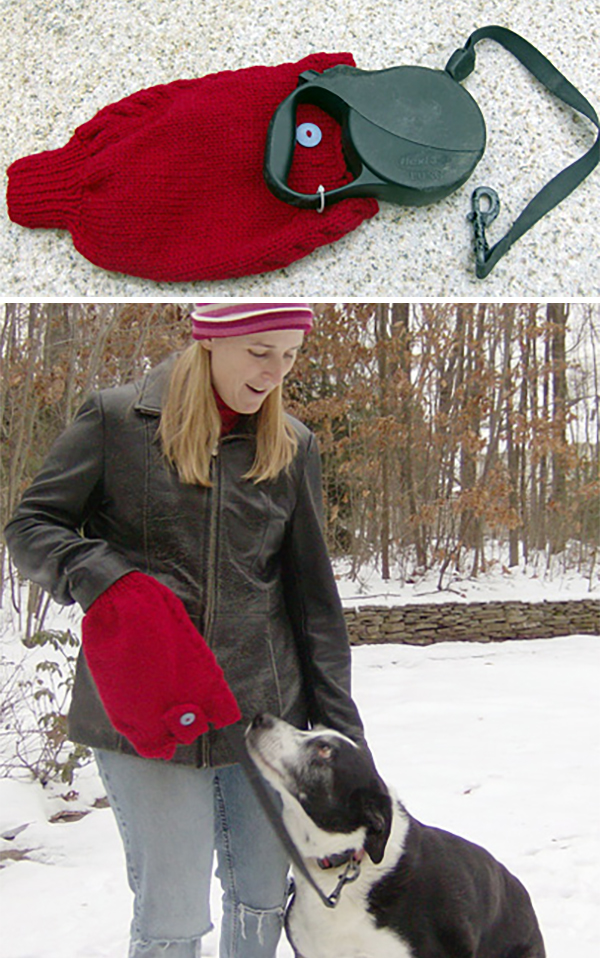 Paw Cozy
Keep your hands warm and your doggie pal close by on cold weather walks with this mitten that fully encloses your hand and a retractable dog leash handle. Designed by Michelle Malach for Knitty.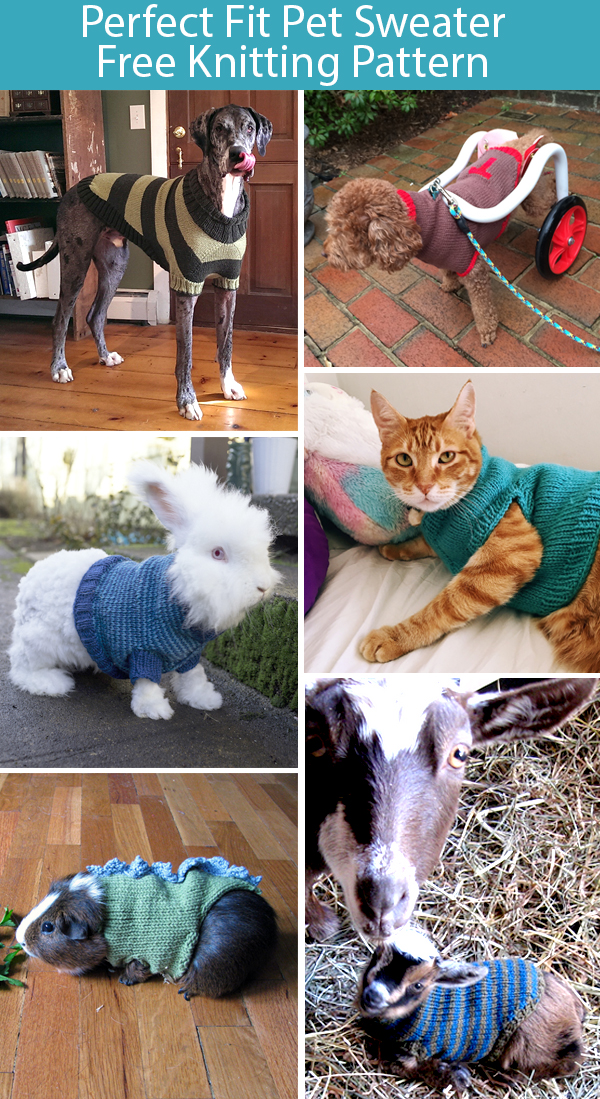 Perfect Fit Pet Sweater
This simple sweater design comes with calculations to make any size XXXS to XXXL and beyond, and can be adjusted for any shape. Originally designed with dogs in mind, it has been used for other pets including cats, lambs, bunnies, and guinea pigs. The sweater is worked top-down, seamless, in the round. Stitches are then picked up for bottom border and sleeves. Pattern available in English, Spanish, Russian, French, Greek. Designed by JL Johnson. Pictured projects by LittleSparrow11, yarnoverthemoon, hammyclaire, hellostephoo, Menchi89, and, folktale.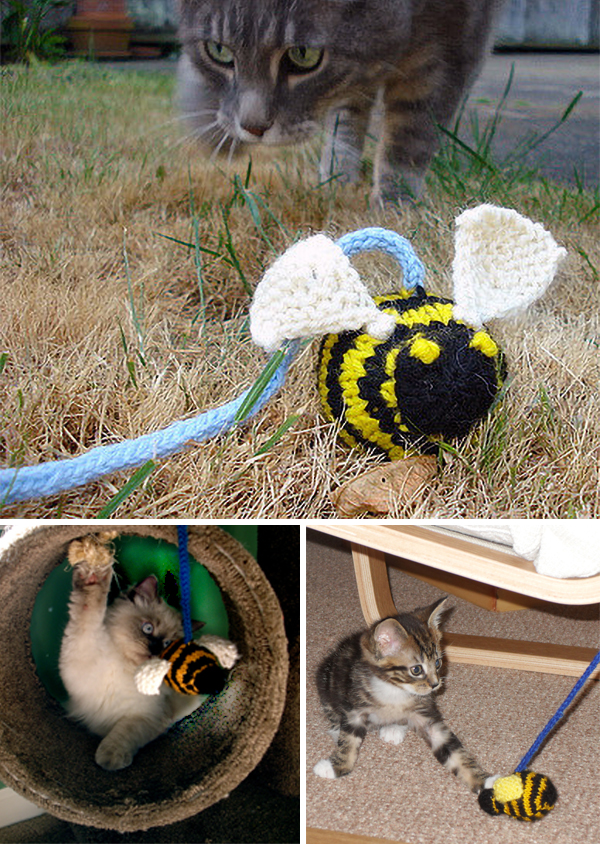 Bumble Cat Toy
A knit bee on a cord to amuse the kitties. Many Ravelrers said it was their cat's favorite toy. Designed by Christine Landry. Pictured projects by teekay, pryorjennie, and R-girl.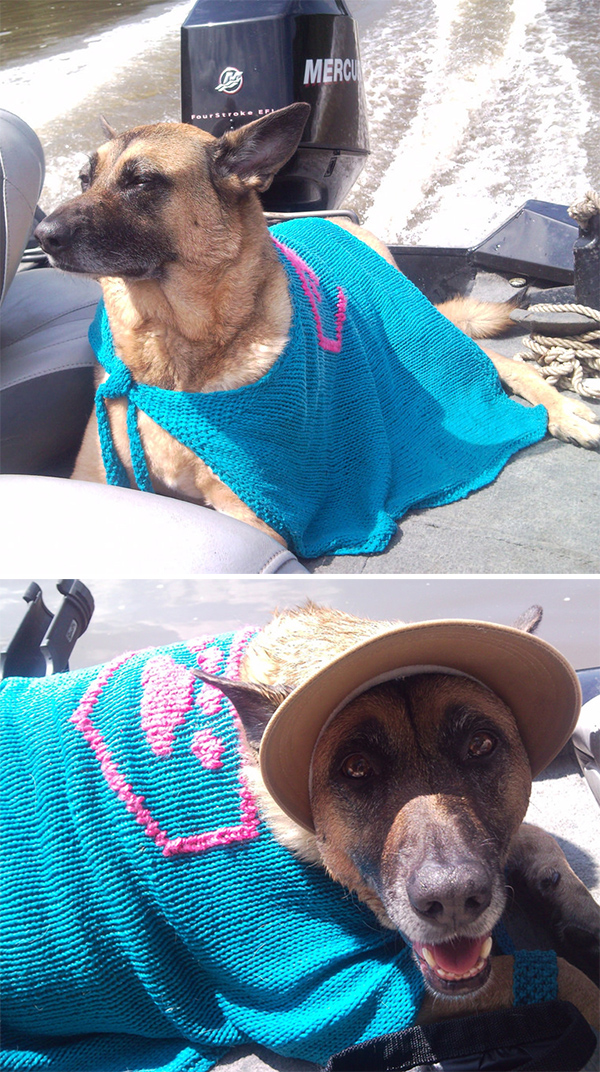 SuperDog Cooling Cape
This cotton cape is the perfect summer accessory to protect your pet from the sun and wind while keeping her cool and comfortable. The cape features an intarsia pawprint superhero emblem. Sizes Toy, Small, Medium, Large. Designed by Elizabeth Lawson.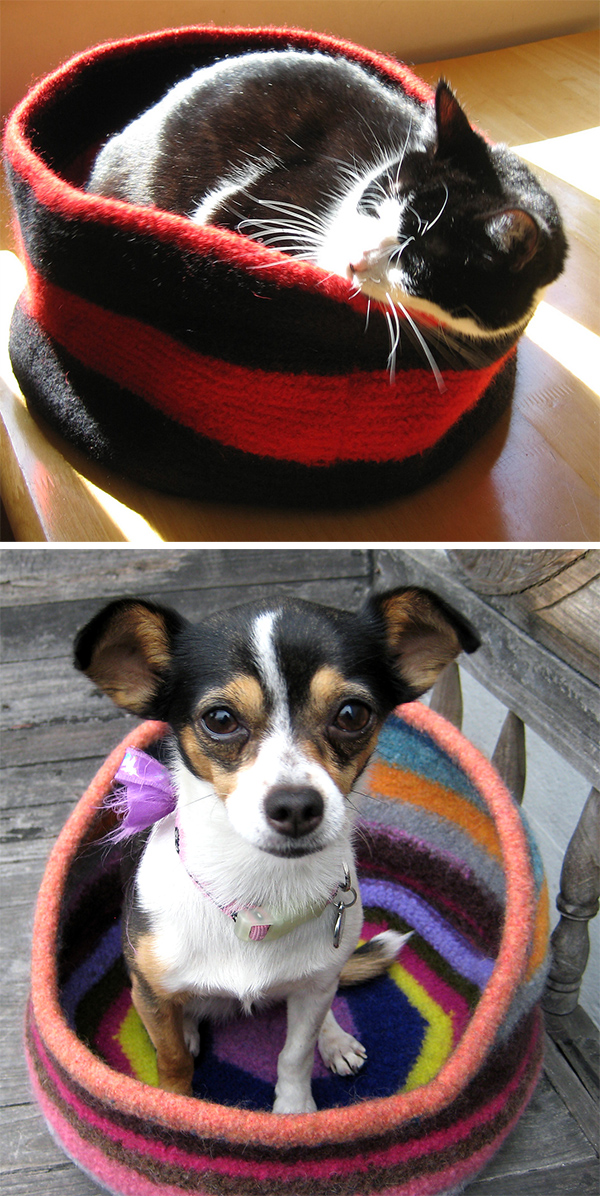 Junebug's Kitty Bed
A round, high-sided, felted wool pet bed for cats or small dogs. Features a welt at the base to keep its shape, and tall sturdy sides for privacy and coziness. Designed Wendy Engstrom. Pictured projects by TheFurmiKnitter and firegirlpj who has notes on using short rows to create the higher back. Rated easy by Ravelrers.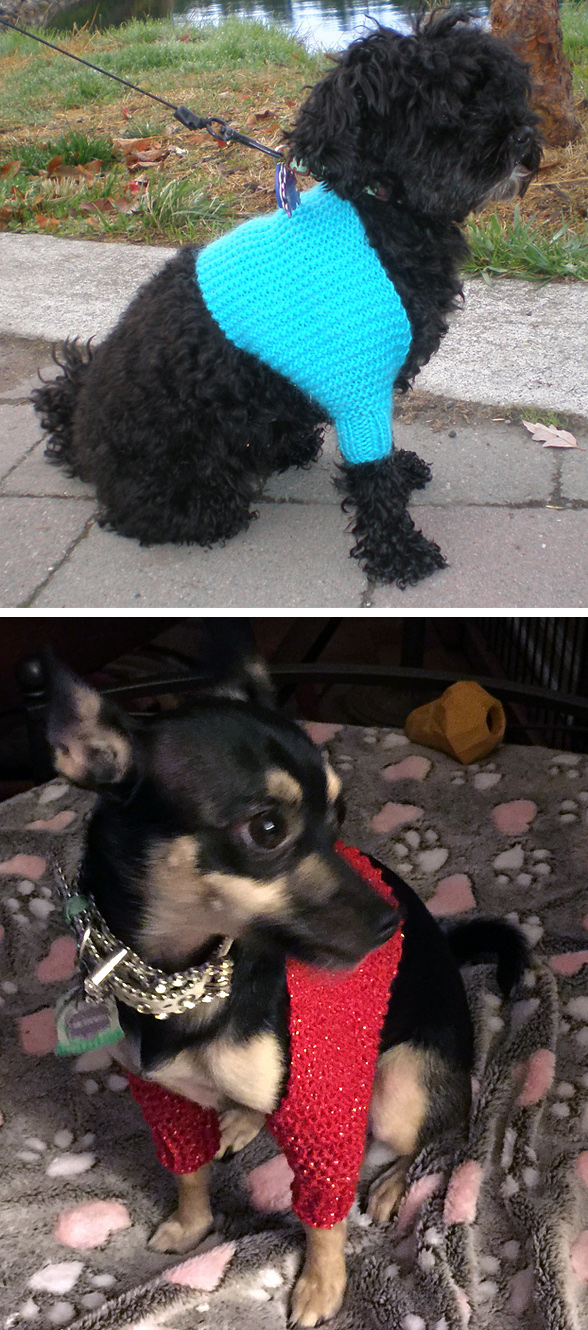 Roxy Dog Shrug
This stylish puppy bolero sweater is worked flat in one piece and then seamed at the legs. Designed by Sari Strand. Pictured projects by clairterese and mprice. Rated easy by Ravelrers.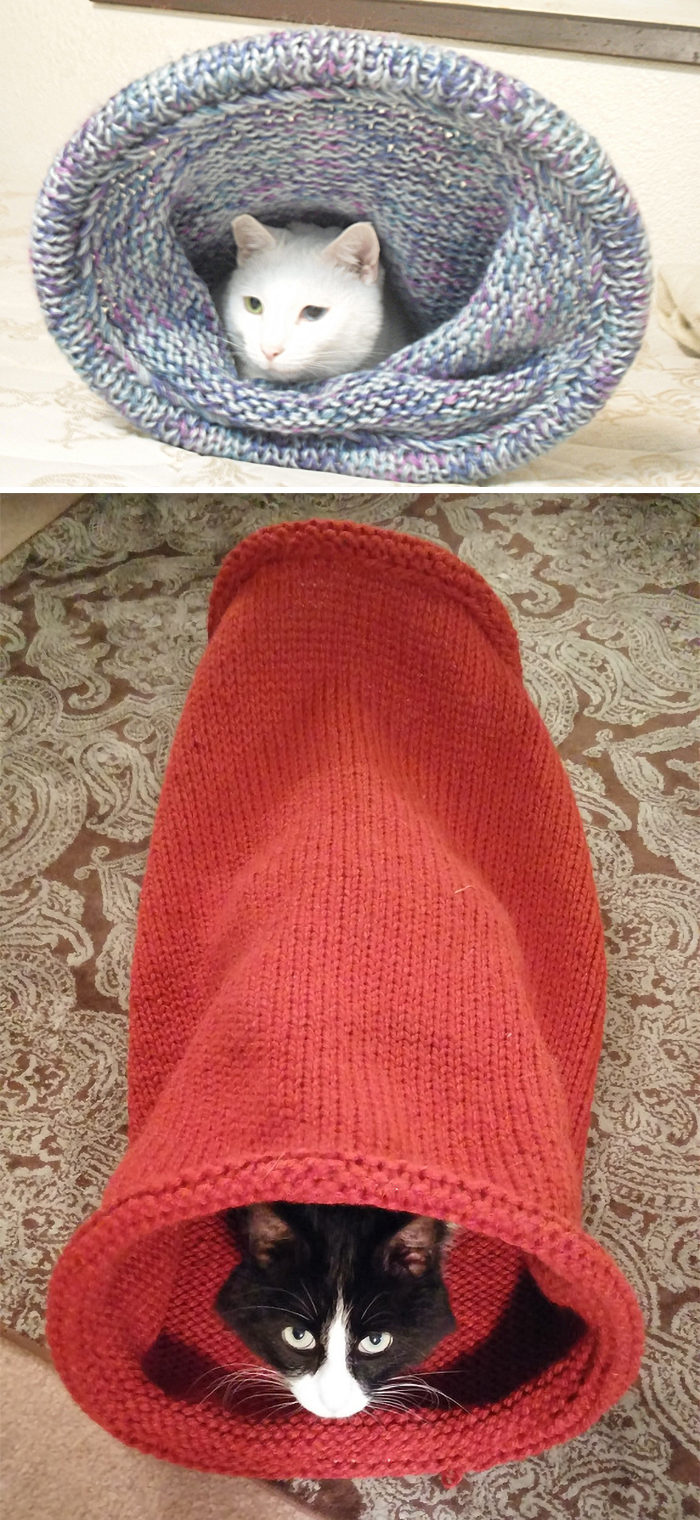 Cat Tunnel
Long slouchy tunnel knit in the round with plastic tubing inserted to keep the mouth open. Size is easily customizable. Quick knit in super bulky yarn. The designer Clarice Asquith says the pattern is suitable for beginners who can knit in the round. Pictured projects by ShyFox777 and geepgal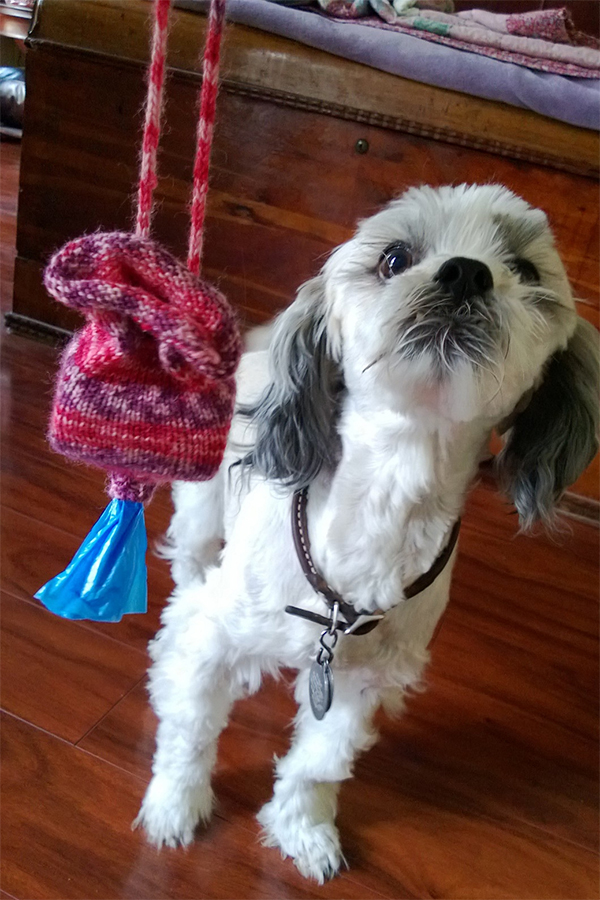 Doggie Poo Bag Pouch
Knit a pretty dog poo-bag dispenser pouch from leftover sock yarn. It takes about 10 grams of sock yarn and holds one roll of pick-up bags with a little room leftover for doggie treats. Great fundraising item for rescue organizations or shelters. Rated very easy by Ravelrers. Designed by Kathy Glaes. Pictured project by Arielluria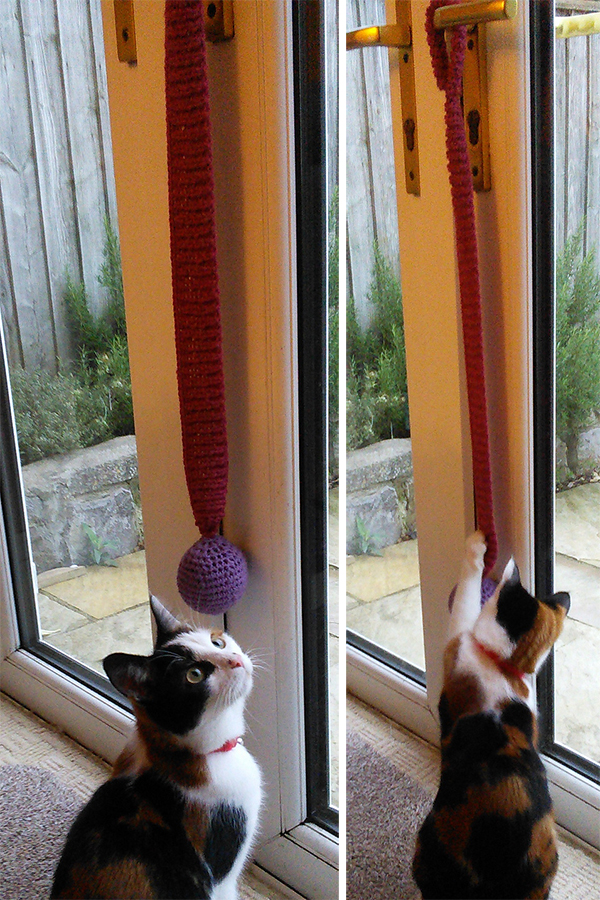 Bouncy Door Hanger Cat Toy
Worked flat in one piece. The ball end is stuffed with polyester fiberbill or waste yarn and a jingle bell, and sewn shut. Finished length is about 24"; ball is about 5" in circumference. Designed by Sheila Ralston who also has a pattern for a 2 Cat Under Door Toy on her page. Pictured project by aliknits1509 who crocheted the ball instead of knitting it.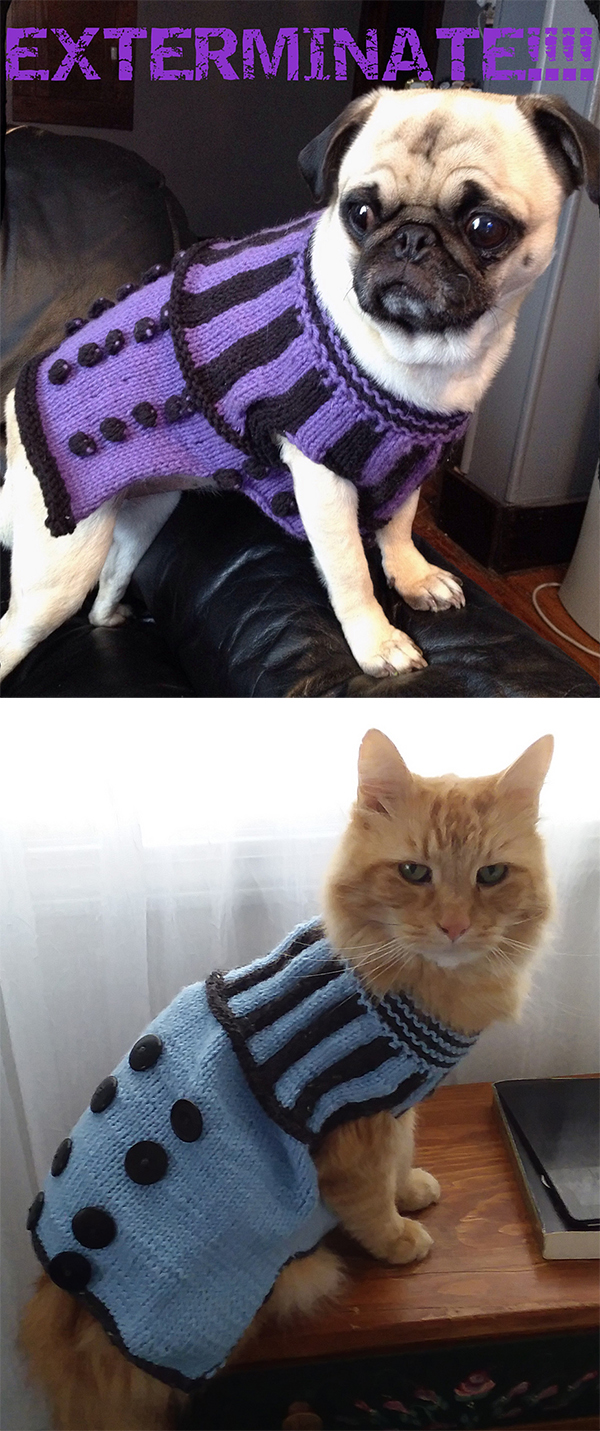 Dalek Pet Sweater
Doctor Who inspired dog sweater can be adapted for cats, too. Designed by Peach Kraft. Pictured projects by nerdylittlepinup and dbrigley

Knit or Crochet Under Door Two-Cat Toy
Created by Sheila Ralston to help socialize a foster kitten with her other cats, this is a clever toy designed with 2 balls attached by an i-cord for 2 cats to play with. Thread the i-cord under a door as intended or just leave out and watch the fun. The two balls are worked flat and connected by a length of i-cord, worked all in one piece. About 10" long. Add jingle bells to the ball stuffing for extra fun. Pictured projects by plashus, laurenwaterloo, and nesshawk.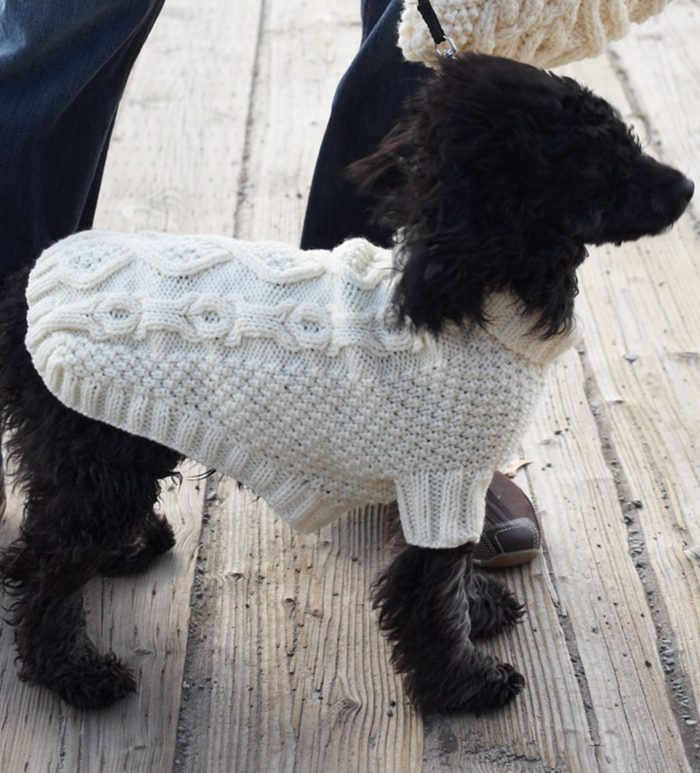 Biscuits & Bones Dog Coat
Cable turtleneck dog sweater features a variation of the hugs and kisses cable pattern to look like doggy treats. Sizes XS-XL (chest 10-30″/25.5-76 cm). Designed by Patons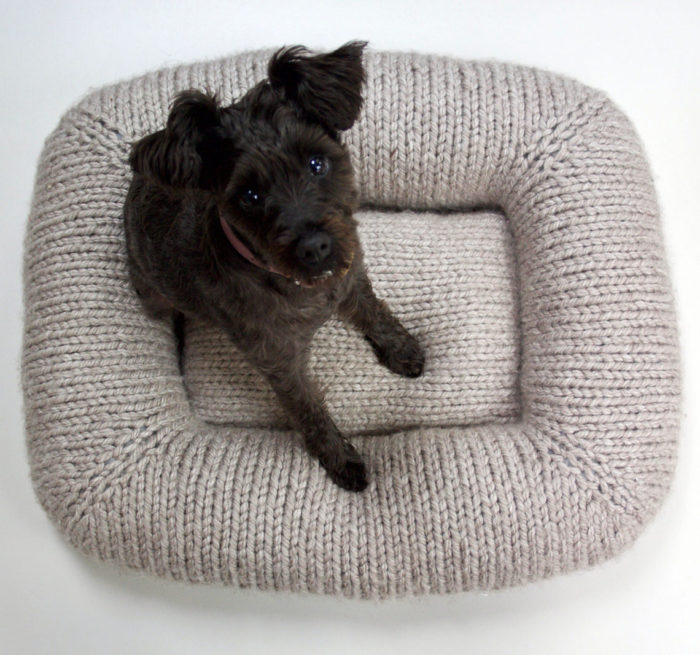 Pet Bed
Raii's Bed features a depressed center with a squishy pillow and big, sturdy, stuffed sides that the dog can rest its head on.. Designed by Jacqueline Cieslak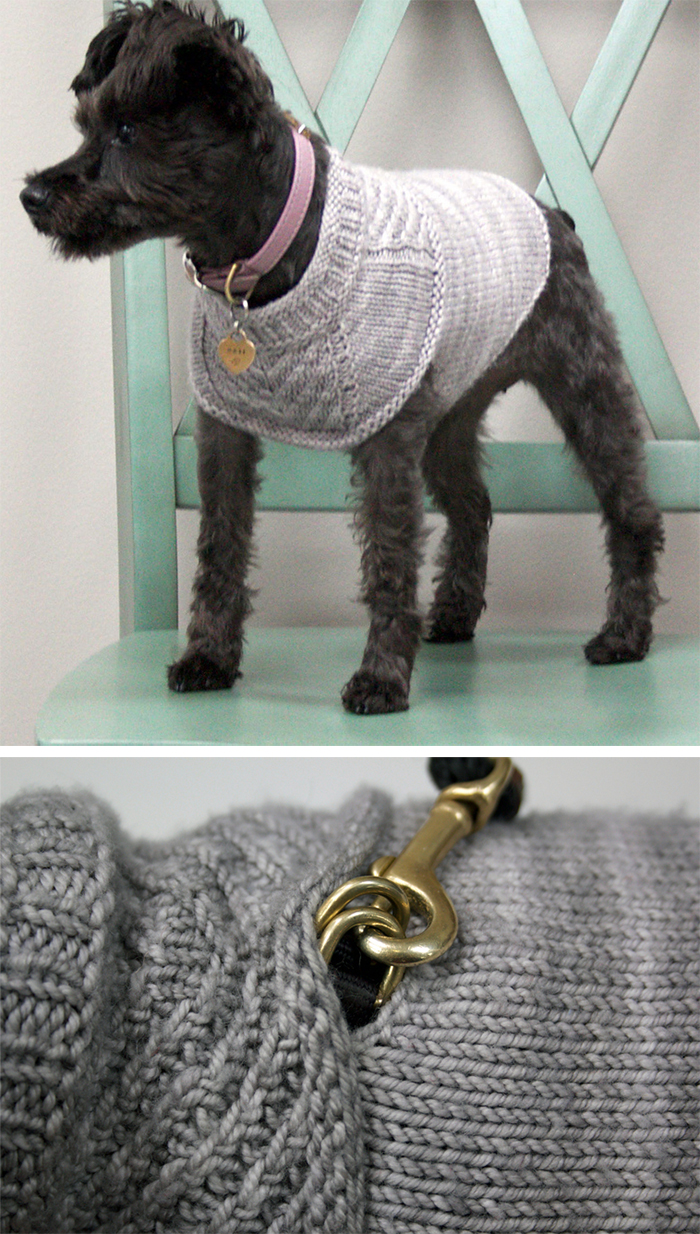 Harness-friendly dog sweater
This sweater is designed to look sleek with or without a harness. There is a hole hidden by the cowl for a harness. Sizes: To fit dogs with a girth of 15" (18" 22", 26", 30"). Designed by Jacqueline Cieslak of The Stitch Between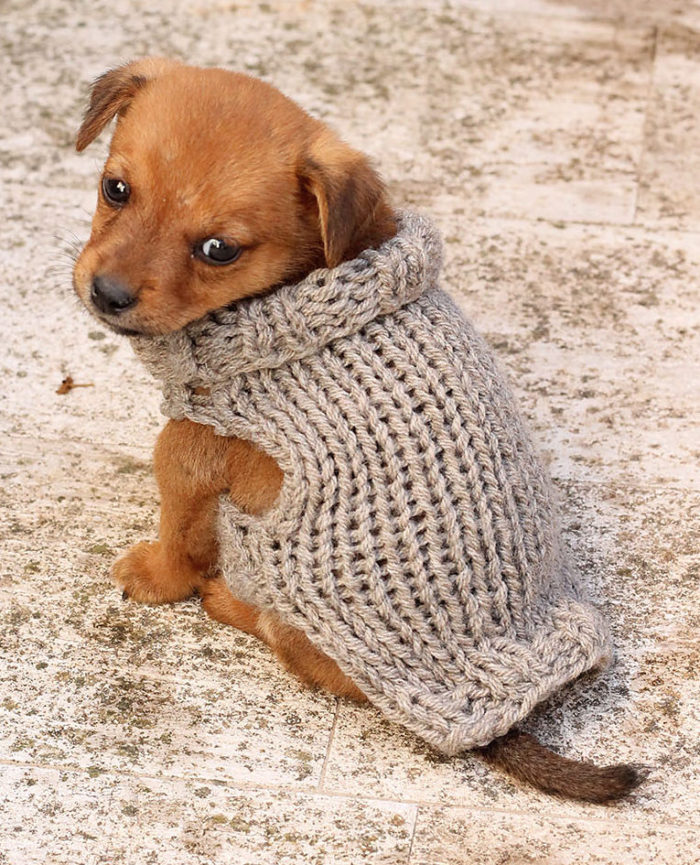 Small Puppy Sweater
This tiny dog sweater is an easy project to knit, taking about an hour in chunky yarn. Designed by Louise Bollanos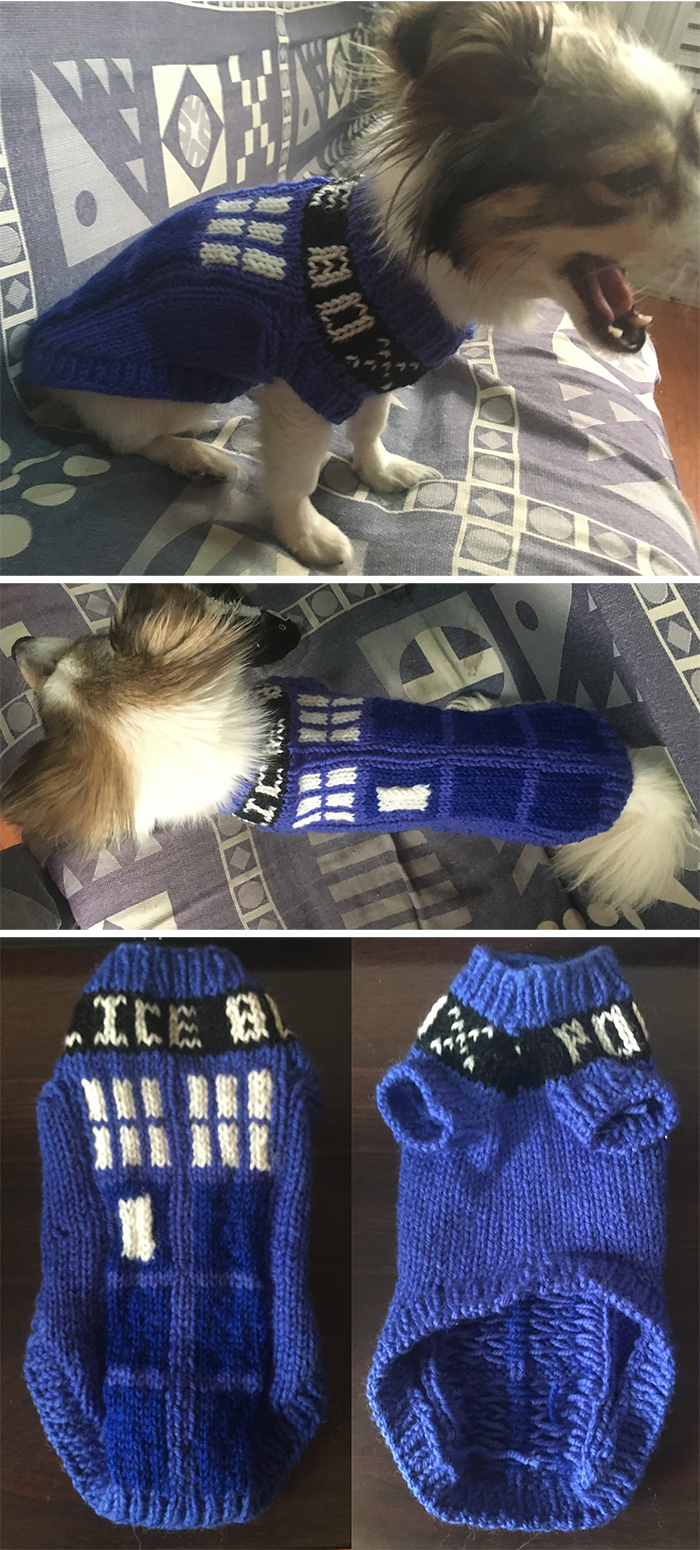 TARDIS Dog Sweater
These Doctor Who inspired dog costume is designed for small dogs but comes with instructions for adapting to other sizes. Designed by Cináed Langley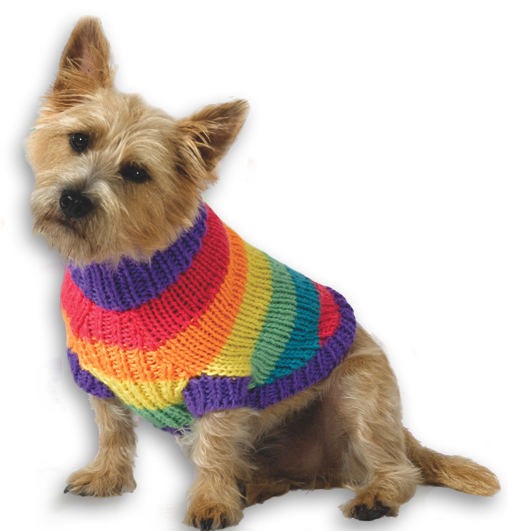 Rainbow Dog Sweater
Striped sweater in 4 sizes to fit your pooch: Chest measurement 14 (18, 22, 26)".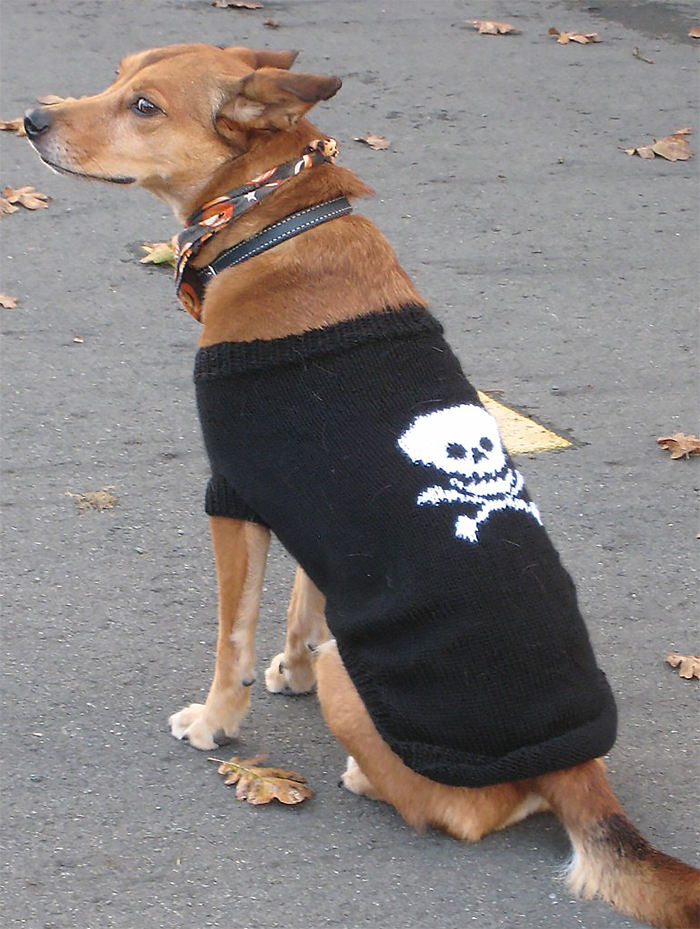 Pirate Dog Coat
I-Matey Dog Coat features a skull and crossbones intarsia motif. Sizes Extra Small, Small, Medium, Large Designed by Bernat Design Studio. Pictured project by naharbeit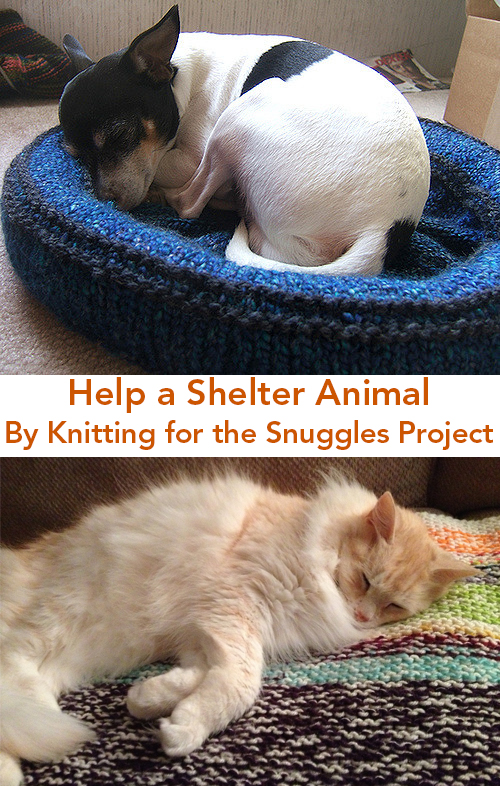 Snuggles Project
If your pets have everything they need, consider knitting a security blanket or bed for a shelter animal through the Snuggles Project to give these animals a little warmth and love while they wait for their forever homes. It also calms them and reduces their anxiety. The Snuggles Project was founded in 1996 by Rae French and also has patterns for crochet and sewn blankets as well as knitting projects.
Patterns for Purchase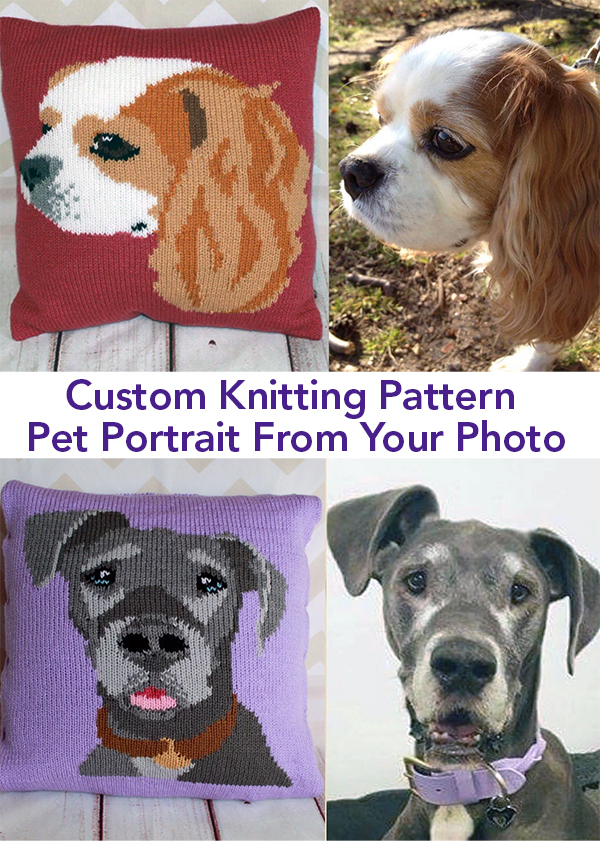 Custom Knitting Pattern PDF - Pet Portrait Designed From Your Own Photograph
Sarah Holmes will create a portrait from your pet photo and turn it into a knitting pattern for you to use. She says the process takes about a week. The pattern creates a finished cushion cover 40cmx40cm and has a 5 button opening at the back. It also fits very nicely over a 40x40 canvas so can be hung on the wall instead for a truly unique piece of art!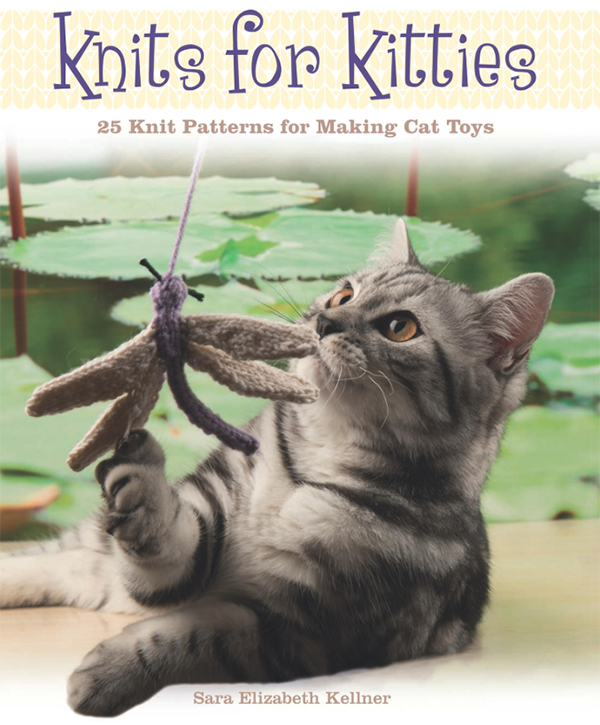 Knits for Kitties: 25 Knitting Patterns for Making Cat Toys
Toy knit designer Sara Elizabeth Kellner created this collection of cat toy patterns from dragonflies to rolling dice, crazy caterpillars and raccoon tails, including: There's a Mouse in the House, Jingle-bell Ball, Baby Bumblebee, Fish Out of Water, Snake in the Grass, Butterfly Kisses, Leaping Lizard, and more.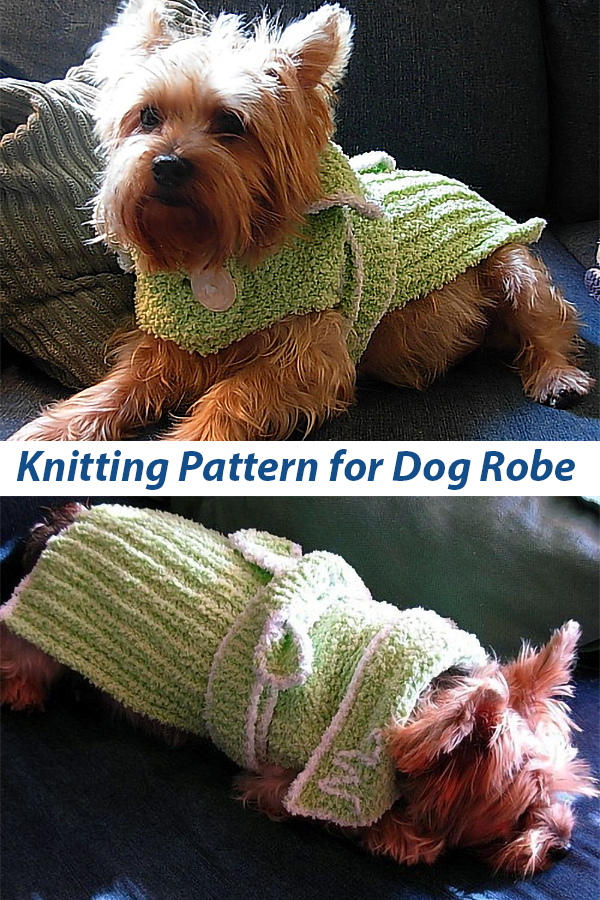 Nighty Night Dog Robe
Knit a fluffy robe to keep your puppy warm and cozy after a bath or lounging around the house. Robe fastens with a button and snaps and has an attached wrap belt. You can even add a monogram. Sizes 12, 14, 16, 18" chest. Designed by My Savannah Cottage. Aran weight yarn.

Pet Snuggler Beds or Cushions
This unusual design will work as a pet bed or as a child's cushion. Available designes include cat, dog, rabbit, and Sanat. Dimensions : Approximately 60cm from toe to toe. Inner cushion 25cm diameter. Outer ring approx. 44cm diameter. Requires basic knitting skills. Bulky weight yarn. Designed by Knitting by Post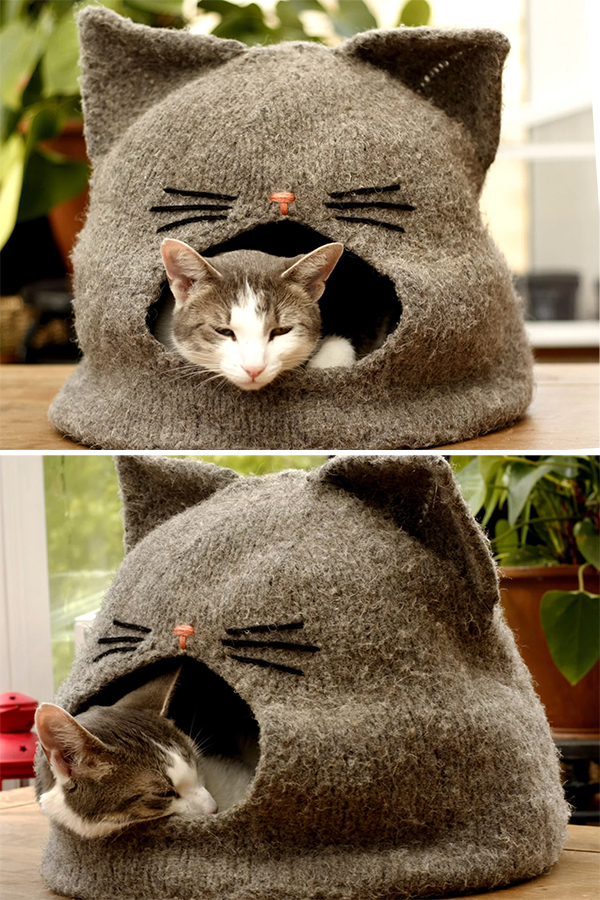 Cat Cave
Cat hideway is an easy to read pattern, with step by step instructions and tips on how to knit, felt and shape this cosy cat den. Finished size: diameter - 14'', hight - 13'', suits large cats! Designed by UrsuleGaylardKnits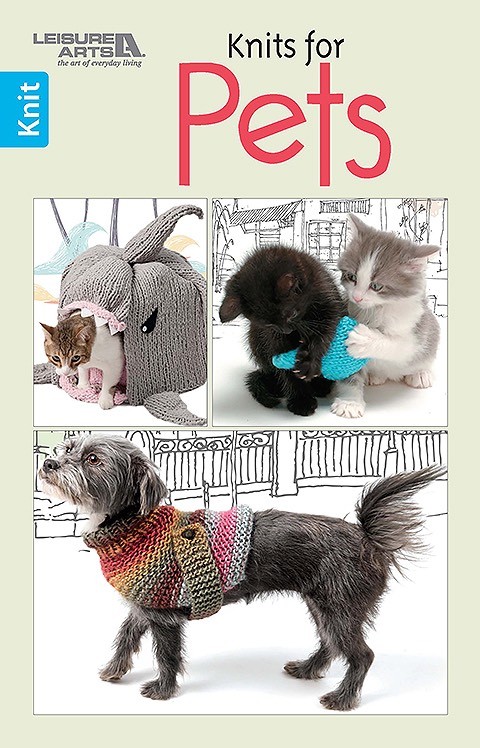 Knits for Pets
12 fun designs in Knits for Pets from Leisure Arts including Shark Cat Cave (15-inch high Shark with 18-inch diameter cushion), Dog's Toy Ball (in small, medium, and large sizes), Cat's Toy Fish, Santa dog coat, Trendy Turtleneck, A Walk in the Park, White Wrap, Blanket (in three sizes), and Bandana (in three sizes, for necks 8 to 24 inches). Designed by Sarah J. Green and Shelle Hendrix.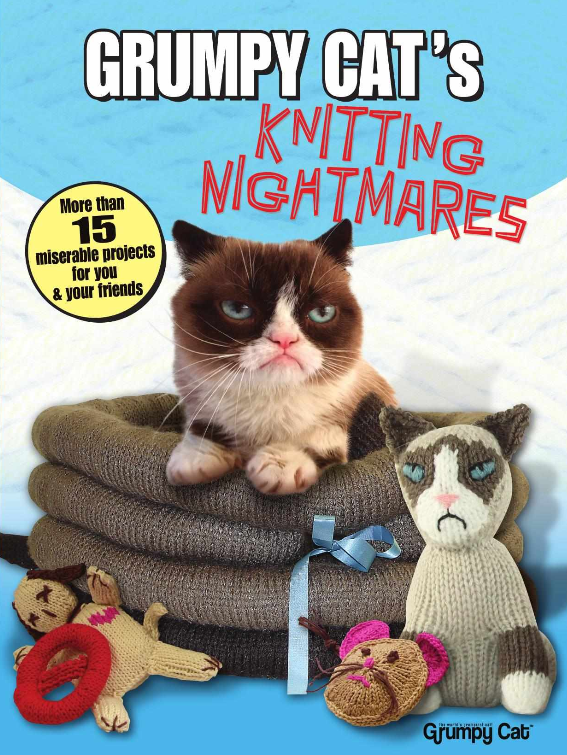 Grumpy Cat's Knitting Nightmares: More Than 15 Miserable Projects for You and Your Friends
Cute patterns for cats and their human companions including toys, cat bed, matching hat and scarf for cat and human, and more.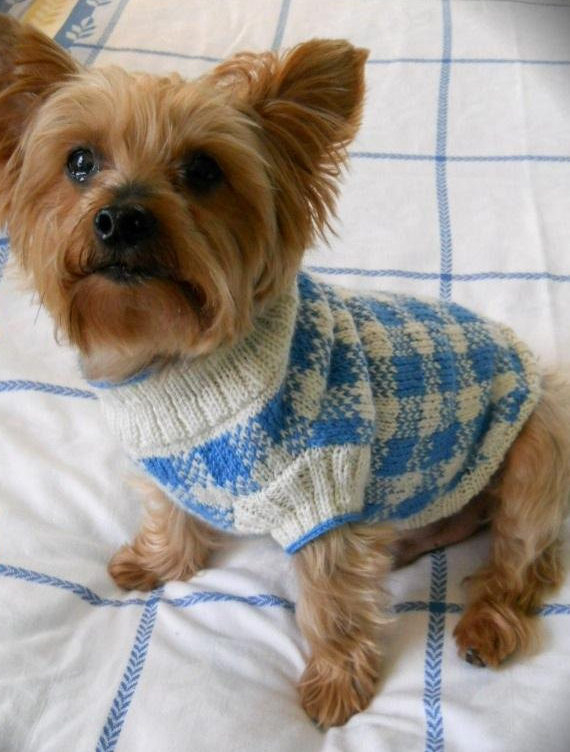 SUNDAY PICNIC Gingham Check Dog Sweater
Checked plaid sweater knit in two colors of sport weight yarn. 4 sizes, with finished chest measurements of 9.5-10, 12-13, 15-16 or 19-20″. Designed by mysavannahcottage

TARDIS Pet Hut
Doctor Who inspired police box for your furry companion or K-9. Finished size is 16″x 16″x 16″. Designed by KirBearCreations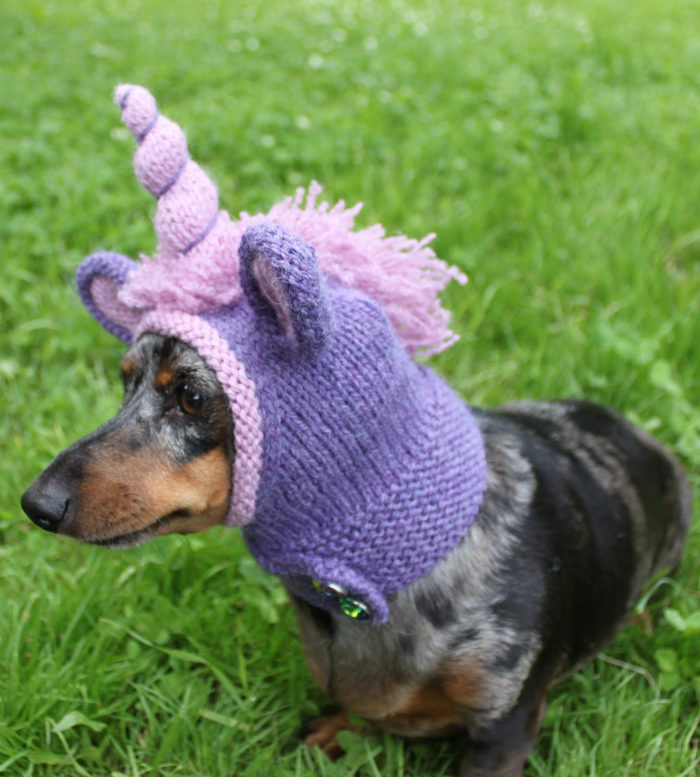 Unicorn Dog Hood
Unicorn costume designed to fit miniature dachshunds but I imagine you could adapt to other breeds.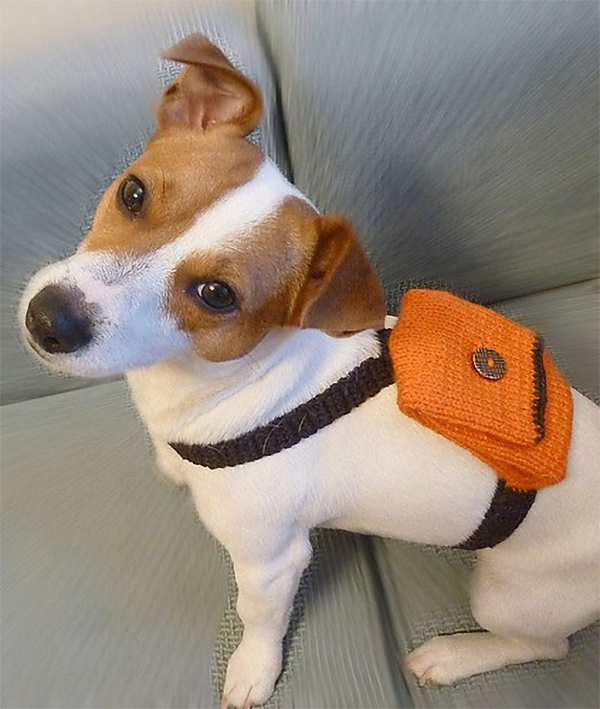 Dog Backpack
Give your pup its own backpack to carry essentials like bags or toys. Designed by TheMailoDesign