Entrelac Knitting Patterns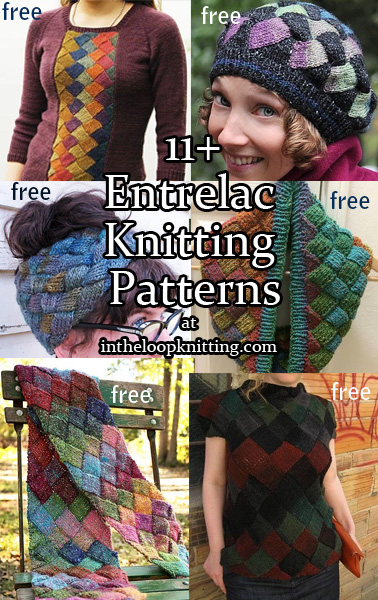 Entrelac is a knitting technique made with basic knitting stitches to form squares that are joined by picking up stitches on the edge of one square to start the next square. It can be knit in one or more colors and is a great way to showcase multi-colored yarn. Never tried Entrelac Knitting before? Don't worry. Many of these patterns have detailed instructions and links to videos. Click here more information on Entrelac Knitting To get the knitting patterns, scroll down to the individual pattern you want and click on the link to the pattern.

Entrelac Stole
Rectangular wrap knit in entrelac with variegated yarn. Fingering weight yarn. Designed by Katie Doyle Krot

Woven Sky Throw
Entrelac afghan knit in 2 different colorways of variegated yarn. 42″ x 31¼". Bulky yarn. Designed by Universal Yarn

Entrelac Shawl Pattern and Video
This cozy shawl is the perfect place to start your entrelac adventure. Working in two colors, Marly Bird demonstrates how to knit a single rectangle, then how to join and build rectangles to create the eye-catching checkerboard pattern. Designed by Marly Bird who teaches the class. Pattern and instructional video class available for free with a free trial at Creativebug OR purchase pattern and class individually.
Two options to get the pattern

Tenney Park Sweater
Elizabeth Morrison's pullover sweater has an entrelac panel. Sizes: 31.5[34, 37.5, 42, 45, 50.5, 54] inches

Harlequin Learns Japanese
Sarah Sutherland's close fitting, hip length sweater is worked using entrelac and constructed in such a way that the pattern is not interrupted anywhere for shaping. Sizes xs, s, m, l, xl, xxl, xxl

Grey Gardens Turban
A one-skein entrelac turban designed by Rachel Price and Kate Burge.
I Can't Believe I'm Entrelac Knitting
With the support of free online technique videos, Marly Bird takes you step-by-step through entrelac knitting, starting with the basics with an E-Reader Cover. Then additional elements are introduced in a Hat (worked in the round), a Scarf (featuring variegated yarn with a long color repeat), an Afghan (without triangles, for a zigzag edge), a Pillow (built around a solid back), and a Baby Blanket (with color changes in every tier and I-cord edging).
Take Cahuenga Shawl
This lace wrap is knit in an entrelac pattern with dropped stitches for an elegant look.
Cochin Shrug
Worked from side to side, this bolero-style shrug grows by increasing the size of the entrelac units from the cast-on to the center, and then decreases to the original stitch count on the other side. Finished Size: 33 (37, 41)" (84 [94, 104] cm).
[widget id="black-studio-tinymce-8″]
Entrelac Baby Blanket
The finished blanket measures approximately 32x32″ (81x81cms), but can easily be adapted to any size you wish.
Autumn's Bounty Entrelac Blanket
This pattern includes different sizes from tiny for a cellphone to large enough for regular purse.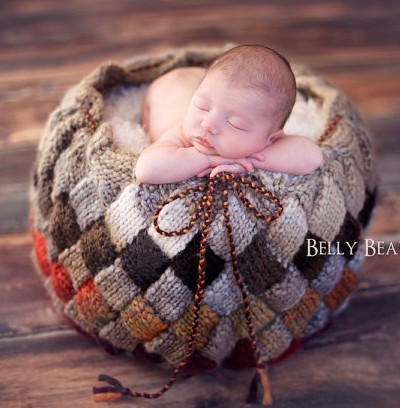 Entrelac Basket
Designed by Melody's Makings as a newborn photo prop, this colorful basket is also great for home decor. Knit in super bulky yarn, it's great for multi-color yarn. Comes with three tutorial videos as well as written instructions.