Shrug and Bolero Knitting Patterns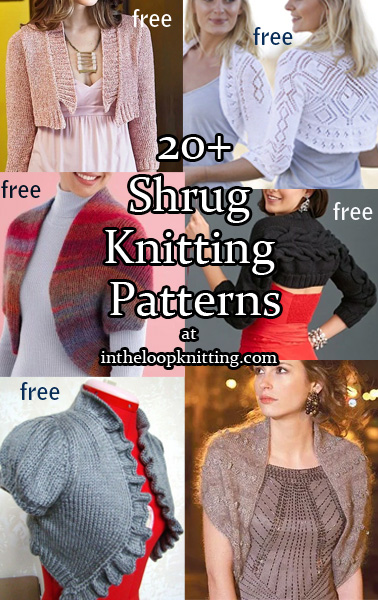 Shrugs and boleros are great for topping off evening wear, a special occasion dress, or even a bridal gown. But they are also great for casual wear too, making them a versatile way to keep warm and still be in style.
To get the knitting patterns, scroll down the page to the individual pattern you want and click on the link to that pattern.
These patterns are not my designs but links to other designers who have generously shared their patterns. If you have questions about how to knit a specific pattern, please contact the designer directly.
All links on this site are for informational purposes, but please note that some links are to affiliate sellers that pay me a small commission on purchases.

Bolero with Leaf Ties
Cropped cardigan with elbow length sleeves, scoop neck, and picot edge. Sizes 32 (34 ½, 37 ½, 40, 4 2½, 45). Worsted weight. Designed by Stefanie Japel for Knitty. Pictured project by Shalena

Waves and Waterfalls Lace Shrug
Beautiful shrug with two lace patterns and three-quarter length sleeves. Worsted weight yarn. Sizes Small, Medium, Large. Designed by Amanda Woeger

Cable Trimmed Bolero
Sizes 34" (36, 38, 40, 42)".  Quick knit in bulky yarn. Designed by Susie Bonell for Cascade Yarns

Xtreme Slip Stitches Shrug
This shrug is knit  in garter stitch with a graphic design created with short rows and slip stitches in contrasting colors.  Designed by Sybil R.

 Lustrous Cabled Shrug
Edged with knit cables this style adapts to the personality of the outfit and its wearer. Designed by Amy Polcyn. Sizes 34 (38, 42, 46, 50)"

Canary Shrug
Cable and lace shrug is perfect for dressing up any outfit including a bridal gown. Designed by Alexandra Davidoff. Sizes XS/S, M/L, XL
Cable Shoulderette

Prima Shrug
This ballet-inspired shrug is knit all in one piece so there is no seaming. Designed by Maggie Pace to showcase multi-color yarn though you can use a solid color too. Pattern and instructional video class available for free with a free trial at Creativebug.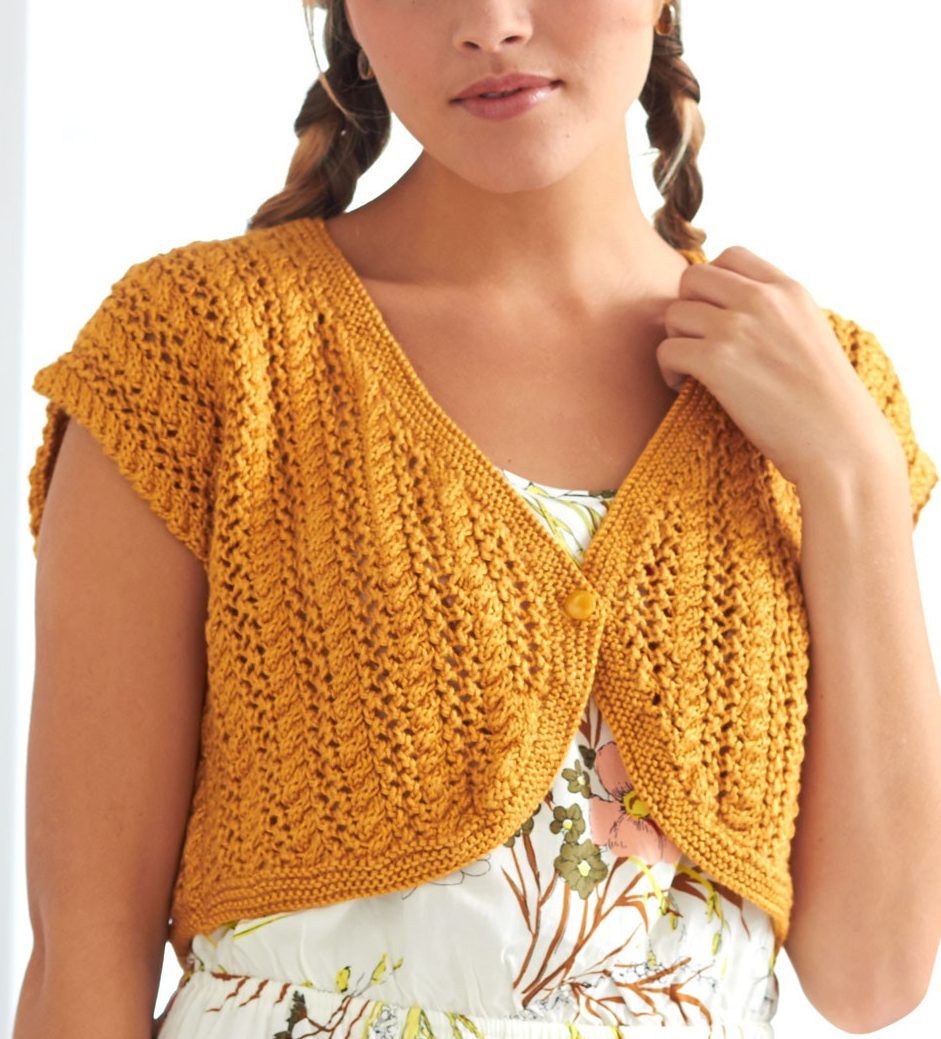 Patons Cable Lace Bolero
Patons shrug features cables in worked in 4 stitches and with a 4 row repeat alternate with lace pattern also in a 4 stitch repeat. XS/S, M, XL, 2/3XL, 4/5XL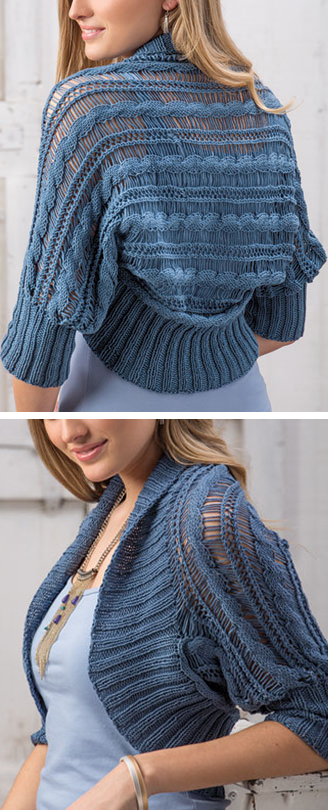 Summer Skies Shrug
This lightweight bolero shrug is knit sideways, using dropped stitches between the cable and eyelet stitches to create extra spacing in an intricate knit fabric. Sizes: S (M, L, XL, 2XL) . Recommended yarn available on pattern page.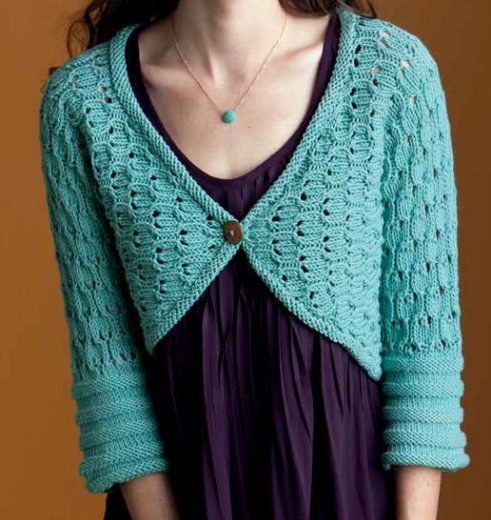 Light Bolero
This lacy shrug is knit in a single piece.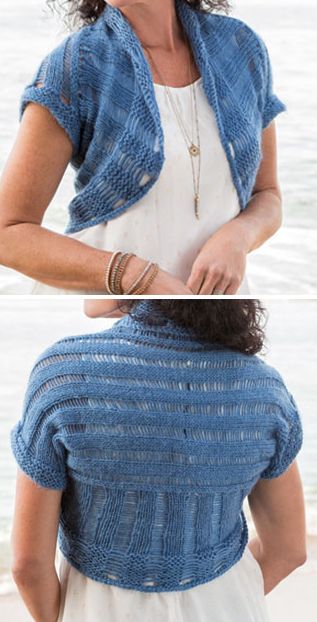 Pacifica Shrug
Lightweight shrug with drop stitch pattern. Uses just one skein of the recommended yarn for S, M, and L sizes. To fit: S (M, L, XL/2XL, 3XL/4XL)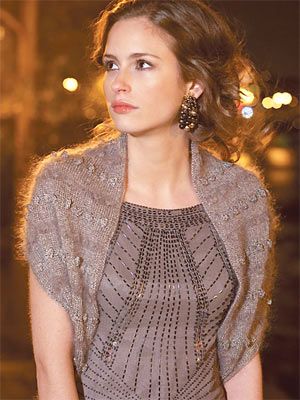 Evening Shrug
THIS PATTERN IS NO LONGER FREE! However, the pattern book it was featured in, Parisian Nights, is still available at some sellers. Sparkle in this shrug knit with metallic yarn.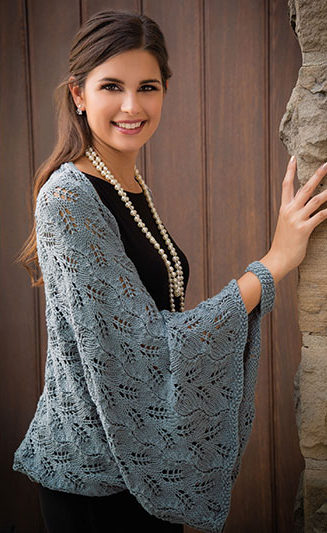 Tacoma Shrug
All-over lace shrug in sizes S (M, L, XL, 2XL)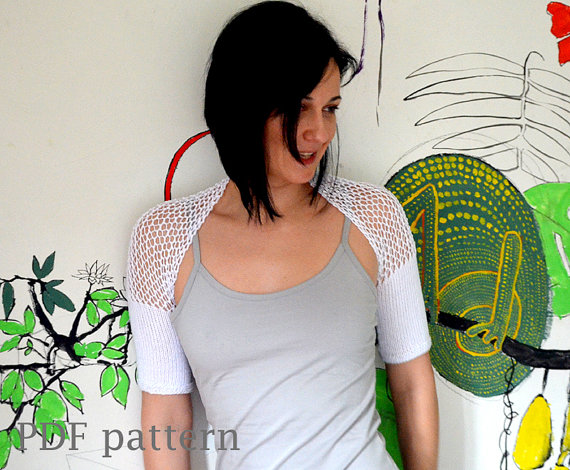 Mesh Lace Knit Shrug
Perfect for summer!
Get the knitting pattern for $5.50
Camellia Shrug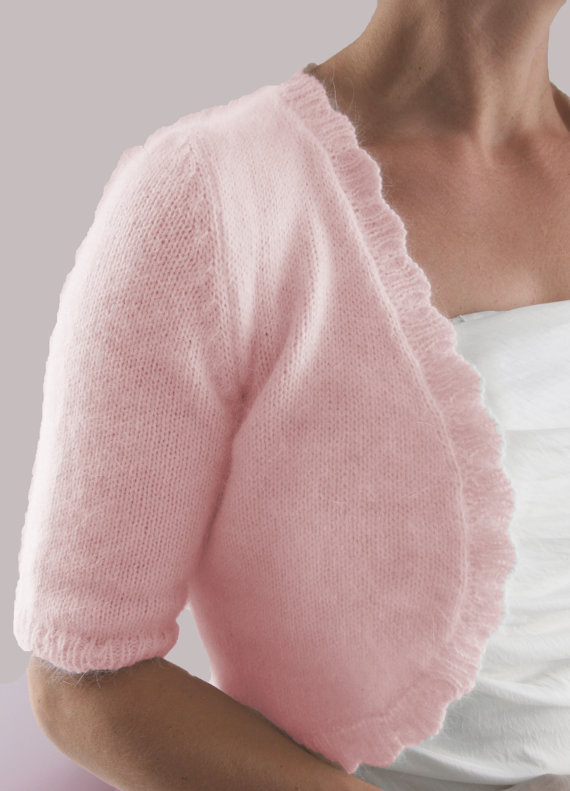 Angora Shrug
Terry Matz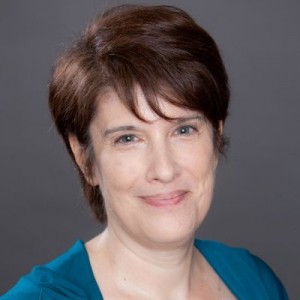 Terry is a knitting late-bloomer, learning to knit as an adult from Internet tutorials, because she wanted a craft that was useful, fun, and portable. Knitting hats for cancer patients inspired her to design her own patterns—available for free at her blog, intheloopknitting.com. Terry met her husband Ken at a science fiction convention and moved to the Kansas City area to be with him more than 30 years ago. Terry supports her yarn stash by creating websites and other digital media. Terry firmly believes in Knitting in Public—it's a great conversation starter!