Super bulky and super chunky yarn make for quick projects, but I've found it a challenge to find patterns that work well with the properties of such thick yarn. So I've collected knitting patterns specifically designed for super bulky yarn including sweaters, afghans, baby projects, accessories, and more.
To get the knitting patterns, scroll down the page to the individual pattern you want and click on the link to that pattern.
These patterns are not my designs but links to other designers who have generously shared their patterns. If you have questions about how to knit a specific pattern, please contact the designer directly.
All links on this site are for informational purposes, but please note that some links are to affiliate sellers that pay me a small commission on purchases.
Free Patterns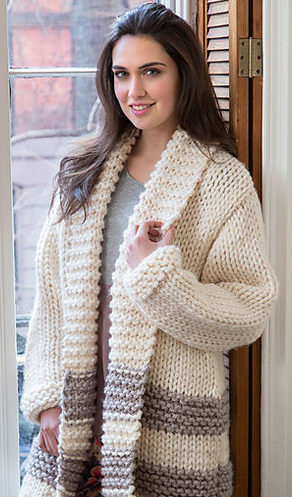 Cozy Car Coat
This easy cardigan jacket by Heather Lodinsky knits up quickly in super bulky yarn. I always wanted one of these!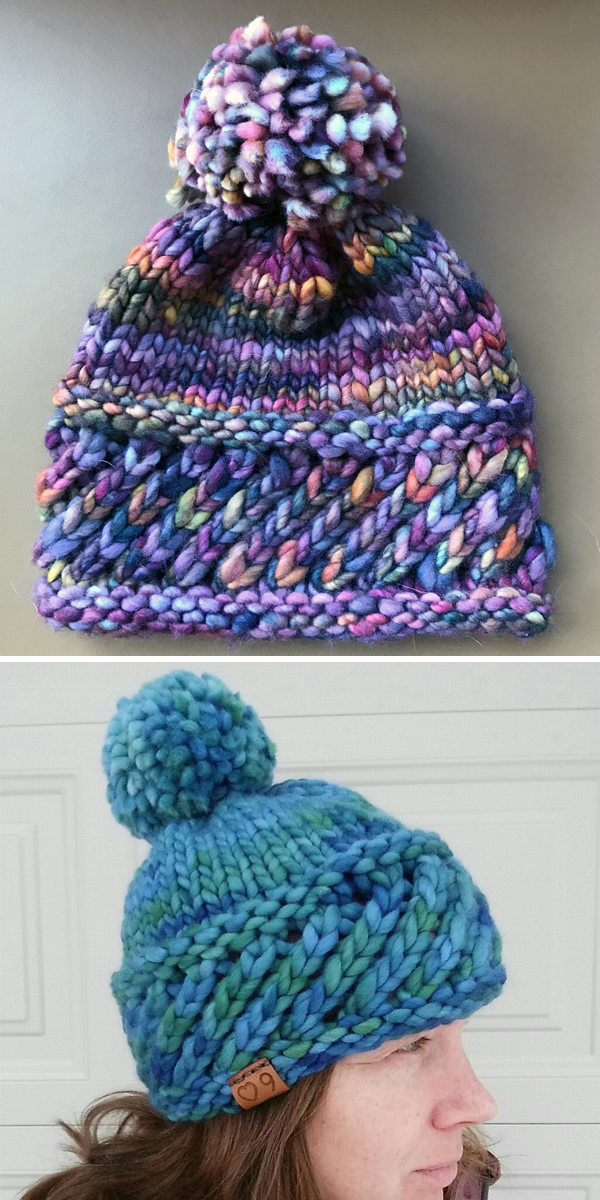 Perky Little Hat
Quick pompom hat with a diagonal stitch section. Takes a few hours in super bulky yarn. Designed by Sharon Lentsch. Great with multi-colored yarn. Pictured projects by the designer and sirensong4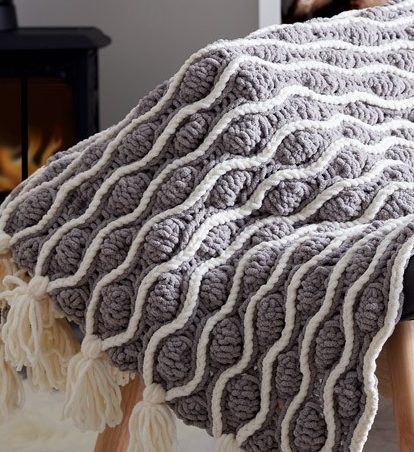 Trellis and Tassels Afghan
Super bulky Bernat Blanket Yarn gets dimension from cushiony raspberry stitches and color from surface slip stitches.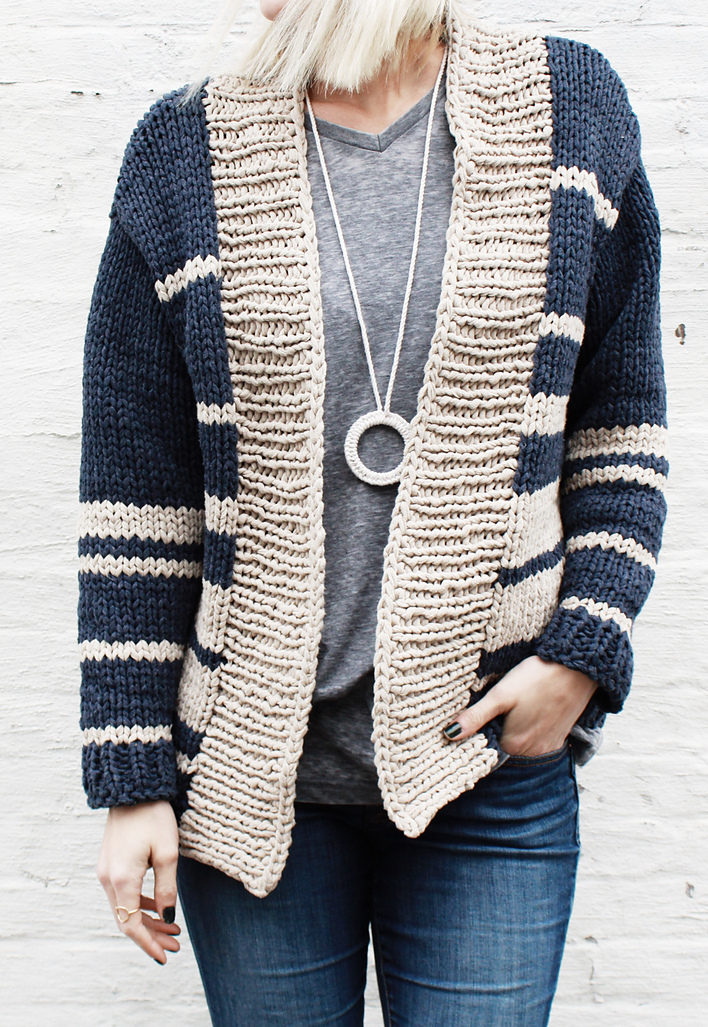 Oxford Boyfriend Cardigan
This easy casual cardigan by Alexandra Tavel for Two of Wands knits up quickly in super bulky yarn. S/M and L/XL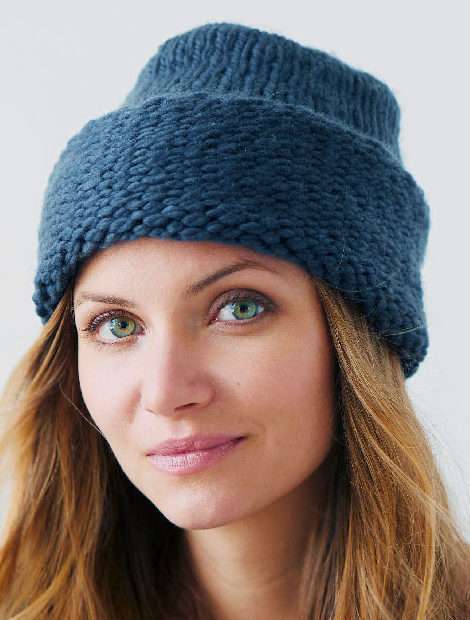 Priyome Hat
This easy hat uses just one ball of the recommended super bulky yarn. Designed by Emily Nora O'Neil

Cushy Cables Knit Blanket
Designed for Bernat, this cable throw knits up fast with super bulky yarn. Approx. 54″ x 60″

Collared Shawl
Jodi Snyder designed this easy shawl with a cozy stylish collar that's a quick knit in super bulky yarn.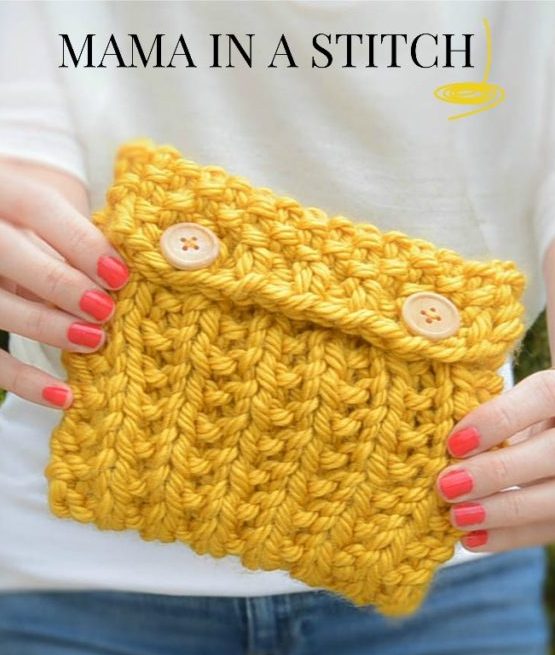 Anything Pouch
Mama in a Stitch created this easy pouch pattern knit in broken rib stitch with super bulky yarn. Great stash buster!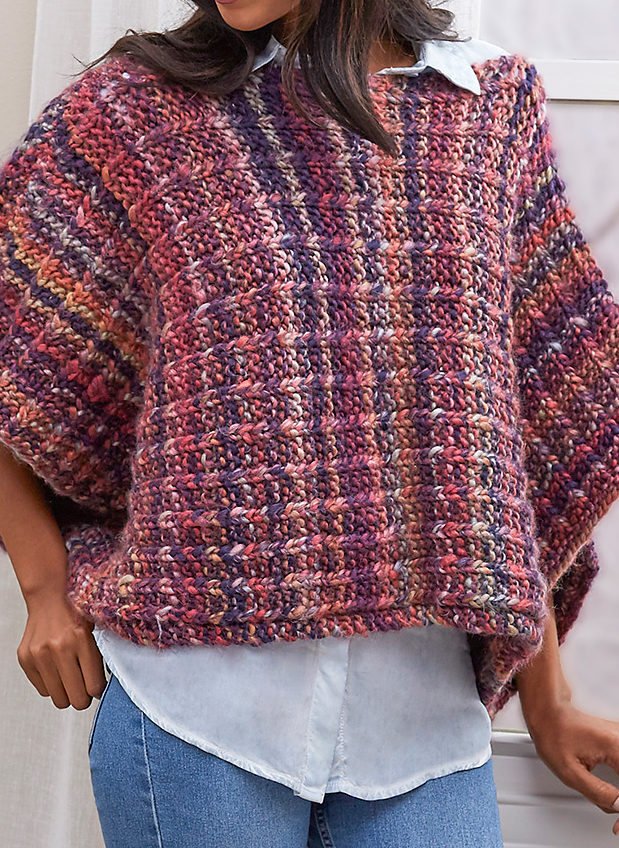 Easy Boat Neck Poncho
Easy poncho pattern is knit sideways in a 2-row 4-stitch repeat that looks great in multi-color yarn. Quick knit in super bulky yarn. 5 sizes from small to xx-large. Designed by Michele Maks for Red Heart.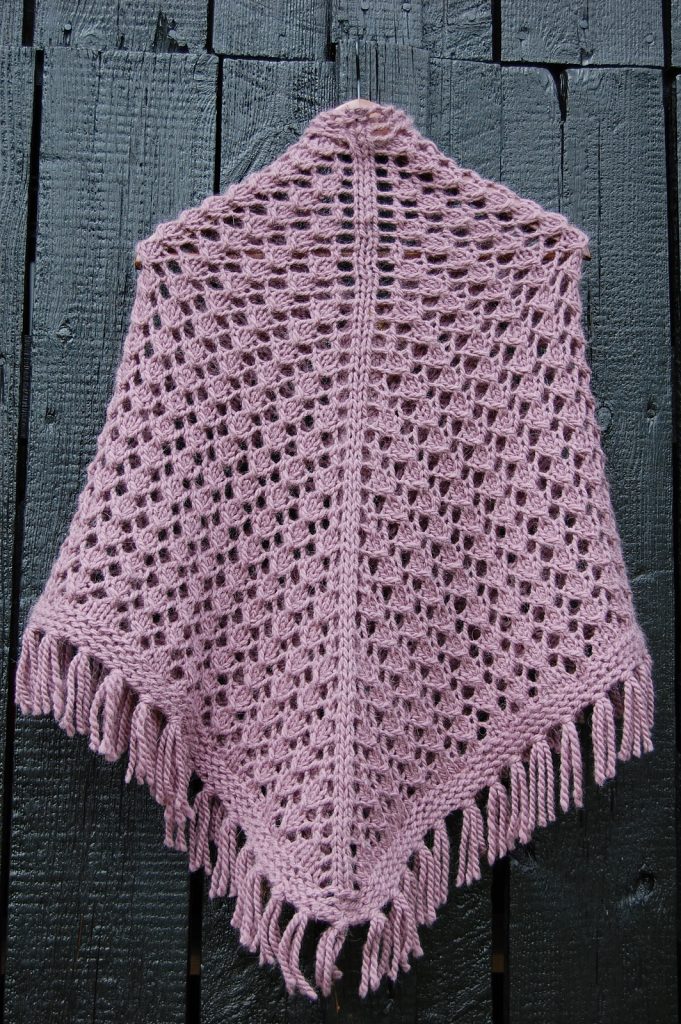 Joy of Fall Shawl
Think lace and super bulky don't go together? This triangle lace shawl by DROPS Design uses super bulky yarn so it's quick to knit.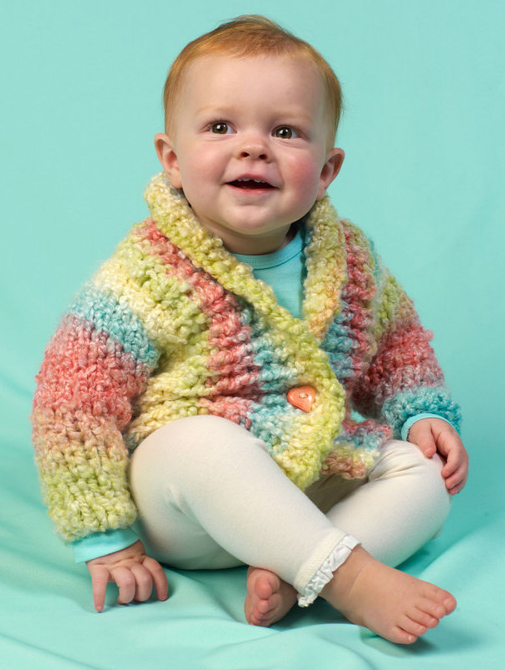 Cuddle Up Baby Cardi
Need a quick shower gift? This cowl collared cardigan sweater by Lorna Miser for Red Heart is an easy-to-knit gift for a special baby. Sizes 6 months to 24 months.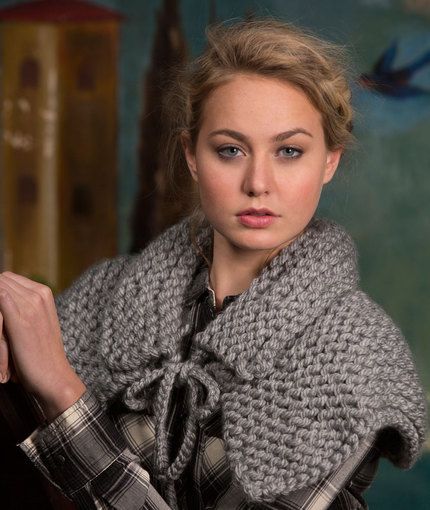 Romantic Capelet
Cathy Payson designed Red Heart's version of Claire's capelet. Sizes from X-Small to XX-Large. Knit in super bulky for a quick, cozy project.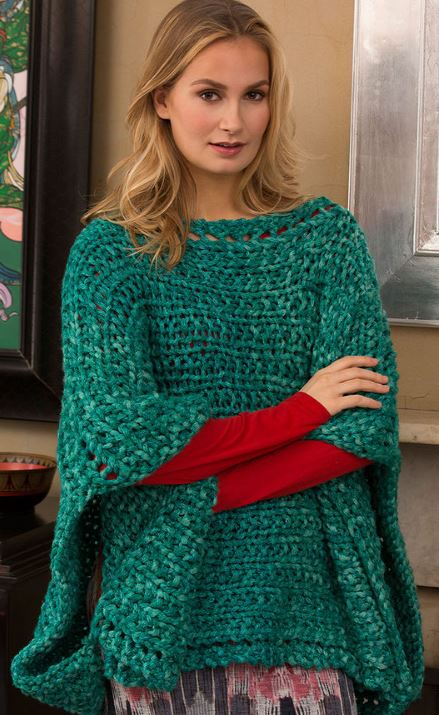 Boat Neck Poncho
This easy beginner pattern by Cathy Payson for Red Heart features super bulky yarn, a simple shape and easy stitch pattern to make a quick fashion statement.
More Free Patterns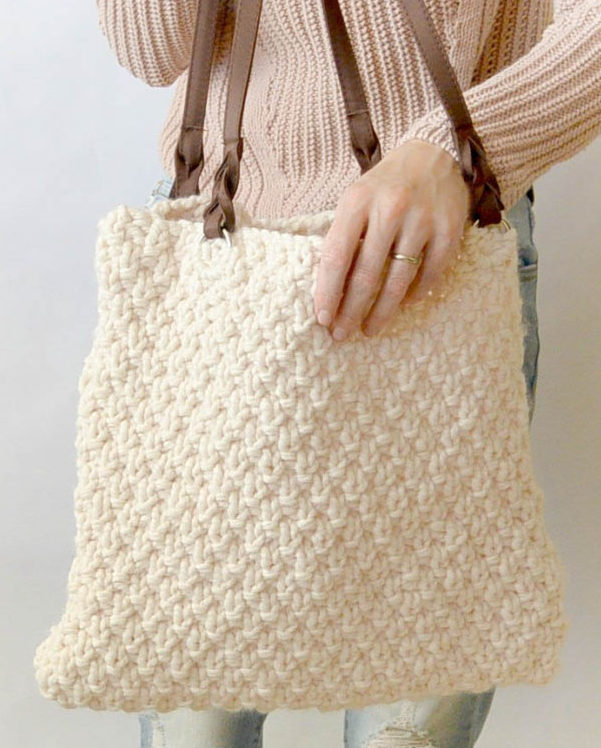 Aspen Knit Bag
This roomy purse from Mama In a Stitch couldn't be simpler — just knit a large rectangle in double seed stitch, fold, and seam! Even better, it's a quick knit in super bulky yarn.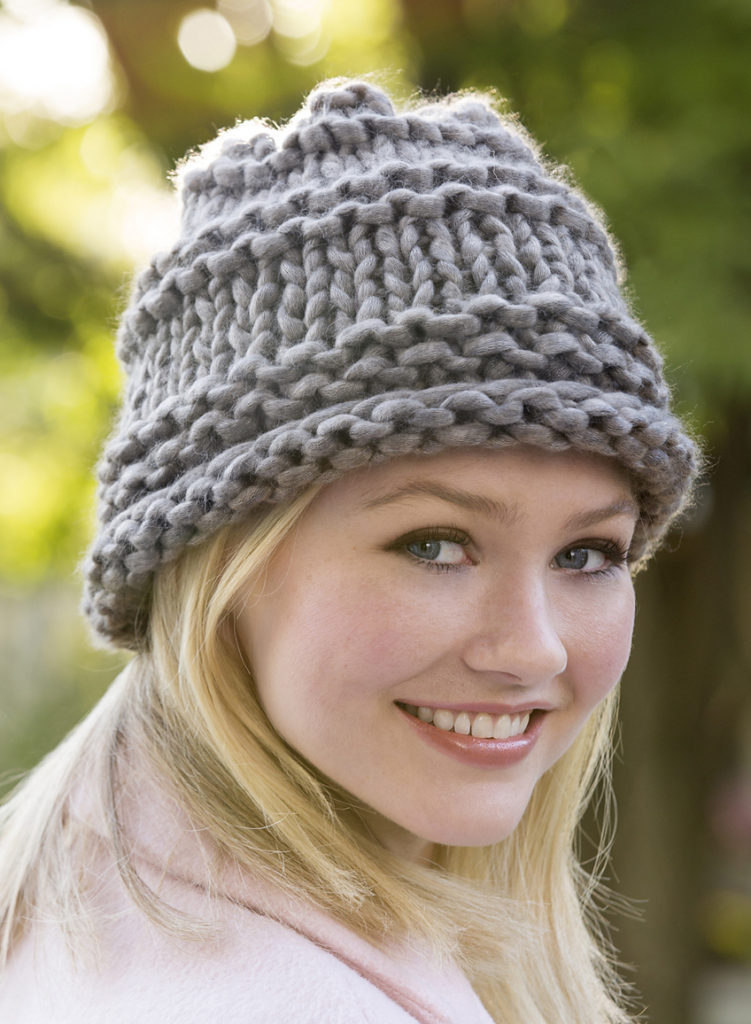 City Chic Hat
This easy hat only takes one skein of yarn and is a quick knit in super bulky yarn. Designed by Nancy J. Thomas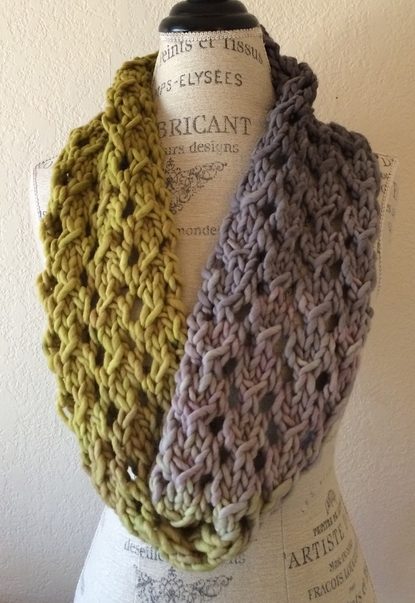 Bulky Lace Cowl
This cowl from NobleKnits is knit in a super bulky ombre yarn that works up in just a few hours. The easy 4 row lace repeat is a perfect first lace project.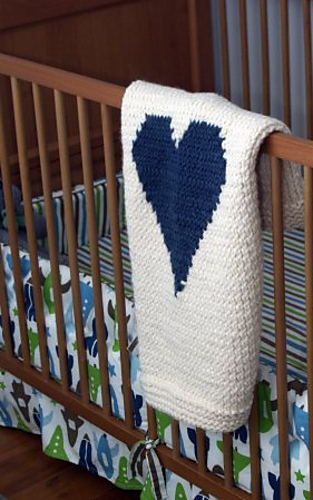 Heart Baby Blanket
Sarah Patterson's baby blanket is quick knit in super bulky yarn.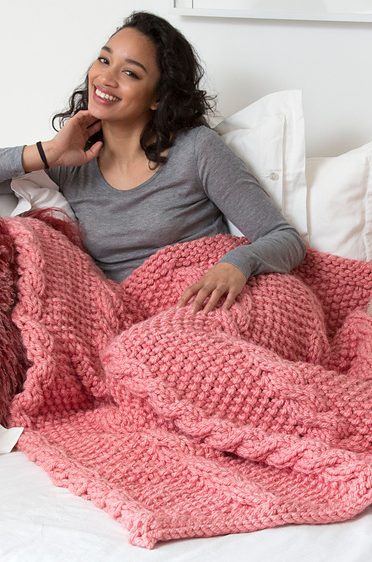 Big Cables Throw
Laura Bain designed this easy cable afghan for Red Heart that's a quick knit in super bulky yarn.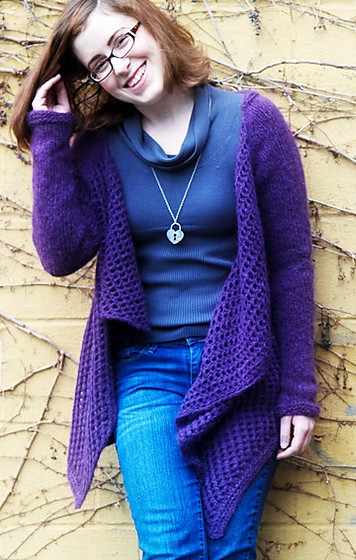 Cirriform Cardigan
This top-down raglan sweater features long asymmetrical fronts in macro lace, and a small lace diamond on the upper back. The designer, Emma Welform, used Berroco Kodiak, and recommends that your yarn choice be lightweight and lofty. Sizes 35.75 [40, 44.5, 48.75, 53.25, 58.75, 63.05] inches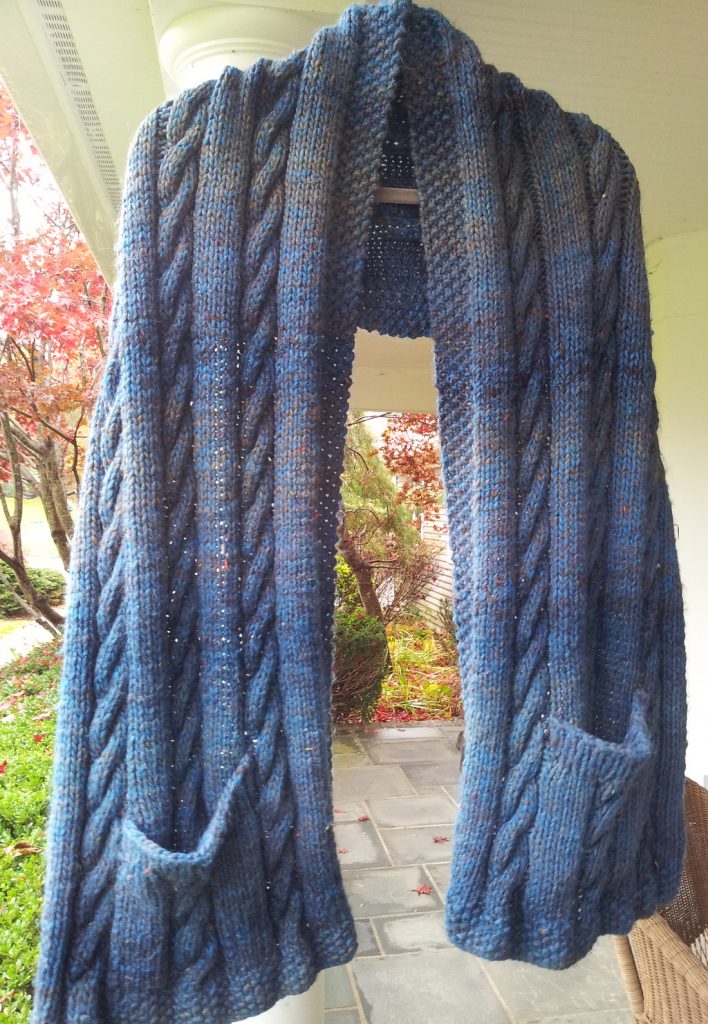 Cabled Pocket Shawl
JoAnne Zoller Wagner's shawl is the perfect combination of coziness and practicality. Great quick gift! Pictured project by wrenknits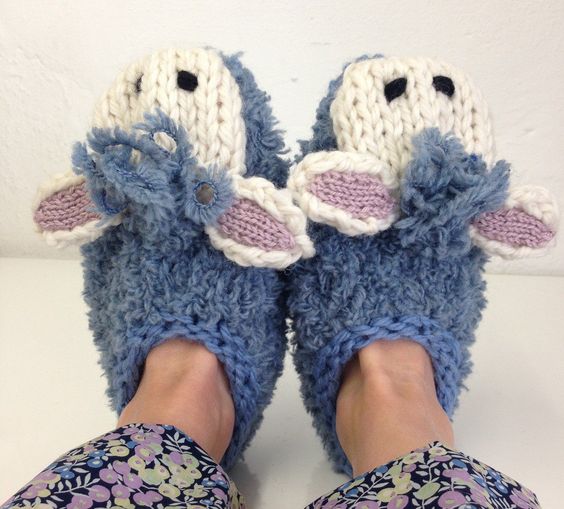 Sheep Slippers
Emma Wright designed this cozy fun slippers.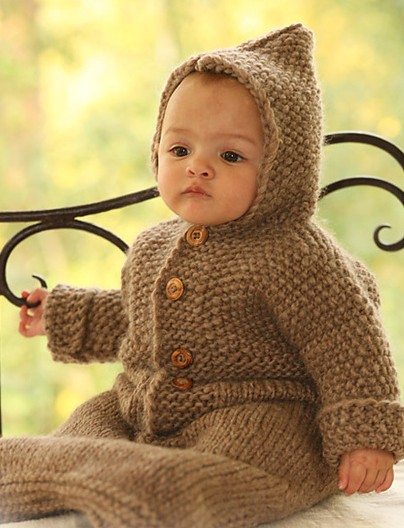 Hazelnut Bunting Bag
This sleep sack by DROPS design features a hood and buttoned front in seed stitch. A quick project in super bulky yarn. Sizes 1/3 – 6/9 – 12/18 months (2 – 3/4) years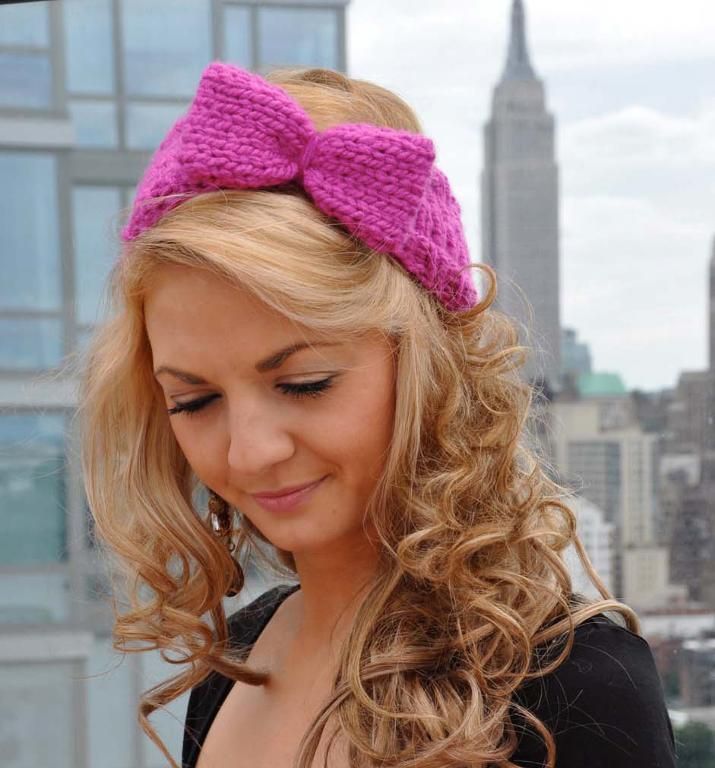 "Bow Head" Bow Headband
Lauren Riker designed this headband with instructions for knitting with either circular or straight needles. She also has a video tutorial.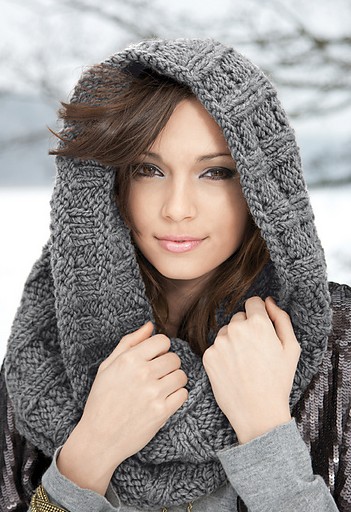 Lara's Cowl
Red Heart's large cowl easily converts into a hood and is a quick cozy knit in super bulky yarn.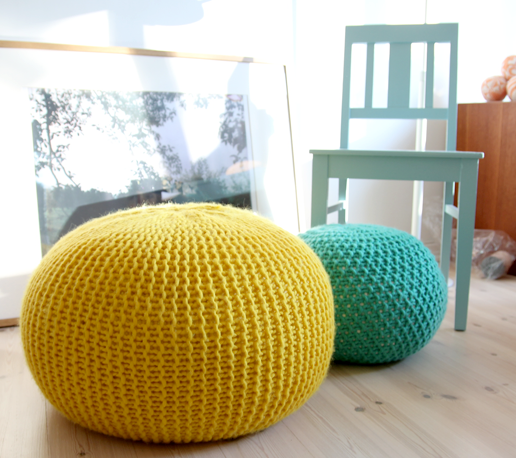 Puff Daddy Pouf
This knitted stool by Pickles is knit with super bulky yarn on size 15 needles and stuffed with duves. Circumference 70″ and Height 16″, but there are variations for smaller versions with different stitches.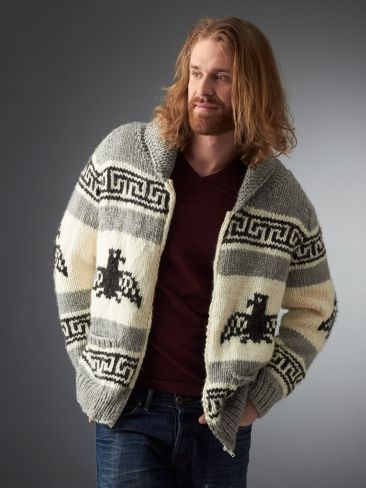 I'm the Dude Jacket
Yarnspirations' jacket inspired by the Big Lebowski features a fair isle pattern. Sizes from XS through 5XL.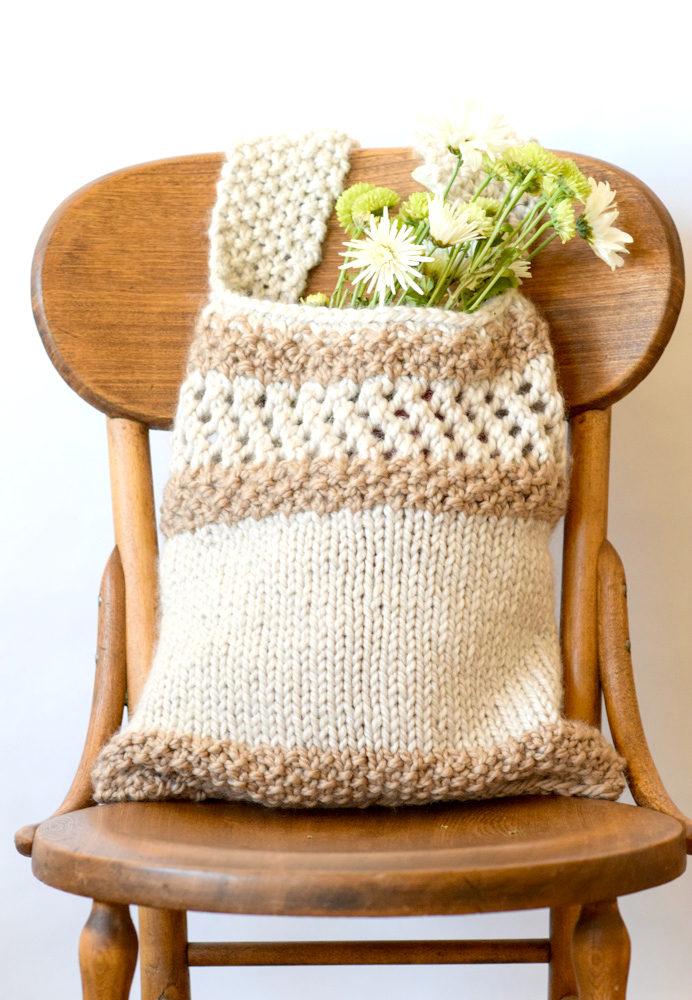 Darice Farmers Market Tote
This tote is easy and a quick knit in super bulky yarn. Bag measures 17" inches tall and 14" inches wide. Designed by Jessica Reeves Potasz of Mama in a Stitch. The web version is free and the printable pdf is available on Etsy.
Patterns for Purchase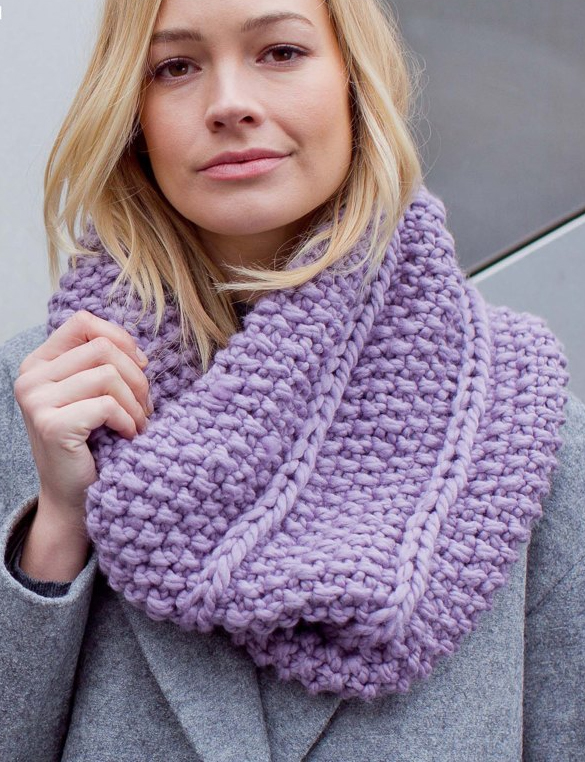 Margareta Moss Cowl
Knit flat on a circular needle, this cowl forms a deep cozy loop. Quick knit in super bulky yarn. Easy cowl, perfect for adventurous beginners. Designed by MillaMia.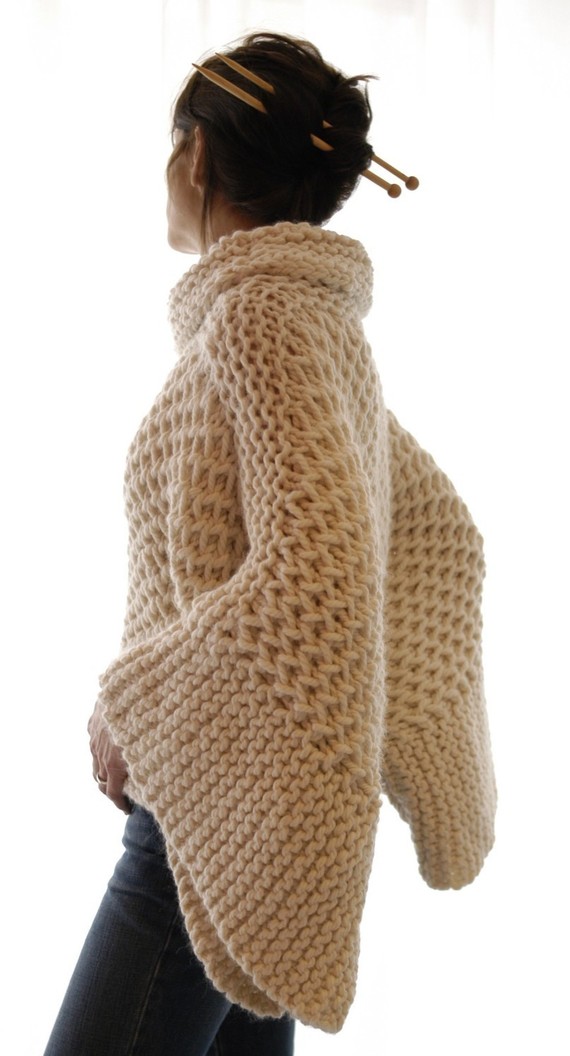 Misti Brioche Honeycomb Sweater
I love this design! This dramatic sweater by Karen Clements features dramatic kimono sleeves knit in super bulky yarn.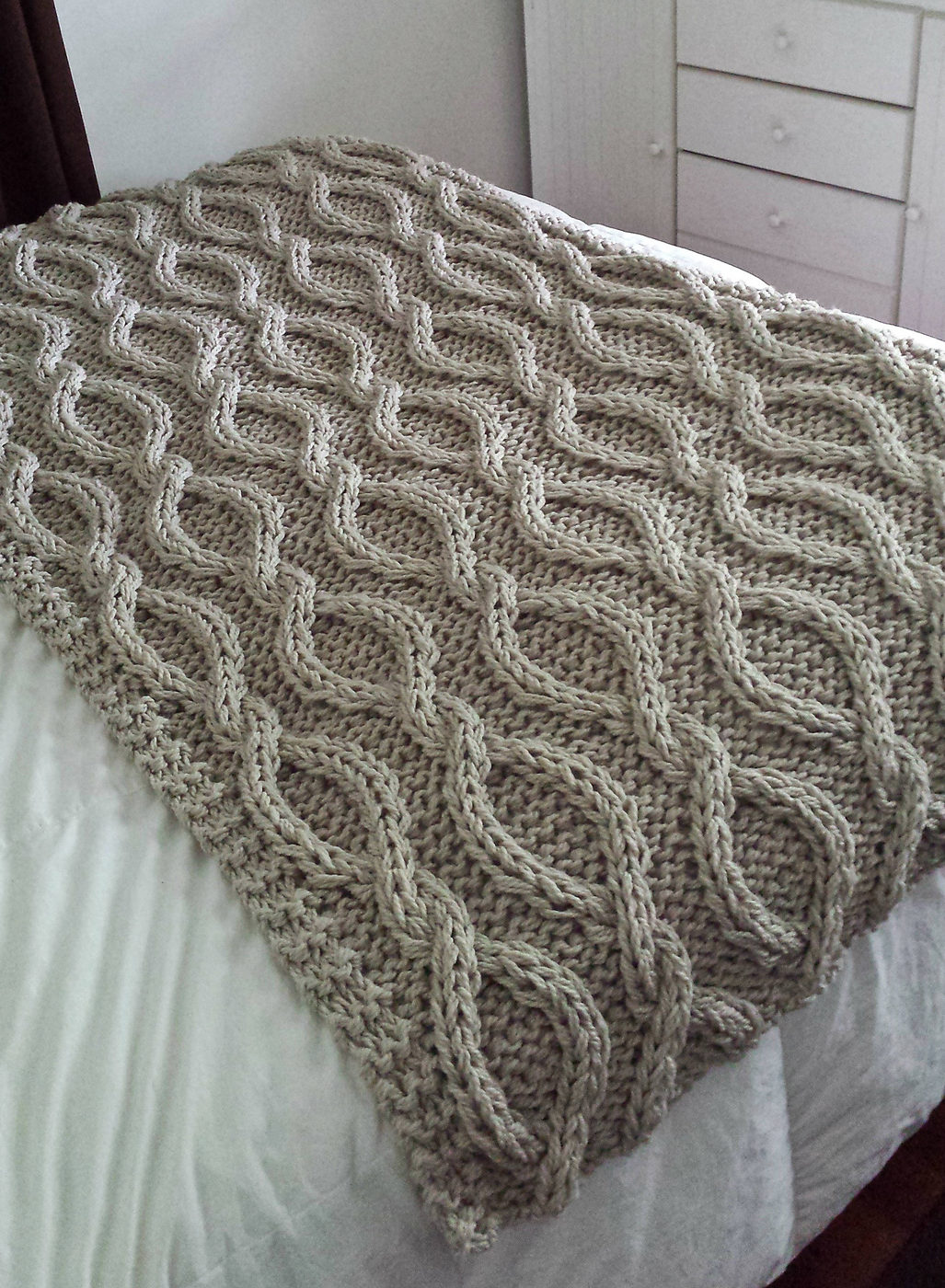 Infinity Cable Blanket
Can be knit with super bulky yarn 2 strands held together or worsted weight 4 strands held together.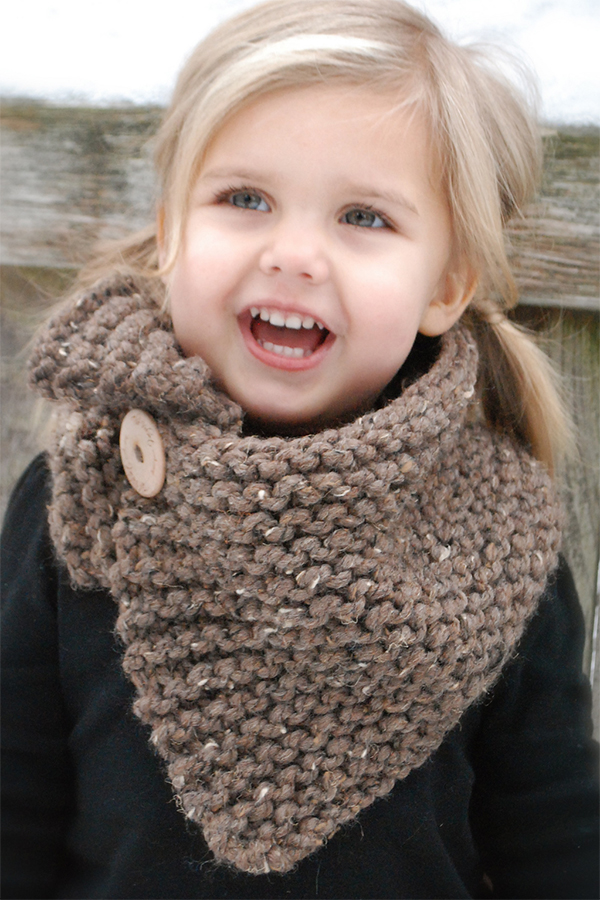 Boston Cowl
Sizes for Toddler, Child, and Adult. Quick knit in super bulky yarn.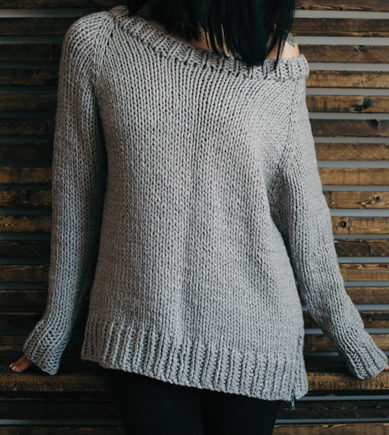 Undone Pullover
Cozy long-sleeved sweater features zippers for fun. Quick knit in super bulky yarn. Finished bust measurements are 34 (38, 42, 46, 50, 54, 58)".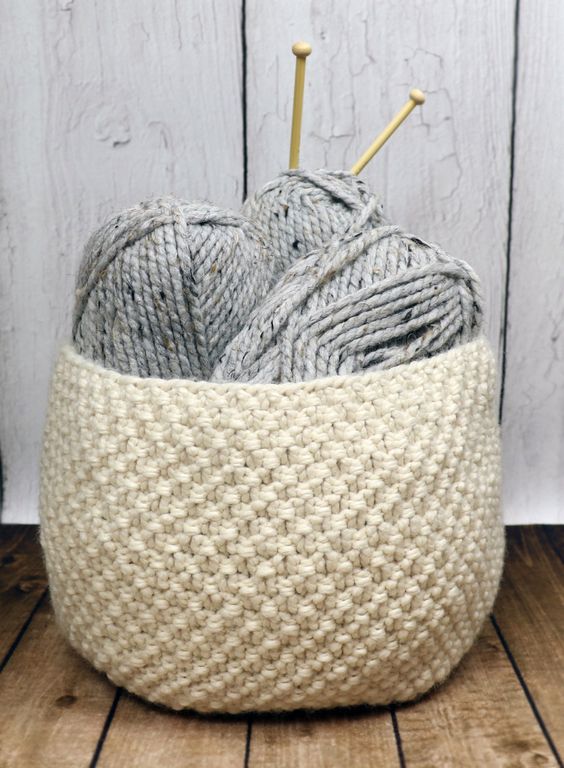 Oodles Basket
Easy pattern and quick project in super bulky yarn. 28″ around x 9″ high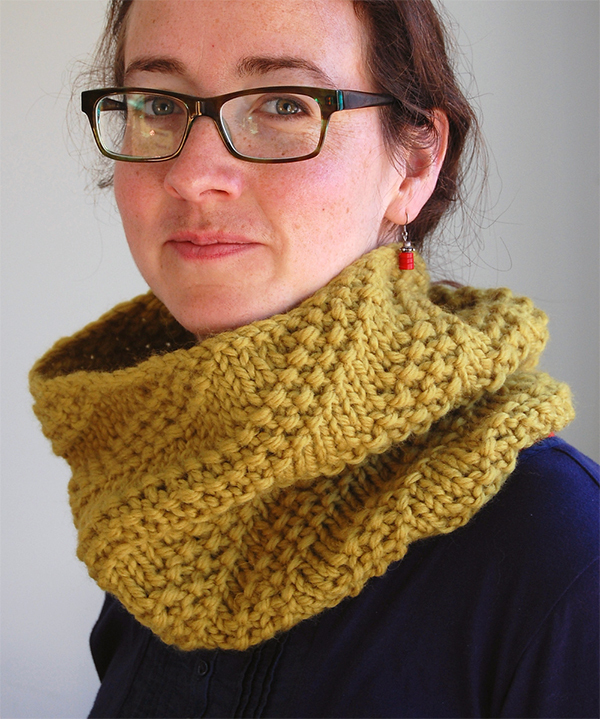 Rivulet Cowl
Quick easy cowl knit in the round. Suitable for beginners, it's knit in super bulky yarn. Designed by Louise Zass-Bangham.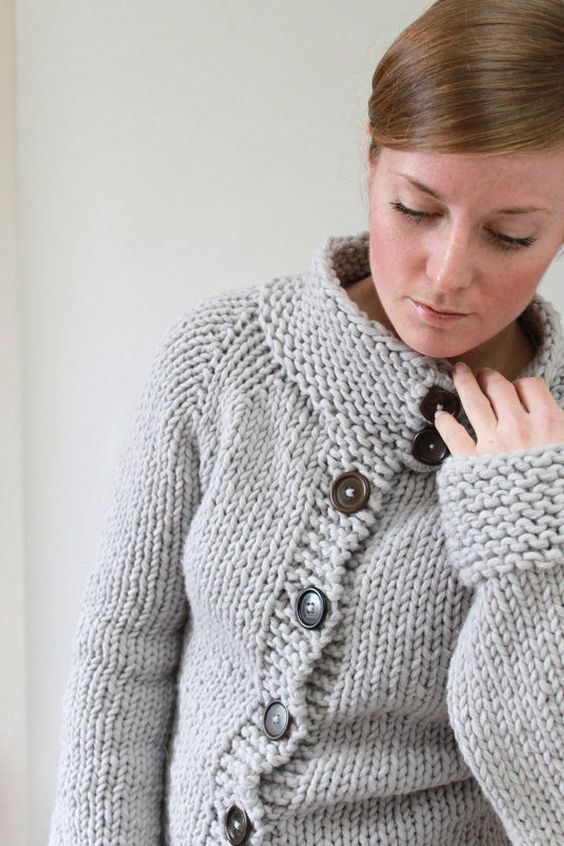 Twiggy Cardigan
Top-down super bulky sweater with a funnel neck and chunky garter stitch cuffs and hem. SIZES To Fit Bust: 28(30, 32, 34, 36, 38, 40, 42, 44, 46, 48)in 71(76, 81.5, 86.5, 91.5, 96.5, 101.5, 106.5, 112, 117, 122)cm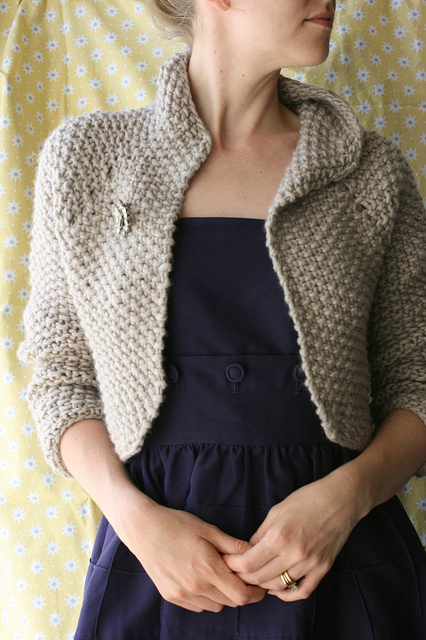 Snowdrift Shrug
Hilary Smith Callis designed this shrug that is a knit quickly top down in seed stitch and super bulky yarn for Knitscene Winter 2012. 33 (36½, 40½, 44, 48, 52)" bust circumference. One warning — the photo on the pattern page is not really flattering. The photo above is the designer's photo of her own pattern.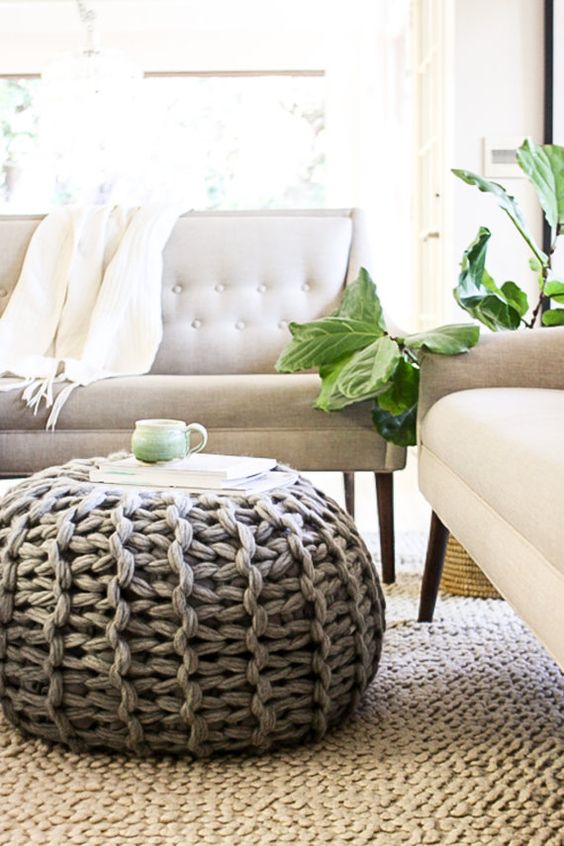 Arm Knit Fabulous Floor Pouf
Arm knit this ottoman in a couple of hours with super bulky yarn. The pouf is 24″ x 24″.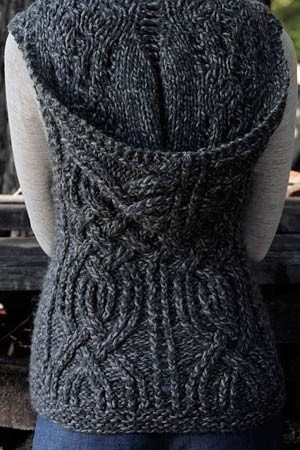 Leif Slipover
Adrienne Larsen designed this slipover vest that features cables and a hood. Sizes 32½ (35½ , 39½ , 44½ , 49½, 51½ )" bust circumference.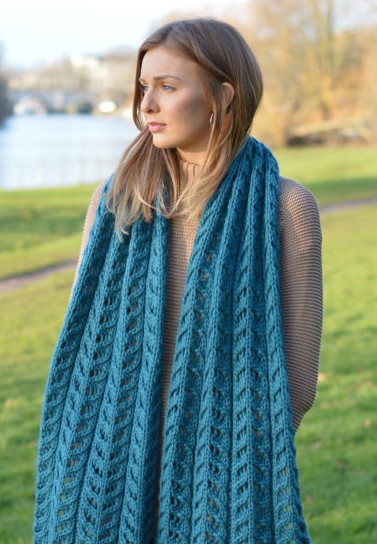 Kinvara Shawl
The pattern is only 4 rows of basic knitting stitches repeated until you reach the required length. This makes it a very enjoyable knitting experience and VERY satisfying as it's quick and easy but with beautiful results.