Super Bulky Yarn Knitting Patterns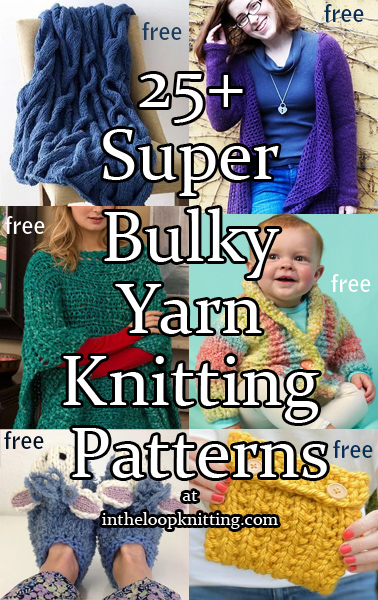 Super bulky and super chunky yarn make for quick projects, but I've found it a challenge to find patterns that work well with the properties of such thick yarn. So I've collected knitting patterns specifically designed for super bulky yarn including sweaters, afghans, baby projects, accessories, and more.
To get the knitting patterns, scroll down the page to the individual pattern you want and click on the link to that pattern.
These patterns are not my designs but links to other designers who have generously shared their patterns. If you have questions about how to knit a specific pattern, please contact the designer directly.
All links on this site are for informational purposes, but please note that some links are to affiliate sellers that pay me a small commission on purchases.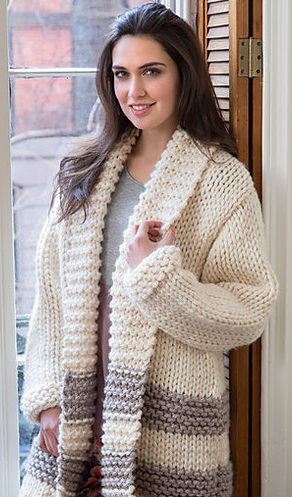 Cozy Car Coat
This easy cardigan jacket by Heather Lodinsky knits up quickly in super bulky yarn. I always wanted one of these!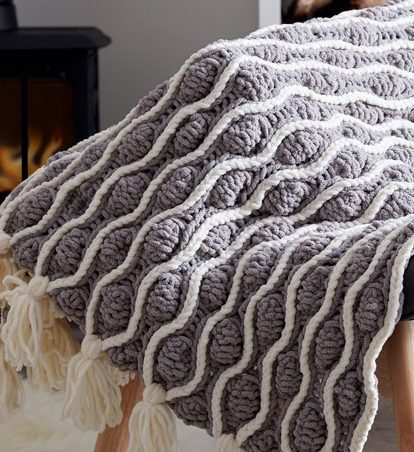 Trellis and Tassels Afghan
Super bulky Bernat Blanket Yarn gets dimension from cushiony raspberry stitches and color from surface slip stitches.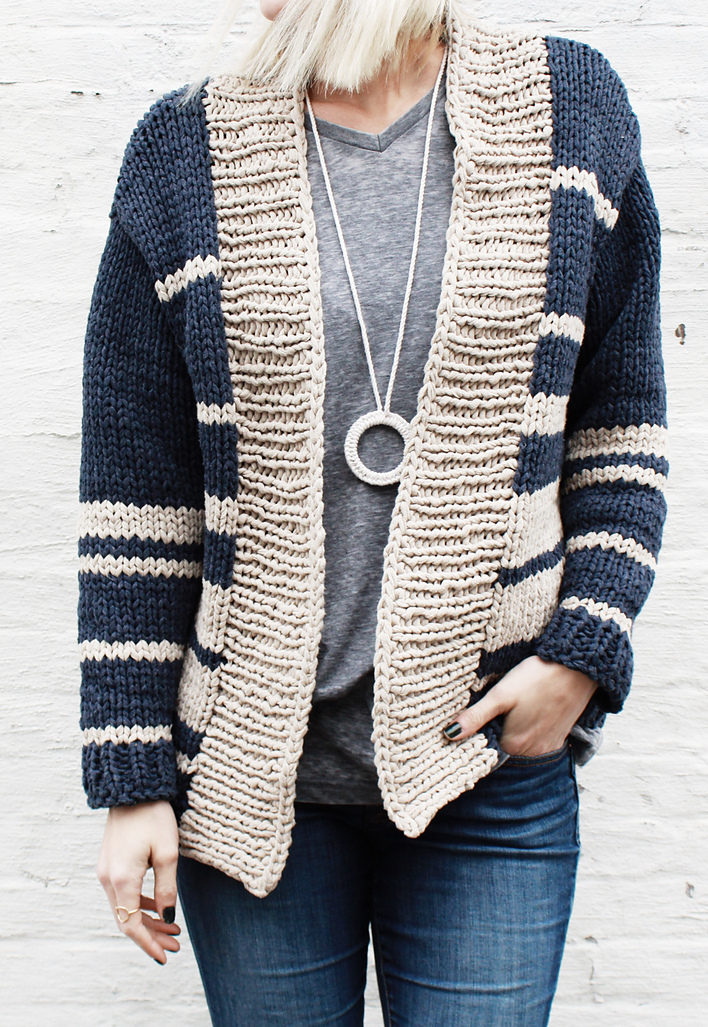 Oxford Boyfriend Cardigan
This easy casual cardigan by Alexandra Tavel for Two of Wands knits up quickly in super bulky yarn. S/M and L/XL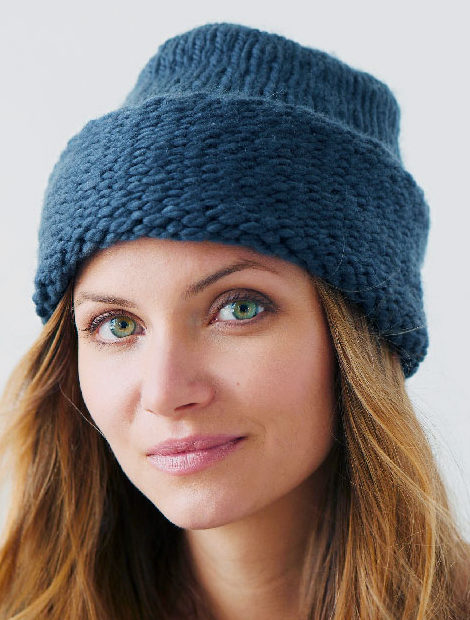 Priyome Hat
This easy hat uses just one ball of the recommended super bulky yarn. Designed by Emily Nora O'Neil

Cushy Cables Knit Blanket
Designed for Bernat, this cable throw knits up fast with super bulky yarn. Approx. 54″ x 60″

Collared Shawl
Jodi Snyder designed this easy shawl with a cozy stylish collar that's a quick knit in super bulky yarn.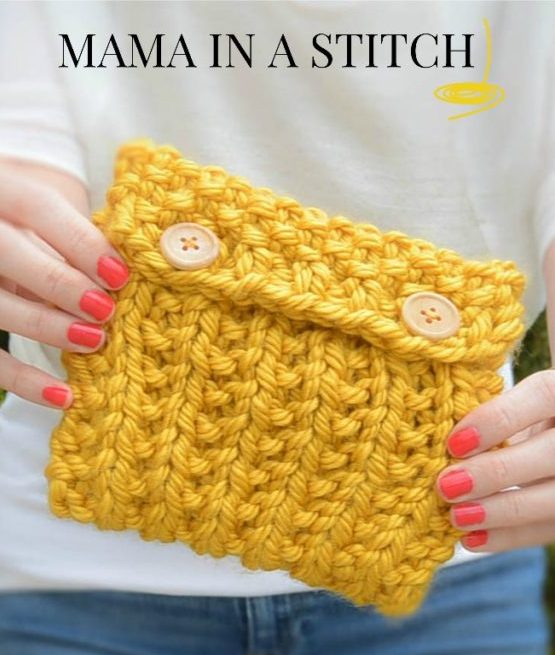 Anything Pouch
Mama in a Stitch created this easy pouch pattern knit in broken rib stitch with super bulky yarn. Great stash buster!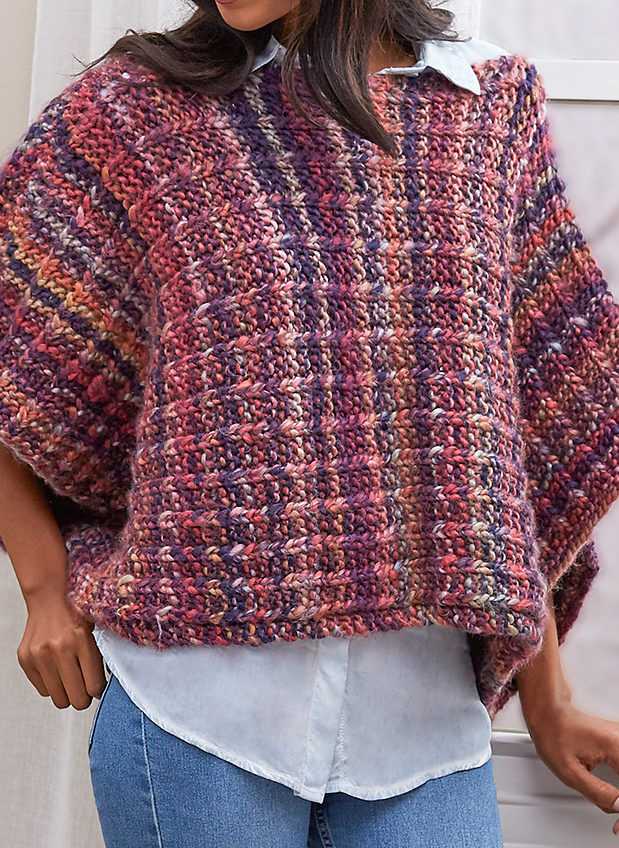 Easy Boat Neck Poncho
Easy poncho pattern is knit sideways in a 2-row 4-stitch repeat that looks great in multi-color yarn. Quick knit in super bulky yarn. 5 sizes from small to xx-large. Designed by Michele Maks for Red Heart.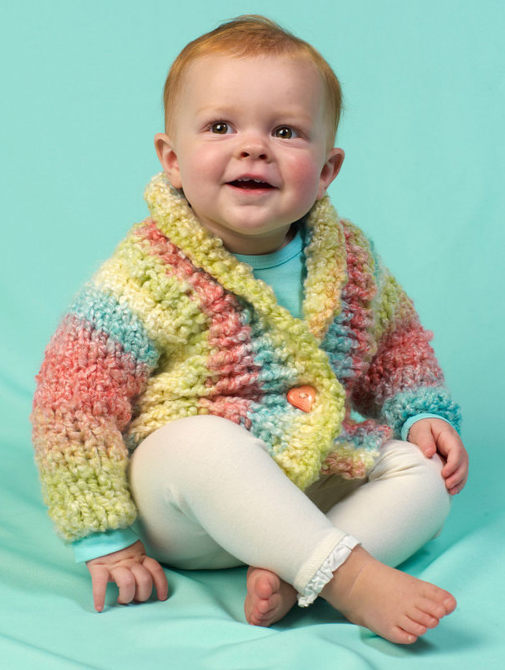 Cuddle Up Baby Cardi
Need a quick shower gift? This cowl collared cardigan sweater by Lorna Miser for Red Heart is an easy-to-knit gift for a special baby. Sizes 6 months to 24 months.
Heart Baby Blanket
Sarah Patterson's baby blanket is quick knit in super bulky yarn.
Romantic Capelet
Cathy Payson designed Red Heart's version of Claire's capelet. Sizes from X-Small to XX-Large. Knit in super bulky for a quick, cozy project.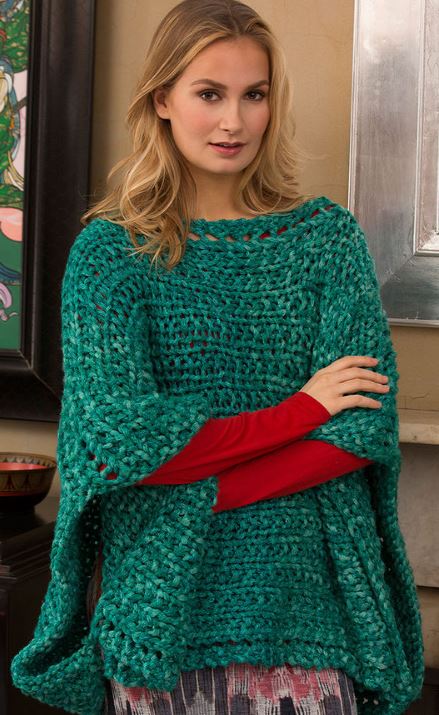 Boat Neck Poncho
This easy beginner pattern by Cathy Payson for Red Heart features super bulky yarn, a simple shape and easy stitch pattern to make a quick fashion statement.
Misti Brioche Honeycomb Sweater
I love this design! This dramatic sweater by Karen Clements features dramatic kimono sleeves knit in super bulky yarn.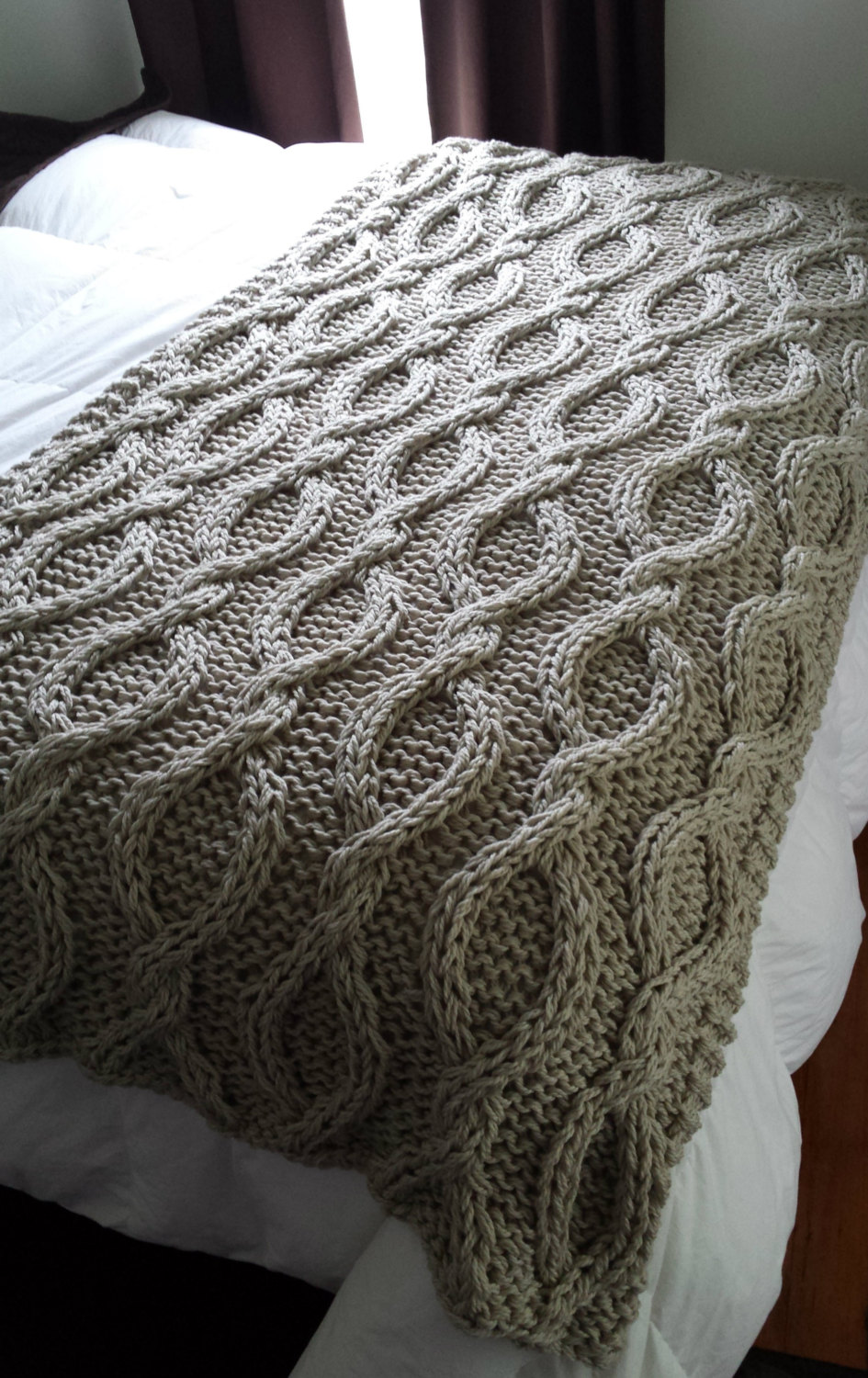 Infinity Cable Blanket
Can be knit with super bulky yarn 2 strands held together or worsted weight 4 strands held together.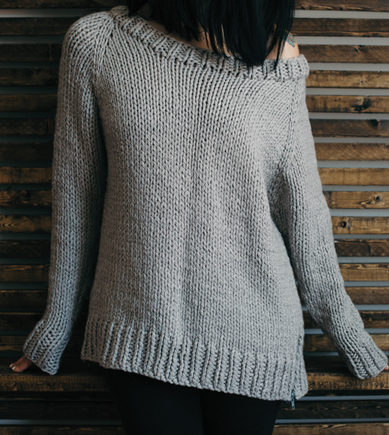 Undone Pullover
Cozy long-sleeved sweater features zippers for fun. Quick knit in super bulky yarn. Finished bust measurements are 34 (38, 42, 46, 50, 54, 58)".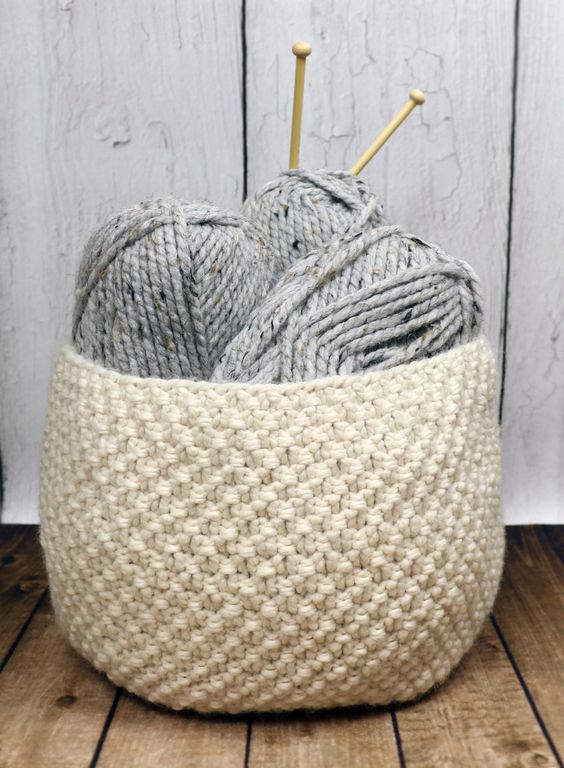 Oodles Basket
Easy pattern and quick project in super bulky yarn. 28″ around x 9″ high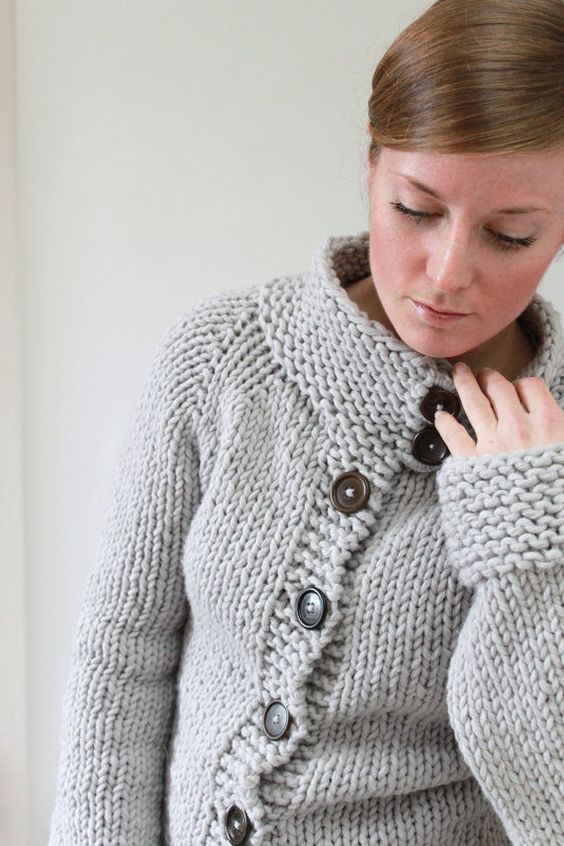 Twiggy Cardigan
Top-down super bulky sweater with a funnel neck and chunky garter stitch cuffs and hem. SIZES To Fit Bust: 28(30, 32, 34, 36, 38, 40, 42, 44, 46, 48)in 71(76, 81.5, 86.5, 91.5, 96.5, 101.5, 106.5, 112, 117, 122)cm



Snowdrift Shrug

Hilary Smith Callis designed this shrug that is a knit quickly top down in seed stitch and super bulky yarn for Knitscene Winter 2012. 33 (36½, 40½, 44, 48, 52)" bust circumference. One warning — the photo on the pattern page is not really flattering. The photo above is the designer's photo of her own pattern.

Sleepy Owl Baby Blanket
Designed for Amanda Hatcher, cables form owl motifs in this baby blanket. Size 28" X 28" in super chunky
Arm Knit Fabulous Floor Pouf
Arm knit this ottoman in a couple of hours with super bulky yarn. The pouf is 24″ x 24″.
Leif Slipover
Adrienne Larsen designed this slipover vest that features cables and a hood. Sizes 32½ (35½ , 39½ , 44½ , 49½, 51½ )" bust circumference.
Kinvara Shawl
The pattern is only 4 rows of basic knitting stitches repeated until you reach the required length. This makes it a very enjoyable knitting experience and VERY satisfying as it's quick and easy but with beautiful results.
Terry Matz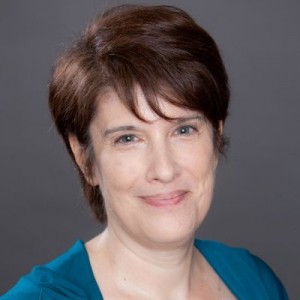 Terry is a knitting late-bloomer, learning to knit as an adult from Internet tutorials, because she wanted a craft that was useful, fun, and portable. Knitting hats for cancer patients inspired her to design her own patterns—available for free at her blog, intheloopknitting.com. Terry met her husband Ken at a science fiction convention and moved to the Kansas City area to be with him more than 30 years ago. Terry supports her yarn stash by creating websites and other digital media. Terry firmly believes in Knitting in Public—it's a great conversation starter!