Easy Shrug Knitting Patterns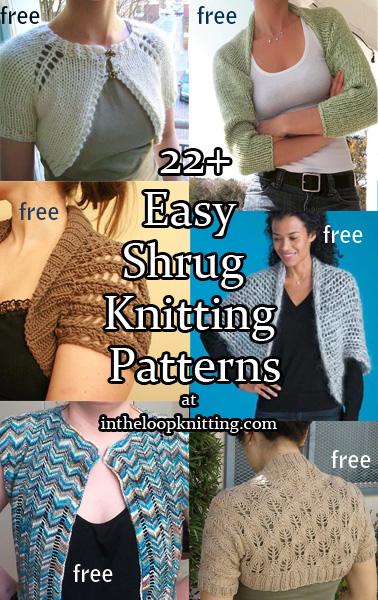 These shrugs are knit in one or two pieces. Many of them are one knit as one rectangle and then seamed to create the armholes. No shaping, little seaming. These are great projects for beginners or any knitter looking for quick knitting gratification.
For more shrug knitting patterns, see:
To get the knitting patterns, scroll down the page to the individual pattern you want and click on the link to that pattern.
These patterns are not my designs but links to other designers who have generously shared their patterns. If you have questions about how to knit a specific pattern, please contact the designer directly.
All links on this site are for informational purposes, but please note that some links are to affiliate sellers that pay me a small commission on purchases.

Chickadee Shrug
This easy shrug is knit in one piece with an 8 row repeat lace pattern and ribbing, and seamed. Quick knit in bulky yarn. Designed by Tanis Gray. Rated easy by Ravelrers.
 
Ribbed Shrug
This easy shrug is knit in one piece and seamed. Designed by Erika Knight. Sizes 34-36, 38-40, 42-44. Pictured project by honeybeeknits. Excerpted from Glamour Knits

Super Chunky Slouchy Shrug
This easy shrug is a rectangle knit in super bulky yarn.
[widget id="black-studio-tinymce-17″]

Myciena Bolero
This easy shrug from Willow Yarn features a chevron stitch that is knit on a flat rectangle with ribbed edging and then folded and seamed to create the sweater front and sleeves.

Cozy Shrug
This easy shrug is a quick knit in super bulky yarn. The back is knit in one piece in garter stitch and then stitches are picked up for the border.
[widget id="black-studio-tinymce-17″]

Cable Cross Shrug
Knit in one piece that is seamed at the ends and across the back to form arm holes. Designed by Willow Yarns. Sizes: Small (Medium, Large)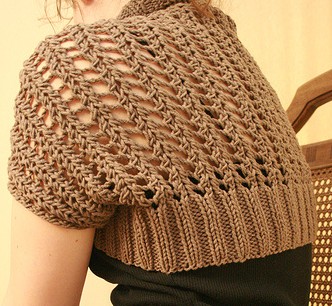 Ribbed Lace Bolero
Easy shrug by Kelly Maher is a rectangle that is knit and then seamed to form the shrug shape.

Marni's Simple Knit Shrug
Marni's one piece shrug is knit in stockinette with double strands of aran weight yarn and seamed. Pattern includes video and photo instructions.

Cassie Bolero
Easy shrug by DROPS Design features a diamond lace pattern. Worked flat in one piece. Size: S/M – L – XL /XXL – XXXL
Speckled Shrug
Another folded rectangle shrug but this one from Lion Brand  folds up with longer sleeves and more relaxed fit. Knit with ribbing at top and bottom and stockinette for the body. About 38 x 44 in. (96.5 x 112 cm), before folding and seaming
[widget id="black-studio-tinymce-9″]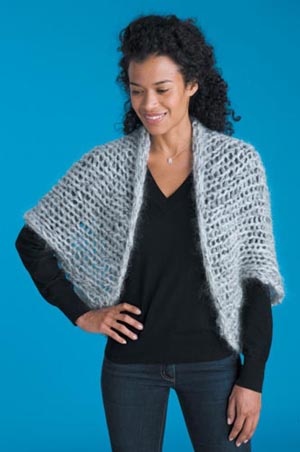 Cocoon Shrug
Shrug by Lion Brand is a quick project knitting 3 strands of bulky yarn together on giant size 50 needles. One size, about 27½ in. [70 cm] across. Shrug is very stretchy and will fit most sizes.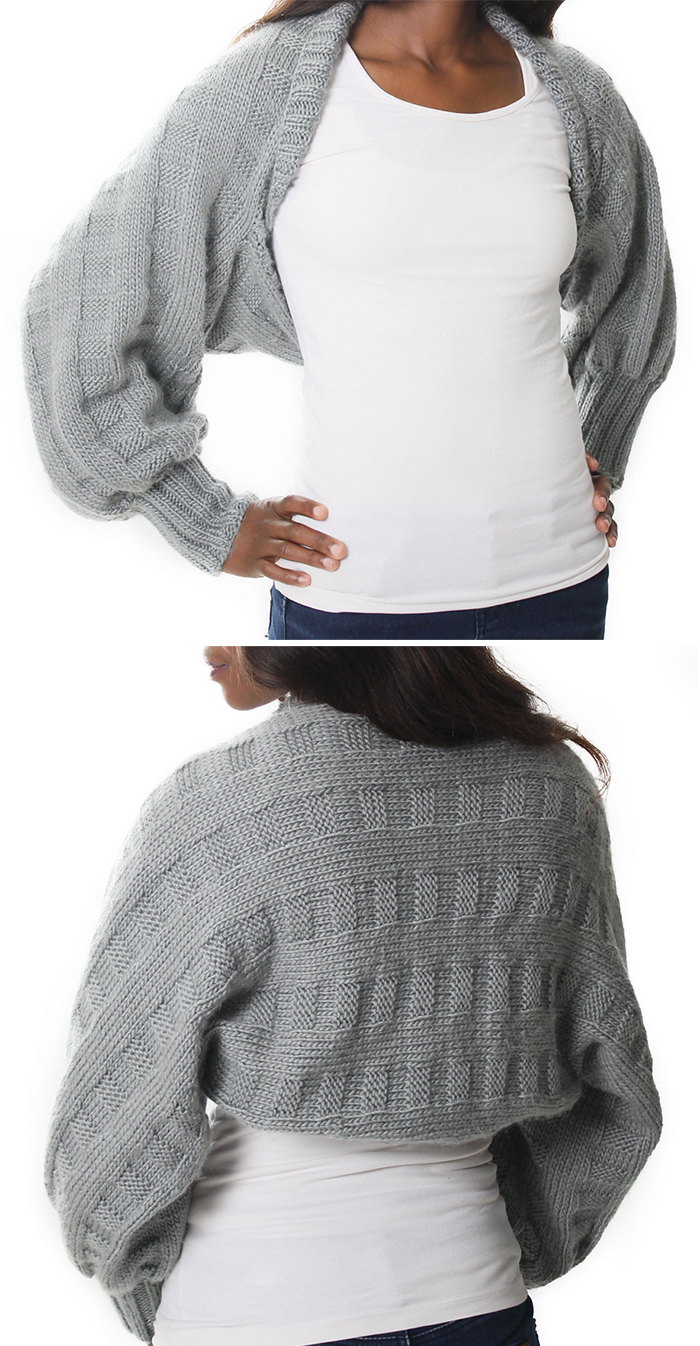 Honor Shrug
The designer says this shrug is an advanced beginner level pattern. The pattern is worked sideways in basic stitches and there is some knitting in the round with dpns, I assume for the cuffs. To fit bust 30–34 (36–40, 42–46, 48–52)" / (76–86.5 [91.5–101.5, 106.5–117, 122–132] cm) Quick knit in bulky yarn. Designed by Noma ndlovu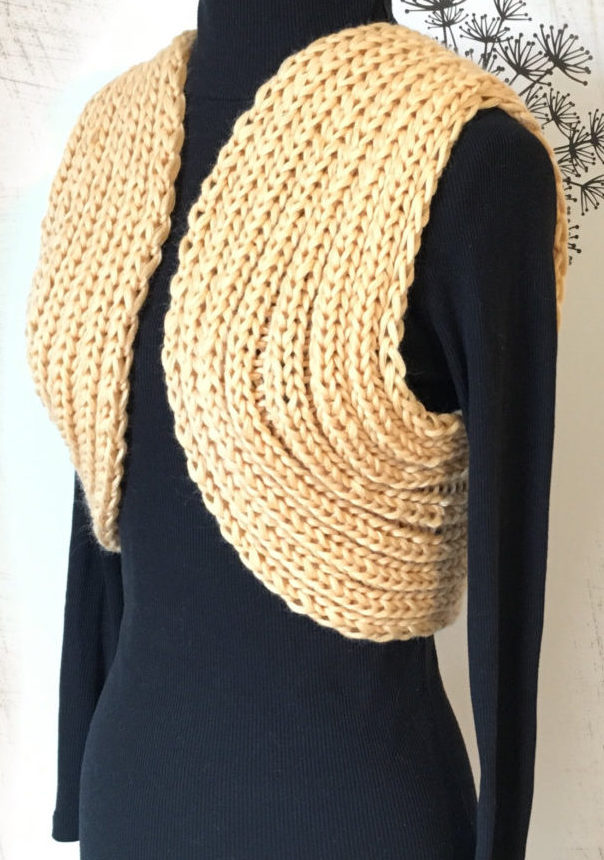 Circle Bolero
The designer says this shrug is a beginner level pattern, requiring just basic stitches. Quick knit in bulky yarn. Designed by
The Mailo Design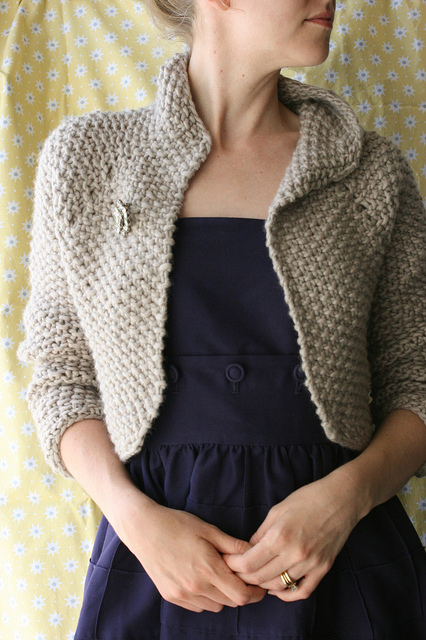 Snowdrift Shrug
Hilary Smith Callis designed this shrug that is a knit quickly top down in seed stitch and super bulky yarn for Knitscene Winter 2012. 33 (36½, 40½, 44, 48, 52)" bust circumference. One warning — the photo on the pattern page is not really flattering. The photo above is the designer's photo of her own pattern.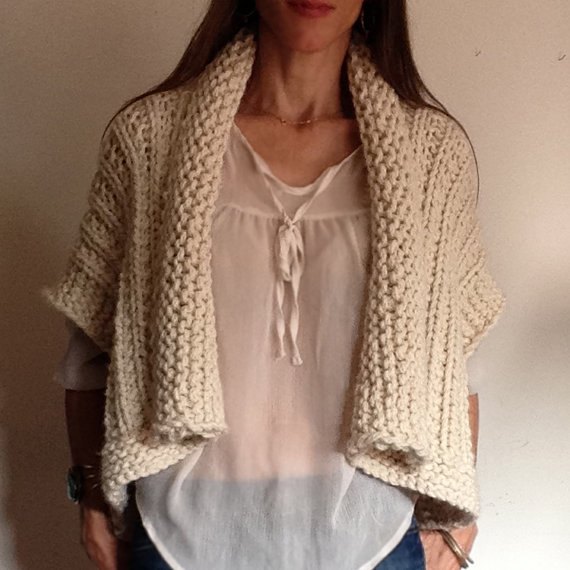 The Montreal
This super simple pattern for a shrug/cardigan with draped front by Karen Clements can easily be finished in a weekend in super bulky yarn.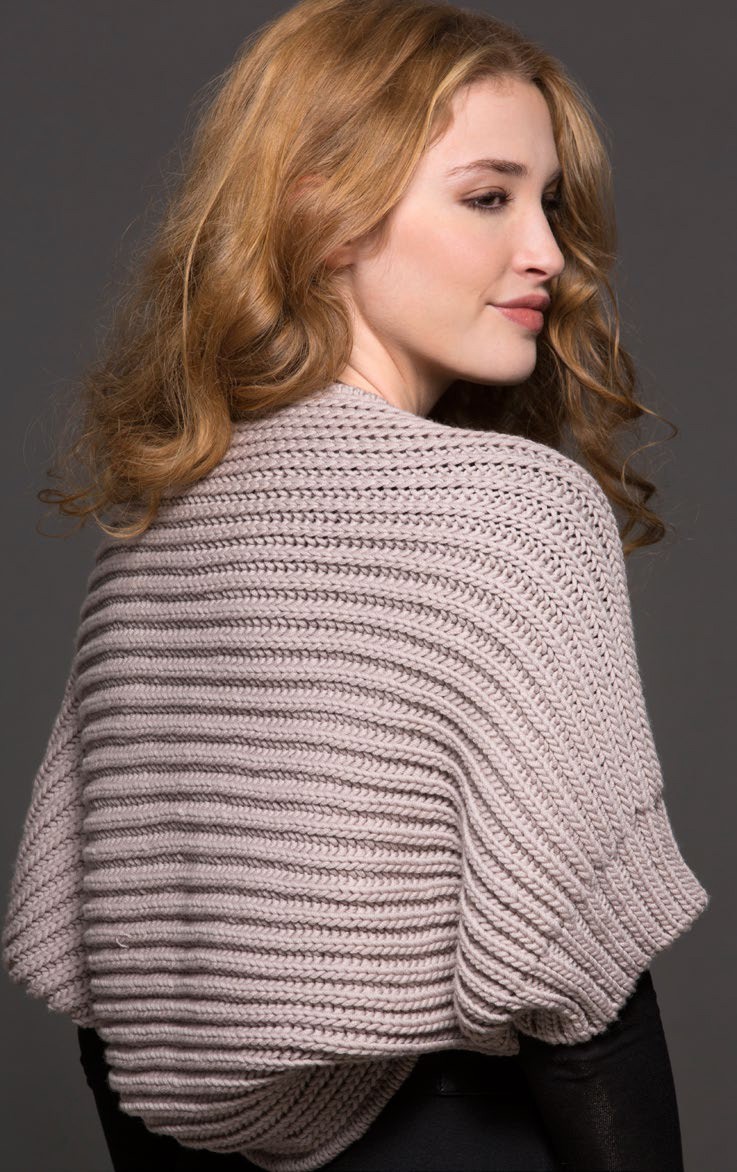 Olimpia Shrug
Knit side to side in fisherman's rib. Sizes Small (Medium, Large, XL, 2X, 3X)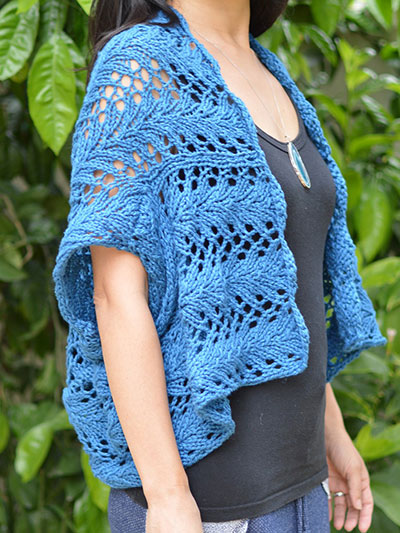 Azure Thing Shrug/Cardigan
This easy lace shrug comes in two lengths – shrug and cardigan. XS (S, M/L, XL, 2XL/3XL)
[widget id="black-studio-tinymce-13″]
Peterborough Shrug / Shawl
A shrug that converts to a shawl! I love this idea. Just button up the sleeves to wear as a shrug or unbutton to wrap around your shoulders. This easy shrug is knit in only two pieces. And no buttonholes — just button between the stitches.
Easy Weekender Shrug
This long-sleeved chunky shrug knits up in one weekend, according to the designer. Pattern sizes: small, medium, L and XL. Plus size pattern also available.
Arm Knit Bolero
Designed by Laura Strutt for  Arm & Finger Knitting 35 No Needles Knits For The Home & To Wear.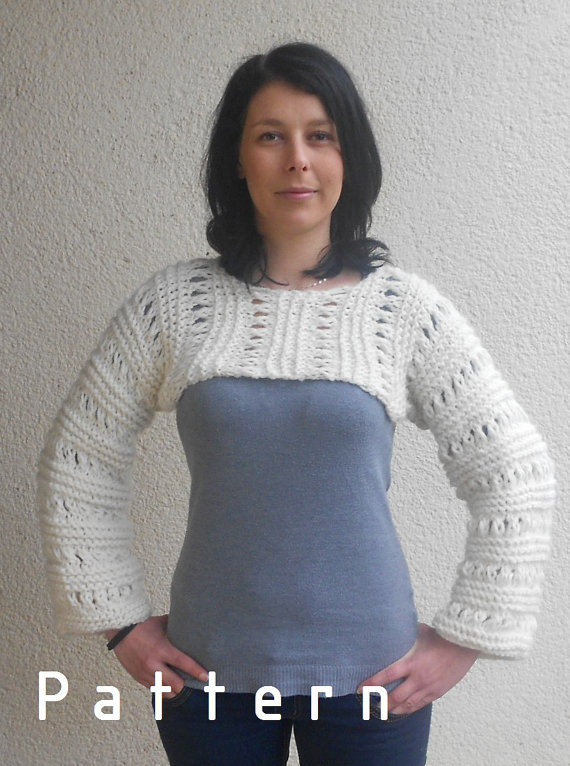 Lace Cropped Shrug
Cropped sweater shrug with lace pattern.