This survey was given to subscribers of my newsletter and followers of my Facebook page.
There were 391 responses!
I learned a lot from this survey. I loved learning how many of you knit other projects I left off my list or use some more advanced techniques or enjoy my theme posts, just to name a tiny bit of what I learned.
Some of you have had questions and I am working my way through responding where I can.
Share this post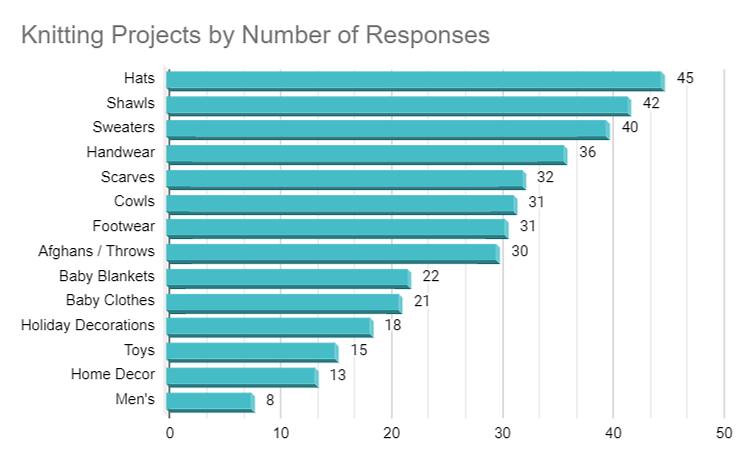 Your Knitting Projects
I really enjoyed reading about your projects. Included below are some of the projects you mentioned that were either not mentioned in my survey or that you spoke of specifically. I'll be sure to include more of these in future posts.
Forgive me if I left anything out you mentioned. There were a lot of responses and I did my best to include everything.
Popular project types I didn't include in my survey
Dish and wash cloths, hand towels, scrubbies. By far the most mentioned projects!
Cardigans including jackets and coats. I'm sorry I left these out of the sweaters category because many of you mentioned them.
Ponchos. I can't believe I forgot to add ponchos to the survey but many of you reminded me!
Other women's clothing - Vests, sleeveless tops, tanks, lace tank tops, summer, tops, dress, skirts, shrugs, jewelr
Pet Patterns - Dog and cat sweaters, blankets, and toys.
Children - Clothing and accessories for child sizes.
Techniques - New stitch patterns, beads,, stranded colorwork and fair isle, Shetland lace shawl, designing own patterns and motifs, brioche, short rows, modular, marling, mosaic
Themes - Nerdy and geeky knits, projects inspired by movies and tv, patterns not associated with knitting like lingerie, vintage patterns
Bags, totes, drawstring pouches
Stashbusting
Projects that are easier on the hands, larger projects with bulky yarn
Specific projects within categories
Home items: cup cozies, tea cosies, wall hangings, baskets, hot mitts, rugs, flower pot covers, plant hangers garden décor, doileys, coasters, rugs, cushions
Afghan blocks, often for charity
Socks - Many of you mentioned sock knitting!
Baby projects: sleep sack, hats, bootees, blankets, sweaters
Toys - doll clothes,, dolls , animals like bunny and frog, hand puppets
Christmas - stockings, Christmas jumpers, Christmas Snowmen and Father Christmas, Christmas wreath, Christmas ornaments, toys and decorations
Men's - men's ties, men's hat, men's cardigan
Hats - headbands, earwarmers, and other headwear
Charity Knitting - Many of you knit for various service organizations and people in need including (in no special order!) hospitals, nursing homes, refugees, babies in NICU, the homeless, children in foster care, veterans, Speical Olympics, animal shelters and sanctuaries, treatment programs, COVID Memorial Blanket, Breast Cancer support, and more. You knit prayer shawls, chemo caps, lap throws, afghan blocks, dogs sweaters and blankets, toys, dolls, teddy bears, ,hats, baby blankets, baby outfits, slippers, soap sacks, prayer squares, twiddlemuffs, fidget bears, mittens and other handwear.
Thank you to everyone who responded!