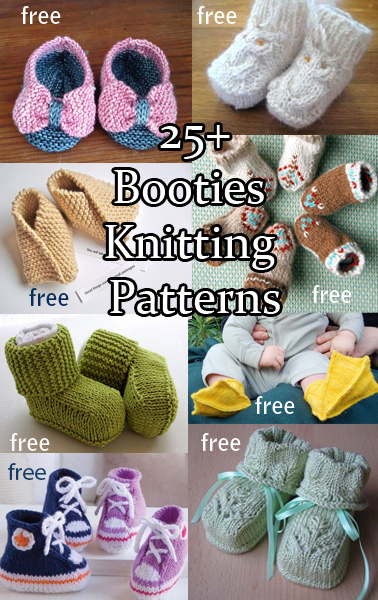 Knitting patterns for baby bootees, sandals, shoes, boots — all footwear for the well dressed baby! Quick projects to knit but so adorable they'll be passed on when the baby grows out of them.
To get the knitting patterns, scroll down the page to the individual pattern you want and click on the link to that pattern.
These patterns are not my designs but links to other designers who have generously shared their patterns. If you have questions about how to knit a specific pattern, please contact the designer directly.
All links on this site are for informational purposes, but please note that some links are to affiliate sellers that pay me a small commission on purchases.
Free Patterns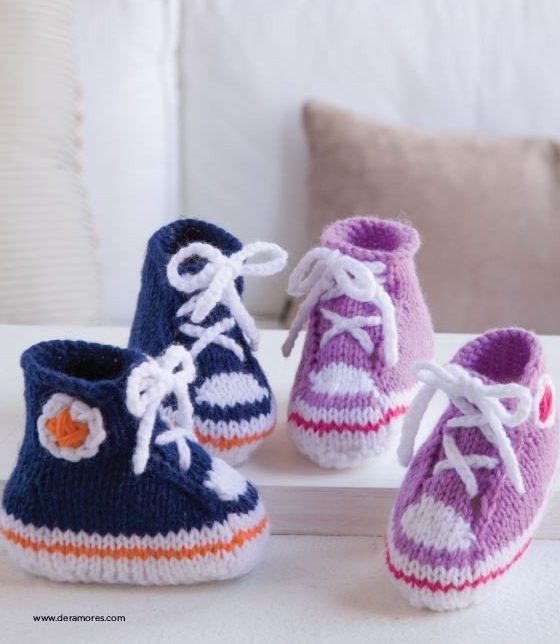 High Top Booties
Baby booties designed like trainers. Designed by Inge Spungen. A kit is also available for $11.38 at time of posting.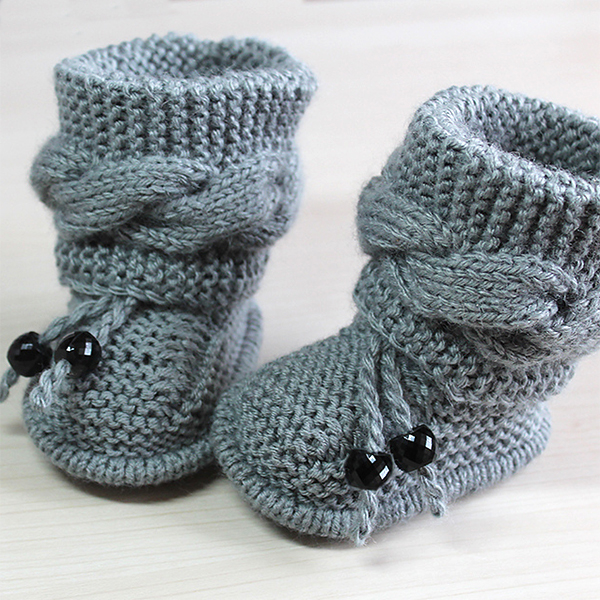 Cable Baby Booties
Size: 3-6 months. Also includes video tutorial. Designed by Katerina Mushyn. Aran weight yarn. Available in English and Russian.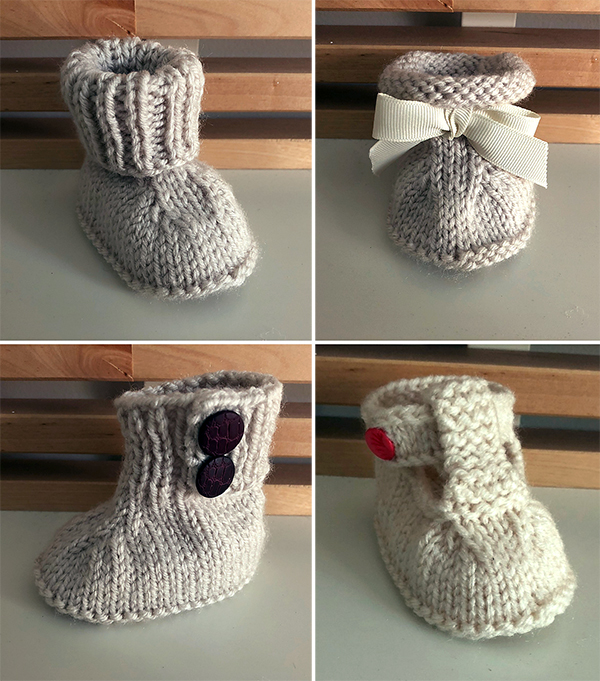 4 Seamless Baby Booties
Instructions for 4 styles of baby booties from the same basic design - plain ribbing cuff, tie ribbon and rolled cuff, cuff with side buttons, and booties with strap. Designed by Liesbeth Braam. Worsted weight yarn. Available in English and Dutch.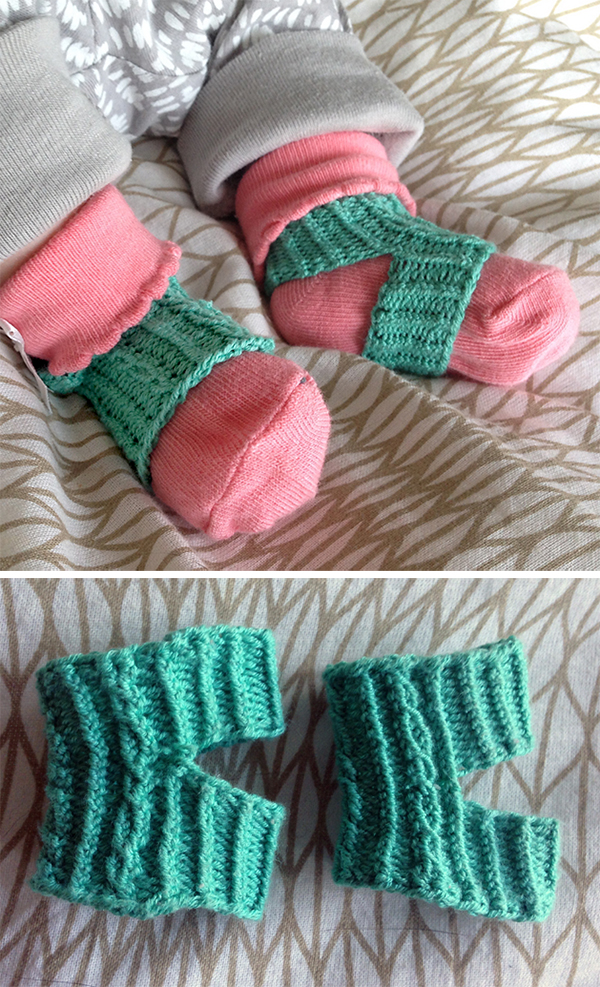 Baby Sock Minders
Keep baby socks in place on wiggling feet with these snug little stirrups. "They really do work!" says designer Sheila Toy Stromberg. "Certified tested by a 9 week old." Only 24 rows so they are the perfect last minute shower gift. Fingering weight yarn.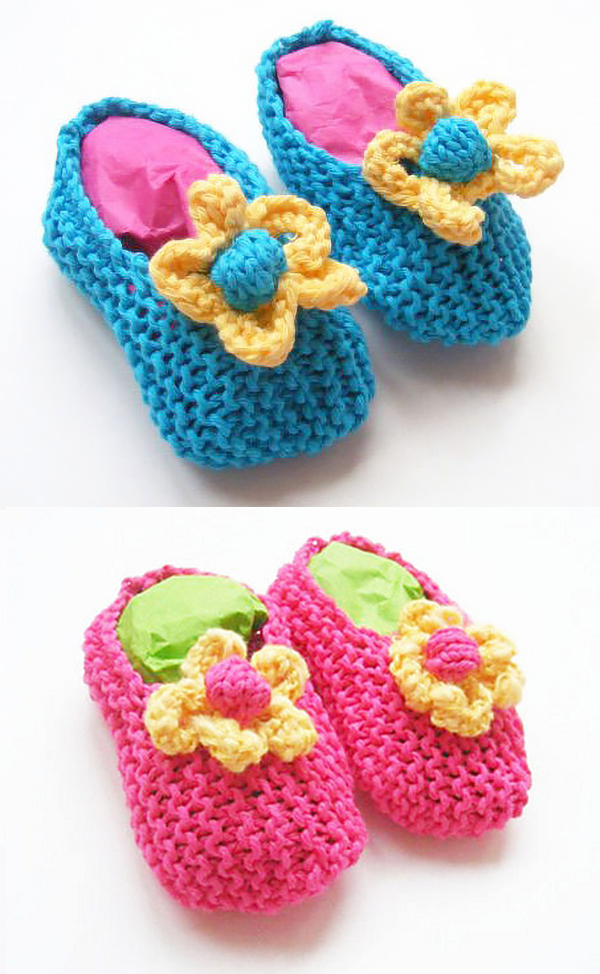 Baby Slippers with Flowers
These garter stitch baby booties are embellished with a knit flower created from i-cord and a bobble. Designed by Louise Bollanos. DK weight yarn.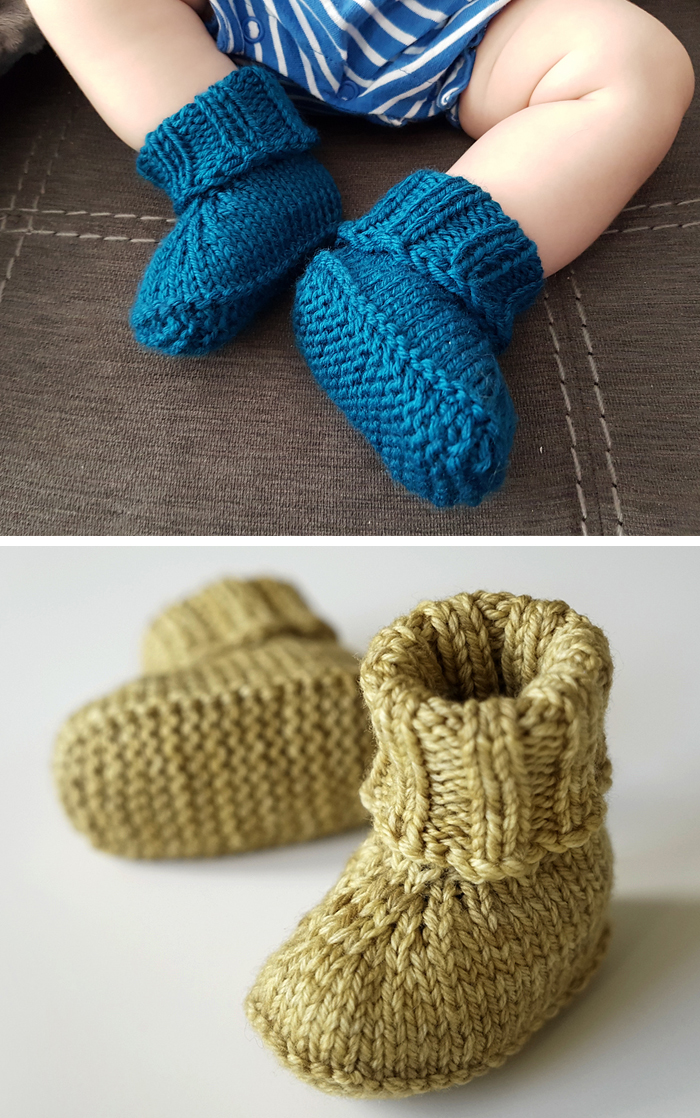 Cuffed Baby Booties
Seamless baby booties knit feature a garter stitch sole and ribbed cuff. Flower and ties are knit as well. Designed by Ines M. Pictured projects by EcoGeek and G-knits. Available in English, German, and Portuguese. Aran weight yarn.

Better-Than-Booties Baby Socks – 3 Versions
Baby socks in 3 versions – Ruffle Rib, Cable Rib, and Chevron Lace. All are knit with a short-row heel and toe and decorative zigzag bind-off. One of 9 patterns in a free ebook 9 Free Baby Knitting Patterns. Designed by Ann Budd. Pictured projects by rahardjo-knits, Calune, and drakey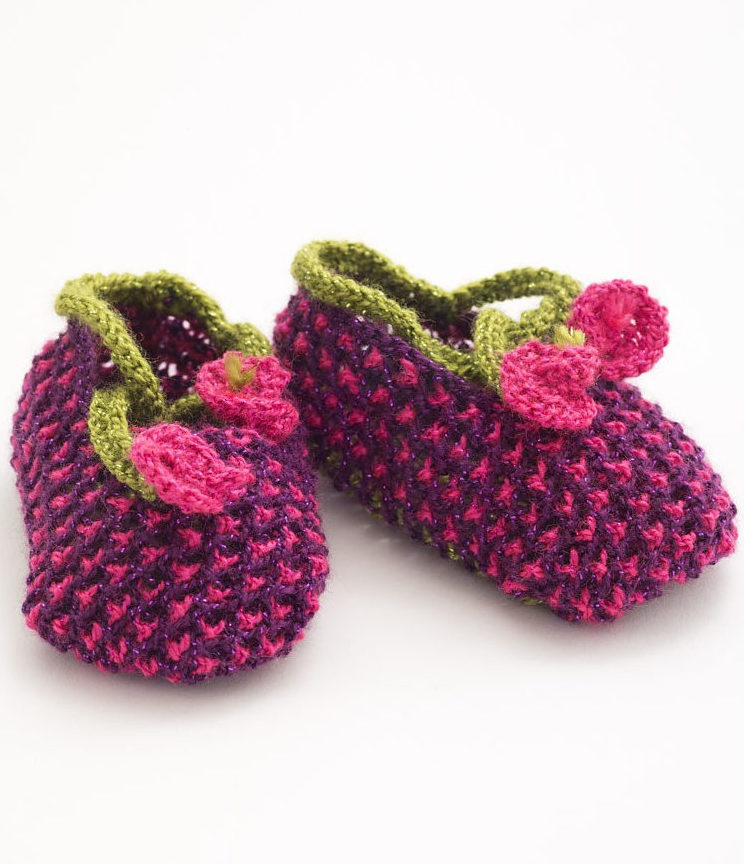 Blossom Booties
Baby booties knit with a 4 row repeat easy slip stitch colorwork pattern. Flower and ties are knit as well. Designed by Irina Poludnenko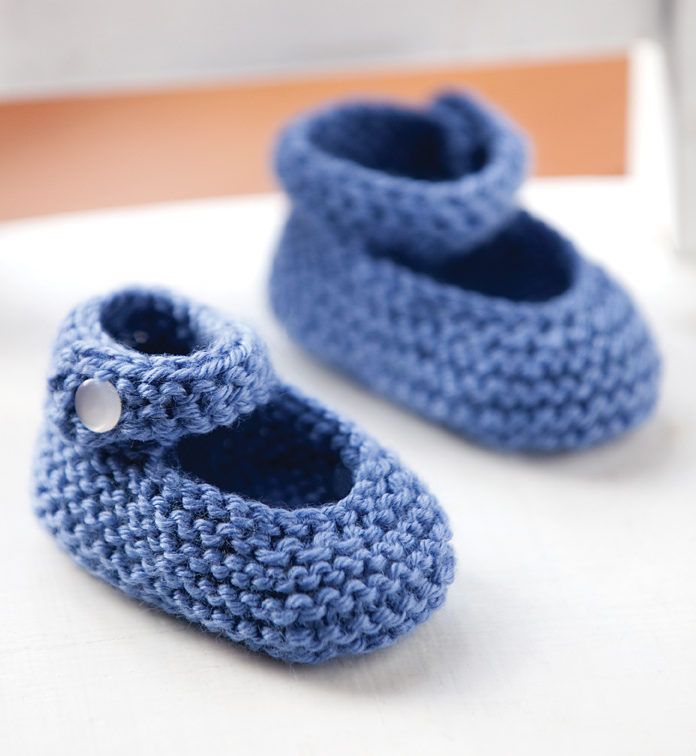 Baby Jane Booties
Easy Mary Jane style baby shoes designed by Linda Cyr. Sizes 6 – 12 months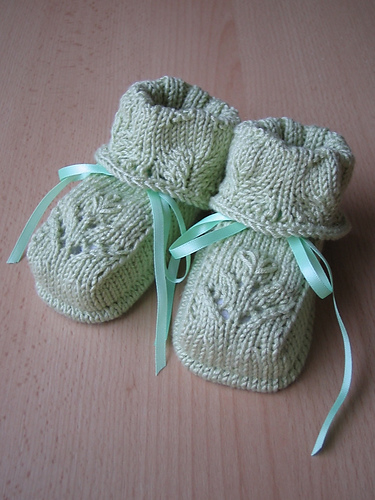 Baby's Floral Bootees
Hannah Valkila's baby shoes feature a flower lace motif and are knitted seamless from bottom. Size about 1 year old (80cm)

Keyhole and Moccasin Booties
These patterns come with a video class on how to make adorable baby booties two ways—one with a keyhole opening that is perfect for beginners, and the other in a moccasin style that uses slightly more advanced techniques. Designed by by Maggie who teaches the class. Patterns and instructional video class available for free with a free trial at Creativebug Pictured project by Cassie Murphy.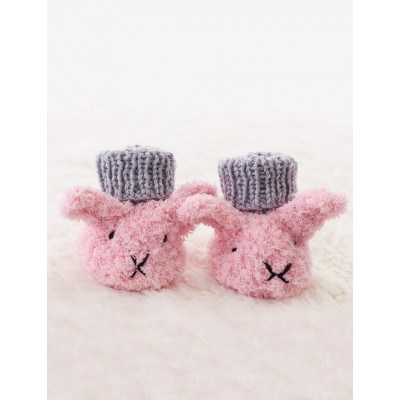 Itty Bitty Fuzzy Wuzzy Bunny Booties
This pattern for super soft booties from Bernat is sized for 3, 6, and 12 months.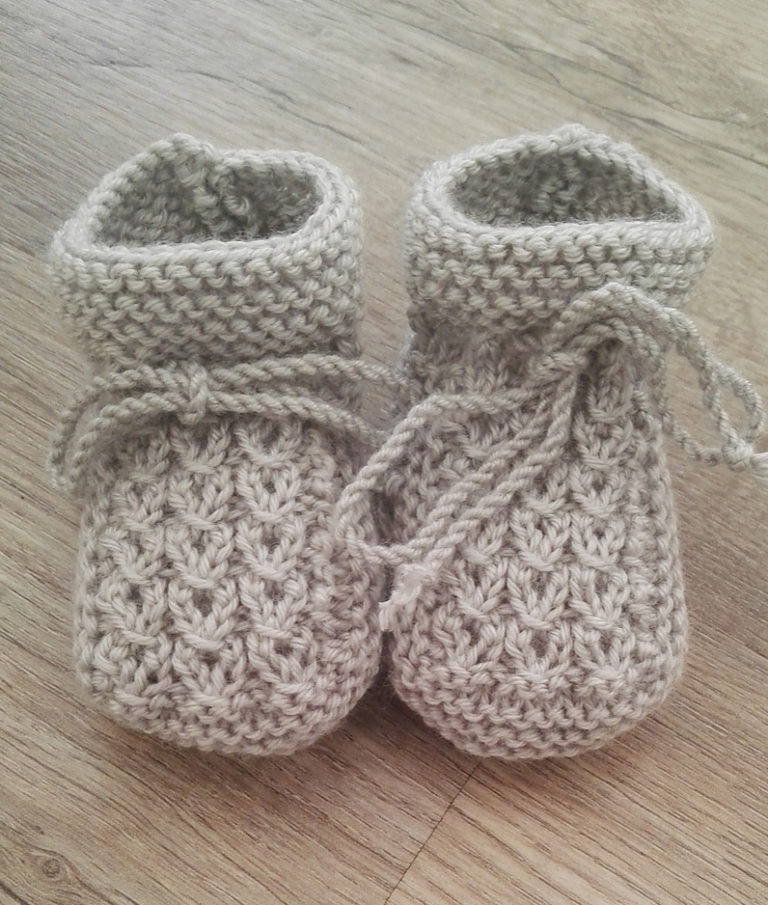 Little Eyes Baby Booties
Cute cable booties designed for newborns but easily customizable to larger size. Designed by Inma Gijón. Available in English and Spanish.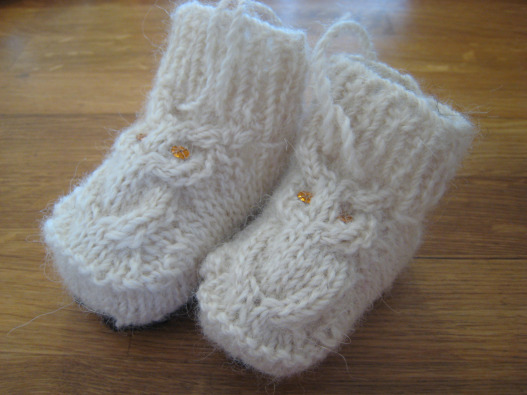 Hooties Owl Booties
Designed by Kedi Simpson for newborns.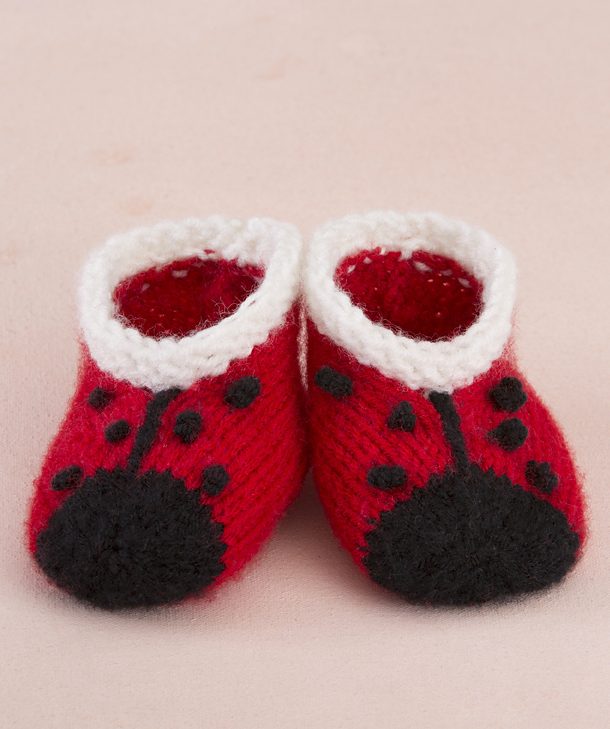 Sweet Lady Bug Booties
Lorna Miser designed these adorable baby booties for your love bug. Pattern is rated easy by Red Heart and Ravelry knitters. Also available with matching Lady Bug Jacket and Hat.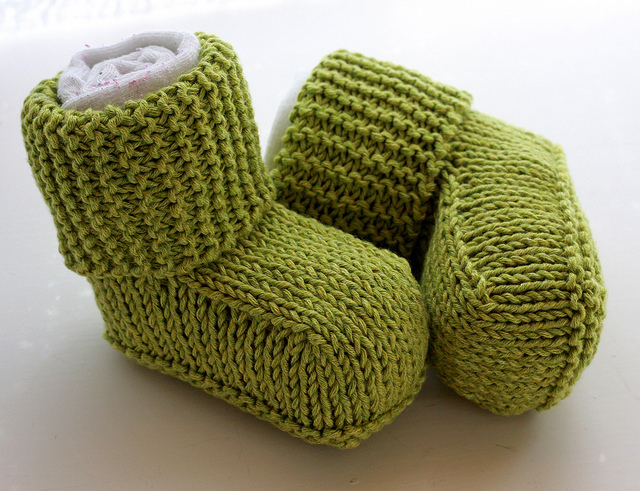 Baby Uggs
Autumn Street designed this version of Uggs booties for 3 – 6, 6 – 12, 12 – 18 months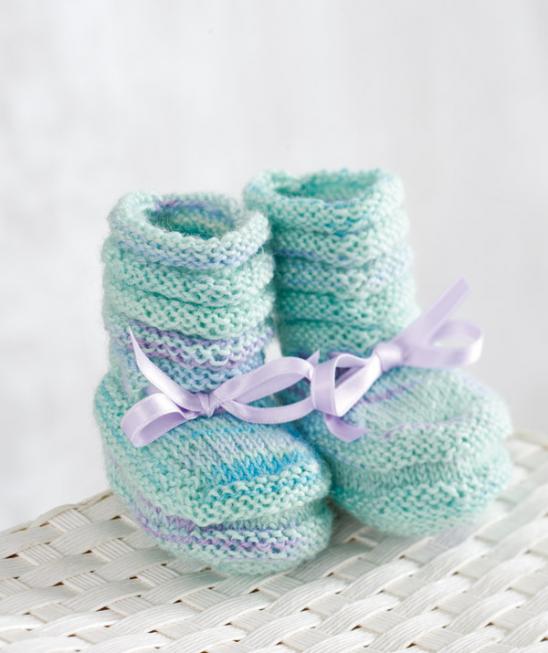 Regia Baby Booties
Designed by Schachenmayr to fit feet about 3¼" [8cm] and 3¾"[9.5cm] long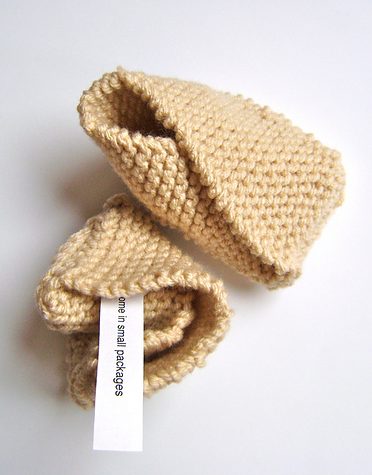 Fortune Cookie Baby Booties
Sheila Zachariae's baby shoes are the easiest booties ever. Knit flat and folded like a fortune cookie, Sheila put fortunes in them and uses a takeout box as a gift box. Other knitters have added embellishments of ribbons and buttons.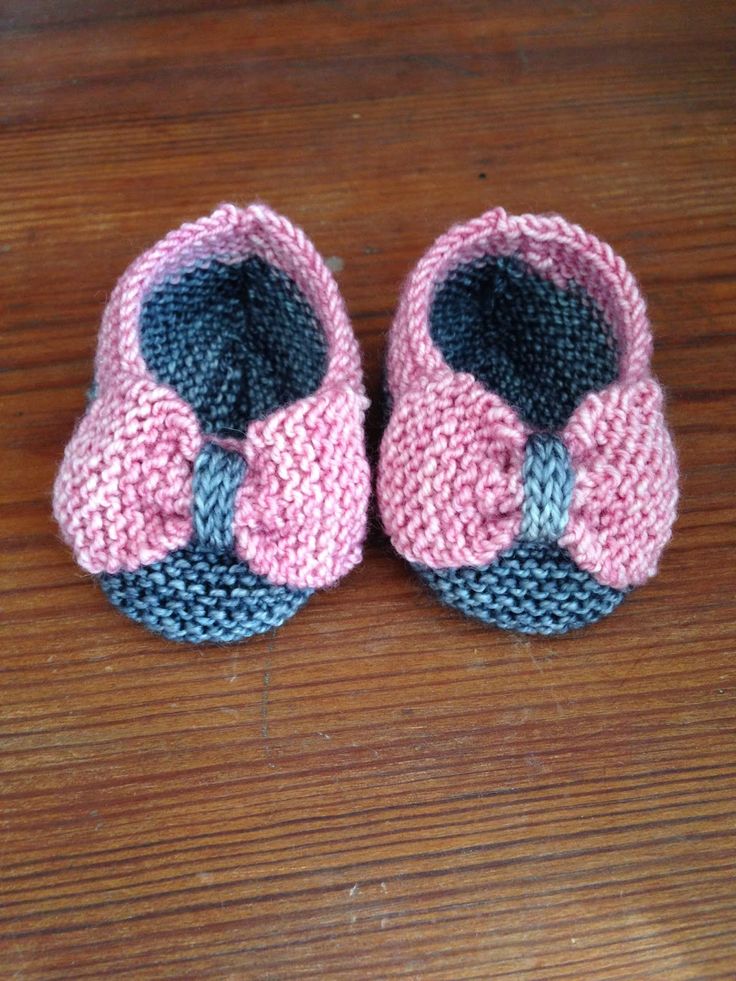 Bows Before Bros
Cute booties with bows for NB and about 0-3 months from Carrie Briggs at the Ink-Stained Wife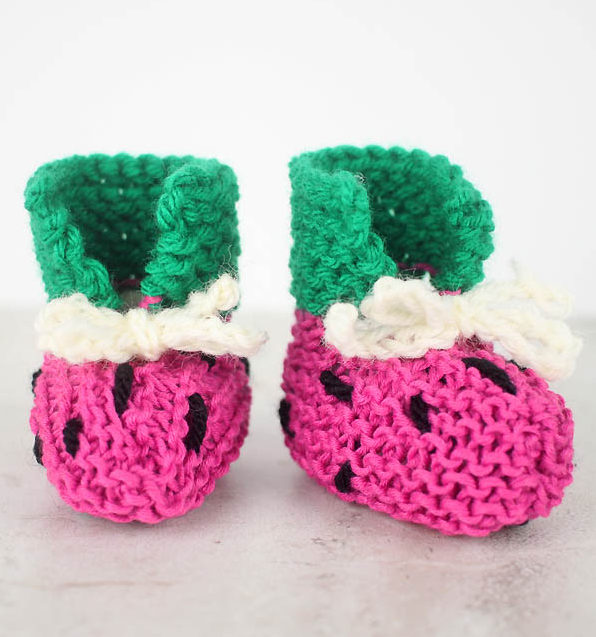 Watermelon Baby Booties
Easy booties are knit flat in one piece and then seamed. Designed by Gina Michele. Great quick shower gift!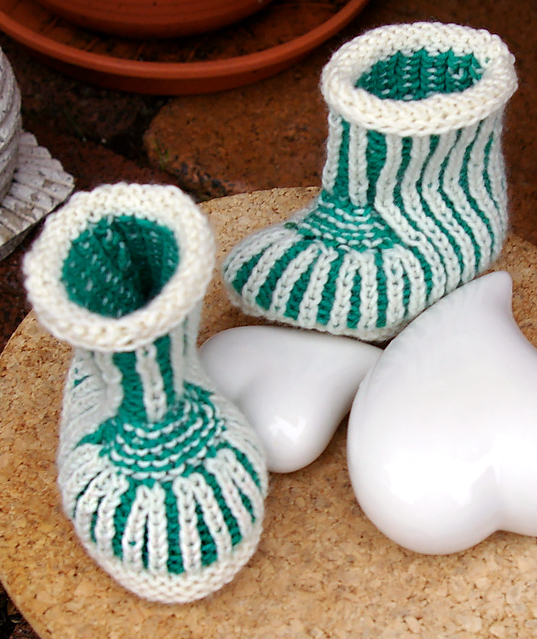 Brioche Baby Booties
Blue Steps – Baby Booties are knit in brioche tuck rib in fingering yarn. Designed by Regina Willer. Pictured project by bine. Available in English, German, Italian, and Spanish.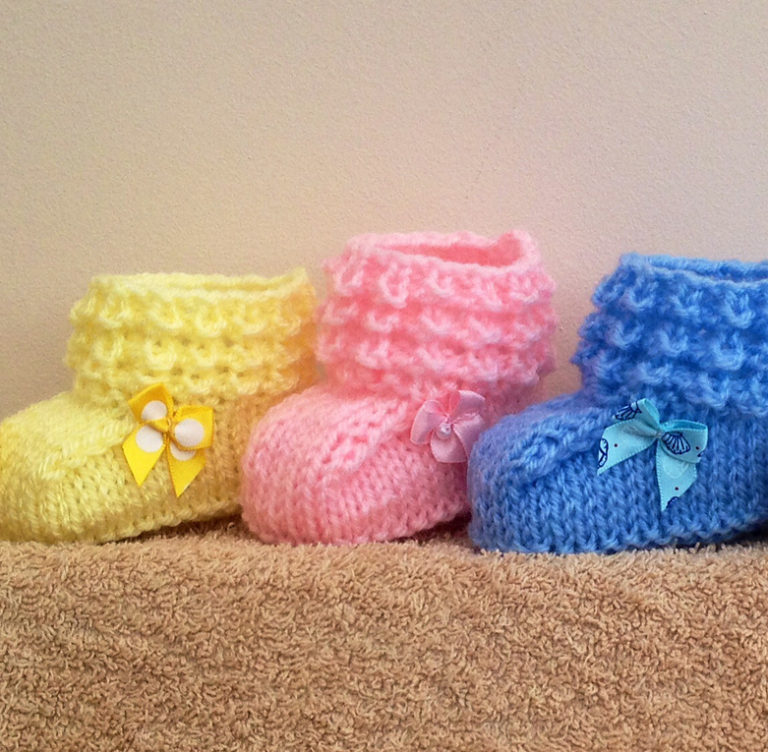 Crocodilly Moc Booties
These booties feature a cuffs that use a knit version of the crocodile stitch. Designed by Kris Basta at Kriskrafter. Pictured project by minky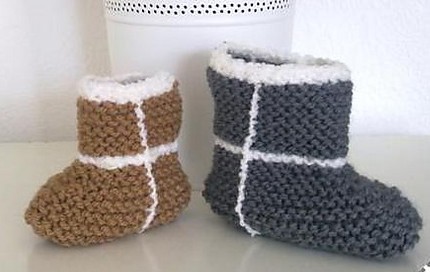 Easiest and Fastest UGG Baby Booties
A La Sascha designed these booties for Preemie/doll, 0-3 months, 3-6 months, 6-12 months and 18-24 months. Scroll down the pattern page for the English version and link to the English pattern (on Google drive).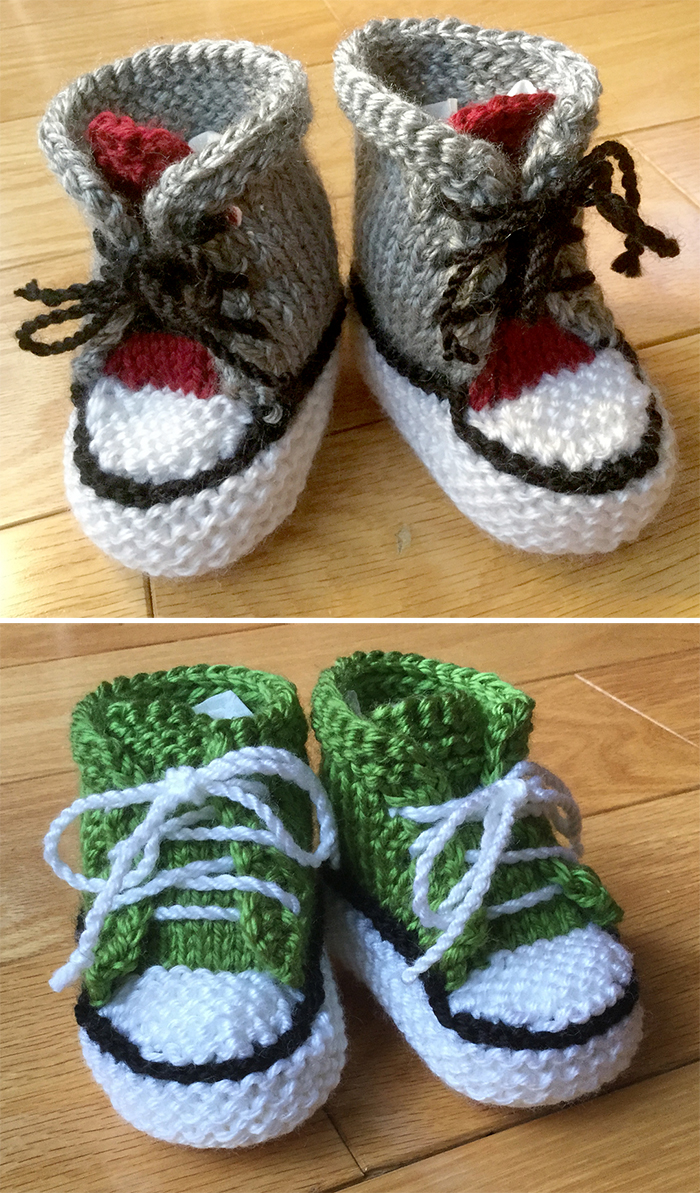 Little Converse Booties
Baby booties inspired by the iconic athletic shoe in a variety of variations. Size 0-6 months. Worsted weight yarn. Designed by blanchn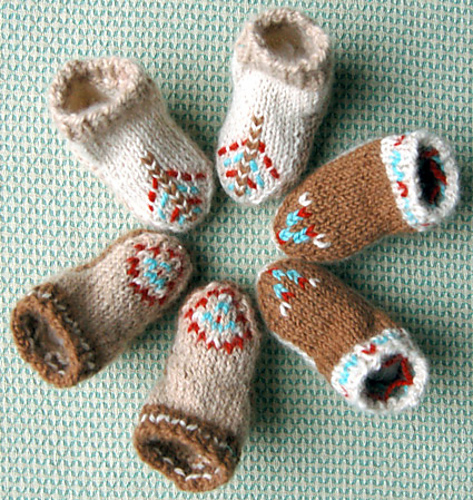 Baby Mocs
Purl Soho's moccasin baby shoes are easy to knit and customize with your own designs. Size 3 1/2 inches from heel to toe (to fit infant)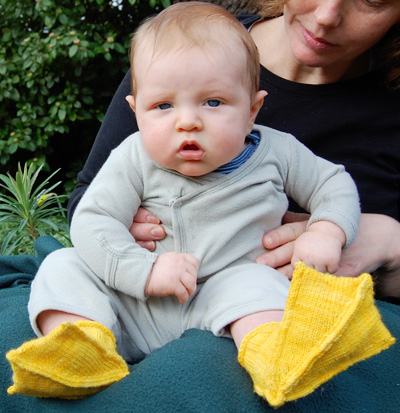 Duck Sock Booties
Jeny Staiman's booties are perfect for baby ducklings 3-9 months.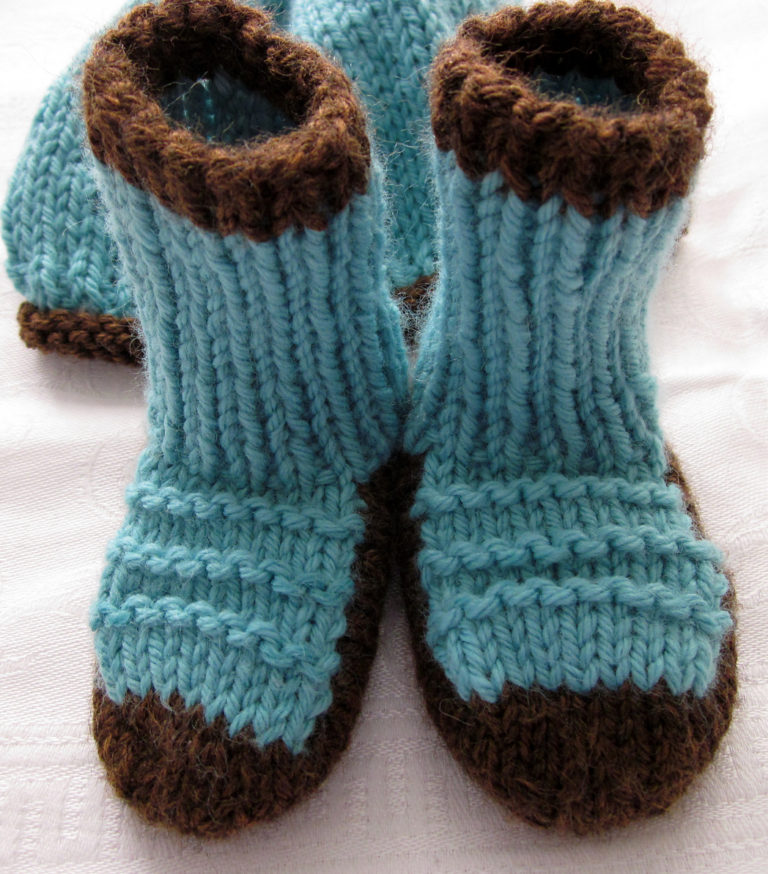 Magic Loop Warm and Chunky Baby Booties
Designed by Myra Wood for infant- 6 months.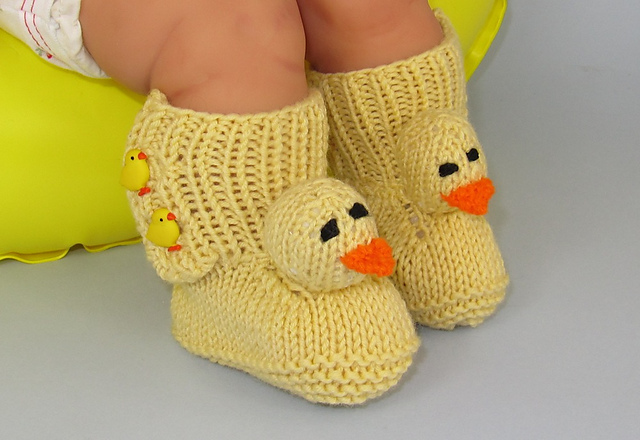 Baby Chick Booties
Christine Grant's booties are knit flat and sized for XS (preemie and tiny baby), S (newborn-3 months), M (3-6 months) and L (6-9 months)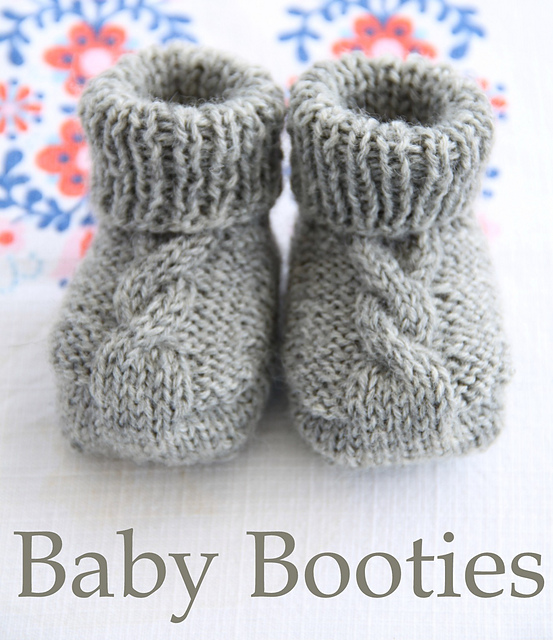 Epipa Booties
Epipa's baby shoes feature a cable detail. Sized for newborn, 3-6 months. FOR ENGLISH VERSIONS: Epipa's original pattern is in German but is also available in English. Follow the link below to her Ravelry page, scroll down the Ravelry page and there are links to English versions of the pattern.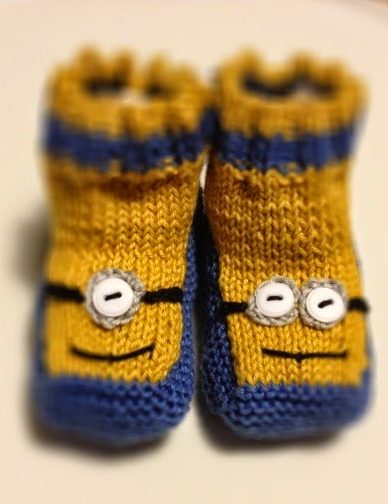 Minion Booties
This design by Magik Pôpô is in French but if you scroll down the page you will see an English translation. For ages 6-12 months. Knit in sport weight yarn.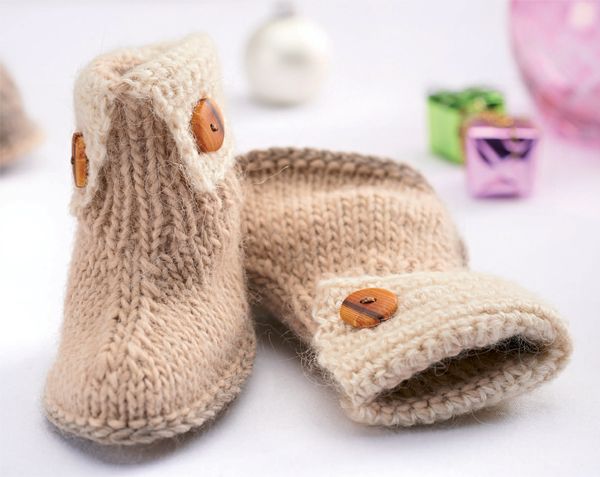 Marley
Veronica Shaw created these boot-inspired booties for Let's Knit (requires registration to download). Sizes 0-3 months, 3-6 months, 6-9 months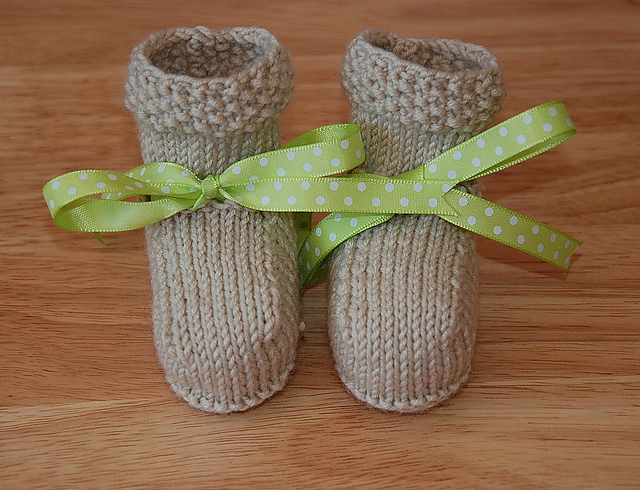 Pretty Simple Booties
Hayley Ford designed these booties for 0-3 months with eyelets to add ribbon. Hayley also includes instructions for stripes. Knit flat and seamed.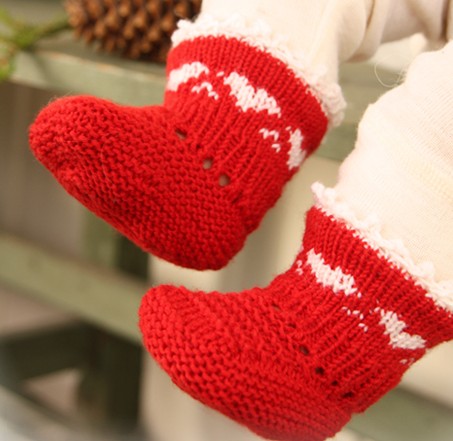 Heart Top Booties
Designed by DROPS Design for 1/3 – 6/9 – 12/18 months (2 – 3/4) years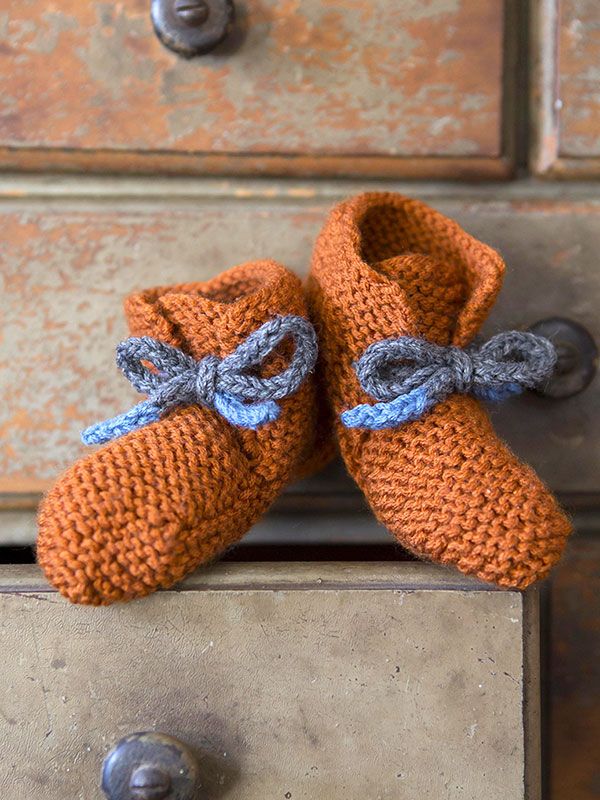 Rerun
Inspired by the shape of Maine winter boots, Rerun is designed by Emily Nora O'Neil for Berroco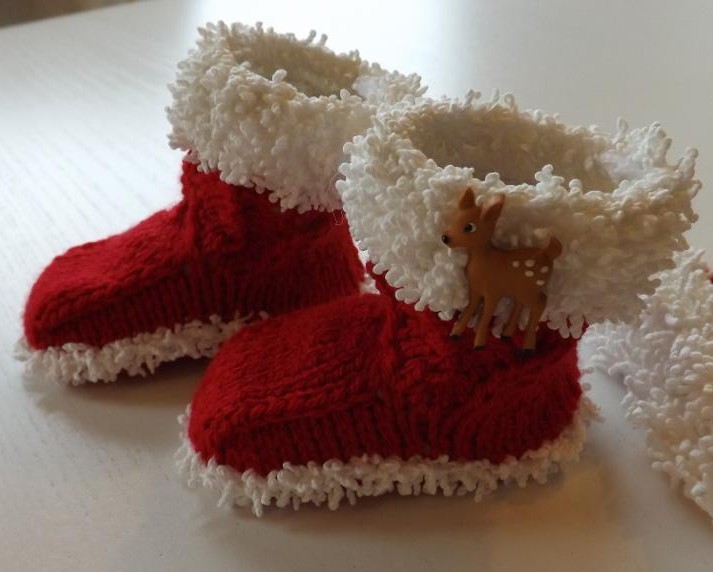 Santa Baby Booties
Designed by Naomi Towers, these booties are knit in dk yarn and trimmed with Fun Fur, Eyelash, Snowflake or other novelty chunky yarn. Fits 0-12 months
Patterns for Purchase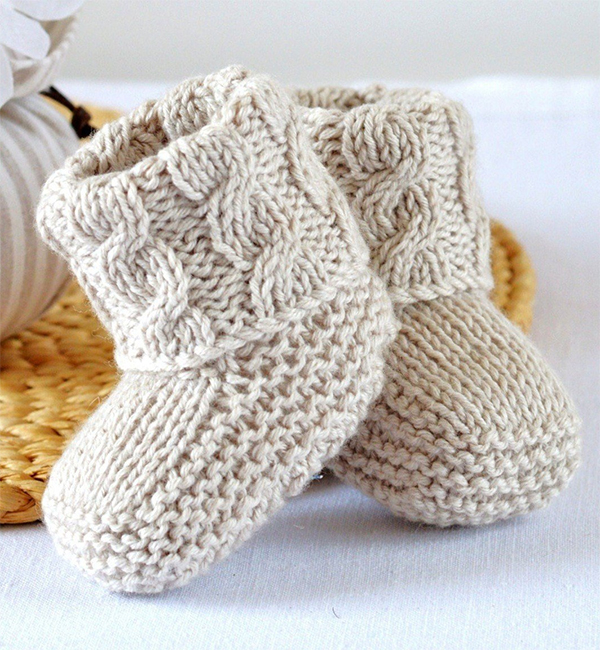 Baby Cable Booties
Baby Booties with Aran Cable Cuffs with double turn-down cuffs for comfort, luxury and security - difficult to kick off! 2 sizes - 0-6 months and 6-12 months. Designed by matildasmeadow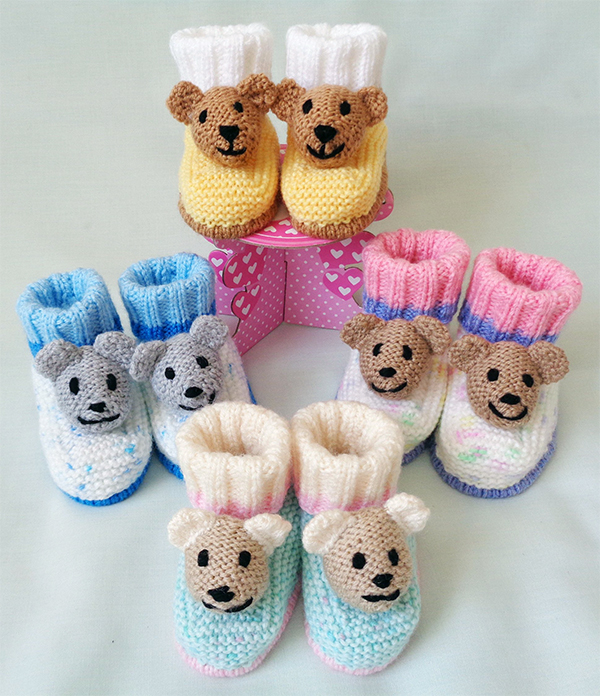 Teddy Bear Booties
Adorable baby booties with little teddy bear heads. The pattern gives row by row instructions for knitting the booties and teddy bear head with plenty of photos to help with construction. DK yarn. 2 sizes 3-6 months and 6-9 months. All pieces are knitted flat on two needles and sewn together. Designed by Carol Turner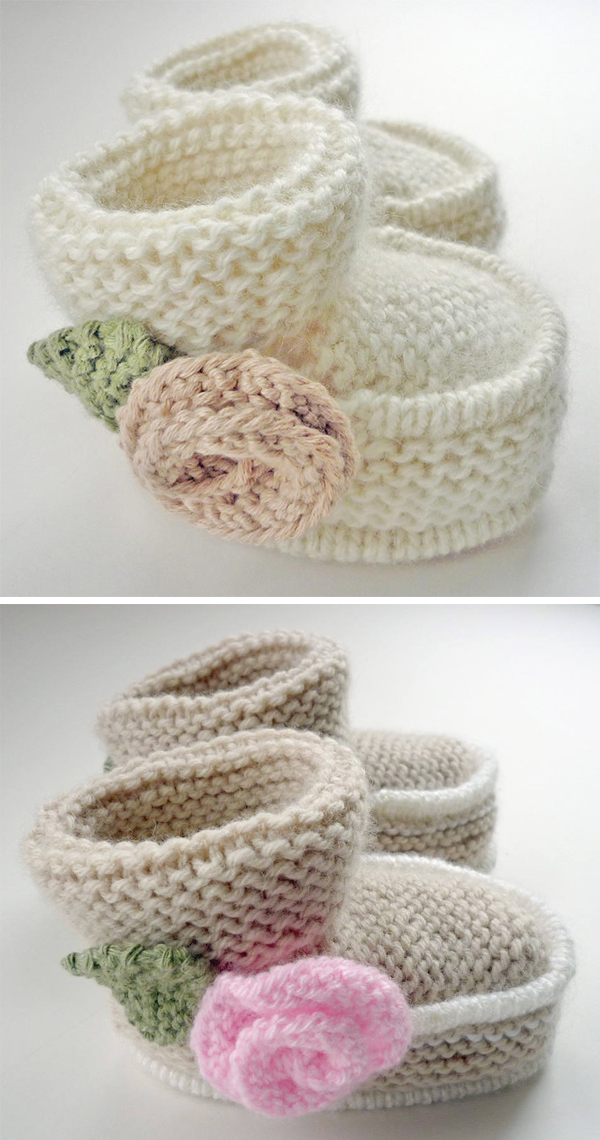 Little Rose Baby Booties
Adorable baby booties have a pretty rose and leaf on the ankle and a neat moccasin style ridge which can be knit in the same or a contrast color. DK yarn. 3 sizes 0-3 months, 3-6 months and 6-9 months. All pieces are knitted flat on two needles and sewn together. Designed by LoveFibres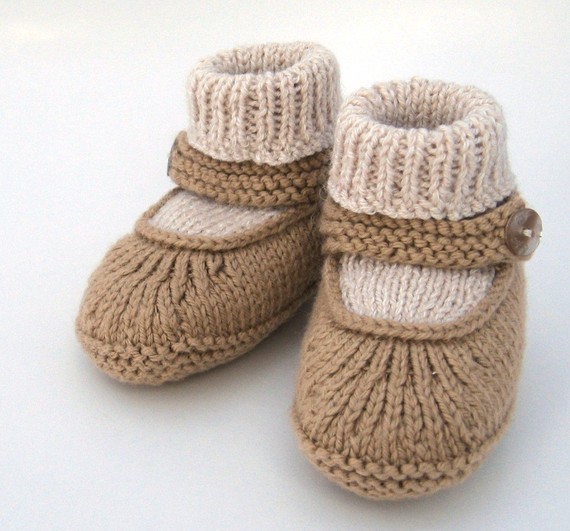 Merry Jane Booties
Designed by BEKAHKnits, these booties are the classic Mary Jane style with mock socks. Size: 1-6 & 6-12 months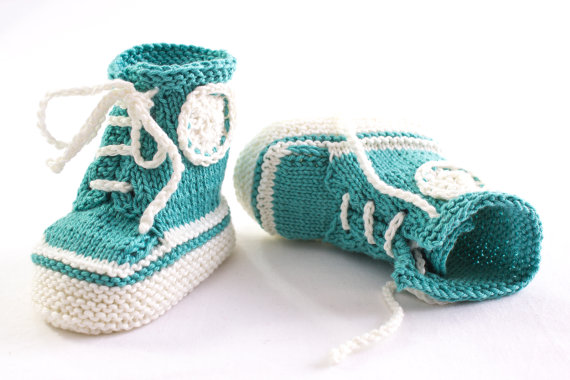 Baby Converse Trainer Booties
These high top booties are seamless. The pattern comes in two sizes: 0 to 6 months and 6 to 12 months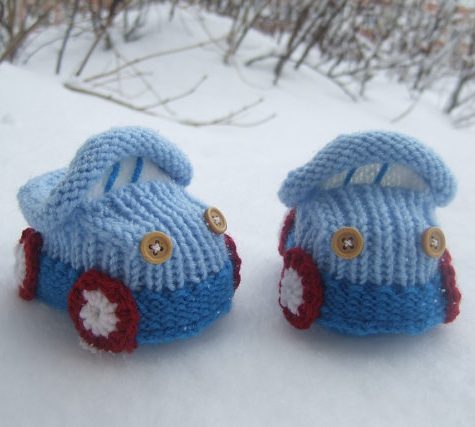 Car Baby Booties
Booties shaped like automobiles desiged by davodix. Size – 0/6 months, 6/12 months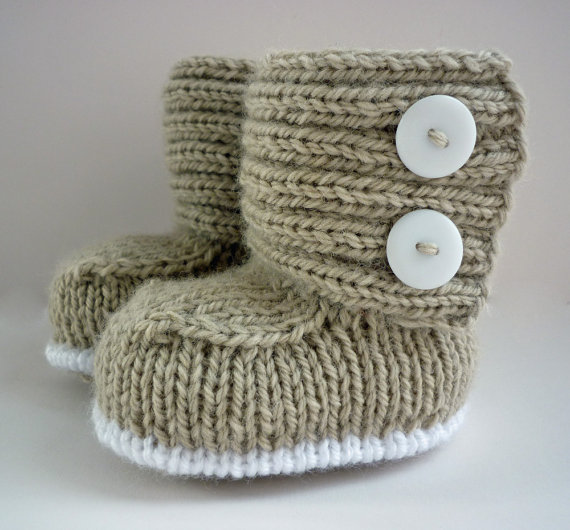 Jaden Baby Booties
These button fastening baby booties are knit flat and seamed. Instructions are given for three sizes: 0-3 months – approx length 9cm (3.75"), 3-6 months – approx length 10cm (4.0") 6-12 months – approx length 11cm (4.25")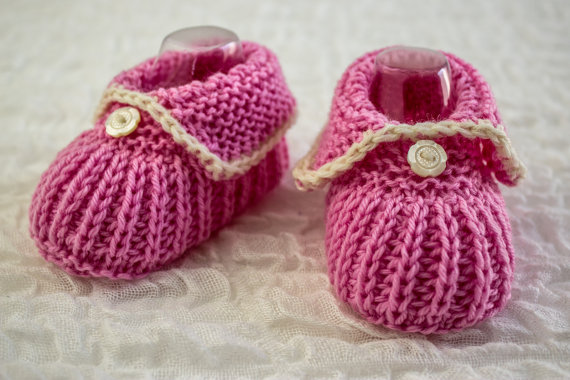 Cuffed Baby Booties
Designed by heaven to seven, these baby shoes are created with fisherman's rib and garter stitch.Size: newborn to 3 months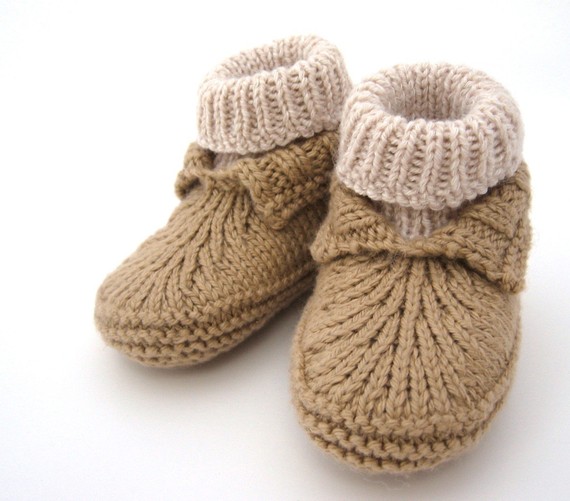 Baby Moc-a-Soc
Designed by BEKAHKnits, these baby shoes are created for sizes 1-6 & 6-12 months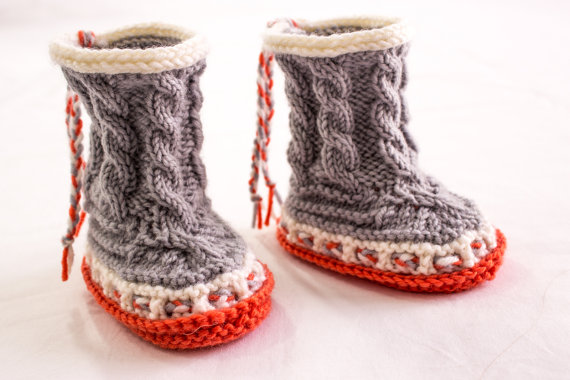 Cable High Top Baby Boots
Heaventoseven designed these baby shoesto fit babies from about 3 to 9 months.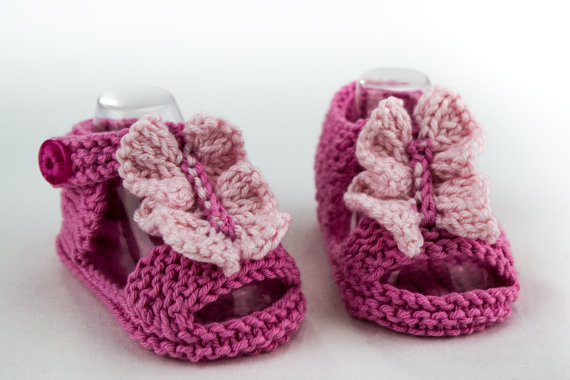 Butterfly Ruffle Sandals
Heaventoseven designed these baby sandals as a flat knit for birth to 3 months, 3 to 6 months and 6 to 12 months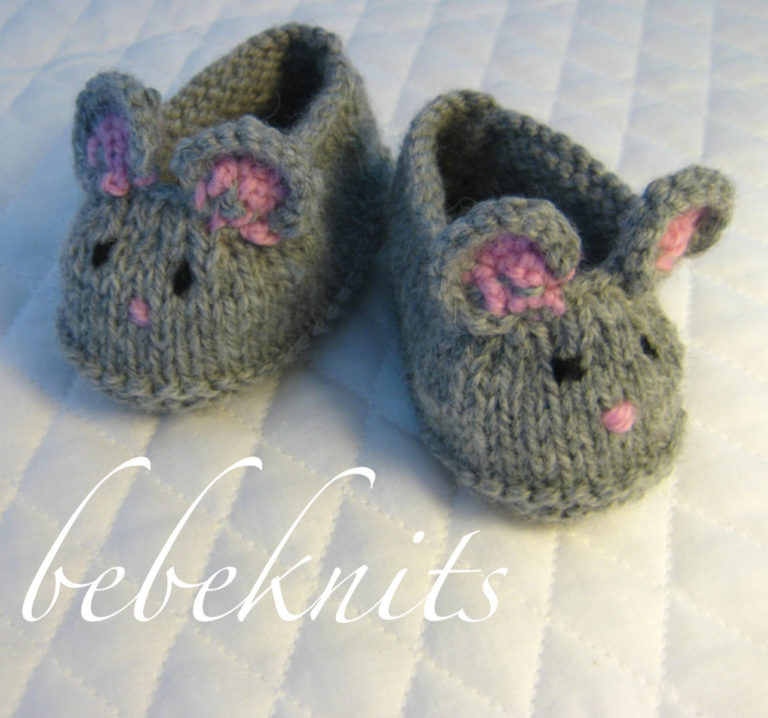 Mouse Baby Booties
Mice Baby Slippers knitting pattern for sizes 0-3 and 3-6 months.