Easy Scarf Knitting Patterns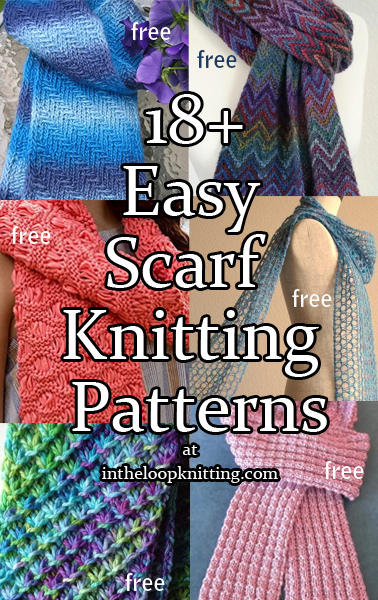 Go beyond garter stitch with these scarf patterns that have been rated as easy, some even suitable for beginners. These scarves are gorgeous ways to try out new techniques like lace and cables, or to take a break from more challenging projects.
To get the knitting patterns, scroll down the page to the individual pattern you want and click on the link to that pattern.
These patterns are not my designs but links to other designers who have generously shared their patterns. If you have questions about how to knit a specific pattern, please contact the designer directly.
All links on this site are for informational purposes, but please note that some links are to affiliate sellers that pay me a small commission on purchases.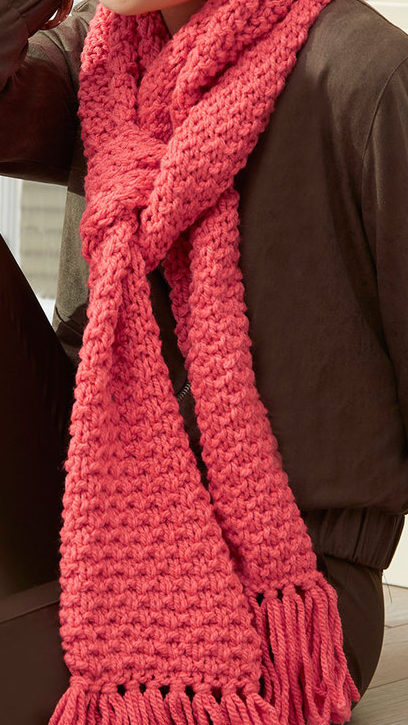 4 Row Repeat Textured Fringe Scarf
This easy scarf is knit with a 4 row repeat Reverse Sand Stitch. Quick knit in bulky yarn. Designed by Cathy Payson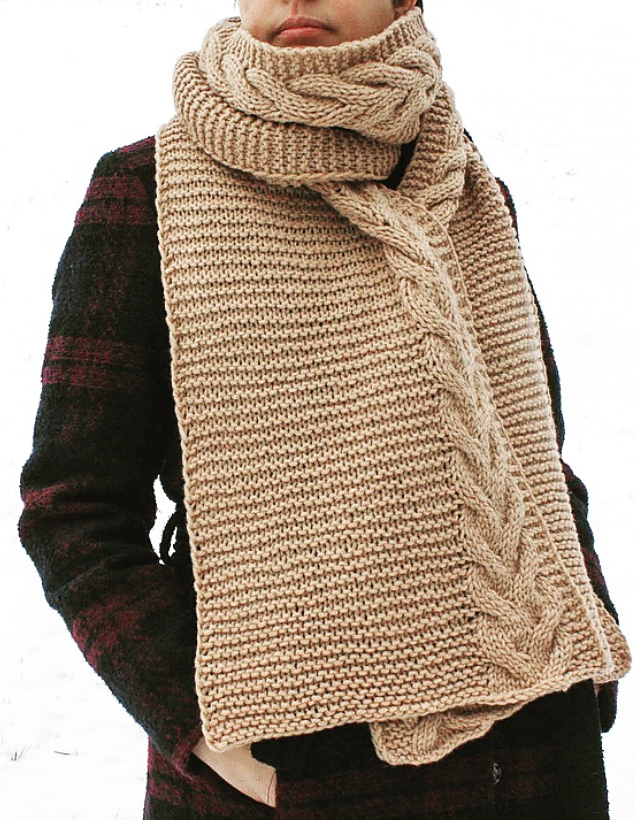 Toffee Scarf
Garter stitch scarf with cable along one edge. Aran weight yarn. Designed by Nadia Crétin-Léchenne. Available English and French. Rated very easy by Ravelrers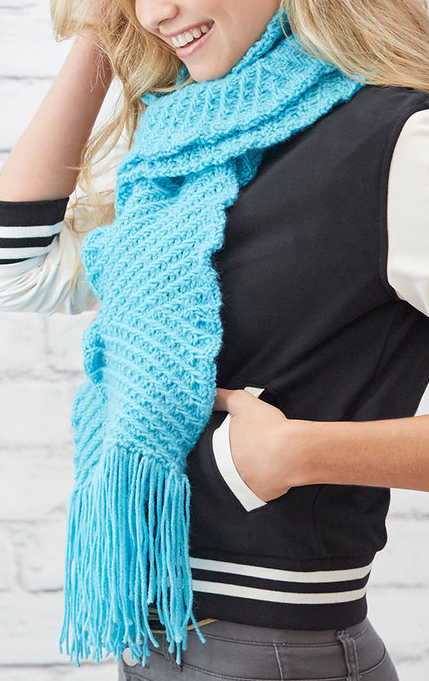 Zigzaggy Scarf
The diagonal texture of this scarf is created with slipped stitches and just knit and purl stitches. Alternating sections of left diagonal and right diagonal create a zigzag and a natural ruffle edge. Designed by Kia Love for Red Heart who rated the pattern easy.
[widget id="black-studio-tinymce-30″]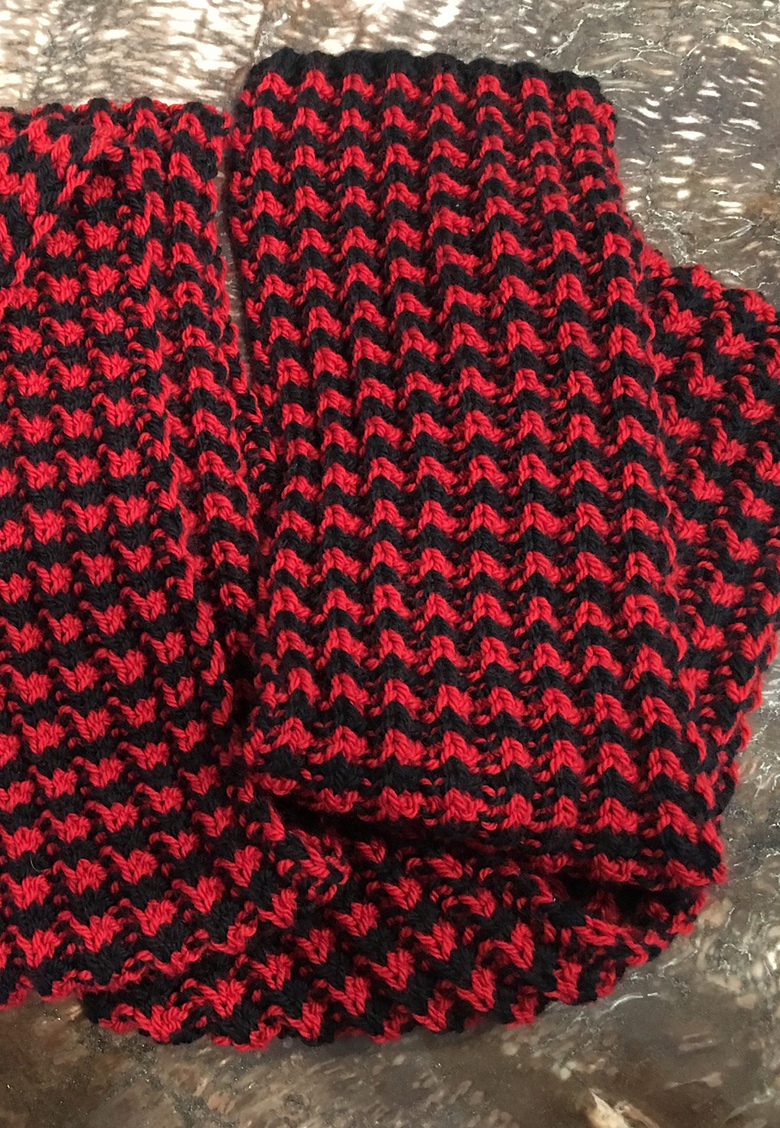 Bracken Scarf
Easy colorwork scarf uses 2 colors. You can use one solid and one variegated or both solid. Designed by Lynne Rowe. Rated very east by Ravelrers. Pictured project by Kellyg232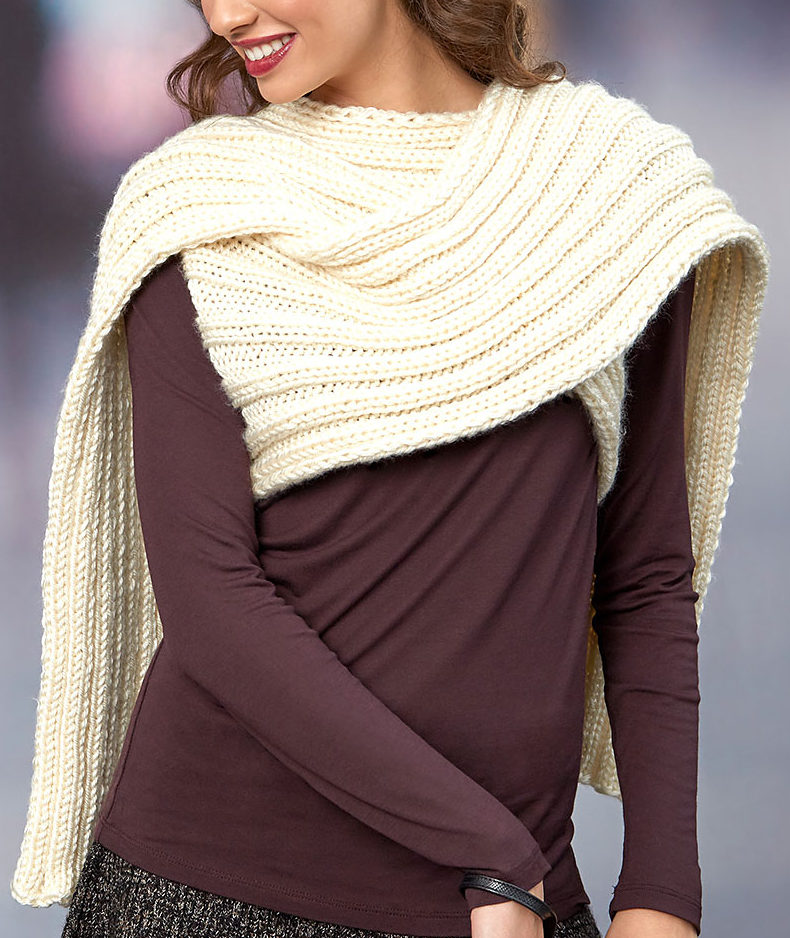 Statement Scarf Wrap
Easy scarf features armholes so it can be worn as a wrap or a vest, as well as a scarf. Quick knit in bulky yarn. Designed by Erin Kate Archer for Red Heart.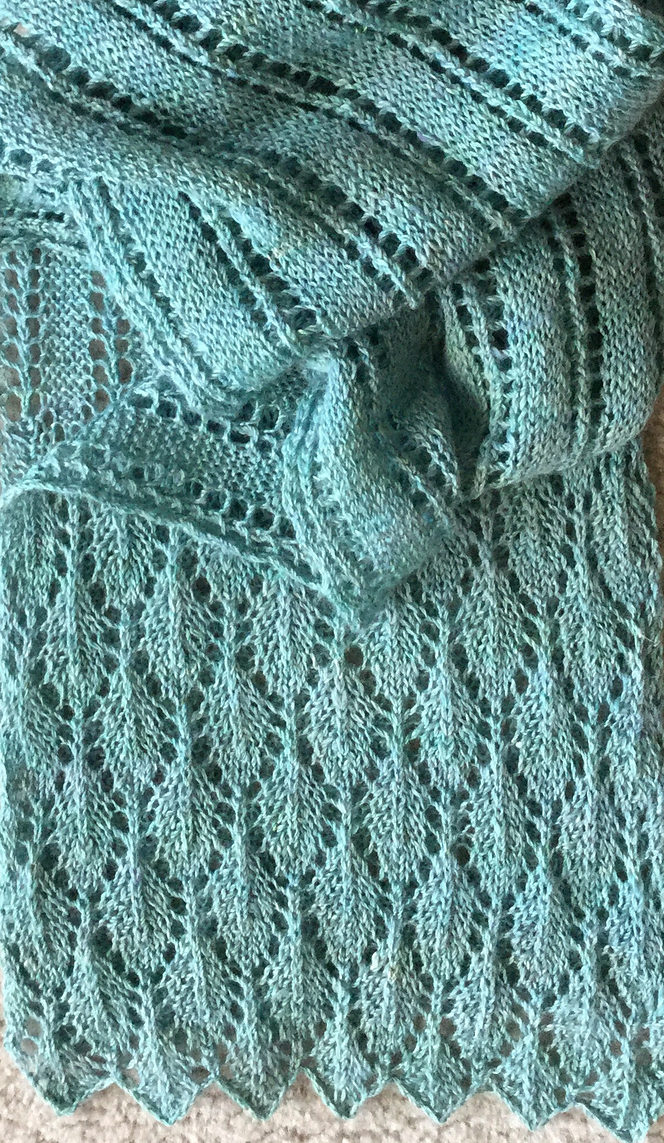 Summer Stream Scarf
This versatile lace scarf is perfect for warmer weather if knit in cotton or silk, or knit it in cozier yarns for cold weather. Designed by Asami Kawa, who says it is constructed of simple lace patterns. Most Ravelrers rated it very easy or easy and said the stitch pattern was easy to memorize (but it might be challenging for beginners). Pictured project by kikkou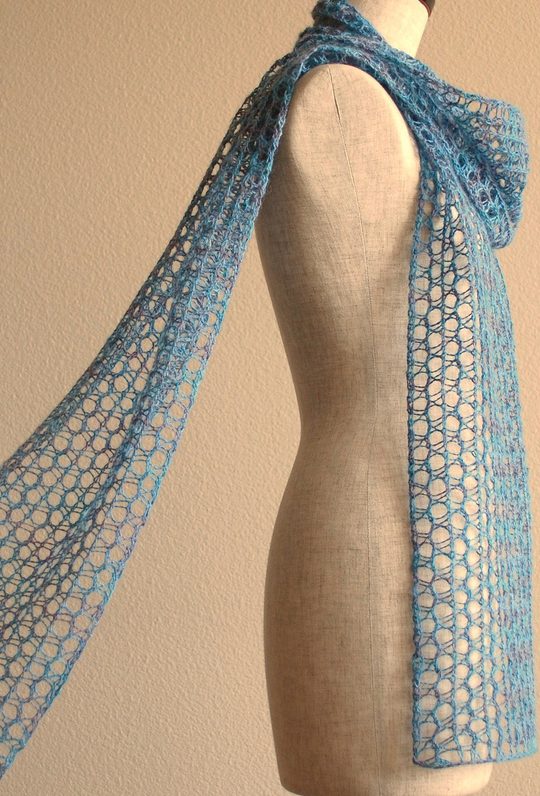 Different Breeze Scarf
Sachiko Uemura's mesh scarf is knit in larger needles to get the ethereal effect. Most Ravelrers rated this very easy or easy.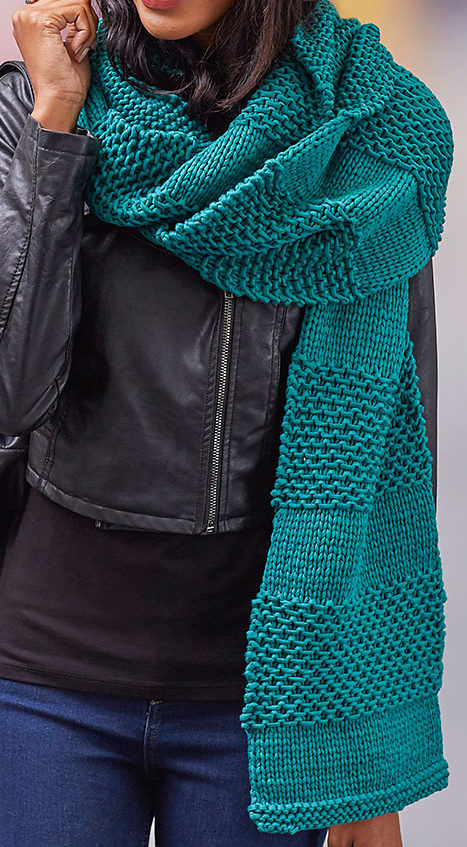 Textured Stripes Super Scarf
Easy oversized cozy scarf knit in sections of slipped stitch texture alternating with stockinette. Quick knit in chunky yarn. Designed by Christine Marie Chen for Red Heart.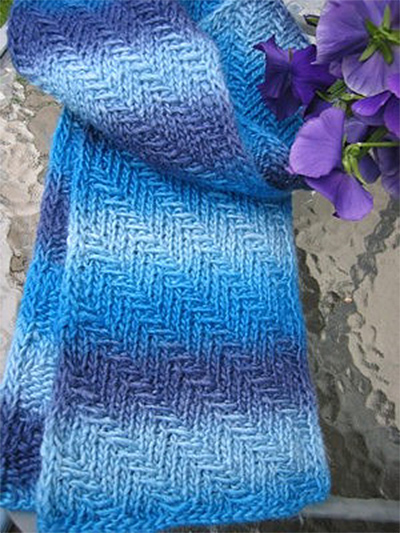 Prismatic Scarf
Huan-Hua Chye's easy scarf uses a diagonal slipped-stitch rib pattern that creates slanting rays of color especially designed to show off variegated yarn, though the texture looks great in solid colors too. Pictured project by Maj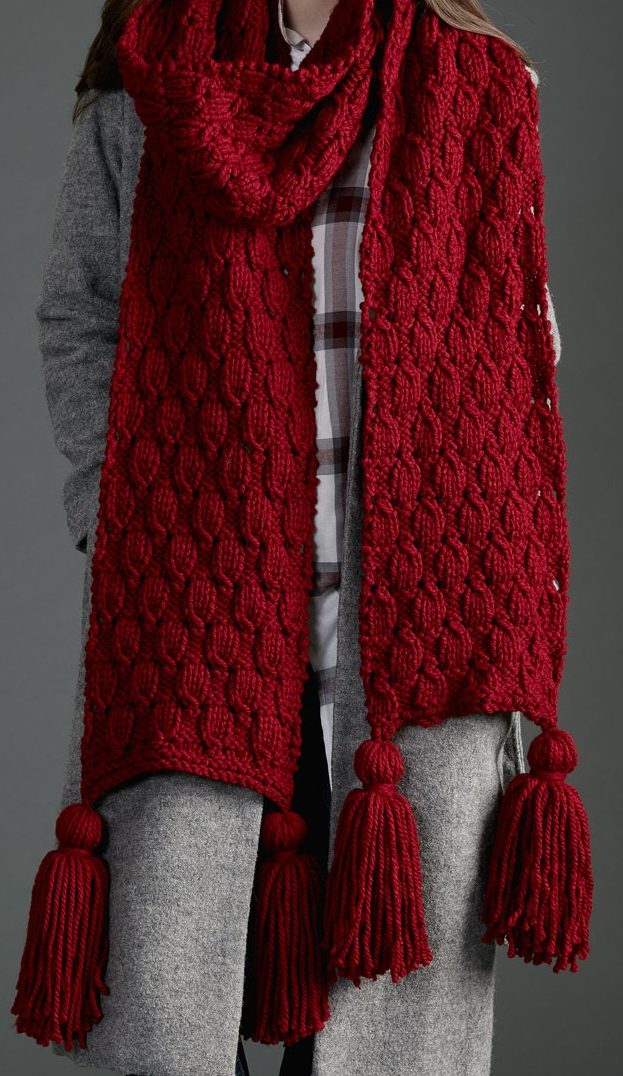 Make It Big Super Scarf
This oversized scarf from Bernat knits up quickly in chunky yarn and is rated easy by the designer.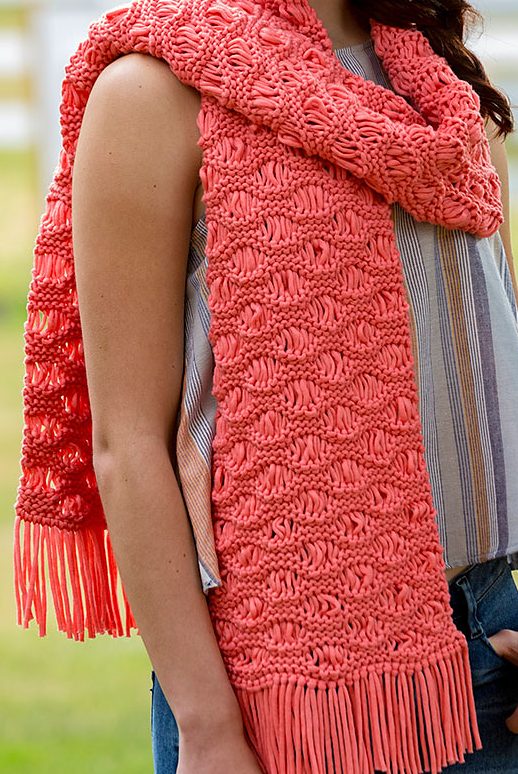 Wavy Drop-Stitch Scarf
Laura Bain designed this easy scarf using the classic sea foam stitch. A quick knit in jersey-knit tubular yarn.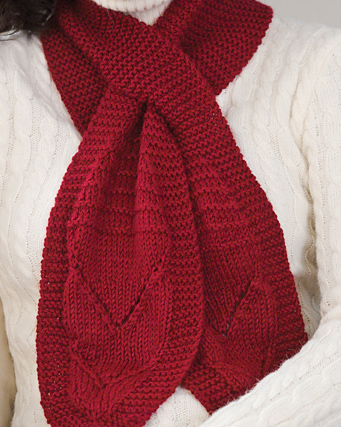 Easy Keyhole Scarf
This beginner pattern by Ann Regis features easy garter stitch sections and ends with heart / flower shaped motifs at the ends.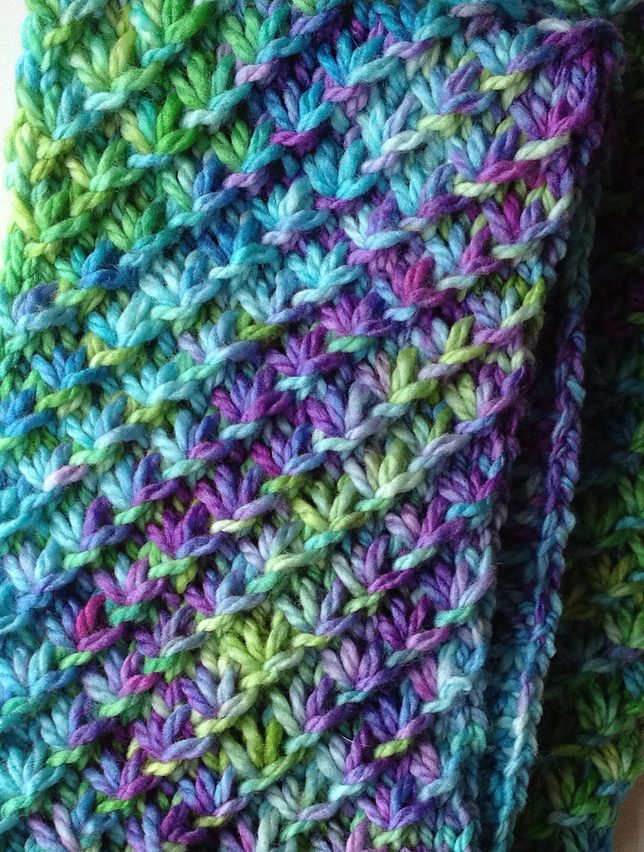 Star Stitch Scarf
Morgen Dämmerung's Holding Hands, Feeding Ducks Scarf features an easy all-over star stitch that can be adapted to almost any yarn. Pictured project by Hatodd.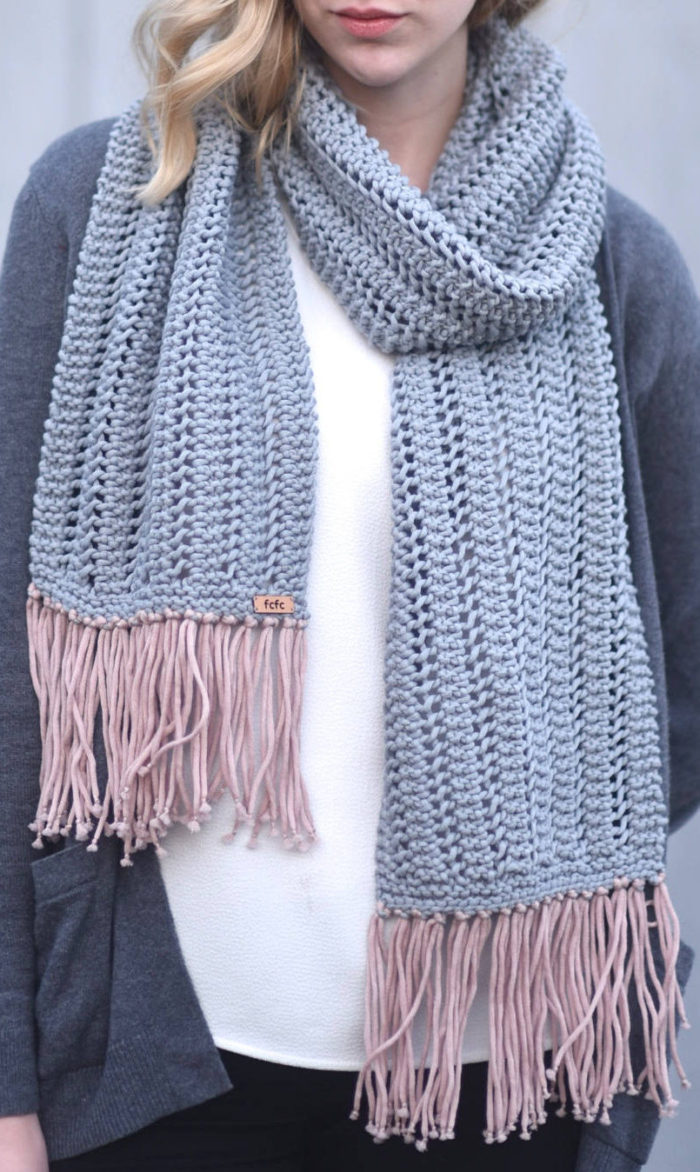 1 Row Repeat Sheila Scarf
Knit in a 1 row repeat lace pattern in bulky yarn this scarf is perfect for transitional weather.  Rated easy by the designer. Designed by Hayley Nordstrom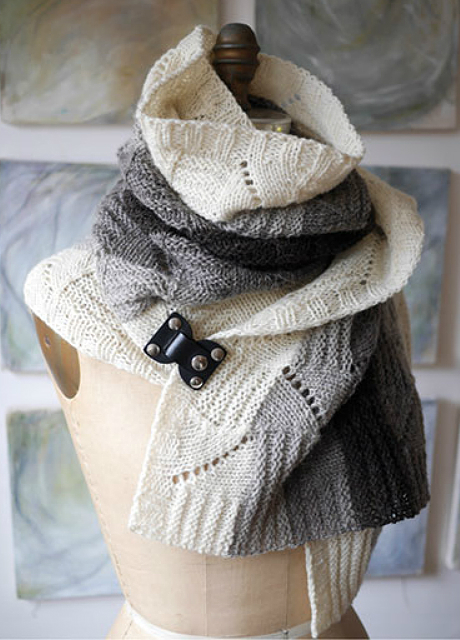 Slow Dog Noodle Scarf or Shawl
Knit in one piece from side to side, this wrap features easy-to-knit mix of knit/purl texture and simple openwork stitches and comes in two sizes for a scarf or shawl.  Rated easy by the designer and most Ravelrers. Designed by anne hanson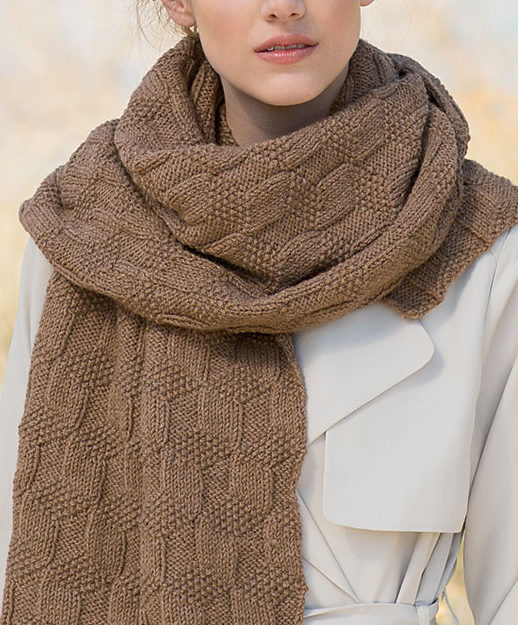 Vista Scarf
Escher-like quadrilaterals in stockinette, reverse stockinette, and seed stitch generate an endless field of cubes in this wide, cozy scarf.  Rated easy by most Ravelrers. Designed by Maria Leigh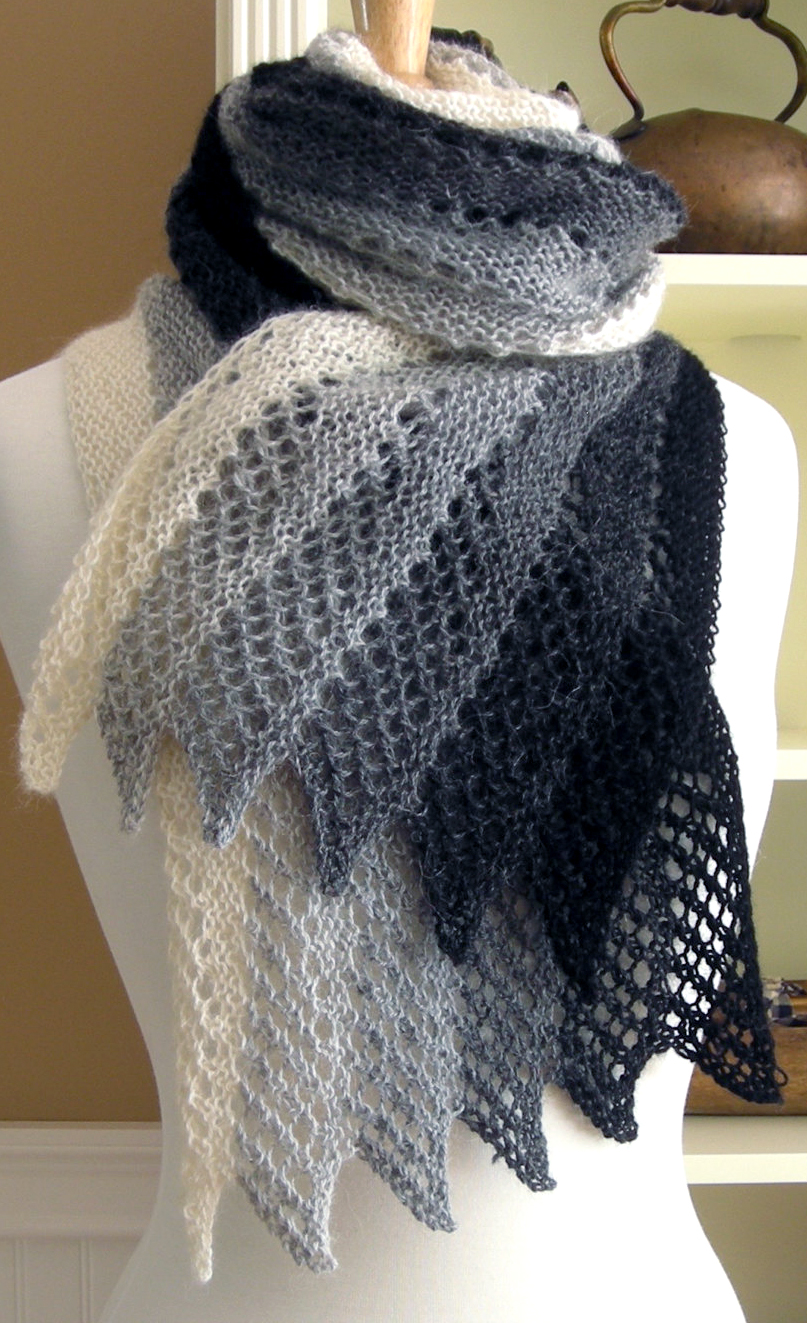 Mistral Scarf
Lace scarf that designer rates as easy to knit. Pattern directions include lots of color pictures, very detailed knitting instructions and definitions of stitches used, and NO CHARTS.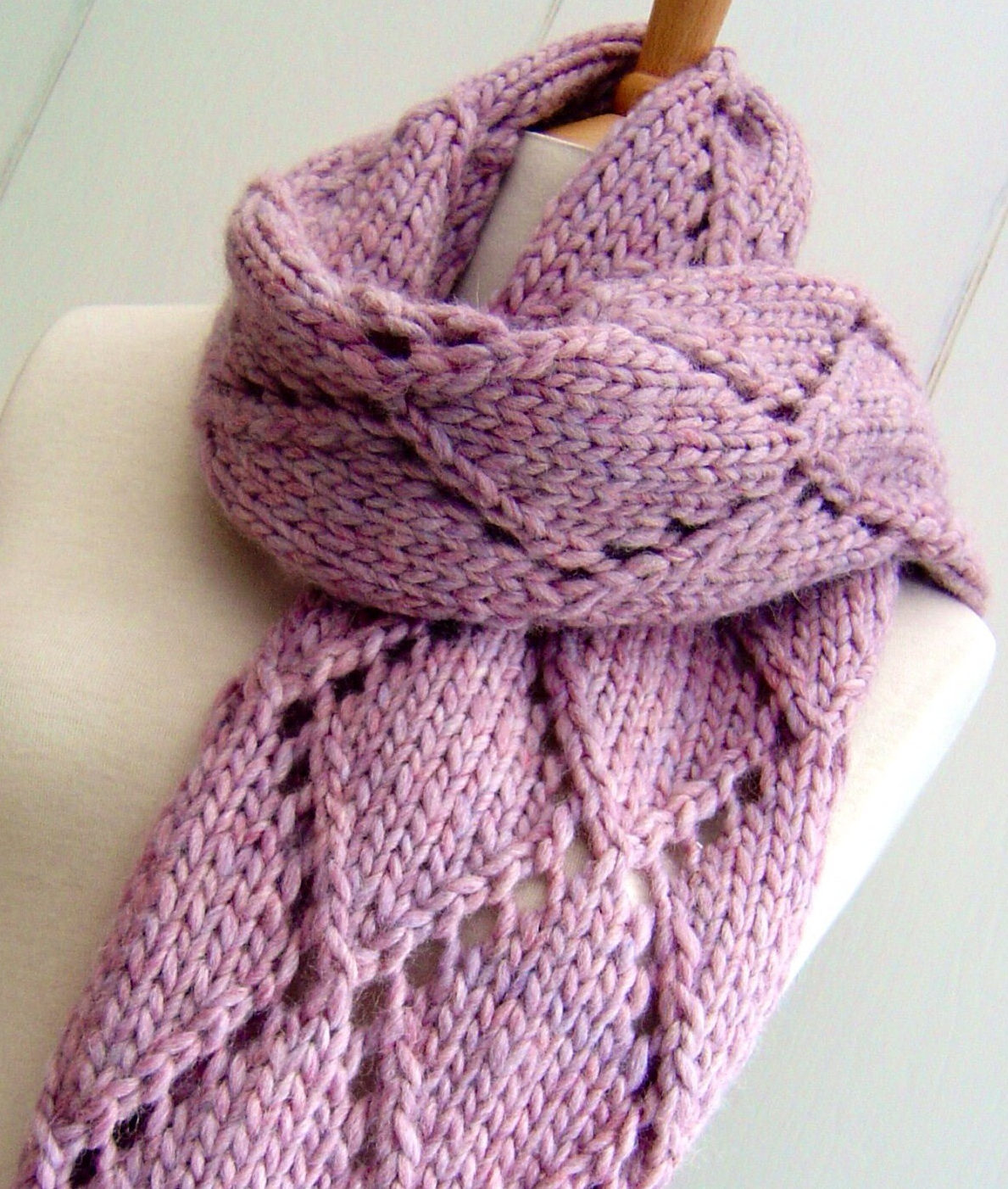 Diamond Lace Scarf
The Diamond Trellis pattern may look complicated, but it isn't! It only involves 5 basic stitches and once you've mastered those you'll knit this up in no time at all! Quick knit in Super Bulky Yarn.
Phiaro Scarf
Katie Himmelberg designed this easy, flowing drop stitch scarf.  Stitches are dropped during the bind-off to create the dropped-stitch sections and the fringe. Pictured project by stephccng. This is on the knitting patterns selected for Best of Knitscene.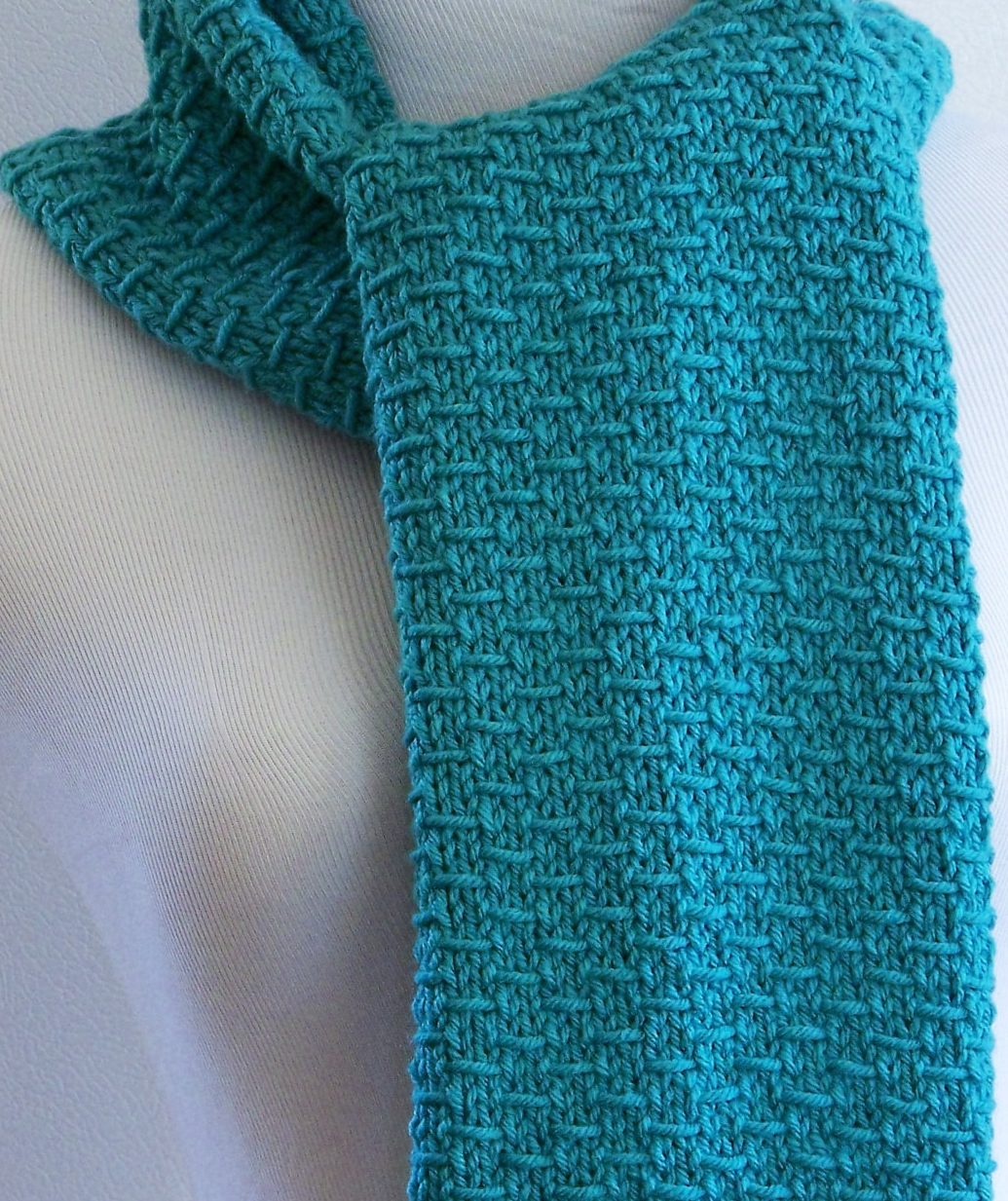 Blue Knit Scarf
Easy four row repeat, suitable to knitters familiar with knit, purl, and, slip stitches.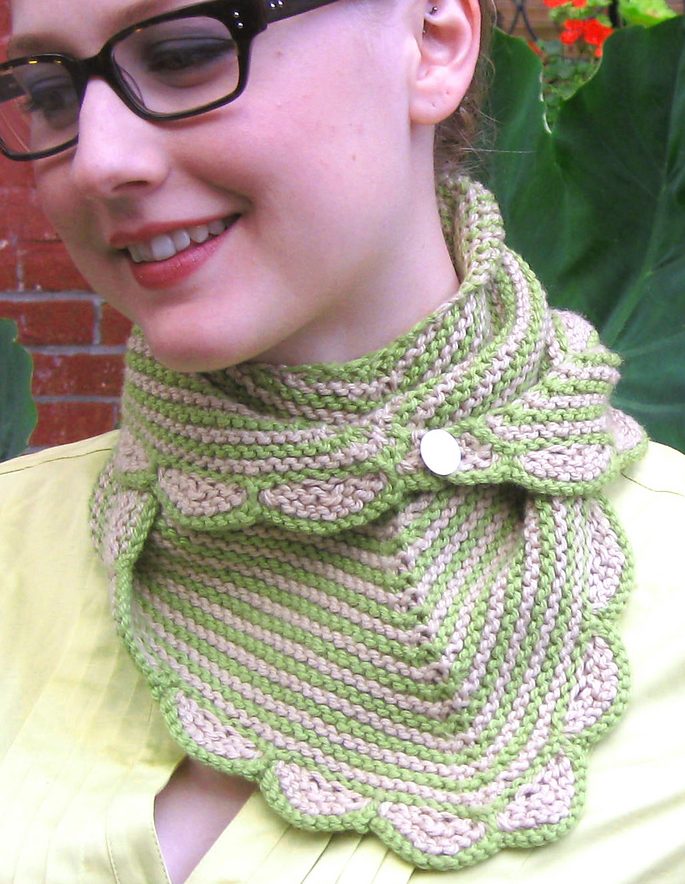 Figurehead Scarf
Alexis Winslow's easy striped garter stitch kerchief features a knitted scalloped edge. This is was also featured in Knitscene Summer 2011 edition.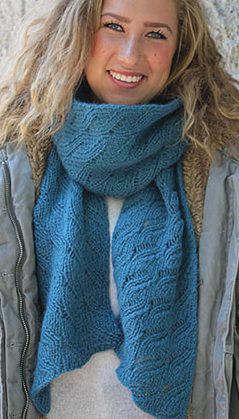 Lacy Leaves Scarf
This lovely, elegant and lacy scarf is made with easy repeats, making it a great project for the novice lace knitter.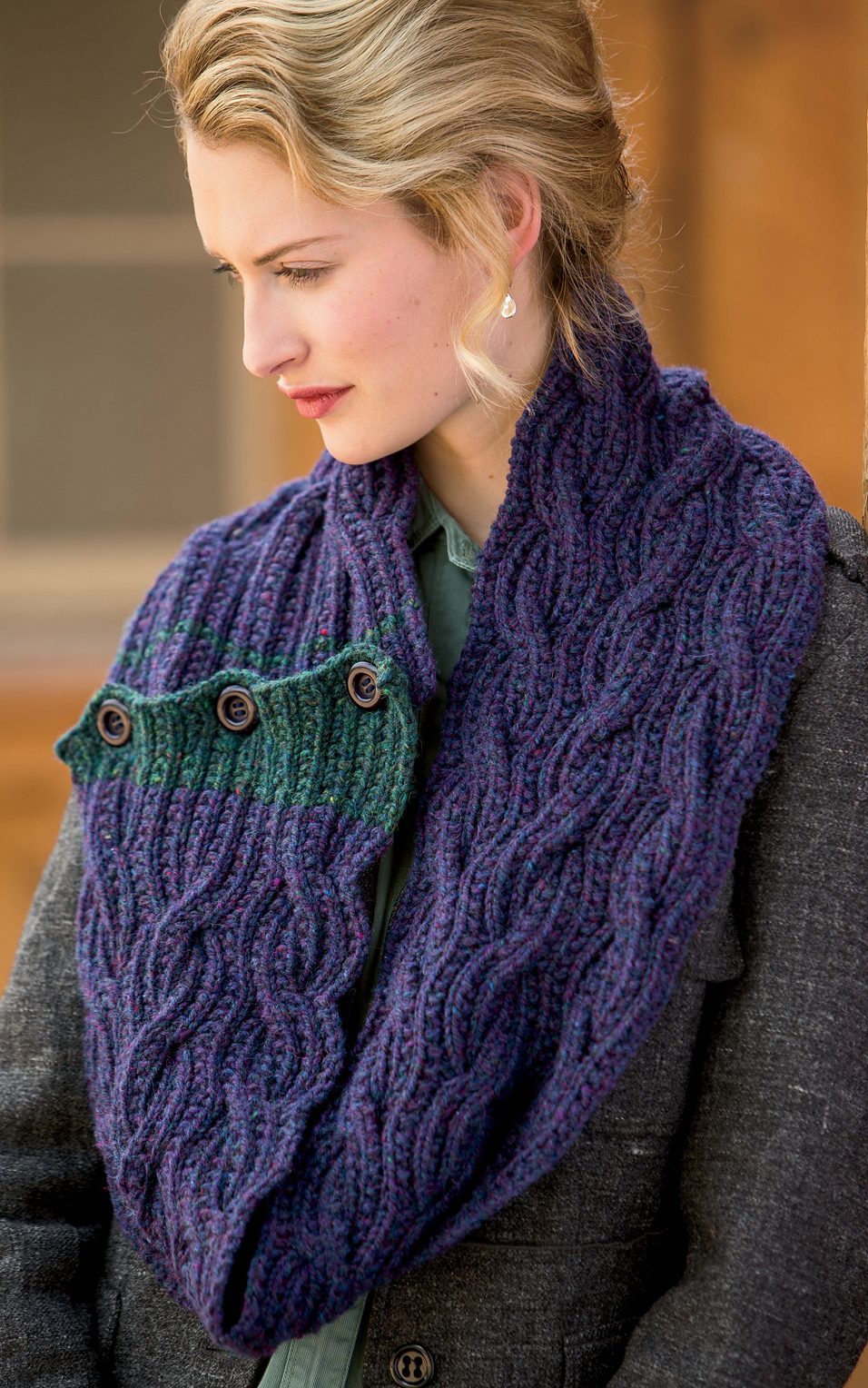 Tandem Scarf
Robin Melanson's farrow-rib cable scarf is reversible and can button into a cowl. Rated easy by Ravelrers.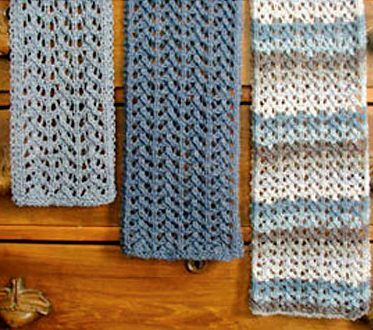 Easy Lace Scarves
This easy and easy lace scarf pattern contains instructions for worsted, sport, and fingering yarn.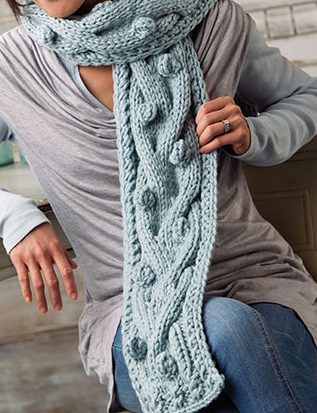 Bobbles Beyond Compare Scarf
Work only one cable twist and one bobble every eighth row in a super bulky yarn for a quick, easy and very striking scarf to wrap up in.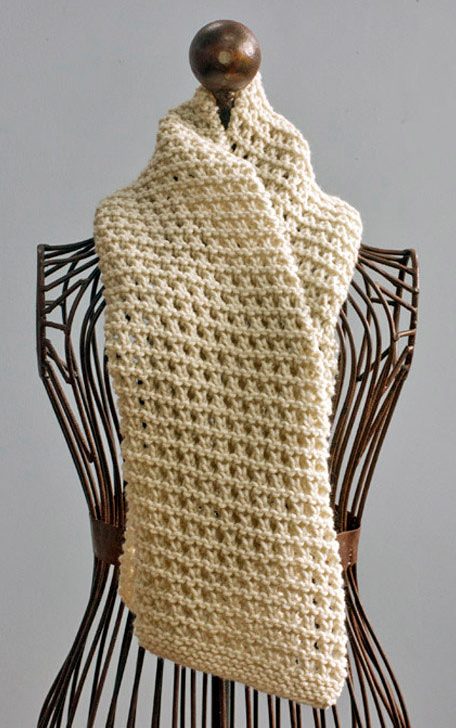 Openwork Scarf
This easy unisex scarf is a quick knit and can be made any size.
Terry Matz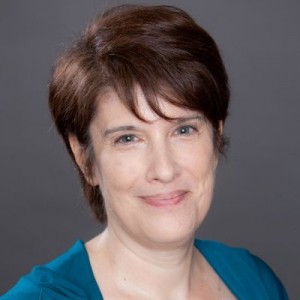 Terry is a knitting late-bloomer, learning to knit as an adult from Internet tutorials, because she wanted a craft that was useful, fun, and portable. Knitting hats for cancer patients inspired her to design her own patterns—available for free at her blog, intheloopknitting.com. Terry met her husband Ken at a science fiction convention and moved to the Kansas City area to be with him more than 30 years ago. Terry supports her yarn stash by creating websites and other digital media. Terry firmly believes in Knitting in Public—it's a great conversation starter!