Go beyond garter stitch with these scarf patterns that have been rated as easy, some even suitable for beginners. These scarves are gorgeous ways to try out new techniques like lace and cables, or to take a break from more challenging projects.
To get the knitting patterns, scroll down the page to the individual pattern you want and click on the link to that pattern.
These patterns are not my designs but links to other designers who have generously shared their patterns. If you have questions about how to knit a specific pattern, please contact the designer directly.
All links on this site are for informational purposes, but please note that some links are to affiliate sellers that pay me a small commission on purchases.
Free Patterns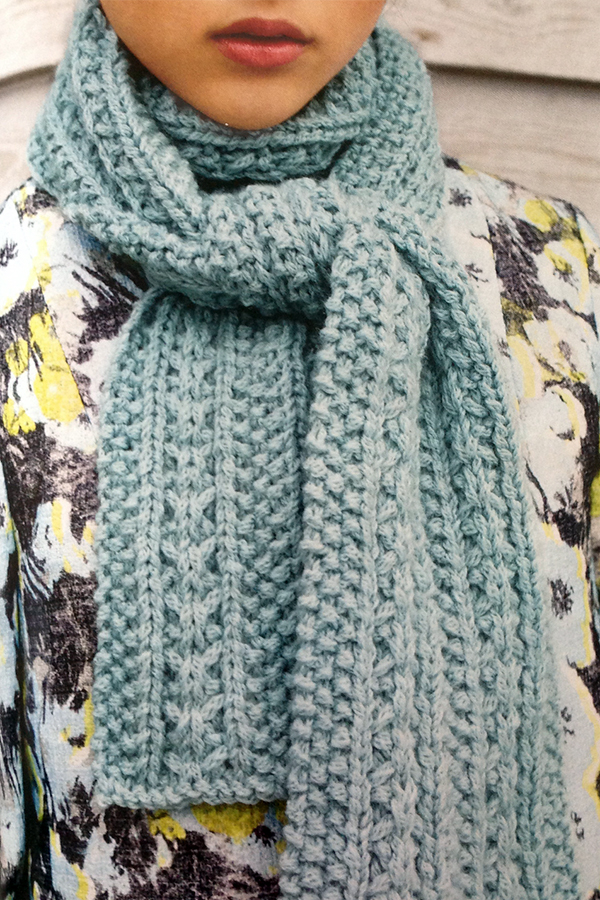 Paloma Scarf by Debbie Bliss
This easy scarf is knit with a 4 row repeat of alternating columns of Moss stitch and a slip-stitch pattern inspired by tracks in fresh snow. Rated easy by Ravelrers. Super Bulky weight yarn. Designed by Debbie Bliss. According to the designer, a commonly asked question: When Row 4 tells you to "lift yarn strand" it is referring to the float created on Row 2.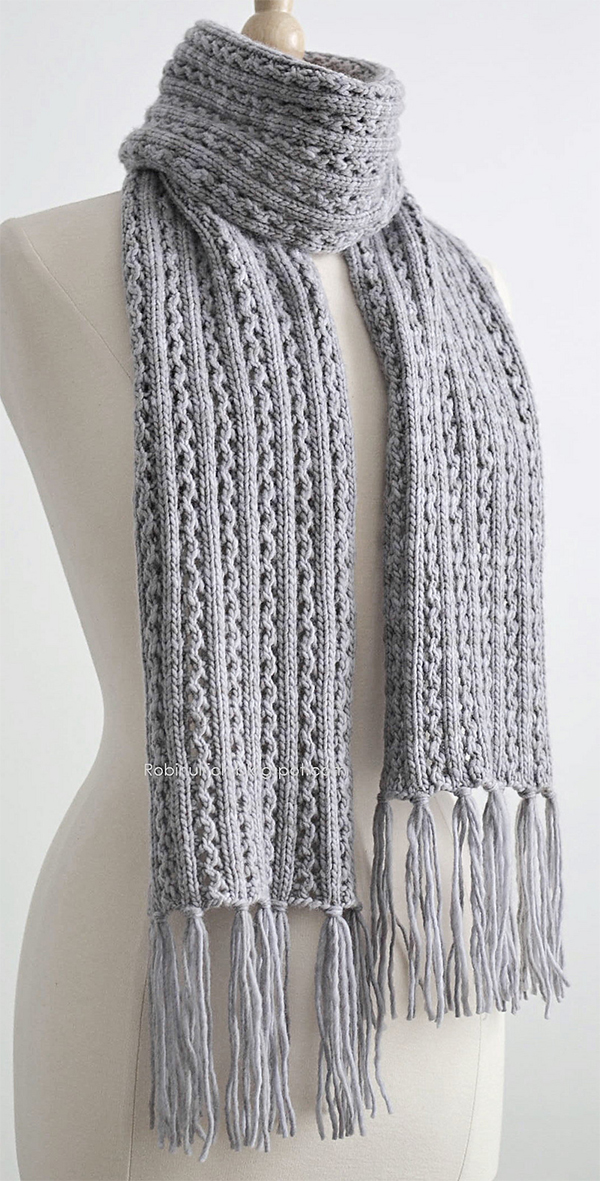 Frostlight Scarf
Fringed scarf knit with a 4 row repeat eyelet and ribbed stitch pattern. Rated easy by Ravelrers. Worsted weight yarn. Designed by Robin Ulrich.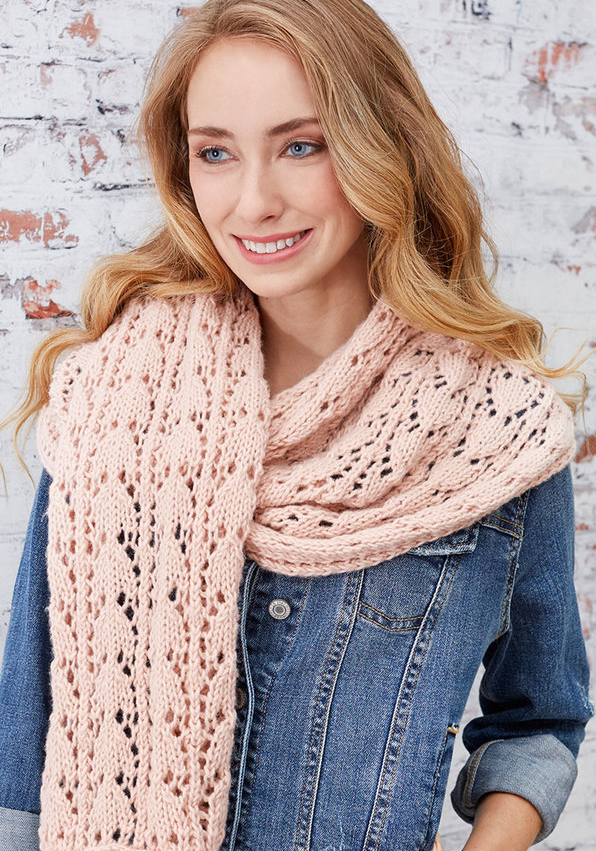 First-Timer Lace Scarf
This easy scarf is knit with a 8 row repeat lace stitch that the designer says is suitable for beginners looking for their first lace project. You can use written instructions or chart, or both. Rated easy by the designer. Worsted weight yarn. Designed by Lisa Gentry for Red Heart.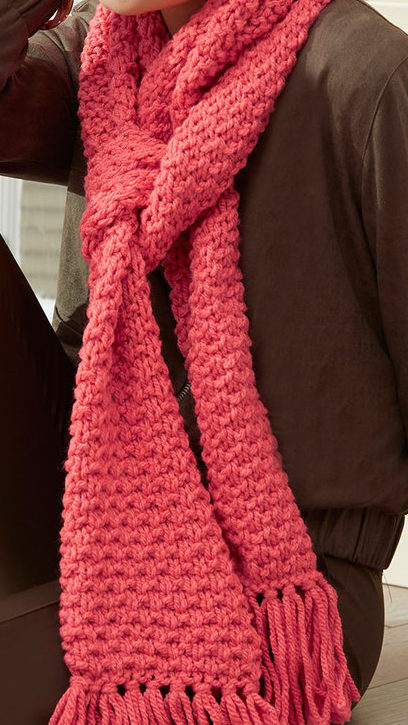 4 Row Repeat Textured Fringe Scarf
This easy scarf is knit with a 4 row repeat Reverse Sand Stitch. Quick knit in bulky yarn. Designed by Cathy Payson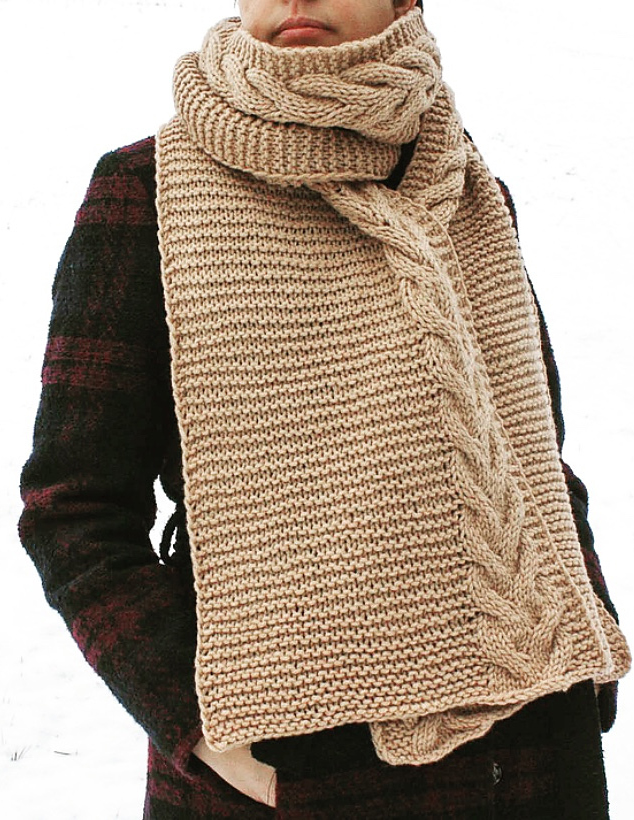 Toffee Scarf
Garter stitch scarf with cable along one edge. Aran weight yarn. Designed by Nadia Crétin-Léchenne. Available English and French. Rated very easy by Ravelrers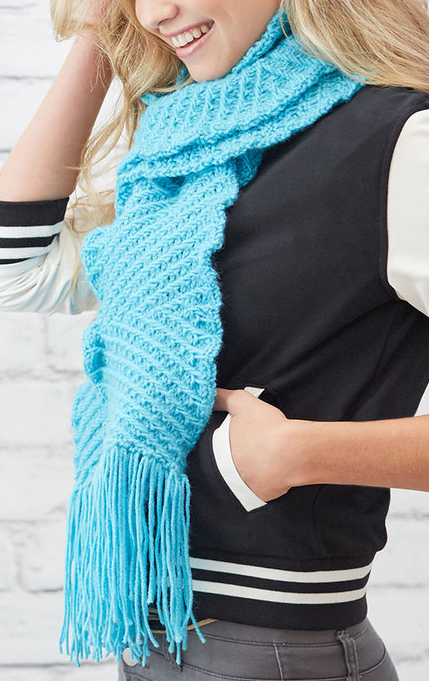 Zigzaggy Scarf
The diagonal texture of this scarf is created with slipped stitches and just knit and purl stitches. Alternating sections of left diagonal and right diagonal create a zigzag and a natural ruffle edge. Designed by Kia Love for Red Heart who rated the pattern easy.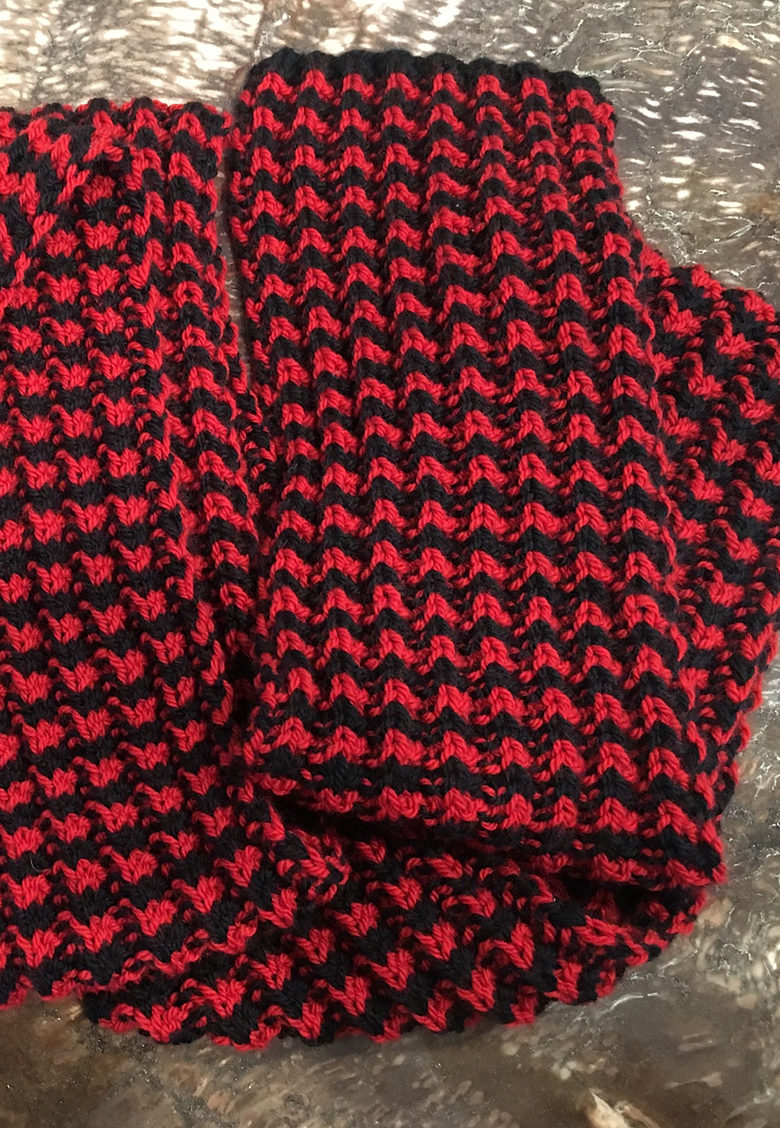 Bracken Scarf
Easy colorwork scarf uses 2 colors. You can use one solid and one variegated or both solid. Designed by Lynne Rowe. Rated very east by Ravelrers. Pictured project by Kellyg232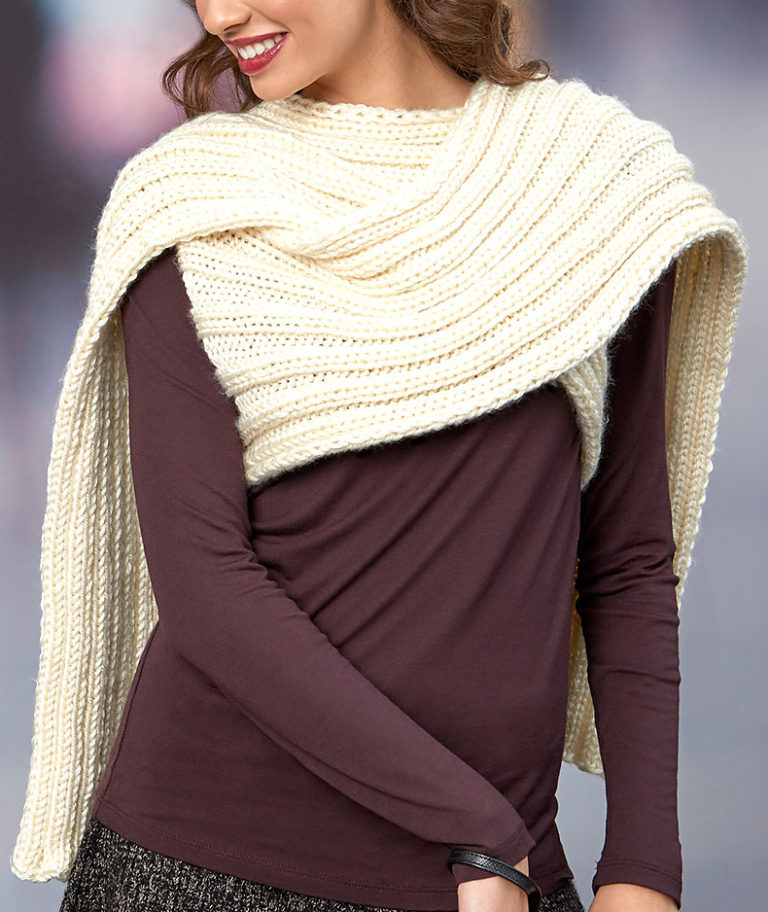 Statement Scarf Wrap
Easy scarf features armholes so it can be worn as a wrap or a vest, as well as a scarf. Quick knit in bulky yarn. Designed by Erin Kate Archer for Red Heart.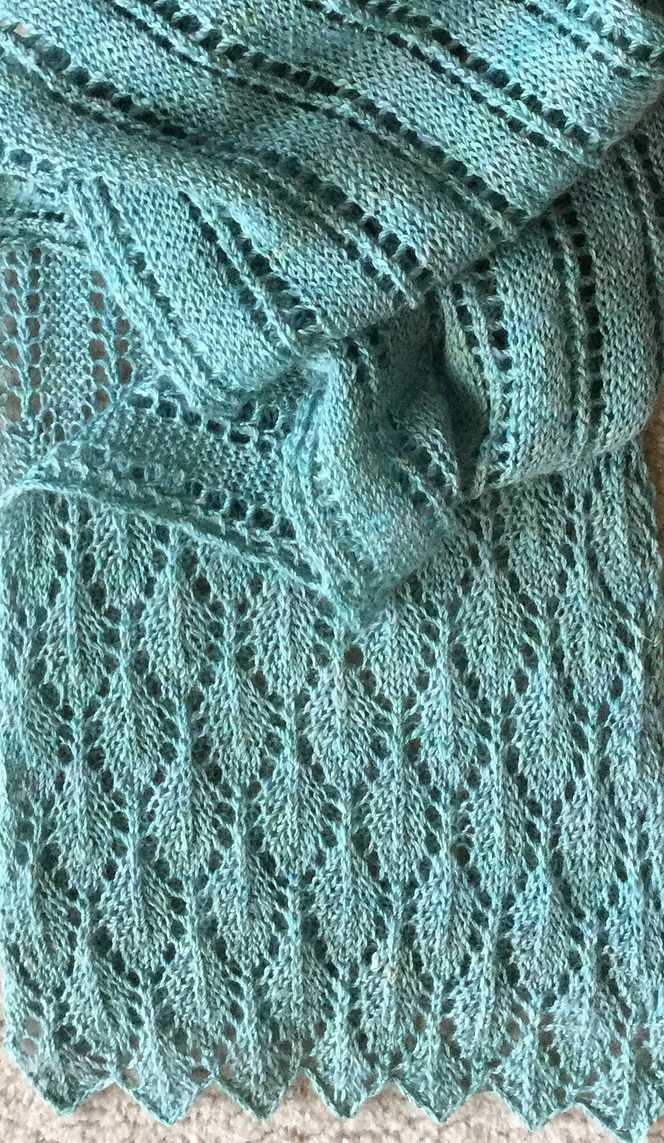 Summer Stream Scarf
This versatile lace scarf is perfect for warmer weather if knit in cotton or silk, or knit it in cozier yarns for cold weather. Designed by Asami Kawa, who says it is constructed of simple lace patterns. Most Ravelrers rated it very easy or easy and said the stitch pattern was easy to memorize (but it might be challenging for beginners). Pictured project by kikkou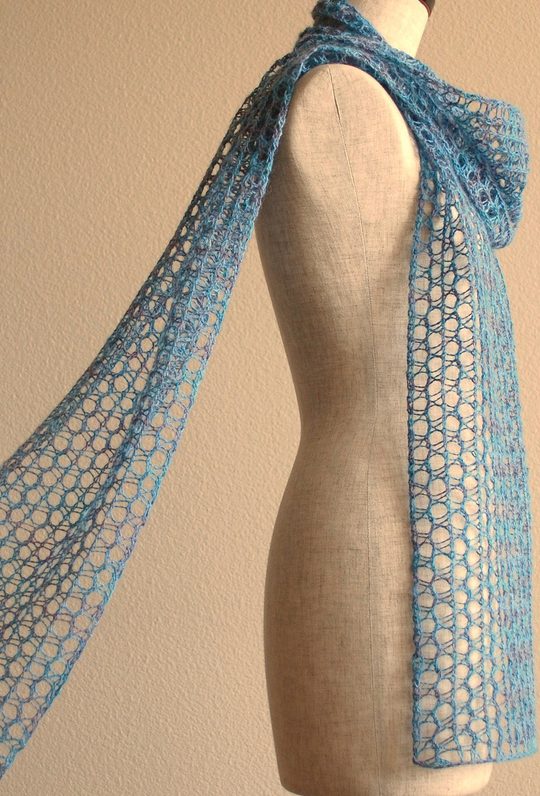 Different Breeze Scarf
Sachiko Uemura's mesh scarf is knit in larger needles to get the ethereal effect. Most Ravelrers rated this very easy or easy.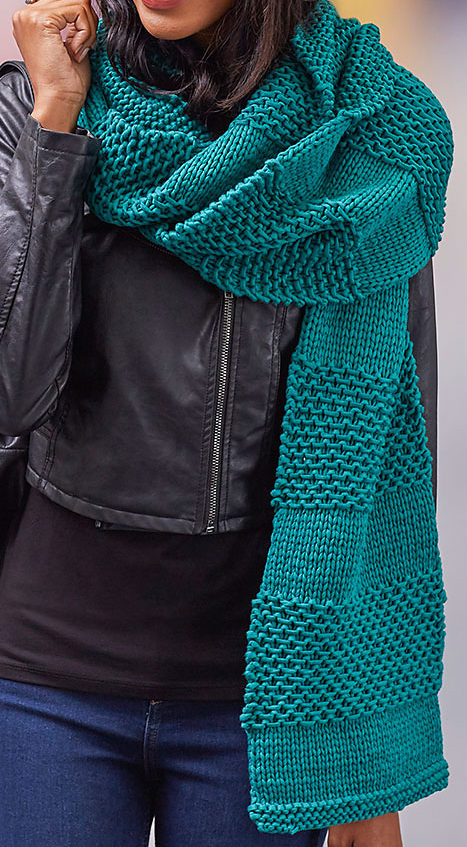 Textured Stripes Super Scarf
Easy oversized cozy scarf knit in sections of slipped stitch texture alternating with stockinette. Quick knit in chunky yarn. Designed by Christine Marie Chen for Red Heart.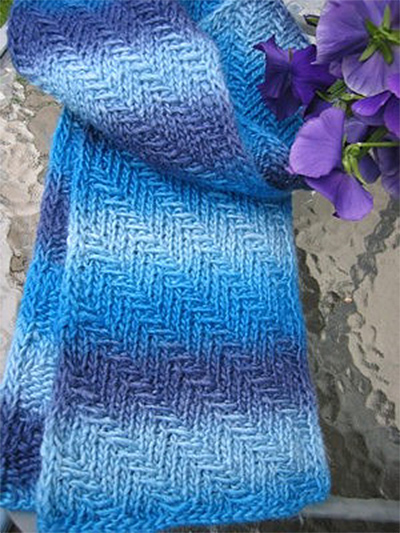 Prismatic Scarf
Huan-Hua Chye's easy scarf uses a diagonal slipped-stitch rib pattern that creates slanting rays of color especially designed to show off variegated yarn, though the texture looks great in solid colors too. Pictured project by Maj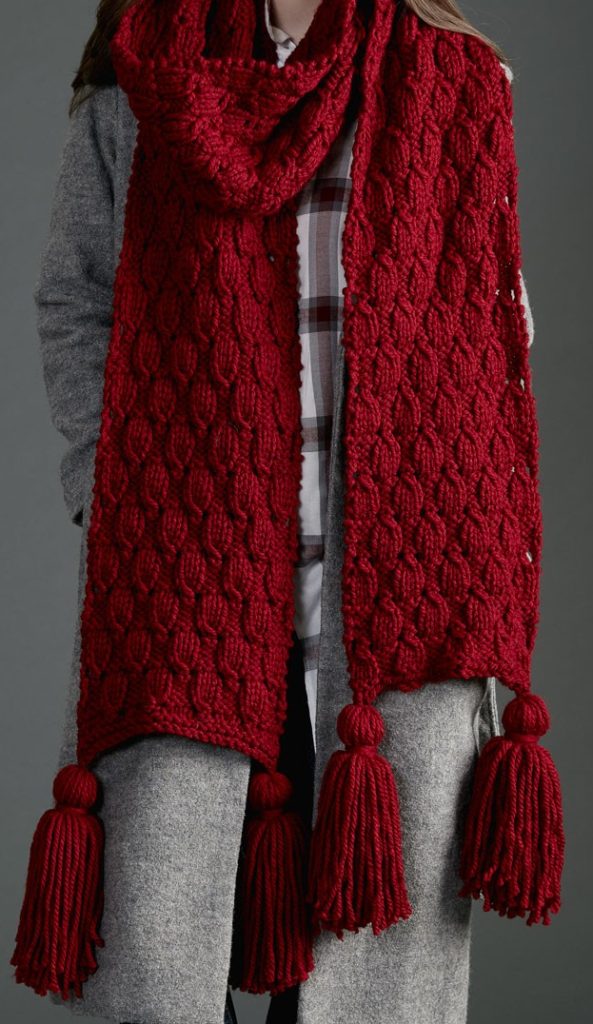 Make It Big Super Scarf
This oversized scarf from Bernat knits up quickly in chunky yarn and is rated easy by the designer.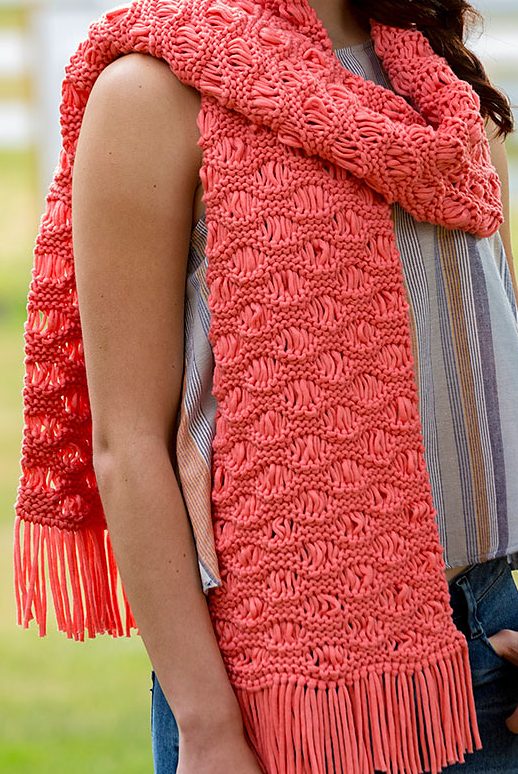 Wavy Drop-Stitch Scarf
Laura Bain designed this easy scarf using the classic sea foam stitch. A quick knit in jersey-knit tubular yarn.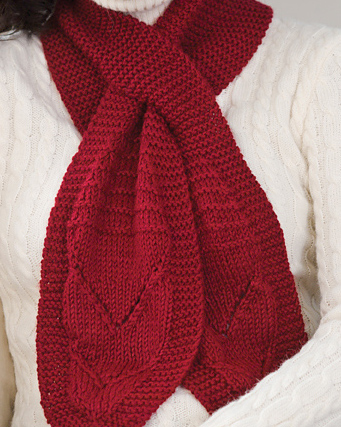 Easy Keyhole Scarf
This beginner pattern by Ann Regis features easy garter stitch sections and ends with heart / flower shaped motifs at the ends.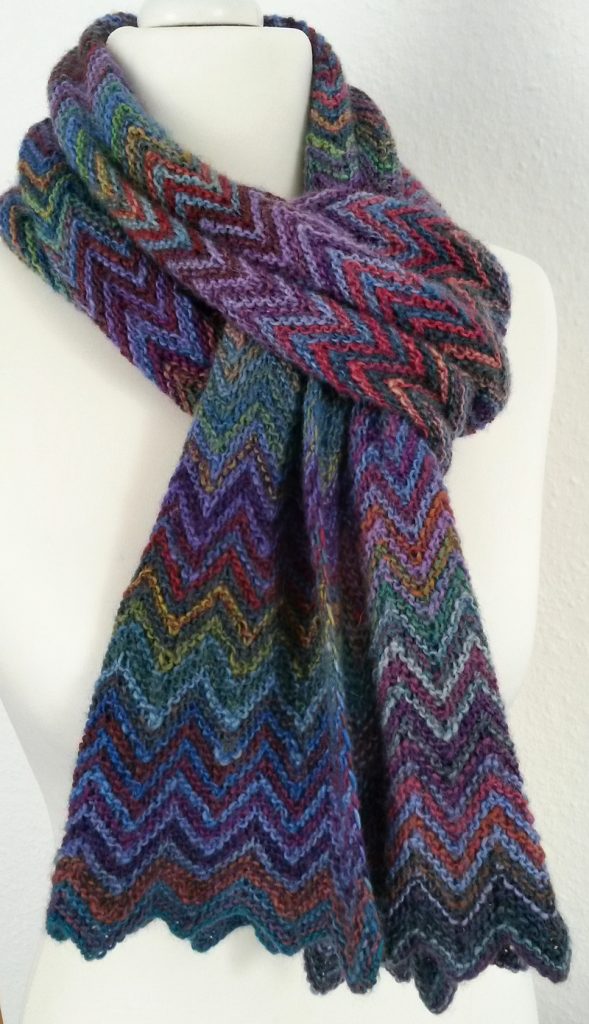 Zick Zack Scarf
Christy Kamm's scarf is knit with an easy chevron lace pattern. Use two colorways of self-striping or variegated yarn for the most colorful scarf. Pictured project by knispeltante.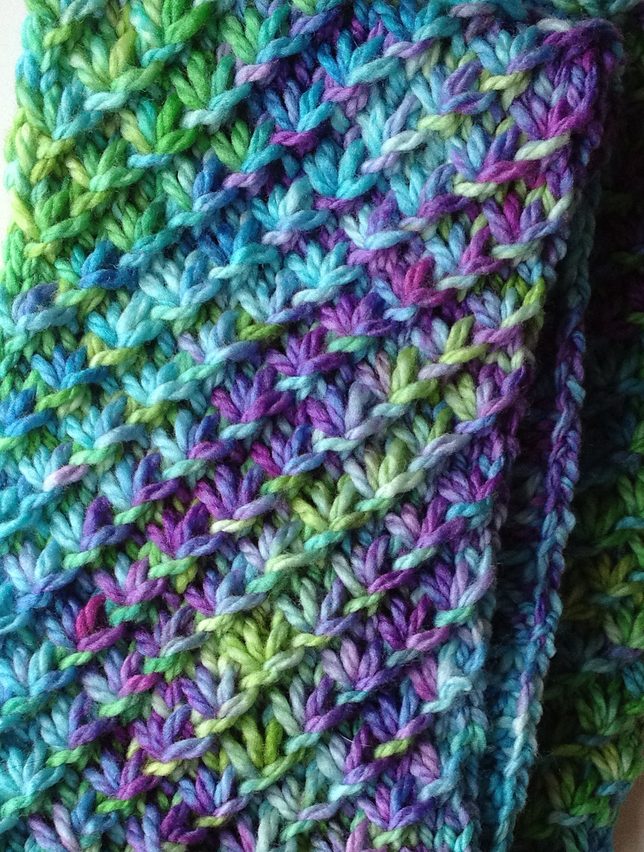 Star Stitch Scarf
Morgen Dämmerung's Holding Hands, Feeding Ducks Scarf features an easy all-over star stitch that can be adapted to almost any yarn. Pictured project by Hatodd.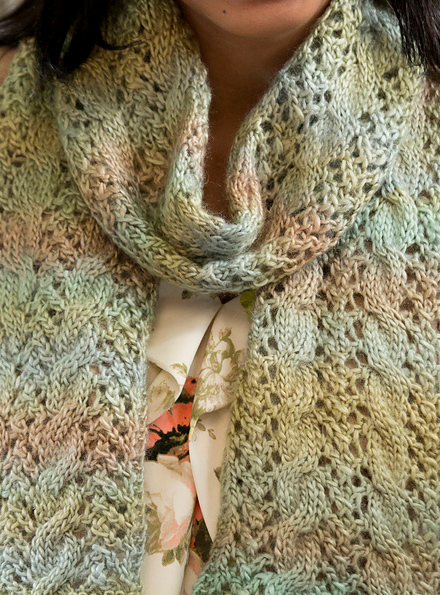 Cable and Lace Scarf
Cathy Payson's lovely scarf is a great introduction to cables and lace. Rated easy by both Ravelrers and the designer, it works great with multi-colored yarn.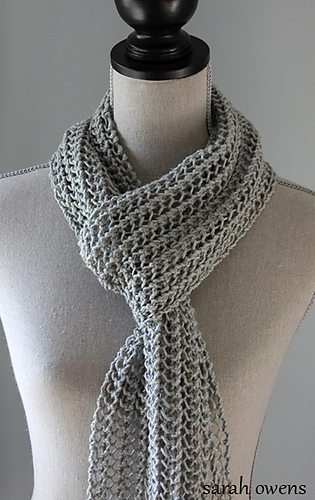 Light and Breezy Scarf
Deborah Qalballah's My So Called Life Lacey Scarf is a one row repeat — can't get much easier than that! Pictured project by Sarah Owens.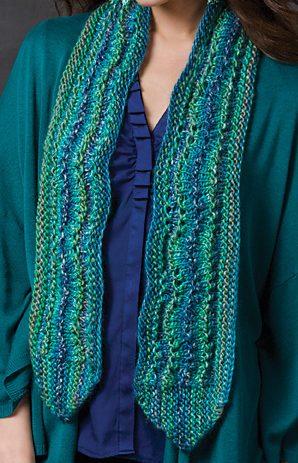 Ripple on the Side Scarf
This easy scarf is knit lengthwise with a simple ripple lace stitch that shows off multi-color yarn.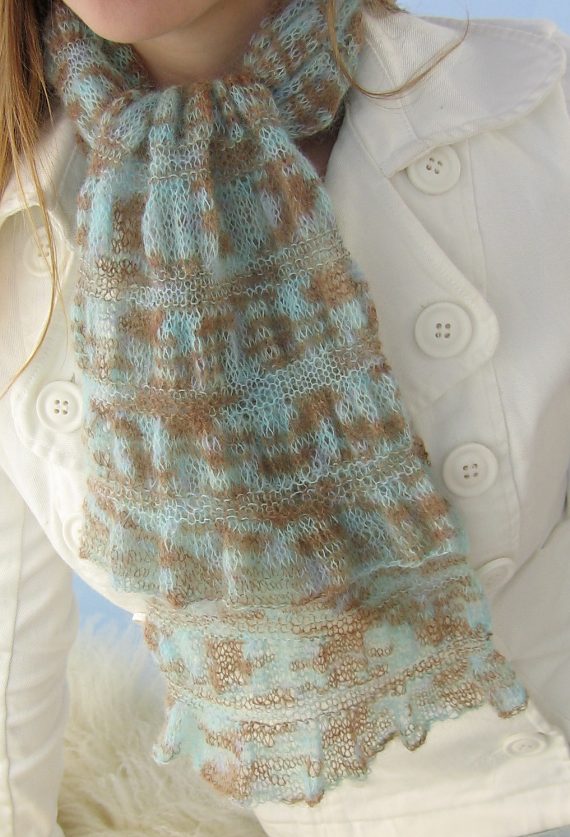 Gathered Scarf
Maryse Roudier's easy scarf creates ruching by using increases to add fabric and decreases to "gather" between garter stitch rows. Warning: this is a yarn eater because you use twice as many stitches for the gathered sections. Pictured project by elsteffo.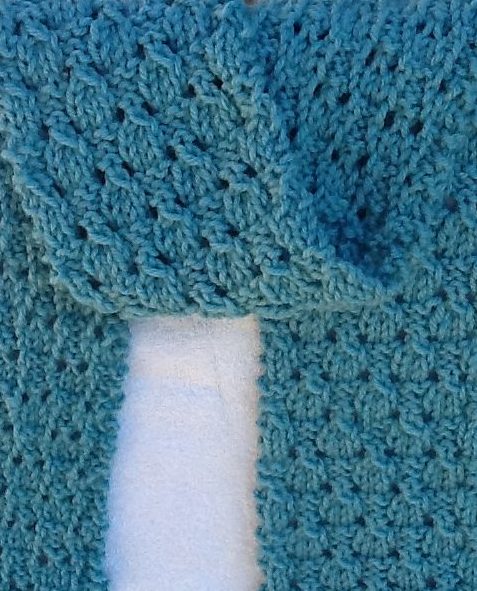 Dewdrop Scarf
This easy scarf features a lace pattern designed for bulky yarn so it's a fast knit too! Designed by Cathy Payson. Pictured project by erato7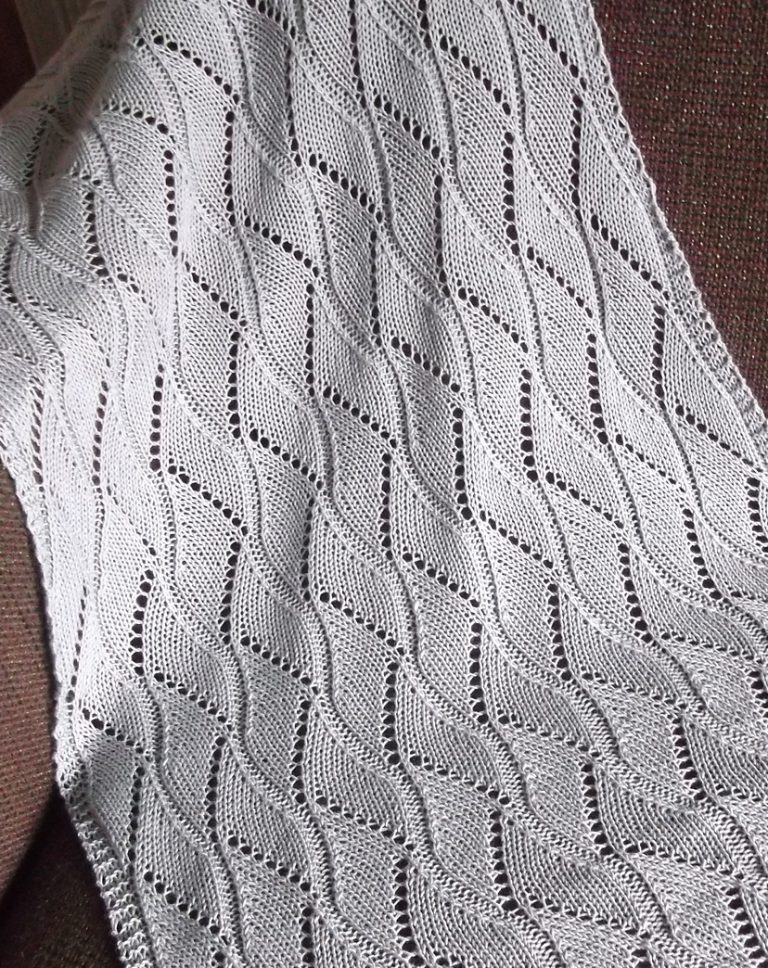 Upstairs Scarf
WollSchnegge's lace scarf or shawl is rated as easy, though beginners might find it more of a challenge. Although the original pattern calls for lace yarn, other knitters have been successful with heavier weights of yarn, such as fingering (used in the pictured project by speightyknits ) and sport weight.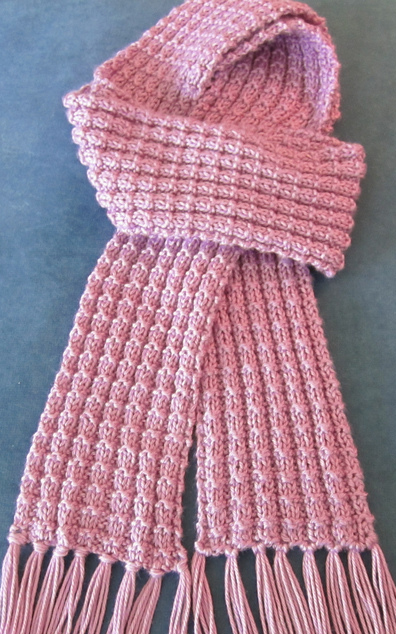 Heartwarming Scarf
Julie Farmer's beginner scarf has an easy to remember stitch pattern to give it texture. This unisex scarf only uses one skein of the recommended yarn. Pictured project is by pixiesmom.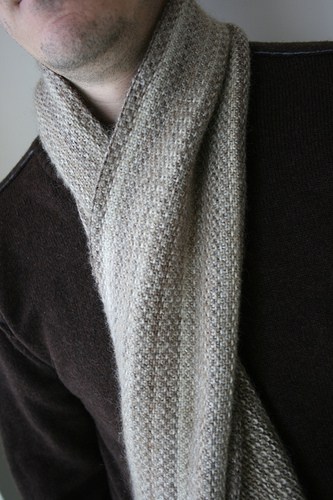 Cerus Scarf
Designed by Hilary Smith Callis, this scarf gets its dressy professional look from the linen stitch that looks like woven fabric. Use a variegated yarn to enhance the woven look.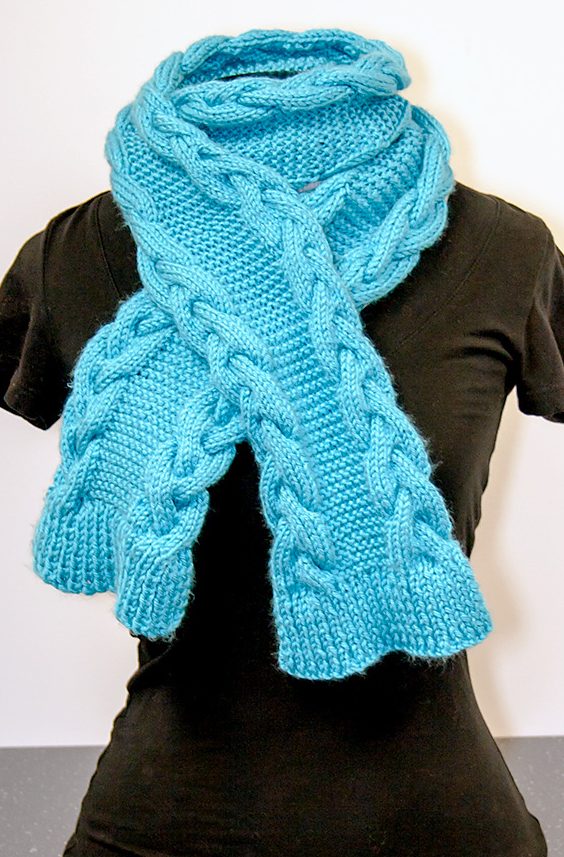 Cable Edge Scarf
Braided cables frame simple ribbing in Jodi Lewanda's scarf rated easy by the designer and Ravelrers. Pictured project is by BlueDevilGirl11.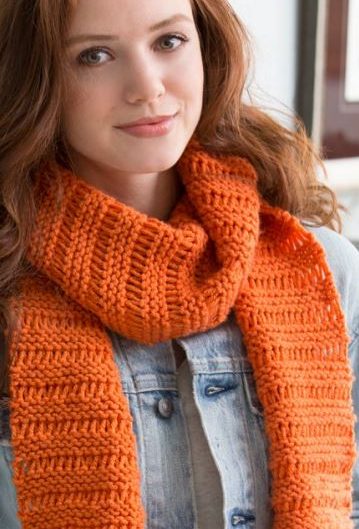 Beginner Garter Drop-Stitch Scarf
Michelle Maks proves shows you how easy it is to make a quick drop-stitch scarf If you can do a knit stitch and you can wrap yarn around a needle. Video tutorial included with this Red Heart pattern.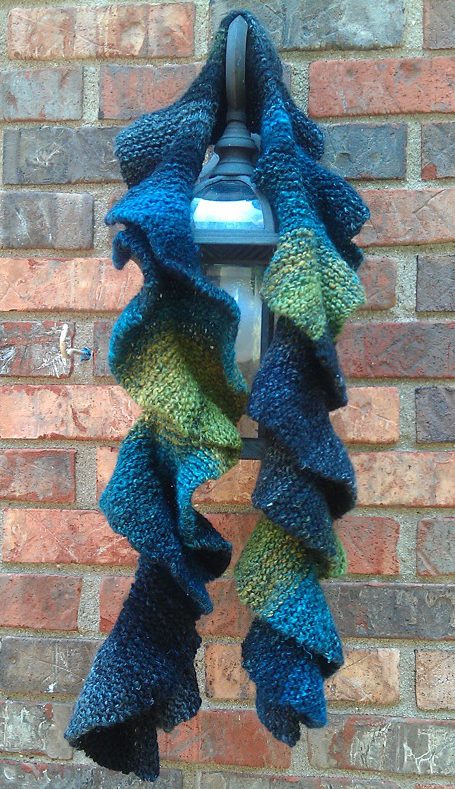 Potato Chip Scarf
Barbara Aguiar's easy scarf is knit with short rows in a 4 row repeat. Pictured project by SheepTricks. Great with multi-color yarn.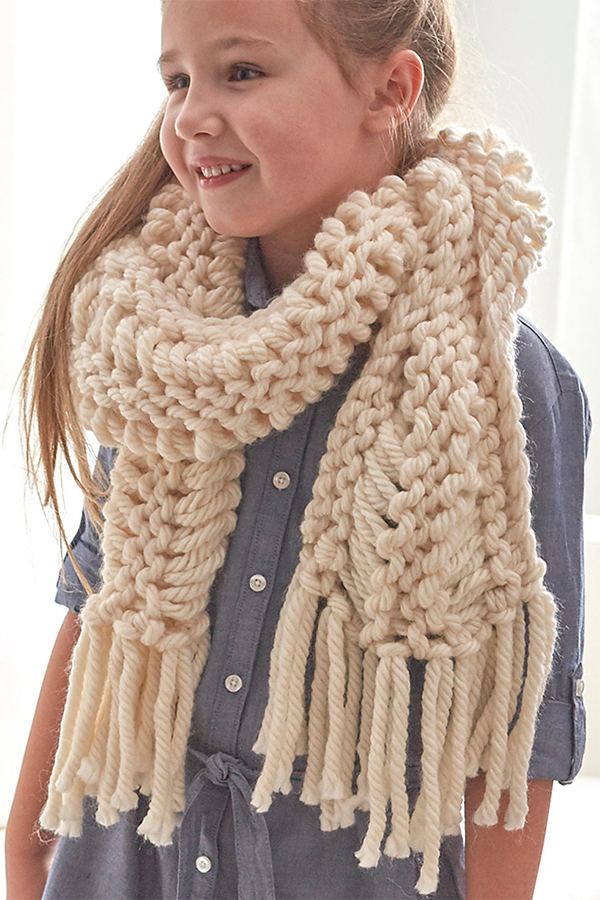 Drop-Stitch Scarf
This easy scarf is a quick knit in super bulky or jumbo yarn. Designed by Amanda Saladin for Red Heart.
Patterns for Purchase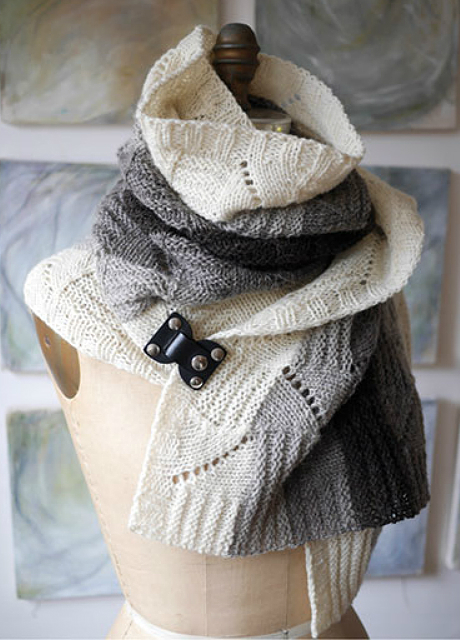 Slow Dog Noodle Scarf or Shawl
Knit in one piece from side to side, this wrap features easy-to-knit mix of knit/purl texture and simple openwork stitches and comes in two sizes for a scarf or shawl. Rated easy by the designer and most Ravelrers. Designed by anne hanson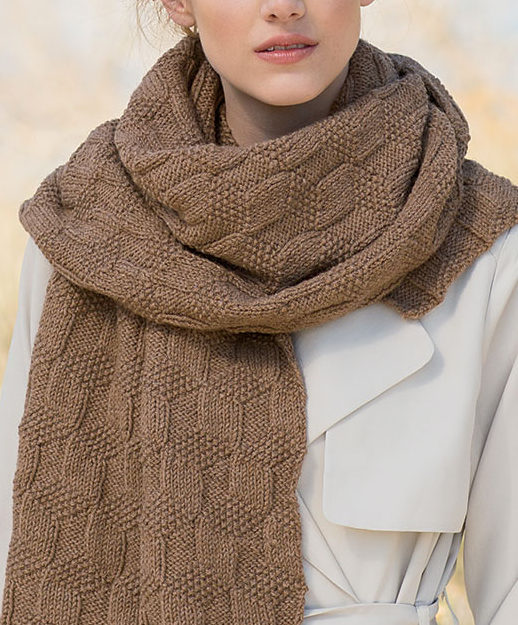 Vista Scarf
Escher-like quadrilaterals in stockinette, reverse stockinette, and seed stitch generate an endless field of cubes in this wide, cozy scarf. Rated easy by most Ravelrers. Designed by Maria Leigh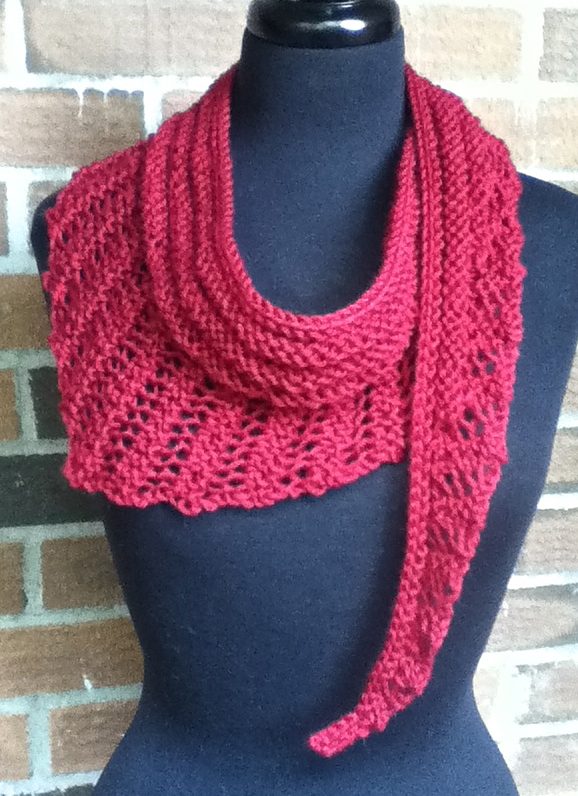 Gallatin
No longer free! Kris Basta's scarf works up quickly with worsted weight yarn and size 10 1/2 needles. A simple repeat in the pattern makes this a great tv watching project. Pictured project by naramoon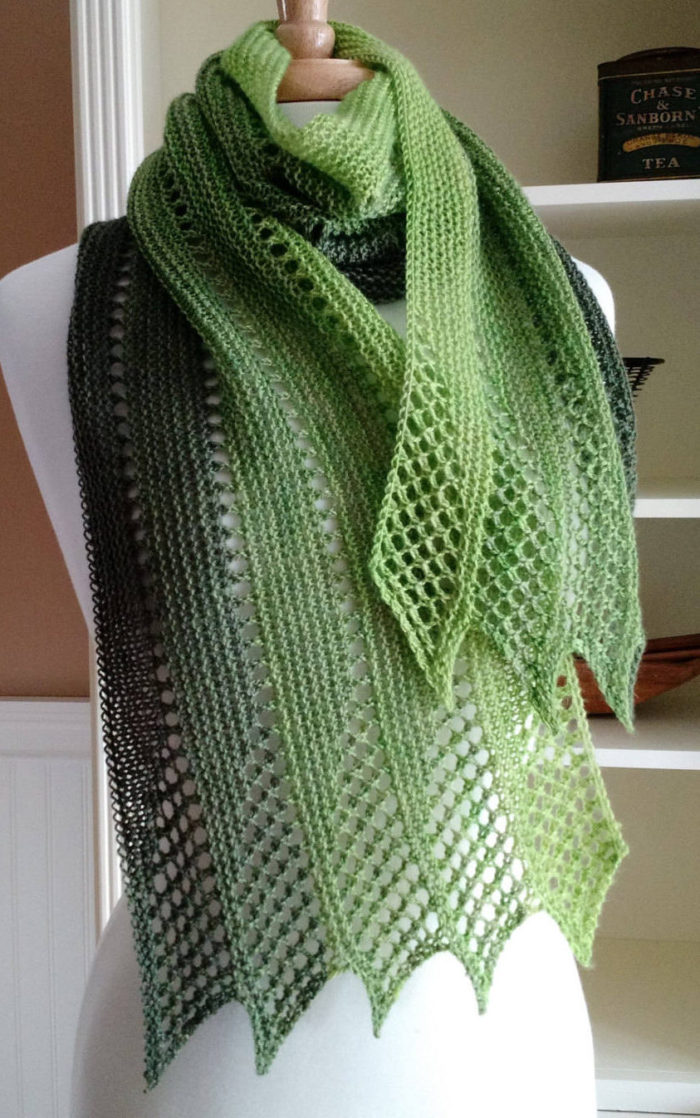 Mistral Scarf
Lace scarf that designer rates as easy to knit. Pattern directions include lots of color pictures, very detailed knitting instructions and definitions of stitches used, and NO CHARTS.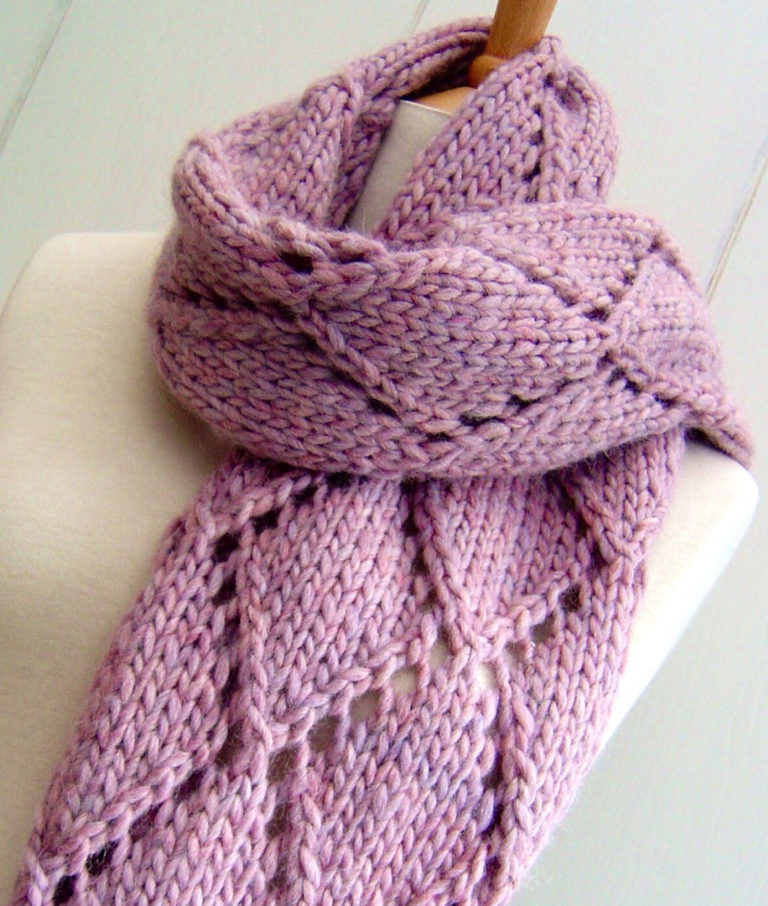 Diamond Lace Scarf
The Diamond Trellis pattern may look complicated, but it isn't! It only involves 5 basic stitches and once you've mastered those you'll knit this up in no time at all! Quick knit in Super Bulky Yarn.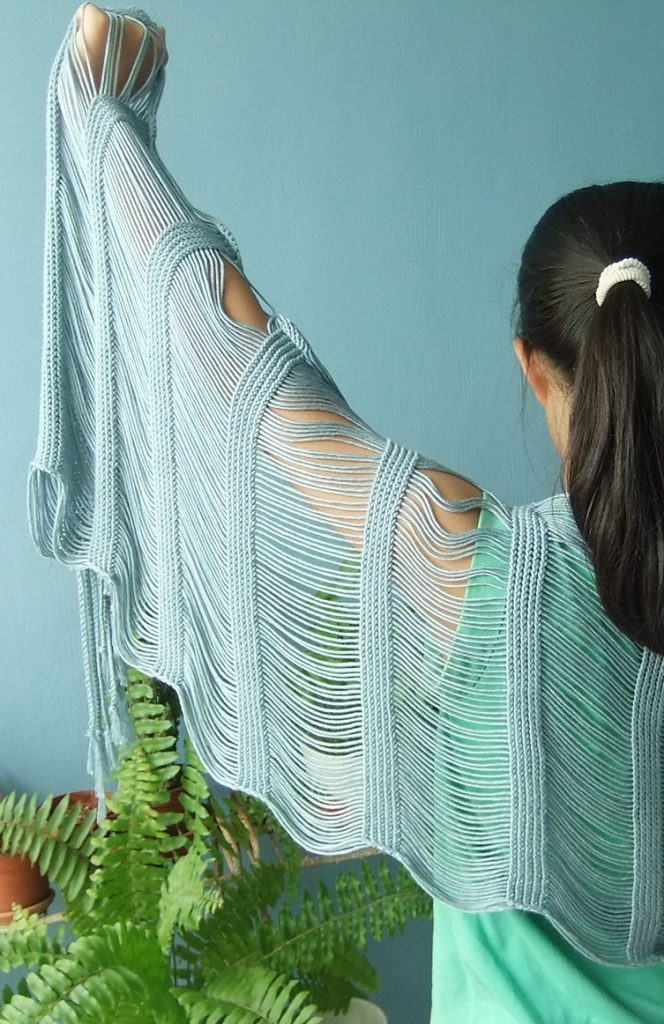 Phiaro Scarf
Katie Himmelberg designed this easy, flowing drop stitch scarf. Stitches are dropped during the bind-off to create the dropped-stitch sections and the fringe. Pictured project by stephccng. This is on the knitting patterns selected for Best of Knitscene.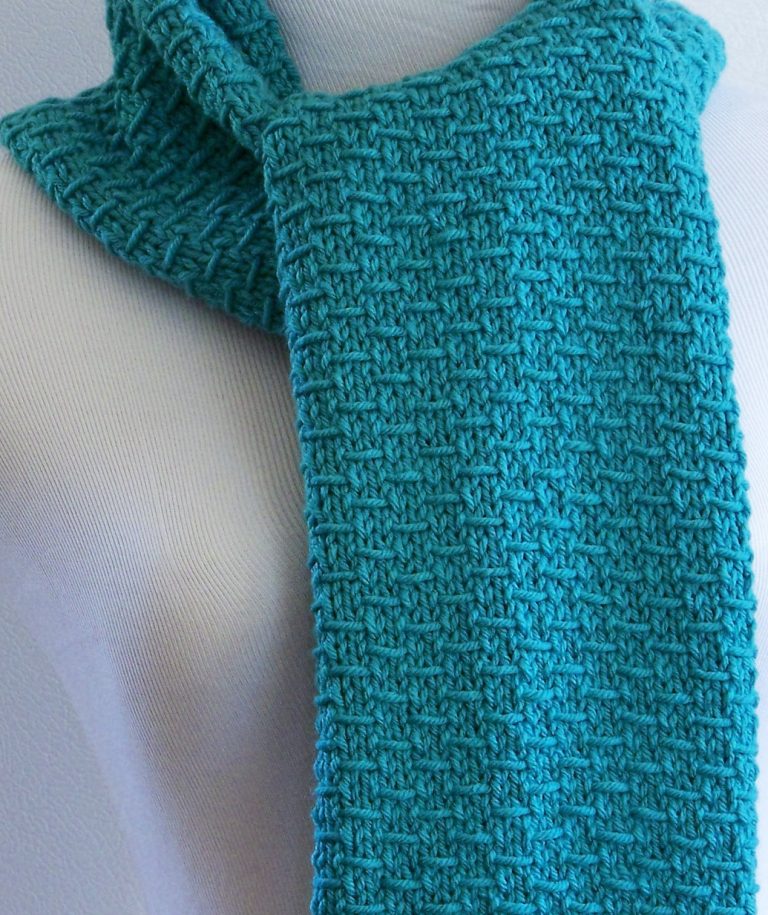 Blue Knit Scarf
Easy four row repeat, suitable to knitters familiar with knit, purl, and, slip stitches.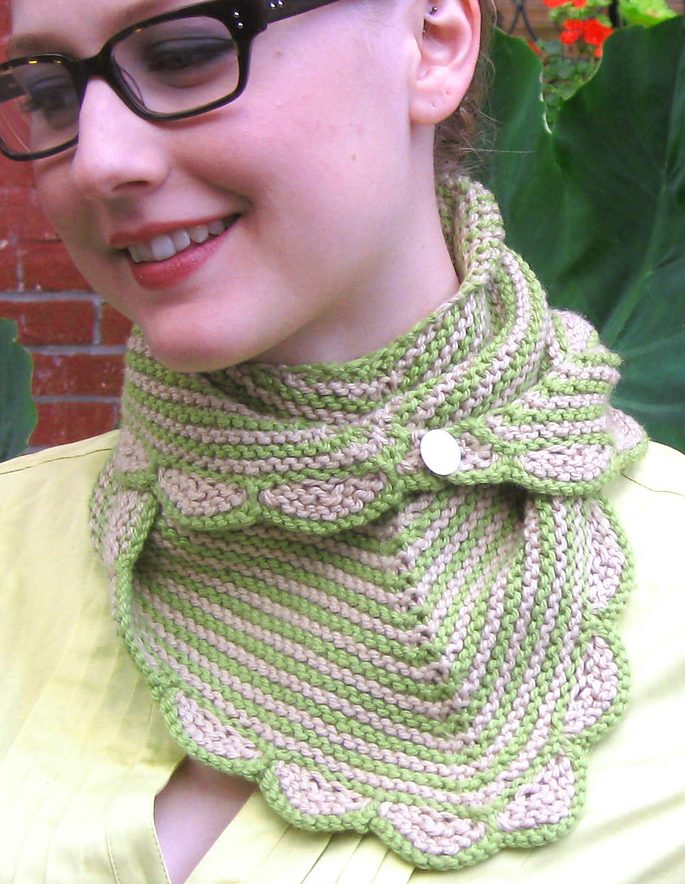 Figurehead Scarf
Alexis Winslow's easy striped garter stitch kerchief features a knitted scalloped edge. This is was also featured in Knitscene Summer 2011 edition.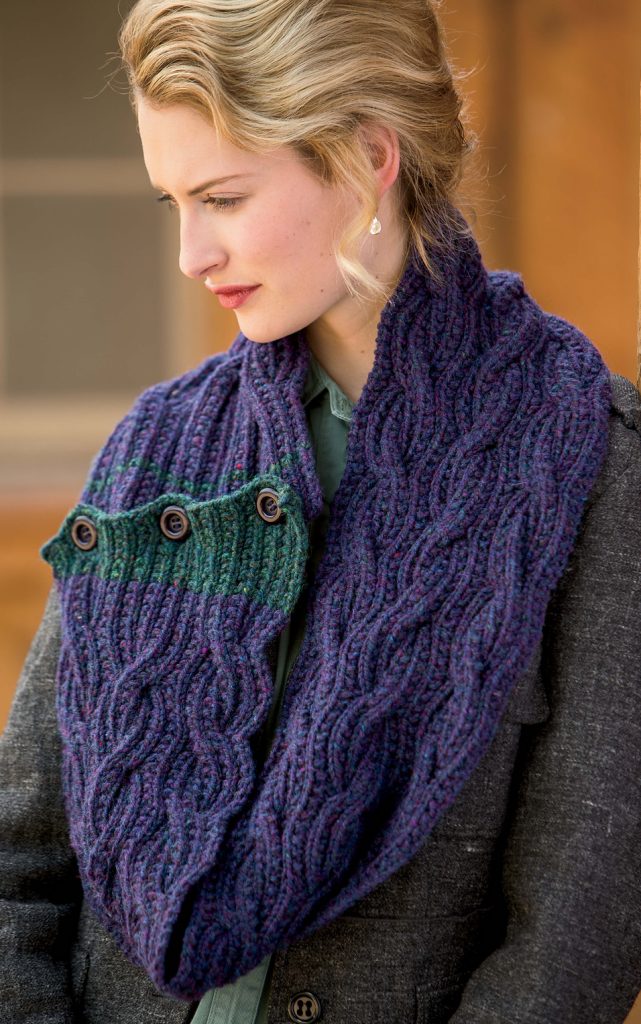 Tandem Scarf
Robin Melanson's farrow-rib cable scarf is reversible and can button into a cowl. Rated easy by Ravelrers.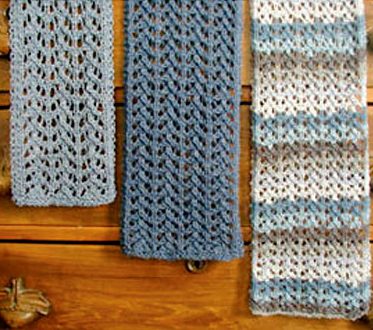 Easy Lace Scarves
This easy and easy lace scarf pattern contains instructions for worsted, sport, and fingering yarn.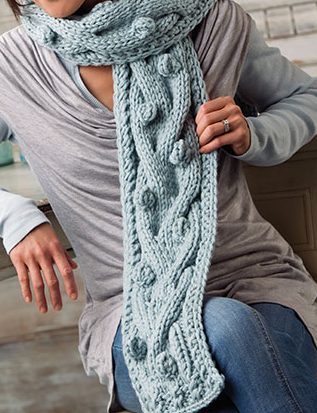 Bobbles Beyond Compare Scarf
Work only one cable twist and one bobble every eighth row in a super bulky yarn for a quick, easy and very striking scarf to wrap up in.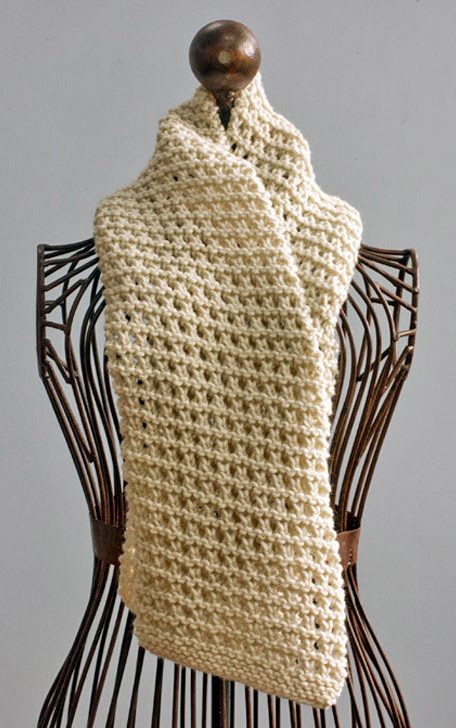 Openwork Scarf
This easy unisex scarf is a quick knit and can be made any size.