These shawls are knit with alternating bands or sections of different stitches for contrasting textures. You can knit with different colors to play up the stripes or a solid color to keep the focus on the textures.
To get the knitting patterns, scroll down the page to the individual pattern you want and click on the link to that pattern.
These patterns are not my designs but links to other designers who have generously shared their patterns. If you have questions about how to knit a specific pattern, please contact the designer directly.
All links on this site are for informational purposes, but please note that some links are to affiliate sellers that pay me a small commission on purchases.
Free Patterns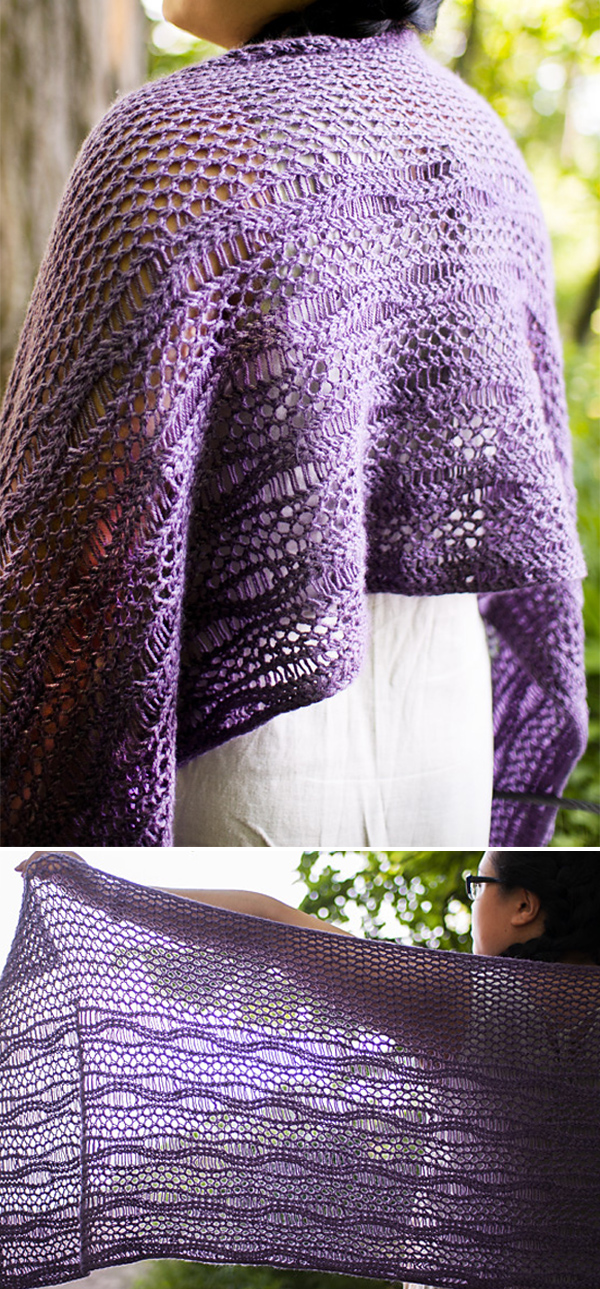 Guild Park Shawl
This rectangular lace wrap features a simple zigzag mesh punctuated by twists alternating with sections of dropped stitchesthat create lovely soft waves. Designed by Laura Chau for Knitty. Sport weight yarn.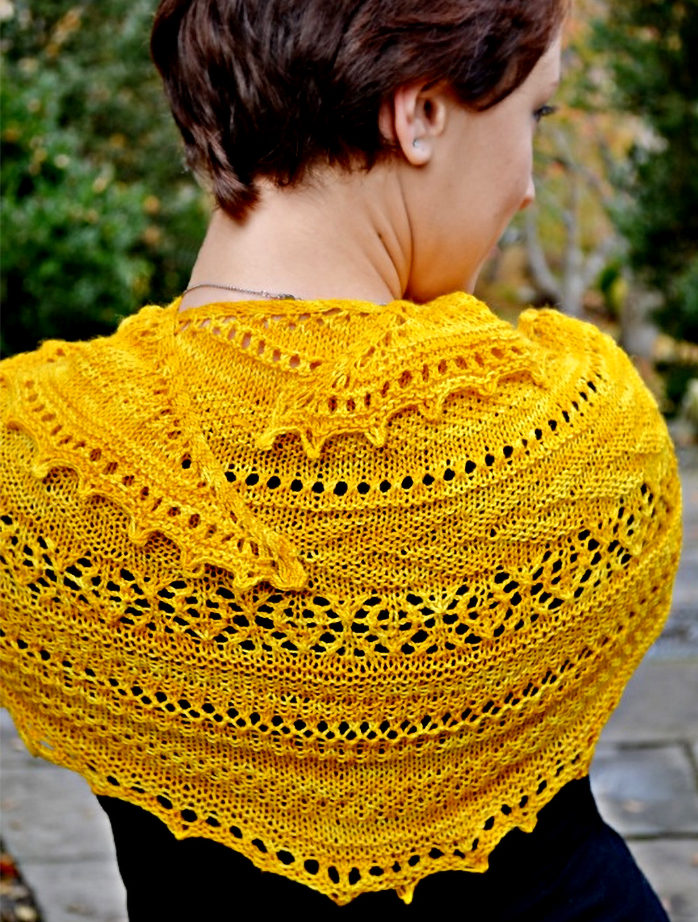 Lionberry Shawl
A crescent-shaped shawl with stripes of textured stitches and lace that can also be draped about the neck as a scarf. Designed by Narniel of Endor. Available in English, Dutch, and Portuguese. Pictured project by fyrerose who used 1 skein, 357 yards, of fingering yarn.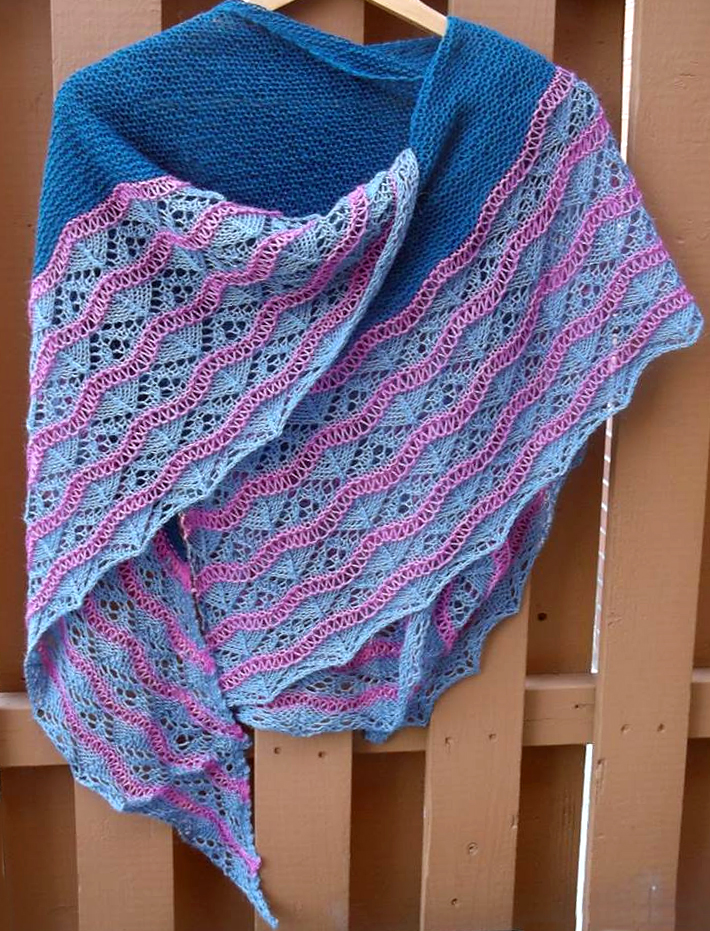 Falochron Shawl
This semi-circular to crescent-shaped shawl is designed for 3 colors. Knit top down, mostly in garter st, with a wide two-colored slip-stitch border featuring easy 14 row repeat lace pattern. Designed by Hanna Maciejewska. Available in English, Danish, German, and Polish Pictured project by kkaatthhyy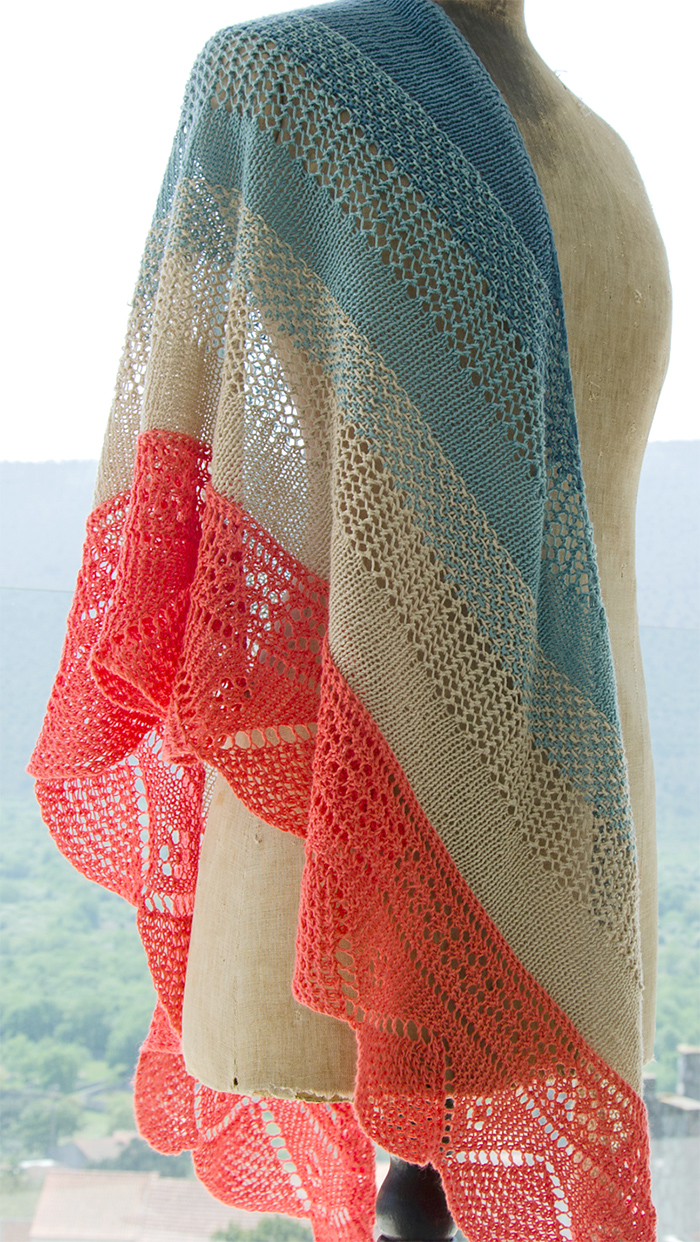 Alfama Shawl
Large crescent shaped shawl knit sideways with alternating sections of stockinette and lace. Fingering weight yarn. Designed by Filipa Carneiro. Available in English and in Portuguese.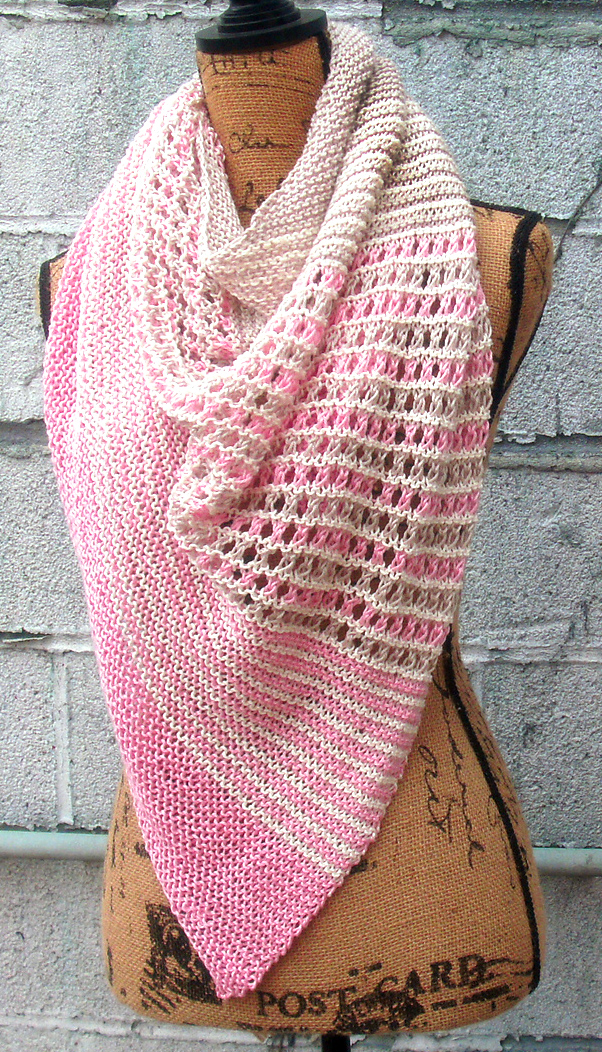 Pirate Cove Shawl
Garter stitch stripes alternate with striped eyelet section in this triangle shaped shawl. DK weight yarn. Designed by Hilary Latimer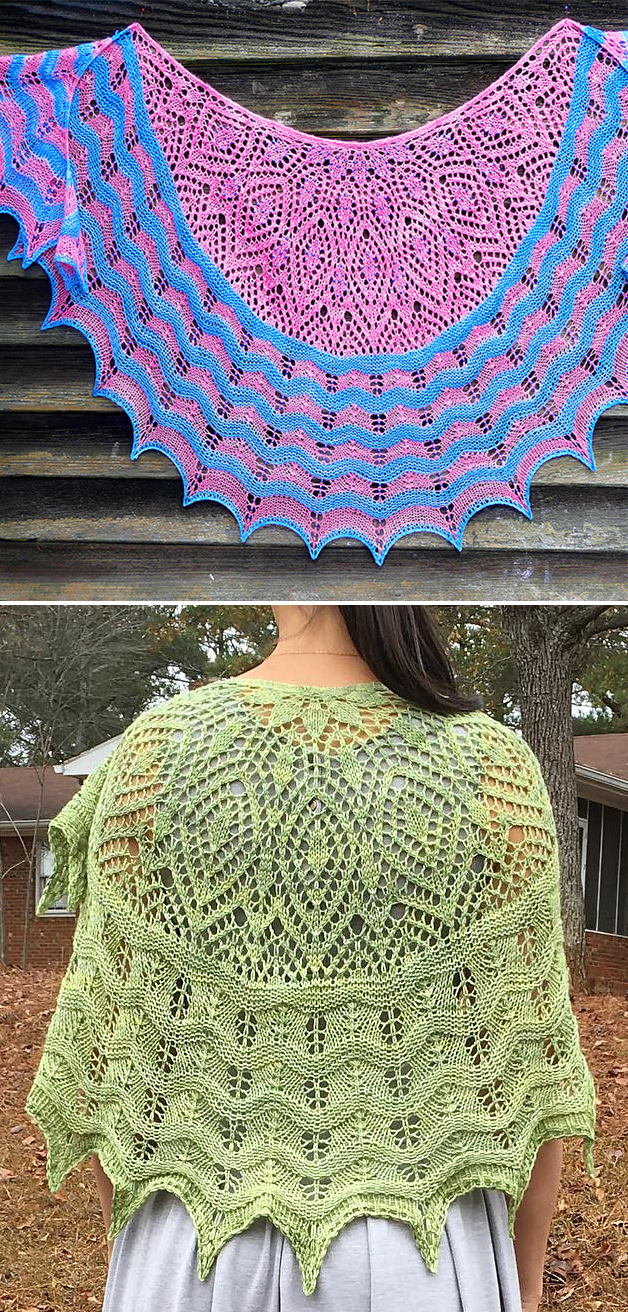 Anna's Hope Lace Shawl
Crescent shaped lace shawl with alternating stripes of lace and garter stitch. Designed by Anna Victoria. Pictured projects by the designer and klaraskreations. Fingering weight or lace held double. Pattern is free but the designer ask that you consider a donation to Anna's Hope Children's charity.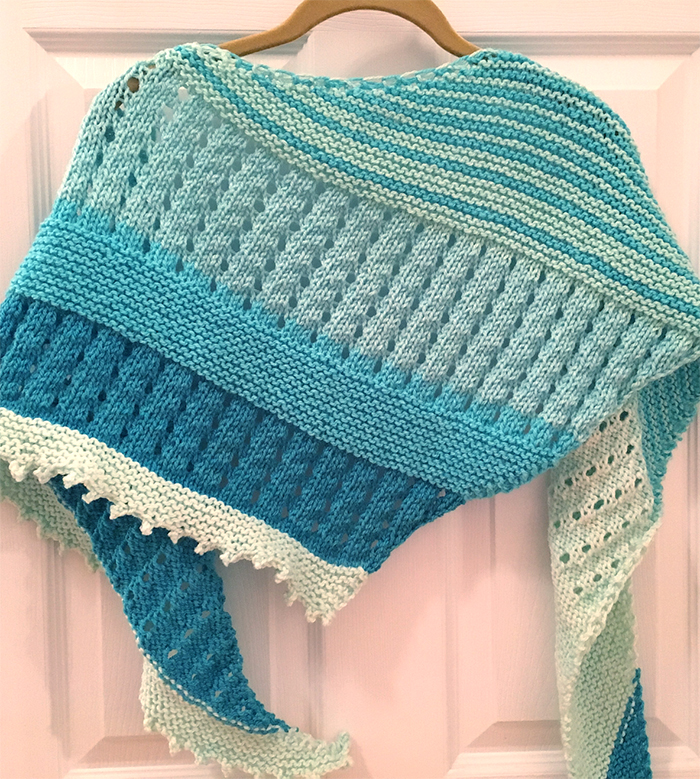 Debut Shawl
Triangular shawl, worked sideways. Designed by Katiuscia Bayslak- The Yarn Juice. Pictured project by wrenknits who added an extra eyelet section, extra garter section, and picot bind-off and who used one skein of Caron Cakes. Rated easy by most Ravelrers. DK weight. Available in English and Italian.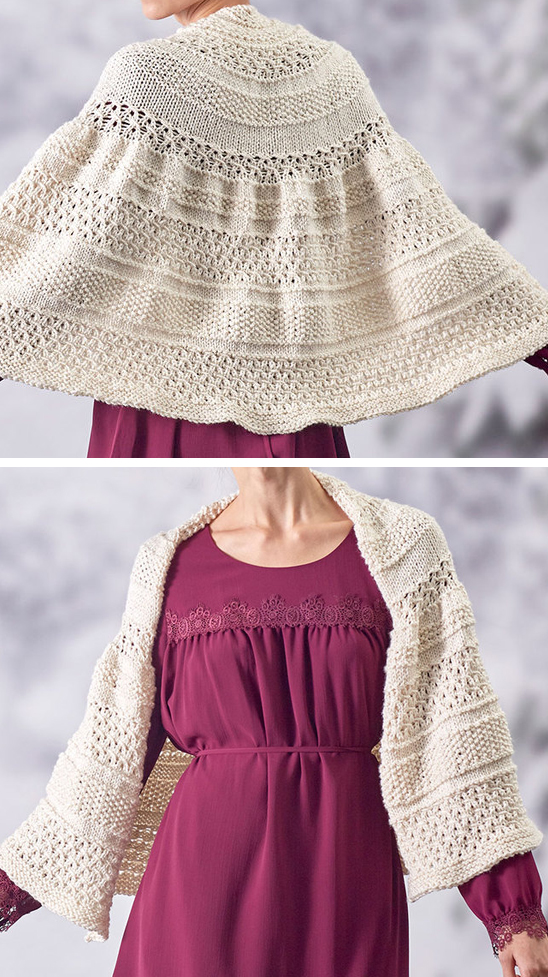 Trellis Shawl
Wrap with alternating sections of eyelet lace, eyelets, and stockinette. Aran weight yarn. Designed by Christine L. Walter for Red Heart who rated the pattern easy.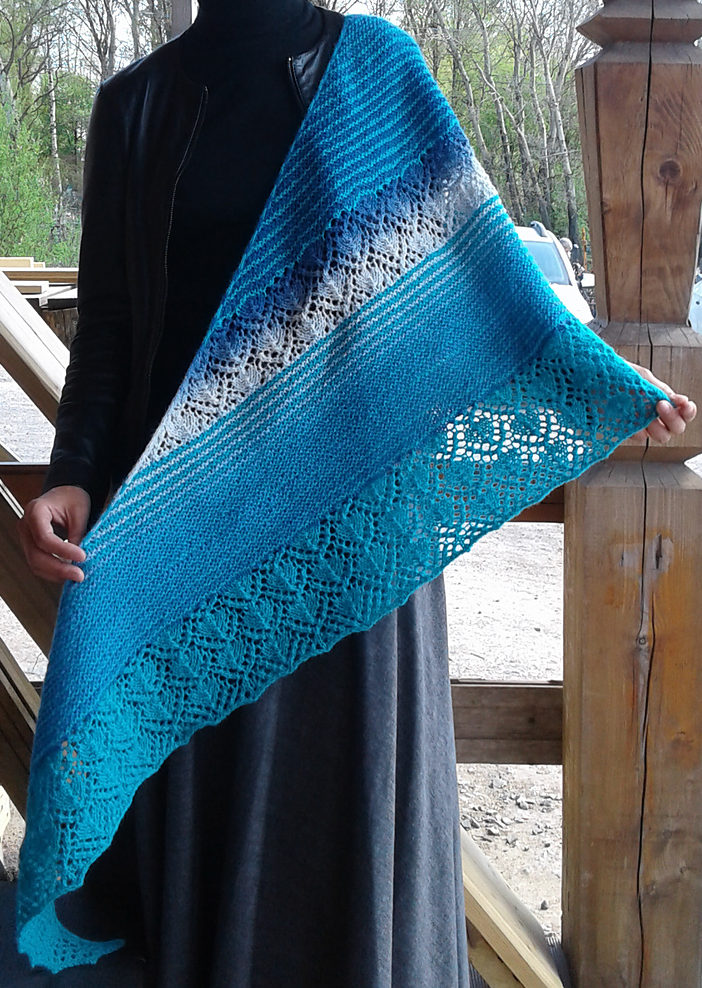 Afetos Shawl
Asymmetric triangle shaped garter stitch and lace shawl using 2 colors of fingering weight yarn. Designed by Cartucha Knits. Available in English and in Portuguese.Pictured project by importtanya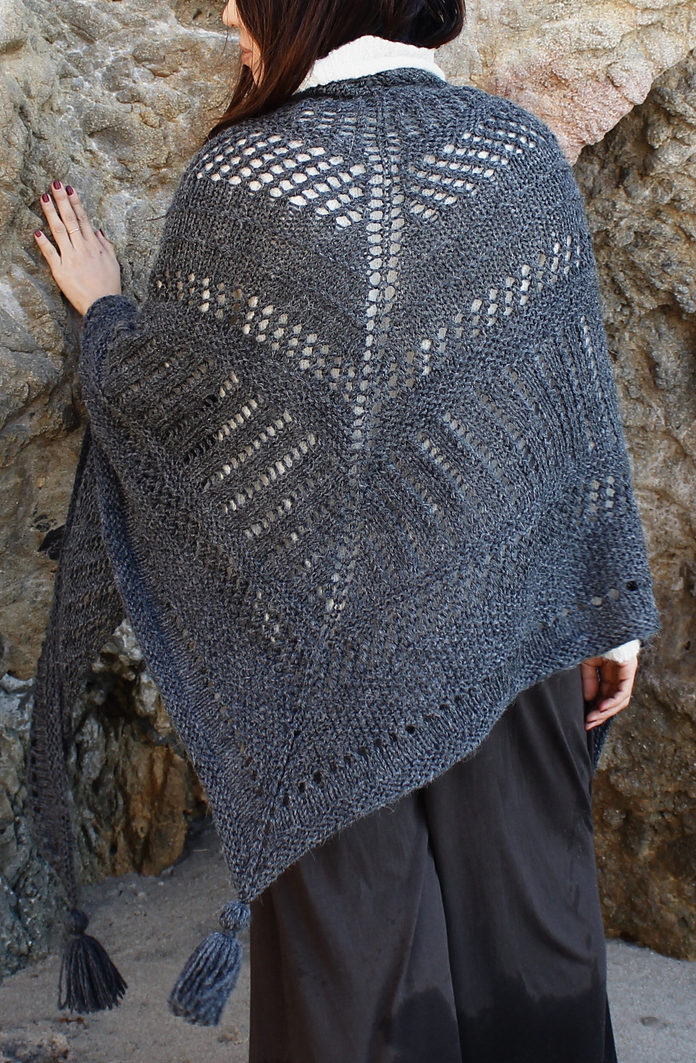 Cambria Wrap
Oversized triangle shawl with alternating stockinette, garter, and eyelet texture stripes. Worsted weight yarn. Designed by Alexandra Tavel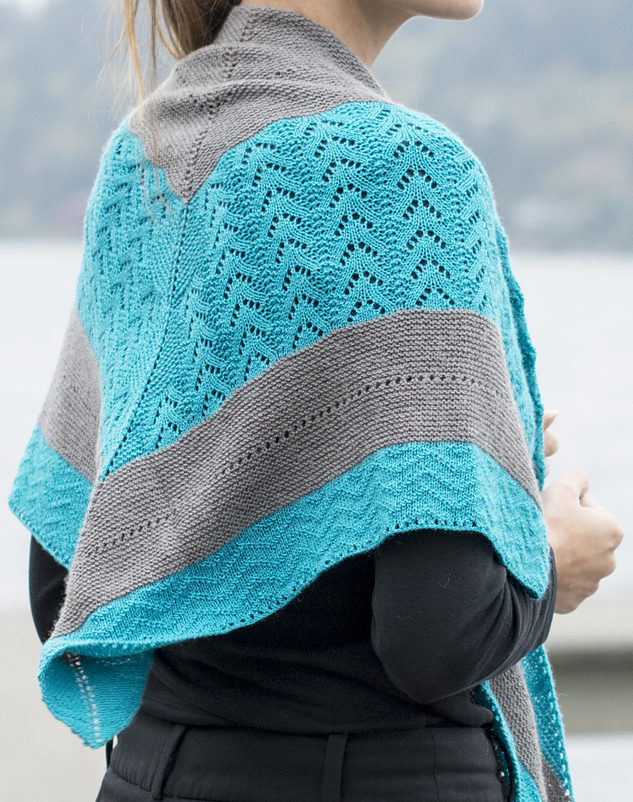 By the Sea Shawl
Triangular shawl with with sections of wave lace stitch, surf chevron stitch, and garter stitch. Designed by Michael Harrigan for Cascade Yarns.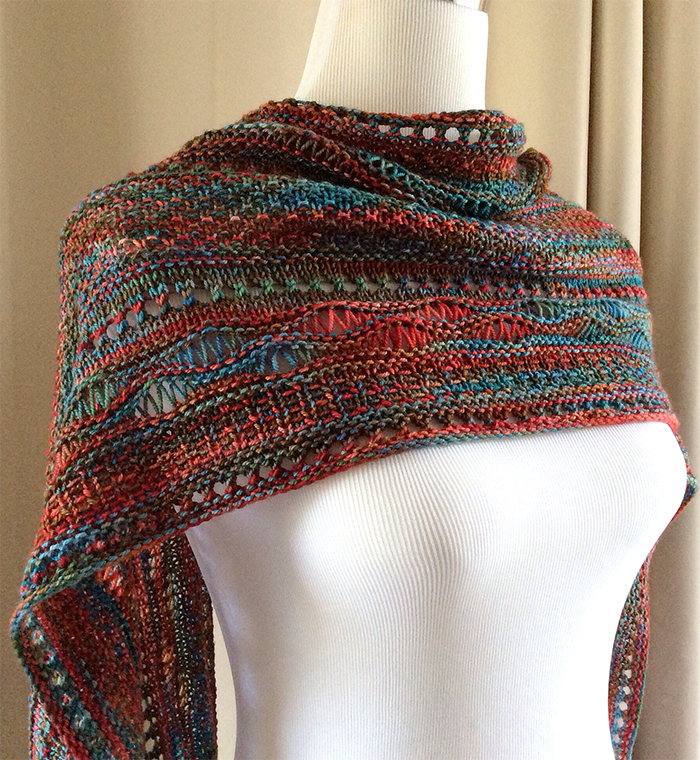 Stitch Sampler Shawl
Rectangular wrap with with sections of dropped stitches, slipped stitch patterns, eyelets, and other stitches. Designed by On This Day Designs. Pictured project by OrangeSmoothie who used 2 colorways of variegated yarn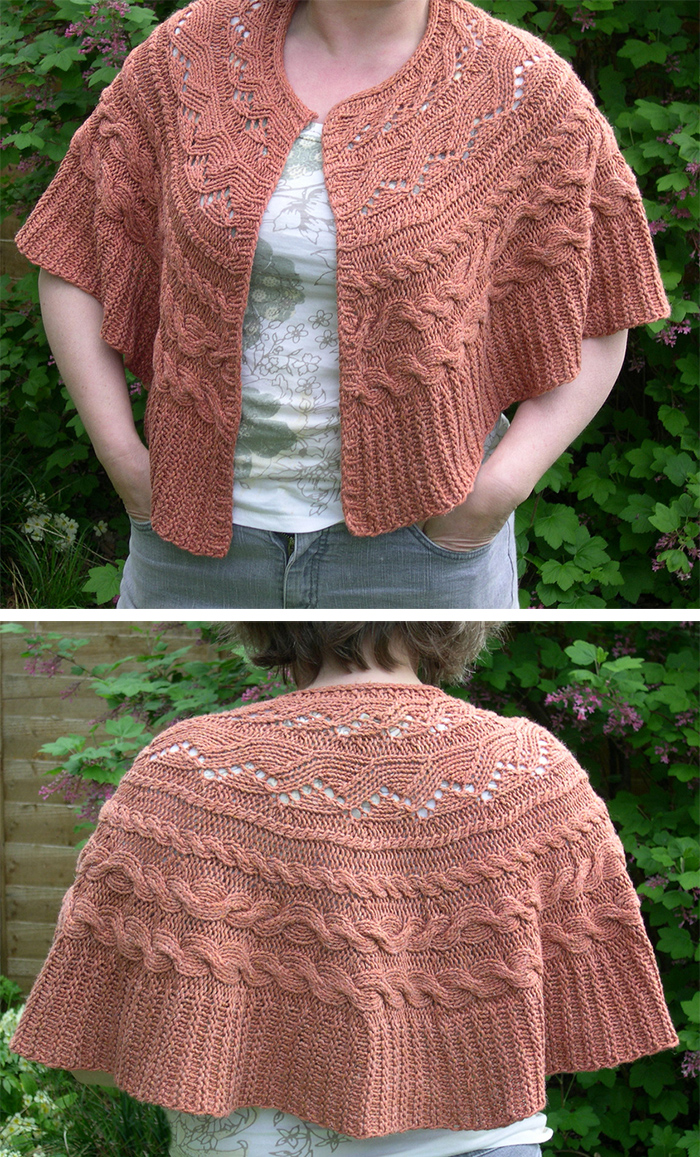 Aran Cable Circle Wrap
Cables & lace decorate this sideways knitted wrap, shaped with short rows. Available in English and German. \Designed by IzzyKnits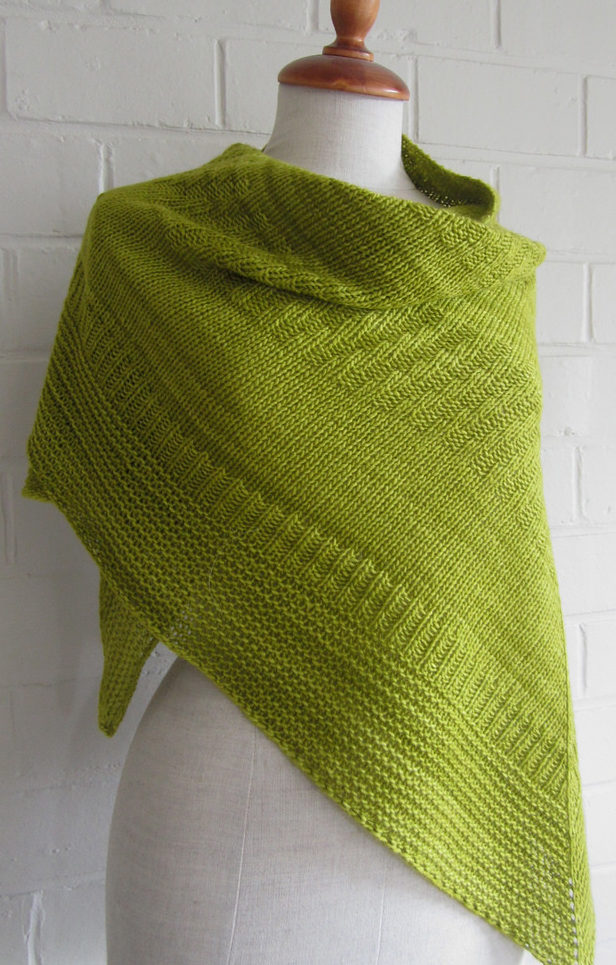 Passe-partout
Topdown triangle shawl with stockinette and textured stitch sections and a garter stitch edge named after the French word for "master key". Pattern is in English. DK weight yarn. Designed by maanel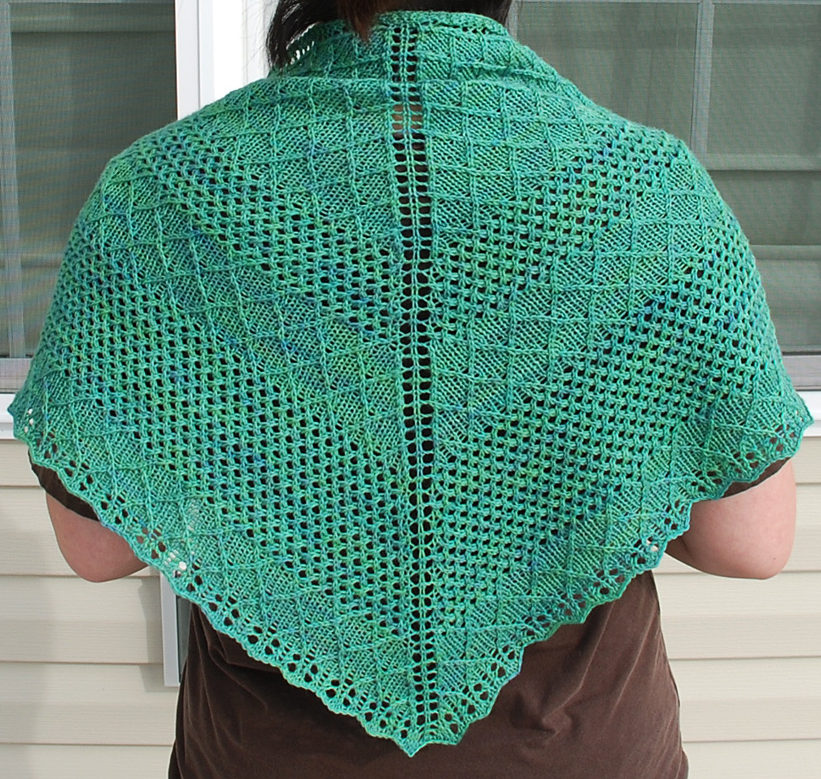 Nancy and Judy Shawl
Sections of twisted stitches alternate with lace in stitch patterns from Barbara Walker's Treasuries. Pattern includes both chart and written instructions. Designed by Heather Zoppetti.

Daria Shawl
Triangle-shaped shawl knit with three colors in a combination of an easy-to memorize lace pattern and garter stitch. Designer: Hanna Maciejewska. Available in English, Danish, German, and Polish Pictured project by mao7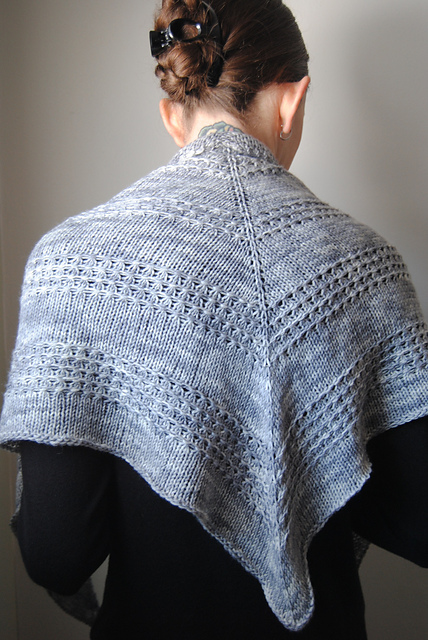 Zilver Shawl
Lisa Mutch's shawl is simple, stockinette, triangle with the addition of ridges for textural contrast.

Spring Ribbons Shawl
This colorful shawl uses easy to memorize slip stitch colorwork. The subtle shaping also helps keep it on your shoulders. Designed by Ann Weaver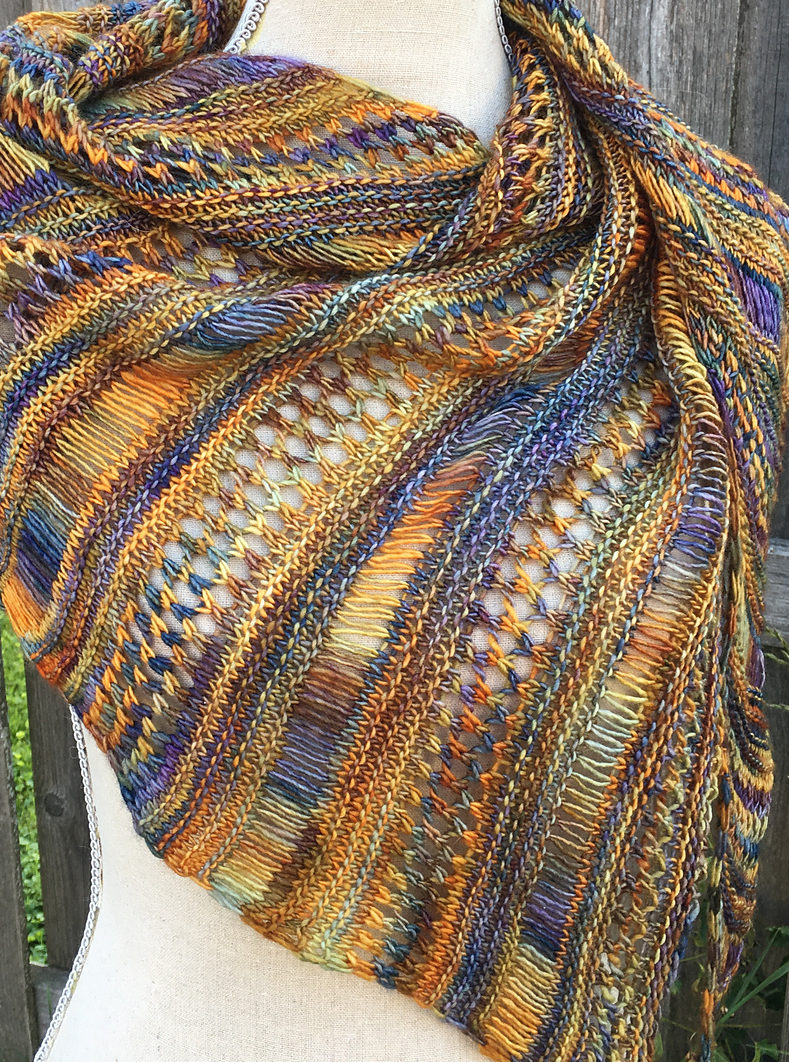 Stormy Sky Shawl
Designed for that one skein of special yarn! This asymmetrical shawl alternates sections of dropped stitches, eyelet lace, and garter stitch to showcase multi-colored yarn in skewed triangle. Easy to memorize. Designed by Life Is Cozy.Pictured project by River Poet who used one skein of Malabrigo yarn (420 yards) for the project.
Patterns for Purchase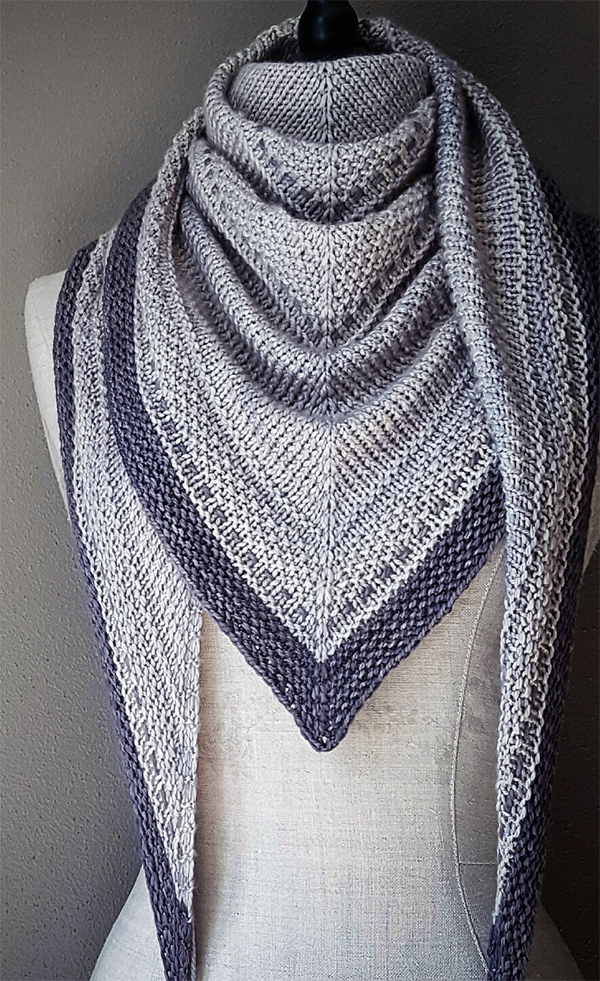 Simply Shawl
Rows of simple stitches, beautifully arranged to create this top down, triangular shawl, rich in texture and oh, so soft. Quick to knit and easy to wear, dressed up or down, Simply is sure to become a favorite go-to wardrobe accessory! Designed by Cheryl Faust. DK weight yarn.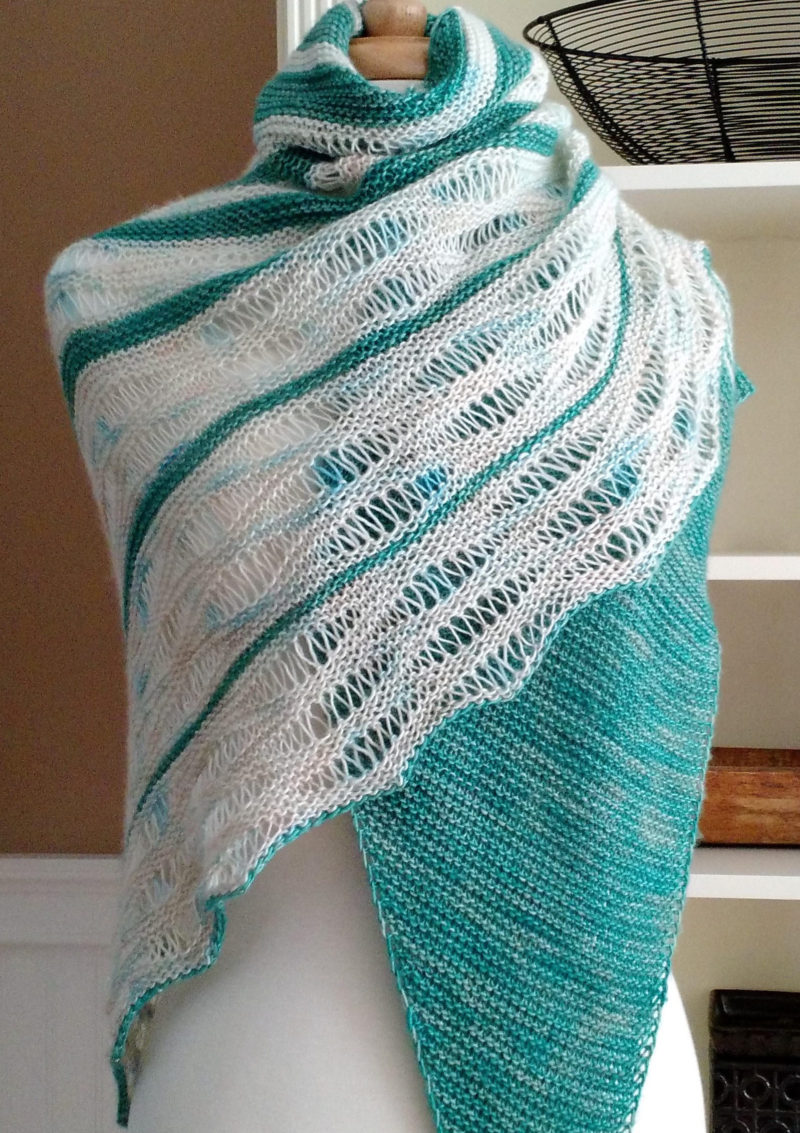 Making Clouds Shawl
Alternating stripes of garter stitch and dropped stitches evoke a summer sky. Designed by lavenderhillknits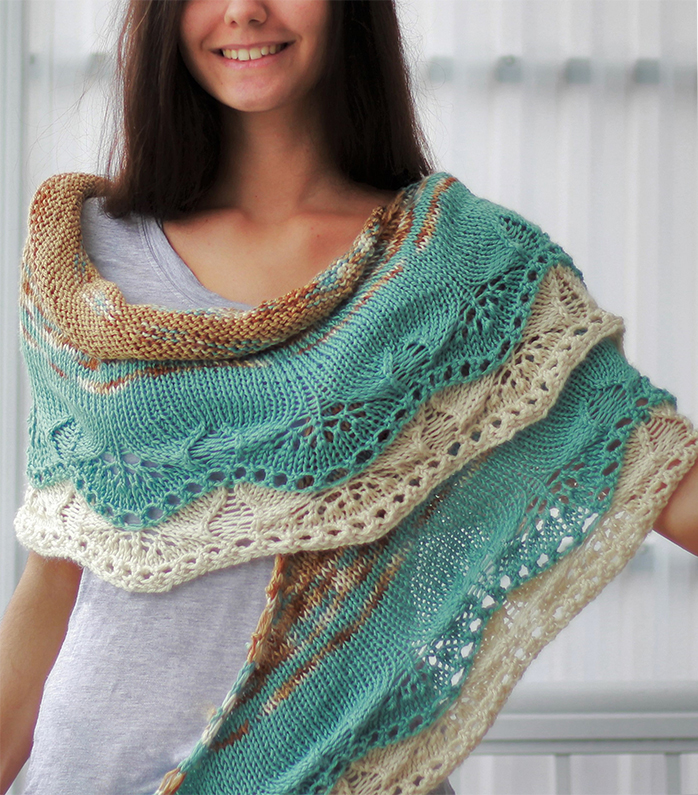 Ida Shawl
This shawl with stockinette stripes and sections of lace at the bottom is knit from the top center downwards so it could easily be customized and knit in other weights of yarn and to any size you please. Designed by April Miller. Aran weight yarn.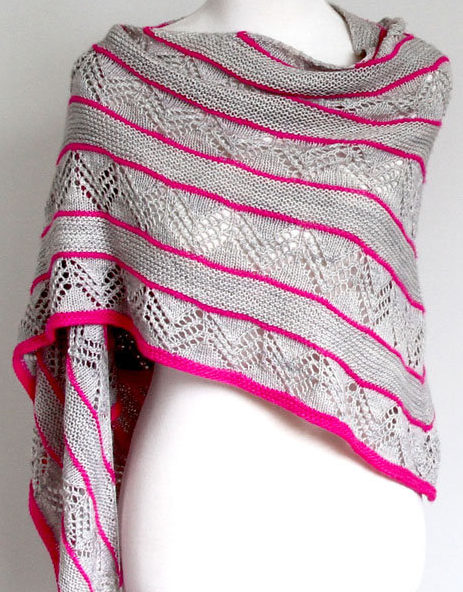 Shawl Of Destiny
Triangular shawl with constrasting stripes of lace, garter stitch, and color. Designed by Ambah. Fingering weight yarn.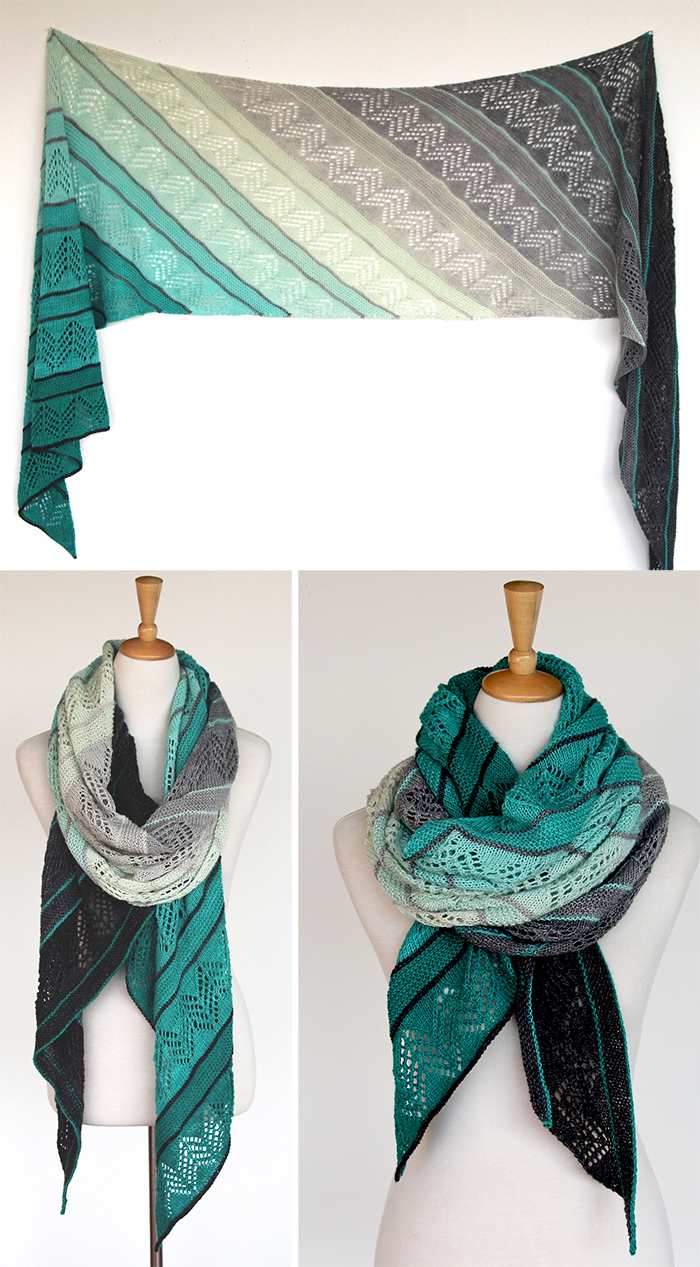 Inara Wrap
Diagonal columns of alternating lace and garter stitch make a strong statement in this long wrap that looks lovely in gradient yarn. 3 lengths. Designed by Ambah. Fingering weight yarn.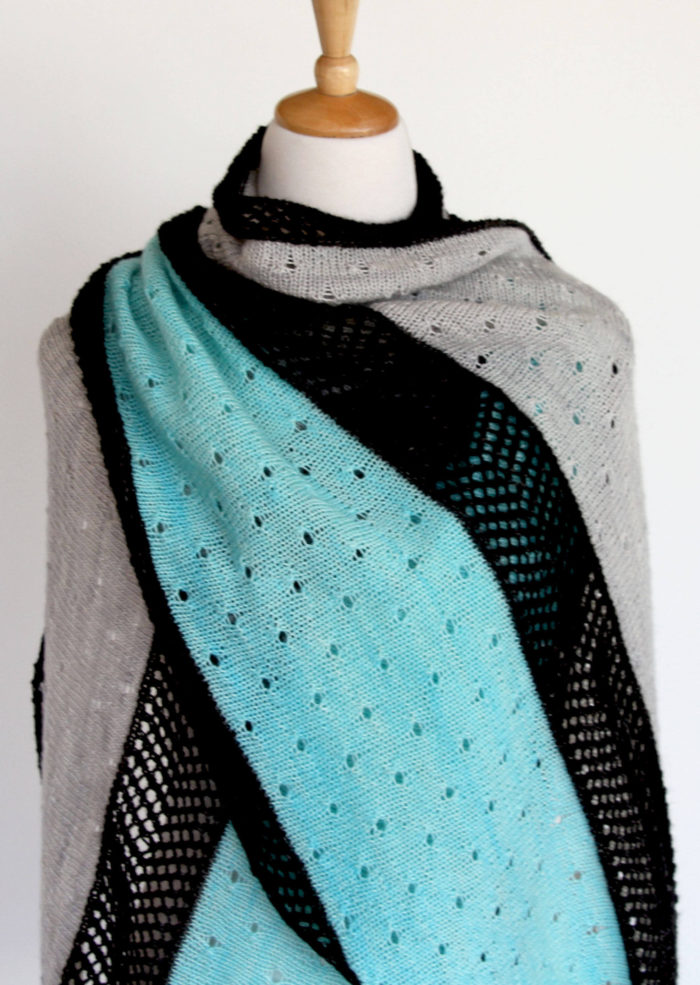 Cardinia Wrap
Shawl knit from the bottom up in contrasting sections of eylets, mesh, and different colors. Designed by Ambah. Fingering weight yarn.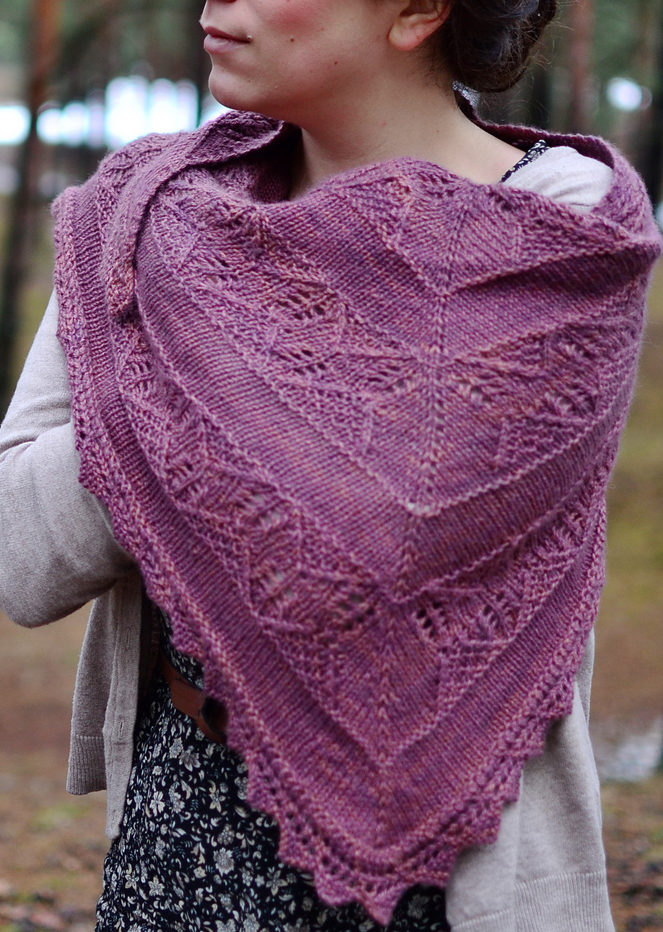 Canopy Shawl
A triangular shawl with an interesting texture of lace and twisted stitches alternating with stockinette. Sport weight yarn. Designed by Melody Hoffmann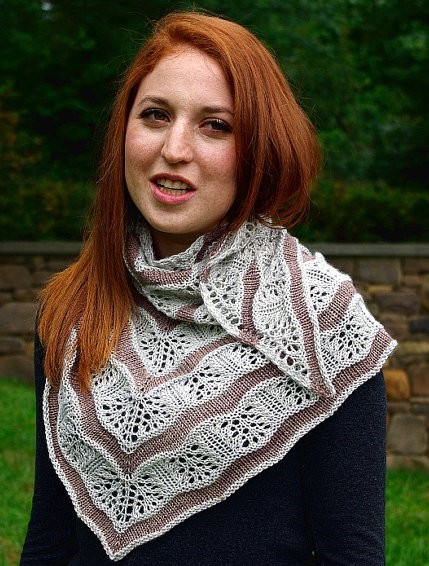 Yarden Shawl
Yarden (pronounced yar-dén) is a lace and stockinette stitch shawl that gets its wavy lines from increases and decreases in the lace sections.

Texelle Shawl
A textured triangle shawl knitting pattern worked in worsted weight yarn, Texelle is a sampler of textured knitting stitches allowing you to practice – or learn – a variety of non-lace stitches. Perfect for advanced beginners on up, and beautiful worked in semisolid hand-dyed/painted wools or wool blends.