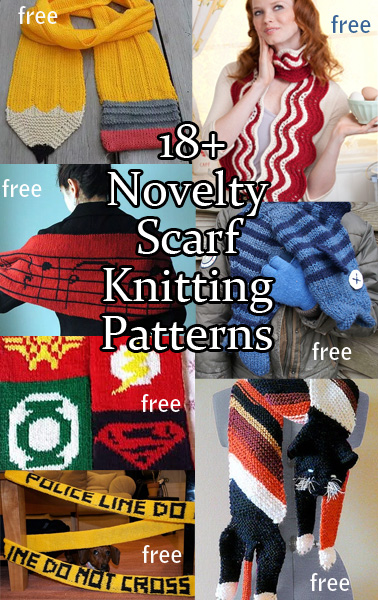 Fun scarves to knit for adults and children! Most Patterns are free.
To get the knitting patterns, scroll down the page to the individual pattern you want and click on the link to that pattern.
These patterns are not my designs but links to other designers who have generously shared their patterns. If you have questions about how to knit a specific pattern, please contact the designer directly.
All links on this site are for informational purposes, but please note that some links are to affiliate sellers that pay me a small commission on purchases.
Free Patterns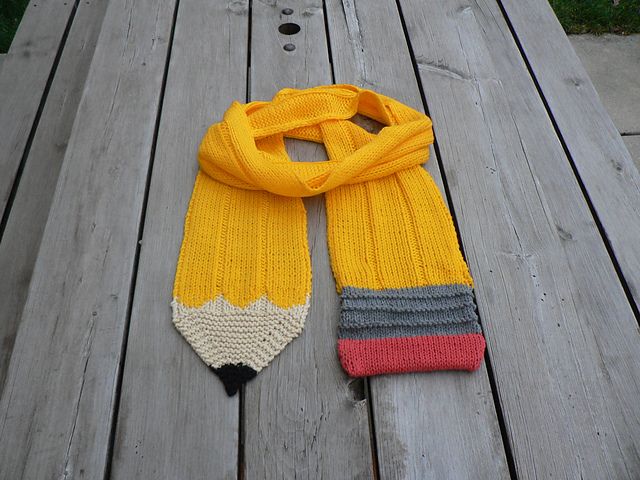 Pencil Scarf
Designer puffyslippers modified a pattern by Kawaii Crafter to create this realistic pencil scarf.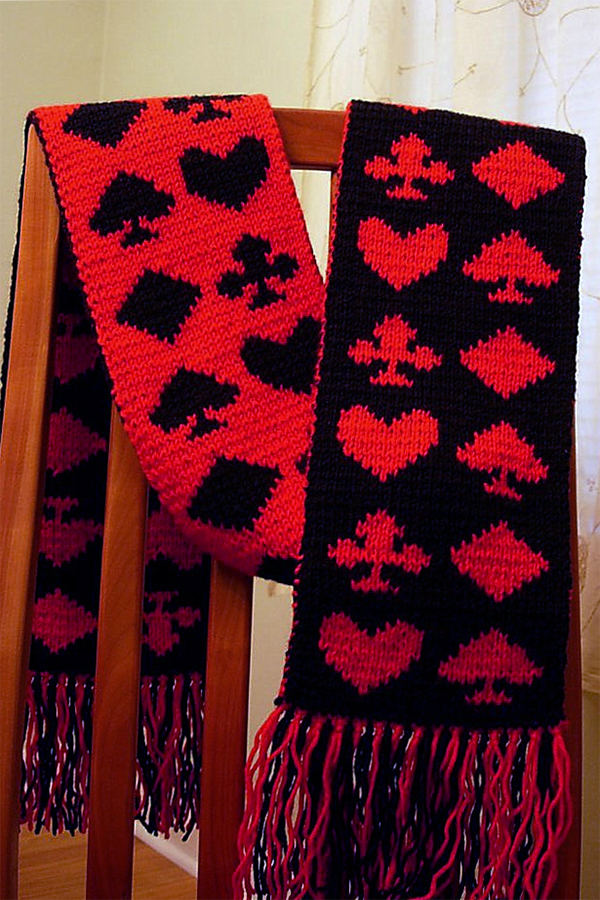 Poker Night Scarf
A double-knit scarf featuring card suit motifs. Designed by Liz McKenna. Worsted weight yarn.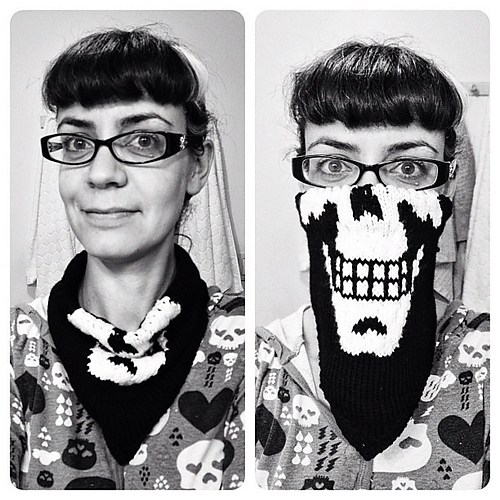 Skullkerchief
Knitty or Nice designed this tricky little kerchief that looks like an abstract design until you pull it over your face.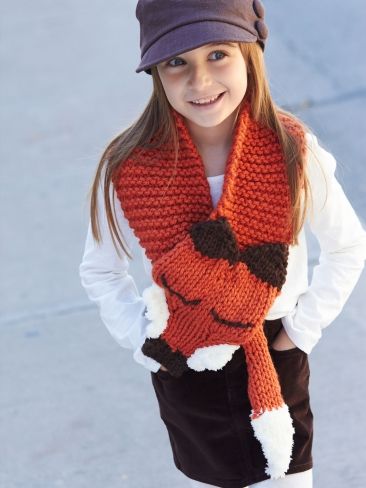 Fox Scarf
Designed by Yarnspirations for Bernat yarn.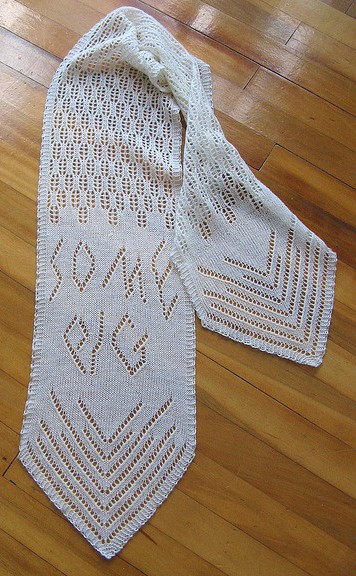 Charlotte A. Cavatica Scarf
Rebekkah Kerner's design was inspired by the Charlotte's message in the beloved children's book.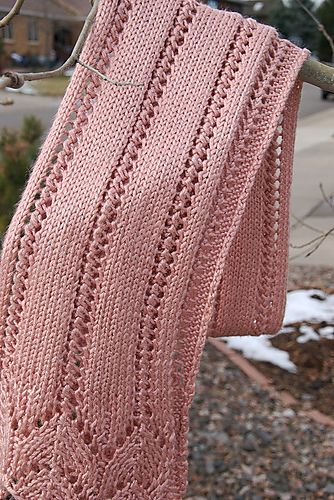 Breast Cancer Awareness Scarf
Autumn Frost designed this scarf with a lace pink ribbon to support breast cancer awareness. Though the pattern page says there was a time limit on the availability of the pattern, you can still download it for free.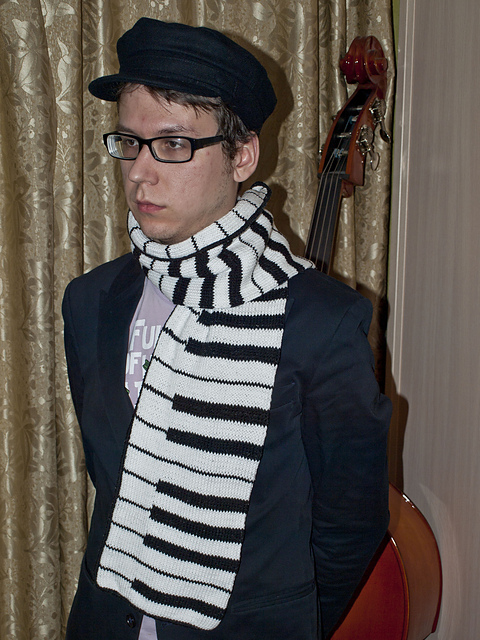 Mikkel's Piano Scarf
Anne Abrahamsen designed this scarf to the life size replica of her son's 88 key piano keyboard. The keys are knit with intarsia. Appropriately enough she recommends fingering yarn! Pictured project by karmasvinka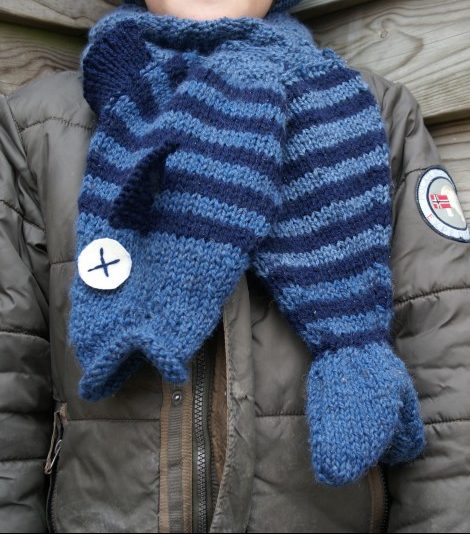 Scarfish
This keyhole scarf was designed by Thelma Egberts to match the Dead Fish Hat free knitting pattern.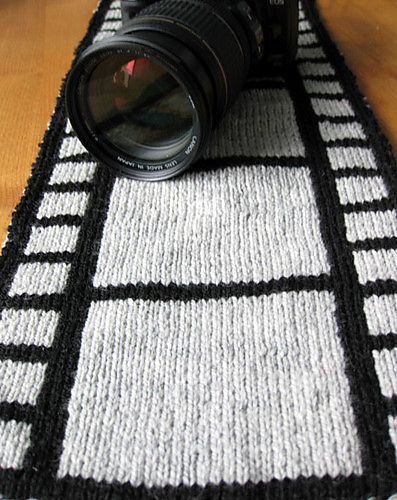 Silver Screen Scarf
Niina Hakkarainen was inspired by film to create this double knit scarf. The instructions at Ravelry are in English but the chart is on a Finnish site.
More Free Patterns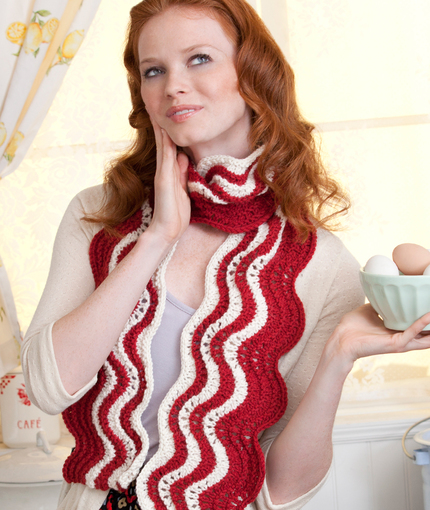 Makin' Bacon Scarf
Perfect for the bacon lovers in your life! The scarf designed by Lyn Cyr for Red Heart is worked from long edge to long edge.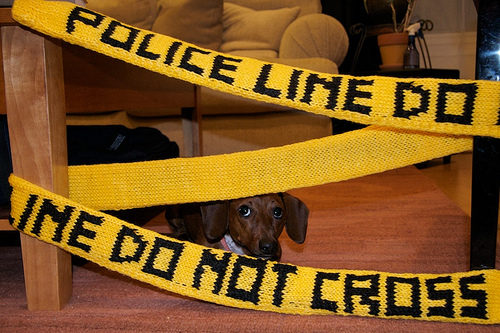 Crime Scene Tape Scarf
Michelle Kempner created instructions and a chart to create your own police line tape scarf. Other knitters have run with idea and created scarves that saw Caution, Danger High Voltage, and more. Pictured project is by mducky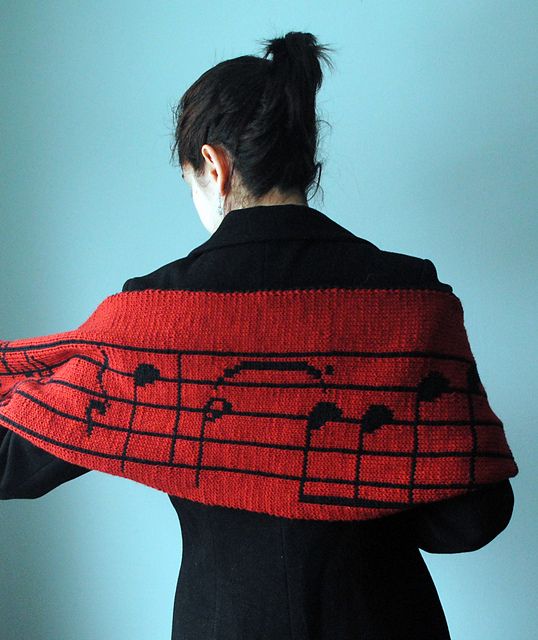 Stacy's Musical Scarf
Kalliopi Aronis designed this scarf in double knit so the scarf is reversible. Size 12 1/4" wide, and 53 1/4" long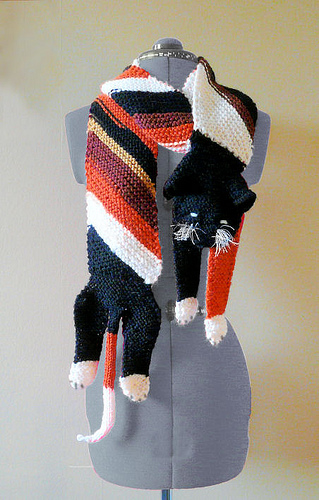 Bracken Cat Scarf
Fifalde designed this scarf in honor of a beloved companion. She says, "Twice I was accosted when out shopping by people demanding to know where I bought it." I'm not surprised! Knit it in the colors of your favorite feline.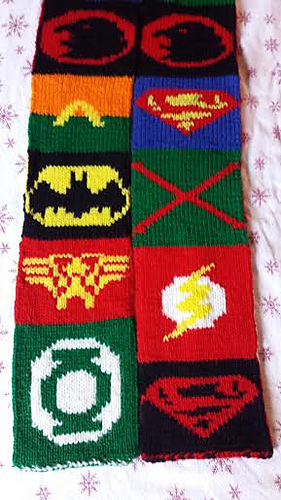 Justice League Scarf
The doubleknit scarf designed by Marsha Auguste showcases the superhero emblems of the JLA members. The pictured project is by WonderfulMouse who has good notes about the pattern.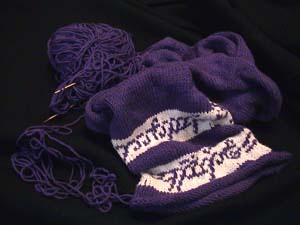 Lord of the Rings Scarf
Tina Yeung designed this tube scarf with four rings (2 on each end). Together, the elvish writing on the rings read "One Ring to Rule them All, One Ring to find them, One Ring to Bring them All and in the Darkness bind them." You'll have to save the image of the chart to your computer and then print it.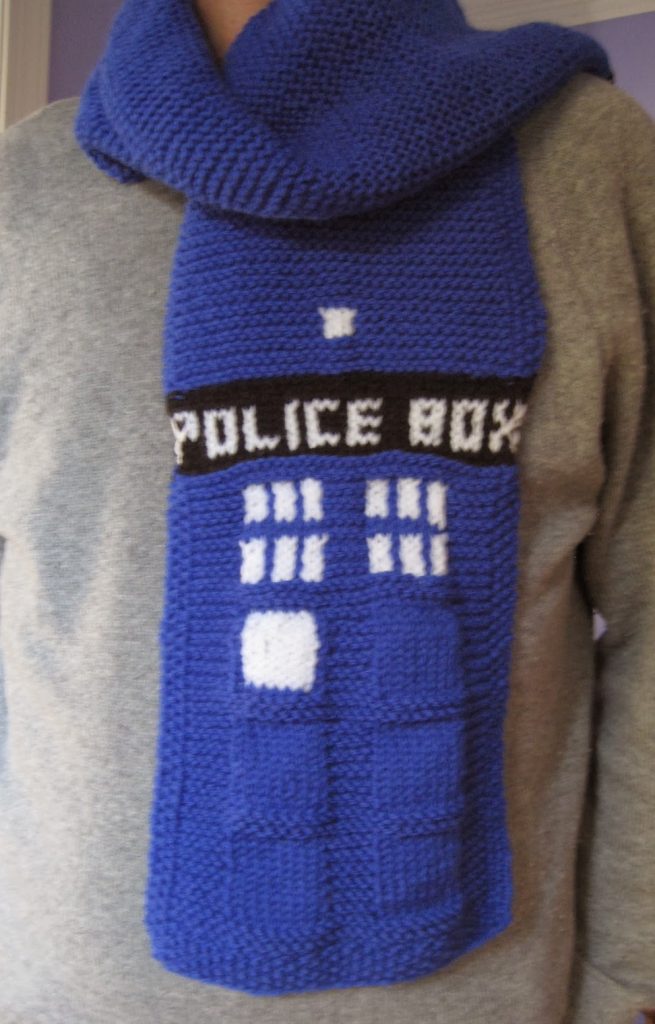 TARDIS Scarf
Knit Purr Live designed this Doctor Who inspired scarf.

Winter Is Coming Scarf
The Dire Wolf of House Stark proclaims that winter is coming in this charted pattern designed by Julie Chen.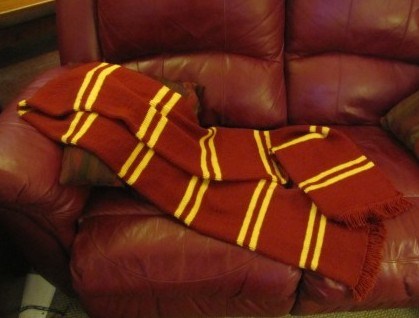 Harry Potter Prisoner of Azkaban Scarf
Gryffindor scarf designed by Rachel Alexandra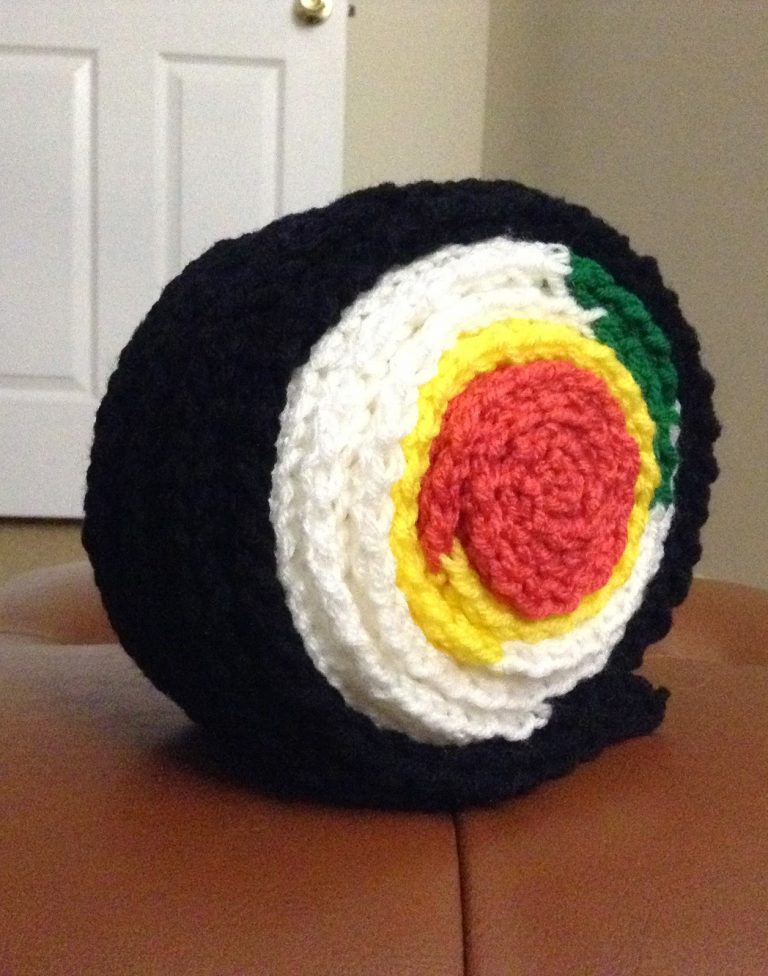 Sushi Scarf
Malon Bruce designed this easy pattern and also has a crochet Sushi Scarf.
Patterns for Purchase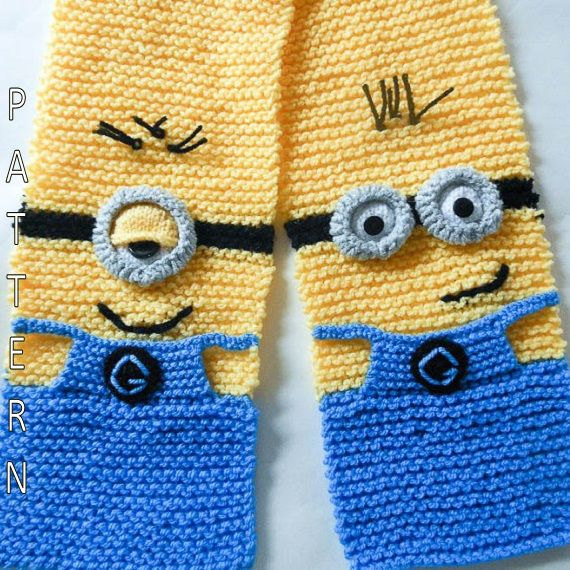 Minion Scarf
This all knit pattern comes with instructions for One Eyed Minion and Two Eyed Minion features, you can make both minions on the scarf Two Eyed, One Eyed or mix it up and have one of each. Pattern is for Child size but can easily be converted to any length. Lots of pictures to help you along the way.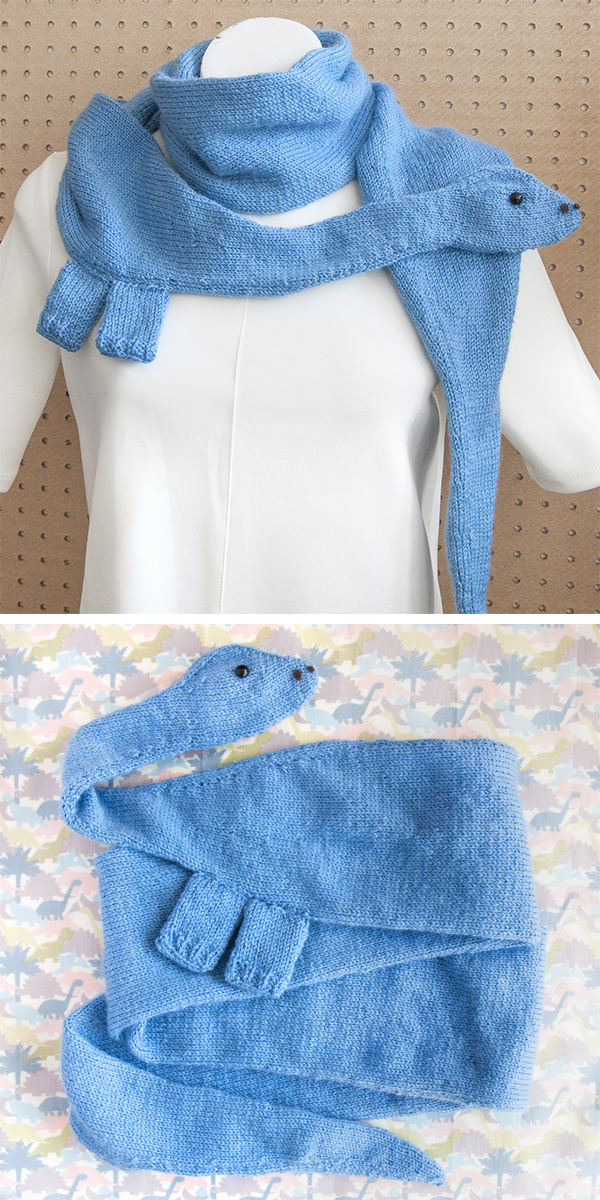 The finished size is 172cm x 14cm.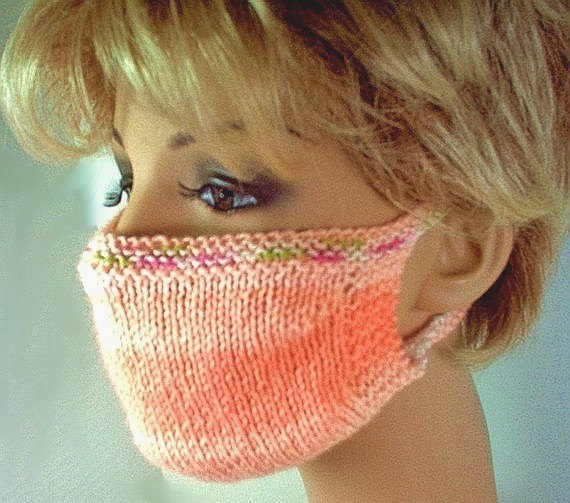 Surgical Mask
Okay, so this isn't a scarf and it may actually be serious rather than fun in some situations. But this was unique and there was no where else I could think it belonged.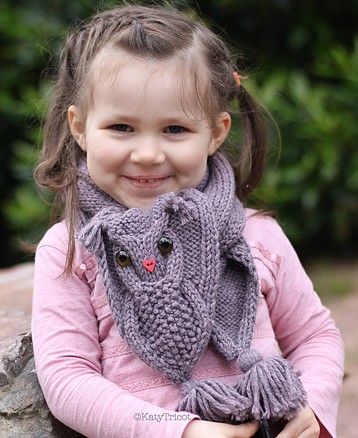 Owl Ways Scarf
Finished Dimensions 7" (18 cm) wide, 48½" (123 cm) long excluding tassels, blocked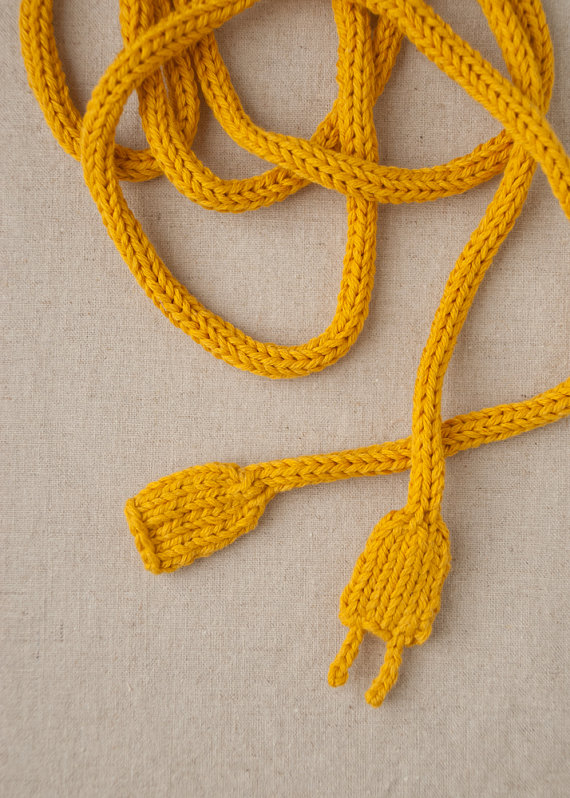 Power Cord Scarf
This power cord can be worn as a decorative scarf, or even a decorative belt. Use it to pull back your curtains or replace that boring old tie. Large and small versions.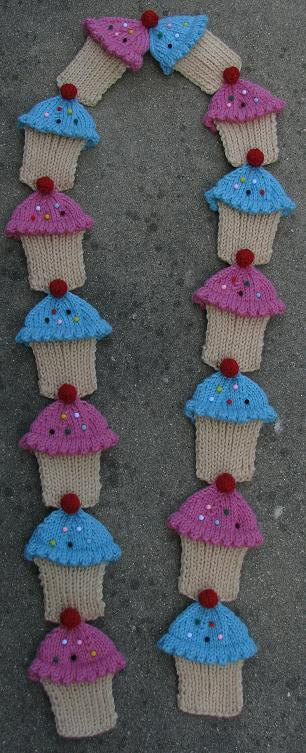 Cupcake Scarf
Great stash buster! The cupcake bottoms are knit flat on straight needles, and the frosting pieces are knit in the round on DPN's.