Teeny Toy Knitting Patterns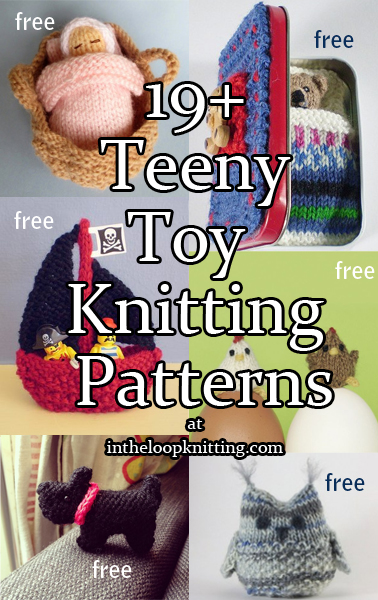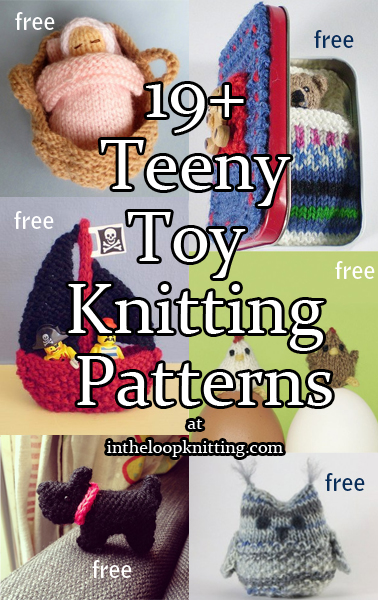 Knitting patterns for teeny tiny toys, miniature animals, dolls, and more that will fit in your pocket. No more than 4 inches or 10 cm tall.
To get the knitting patterns, scroll down the page to the individual pattern you want and click on the link to that pattern.
These patterns are not my designs but links to other designers who have generously shared their patterns. If you have questions about how to knit a specific pattern, please contact the designer directly.
All links on this site are for informational purposes, but please note that some links are to affiliate sellers that pay me a small commission on purchases.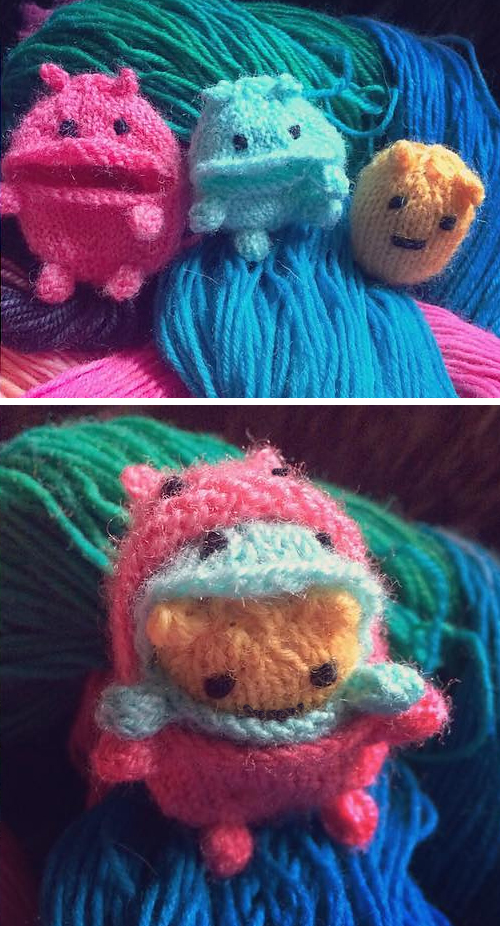 Nom Nom Nomsters
These adorable monsters love to gobble whether it's small items lying around or each other. Big Nomster : 2″ (5cm) tall, Medium Nomster: 1½" (4cm) tall, Baby Nomster: 1¼" (3cm) tall. Pictured project by JuulVictoria. Excerpted from ME MAKE MONSTER! A Mish Mash of Monstercraft by Jenny Harada

Doll Cradle Bag
Frankie Brown's knitted cradle, with a pattern for a set of matching bedding, will fit a 5" baby doll or similar size toy. The sides of the cradle fold up over the doll to make a drawstring bag perfect to keep doll cozy and safe during travel or storage.
Koala Baby Bear
Designed by knitted toy box, this koala baby is 4 inches tall.
Pocket Ted
Frankie Brown's tiny teddy bear is only 8 cm / 3" tall and sleeps in his own knitted bed in a tin about the size of an Altoid tin (9.5cm × 6 cm, 2 cm deep or 3¾ × 2¼", ¾" deep). Pipe cleaners in arms and legs let you position him for play.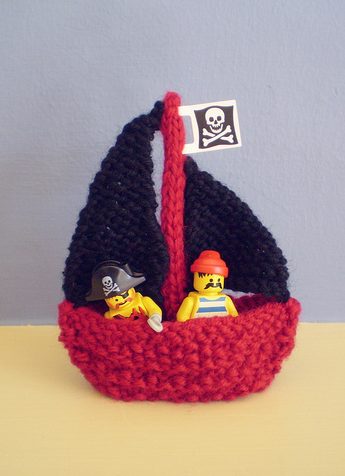 Little Boats
Frankie Brown's tiny sailboat is only10 cm tall (4 inches) but sturdy enough to stand on their own and hold a tiny crew.
Tiny Scottie Dog
Sue Stratford's puppy is only 6 cm long, about 2.4 inches. Great use for stash yarn!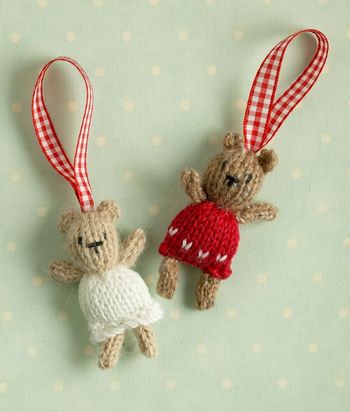 Christmas Tree Bears
Tiny ornaments designed by Julie at Little Cotton Rabbits.
Teeny Tiny Knitted Animals
These tiny toys by Julie at Little Cotton Rabbits are just under 2.5 inches (6 cms) tall.

Fluffy Little Sheep
These sheep are about 3 1/2 in. (9 cm) tall
Mini Elephant
Aine Marriott designed this elephant toy that is about 2 inches long

Wee Wandering Wolf
This miniature knit jointed toy wolf is just 2'' tall x 3.25'' long x 0.75'' wide.

Vehicle Play Set With Mat
This exclusive car toys and playmat designed by the fantastic Amanda Berry includes patterns and yarn for Ambulance, Post Van, Tractor, Car, Police Car, Camper Van, Bus, and Fire Engine. Choose between large or small road play mat.

Teeny-Tiny Mochimochi
40 miniature knitting patterns.

Topsy-Turvy Chrysalis to Butterfly
This toy flips inside-out turning from a chrysalis into a Monarch butterfly on a leaf. One of the 12 patterns in Topsy-Turvy Inside-Out Knit Toys by Susan B. Anderson. Pictured project by Scitchr

Palm-Sized Dragon
Knitting pattern for Palm-Sized Dragon by CraftyMutt (some crochet). Two inches tall, and five from nose to tail.

Tiny Fawn
This baby deer is a little larger than the other patterns but still small at 4.5 inches tall.

Farmyard Animals
Patterns for tiny duck, pick, cow, goat, chicken. Cow is the largest at 9.5cm tall (including the horns) and 10.5cm long
Teddy Bear Picnic: Jean Greenhowe's Toy Collection
The knitted Teddy Bear Picnic is just one of the many adorable knitting pattern sets in this book that also includes a family of bunnies, dinosaurs, and holiday stocking stuffers.

Pocket Dolls
The instructions include a chart for a basic doll, step by step instructions, add ons and ideas for accessories. If you use 4 ply yarn the dolls will be about 10 cm or 4 inches tall.

Teeny Animals
Knitting patterns for Teeny Animals including mouse, robin, ladybug, hedgehog, turtle, and bee. The teeny toys are approximately 3 x 3 cm.