Novelty mittens, gloves, and mitts that can be worn for costumes or fun. Most patterns for free.
To get the knitting patterns, scroll down the page to the individual pattern you want and click on the link to that pattern.
These patterns are not my designs but links to other designers who have generously shared their patterns. If you have questions about how to knit a specific pattern, please contact the designer directly.
All links on this site are for informational purposes, but please note that some links are to affiliate sellers that pay me a small commission on purchases.
Free Patterns

Lego Hand Mittens
Designed by Carissa Brown to resemble the molded plastic hands of Lego people. Great for costumes or play. Sizes from baby through adult. 0-2 years[3-5 years, 6-9 years, 10 years-Adult S, Adult M, Adult L]

Child's Handwarmer Muff
This easy handwarmer features pompoms, i-cord bow, and neck strap. The muff is knit in tube with half folded inside during finishing. The stitch is an easy 2 round repeat double seed stitch. Designed by Chuck Wilmesher for skacel.

Nemo Mittens
Clown fish shaped mittens. Designed by Sigurlaug Eva Stefansdottir. Pictured project by mimouna

Angry Birds Mittens
Mittens inspired by the various bird characters from Angry Birds. Designed by Elaine Fitzpatrick

Innsmouth Webbed Claw Gloves
These gloves are perfect for playing any clawed monster like Godzilla, Draco, and the Creature from the Black Lagoon. Designed by Anne-Marie Dunbar. Pictured project by G-knits

Spiderman Mittens
These We Call Him Spidey Mittens by Kathleen Taylor. Pictured project by LivM

Piglet Mittens
These pig inspired mittens come in six sizes Child's S,M,L and Women's S,M,L. Designed by SpillyJane. Pictured project by annypurls

Fantastic Mittster Fox Mittens
This playful combination mittens/puppets design by Allison Stewart-Guinee is knit in the round, seamlessly. The mittens can be worn on either hand, with either the fox face facing up or on the palm.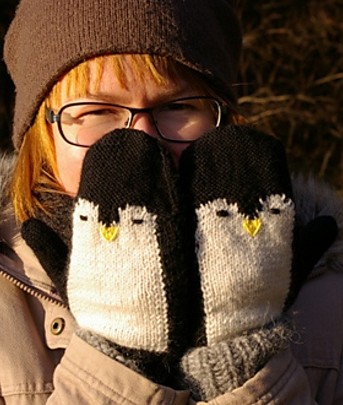 Penguin Mittens
Designed by Marianne Lind, these penguin mittens are sized for XS, S hands with a seam up the side.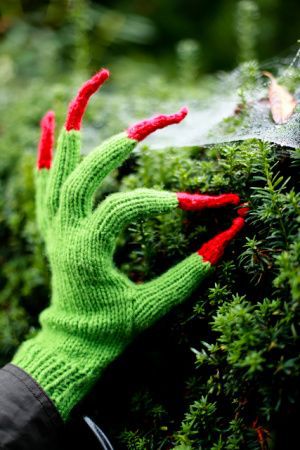 Witchy Hands
Kim Hamlin designed this Oz-some gloves in child and adult sizes.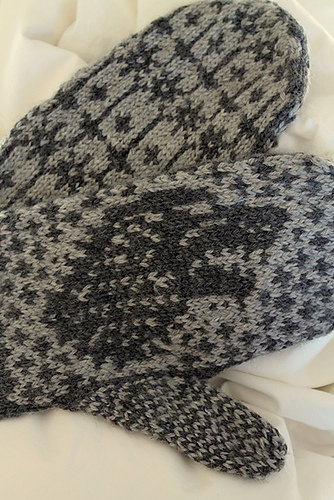 Direwolf Mittens
Designed by Carly Hill, these mittens are knit in the round with stranded colorwork.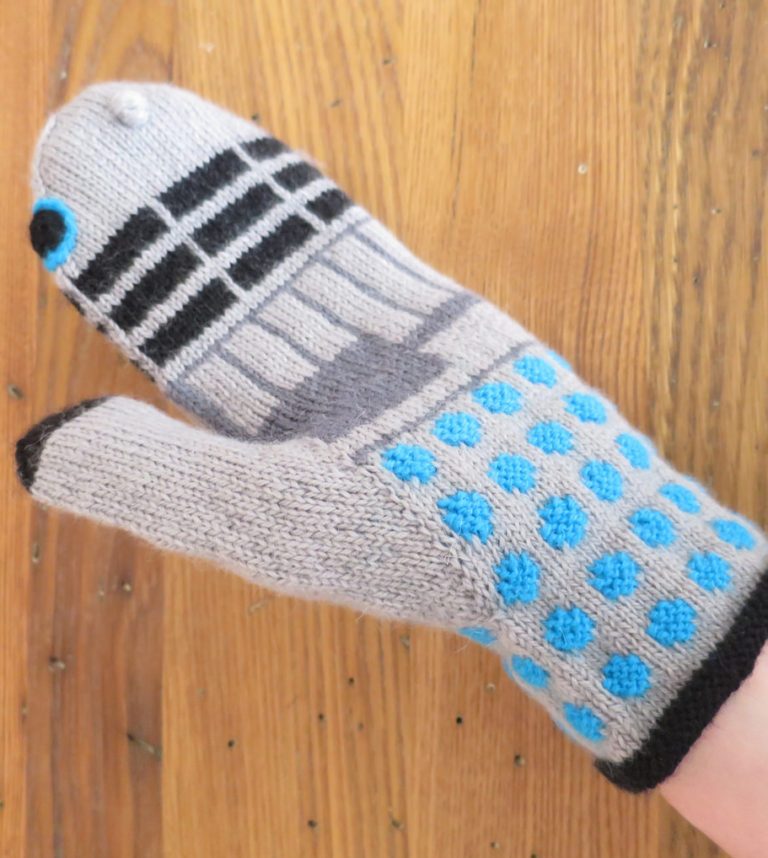 Dalek Mittens
Mittens inspired by Doctor Who's nemesis. Designed by Kat Lewinski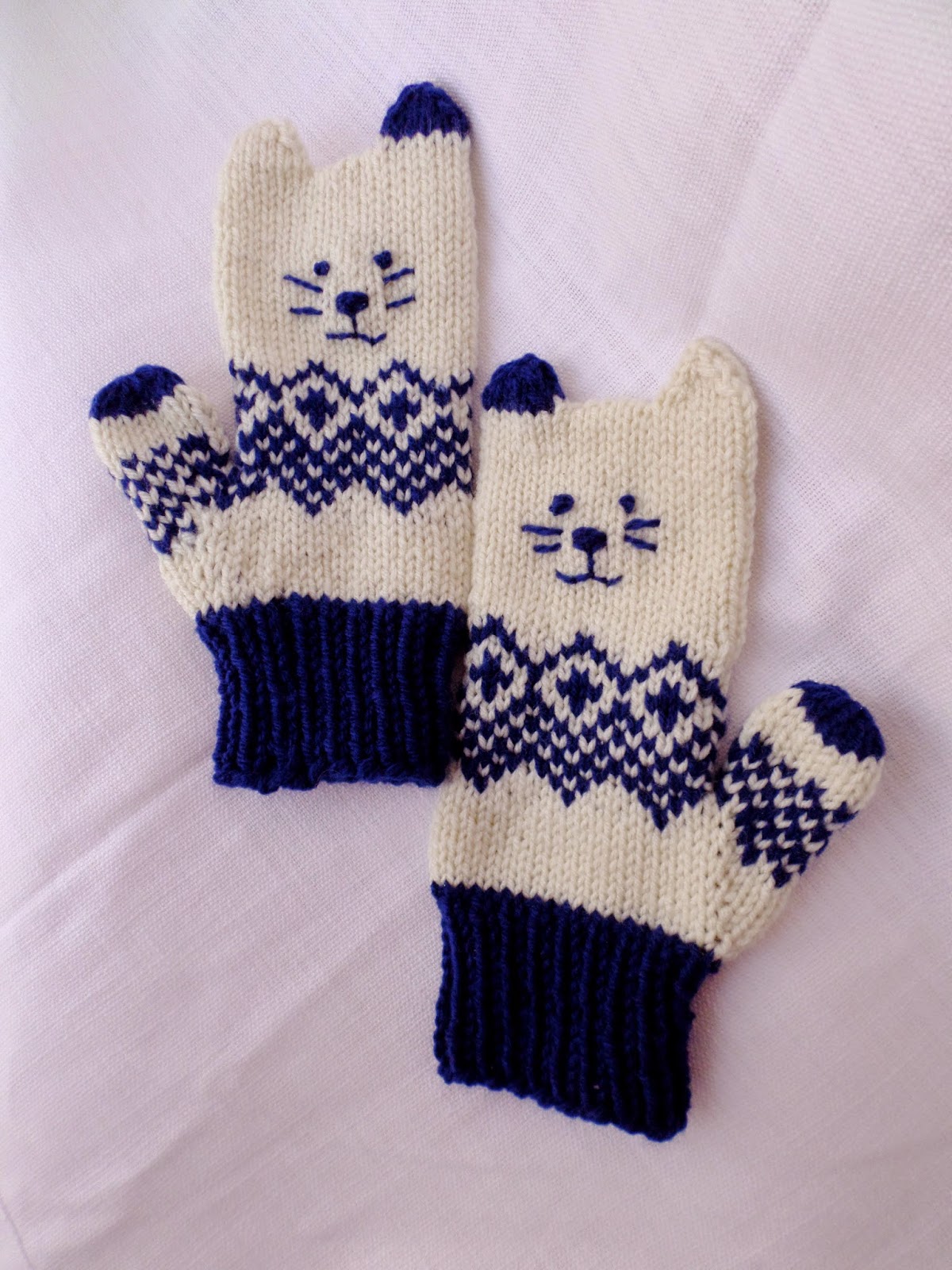 Norwegian Kitten Mittens
Designed by Salty Crafts who also has a striped version.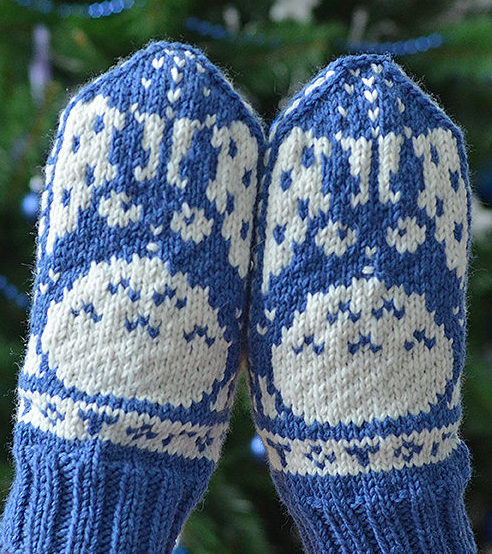 Totoro Mittens
Norwegian style mittens inspired by the shy forest spirits portrayed in Hayao Miyazaki's Japanese animated film My Neighbor Totoro. Designed by brella, the stranded colorwork features a big Totoro with an umbrella, two little Totoros, and a bunch of dust bunnies (or soot sprites) .Pictured project by djaya. Some Ravelrers have adapted for hats, sweaters, and more.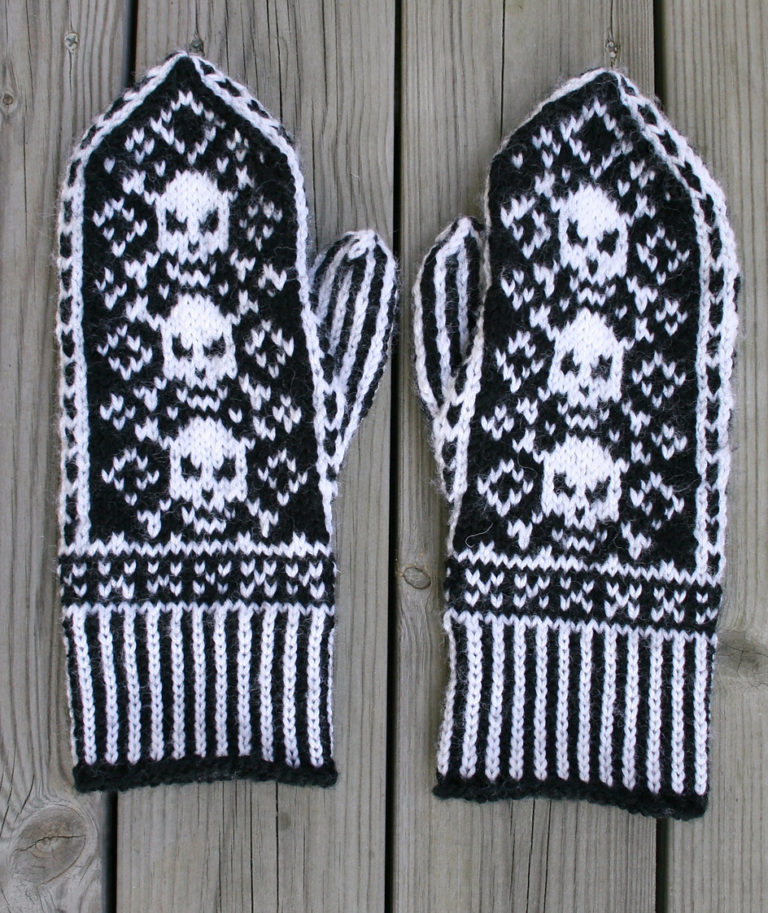 Pirate Mittens
Mittens featuring skull and crossbones colorwork designed by Adrian Bizilia. Pictured project by HedvigHandarbetar
Vulcan Salute Mittens
Perfect mittens for fans designed by Amy at Confessions of a Woolaholic.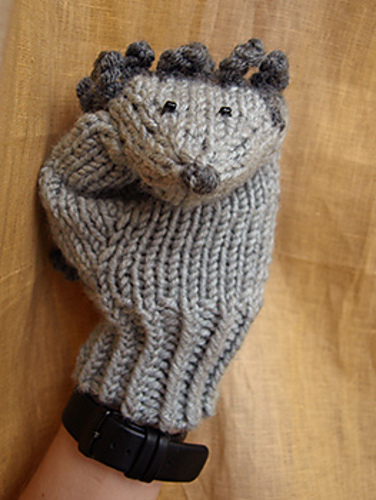 Hedgehog Mittens
Designed by Ekaterina Sokolova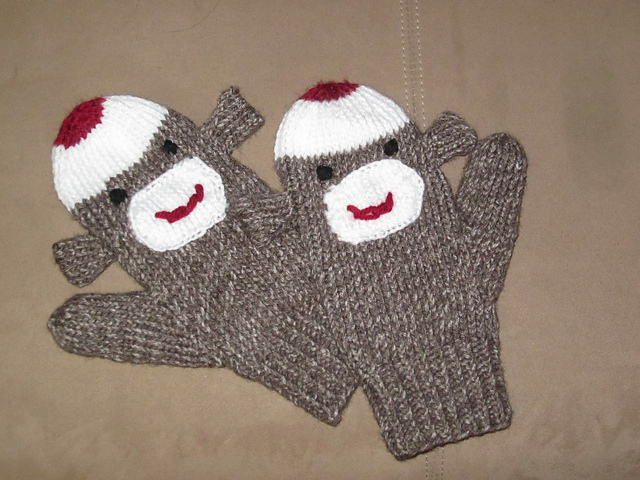 Sock Monkey Mittens
Designed by Melissa Walshe for sizes Child's M, (L, Adult S)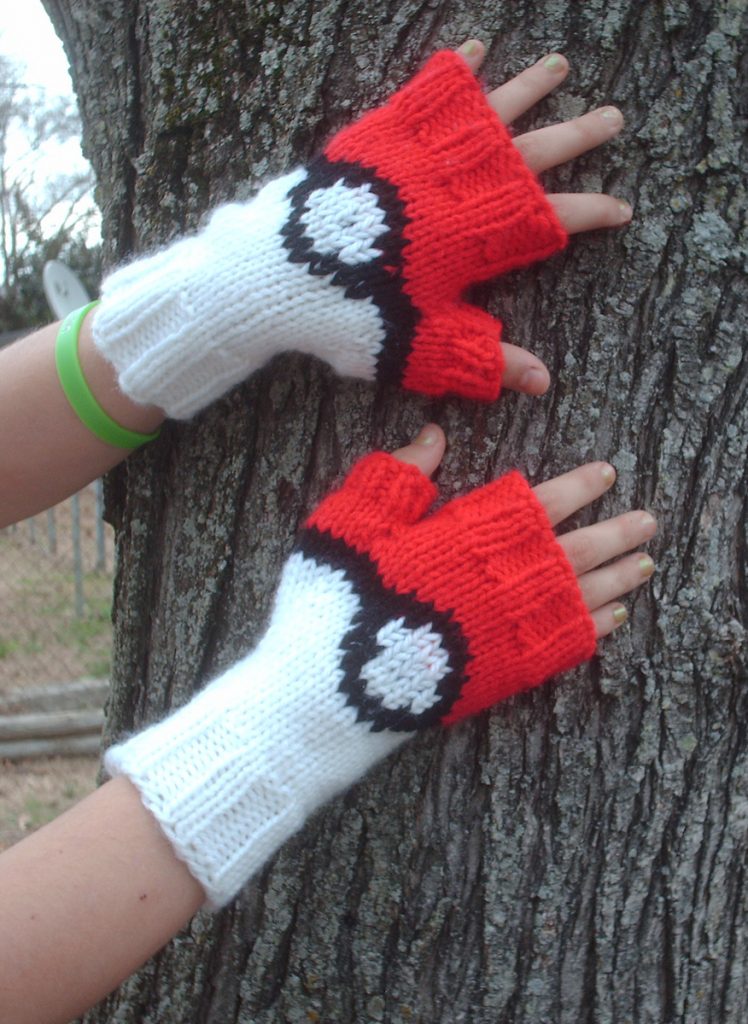 Pokeball Mitts
Donna Milner's easy fingerless mitts are perfect for Pokemon Go play.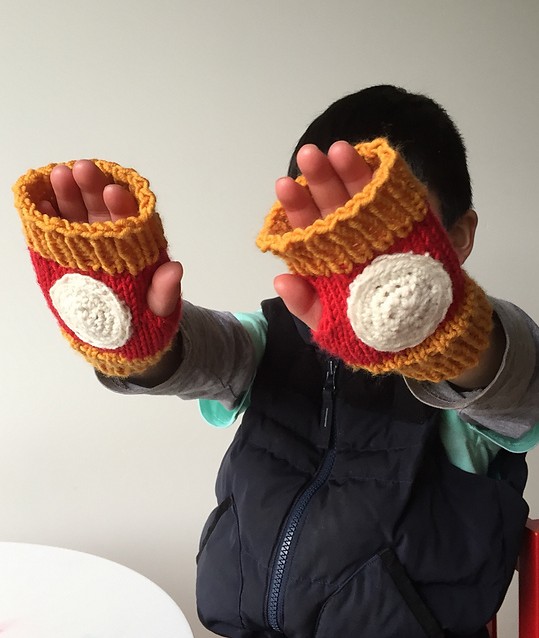 Iron Man Mitts
Irene McCormick's fingerless gloves pattern is written to fit a 3-5 year old with basic instructions on how to make larger. Pictured project by KangaRooi.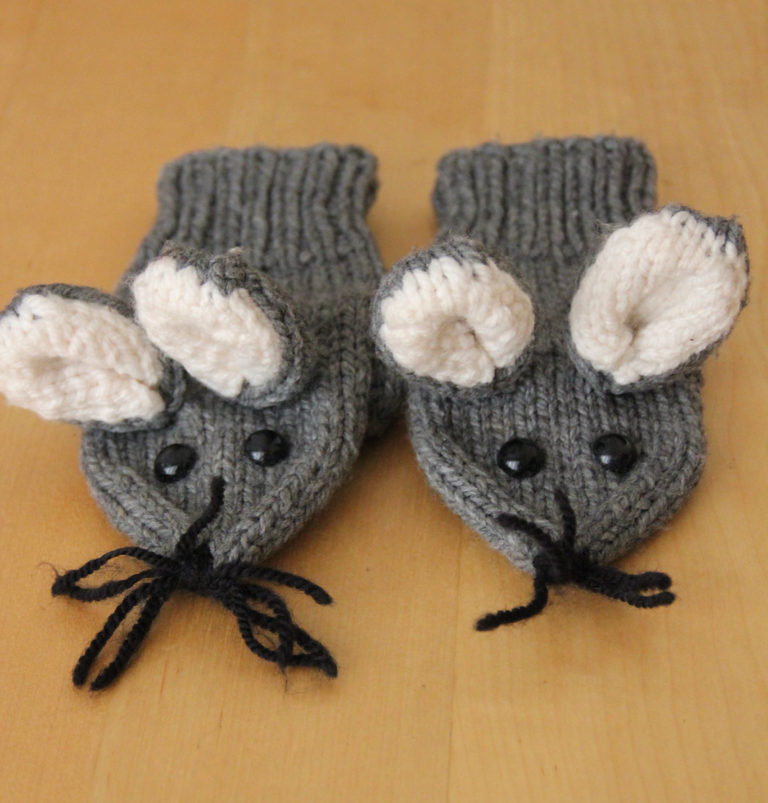 Mouse Mittens
These child-sized mittens were designed by Janine Le Cras. Pictured project by Betty.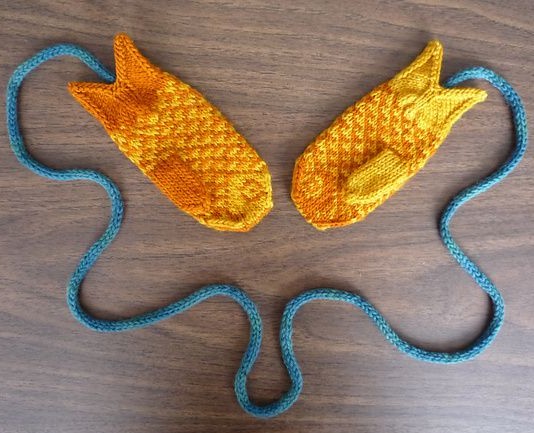 Goldfish Mittens
Amy Christoffers designed these mittens for toddlers but they can be customized for bigger sizes.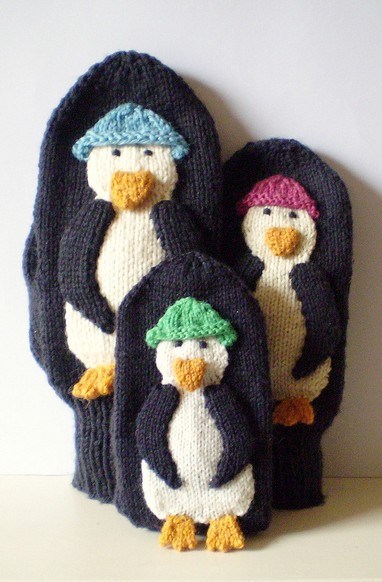 Penguin Mittens
Designed by Frankie Brown, these mittens come in small, medium, and large.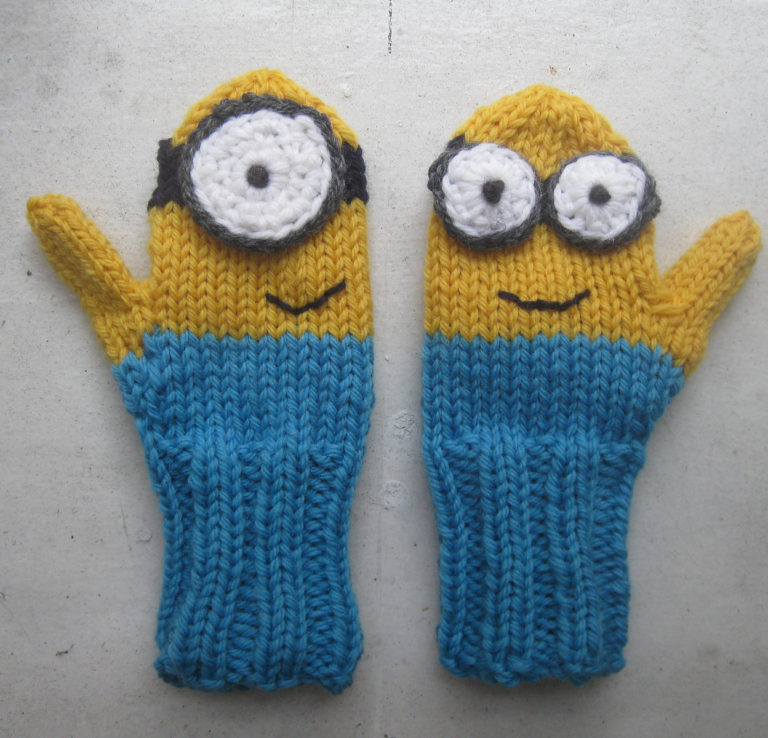 Minion Mittens
Amanda Drover-Hartwick designed these mittens for sizes 2-3 year old, 4-6 year old, 7-9 year old, 10-13 year old. Eyes are knit circles. Pictured project by el399

Smittens Mittens for Holding Hands
Get romantic in chilly weather with this mitten designed for two. Designed by Julie Weisenberger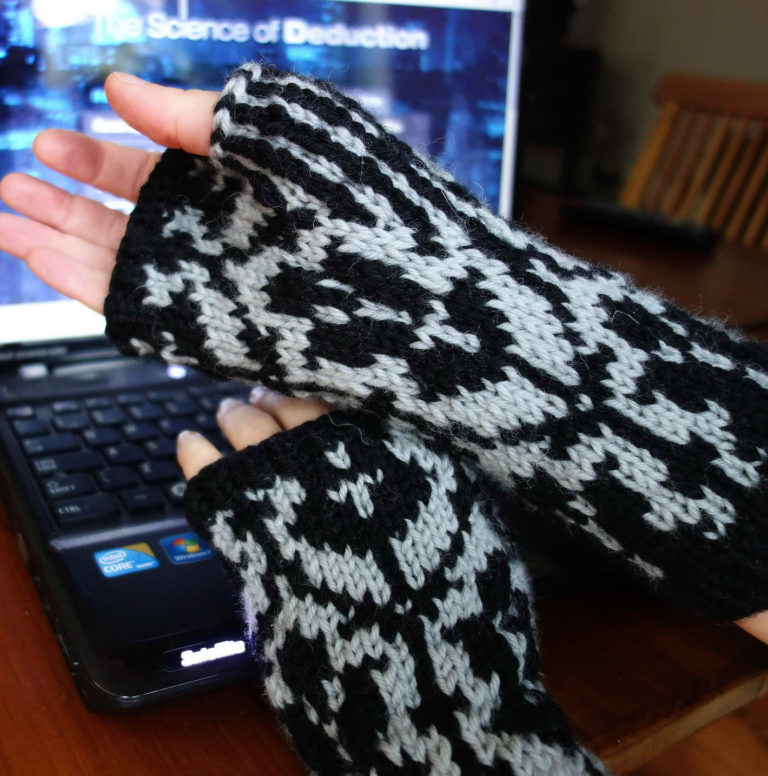 Sherlock- Baker Street Wallpaper Mitts
Professor Fonz's Sherlock-inspired The Game Is On fingerless mitts feature the wallpaper design in Sherlock's flat in the Sherlock tv series. See below for more Sherlock Knitting Patterns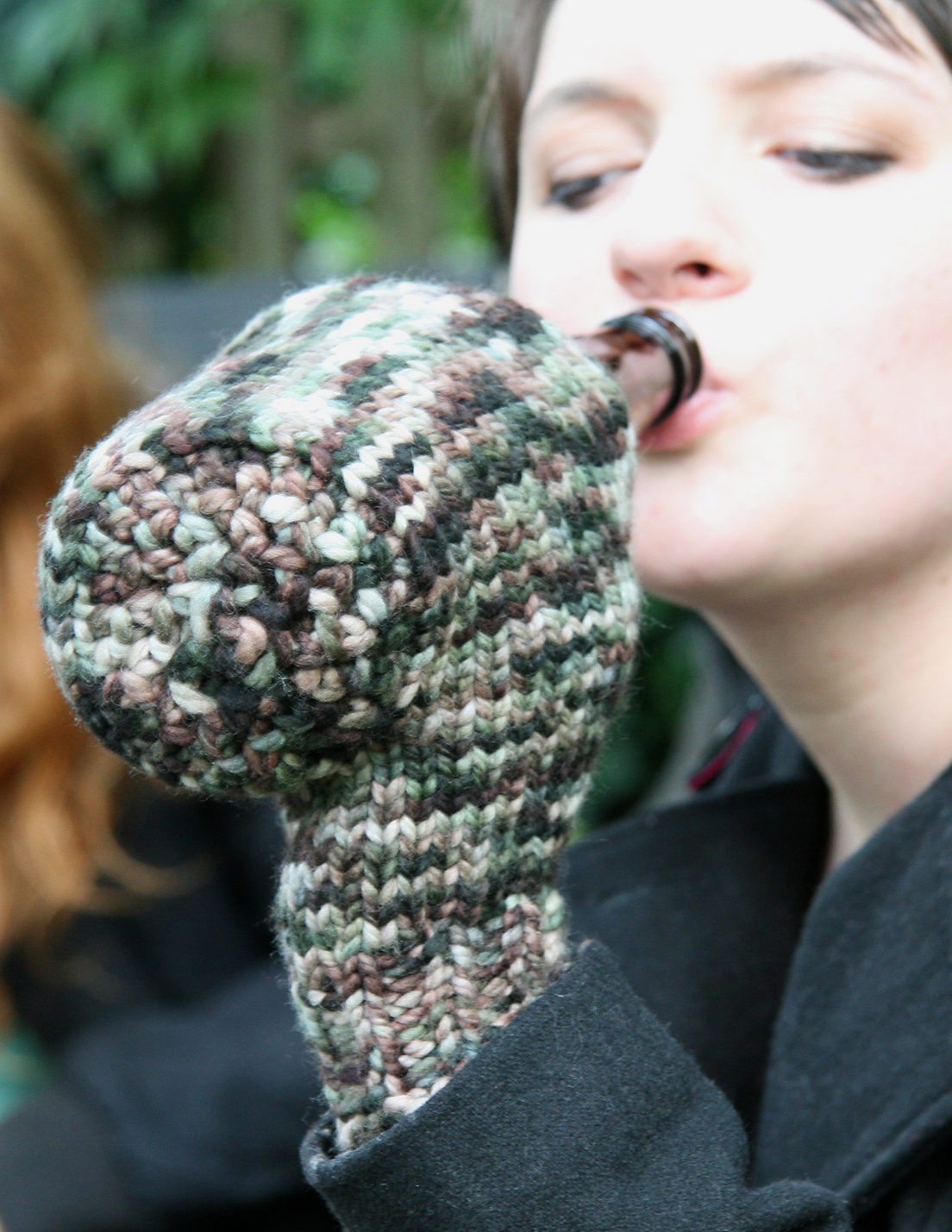 Beer Mitt
Toby Roxane Barna designed this fun, practical cozy mitten perfect for drinking beverages at outdoor events.The pattern is written for three sizes: small (a "rootbeer mitt," to fit a child's hand), medium (to fit a typical lady-paw) and large (to fit a gnarly man-hand).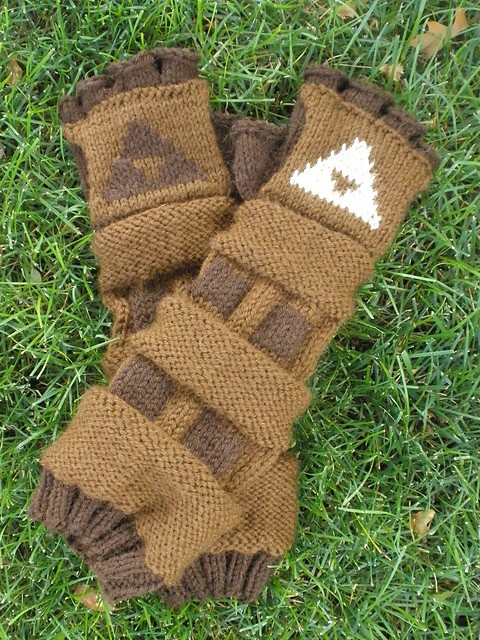 Link's Gauntlets
Emily Hastings designed these mitts inspired by Legend of Zelda games. They're based on the gauntlets that Link wears in OoT and in Super Smash Bros. Melee.

Mad Cat Handwarmers
Kat Lewinski's fingerless mitts feature Ta mad cat on one side and a paw print on the palm.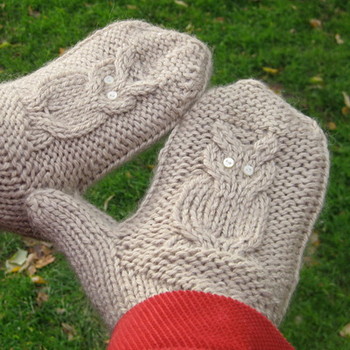 Give a Hoot Mittens
These mittens designed by the Fibre Company feature a unique thumb gusset and a cable owl pattern.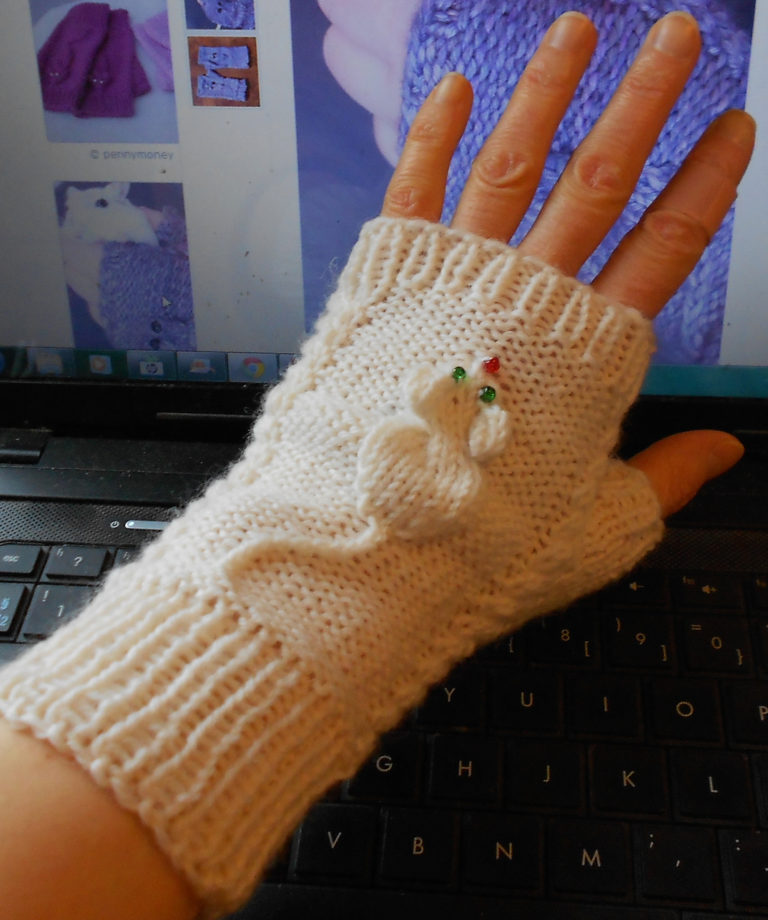 Squeaky Mitts
Melanie Gall's rodent motif can be used on fingerless mitts and mittens but also has been adapted for hats and more. Pictured project by mimouna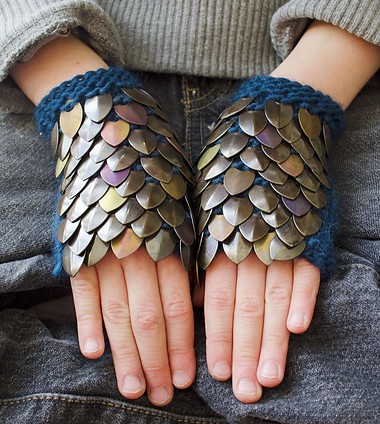 Gimli Son of Gloin Gauntlets
Sheila Toy Stromberg designed these mitts inspired by the dwarf warrior. She provides a tutorial for knitting with scalemail, which is a lot like knitting with beads. Small (Medium, Large, Extra Large, Extra-Extra Large)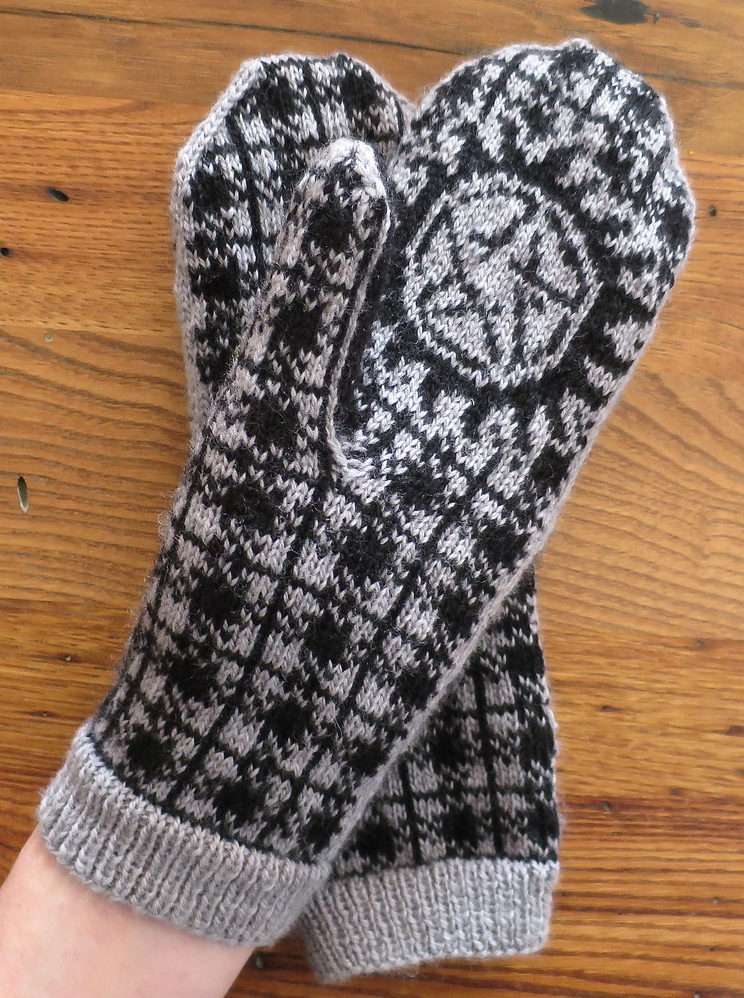 Winchester Plaid Anti-Possession Mittens
Inspired by Supernatural, these mittens designed by Kat Lewinski sport a stylish plaid on top and anti-demonic possession protection on the palms.
Patterns for Purchase
Imagine Mittens
This pattern includes instructions for three different mittens (some with buttons, some without), and two versions of each mitten. Sizes 12 mo, 2 yrs, 6 yrs. (Obviously, don't use buttons for the baby mittens.) Designed by Cambria Washington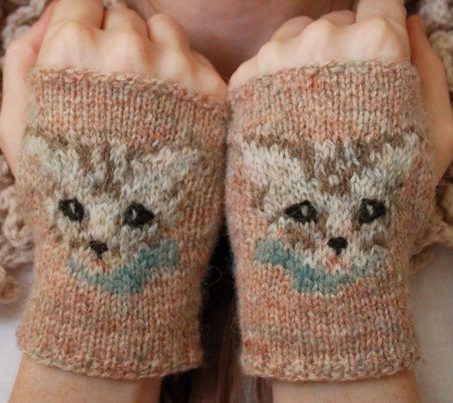 Meow Mitts
These fingerless mitts by Tiny Owl Knits feature a colorwork kitten face.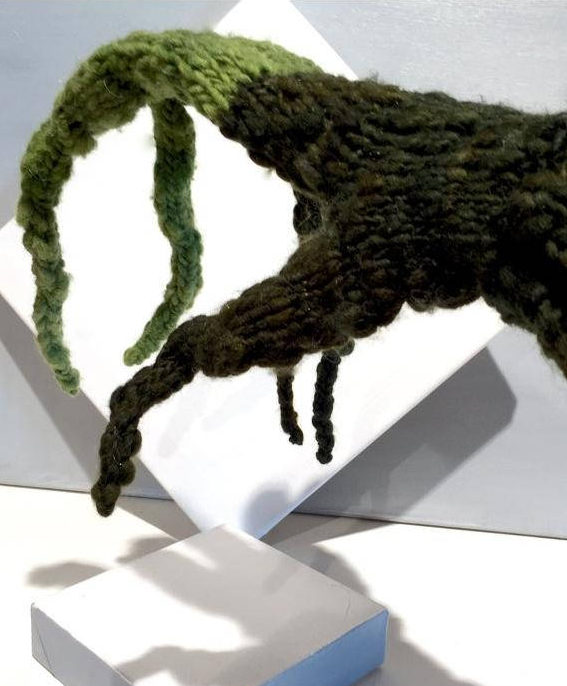 Monster Claw Glove
Fun costume gloves that are knit in bulky yarn and can be finished in a couple of evenings according to the designer. Costume only, not good for daily use.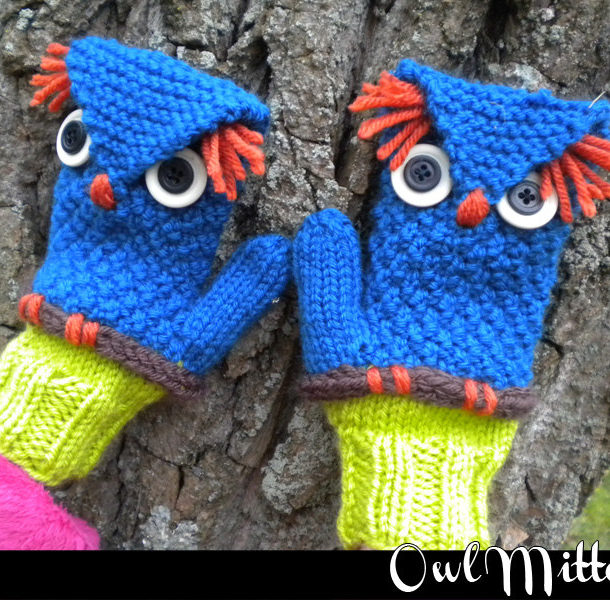 Owl Mittens
Mittens designed to look like an owl perching on a branch. Sizes for the entire family: 2, 4, 6, 8, 10, teen, women, men.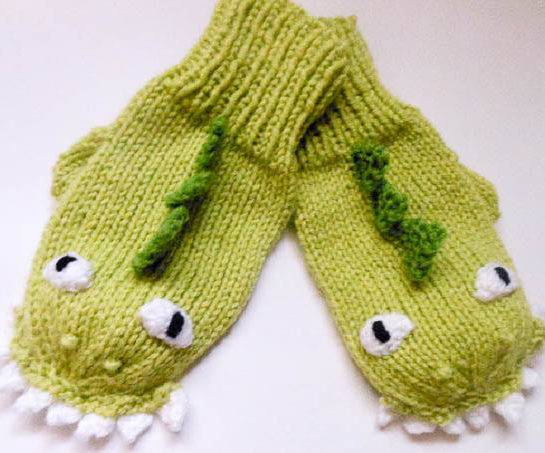 Dinosaur or Dragon Mittens
These mittens are ALL knit, no crochet, according to the designer. Pattern is for 3 sizes Child's Small (Medium, Large) 51/2 (61/2, 71/4)"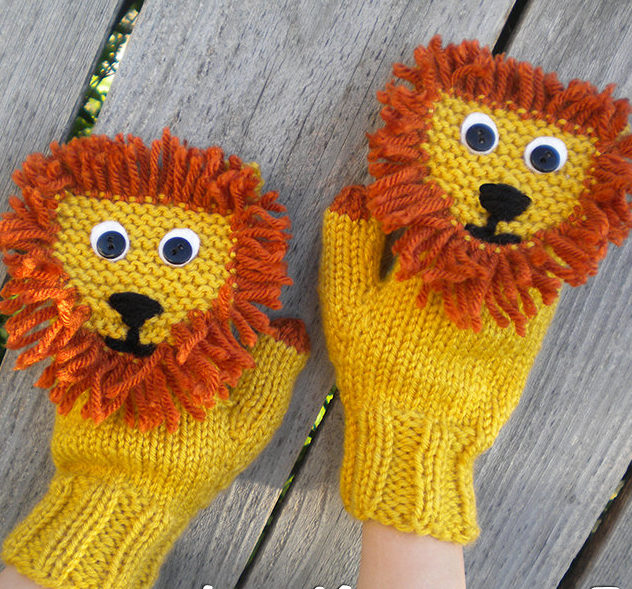 Lion Mittens
Sizes for the entire family: 2, 4, 6, 8, 10, teen, women, men.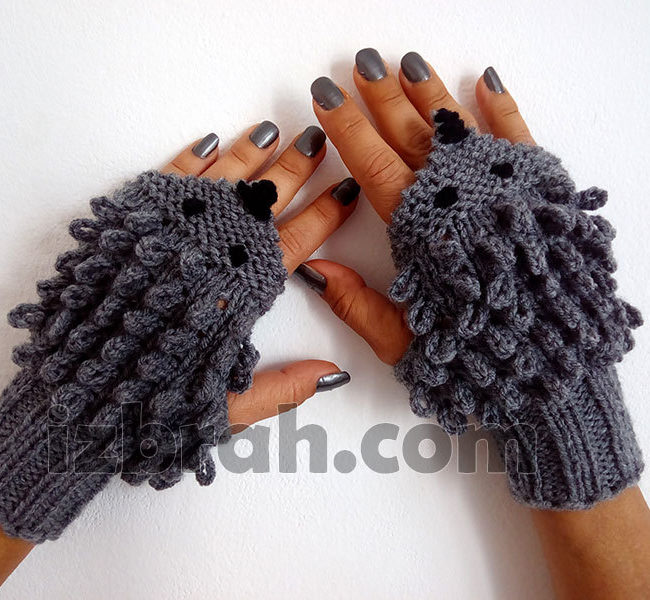 Hedgehog Gloves
These cute fingerless gloves come with written and charted instructions as well as step-by-step photos. The designer also offers the finished product for sale.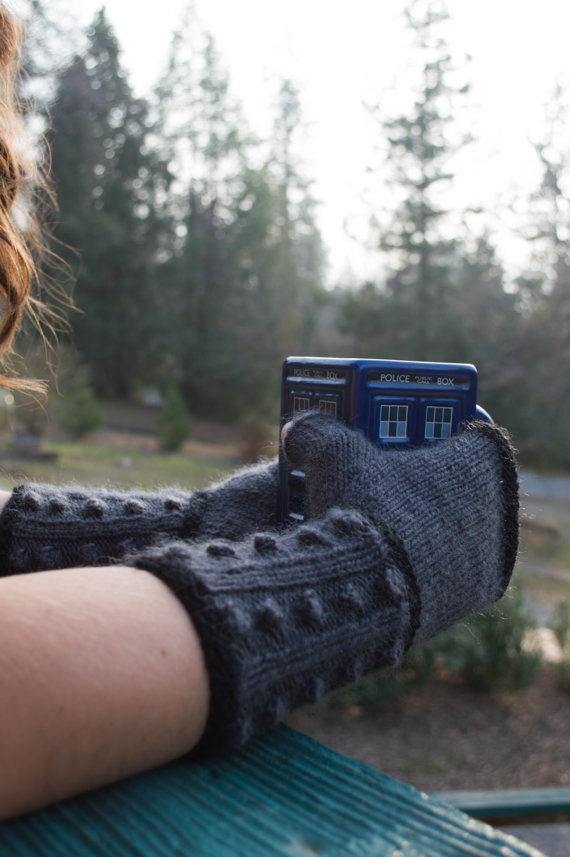 Doctor Who Dalek Knit Fingerless Mitts
I love these! The pattern on the fingerless gloves looks just like the dalek's body.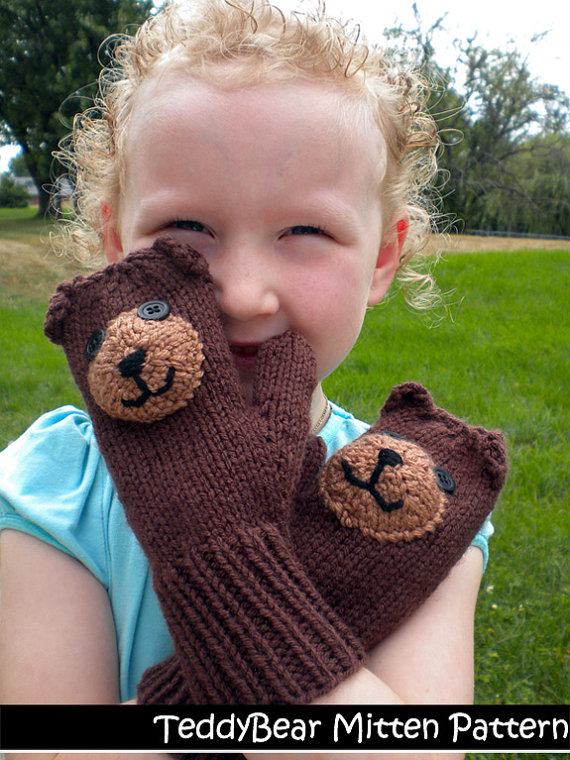 Teddy Bear Mittens
Includes instructions for the following sizes: 12 months, 2, 4, 6.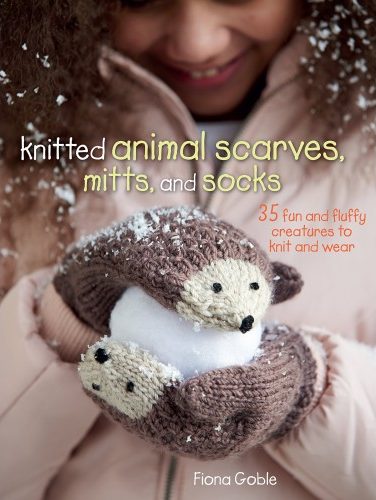 Knitted Animal Scarves, Mitts and Socks
These hedgehog mittens are one of the 35 patterns in this book that also includes accessories designed like a fox, kitten, duckling, shark, penguin, elephant scarf, zebra, mice, and more.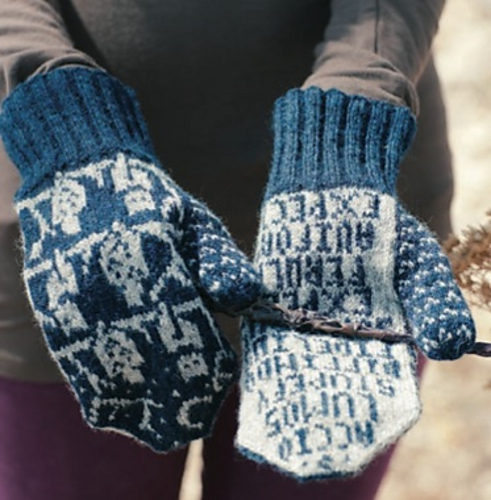 O.W.L. Mittens
Designed by Celeste Young, Owls on one side and a spell reference on the palm for Ordinary Wizarding Level exams.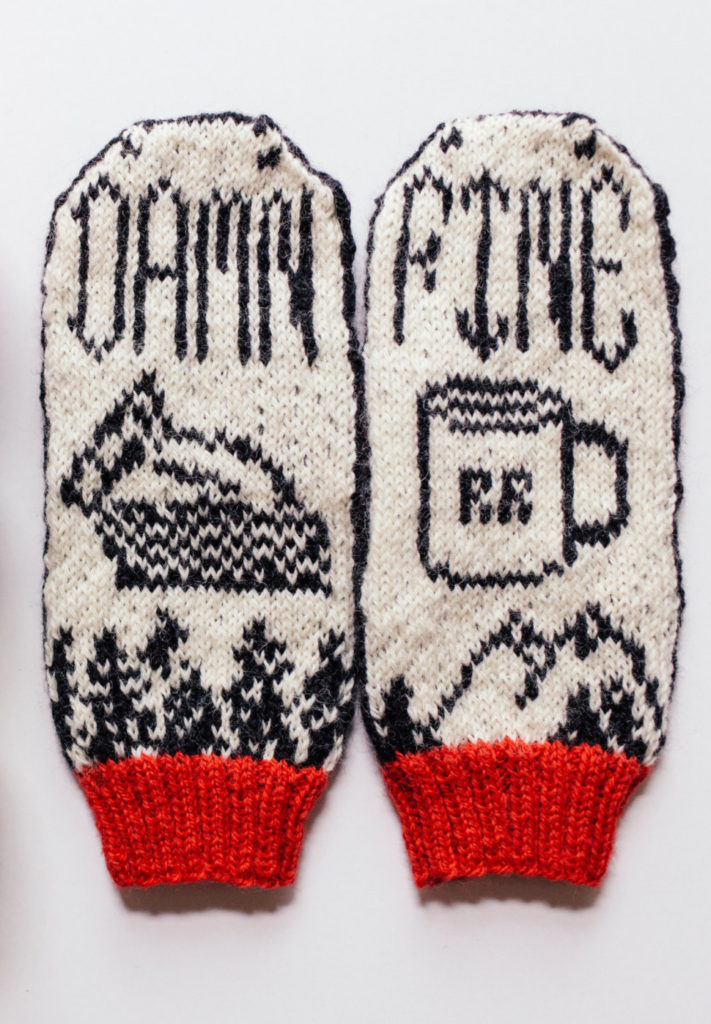 Twin Peaks Damn Fine Mittens
Ready for some damn fine pie and coffee and the revival of Twin Peaks? Knit these mittens while you watch.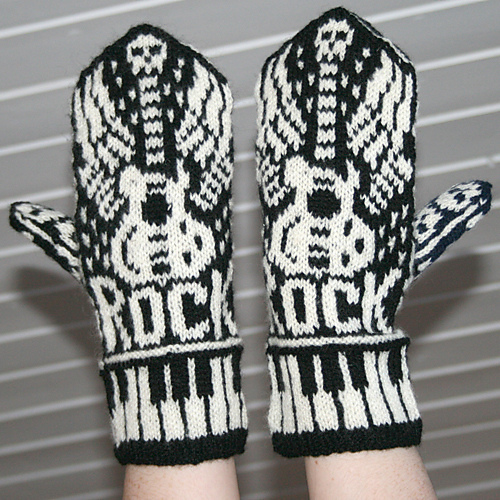 Let's Rock Mittens
Norwegian style mittens with flaming guitar, skulls, and keyboard cuffs. Designed by Jorid Linvik, this is one of the 45 patterns in Jorid Linvik's Big Book of Knitted Mittens: 45 Distinctive Scandinavian Patterns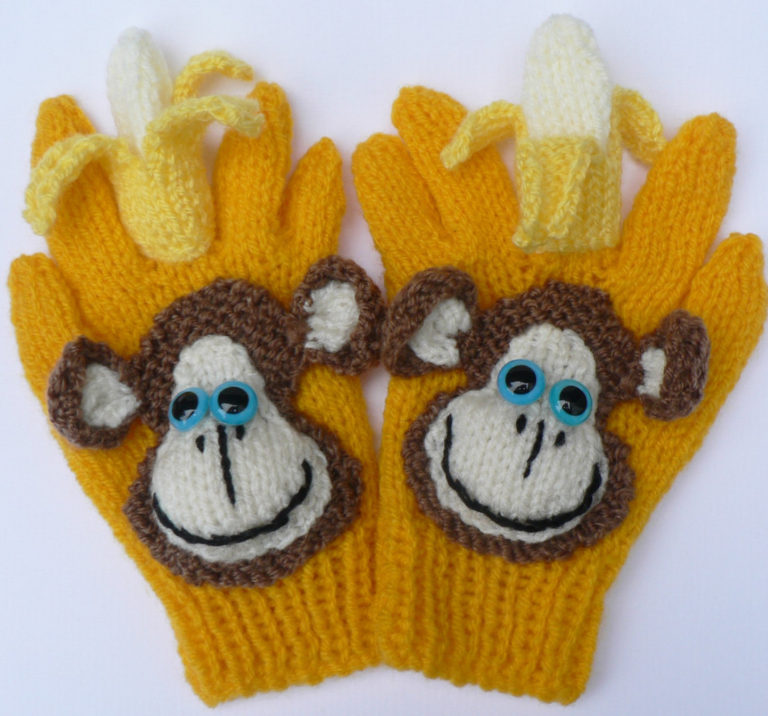 Cheeky Monkey Gloves
Knitting pattern for novelty gloves, featuring a Cheeky Monkey face & a 'banana' finger. Sized for ages 3 years – adult.