Knitting patterns for cozy slipper socks and boot / bootie style slippers. Most patterns for free.
To get the knitting patterns, scroll down the page to the individual pattern you want and click on the link to that pattern.
These patterns are not my designs but links to other designers who have generously shared their patterns. If you have questions about how to knit a specific pattern, please contact the designer directly.
All links on this site are for informational purposes, but please note that some links are to affiliate sellers that pay me a small commission on purchases.
Free Patterns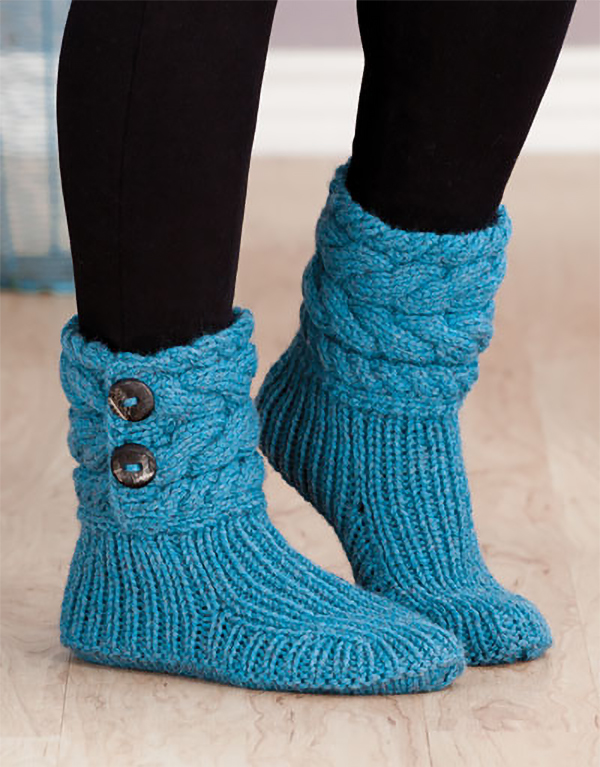 Cable Cuffed Boots
Super-cozy slippers knit with ribbing and cuffs. 3 sizes: S (M, L). Bulky yarn. Designed by Lena Skvagerson. This pattern was featured in Season 9 of Knit and Crochet Now! and is free with registration at Annie's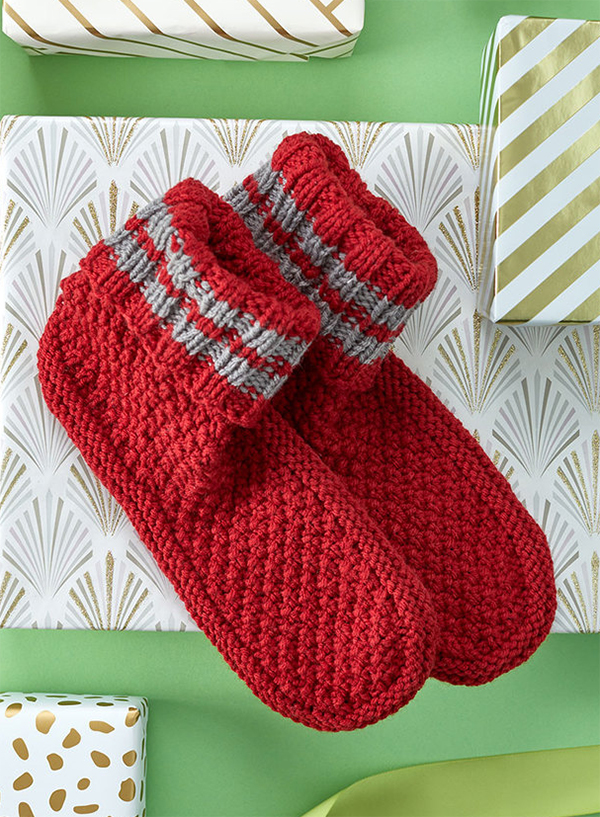 Get Comfy Slipper Socks
Slippers with ribbed cuff and textured foot. Sizes Men's Small, Medium and Large. Worsted yarn. Designed by Sandi Rosner for Red Heart.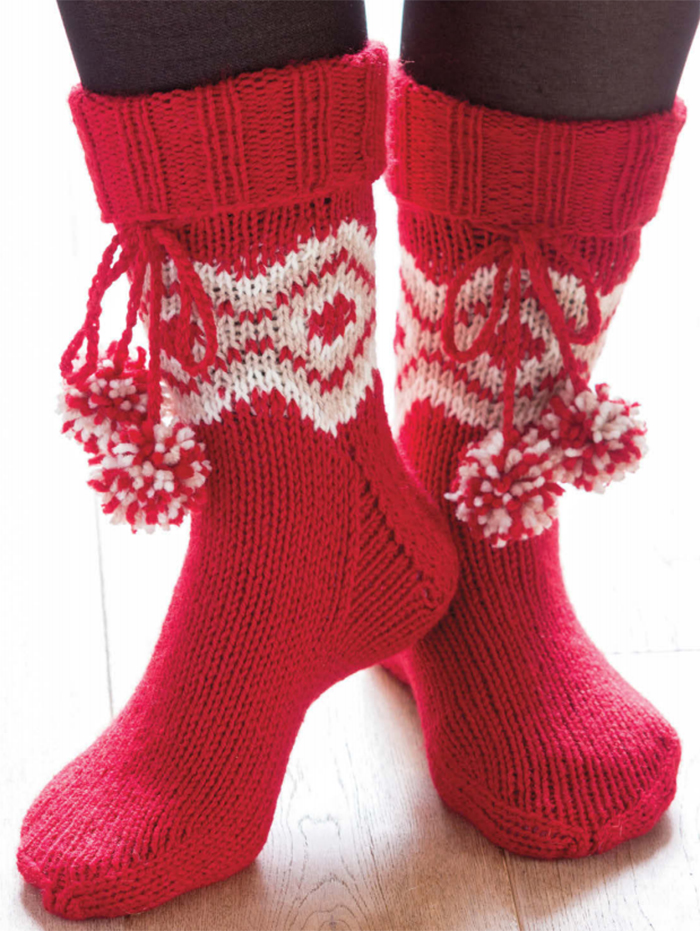 Diamond Slipper Boots
Cuff down slipper socks with diamond motif in stranded colorwork. 3 sizes: Heel to Toe Length: 9, 10, 11". Worsted yarn. Designed by Amy Polcyn. This pattern was featured in Season 8 of Knit and Crochet Now! and is free with registration at Annie's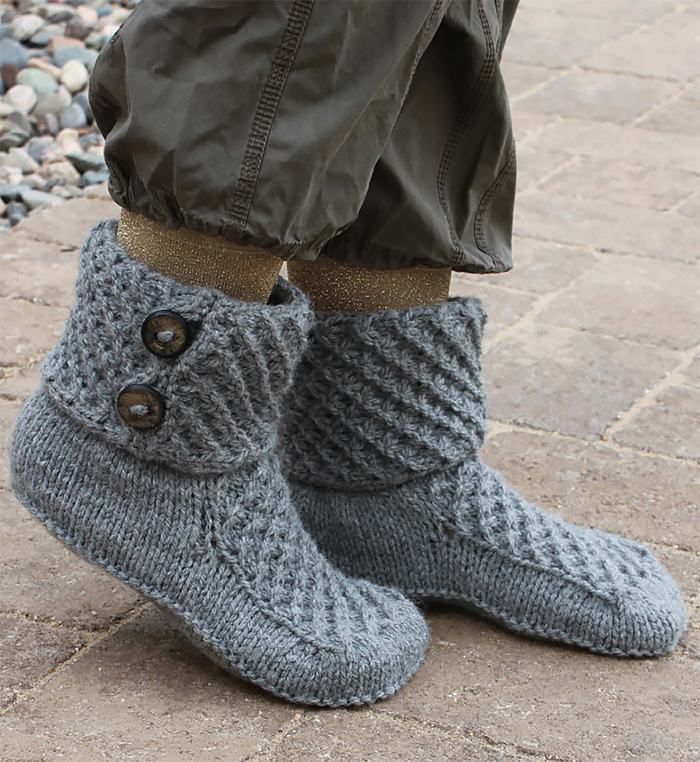 Walk of Fame Slippers
These cozy slipper boots feature a 4 row repeat star stitch on the uppers and cuffs. Fast knit in bulky yarn. Woman's S (M, L). Designed by Lena Skvagerson . This pattern was featured in Season 7 of Knit and Crochet Now! and is free with registration at Annie's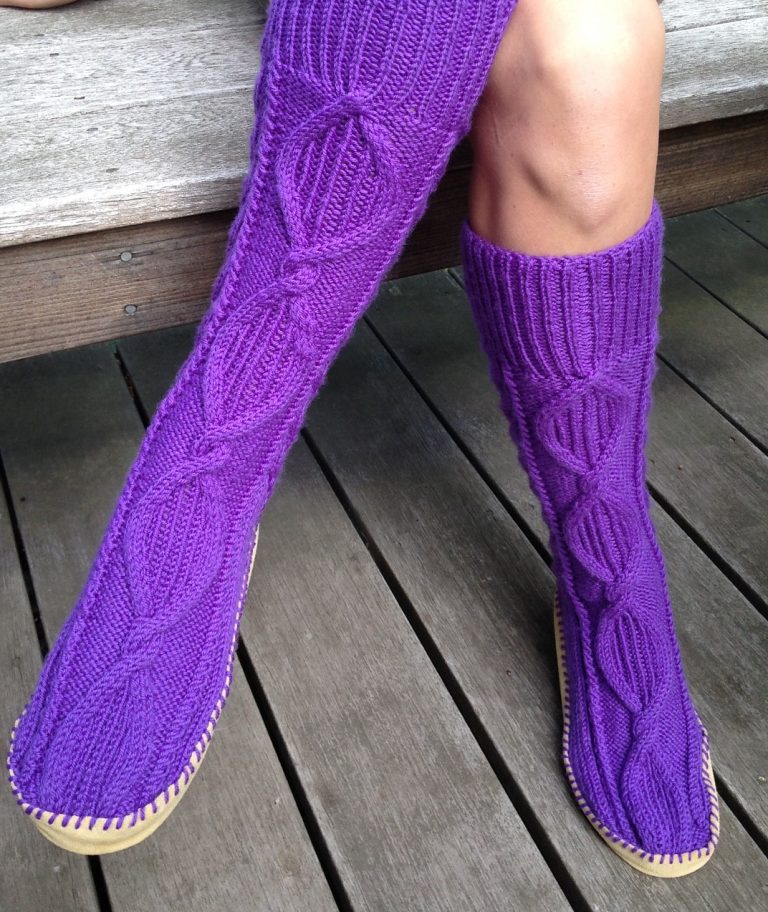 Cabled Slipper Socks
These cozy calf-high slippers by Patons feature an elegant cable pattern. Sizes Small, Medium, Large, X-Large. Pictured project by bfleming24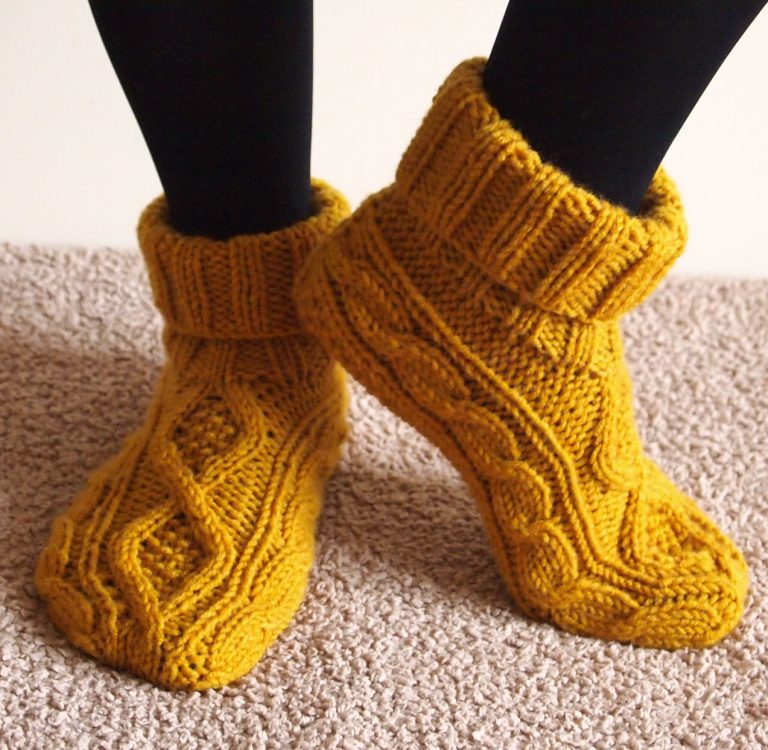 Celtic Dancer Slippers
DROPS Design created these cuffed slippers with two cable patterns. Pictured project by Carmela-Biscuit
Nola's Slippers
Nola Miller designed this versatile easy pattern in garter stitch and rib. Project with pompoms by AliceKathryn Project with multicolor upper by knittingiris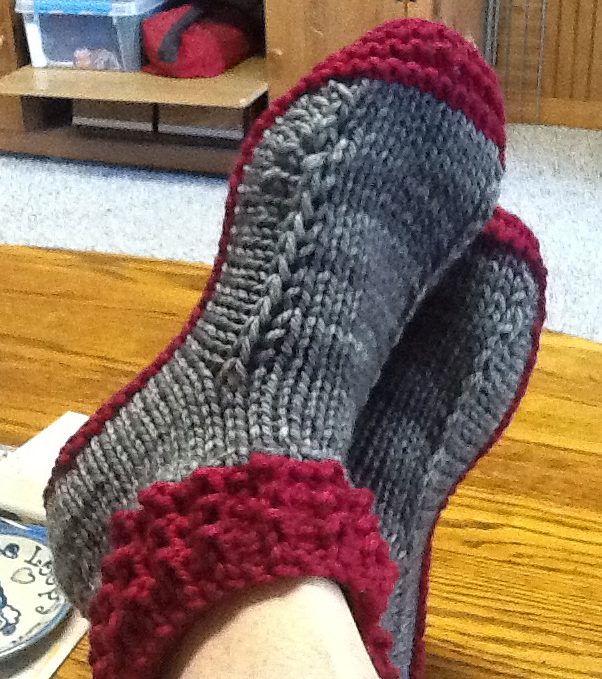 Crocodilly Mocs
Kris Basta designed these slipper mocs with a knit crocodile stitch cuff. Pictured project in blue by kriscrafter, in gray and red by vickite.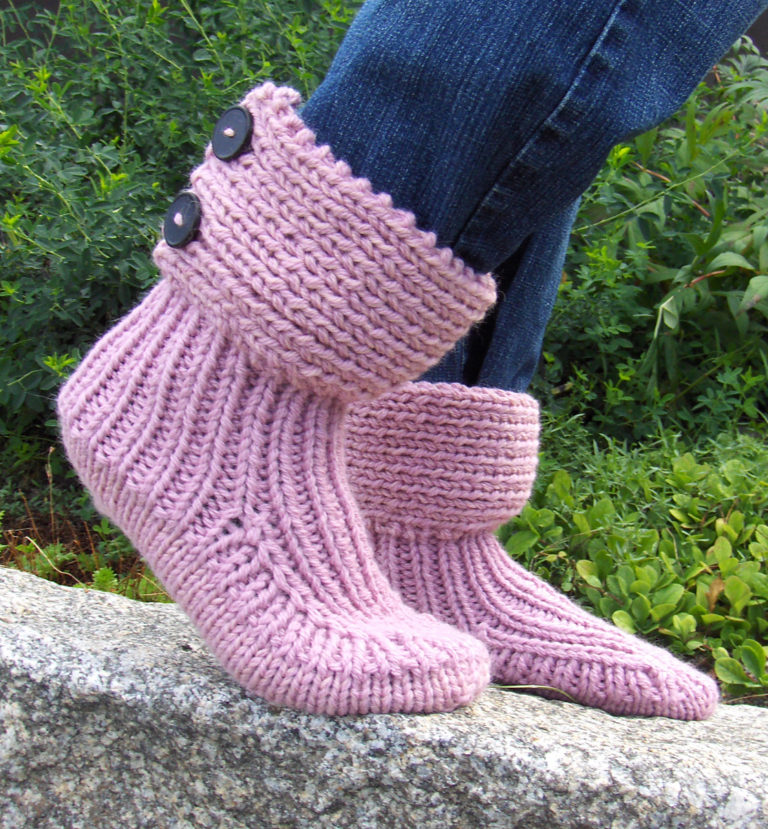 Moon Socks
Easy cuffed slipper boots from Drops Design in three sizes and aran weight yarn. Pictured project by Memma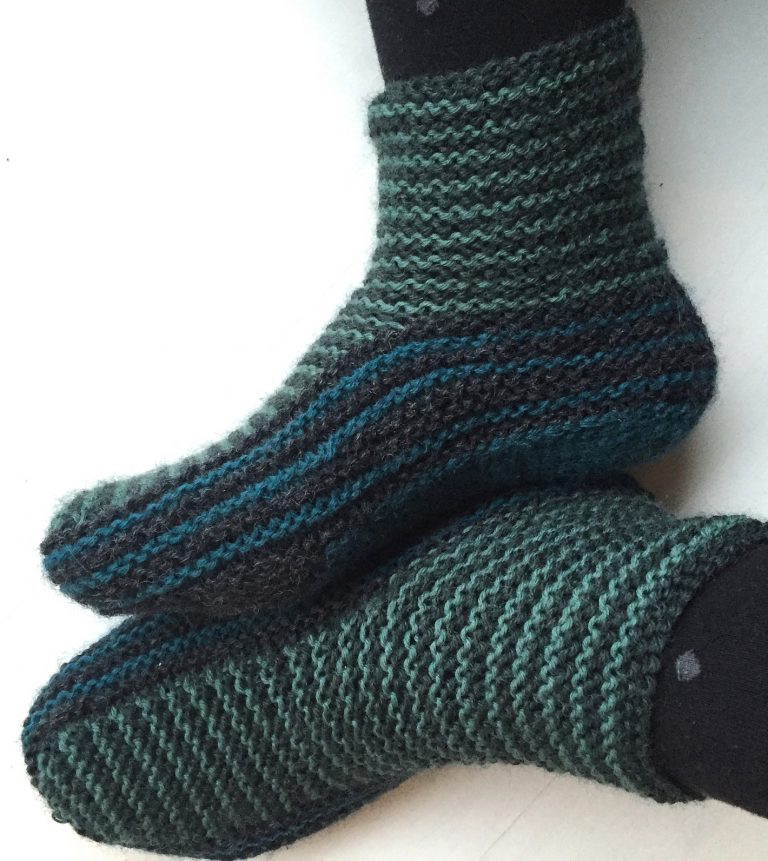 Grown-up Garter Booties
Maria Sus designed these garter-stitch slippers that are shaped with short rows. Great for multi-color yarn or stash-busting!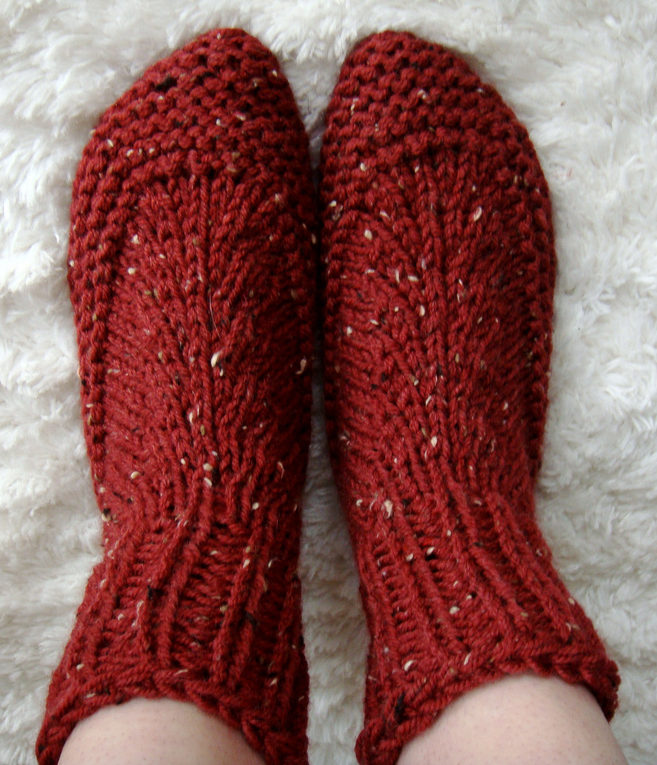 Bulky Yarn Booty Slipper
These slippers by Juanita's Knit Shop are a quick knit in bulky yarn or double strands of other weights. 5 sizes for the whole family. Ravelrers have rated this pattern very easy or easy. Pictured project by Marissa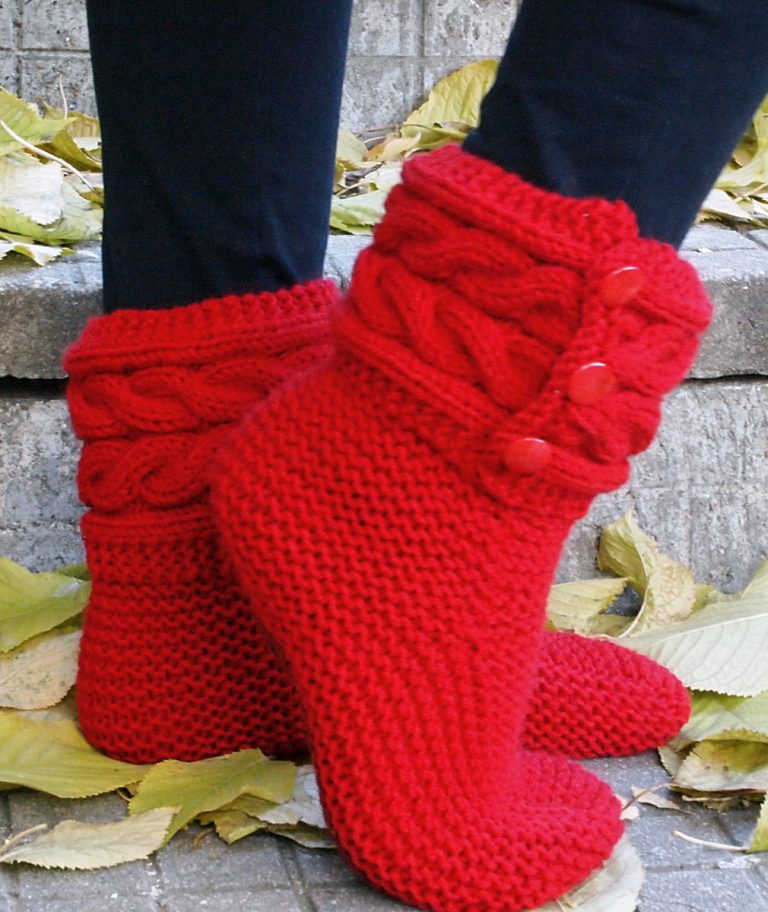 Little Red Riding Slippers
Boot style slippers with cable cuffs from Drops Design. Pictured project by Carmela-Biscuit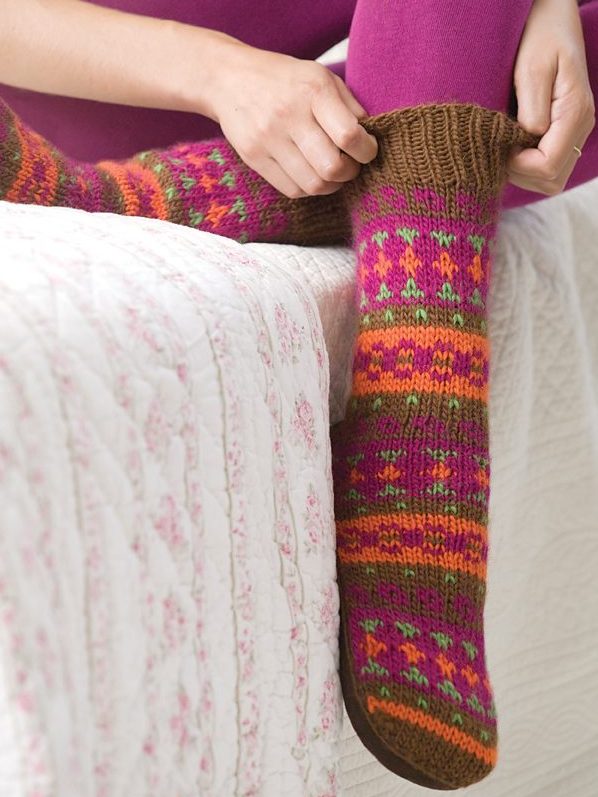 Adirondacks Slipper Socks
Easier than they look! Kathy Sasser designed these fair isle socks that are knit as a tube with just two colors per row. I can't resist anything named after my beloved Adirondacks!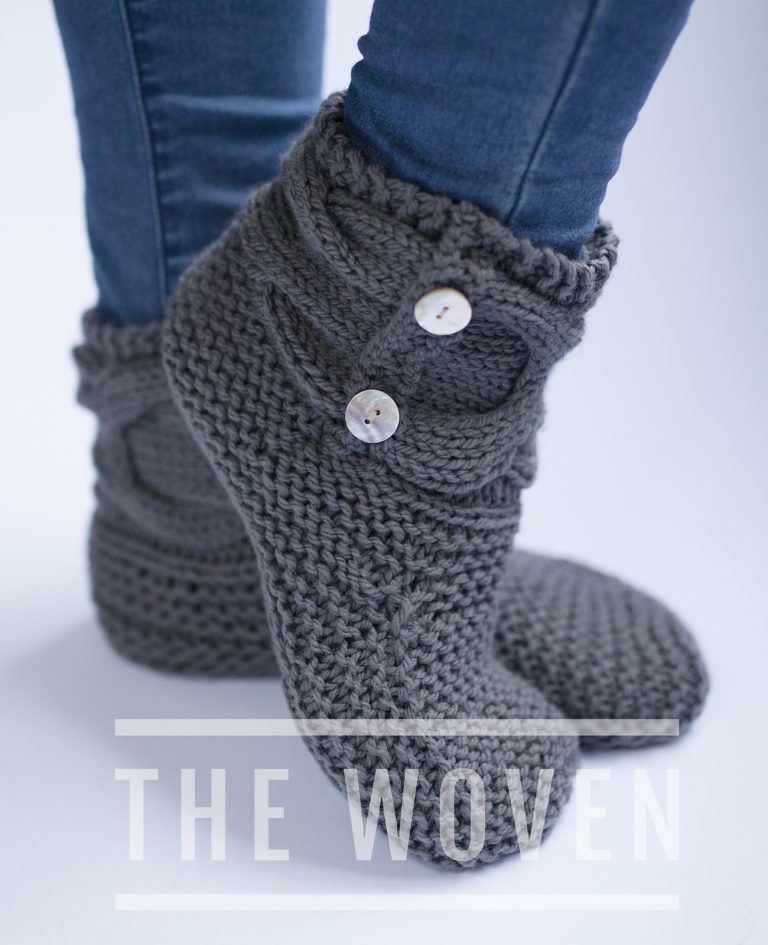 Woven Slipper Booties
Michelle Stewart's boot-style slippers feature a horseshoe cable cuff. Quick knit in bulky yarn.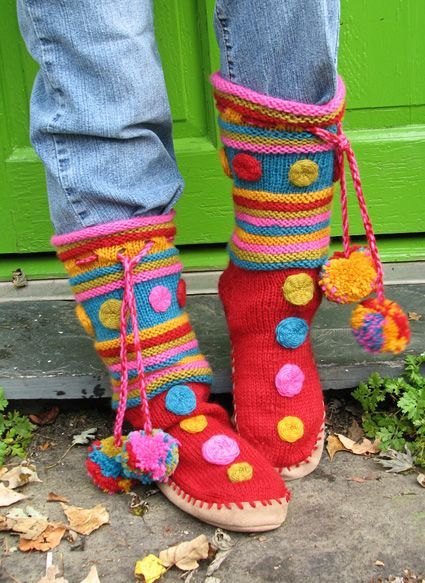 Macarons
Designed by Kristin Nicholas, these slipper boots are fun but easier than they look.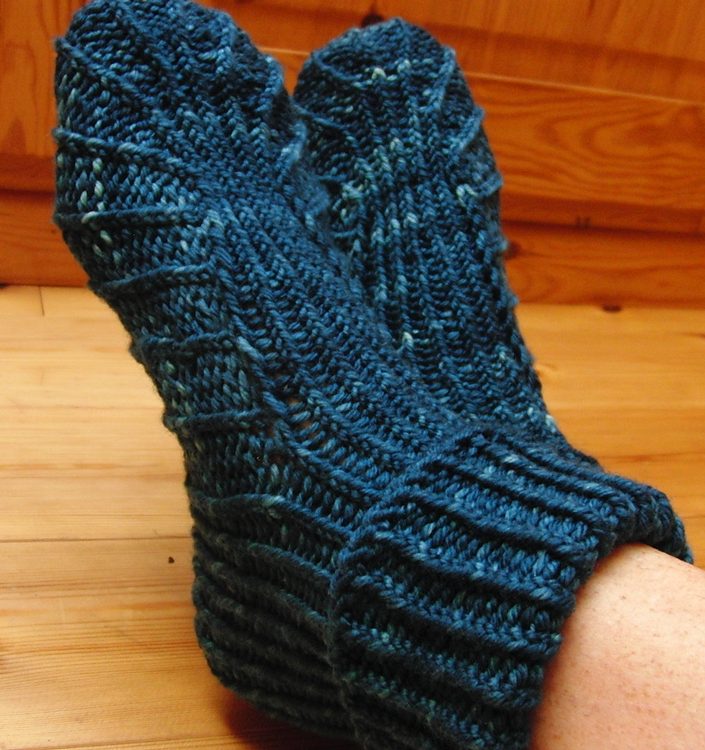 Bea's Slippers
Mone Dräger's slippers feature a stitch pattern that adds stretch as well as style. She states that it only takes a couple of hours to knit. Three sizes, small, medium and large. Available in English, Finnish, and German
Patterns for Purchase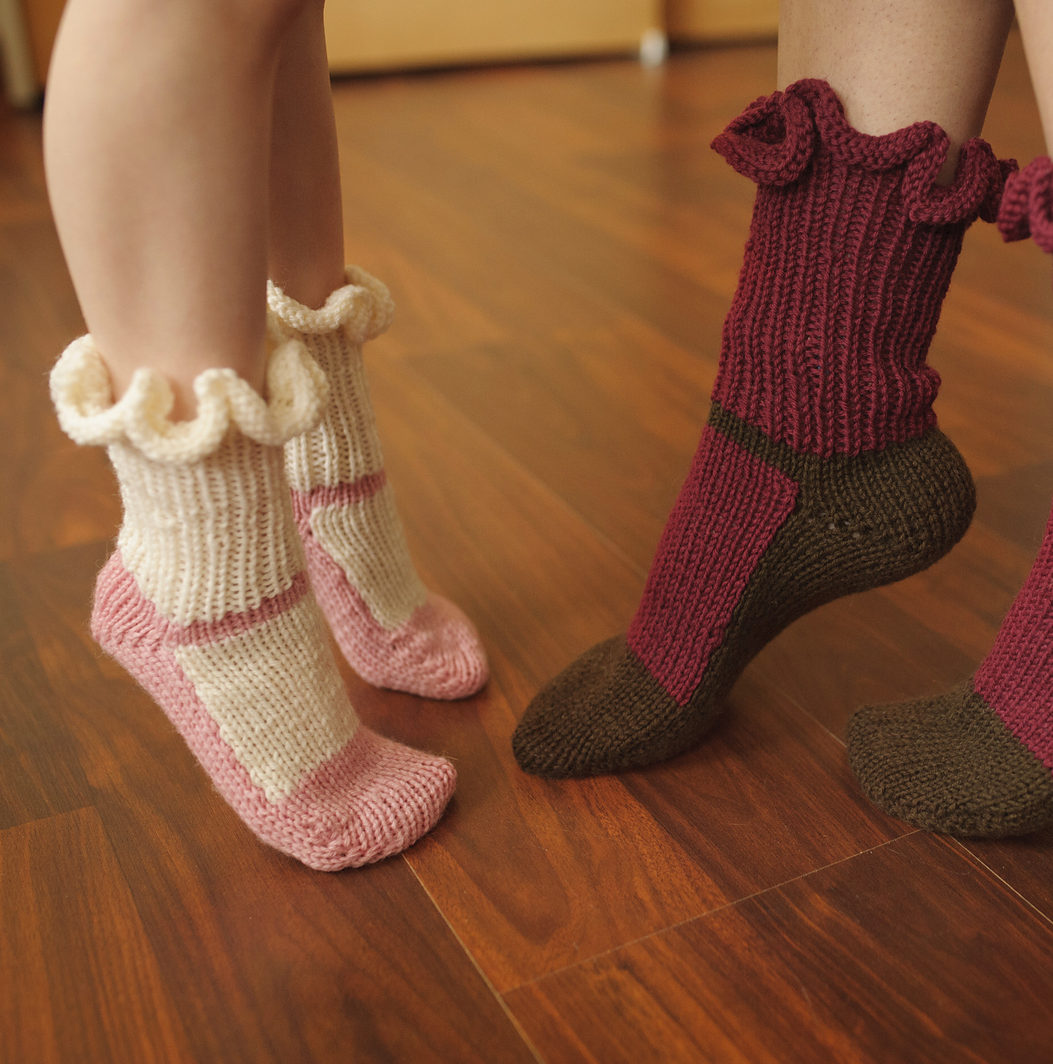 Mary Jane Slipper Socks
These slipper socks with a mary jane shoe in colorwork is one of the patterns in 25 Stylish Knitted Slippers by Rae Blackledge. In child and adult sizes.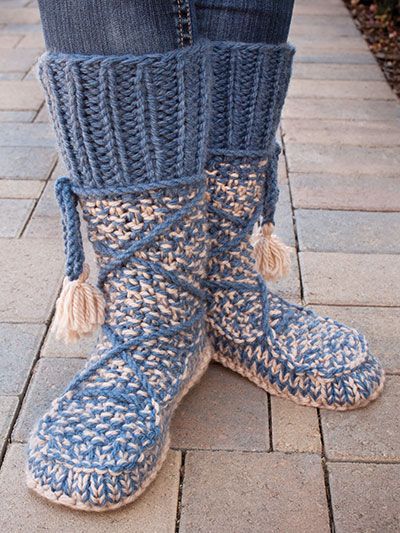 Mukluk Boot Style Slippers
These boots look super cozy and like they can go anywhere. Woman's S (M, L)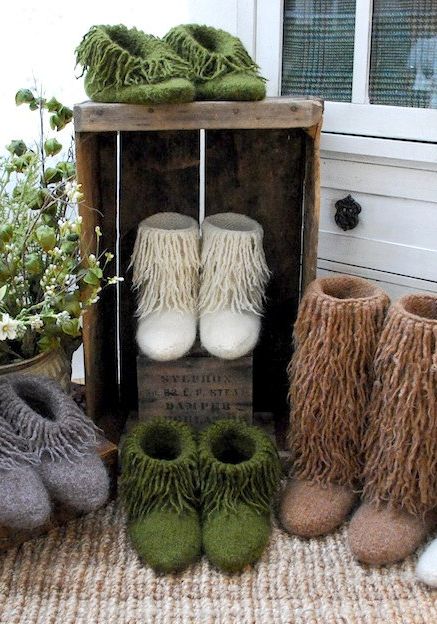 Moonkoosa Boots
Felted fringy kicks in mini, short, mid and tall styles. Adult and child sizes.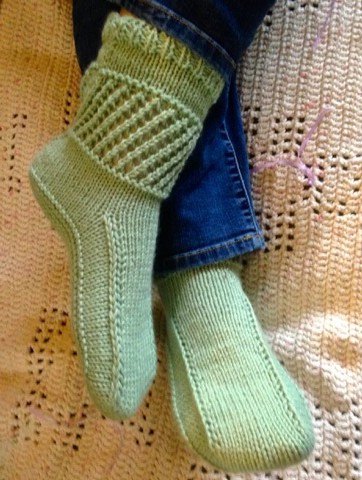 Ankle Warmer Boots
Easy to Knit Slippers for adults in 3 different styles and 3 sizes, all with worsted yarn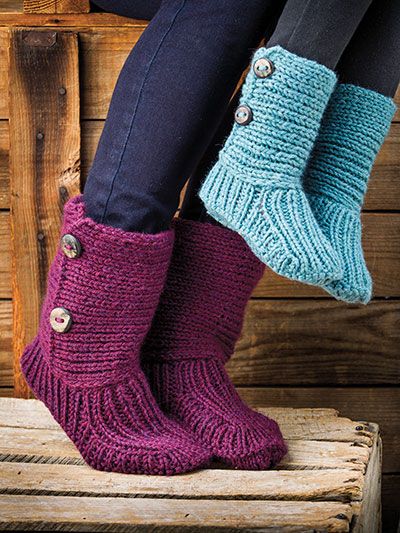 Snug Slipper Boots
Calf high slipper socks for extra coziness in adult and child sizes.