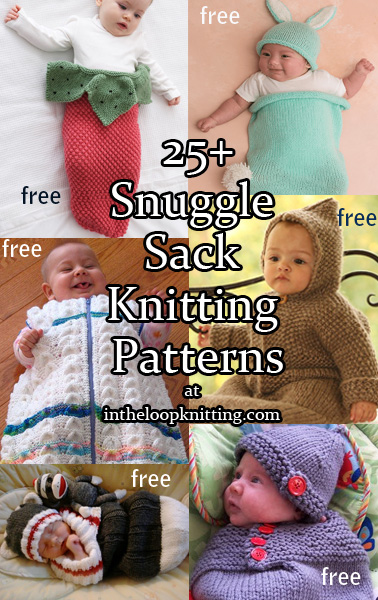 Snuggle your baby with these knitting patterns. There are bunting bags and sleep sacks to keep your baby cozy, cocoons perfect for costumes and newborn photo props, and wraps to swaddle. Great for shower gifts! Most patterns are free.
To get the knitting patterns, scroll down the page to the individual pattern you want and click on the link to that pattern.
These patterns are not my designs but links to other designers who have generously shared their patterns. If you have questions about how to knit a specific pattern, please contact the designer directly.
All links on this site are for informational purposes, but please note that some links are to affiliate sellers that pay me a small commission on purchases.
Free Patterns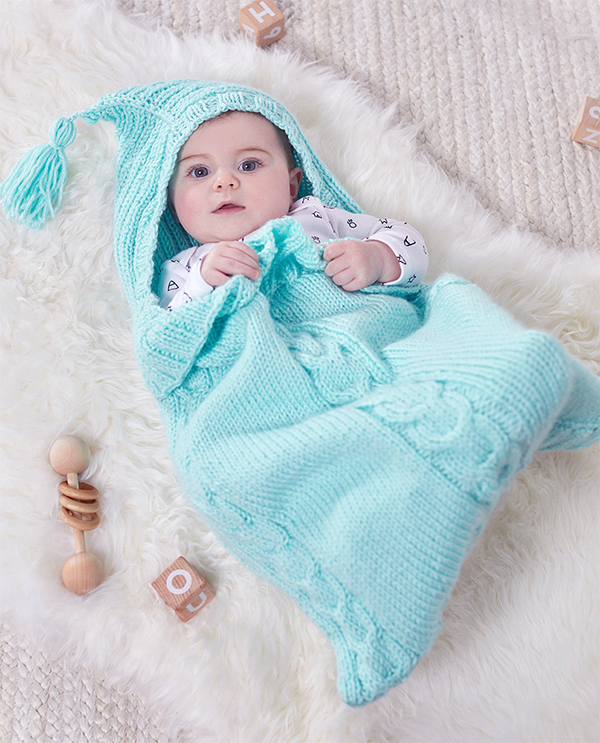 Cabled Baby Bunting
Baby cocoon featuring three classic cables with a tasseled hood and ribbed back for coziness. 3 sizes: Newborn, 3 months, 6 months. Designed by Nancy J Thomas for Red Heart. Worsted weight yarn.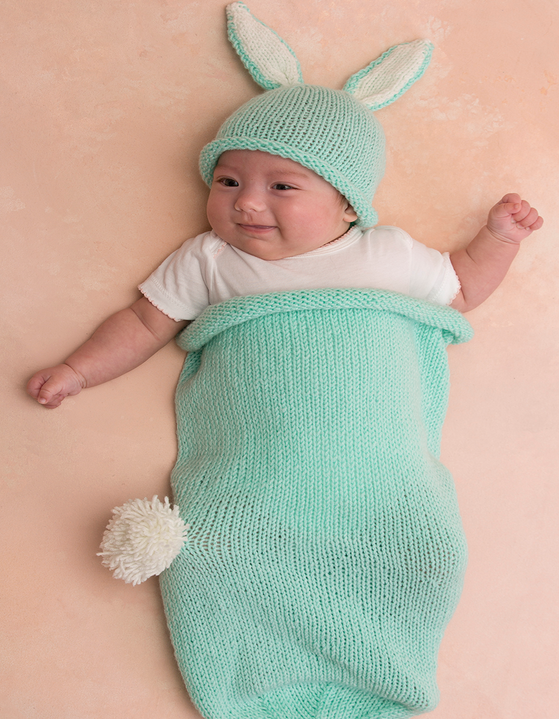 Cottontail Bunny Cocoon and Hat
Julie Farmer designed this adorable set for Red Heart.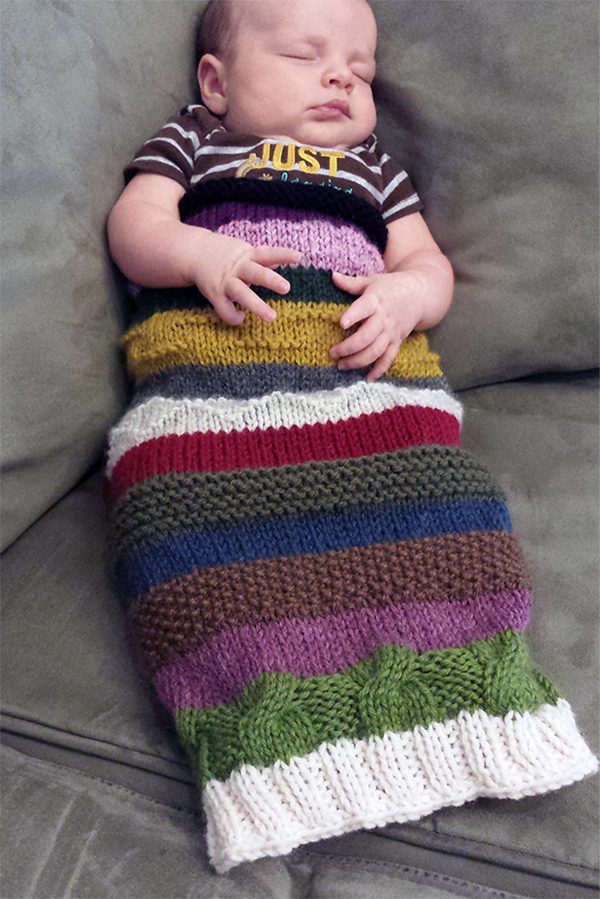 Scrappie Suri Baby Sack
This easy colorful baby cocoon is created from different textured stripes with diamond pattern, seed stitch, cables, and more. Great stashbuster! Rated easy by Ravelrers. Designed by Bridget McKenzie. Pictured project by ivorette.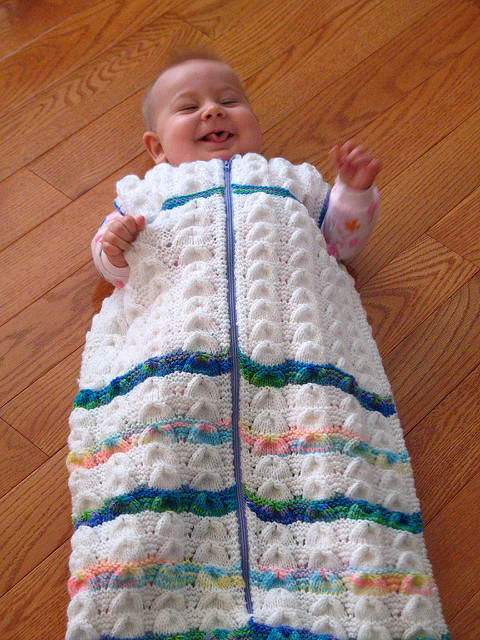 Shell Lace Bunting
Lion Brand Yarn's bunting features shell stitch in alternating stripes. The original pattern buttons in the front though this project shows a zipper variation. Pictured project by joeStitches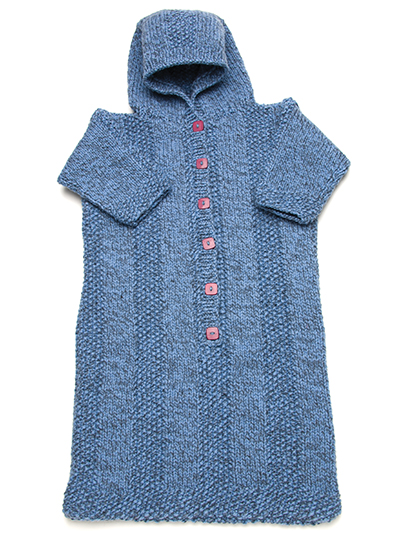 Cozy Hooded Sleeping Sack
Designed by Faina Goberstein for Annie's. Recommended yarn available on pattern page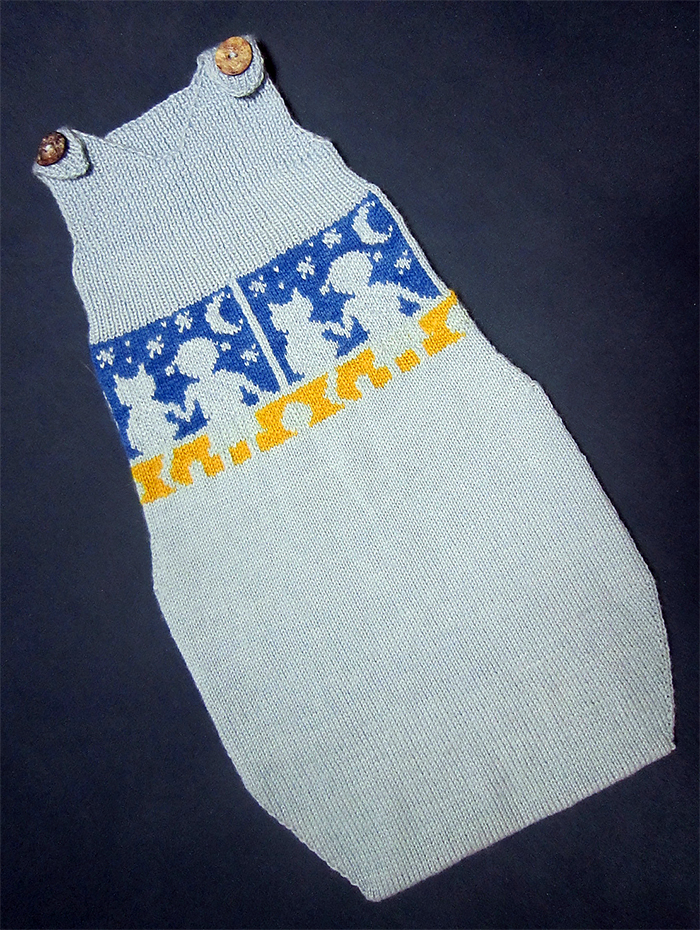 Friends of the Night Sleep Sack
This baby cocoon features shoulder straps to keep baby extra cozy. The stranded motif comes with options for girl or boy. Size newborn-6 months. Available in English and GermanDesigned by Dela Hausmann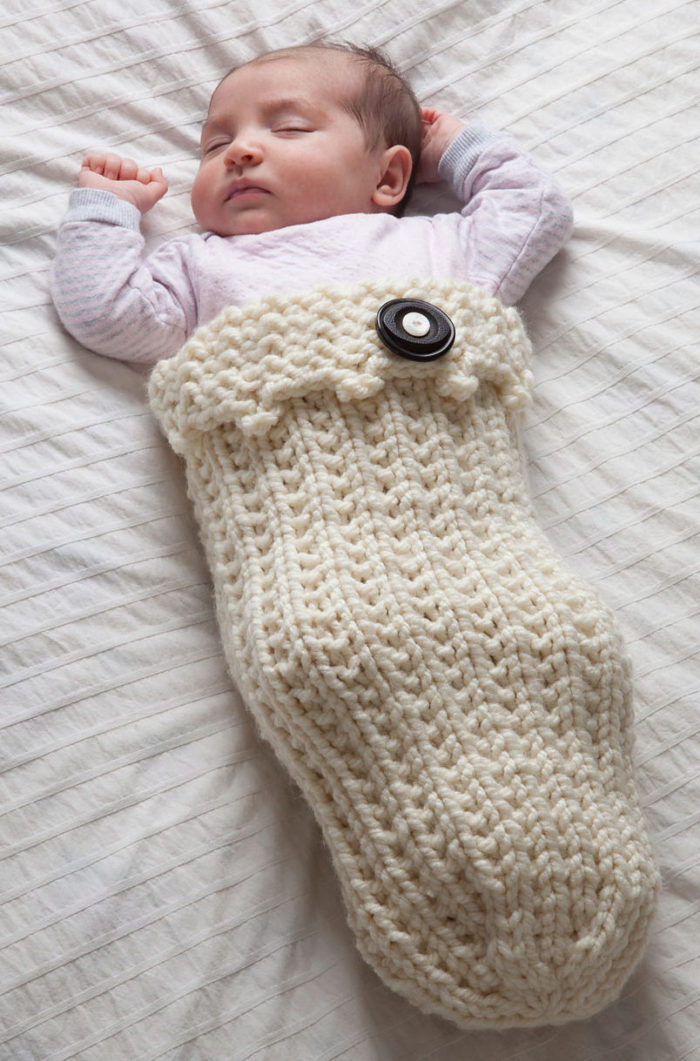 Swaddle Your Baby Cozy
Baby cocoon sleep slack is knit with a 2-row repeat Broken Rib stitch. Quick knit in super bulky yarn. Rated easy by the designer Designed by Lorna Miser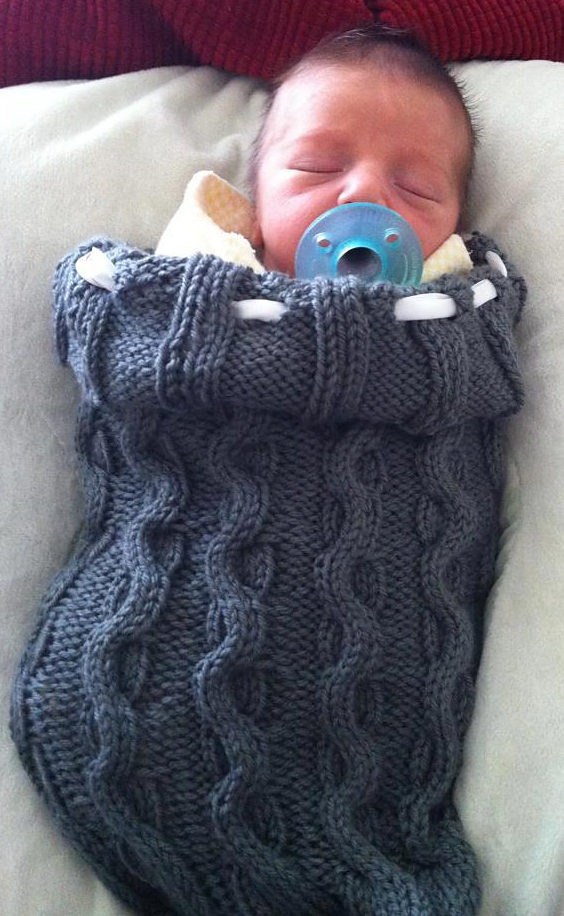 Cable Swaddler
Baby cocoon sleep slack with an all over cable pattern in worsted yarn. Designed byTiara Shanafelt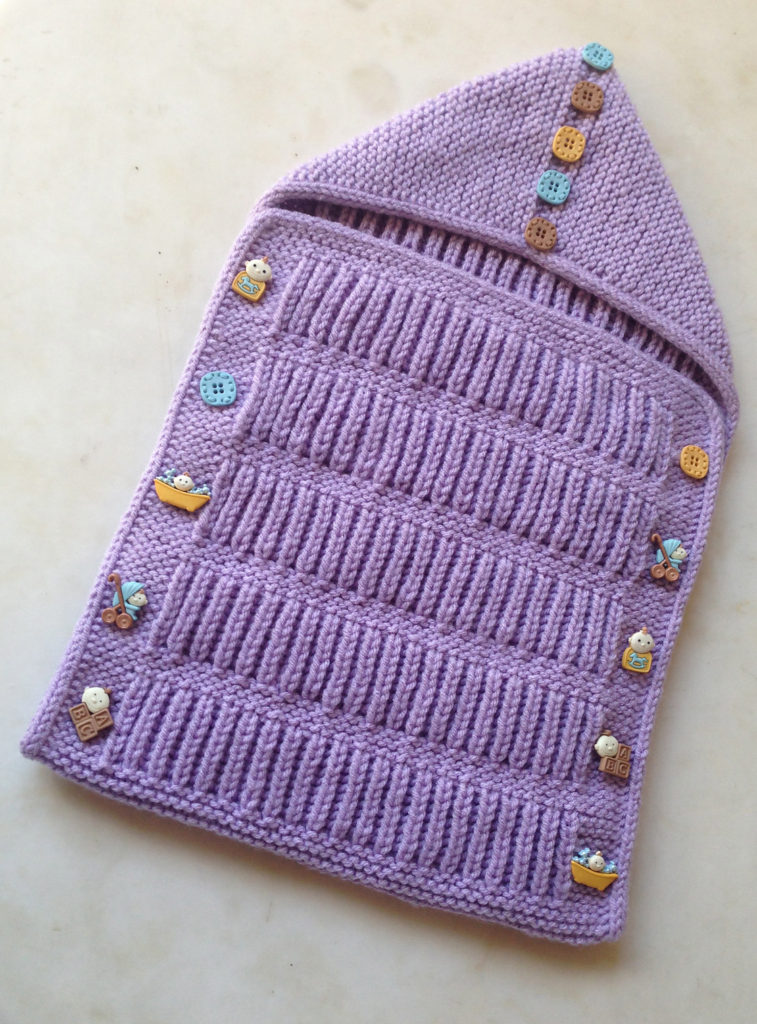 Fisherman's Baby Envelope
This cocoon is knit in fishermen's rib as one rectangular piece then folded like an envelope and buttoned on the sides. Designed by Amal Saleh.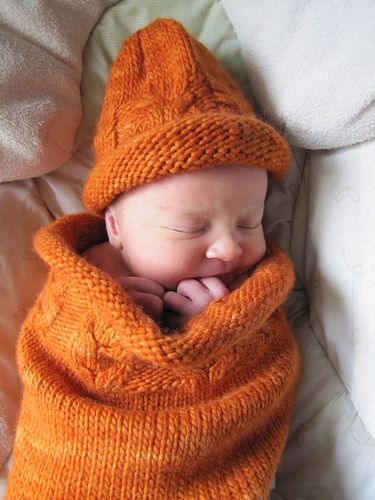 Owl Sleep Sack and Matching Hat
Owl cables decorate this sleep sack and hat designed by Comfort Wool.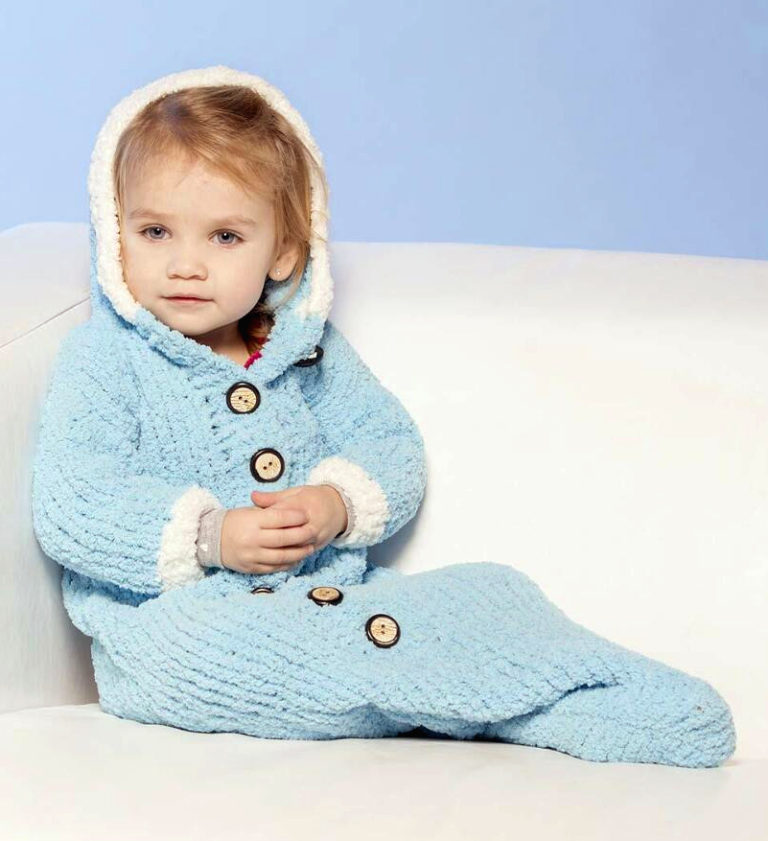 Hooded Sleep Sack
This button front sleep sack with hood from Premier Yarns is sized for babies 12-24 Months.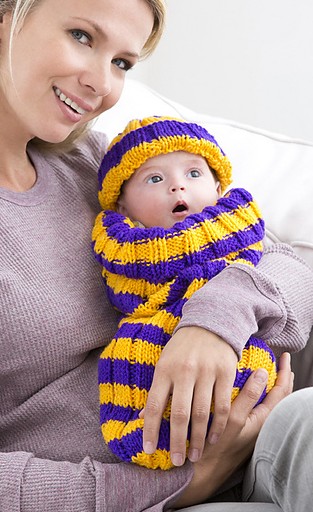 Petite Pep Squad Cocoon
Knit this cocoon in your team's colors!
More Free Patterns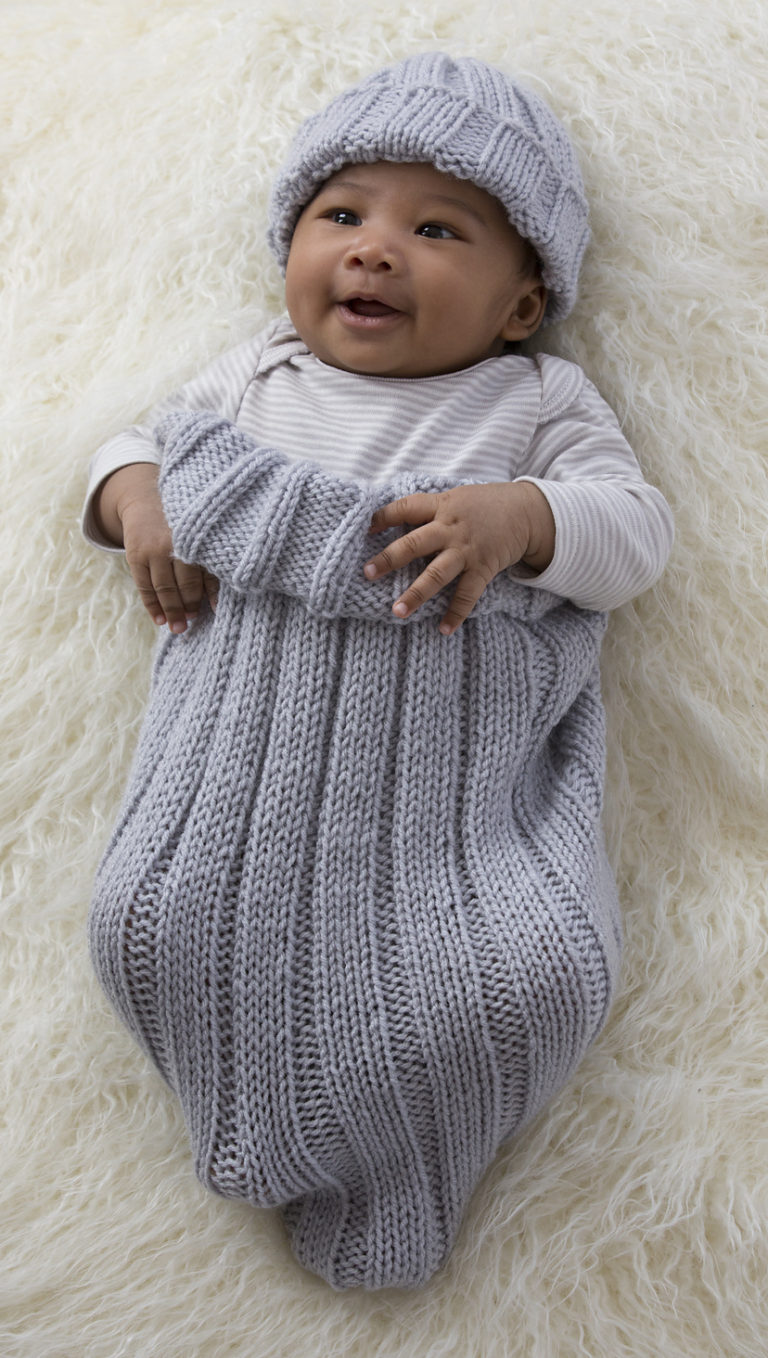 Comfy Baby Cocoon and Cap
Easy stretchy ribbed sleep sack with matching hat by Kim Kotary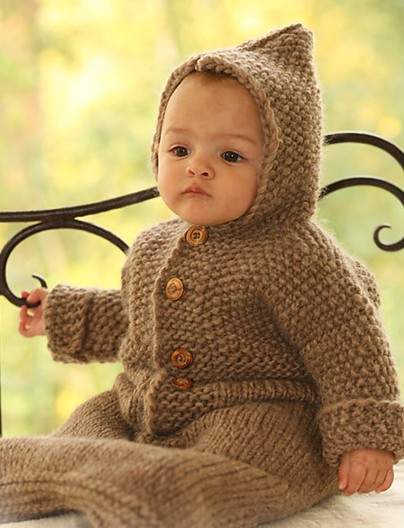 Hazelnut Bunting Bag
This sleep sack by DROPS design features a hood and buttoned front in seed stitch. A quick project in super bulky yarn. Sizes 1/3 – 6/9 – 12/18 months (2 – 3/4) years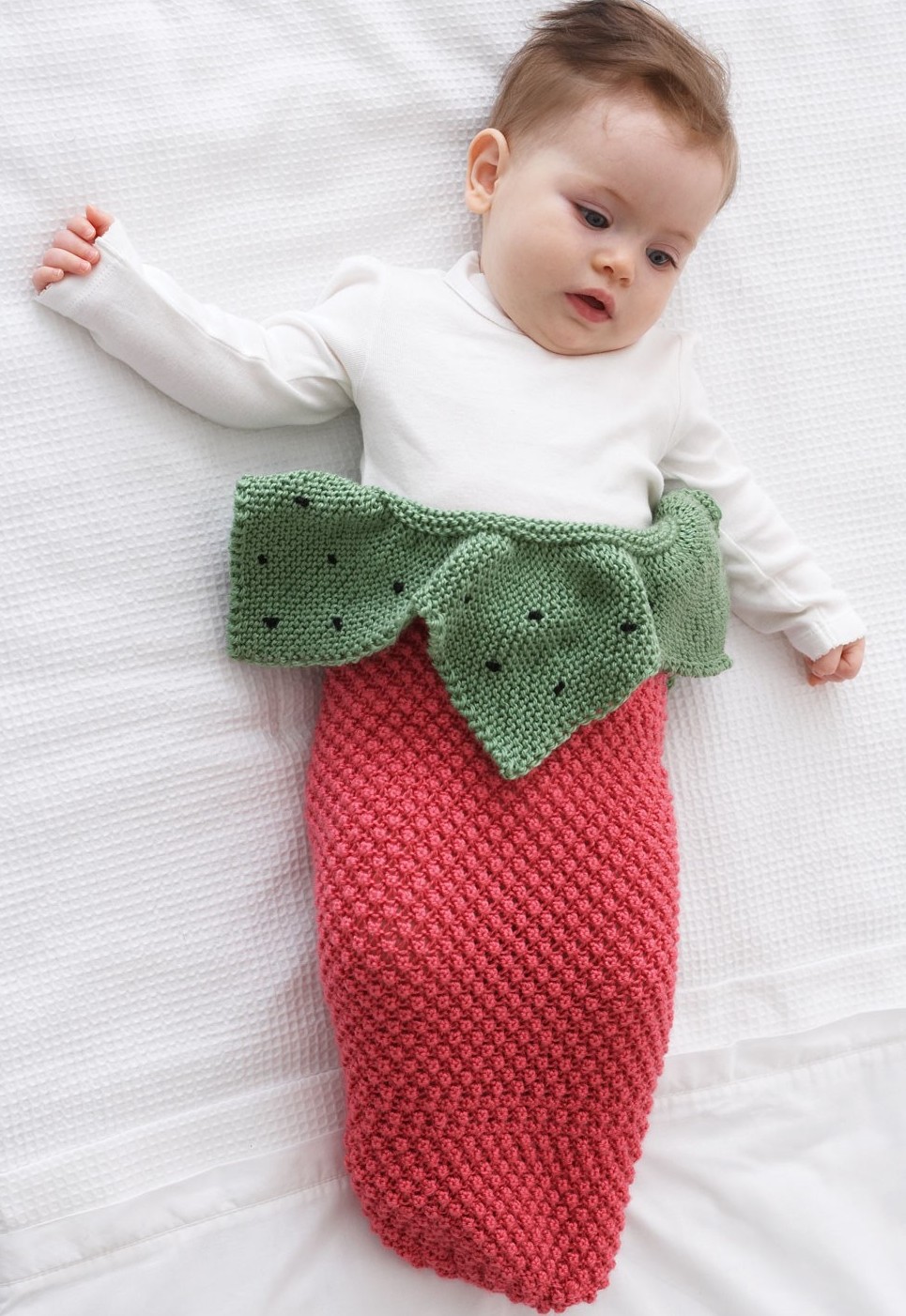 Strawberry Baby Cocoon
Designed by Bernat with a cozy texture and leaves for baby to play with.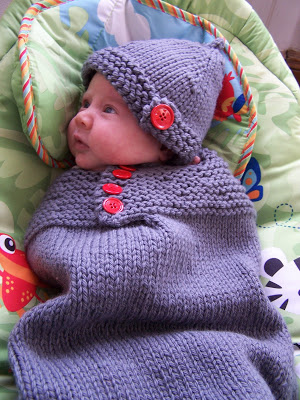 Baby Snuggle
Nikki Van De Car of What to Knit When You're Expecting designed this "baby cozy" with matching hat.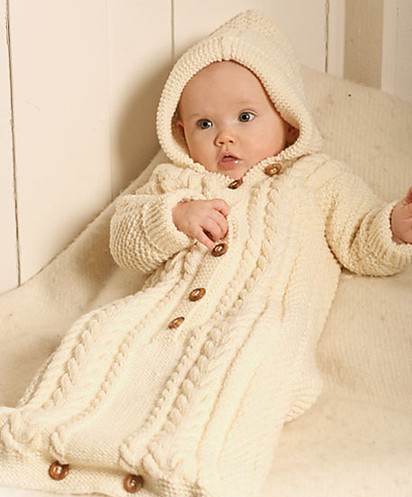 Cable Bunting Bag
This sleep sack by DROPS Design features a hood and buttoned front with cables. Sizes 1/3 – 6/9 – 12/18 months (2 – 3/4) years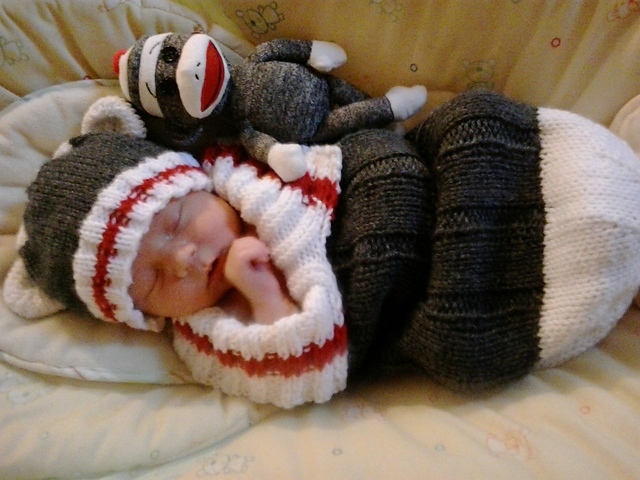 Sock Baby Snuggler
Shelley Hilton designed a cocoon inspired by sock monkeys. Of course you can change the colors to make a striped sleep sack of yuor own. Note that the hat was added by another knitter megzoxx and not part of the pattern.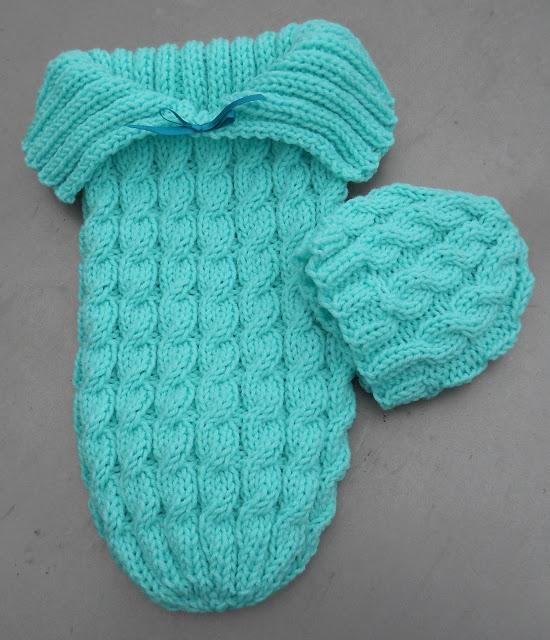 Cozy in Cables Sleep Sack and Matching Hat
Designed by Suzetta of Suzie's Stuff.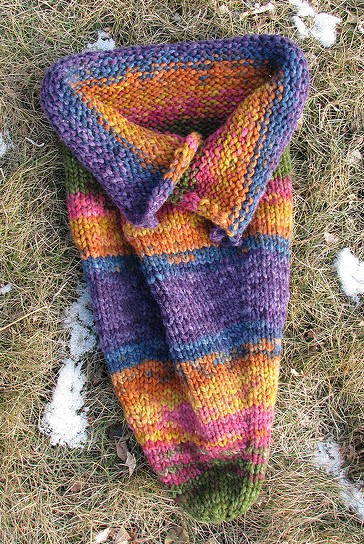 Butterfly Baby Wrap
Victoria Phillips created this sack to be easy to get baby in and out of. It gets its name from the winged opening that allows you to adjust the snugness. Great for multi color yarn.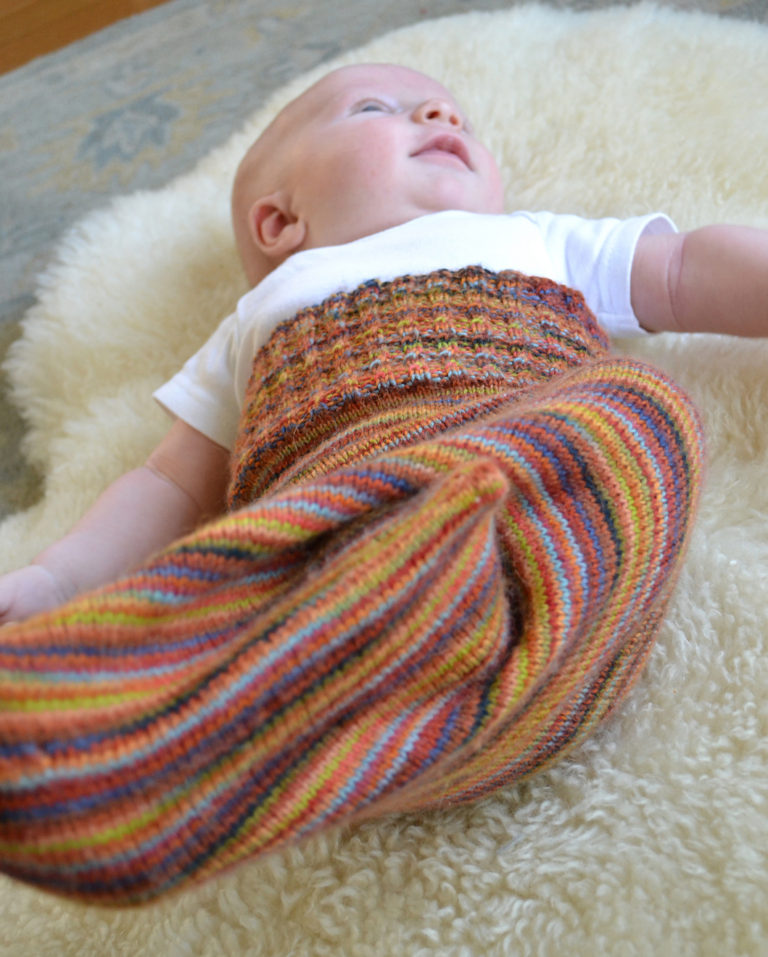 Kicking Bag for Babies
Annika's design is great way to use up leftover stash sock yarn to create a one of kind gift. Pictured project by MirabaiKnits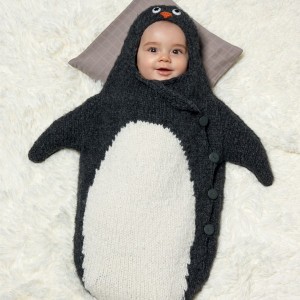 Penguin Baby Bunting Bag
This design by Yarnplaza is cute and cuddly.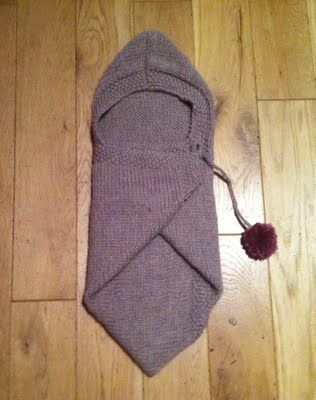 Baby Snuggle Wrap
This hooded wrap by Stitch Me Softly is knit in stockinette with moss stitch borders.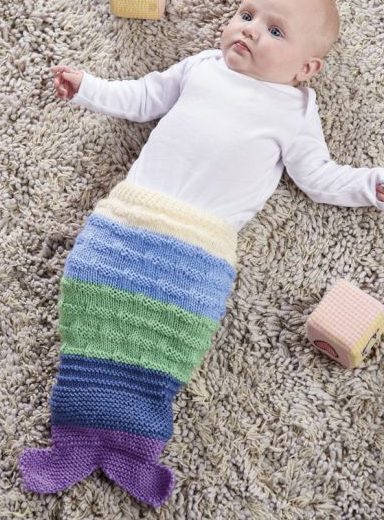 Mermaid Tail
This baby cocoon by Karen Wiederhold for Let's Knit uses a combination of knit and purl stitches to give the effect of scales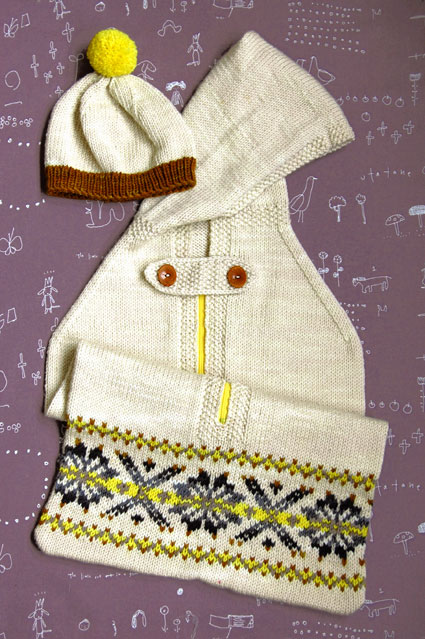 Snuggle Sack and Bonus Hat
Purl Soho designed this cozy cocoon with hood and zipper.
Patterns for Purchase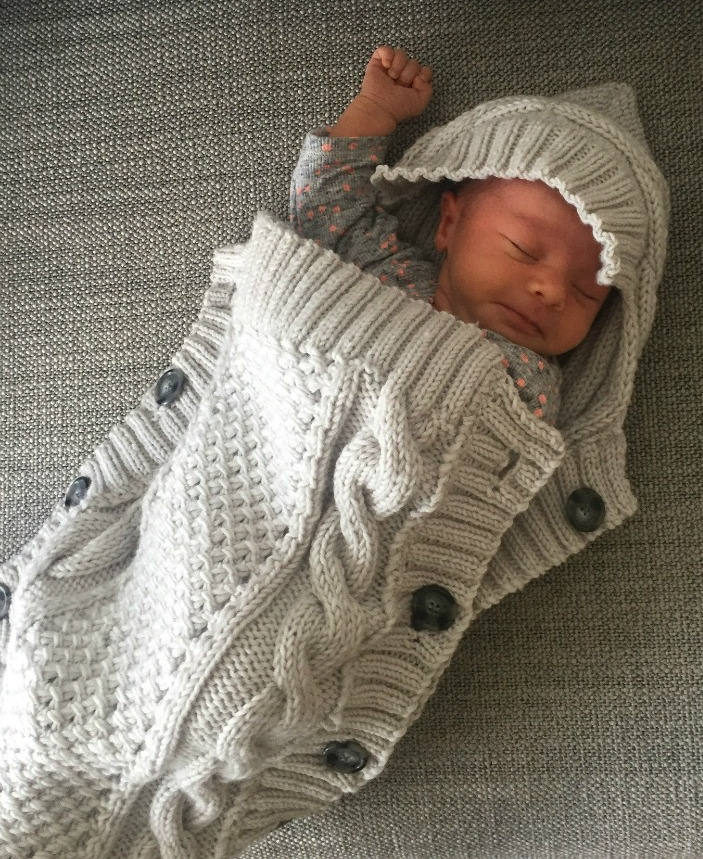 Sweet Snuggle Baby Cocoon
Hooded sleep sack buttons on the sides features cables that frame a textured center panel. Size: up to 25 inch long baby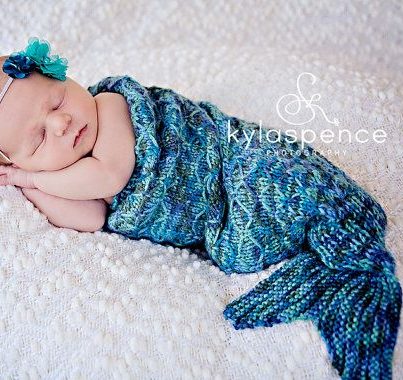 Baby Mermaid Tail Cocoon
Great as a newborn photo prop.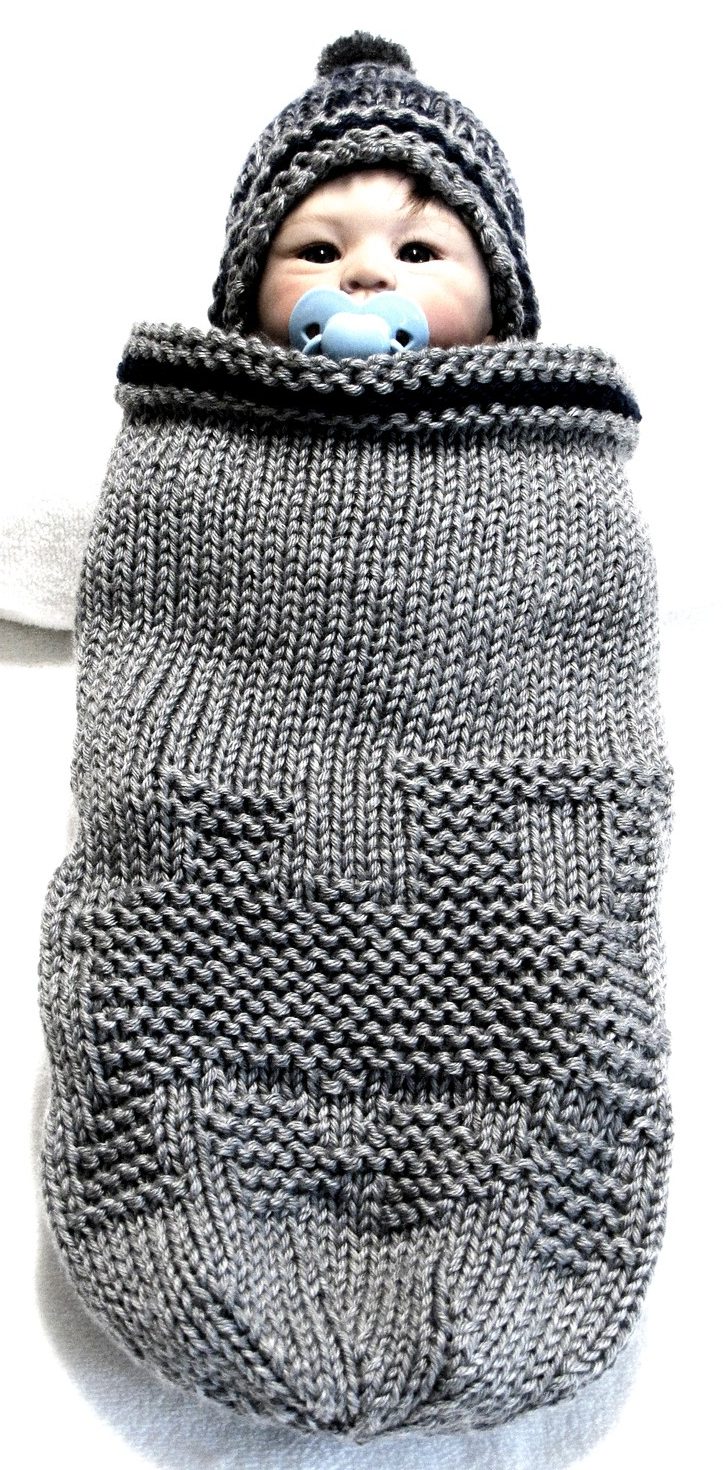 Train Baby Cocoon and Hat
Finished Size: Small baby to 3 months with 2 larger sizes included for both the cocoon and hat.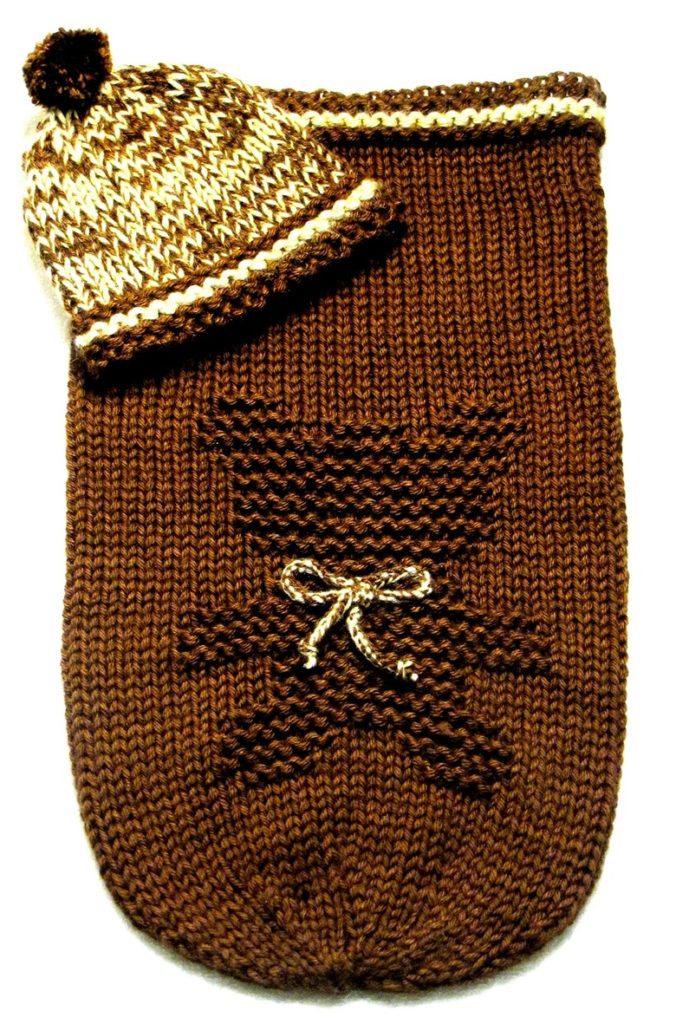 Teddy Bear Baby Cocoon and Hat
Finished Size: Small baby to 3 months with 2 larger sizes included for both the cocoon and hat.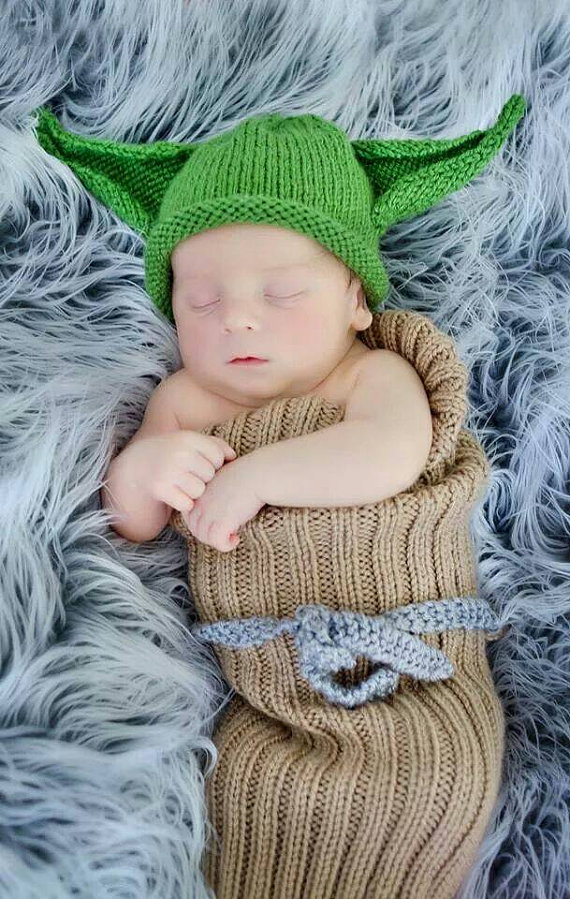 Little Yoda Baby Bunting and Hat
A beginner level pattern perfect for the youngest Star Wars fan. The sleep sack is a simple knit pearl rib that stretches to snuggle. The sleep sack pattern has several variations, so you can choose the one you like the best.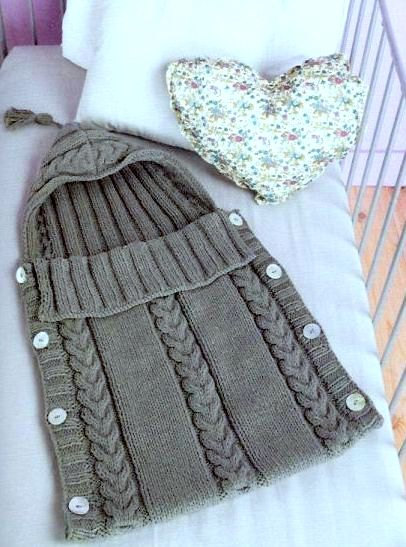 Cabled Baby Sleeping Bag
Great simple sleep sack with hood, cable details, and buttons down the sides. One size – newborn to 3 months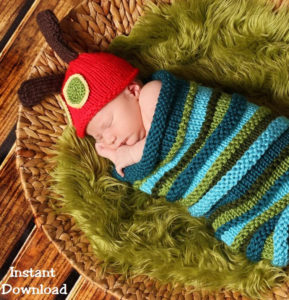 Caterpillar Baby Cocoon and Hat
Great as a newborn photo prop and for swaddling! Both the cocoon and the hat are knit in the round, with basic knit and purl stitches, and no seam to sew — VERY EASY! Great for stash busting!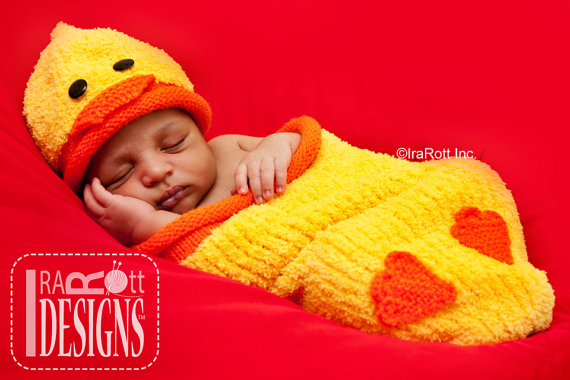 Quacky Ducky Baby Cocoon and Hat
This adorable duck baby set pattern is written row-by-row with many step-by-step pictures, easy to follow.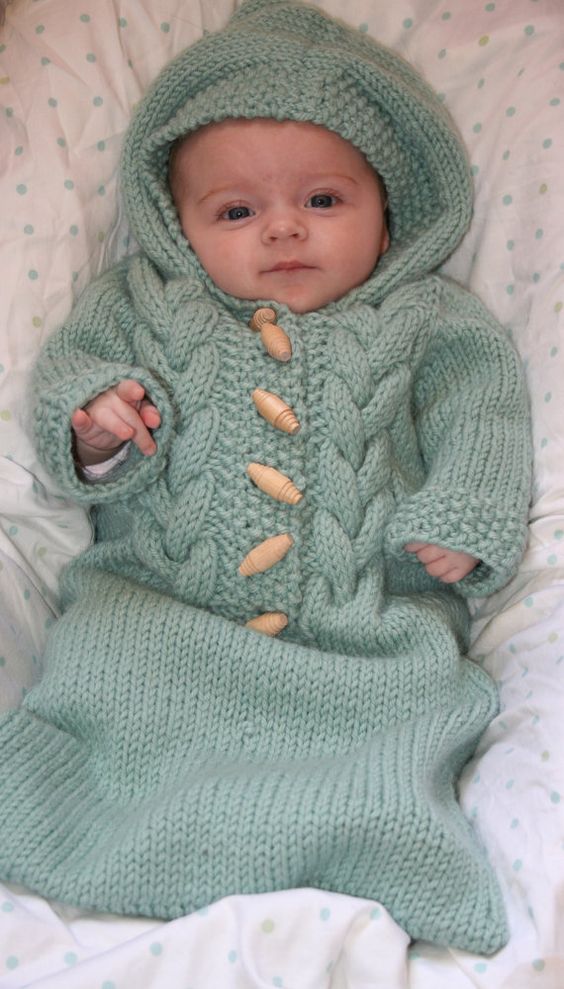 Cabled Baby Bunting
This baby bunting is knit from the top down using bulky wool and size US #9 needle. Size: 0-9 months ( 21″ chest circumference)

Football Baby Cocoon and Hat
For the young sports fan! Hat comes in two sizes: newborn/preemie and 0-6 months.You can knit in the round or knit flat and seam.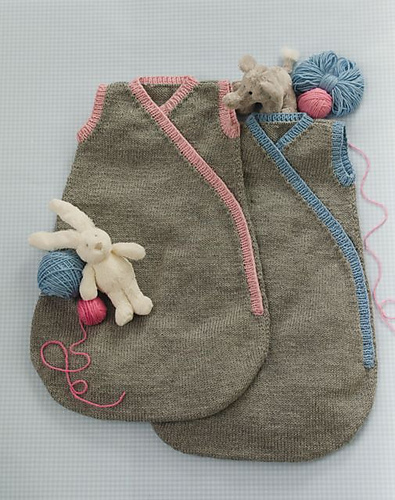 Simple Sleep Sack
This sleep sack is one of 60 patterns in 60 More Quick Baby Knits: Adorable Projects for Newborns to Tots. Sized for Newborn-3 mos