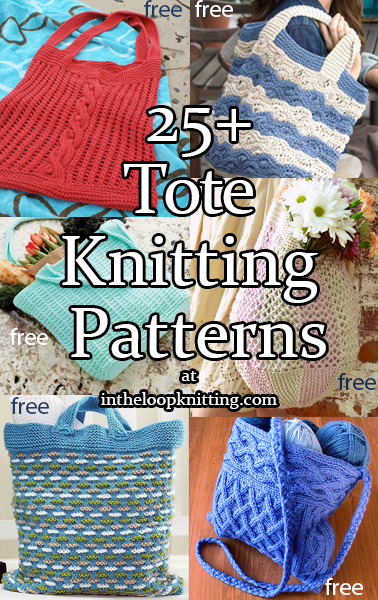 Tote bags are great when you need to carry more than a phone and a credit card. These totes range from collapsible market totes to dressy bags to beach carryalls.
To get the knitting patterns, scroll down the page to the individual pattern you want and click on the link to that pattern.
These patterns are not my designs but links to other designers who have generously shared their patterns. If you have questions about how to knit a specific pattern, please contact the designer directly.
All links on this site are for informational purposes, but please note that some links are to affiliate sellers that pay me a small commission on purchases.
Free Patterns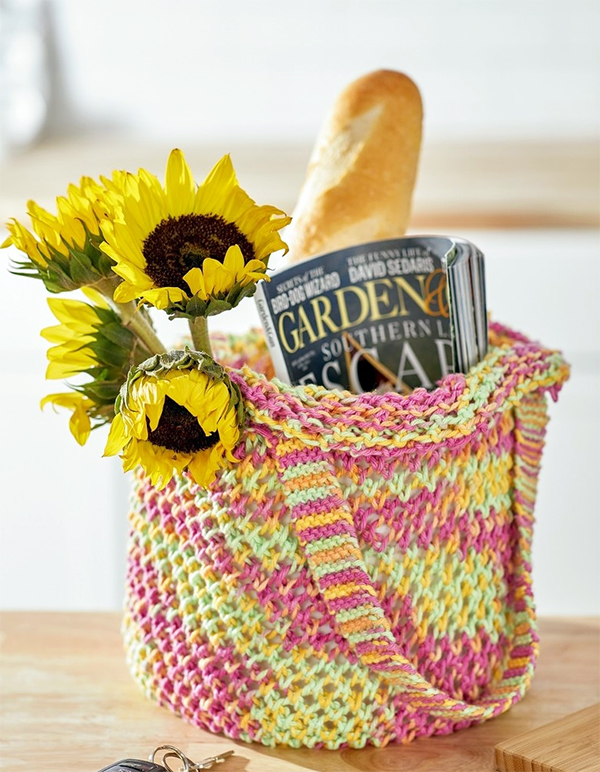 Easy Expanding Market Bag
Tote knit with a 2 row repeat lace with a stockinette base and garter stitch handle. Bag measures about 13" [33 cm] long by 15½" [39.5 cm] wide (31 in. [78.5 cm] circumference), unstretched and not including straps. Chunky yarn. Designed by Linda S. Smith for Red Heart. Rated easy by the designer. Worsted weight yarn.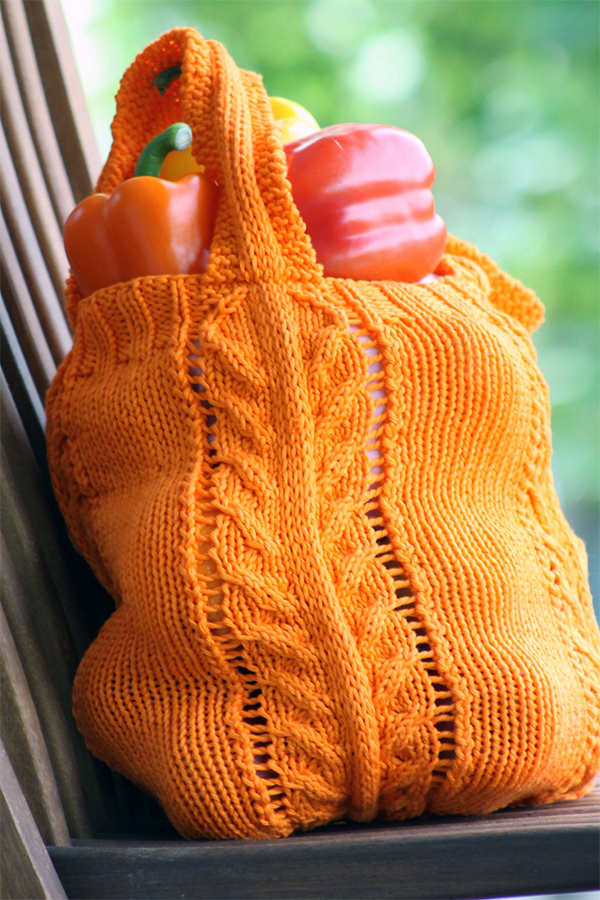 Cable Market Bag
This sturdy, bottom-up tote features cables up the side and handles that can be knit separately and sewn on or knit on with a provisional cast on and a three needle bind off. Worsted yarn. "It's My Bag, Baby Market Bag" designed by Gretchen Tracy.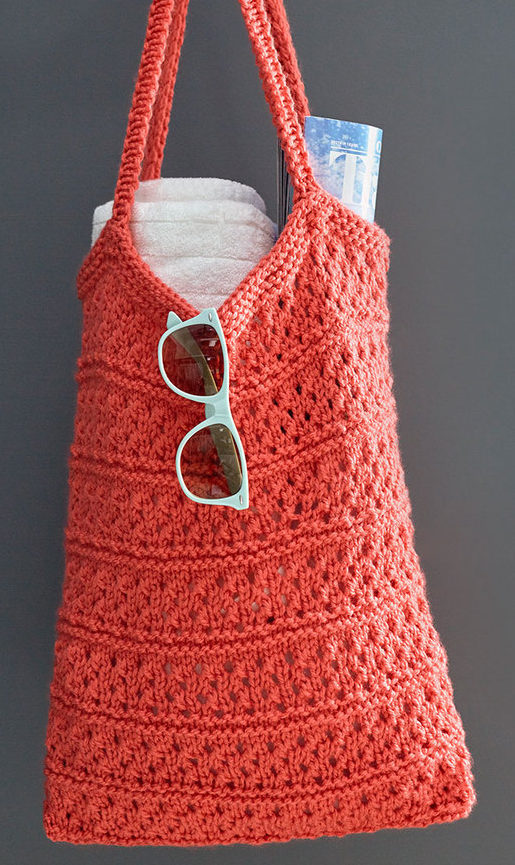 Breezy Knit Market Bag
Roomy tote created with 2 pieces knit with a 4 row repeat of lace alternating with 4 row of knit. Chunky yarn. Designed by Nancy J. Thomas for Red Heart.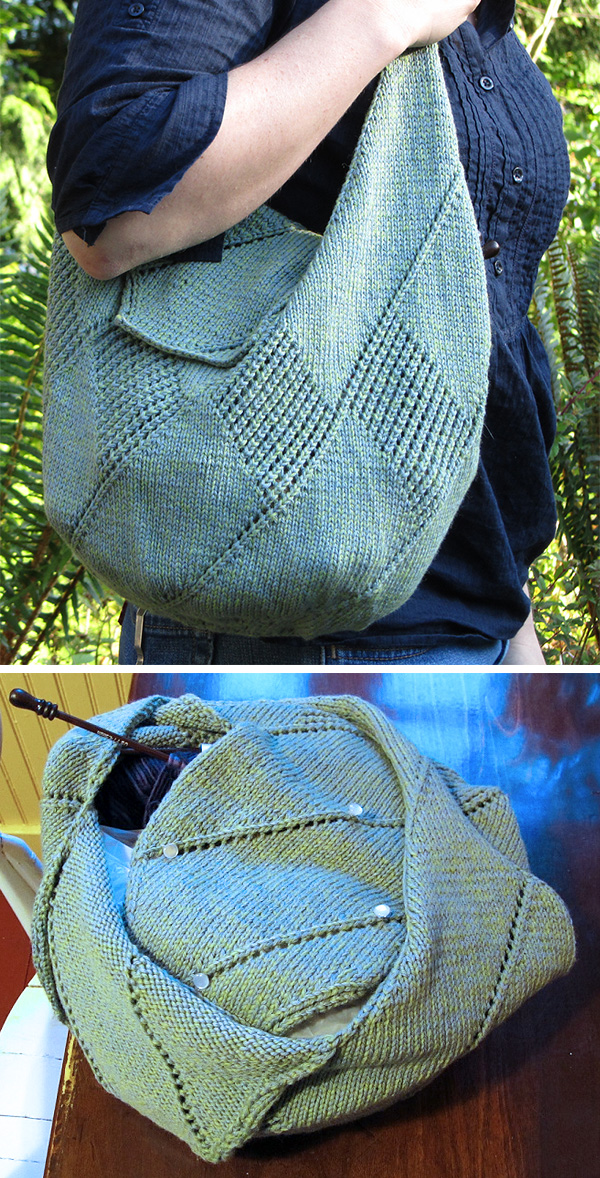 Aloe Day Bag
This tote with mesh eyelet diamonds is knit in the round starting at center bottom, with the top of the strap grafted together using the kitchener stitch. Worsted yarn. Designed by Grid Mammal Crafts.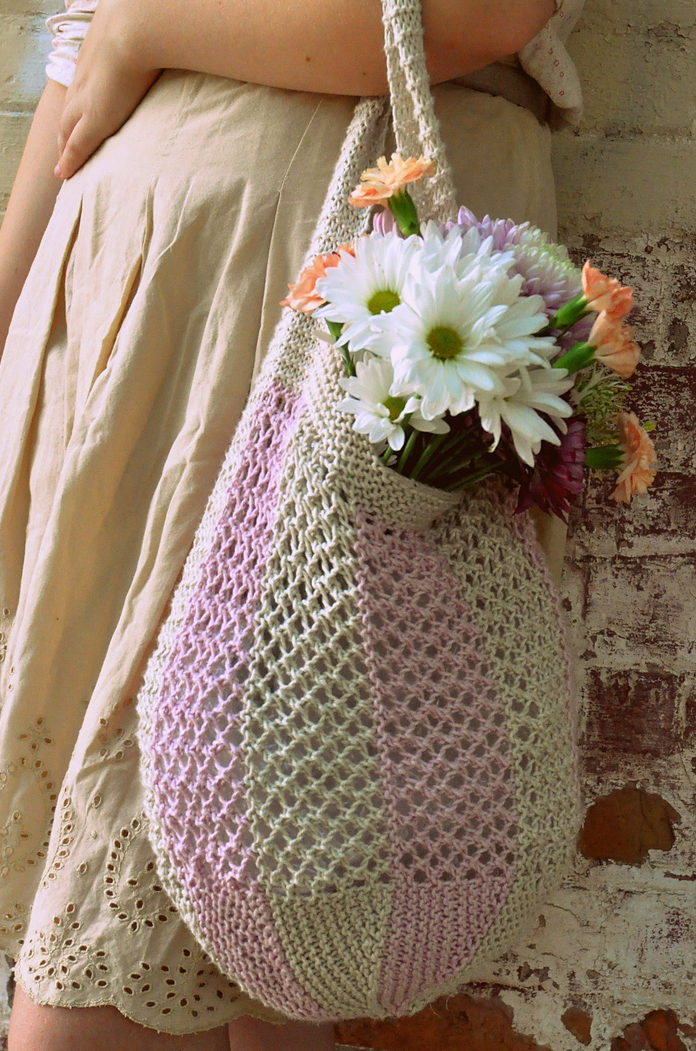 Taffy Market Bag
Striped lace mesh tote with garter stitch bottom shaped with short rows. Worsted. Designed by The Noble Thread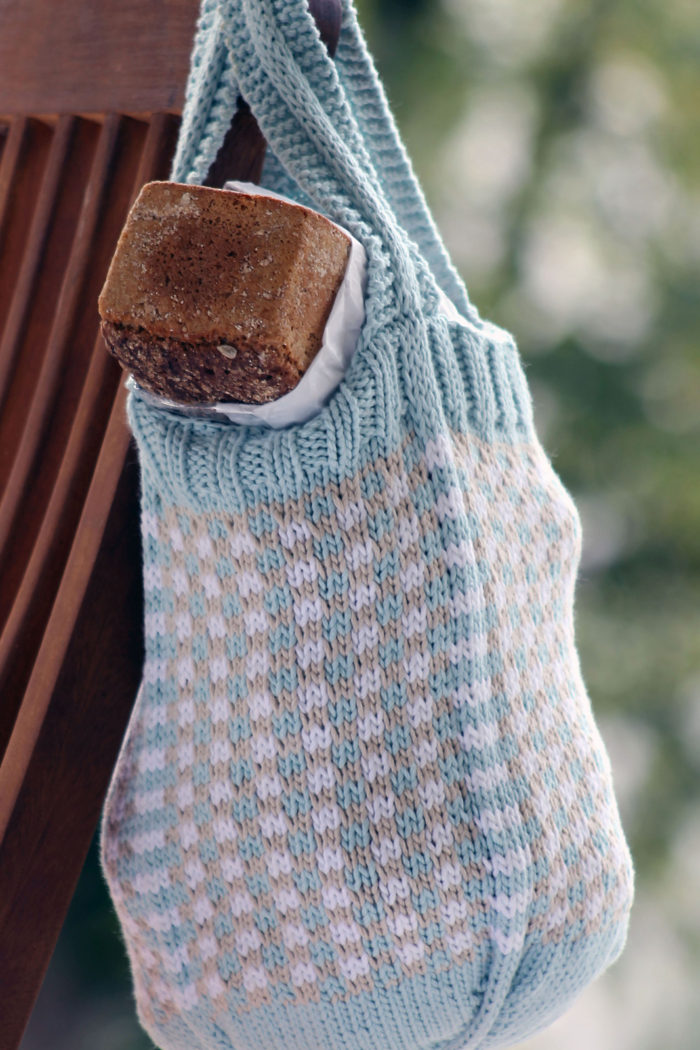 Little Check Market Bag
This 3 color tote is knit in easy slip stitch colorwork using the Dice Check pattern from Barbara G. Walker's A Second Treasury of Knitting Patterns. Designed by Gretchen Tracy. Aran yarn,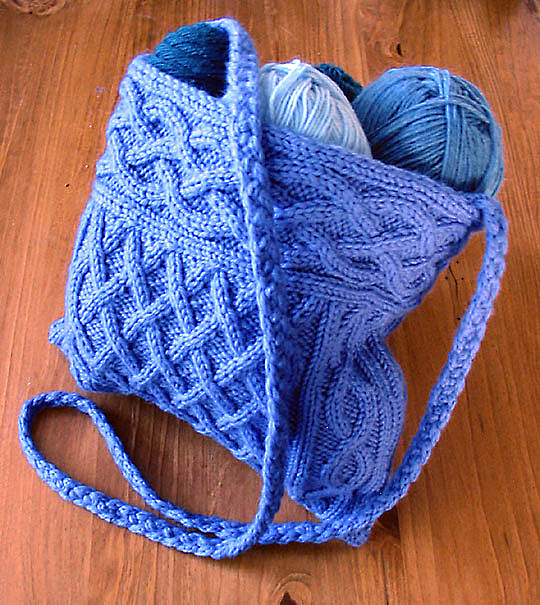 Quinn Cabled Bag
This 9 inch square bag features a cable band, cable body, and long braided i-cord strap. Designed by CogKnition. Worsted yarn,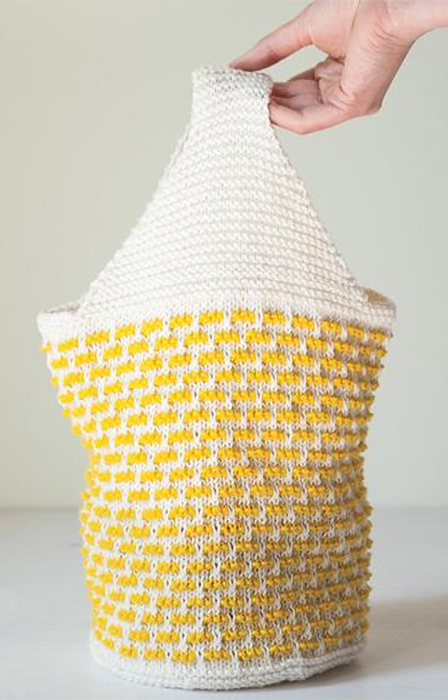 Lovely Lunch Bag
Tote knit in the round with easy slip stitch colorwork. 11" wide x 14.5" high, including handles. Designed by Faith Schmidt. DK yarn,

Strong Back Bag
Shoulder tote designed to be comfortable for your back. Designed by Claudia Olson. Pictured projects by Mittagirl and Marchosa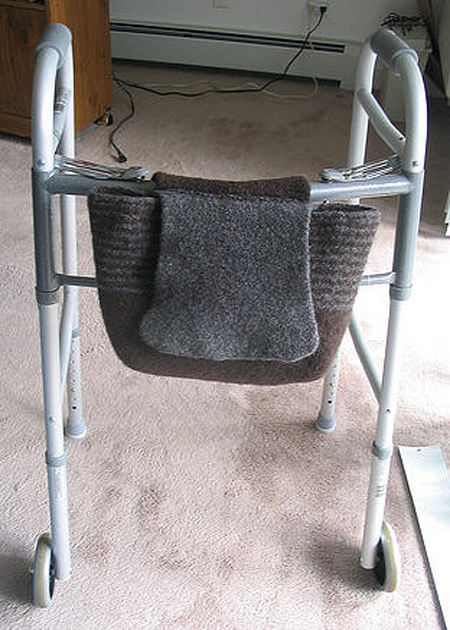 Walker Pouch
Felted tote designed to attach over the bar of a walker with a back flap that fastens with snaps for velcro. Size 8 x 10 x 4 ½" Designed by hakucho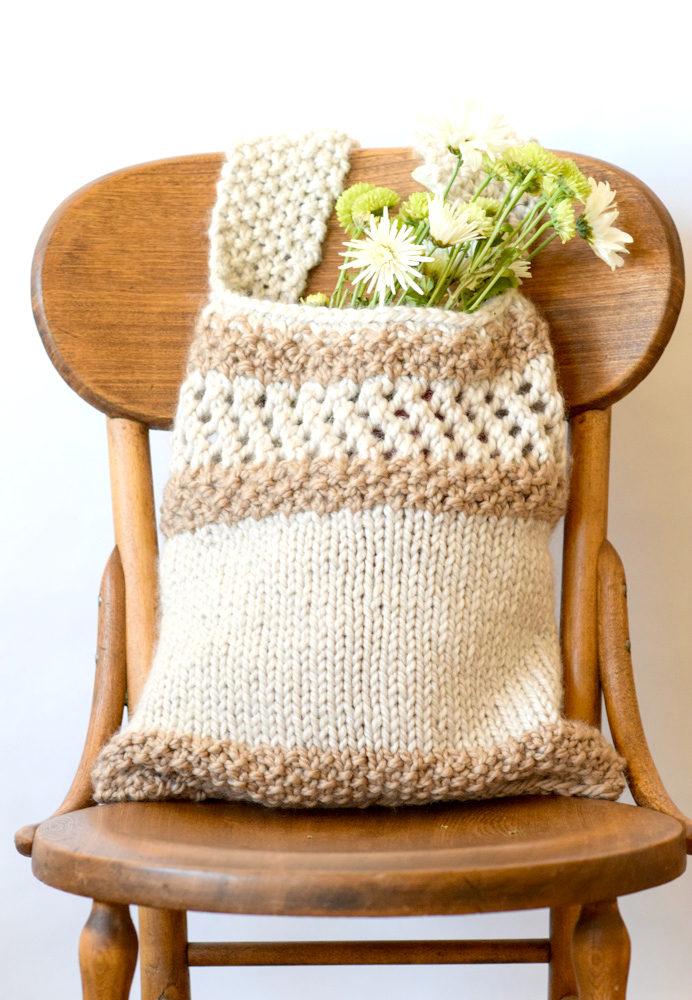 Darice Farmers Market Tote
This tote is easy and a quick knit in super bulky yarn. Bag measures 17" inches tall and 14" inches wide. Designed by Jessica Reeves Potasz of Mama in a Stitch. The web version is free and the printable pdf is available on Etsy.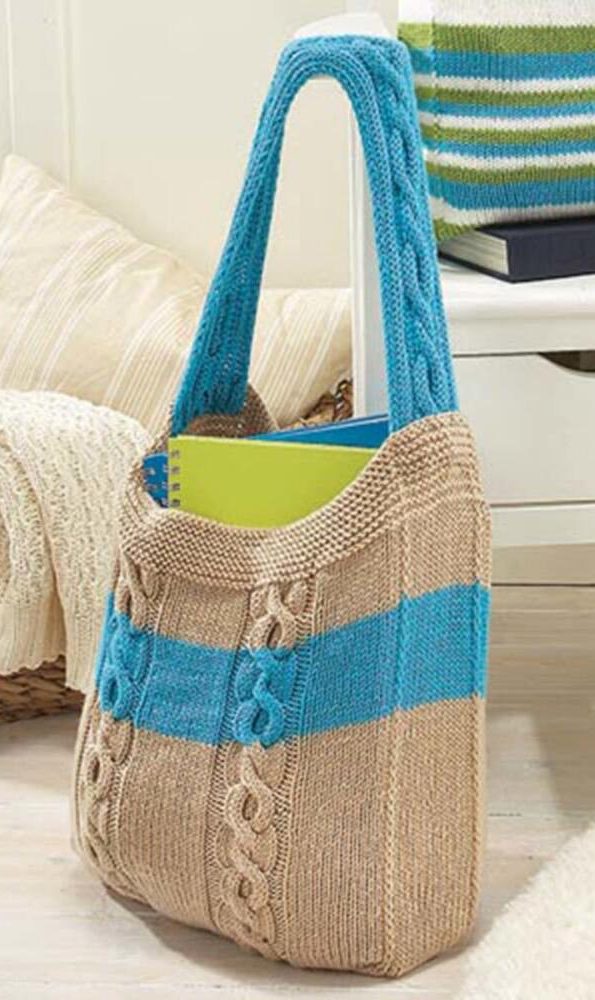 Cabled Bag
This tote by Willow Yarns features cables on the strap and bag. Finished Measurements: Width: 12″ (30cm) Height: 15″ (38cm) Depth: 3″ (7.6cm).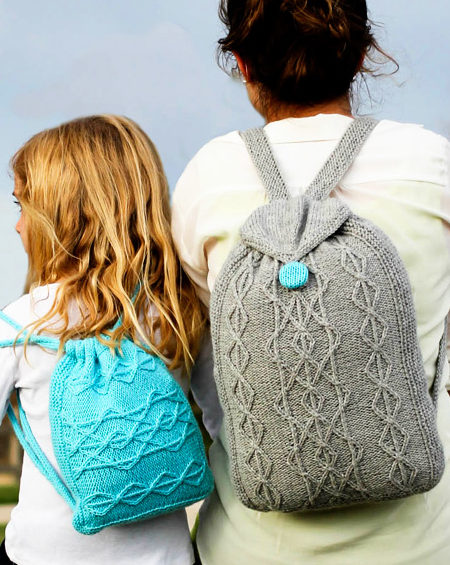 Adventure Backpacks
Cabled rucksacks with roomy pockets, cinched by drawstrings. Two sizes. Designed by Cassidy Clark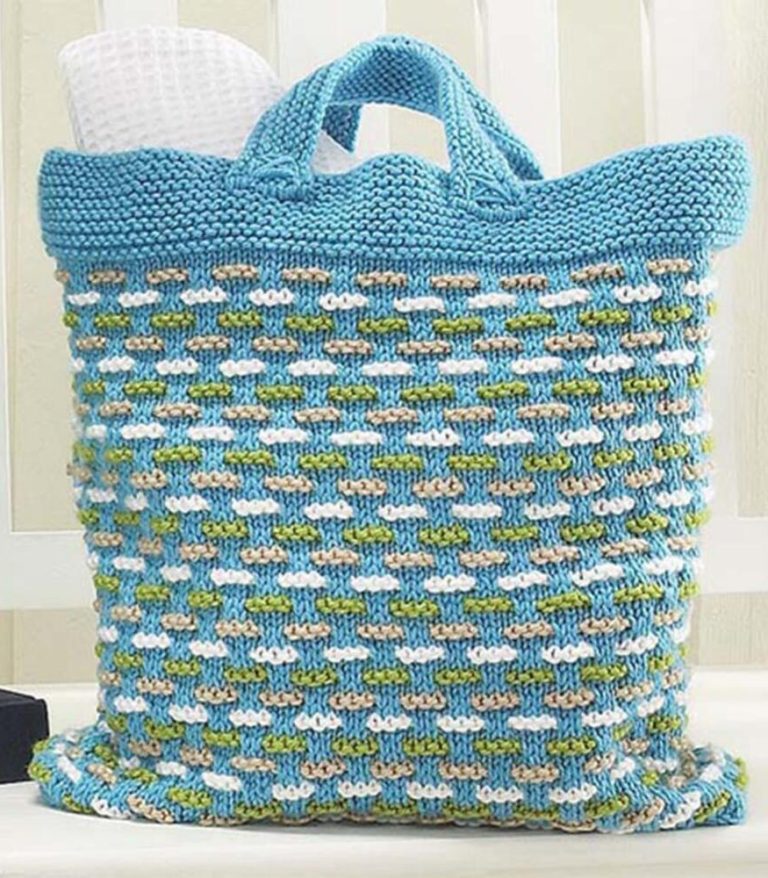 Basket Weave Bag
Tote with colorwork accents by Willow Yarns makes a fun summer or beach carryall. Finished Measurements: Width: 12″ (30cm) Height: 15″ (38cm) Depth: 3″ (7.6cm)
More Free Patterns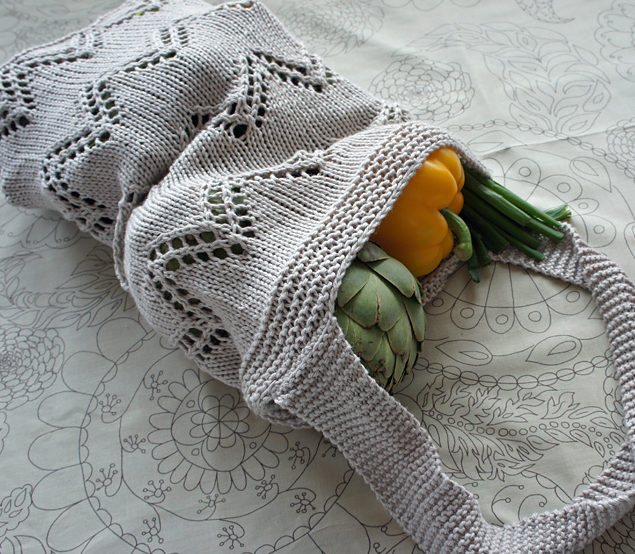 Eastern Market Tote
This market bag features chevron lace detail and a knit strap. 10.5″ x 18″ not including strap. Designed by Tanis Gray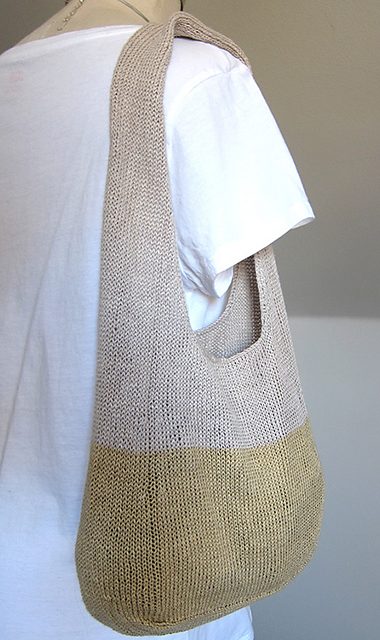 Summer Fling
Espace Tricot's bag starts with a bottom knit flit, then the main body is knit in the round from stitches picked up. Finally the handles are knit flat and joined. Pattern available in English and French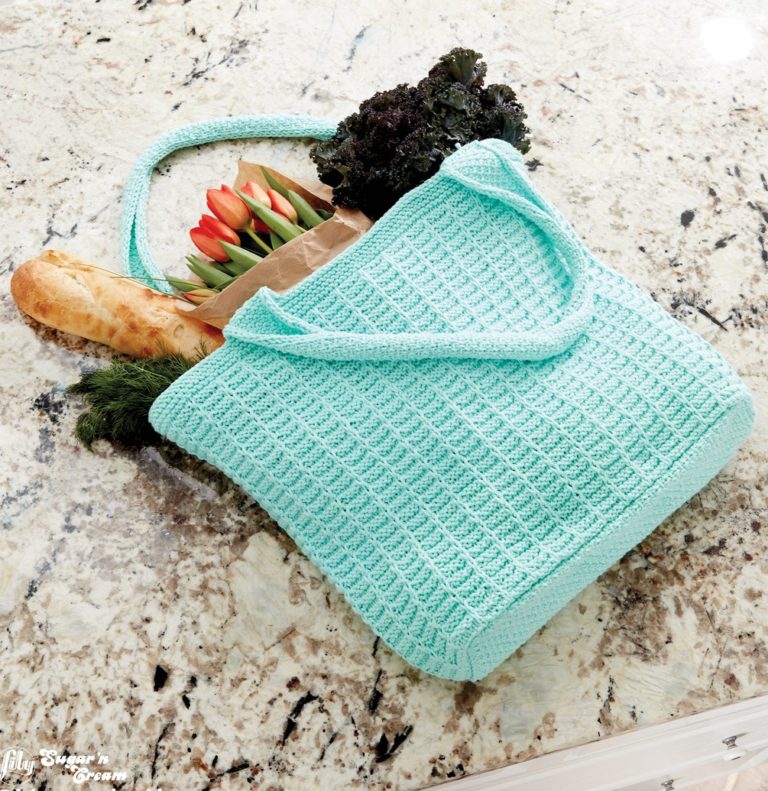 4-Row Repeat Textured Market Tote
Easy textured tote bag with knit straps from Yarnspirations features a 4-row repeat stitch pattern. Approx 19″ [48 cm] wide x 16″ [40.5 cm] high, excluding straps.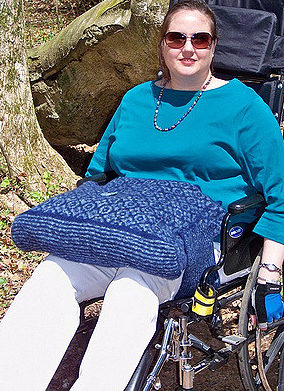 Ramp Tote
This ingenious hands-free tote was designed Jodie Gordon Lucas with panels that fit beneath your legs to keep your knitting projects or other items secure but convenient. Three designs. Jodie points out it also is ideal "for knitting while sitting in bleachers, knitting while sailing, knitting on a rollercoaster, knitting on a ski-lift, knitting on a motorcycle".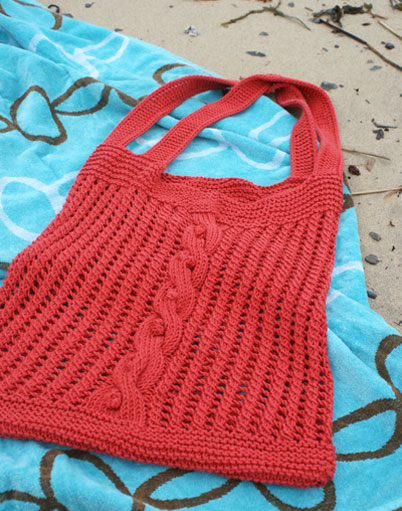 Sundance Beach Bag
Tonia Barry designed this cable and lace tote that is 16″ wide by 17″ tall; handles 24″ long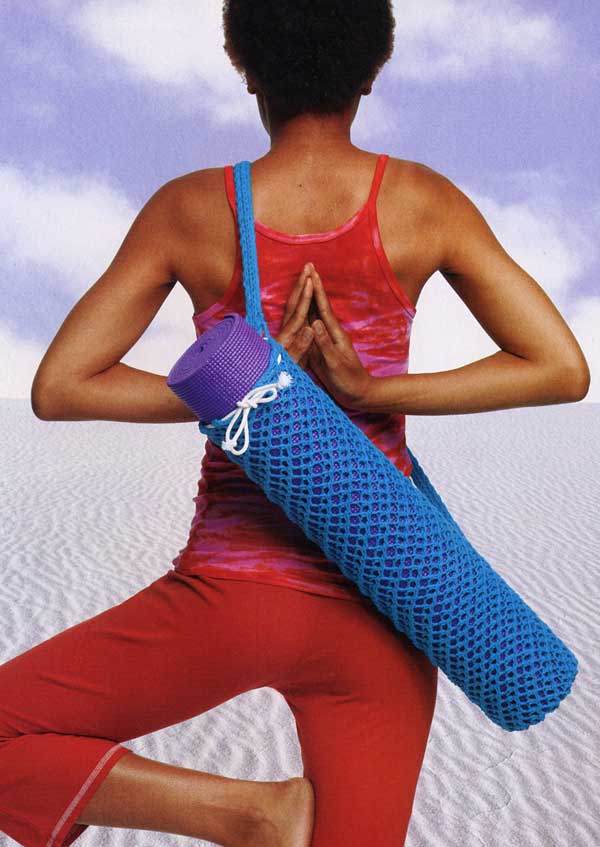 Om Yoga Mat Bag
Debbie Stoller created this mesh bag of cotton with a lace pattern that is easy to memorize. Pattern is excerpted from her book Stitch n Bitch Nation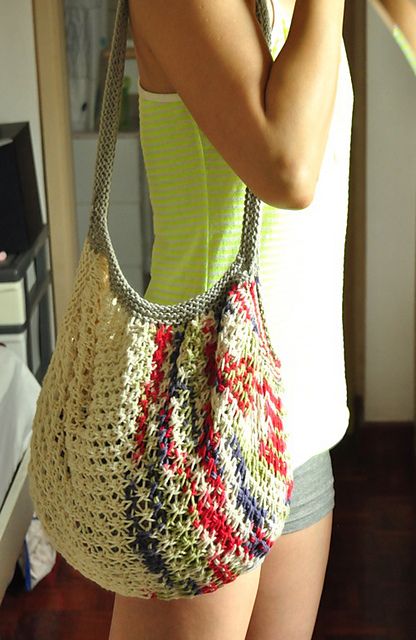 Market Bag
Just stuff this convenient expandable tote by Lily Sugar n Cream in your purse and pull it out to fill with your groceries. Pictured project by tchick
Go Green Market Bag
This Lily Sugar n Cream tote features a front pocket. Straps are webbing or ribbon.Approx 12″ [30.5 cm] square x 5″ [12.5 cm] at base.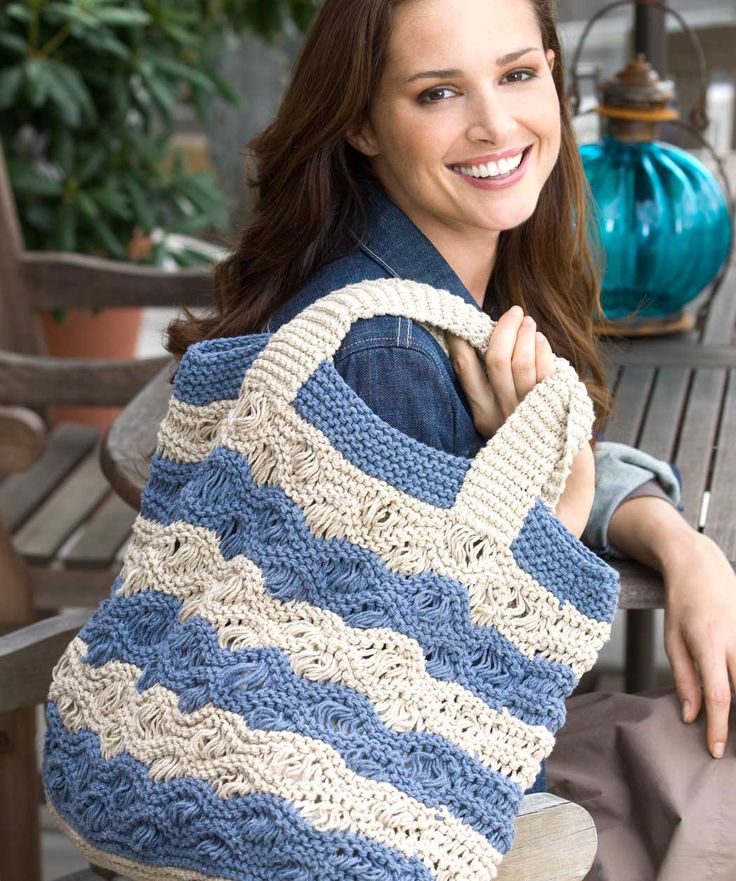 Waves Tote Bag
This cotton tote measures 16″ x 14″ x 3″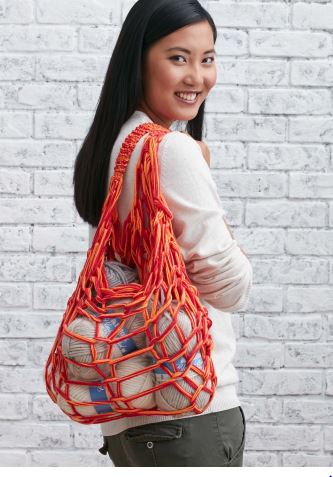 Arm Knit Market Bag
This mesh tote is arm knit with 6 strands of cotton yarn in two more colors. Approximately 16" [40.5 cm] wide x 12½" [32 cm] high (excluding handle).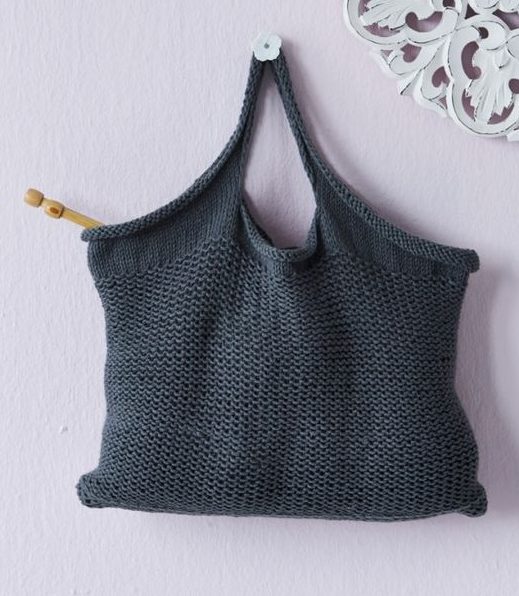 Tote Bag by Saprotex
Easy tote in slip stitch, knit in the round. 45cm wide and 36cm high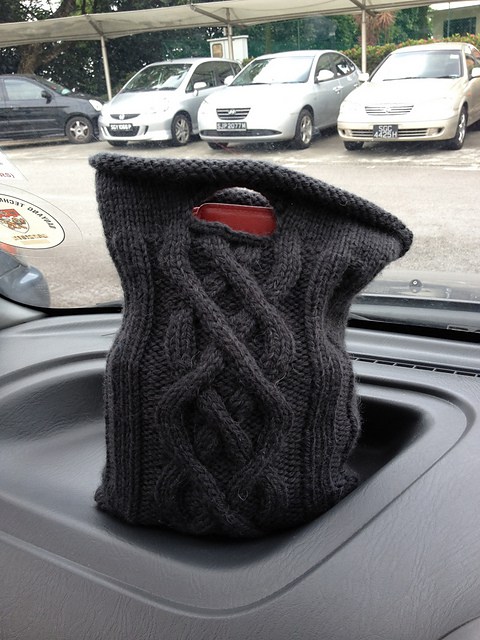 Aran Cable Tote
Phoebe's bag is a smaller tote with a wild oak cable pattern.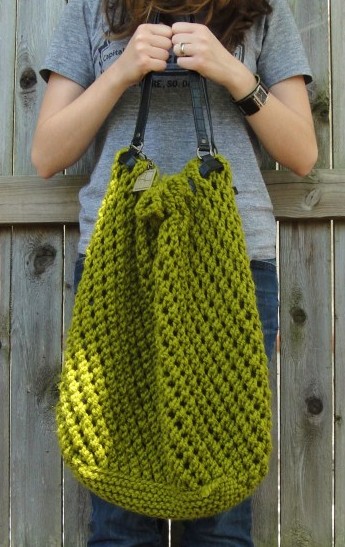 Weekender Tote
This design from Hilary Hunt is a quick knit in super bulky yarn. Bottom is knit in garter stitch and then stitches are picked up for the bag.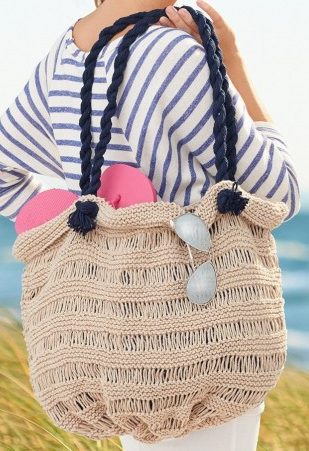 Sea Breeze Bag
This Lily Sugar n Cream bag features drop stitches for interest. Approx 20" x 40" [51 x 101.5 cm]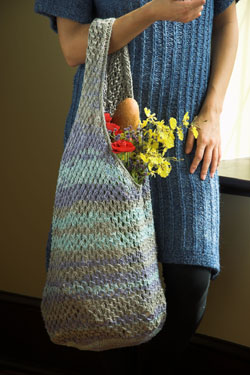 Linen Concerto Tote
This tote from Plymouth Yarn Design Studio is knit with pretty knotted lace stitch and is 16 ½" wide, 28" long. Great for multi-color yarn!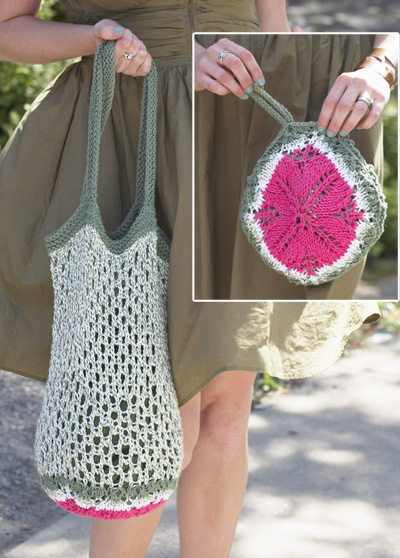 Melon Pocket Bag
When you're not using this Lily Sugar n Cream bag just fold it up into itself, zip, and carry with convenient strap. Then just unzip to use as a tote.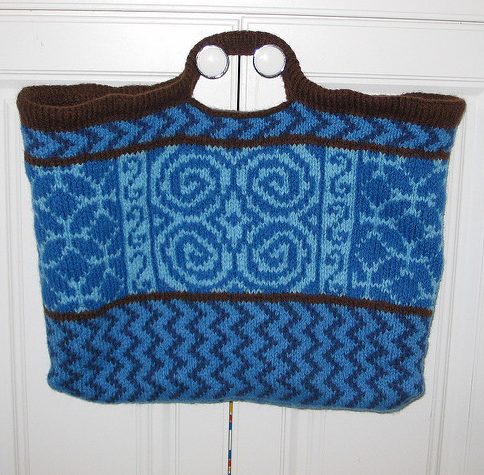 Celtic Wanna Be Tote
Designed by Lisabee Designs. Charted.
Patterns for Purchase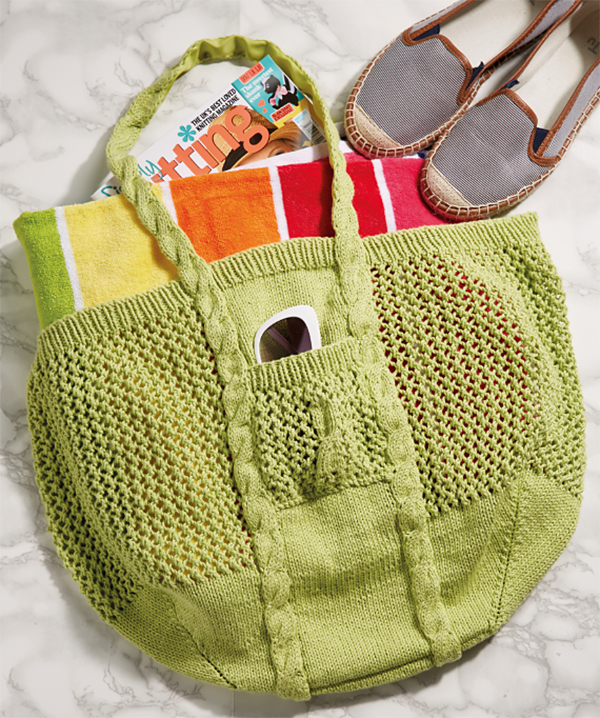 Tote-ally Fab Bag
Handy front and back pockets, strong cabled handles and a stretchy lace structure make this tote perfect for carrying summer essentials. Designed by Caroline Birkett. DK weight yarn. One of the patterns in Simply Knitting 162, July 2017.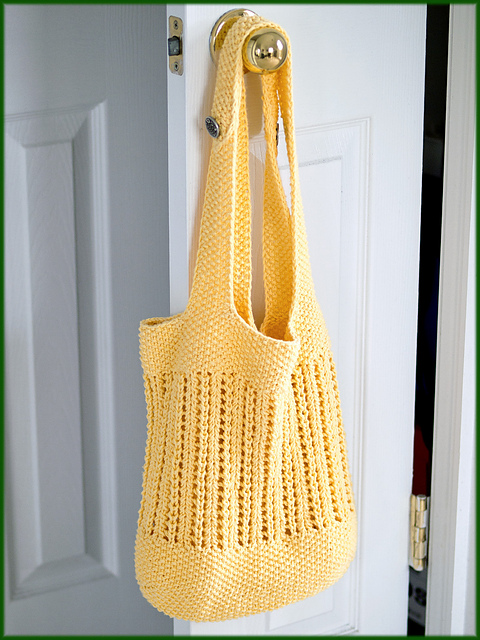 BYOB Market Bag
No longer free! Designed by Moira Ravenscroft, this long-handled tote features flexible mesh panels and buttoned strap.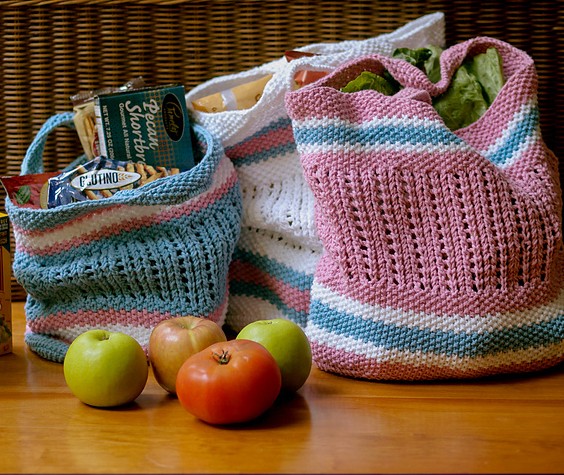 Bring Your Own Bag 2.0
No longer free! There are four sizes of short-handled totes in this pattern by Moira Ravenscroft.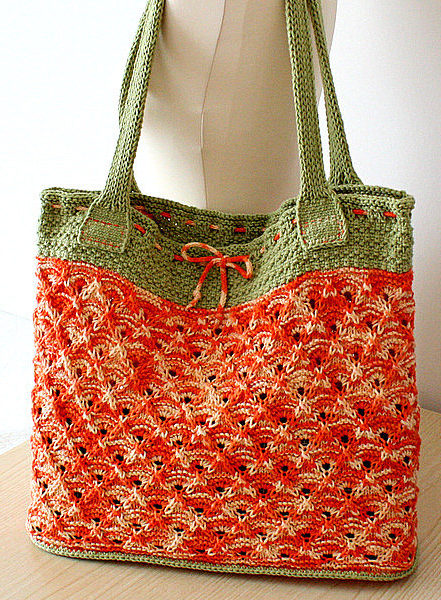 Two-Tone Lace Tote Bag
This double-handled bag is knit in the round. Size: Approx. Width – 45 cm (18 inc), Height (excluding handles) – 36 cm ( 14 inc), Handles – 69 cm (27 inc)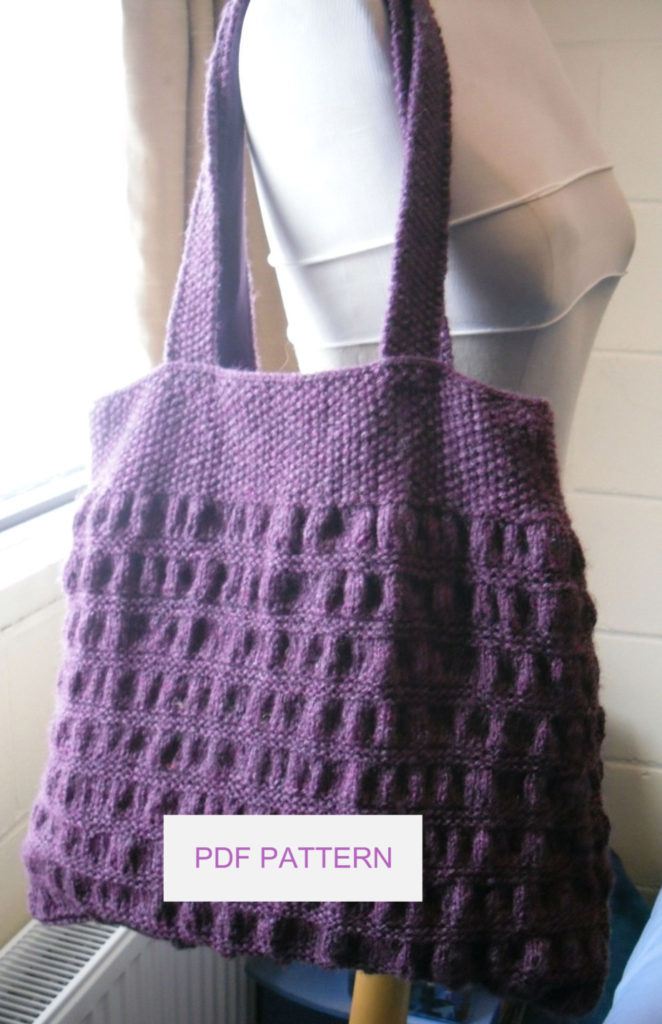 Gathered Tote Bag
Creates a Bag sized approx W42cm x H30cm plus a 60cm Handle. Easy enough for novice knitters.

Community Garden Bag
This lace tote bag is one of the 23 patterns in Warm Weather Knits by Deborah Newton. Pictured project by karilfuge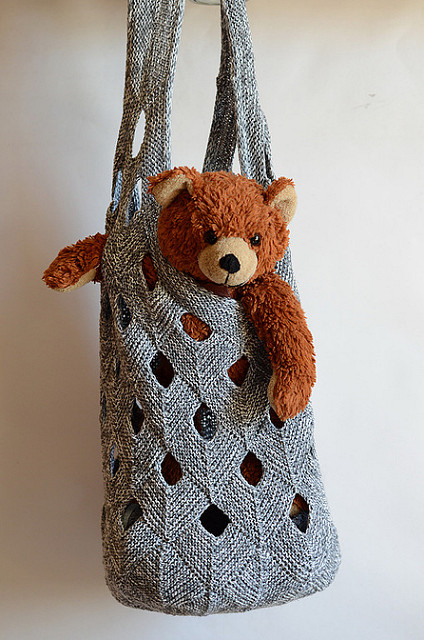 Net Duffle Bag
Vivian Høxbro's Net Duffle Bag has a sturdy mesh-like texture formed by joining incomplete mitered squares. 28-1⁄4" circumference and 21-1⁄4" long, with 2" edging at top. Pictured project by Murzi

Lacy Market Bag
This tote is one of 14 knitting patterns in the Beginner's Guide to Lace Knitting ebook by Rita Weiss. Other patterns include Lace Scarf, Crescent Shawl, Coaster, Heirloom Flower Doily, Scarf of Many Colors, Lacy Hat, Lovely Lace Scarf, Delightful Doily, Lovely Lace Collar Two Ways, Fir Cone Lace, Easy Edging, Lacy Market Bag, Elegant Edging, and Winter Lace Afghan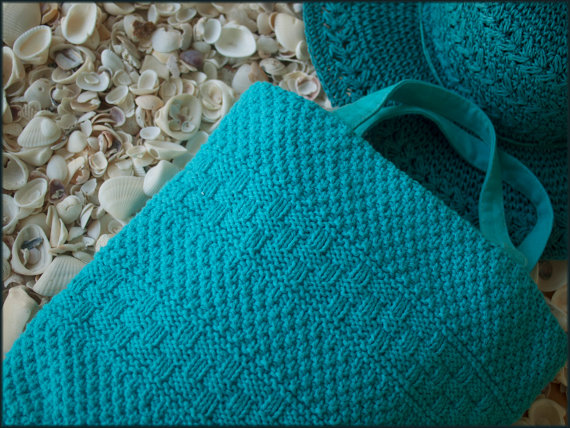 Sarasota Shopper
The Sarasota Shopper features bands of Basketweave set into a background of Double Moss Stitch. Finished bag: 31.5cm h x 34cm w x 9cm d,
= 12.5 ins h x 13.25 ins w x 3.5 ins d.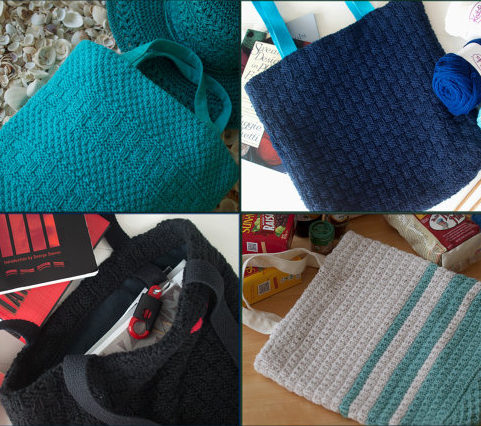 Southampton Collection
4 knitting patterns to transform linen totes to stylish bags. The patterns are also available separately. Clockwise from upper left: The Sarasota Shopper, Southampton Book Bag, Falmer Book Bag, Back-to-Nature Bag

Sharon Tote
Lexi Nelson's gingham tote is 13 3/4 " wide and 12 3/4 " tall, not including handles. Originally published in Knitscene Spring 2016

Stitch Sampler Boho Tote
This customizable tote is one of the projects included in the Mix and Match Sampler Class where you'll learn 12 different stitch patterns and how to join them together for patterns like this.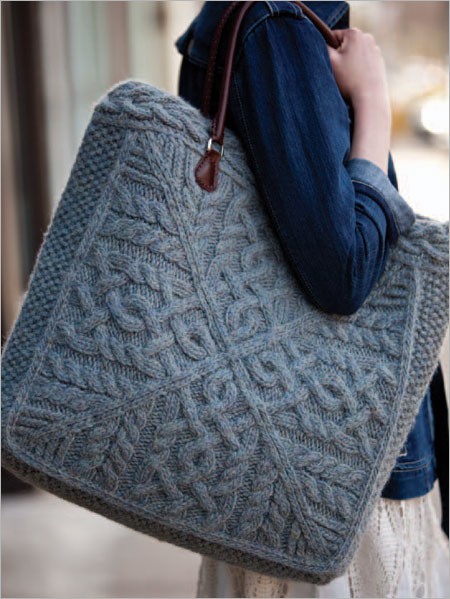 Plein Air Tote
Amanda Scheuzger designed this oversized tote featuring counterpane cables. 17″ wide, 19″ high, and 5″ deep.