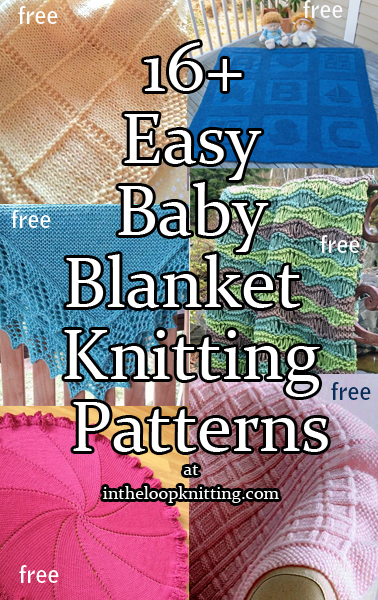 I selected these patterns because they were rated easy by other knitters or labeled easy by the designer. And, though some of these patterns are great for beginners, some do require knowledge of stitches beyond just knit and purl.
To get the knitting patterns, scroll down the page to the individual pattern you want and click on the link to that pattern.
These patterns are not my designs but links to other designers who have generously shared their patterns. If you have questions about how to knit a specific pattern, please contact the designer directly.
All links on this site are for informational purposes, but please note that some links are to affiliate sellers that pay me a small commission on purchases.
Free Patterns

Diamonds for Baby Blanket
This easy blanket is knit with a 6 row repeat diamond texture stitch. Designed by Cathy Payson for Red Heart. Quick knit in bulky yarn.

Welcome To The World Baby Blanket
Easy blanket in 3 sizes is knit with 2 row repeats that are offset every 8 rows. Sizes 18" premature baby, 25.5" newborn baby, 30" baby. Rated easy by Ravelrers. Designed by marianna mel. Pictured project by breimurray

Garter Stitch Ruffles Baby Blanket
This easy reversible blanket is knit completely in garter stitch with two strands of yarn held together. It gets its ruffled look by switching to large needles for a puffier section and then make to smaller needles for a tighter gauge. Consider two yarns or different texture or color to add interest. Designed by Diane Starke. Pictured project by KathInOC

Self Striping Baby Blanket
This easy blanket is featured garter stitch eyelet rows that add texture and showcase self-striping yarn. Designed by Nancy J. Thomas for Red Heart.

Sunny Baby Blanket
This easy blanket is created with just knit and purl stitches. Designed by Lucie Sinkler and rated very easy by hundreds of Ravelrers. Pictured project by dls1149

Baby Chalice Blanket
This easy lace blanket was designed by Karen S. Lauger and rated easy by most Ravelrers. Pictured project by ClaudeandWilbur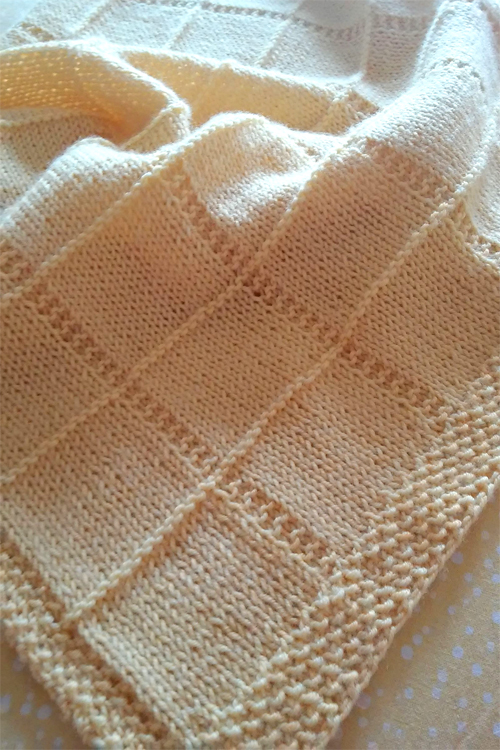 Dreambaby Baby Afghan
JoAnne Turcotte designed this easy yet beautiful blanket with squares bordered by purl and garter stitch ridges. Four sizes, from doll size to crib size. Pictured project is by assia90

Guernsey Style Baby Blanket
Kate McDaid was inspired by the textures of classic Guernsey, or Gansey, patterns to create this easy blanket that knits up quickly in bulky weight yarn.

Big Baby Blocks Baby Blanket
Beginner pattern with easy block pattern 12 row, 20 stitch repeat. Approx. 36½" x 38″ (92.5 x 96.5 cm)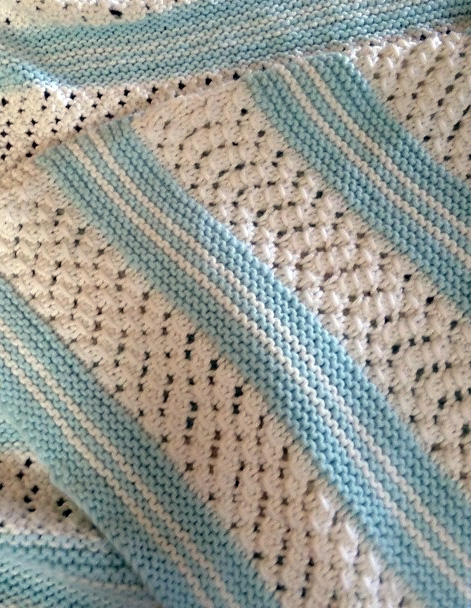 Garter Stripe Baby Blanket
Mary Jane Protus designed this blanket that alternates sections of garter stitch with crossed stitch. Red Heart lists this as Intermediate but knitters on Ravelry rated it easy. So it may not be a beginner pattern but once you get the crossed stitch pattern down it should be easy. Blanket measures approximately 32" wide x 38½" long. Pictured project by Caroljeanne1960

Breezy Baby Blanket
This easy pattern by Pickles features a light version of the drop stitch sea foam pattern, which makes it airy, stretchy and comfortable in warm weather.

Tiny Ripples Baby Blanket
This easy cable blanket by Leelee Knits is an 8 row repeat with 6 of the rows stockinette.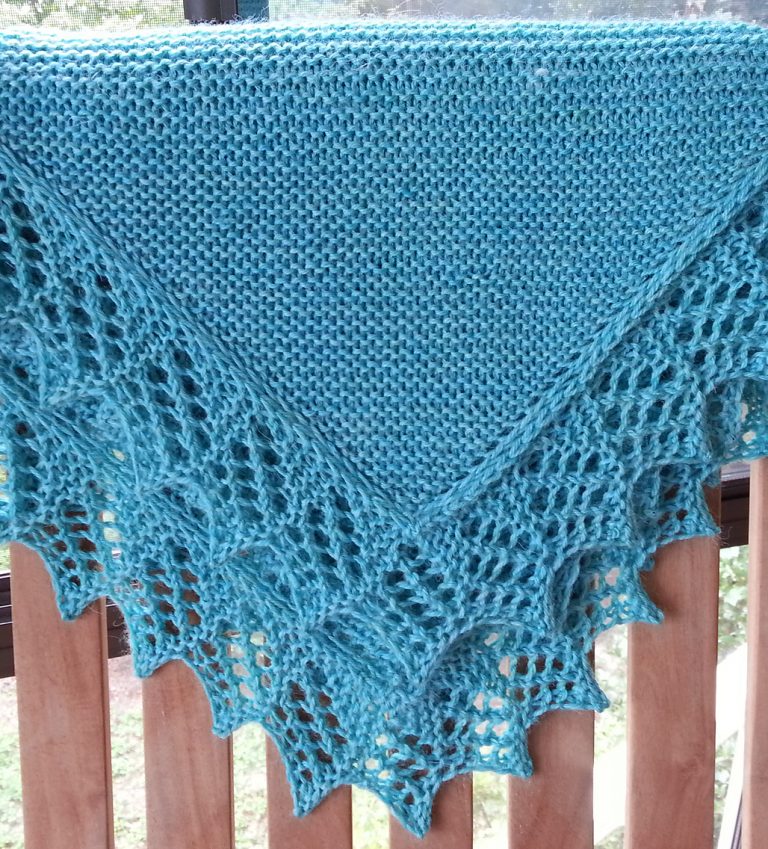 Easy Baby Blanket With Lace Option
Denny Kelly's design is a garter stitch blanket knit in the diagonal. The optional lace border is knit separately and sewn on. You can even knit the border in a contrasting color for fun.Or use a different lace or ruffle border. Pictured project by sckristin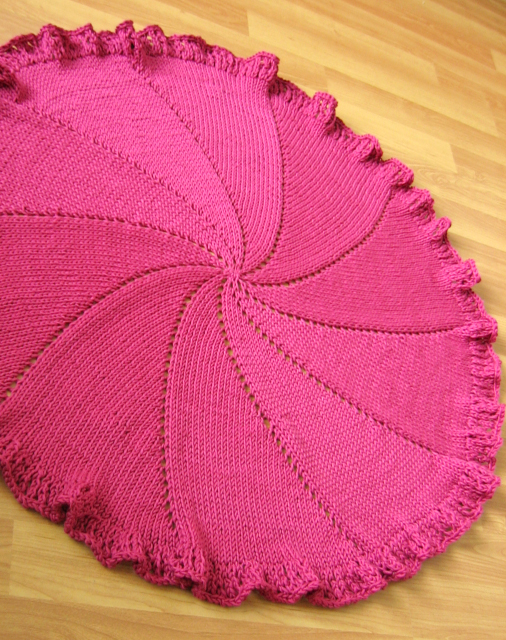 Pinwheel Baby Blanket
Genia Planck created a simple round baby blanket that is knit in the round (so no purl rows!) with simple eyelet lines. It looks hard but it isn't. It is easily customizable. The pictured project by elsteffo added a ruffle border.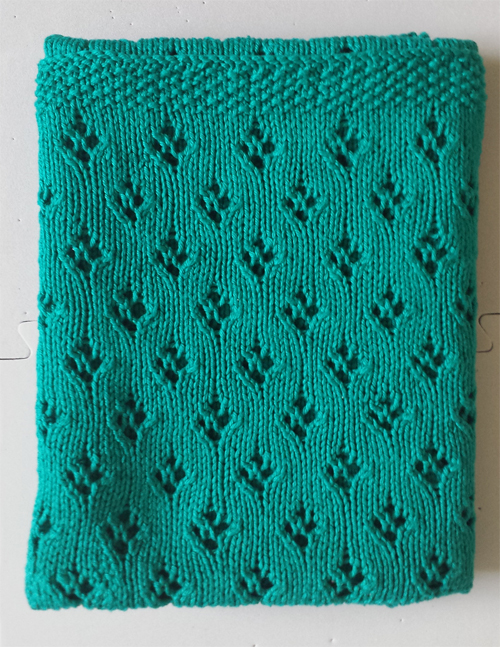 Alex's Baby Blanket
Angie Jaszek's carriage blanket is an easily memorized pattern of tulip lace. Size about 29″ wide but you can customize by adding repeats. Pictured project by wingweave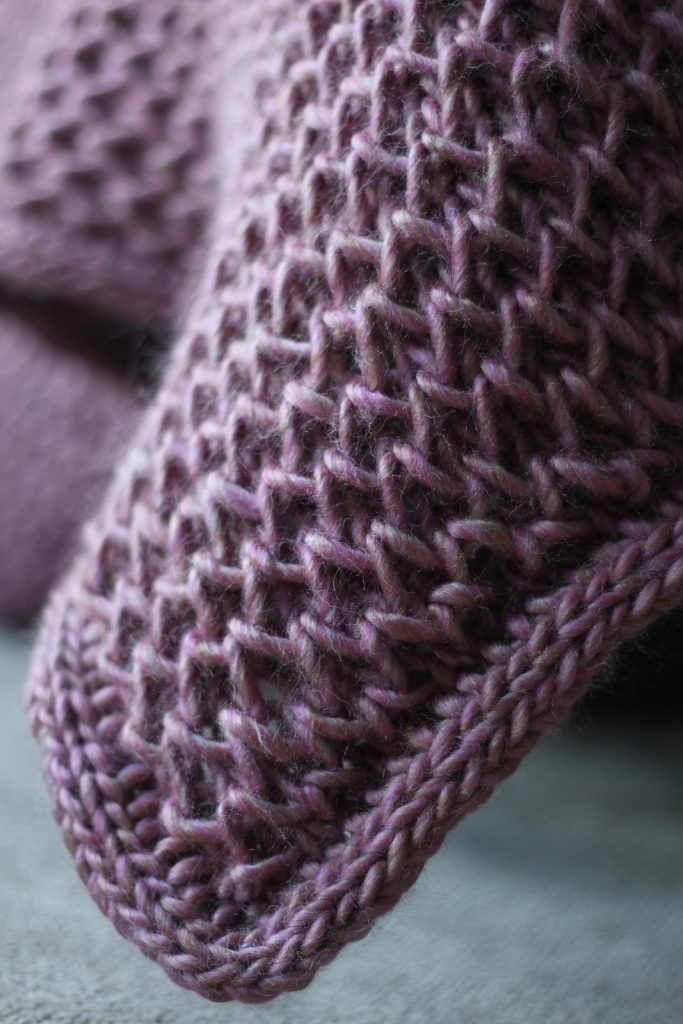 Waffle Blanket
Ana Sancho Rumeu's squishy afghan has a 4-row, 3 stitch repeat. Once you learn it, it goes quickly. The border is an attached i-cord but if you can substitute a garter or seed stitch border if you want something simpler. Some knitters have used multi-color yarn which looks great in this stitch. This was designed as a regular sized afghan so you might customize the size when you knit. Pictured project by Debajounboton

Ripple Lace Baby Blanket
Designed by Bernat, this pattern is rated easy by the designer and knitters. Approx 38 x 40 ins [96.5 x 101.5 cm].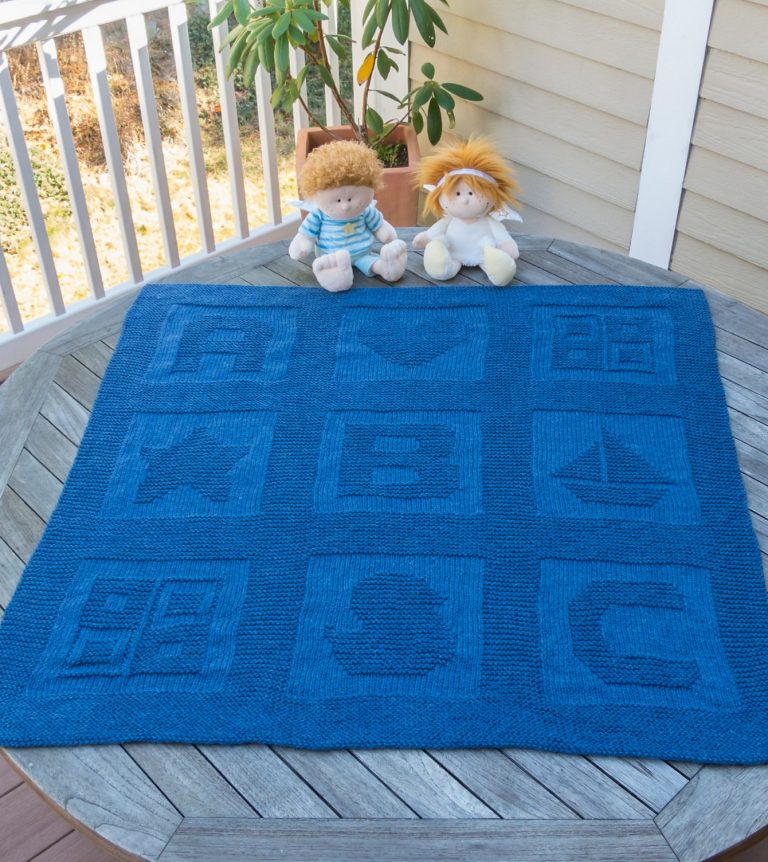 ABC Baby Blanket
Just knit and purl stitches are all you need to know to create this cute blanket by Jenny Williams that includes classic baby blocks including A, B, C, a duck, a sailboat, a heart, a star and two 4-square blocks. I would strongly recommend you get a yarn with great stitch definition. This is not a good pattern for all-acrylic yarns. Consider cotton, wool, or blends. Pictured by SabineStangel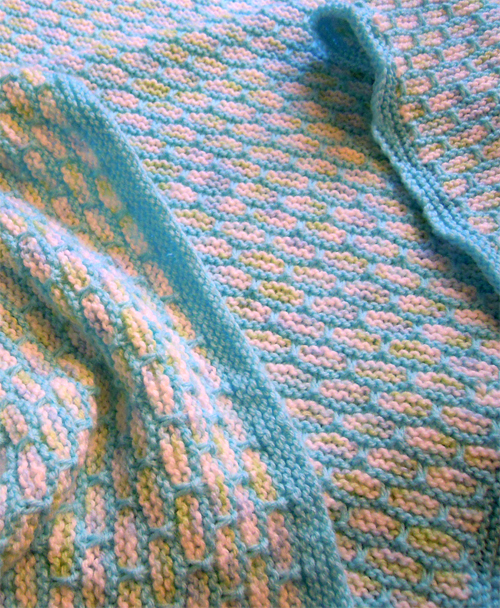 Woven Look Baby Blanket
Designed by Bernat, this pattern is rated easy by the designer and knitters. It uses easy slipstitch colorwork to create the colorful cells. Approx 34 ins [86.5 cm] square. Create with multi-color yarn. Pictured project by Pferdina

One Row Baby Blanket
It doesn't get any easier than this baby blanket from Red Heart by Nancy J. Thomas. You just knit one row over and over to make a beautiful blanket. Great with multi-color yarn!

Chocolate Parfait Baby Blanket
Narangkar Glover's blanket features a diamond motif and lattice.
Patterns for Purchase

Easy Knit Baby Blankets Pattern – Collection 1
Three knitting patterns for baby blankets – looks like a wavy lace, a diamond pattern, and a star stitch. Finished sizes: 36″ x 40″, 36″ x 36″ and 35″ x 40″

Easy 4 Row Repeat Lace Baby Blanket
This easy lace pattern is a great first lace project according to the designer.

Easy Knit Baby Blankets Pattern – Collection 2
These 3 beautiful lace baby blankets, each in 2 sizes, are quick-to-knit. Looks like lace hearts, eyelet stripes, and zigzag lace. Approximate finished sizes: 30″ x 36″ and 38″ x 44″

I Love Mom and Dad Baby Blanket
Easy blanket features I Love Mom and Dad, sun, and duck motifs in knit and purl stitches. The designer says it is suitable for beginners.

Ivy Baby Blanket
This easy lace rectangular baby blanket by Emily Nora O'Neil is approximately 28 1/2″W x 30″H.

Double Basketweave Baby Blanket
Easy blanket uses just knit and purl stitches and is reversible with different interesting textures on either side.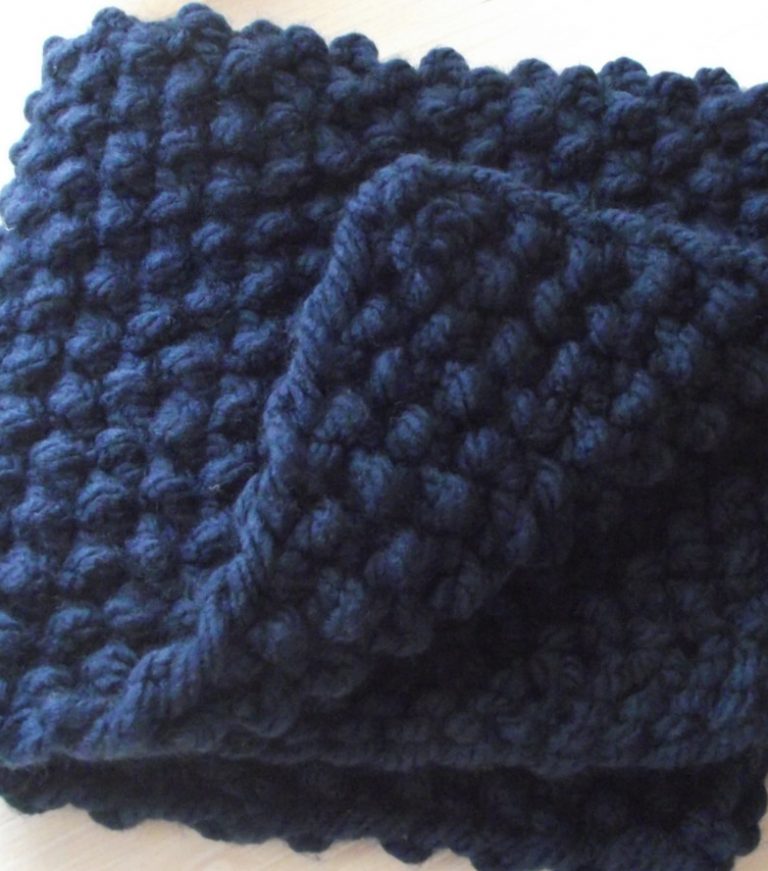 Textured Baby Blanket
This easy baby blanket by ZucchiniIslandKnits has a cozy texture and is a fast knit in bulky yarn,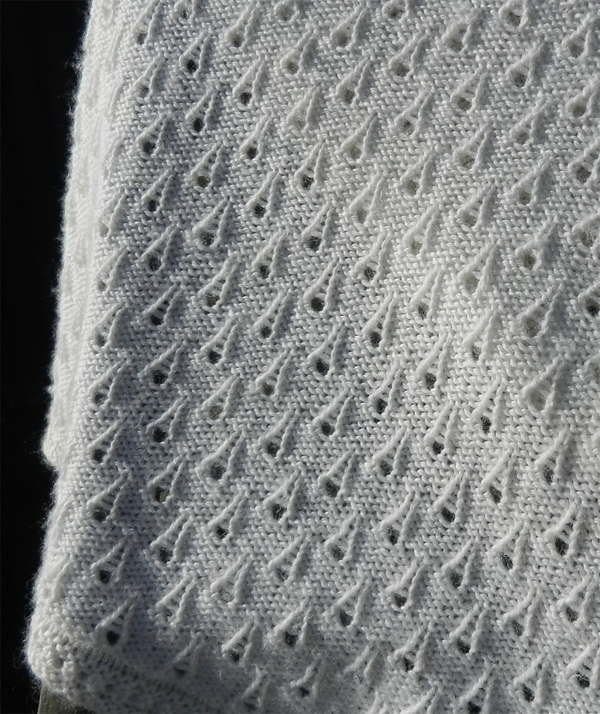 Ice Cream Baby Blanket
Lisa Craig's blanket gets its name from the eyelets and triangles texture that look like little ice cream cones. Blanket available in 2 sizes bassinet and cot. Pictured project by jesswallace6

Blankies Just for Baby
6 easy skill-level projects, all made with worsted-weight yarn.