Most of us hate knitting swatches for projects. We know we have to do it but hate spending the time and yarn before we get to the real project. These clever ideas for re-using your swatches will get you excited about trying out new stitches and testing yarn for your large projects, as well as get some of those leftover swatches out of your yarn stash.
To get the knitting patterns, scroll down the page to the individual pattern you want and click on the link to that pattern.
These patterns are not my designs but links to other designers who have generously shared their patterns. If you have questions about how to knit a specific pattern, please contact the designer directly.
All links on this site are for informational purposes, but please note that some links are to affiliate sellers that pay me a small commission on purchases.
Free Patterns

Swatch Baskets
Clever instructions to turn your swatches in baskets or bowls using Mod Podge and jars or cups to mold the swatch. Kid-friendly activity!

Swatchtastic Bunting
Turn your swatches into bunting by knitting swatch triangles instead of squares and creating a garland with these instructions from Tin Can Knits.

Stitch Sampler Swatch Baby Blocks
Make baby blocks out of stitch swatches! In the pattern and class, Melanie Falick covers basic stitch sampler patterns. Then she shows how to seam the swatches around a foam cube for a fun quick baby gift. Pattern and instructional video class available for free with a free trial at Creativebug. Also a great idea for re-purposing swatches from other projects. Great quick baby shower gift!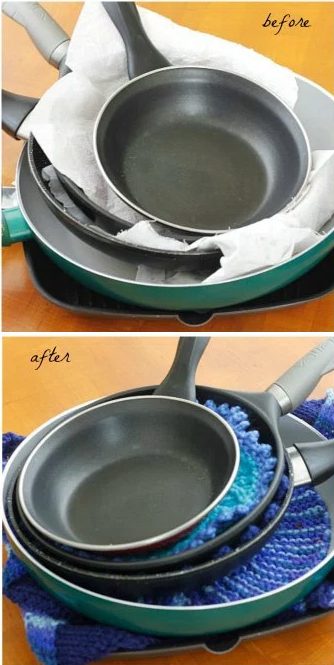 Pan Protectors
Use wool or cotton swatches to stack your pans and protect them from scratches. Life Beyond the Kitchen came up with this clever stash busting set of patterns but you can use your own swatches or stitches.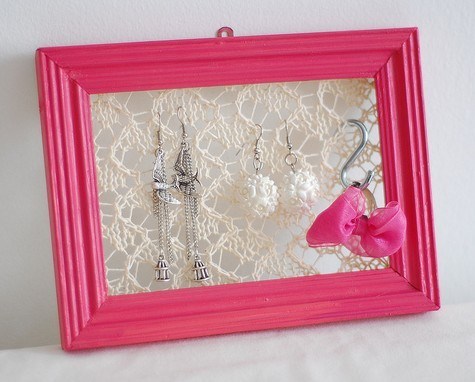 Lace Jewelry Holder
Laylock designed this quick project that only requires a small frame, some thumbtacks, and some lace in the pattern she provides or your own. Then hang your earrings on the lace or use s-hooks to hang other jewelry. Great quick gift! Also great for leftover swatches!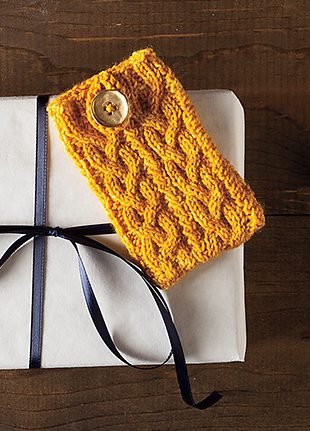 Tiny Pouch or Gift Card Holder
Another great idea — turn your swatch into a tiny pouch to hold gift cards or whatever you want. Knit your swatch a little wider to about 5.3 inches then fold and seam along the side and bottom. Attach an i-cord (see video) or crochet chain loop to the top and a button to the front for closure. The pictured project for the Aran Gift Card Holder by Knit Picks is not specifically a swatch pattern but I chose it because it showed the effect I wanted.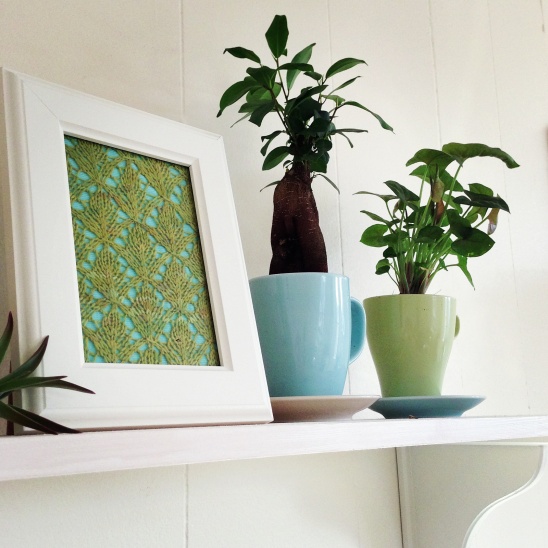 Swatch Shelf Art
Meg Kealey's idea is to frame your lace swatch with a fabric background and display it as a work of art. It appears that the instructions are no longer available but it probably should be easy to figure out.
More Free Patterns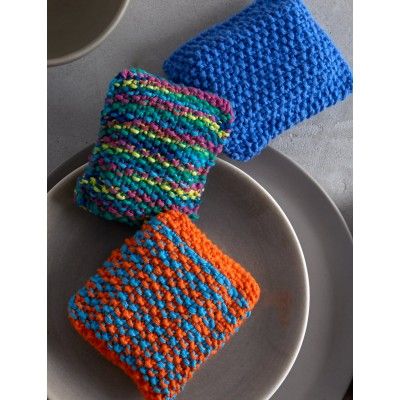 Sponge Cozy
Another great idea for cotton swatches. Just fold and seam 3 edges, insert sponge, and then seam closed. Pictured project is Lily Sugar n Cream's Sponge Cozy. Great gift!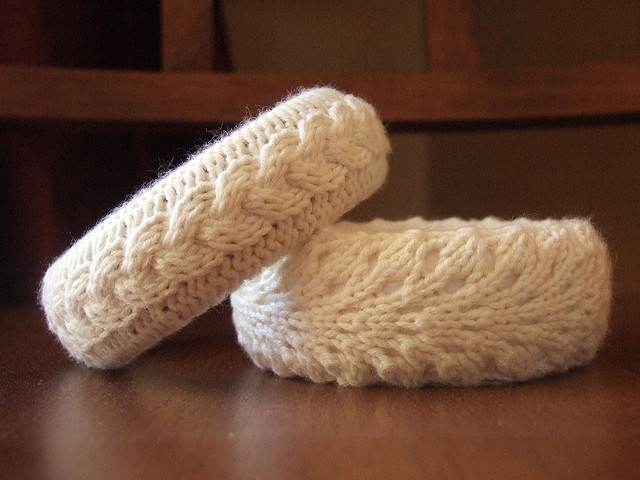 Swatch Bracelet
What a great idea from Mimsie! Don't know what to do with those swatches? Turn them into bangles. I know I'll be more inclined to knit more swatches.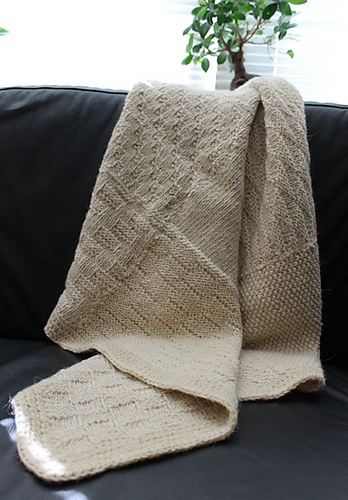 Swatch Blanket
Here's a great idea from Ioana van Deurzen – sew your swatches together in an afghan or throw! She offers a knitting pattern using specific swatch stitches and one type of yarn but you can use whatever you have.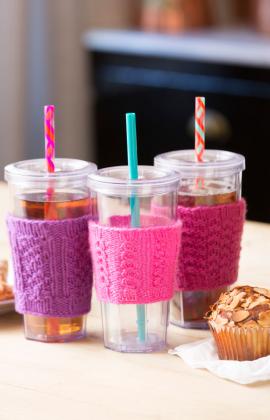 Beverage Cozies
Use your swatches to keep your hands warm with iced drinks. You'll need to knit your swatches a little wider to about 7 inches or to the circumference of your cup. Then just seam the swatch to slip over the cup or add buttons for closure. The pictured project for Try-a-Stitch Cup Cozies from Red Heart UK uses specific stitches but you can substitute your own.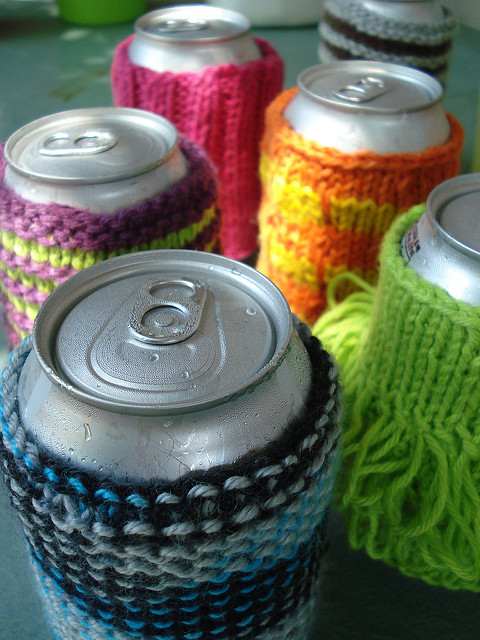 Can Cozies
Or you can use your swatches for cans. You'll need to knit your swatches a little wider to about 7 inches. Then just seam the swatch to slip over the can. The pictured project for Vickie Howell's Drinkie Poos uses specific stitches but you can substitute your own.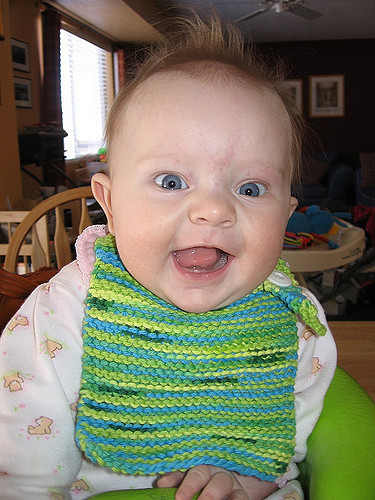 Baby Bibs
When you're casting off your washable swatch, leave some stitches at the end and knit a long strip to go around a baby's neck and button to the front. You have a bib! You can also knit i-cord ties to attach to swatches instead. Pictured pattern is Colleen Kadleck's Simple Baby Bib. Pictured project by lhj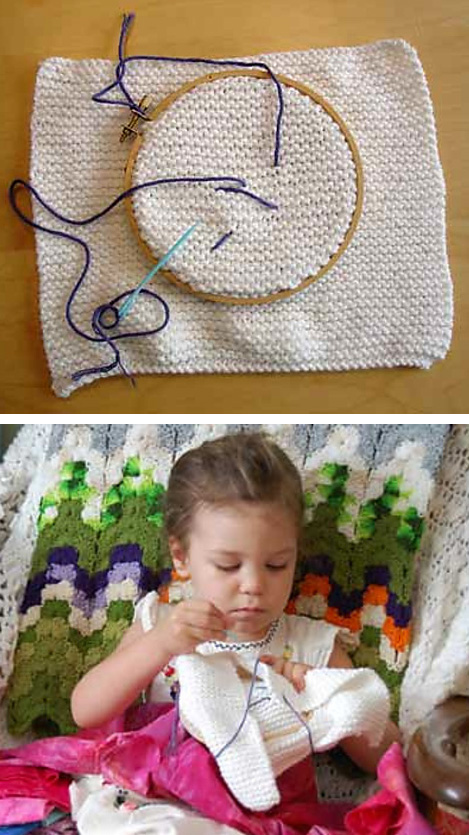 Toddler Sewing Toy
Sara Norine James came up with this brilliant idea for a safe and easy way to play at sewing. A piece of knitting is easier for little ones to work with than fabric, especially with plastic needles. Just put a large swatch in an embroidery hoop, thread yarn through a plastic needle and then let them play. Also a great stashbuster if you don't have a suitable swatch – just knit up a garter stitch square.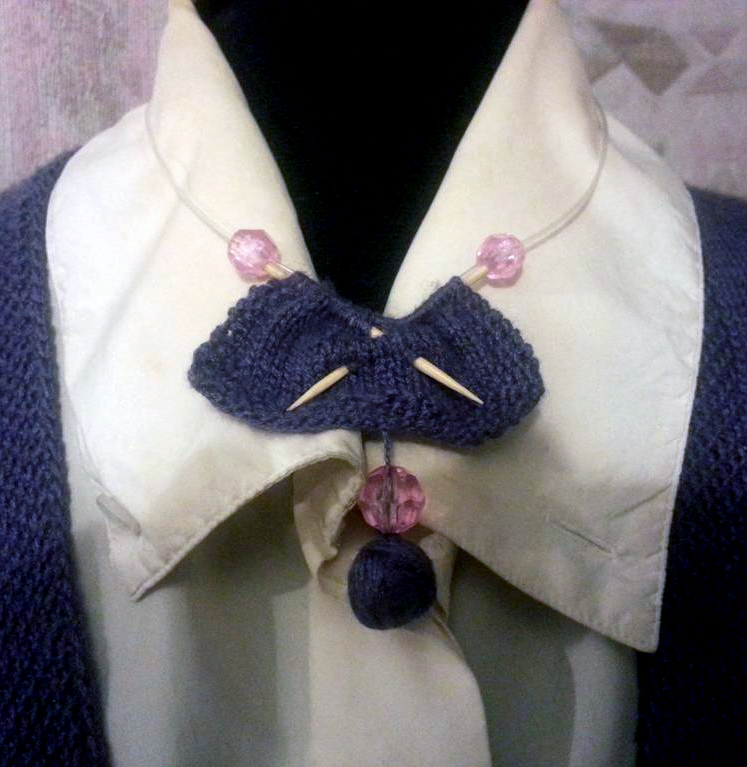 Swatch Necklace
Look closely at this pic! dagmar.li1275397 created a necklace using a swatch that looks like it is still attached to knitting needles, adorned with decorative beads. She actually used bamboo picks and nylon cord. Brilliant idea for knitter jewelry!
Patterns for Purchase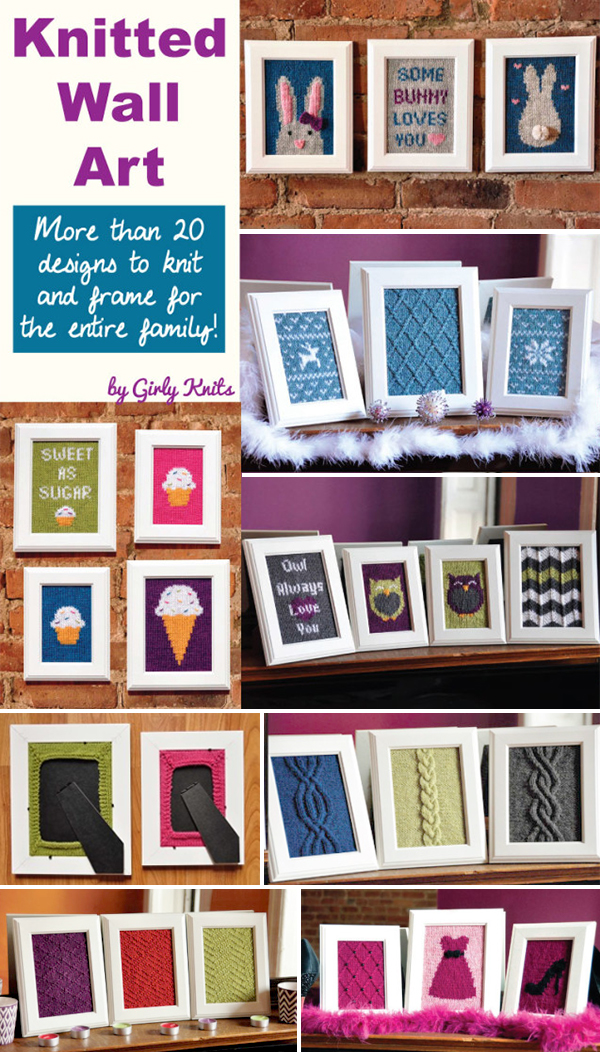 Knitted Wall Art
These seamless frame cozies wrap around the back piece of your frame, so that you can get it on and off easily and change out the cozies as you please. Use the stitch designs included in the patterns or create your own. Great idea for re-purposing your swatches. Patterns come in sets. Designed by Lauren Riker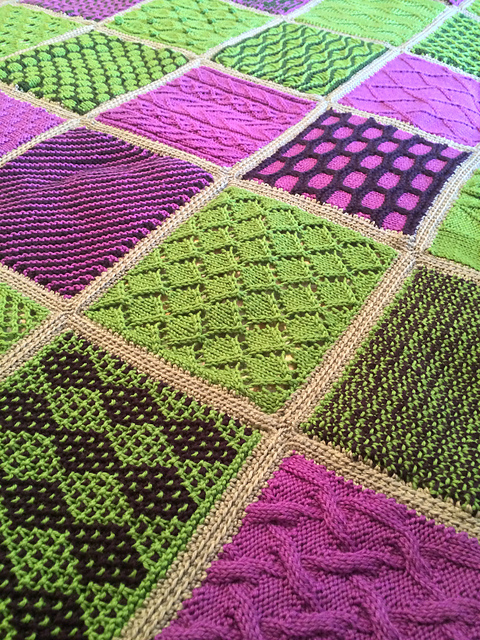 Learn to Knit Afghan
Barbara Walker, famous for her stitch collections, created this afghan pattern book that combine all kinds of knitting techniques in a single project. Pictured project by Violiknit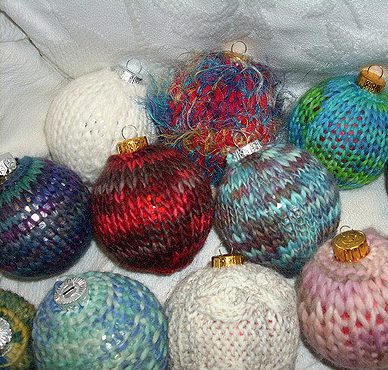 Swatch Christmas Ornaments
Interweave Knits came up with this inspiration to take your swatches and wrap around a glass or plastic ball ornament. Thin, drapey swatches work best. Pictured project by hornsthepoet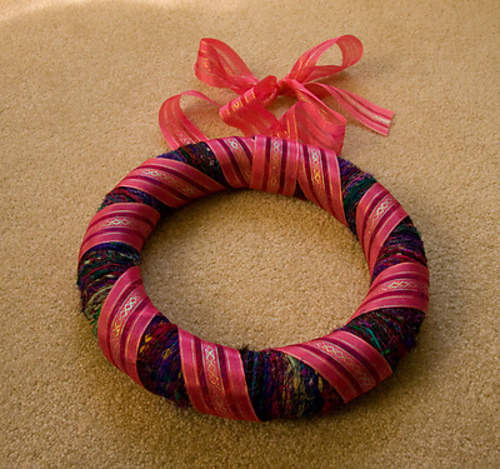 Swatch Wreath
Another clever idea from Interweave Knits to use swatches on a styrofoam wreath base to create a unique decoration.

Stitch Sampler Boho Tote
This customizable tote is one of the projects included in the Mix and Match Sampler Class where you'll learn 12 different stitch patterns and how to join them together for an afghan or a tote.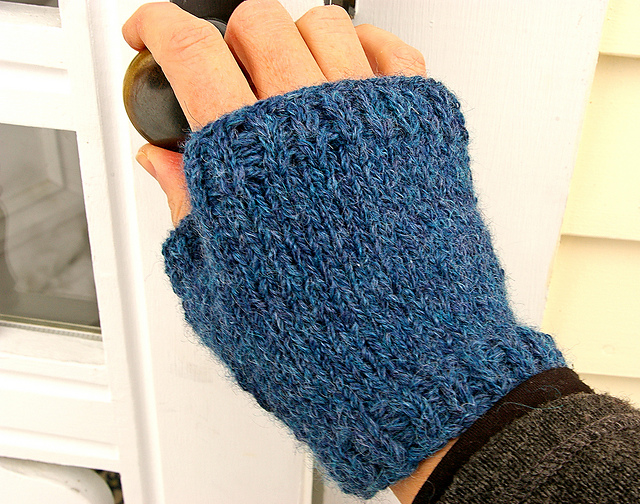 Swatch Mitts
This ingenious design by Clara Parkes shows you how to swatch so you wind up with fingerless mitts, either knit flat or in the round.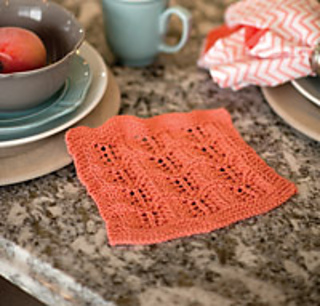 Swatch-cloth
Deb Buckingham's great idea for cotton swatches is to knit a border and use them for wash and dish cloths. This particular pattern is only available in Love of Knitting Spring 2015 but you can probably make this without a pattern.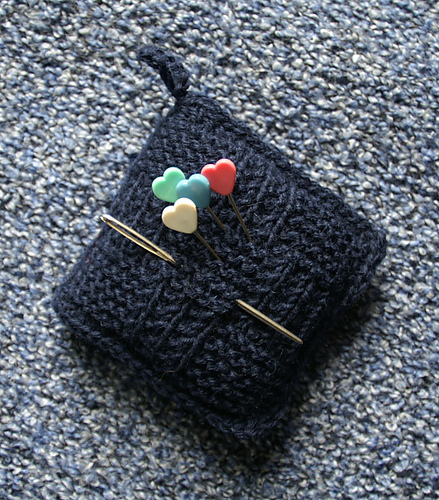 Gansey Swatch Pin Cushion
This is one of the patterns in Elizabeth Lovick's Gansey Workbook. It's not available as a single pattern.