Gift Presentation Knitting Patterns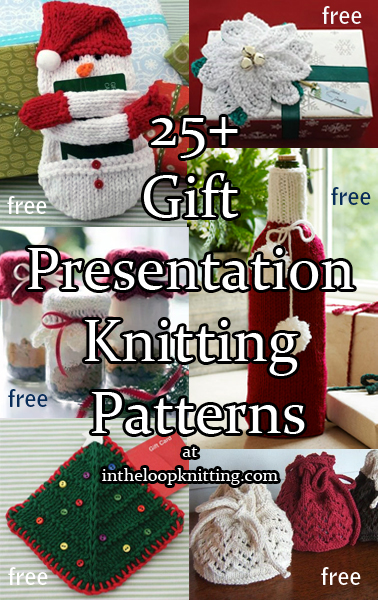 Knitting patterns for Gift Bags, Gift Card Holders, Gift Toppers, Bottle Cozies, and other gift wrap knitting patterns.
To get the individual patterns, scroll down and click on the link for the individual pattern you want.
And check out these other pages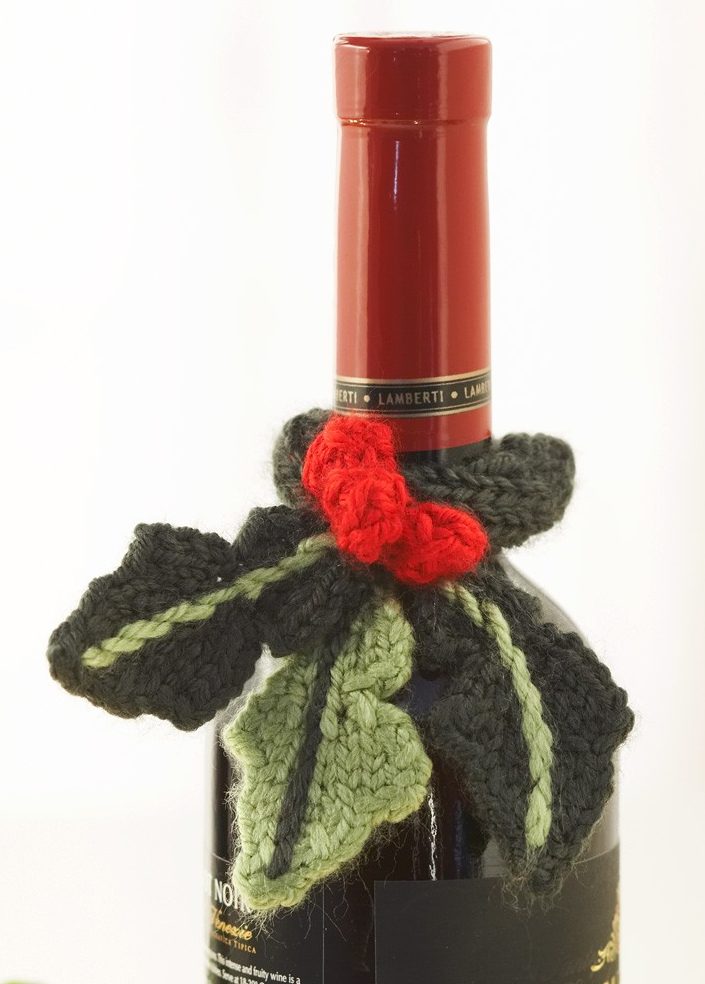 Holly Bottle Topper
Free knitting pattern for holly decoration for that wine or other bottle gift. Also great for gift box decoration.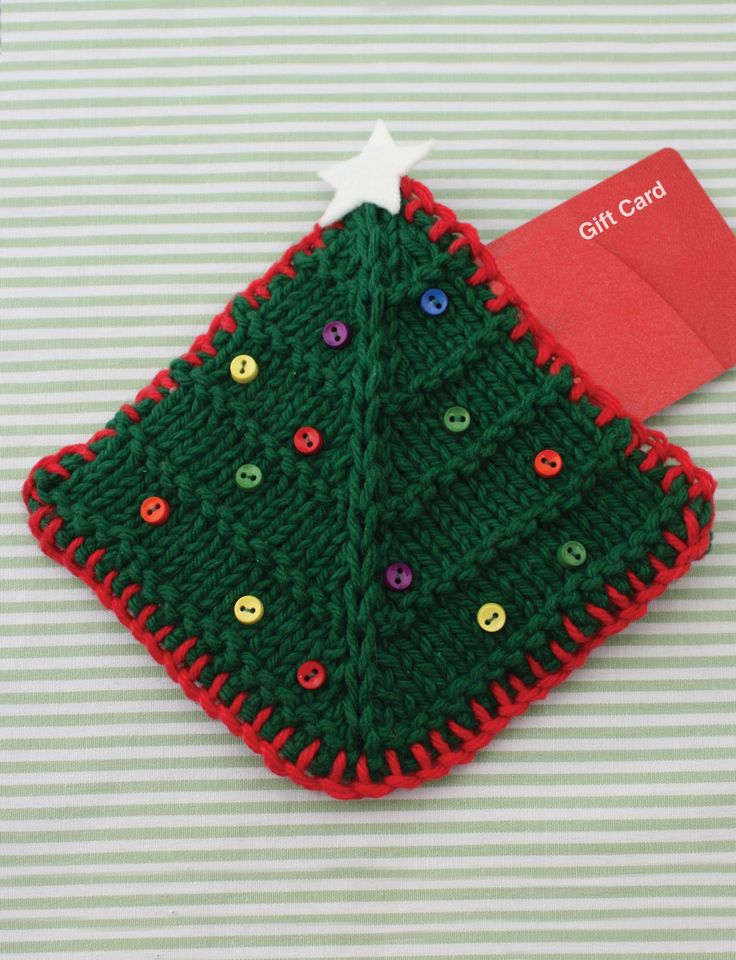 Christmas Tree Gift Card Cozy
Designed by Yarnspirations, this gift card holder is knit in garter and stockinette stitch decorated with button ornaments and colorful seam that make it special.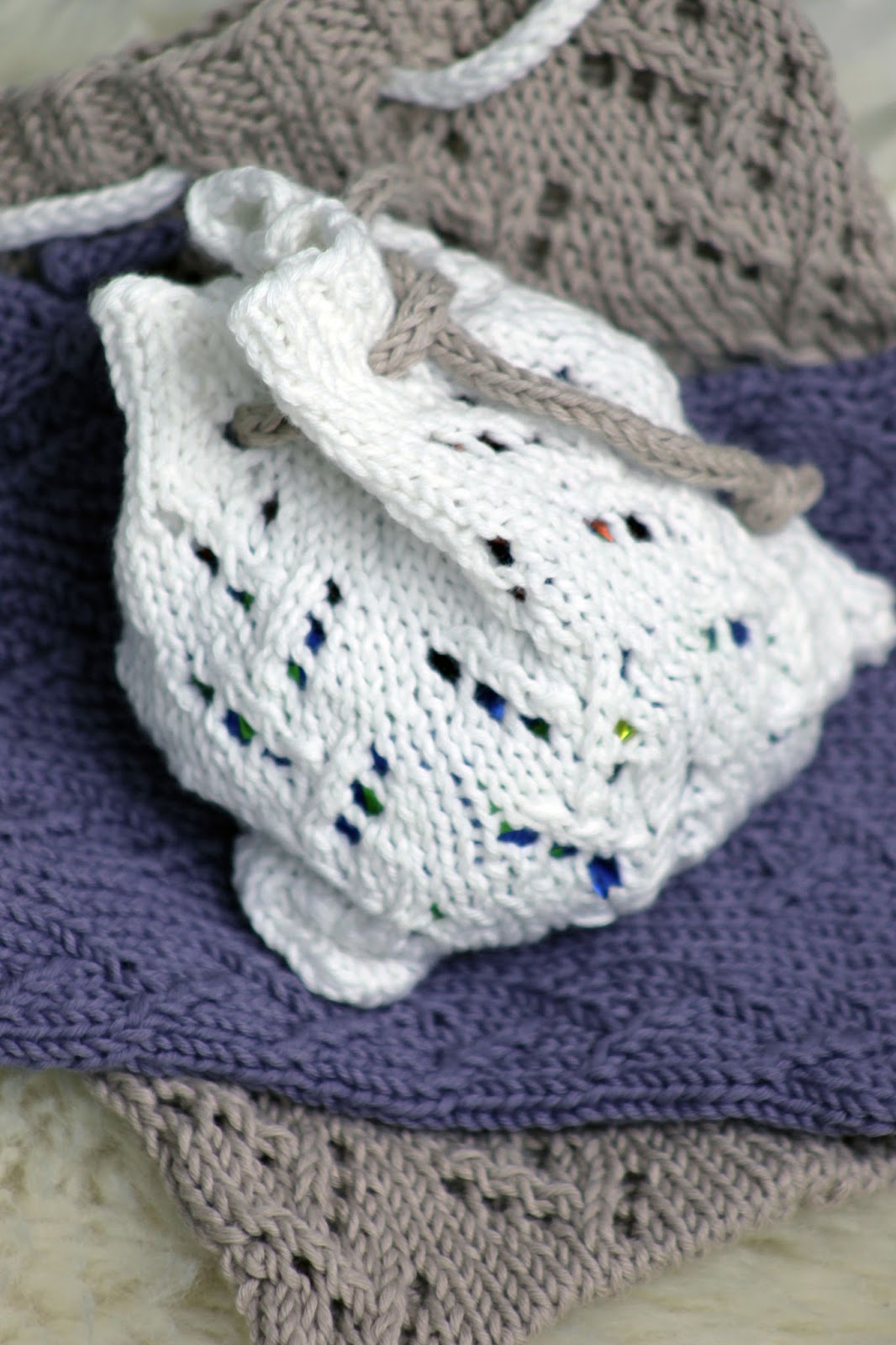 Something Special Gift Bags
These gift bags by Balls to the Wall Knits come in three sizes and closed hole and open hole options.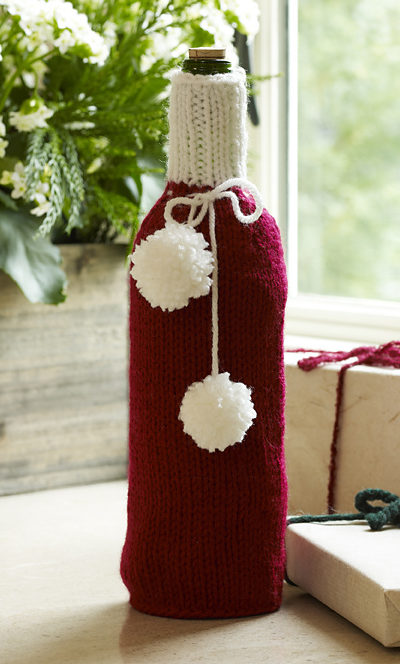 Wrap Your Bottle Cozy
Give and display your wine bottles with handknit cozies.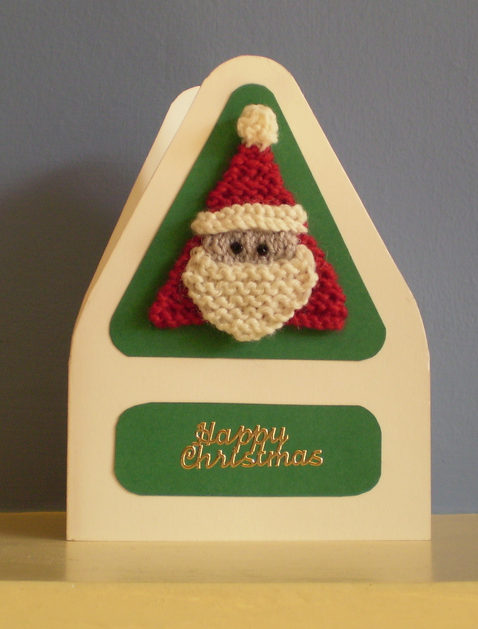 Santa Card
This pattern includes instructions and templates for completing the whole card as shown. The Santa is knit mostly in garter stitch. Designed by the amazing Frankie Brown.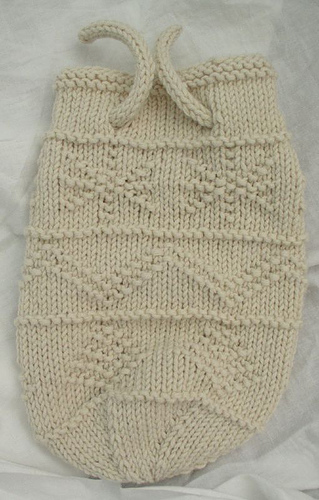 Holiday Gift Bag
Yvonne Ellsworth designed this pretty gift bag with simple stitch holiday pattern motifs. I can't seem to find a size on it so you might want to swatch to check before you start.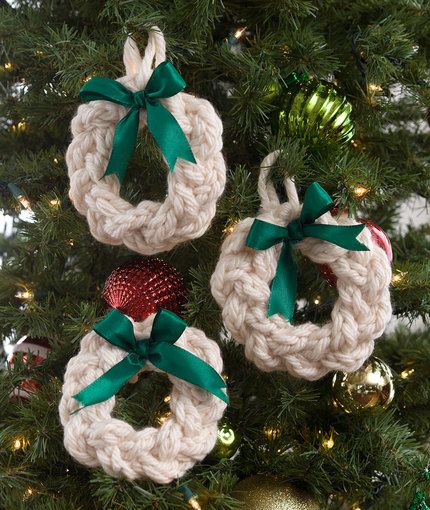 Wreath Gift Toppers and Ornaments
Designed by Lorna Miser for Red Heart, these ornaments are made from braided icord. They also make perfect gift decorations. And a great use for leftover yarn!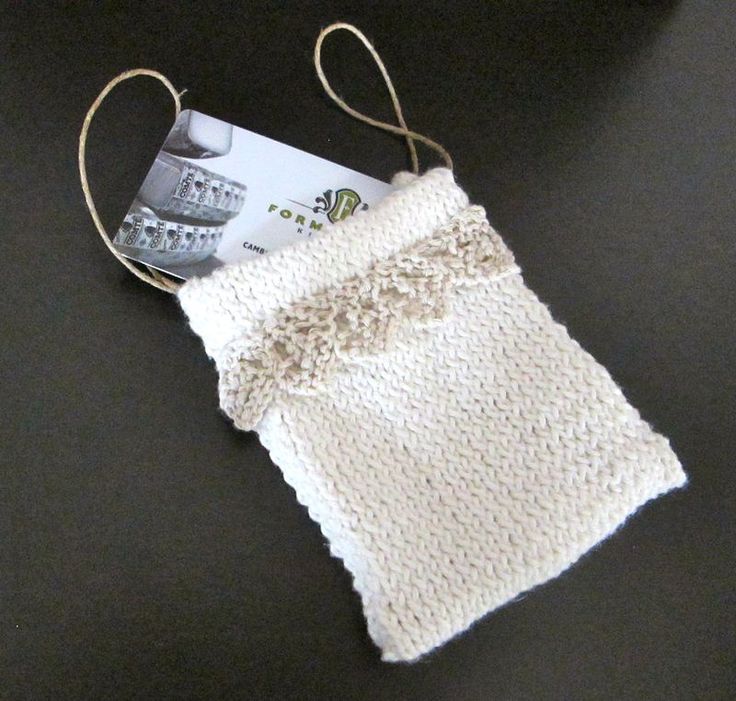 Victorian Gift Card Pouch
Designed by Wool Free and Loving Knit, this cute pouch with lace trim is a special way to present a gift card.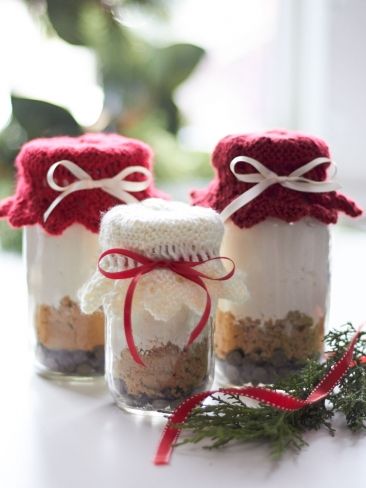 Gift Jar Toppers
Yarnspirations designed this great way to finish off your homemade goodies. And a great use for leftover yarn!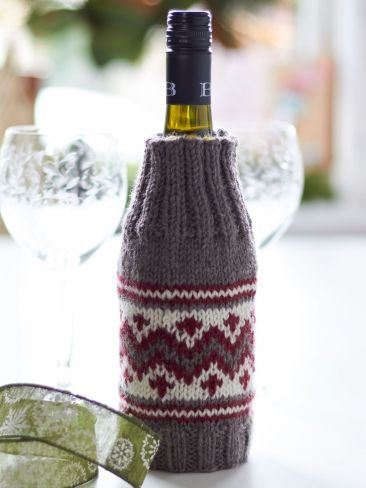 Wooly Wine Bottle Cozy
Argyle pattern is a perfect way to dress up a gift!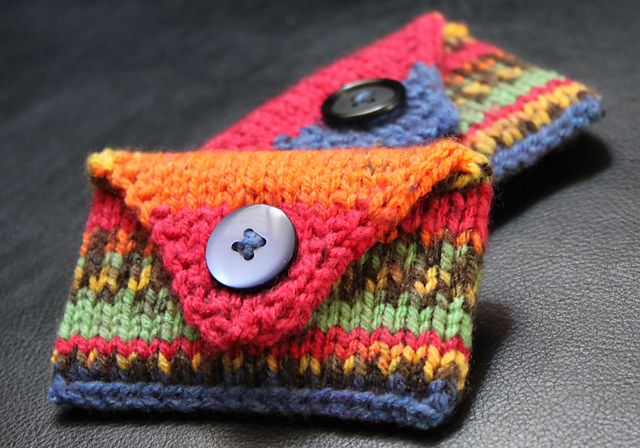 Card Envelope
Laura Bain designed this colorful envelope that is 3.5" x 2.5", perfect for gift cards or business cards. A great use for scrap yarn or multi-color yarn.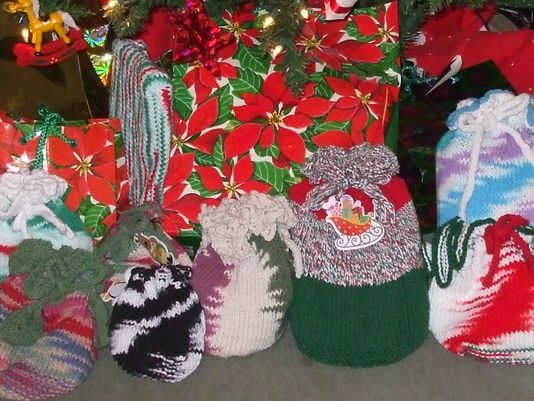 Drawstring Gift Bags
Pamela Mackenzie created these gift bags in 3 sizes. They are a great reusable substitute for wrapping paper. Can be made in a few hours.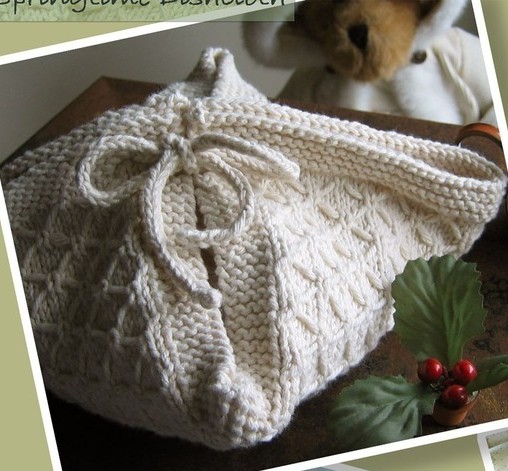 Biscuit Blanket
This could be used for scones, cookies, a small loaf of bread … anything yummy that needs to stay warm. A nice gift to knit whether it is stuffed ahead of time with baked goods or not! BONUS: This knitting pattern include the designer's personal Blue Ribbon Biscuit Recipe, and a Springtime Dishcloth knitting pattern.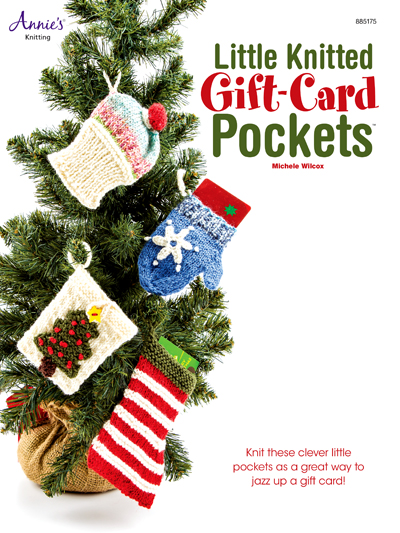 Little Knitted Gift Card Pockets
4 gift-card holders: a stocking, mitten, Christmas tree and cupcake. Projects around 4″ that include a loop for displaying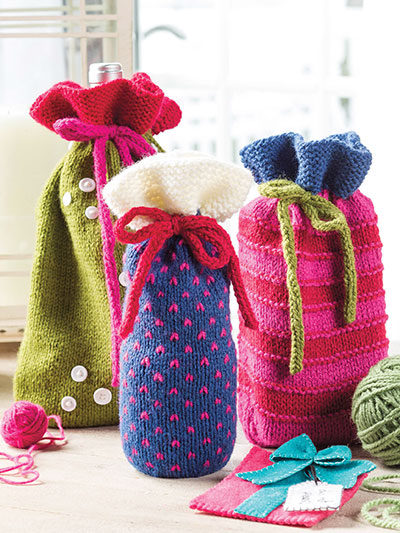 Great Gift Bags
Three patterns for gift bags:
Small bag: 13″ in circumference x 9″H
Large bag: 20″ in circumference x 13″H
Wine bottle bag: 10″ in circumference x 10″H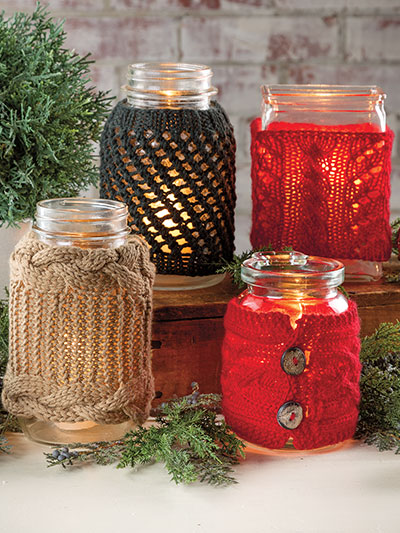 Cabled Cozies
Four patterns to dress up your Mason jar gifts or decorations.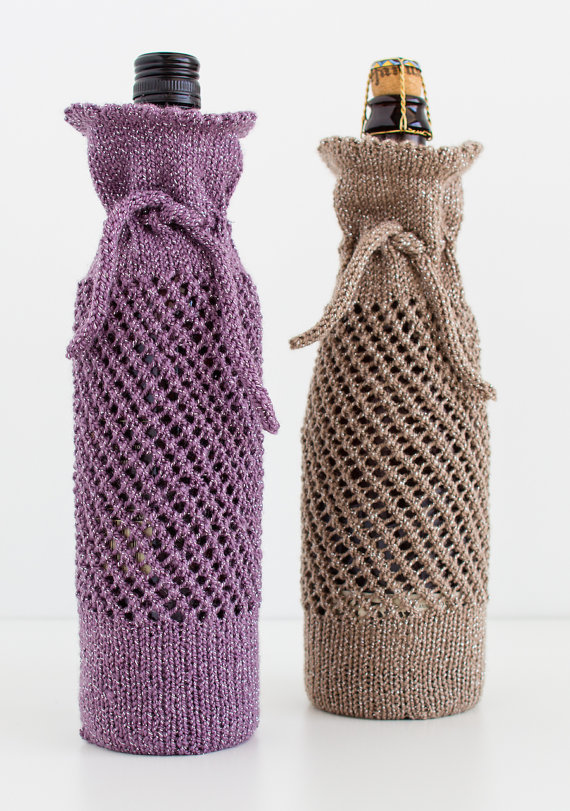 Wine Bottle Gift Bag
This one-skein wonder has stretchy lace body and picot hem that accommodate standard sized bottles of any shape, from champagne and wine to liqueur and craft beer..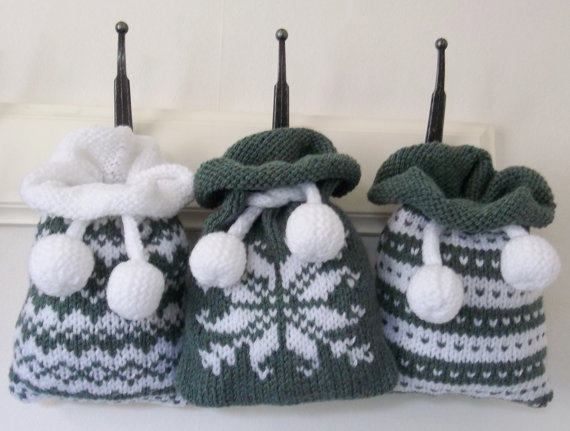 Gift Bags in Norwegian, Snowflake and Fair Isle patterns
These patterns are sold separately. The gift bag measures approx 8" in height and 5" in width, finished. Great stash buster.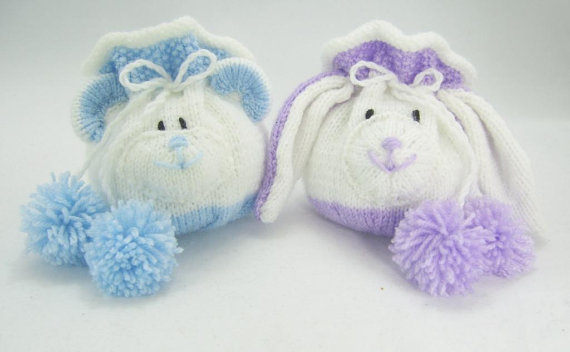 Bear and Rabbit Drawstring Gift Bags
Dimensions : 12cm wide and 14cm from bottom to top edge of bag when full.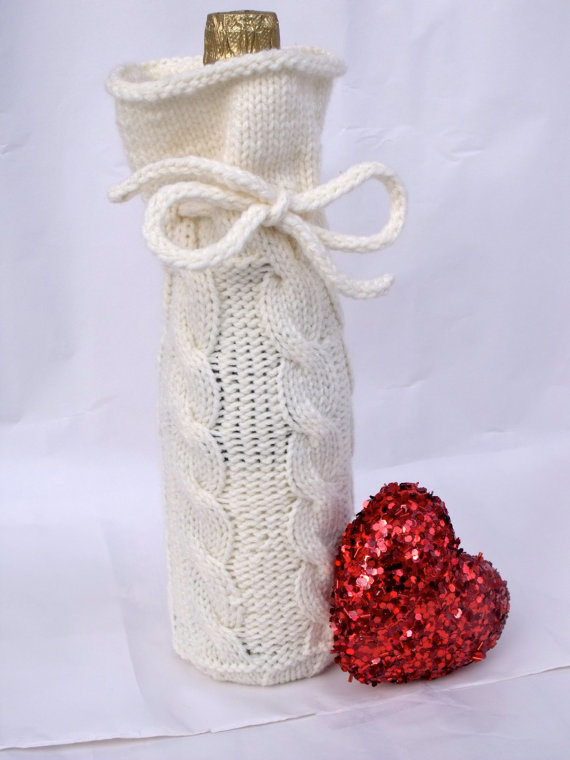 Cable Knit Wine Bottle Bag
This wine cozy features five cables and an i-cord drawstring. Great for bottled gifts or keeping your own wine at the right temperature.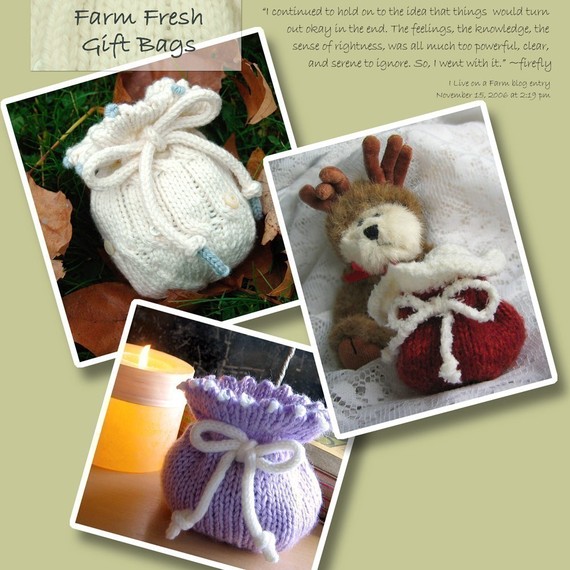 Farm Fresh Gift Bags
Knitting patterns for 3 gift bats. The first knitting pattern, "Terra" features a 4x1 ribbing and cable design and the size to fit one pair of gloves. The second is a small worsted weight gift bag about 4″ to 5″ tall; the third is a "Santa's Itty Bag" — a tiny little bag only about 2″ tall and perfect for holiday place settings, tree decorations, etc.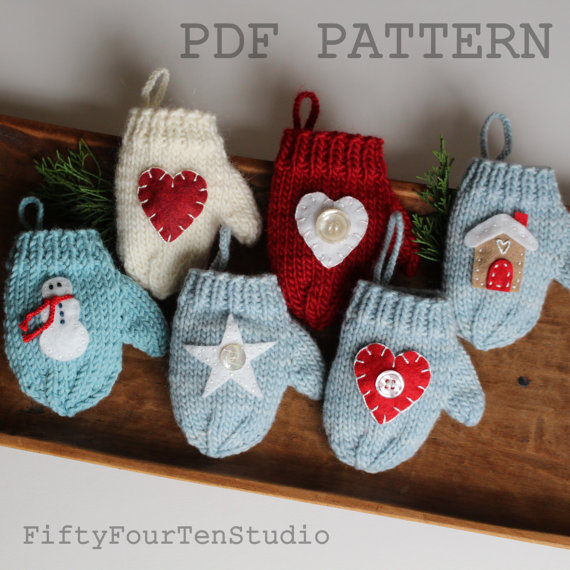 Mini Mitten Gift Card Holder
Mini mittens are the perfect size for gift card holders or ornaments. The pattern comes with patterns and instructions for the appliques.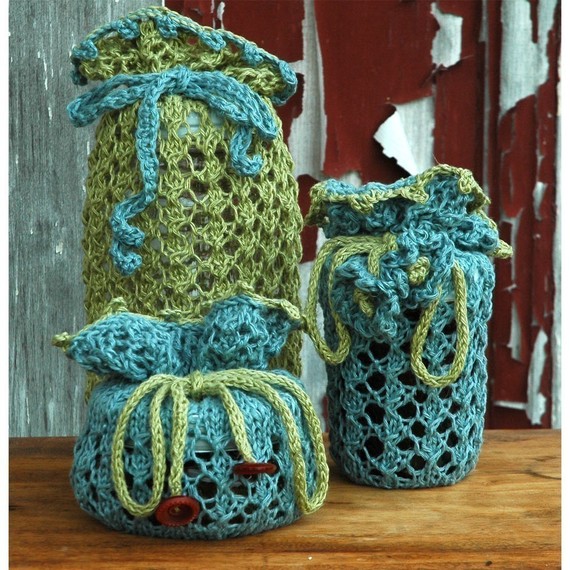 Jammies Knit Jar Gift Bags
Specific knitting instructions for the three Jammies in these photos are including in the pattern: quart size small mouth, 8-oz small mouth, 8-oz wide mouth squat style jar (from Ball). Instructions are included for adjusting pattern to fit pint wide-mouth jars, 12-oz small mouth jars, etc.