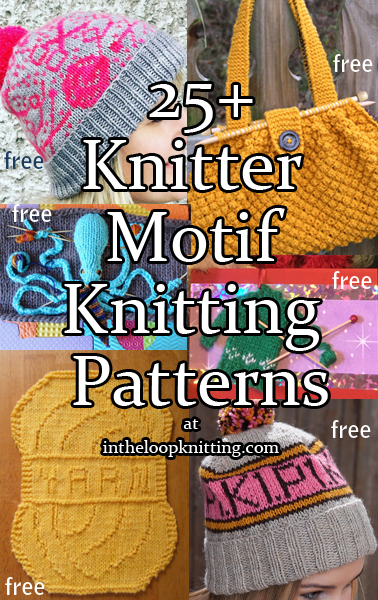 These accessories, decorations, and toys feature designs of a knitter's favorite things – yarn, needles, WiPs, and more. Great for gifts for your favorite knitters, for decorations, or to proclaim your own love of knitting.
To get the knitting patterns, scroll down the page to the individual pattern you want and click on the link to that pattern.
These patterns are not my designs but links to other designers who have generously shared their patterns. If you have questions about how to knit a specific pattern, please contact the designer directly.
All links on this site are for informational purposes, but please note that some links are to affiliate sellers that pay me a small commission on purchases.
Free Patterns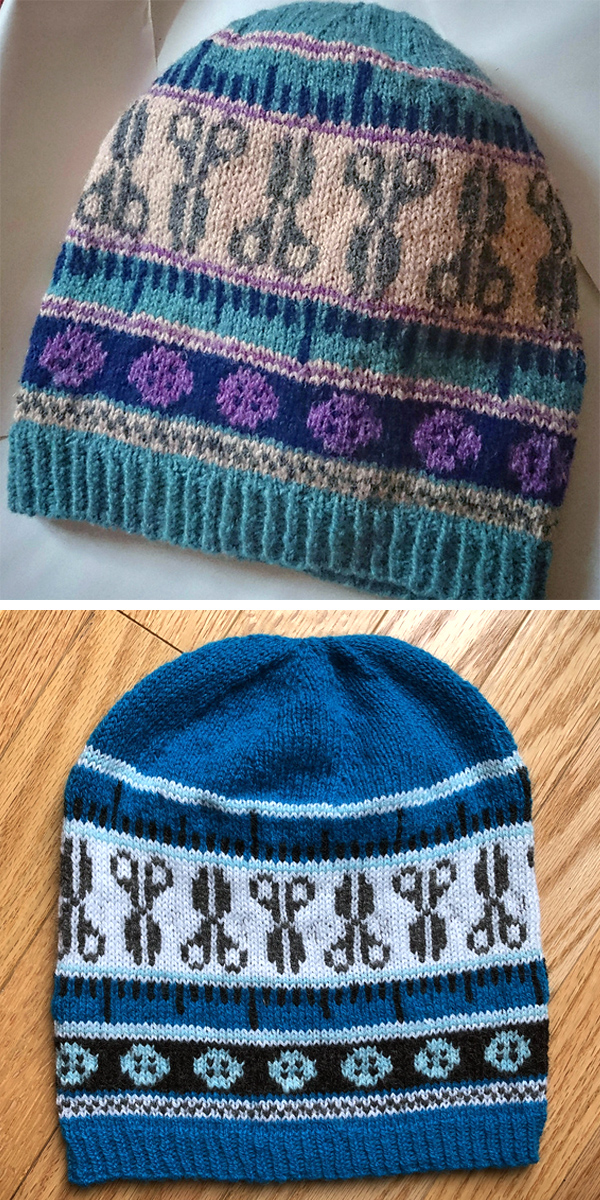 The Maker's Hat
Beanie featuring stranded colorwork craft motifs including scissors, buttons, and lines reminiscent of needles or stitches. Designed by Anna Elliott. Fingering weight yarn.

Live to Knit, Knit to Live, and Born to Knit Cloths
Easy knitting pattern with a mottos for knitters in purl stitches. Designed by Rebecca Mercier. Pictured projects by downhomepurl, emmybear, and squaregrannie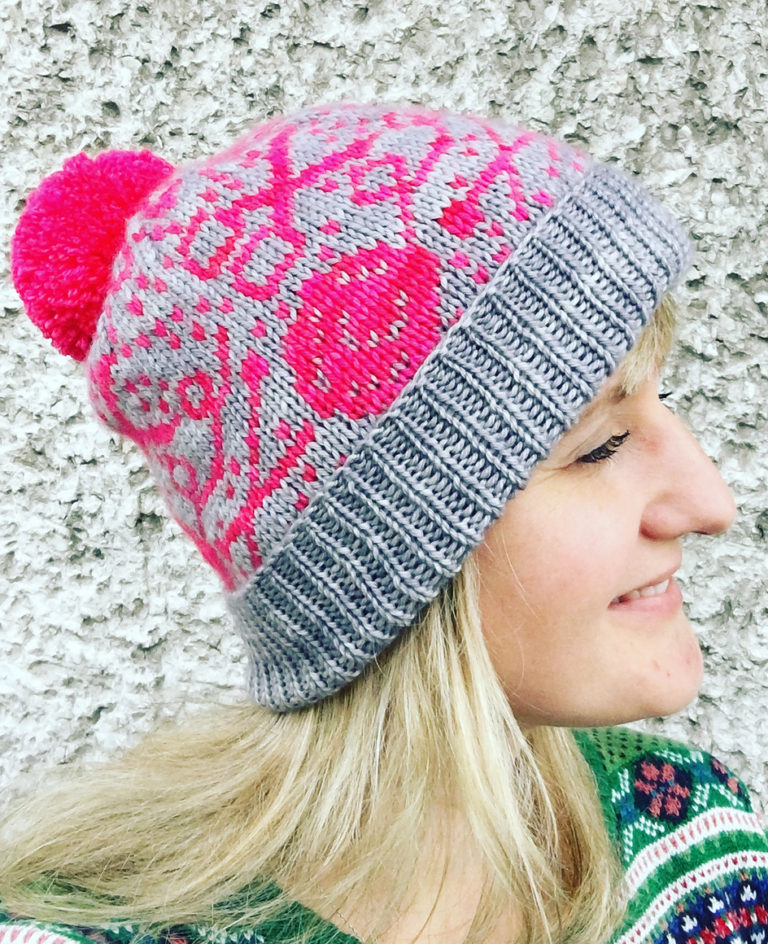 Mindcraft Hat
Look closely at the colorful design of this hat and you'll see yarn balls and strands, crossed knitting needles, and scissors — all things knitters love. Designed by Justyna Lorkowska.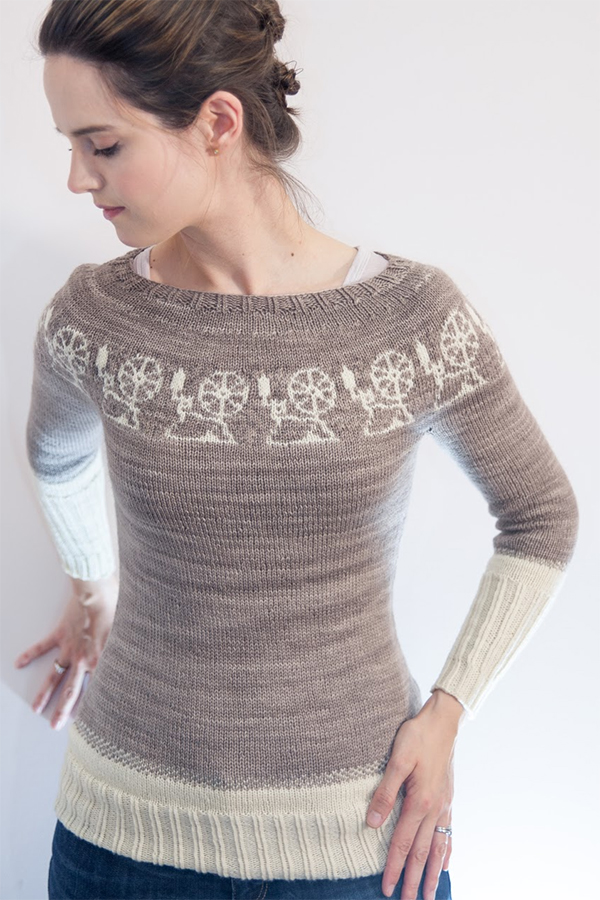 Spinning Wheel Sweater / Fileuse
Long-sleeved pullover featuring a band of stranded spinning wheels on the yoke. Sizes 30.75, 34.5, 38, 42. Designed by Valérie Miller. Fingering weight yarn.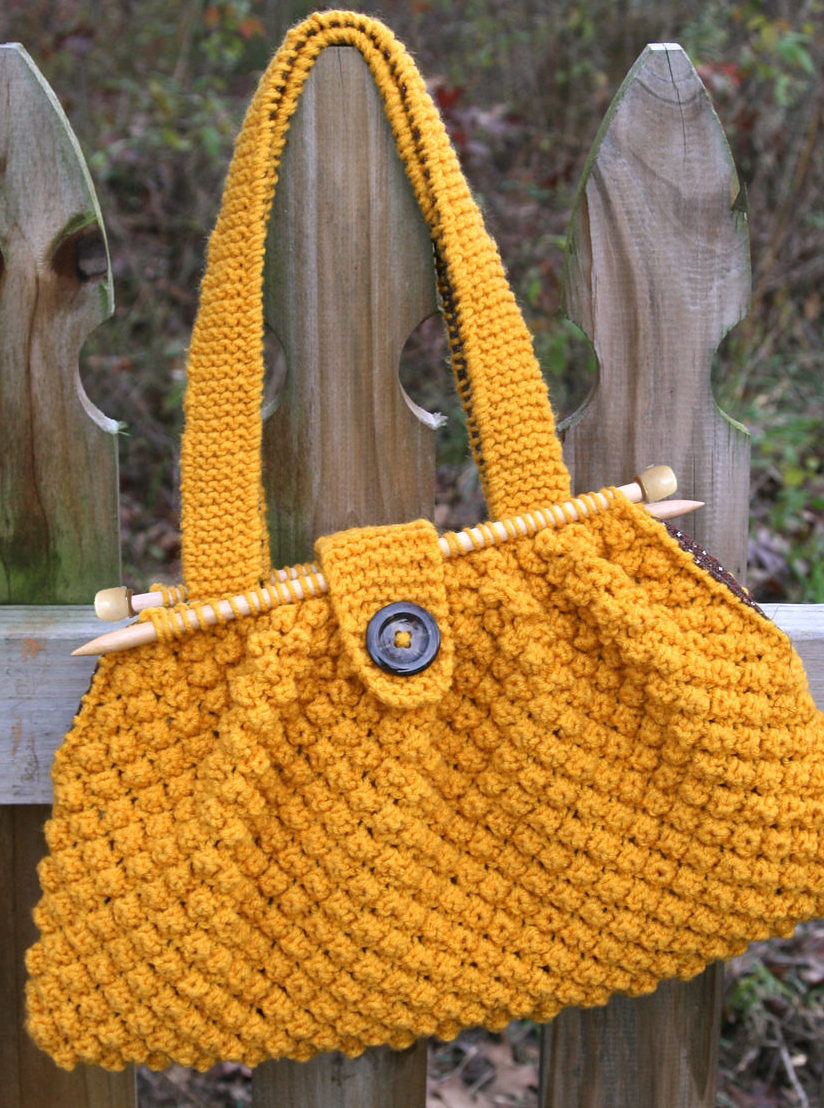 Knitting Needle Bag
No need to bind off this fun purse or project tote! Just leave the knitting needles in place (or replace with other needles) to add structure and style. Knit with the berry stitch in two rectangles with a knit handle. Finished Size: About 18¾" (47.5 cm) wide and 9" (23 cm) tall, excluding handles. Designed by Pam Allen. Pictured project by SeeSuzSew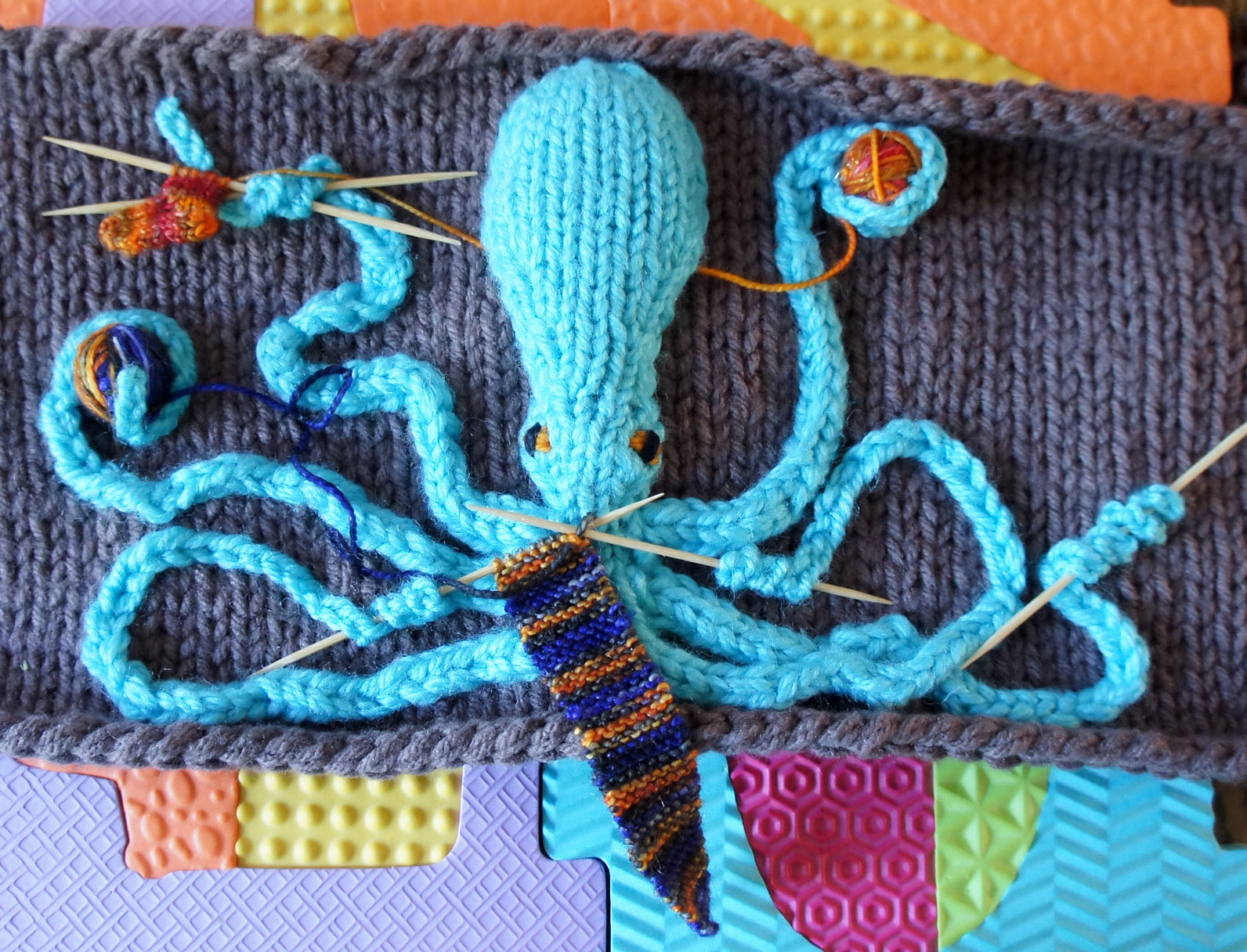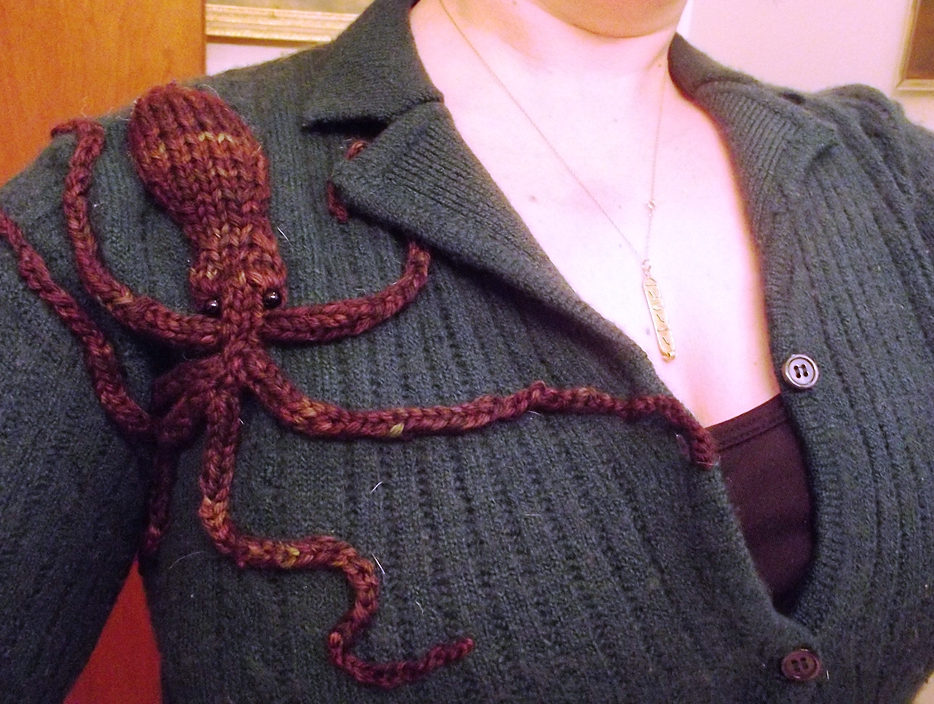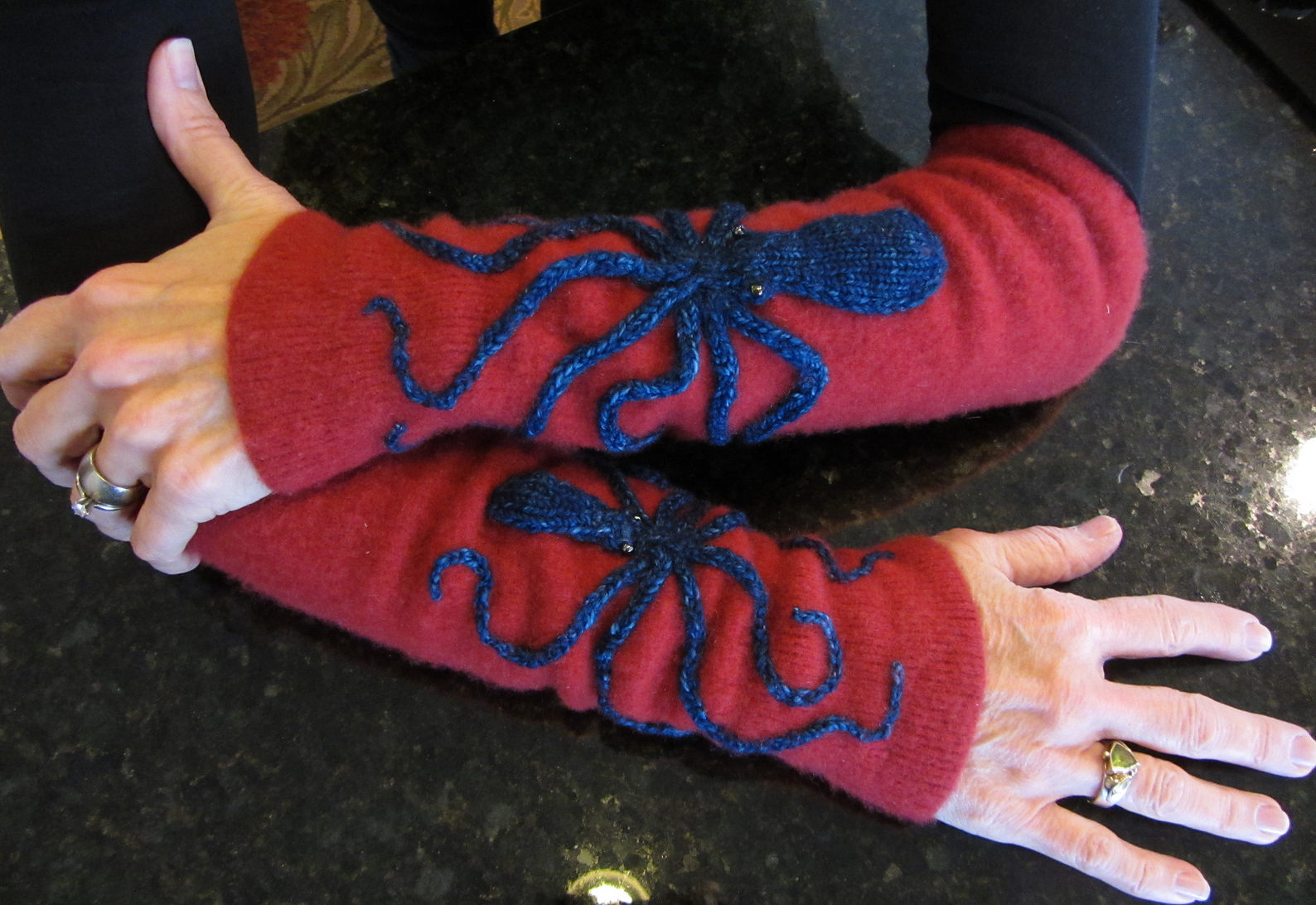 Demi Octopus
This flat octopus is perfect to applique on accessories, cozies, or hangings like the "Must Knit Faster" octopus pictured. Designed by Jennifer Wang. Pictured projects are "Must Knit Faster" by UniKnitter, steampunk jacket by KnittingKnadine, armwarmers by nbparham

Loving Thoughts Heart Card
Show you care with a personalized card with a knitted heart by Kelly Jo Sweeney. Pictured project by fluffernutters

I Knit So I Don't Kill People Cloth
Easy knitting pattern with a motto for knitters in purl stitches. Designed by barb bowman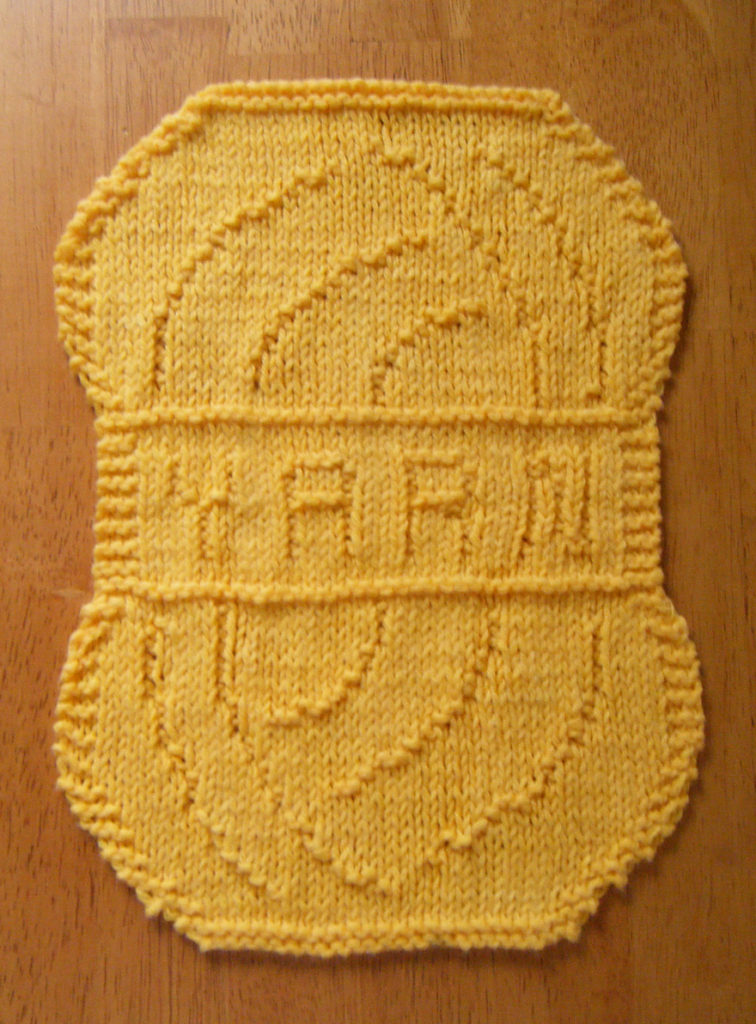 Yarn Cloth
Skein-shaped cloth with YARN on the band. The cloth is about 8" x 11", so it could also be used as a towel, placemat or doily. Designed by Theresa Jones

Yarn Ball Ornament
Easy knitting pattern for an ornament constructed of i-cord to look like a ball of yarn with knitting needles and hanging from measuring tape. Instructions for the tiny knitting needles included. Designed by Donna Herron. This is an adaptation of her bookmark pattern. Scroll down the destination page past the bookmark instructions for the ornament instructions.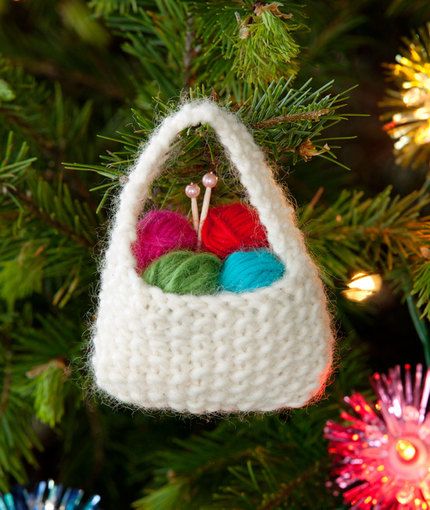 Yarn Basket Ornament
Perfect for knitters and crocheters! Designed by Scarlet Taylor for Red Heart.

Knitting Sampler Book
The soft knitted Book of Knitty is perfect for babies to touch, discover, and play with textures and colors. And as they get older it can pique their interest in knitting. Packed with miniature versions of some of Knitty patterns, it's also a great gift for adults who knit or are learning to knit! Designed by Laura Brown. Pictured project by americanlass. Other Ravelrers have adapted this pattern to make books of high-contrast stitch patterns, tiny clothes, nature motifs, and more. Great use for stash or scrap yarn.
More Free Patterns

Knit Purl Mittens
The Tattoo You mittens are knit flat and seamed and feature intarsia words "Knit" and "Purl". Designed by Darn Knit Anyway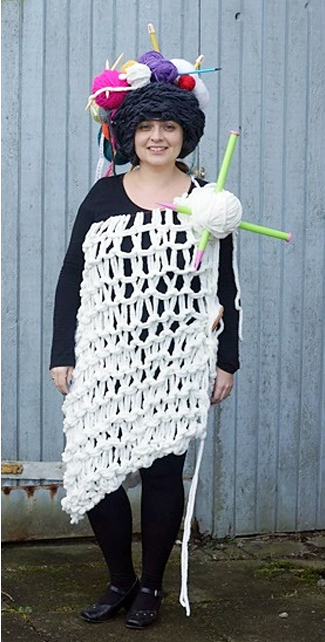 Knitter Pride Costume
Anja Hjorth designed this WIP costume that's perfect for knitters. The turban and vest are all arm knitting in super bulky yarn. What a great way to use your stash!
WIP Ornament
Quick easy project for a holiday ornament or gift using basic toothpicks and beads for knitting needles. Takes 15 minutes according to Ravelrers. Designed by Allison Griffith. If you're really ambitious, you can slip your WIP into a glass ornament as laurelendili did. Other pictured project by peggysr

Yarn Ball Bookmark
Easy knitting pattern for band-style bookmark constructed of i-cord to look like a ball of yarn. Instructions for the tiny knitting needles included. Designed by Donna Herron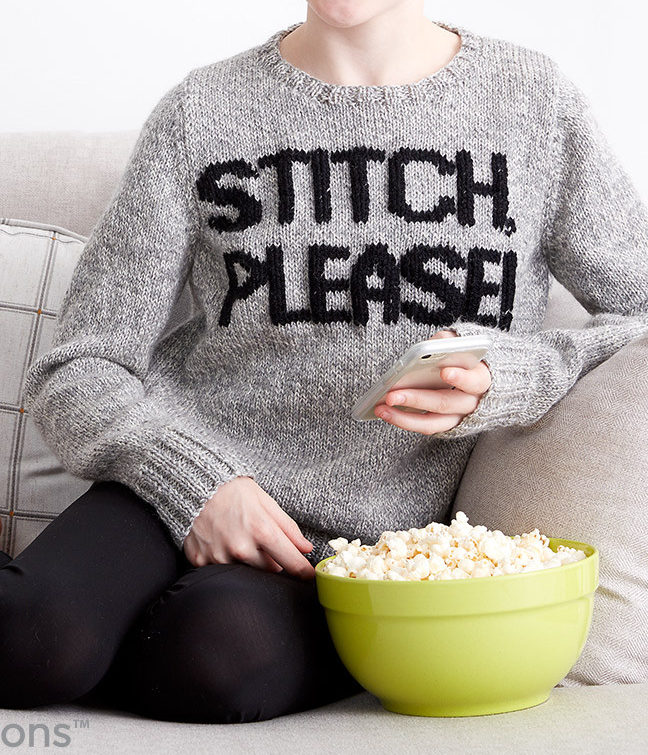 Stitch Please Sweater
Easy, long sleeved pullover with slogan in duplicate stitch. Sizes XS/S M L XL 2/3 XL 4/5XL

Name Tag
A knit version of the "Hello my name is" name tag. Perfect for knitting clubs, yarn stores, craft shows, or general events where you want to proclaim your allegiance to your hobby. Designed by Claire Reagan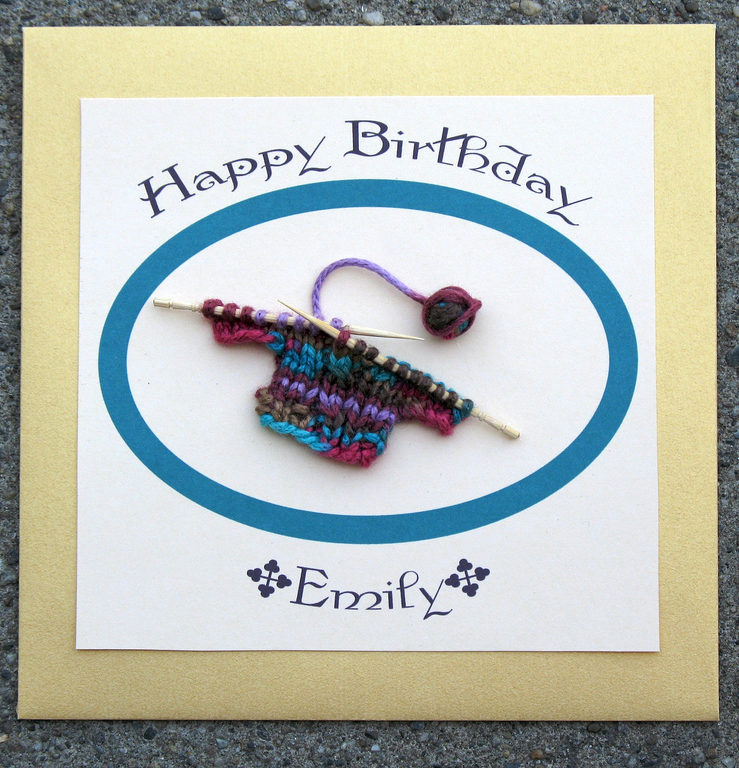 Knitting Sweater Card
This card idea featuring a sweater knitting project is perfect for your knitting friends! Congratulations Card designed by Carol Donkin for Craft Creations. For this pattern, you will need scrap yarn, toothpicks or cocktail sticks, and cardstock. Pictured project by EtotheM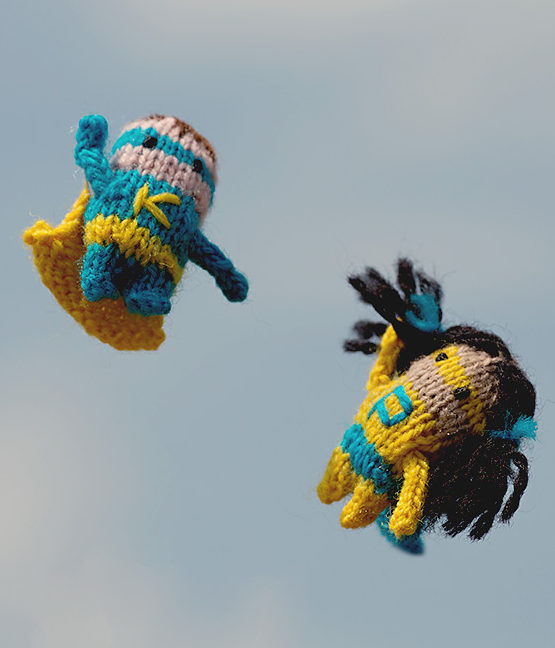 Purl Girl and Knit Kid
From the designer Anna Hrachovec "Knit Kid and Purl Girl are faster than a speeding yarn swift, more powerful than a knitting machine, and able to untangle knots with a single tug! When they're not handling yarn emergencies, they lend their bold and creative problem solving to anyone who carries them in their pocket." Knit up quickly in a couple of hours and make a great last minute gift. 1-1/2″ tall when made with fingering-weight yarn.

Sweater WiP Christmas Card
This pattern shows you how to create the sweater (with 2 different designs) and then the card. Easily adaptable as a standalone item such as a brooch/badge or decoration. Designed by Yankee Yarns Designs

Love To Knit With My Friends Dishcloth
Easy knitting pattern with a motto for knitters in purl stitches. Designed by Rachel van Schie

Stanley the Amazing Knitting Cat
Stanley is a slightly-less-ordinary cat with a passion for knitting. He is featured in Emily MacKenzie's book Stanley the Amazing Knitting Cat published by Bloomsbury. Now you can knit Stanley yourself! Designed by Lauren O'Farrell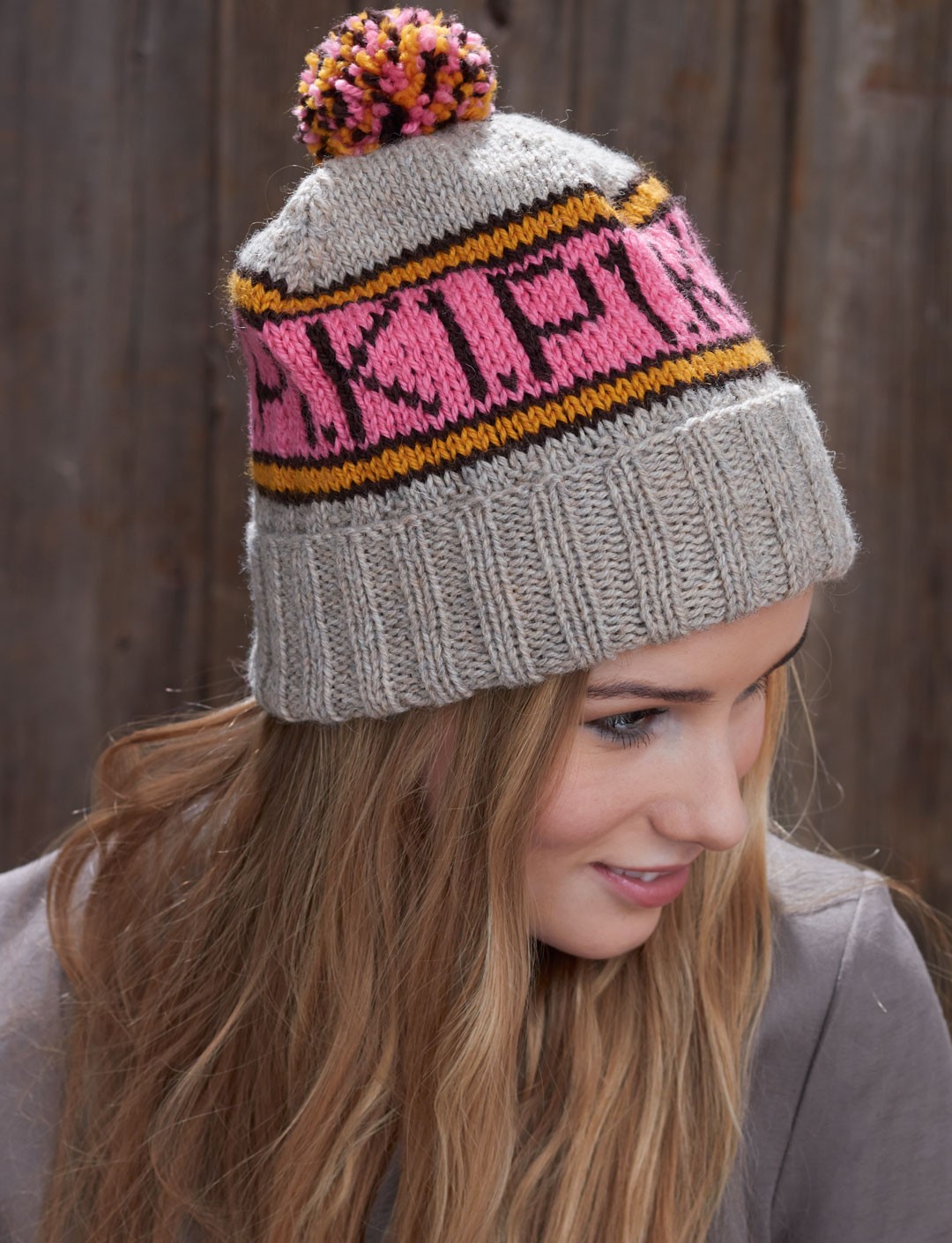 K1 P1 Toque
Patons created this hat that's perfect for knitters.

Knucks
It's difficult to type this when I'm laughing so hard! Instead of tatooing your knuckles, try this pattern by Pamela Grossman for fingerless gloves and embroider your favorite eight letters on the knuckles. Knit from the knuckles up.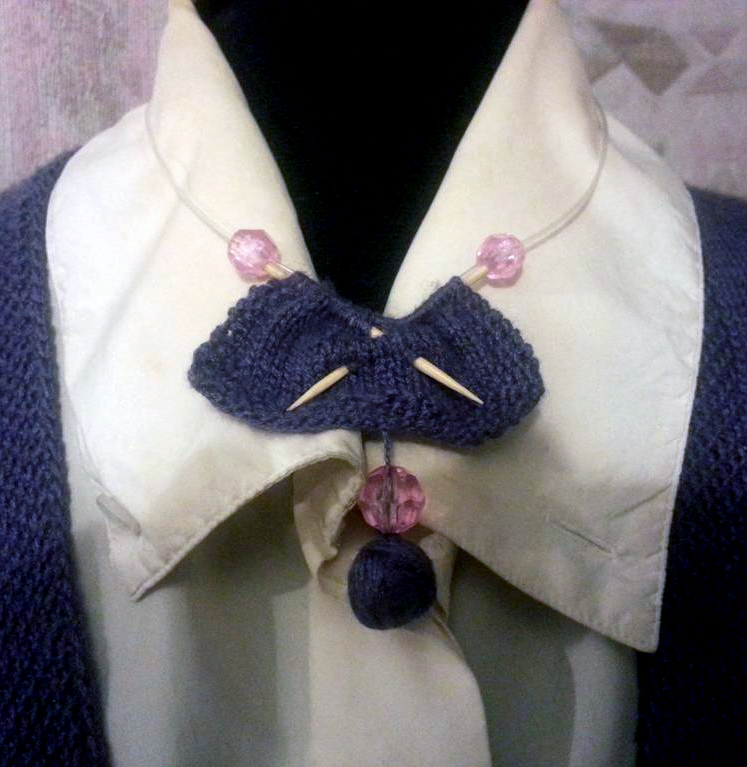 Swatch Necklace
Look closely at this pic for a great gift idea of a knitter! dagmar.li1275397 created a necklace using a swatch that looks like it is still attached to knitting needles, adorned with decorative beads. She actually used bamboo picks and nylon cord. Brilliant idea for knitter jewelry!
Patterns for Purchase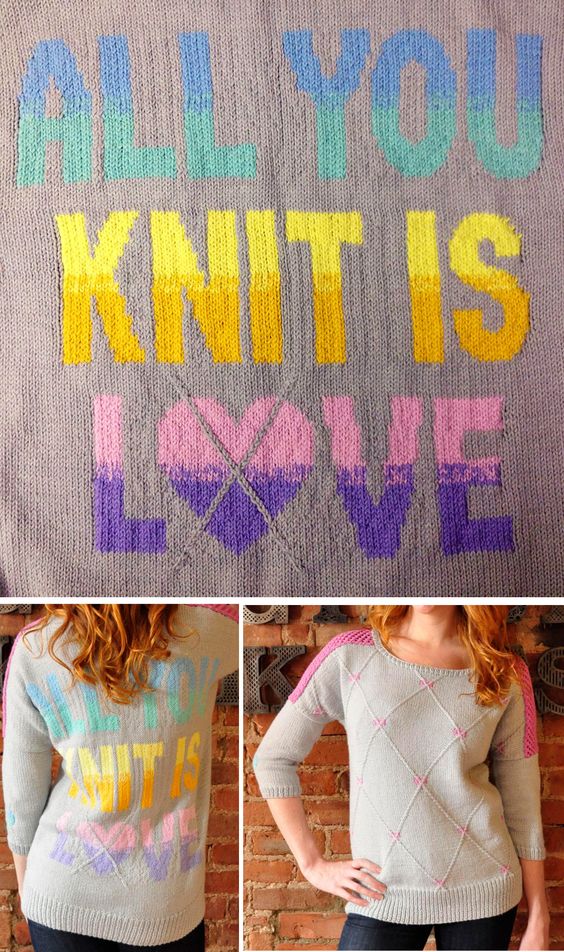 "All You Knit Is Love" Heart-Gyle Sweater
Long sleeved pullover sweater with intarsia motto on the back and textured diamond design with tiny hearts on the front. Sizes XS-XL to fit a 30-45" Bust with 4" positive ease. Designed by Lauren Riker. DK weight yarn.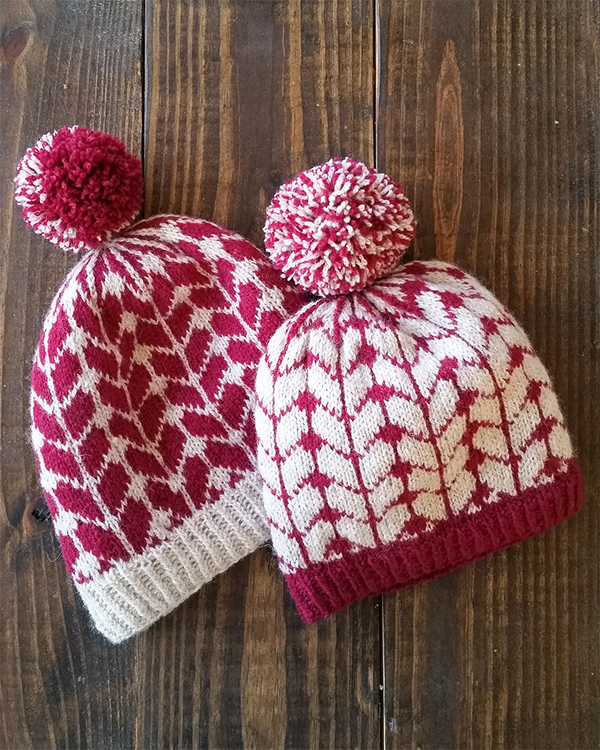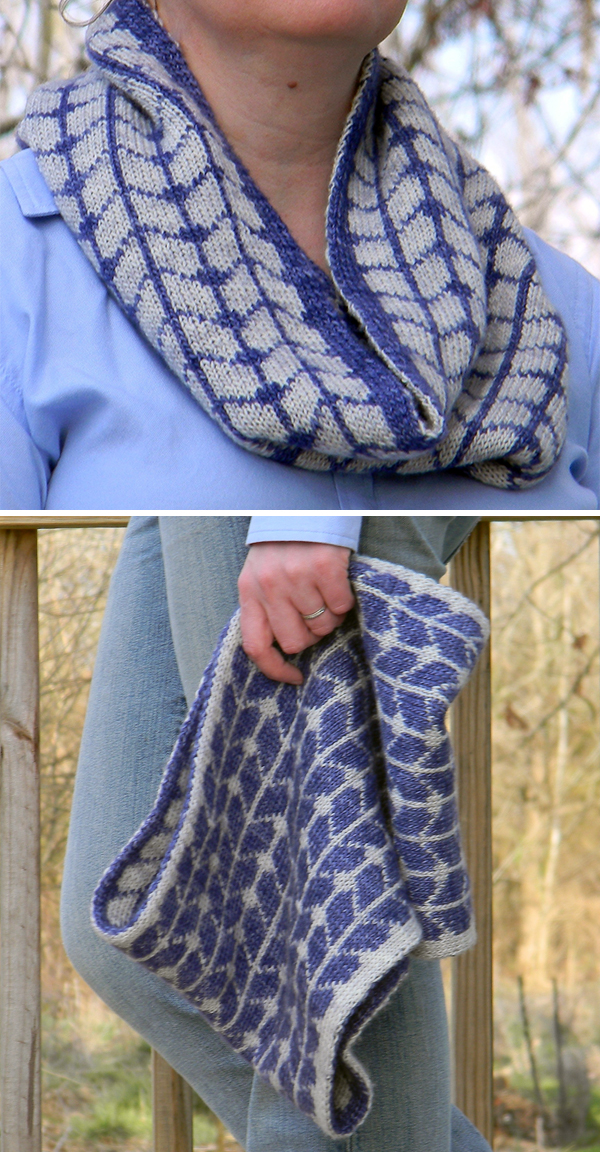 Big Stitch Hat and Cowl
The design on these accessories may look like chevrons to non-knitters, but your fellow knitters will recognize it as the visual representation of knit stockinette. Beanie knit with stranded colorwork. 2 sizes, child and adult. Reversible cowl is double knit. Cowl about 11 inches (28 cm ) wide, and about 32 inches (80 cm) in circumference. Designed by Nailya Plaskey. Fingering-weight yarn.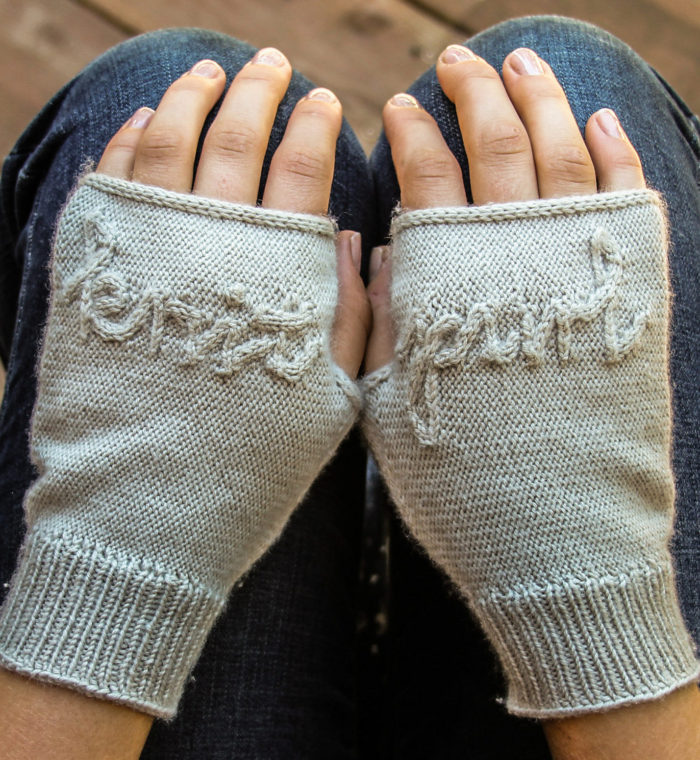 Knit & Purl Hand Mitts
Show some love for your favorite craft with these statement mitts! Fingering-weight yarn. 3 sizes. Designed by Bekah Knits
Knit, Repeat Top
Meta knitting! This fun short-sleeved pullover features a graphic design inspired by printed renditions of knit stitches in stranded colorwork. Fingering-weight yarn. Sizes XS – 5X. Designed by Claire Slade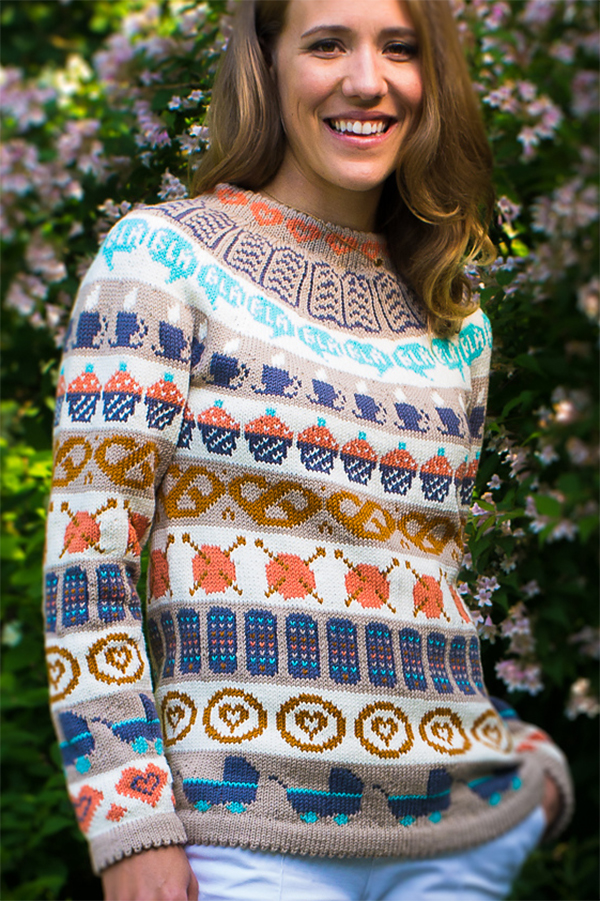 Café Sweater / Kafeganser
Pullover with fun stranded motifs inspired by nice things you find at cafés or coffee shops, including knitting. Sizes S, M, L, XL. Designed by Cecilie Kaurin and Linn Bryhn Jacobsen. Available in English and Norwegian. DK weight yarn. One of the 20 patterns in Creative Colour Knitting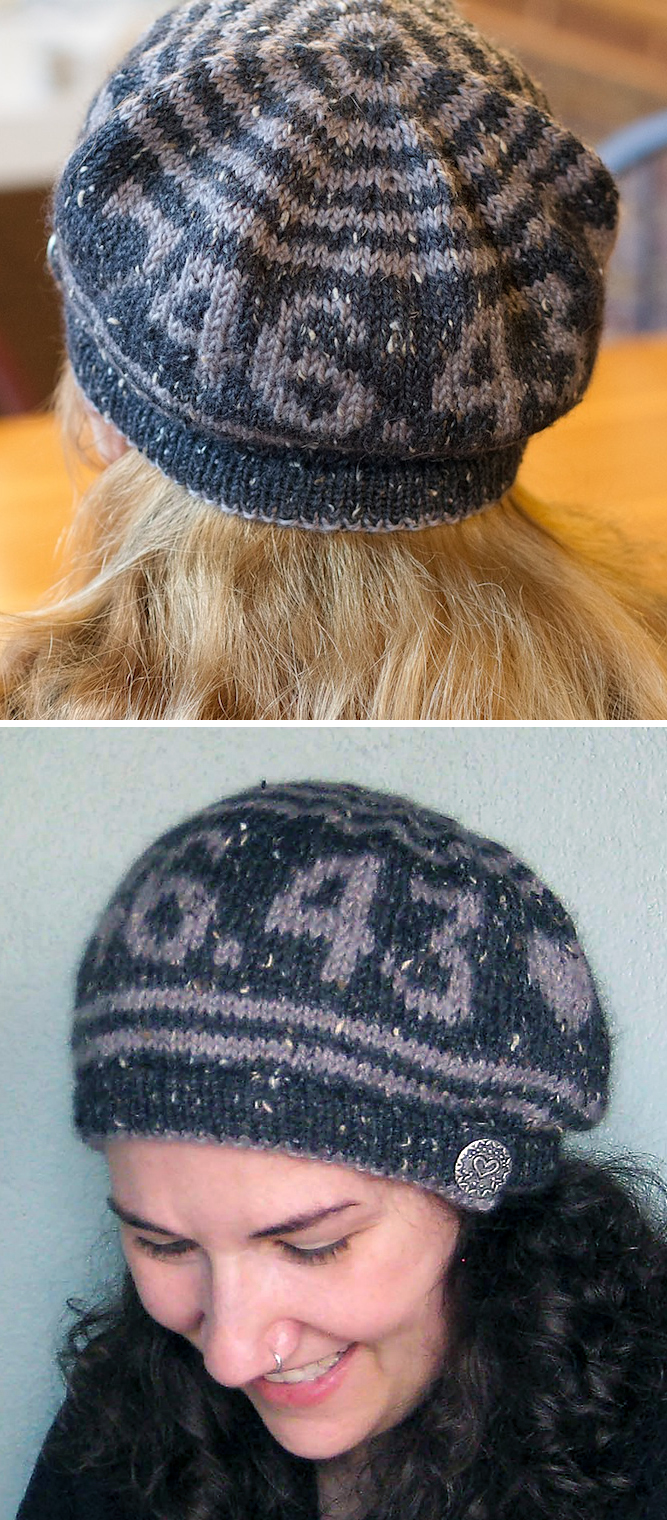 Beret with "Knitting" Dewey Decimal Number
Dewey Decimal Hat is a slouchy tweed hat with a stranded design with the favorite Dewey decimal designation for knitting books, hearts, tweedy stripes, and a cute hemmed button band. Designed by Brenda K. B. Anderson. One of the 28 patterns in Stitching in the Stacks: Librarian-Inspired Knits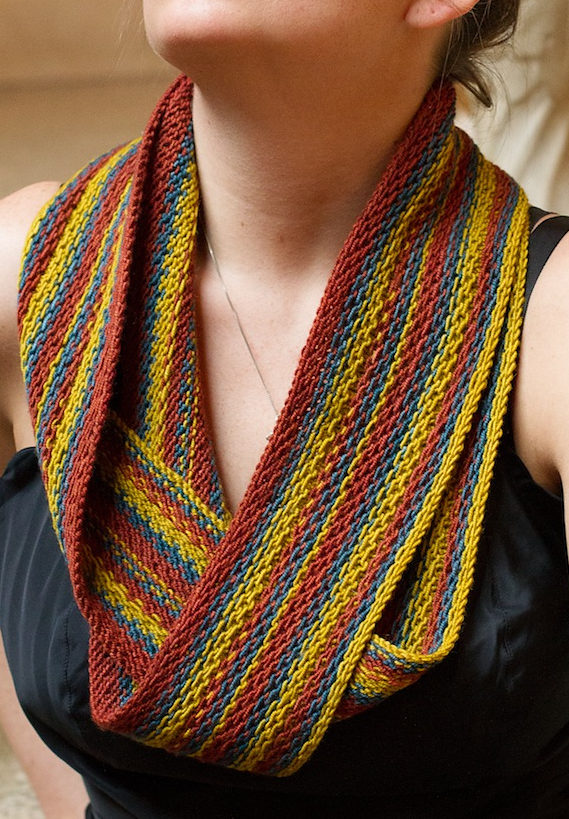 "Knitting" Dewey Decimal Number Scarf
The stripe pattern for the Meta Data scarf or cowl is based on the Dewey Decimal code for knitting books (746.432) but can be replaced with the code for any genre you like. Designed by Alexandra Tinsley. One of the 28 patterns in Stitching in the Stacks: Librarian-Inspired Knits

Kraken Amigurumi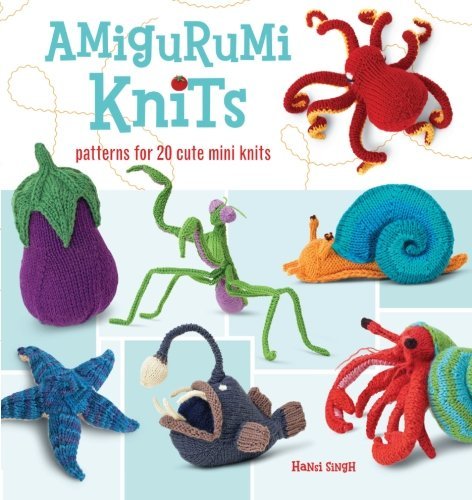 This kraken / squid toy is included in the book Amigurumi Knits: Patterns for 20 Cute Mini Knits by Hansi Singh. Sizes depend on yarn weight. Pictured projects are by Eccie who created a knitting squid with needles and yarn and themagicalbean who created a baking kraken tableau.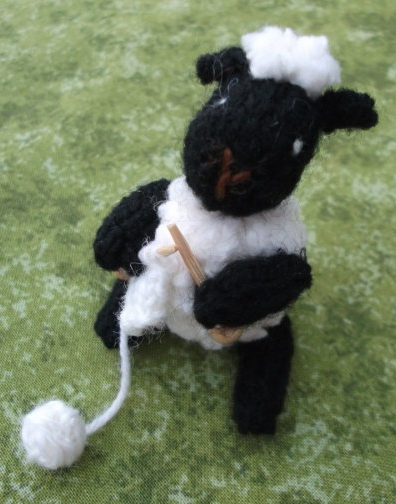 Knitting Lamb
Knitting pattern to make a little lamb with knitting needles. The lamb is 5cm sitting height. Designed by Sachiyo Ishii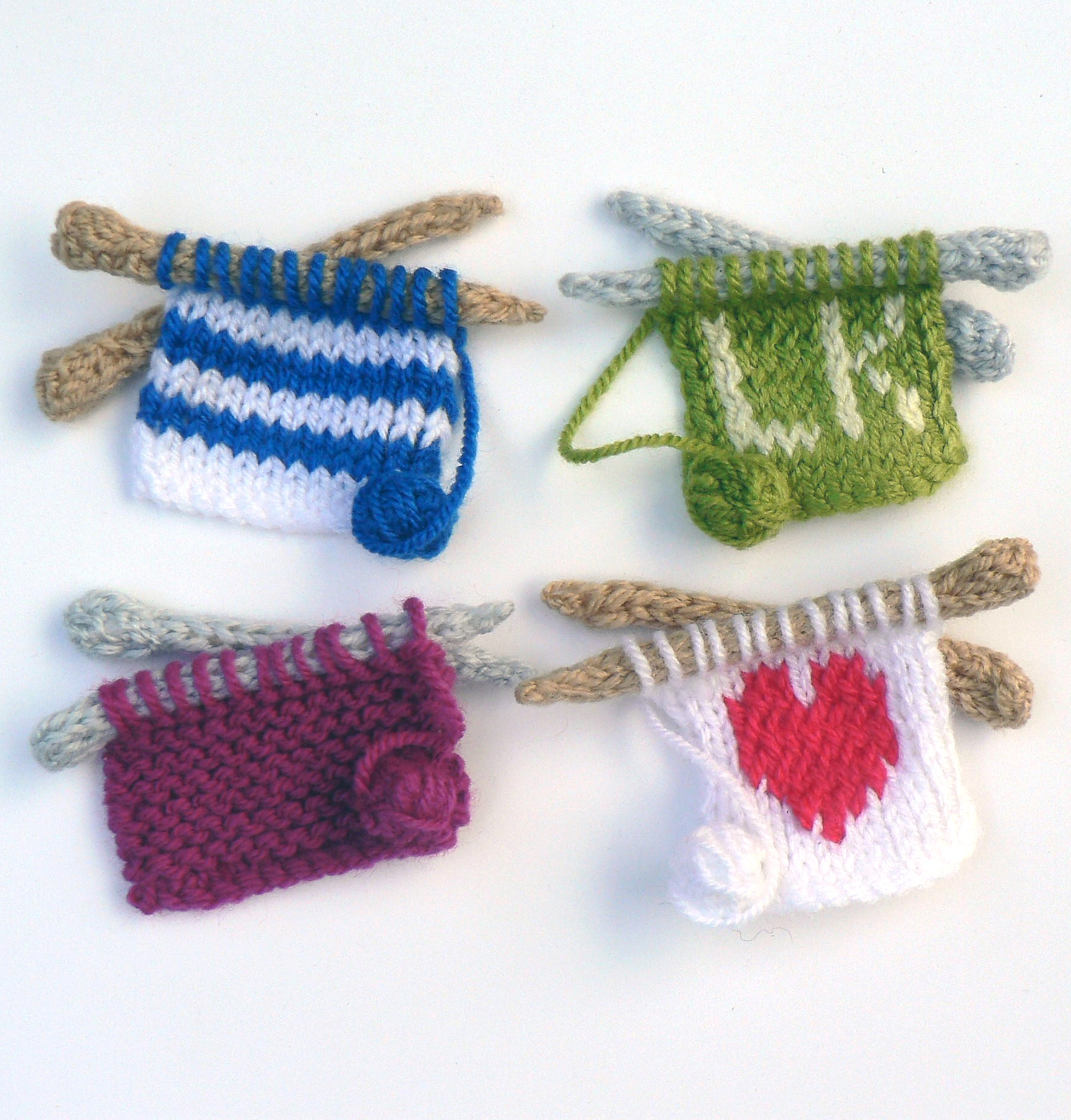 Knitting Themed Pins or Fridge Magnets
Knit these tiny knitting needles with a small project and yarn ball that can be used as jewelry, refrigerator magnet or ornament. Each pin measures approx 3 ½ x 2 ½ ins & uses tiny amounts of DK yarn. Perfect gift for knitters!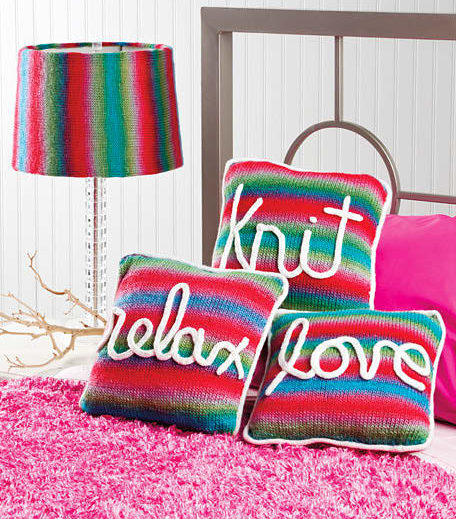 Love, Knit, Relax Pillows and Lampshade
Easy pillows can be personalized with I-cord words. Pillow: 12″ x 12″ Lampshade: 12″ diameter at top, 13″ diameter at bottom, and 9″ height. Designed by Lorna Miser