Knitting patterns for Christmas and other seasonal decorations including stockings, wreaths, and more. Most patterns for free.
To get the knitting patterns, scroll down the page to the individual pattern you want and click on the link to that pattern.
These patterns are not my designs but links to other designers who have generously shared their patterns. If you have questions about how to knit a specific pattern, please contact the designer directly.
All links on this site are for informational purposes, but please note that some links are to affiliate sellers that pay me a small commission on purchases.
Free Patterns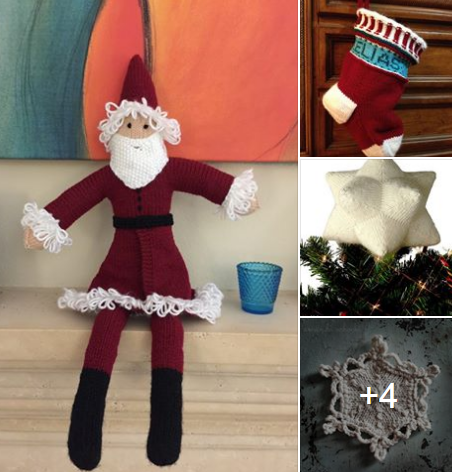 7 Free Holiday Knitting Patterns ebook
Free knitting patterns from the free ebook Holiday Knitting eBook: 7 Free Knitted Projects include Father Christmas, Celestine Tree Topper, wide stocking, Snowflake Ornament, Poinsettia Ornament, Cabled Ornament, and Merry Mice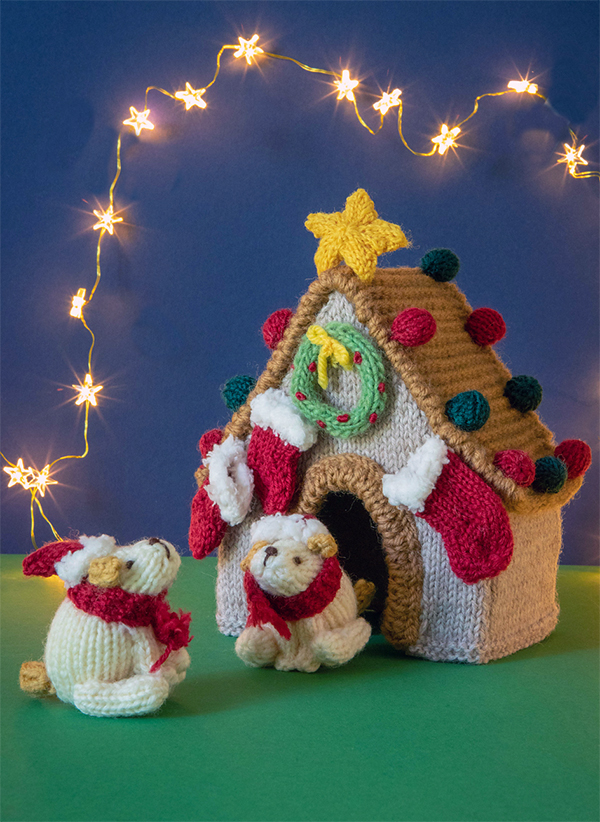 Christmas Puppies and Doghouse
Tiny dogs wearing santa hats and scars along with their decorated Christmas house. Knit flat and seamed. Sizes: Kennel 13cm tall. Puppies 5cm tall. Designed by Sachiyo Ishii. DK weight yarn.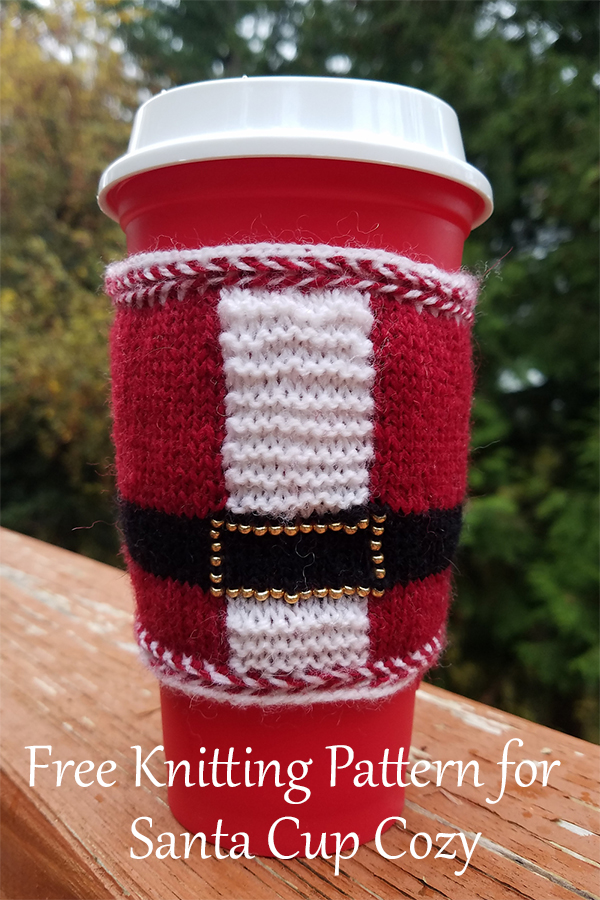 Santa Coffee Cozy
Christmas cup cozy inspired by Santa's bright red suit with a beaded belt buckle. Designed by Elizabeth McComb. Fingering weight yarn.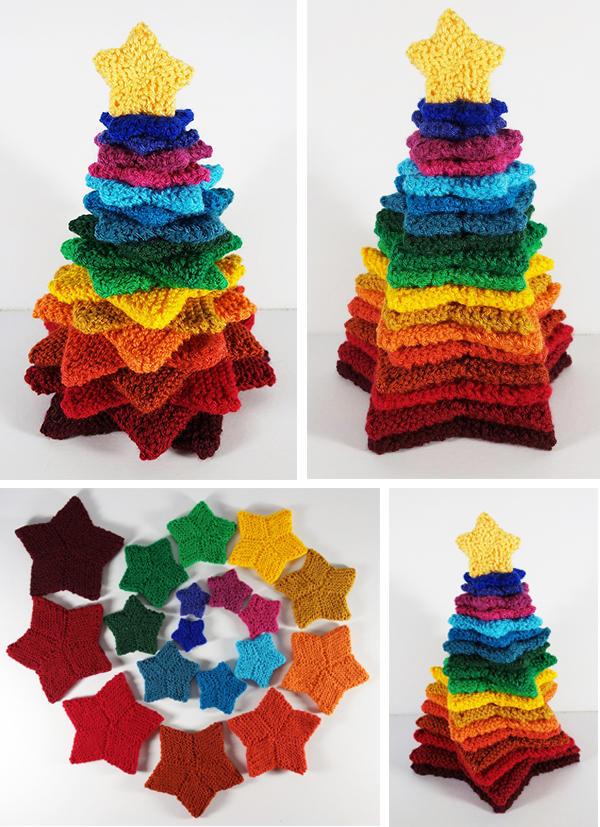 Stacking Stars Tree
Knitting pattern for nine different sizes of garter stitch stars, ranging from 2 - 6" which can be stacked together to make a Christmas or other tree. All the stars are knitted from the same basic formula; you just work more repeats for the bigger sizes. Designed by Frankie Brown.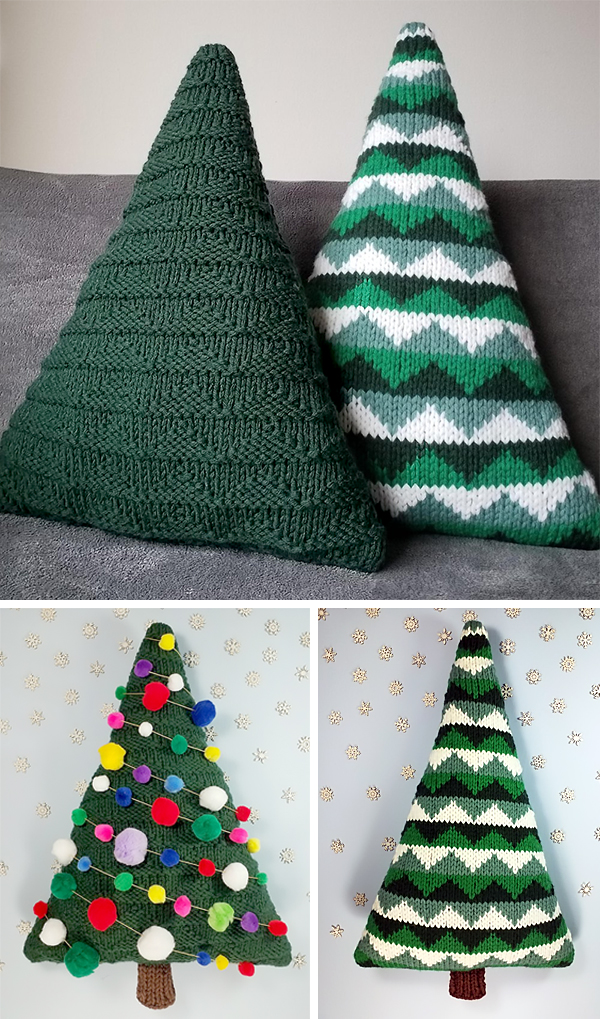 Christmas Tree Cushions
Two variations of a triangle-patterned tree-shaped pillow: one is a textured knit-purl pattern, the other is a four-coloured zigzag design. The cushions can also be decorated like a Christmas tree, hung on the wall or on a door as an alternative to a circular wreath, in which case there is a trunk which can be attached. The pieces are knit flat then sewn together and the cushions are approximately 56cm (22 inches) tall. Designed by Squibblybups.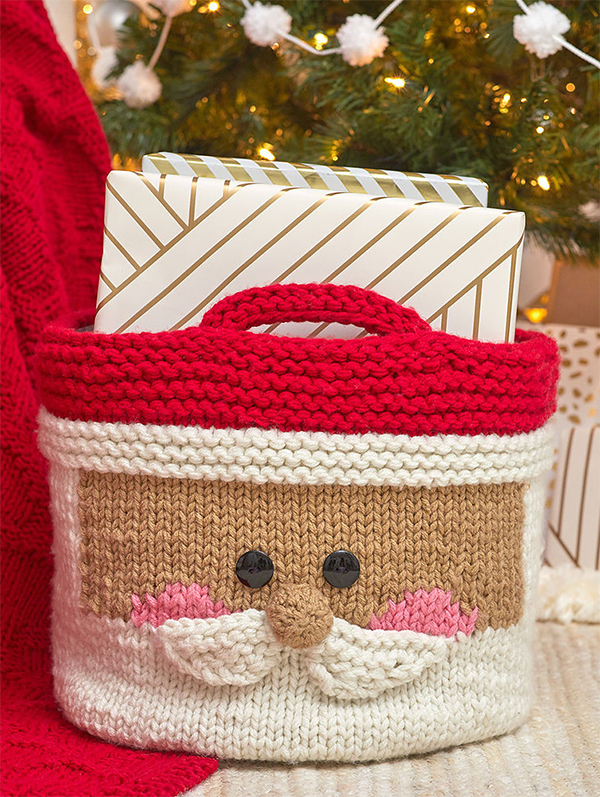 Jolly Santa Basket
This cool Santa faced basket is perfect for keeping presents or other holiday items organized. Designed by Nancy Anderson for Red Heart.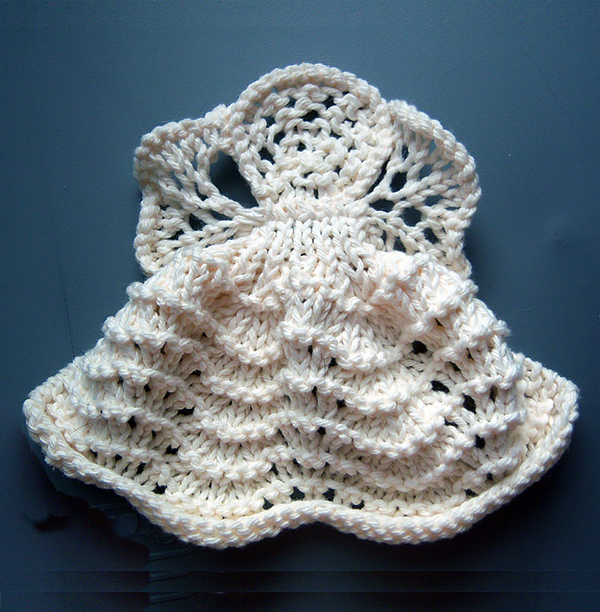 Angel Dishcloth
Lace angel that is perfect for Christmas or as a gift for someone who needs a little hope. Rated easy by many Ravelrers. Designed by Love 2 Knit Dishcloths. Worsted weight yarn. Pictured project by Zanahoria12.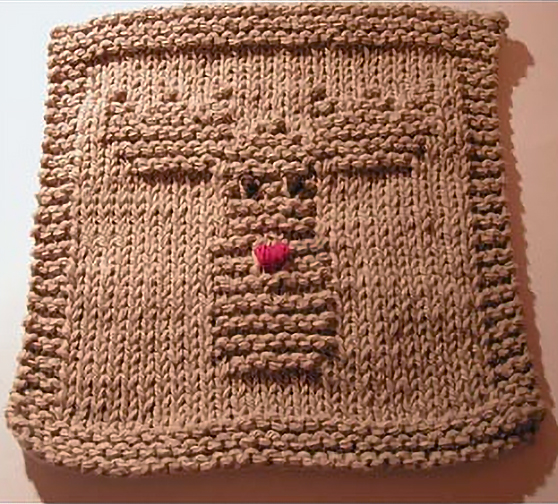 Reindeer Dishcloth
Rudoplph inspired Christmas wash cloth worked with knit and purl stitches and a bobble nose. Rated easy by Ravelrers. Designed by Knitted Kitty. Worsted weight yarn.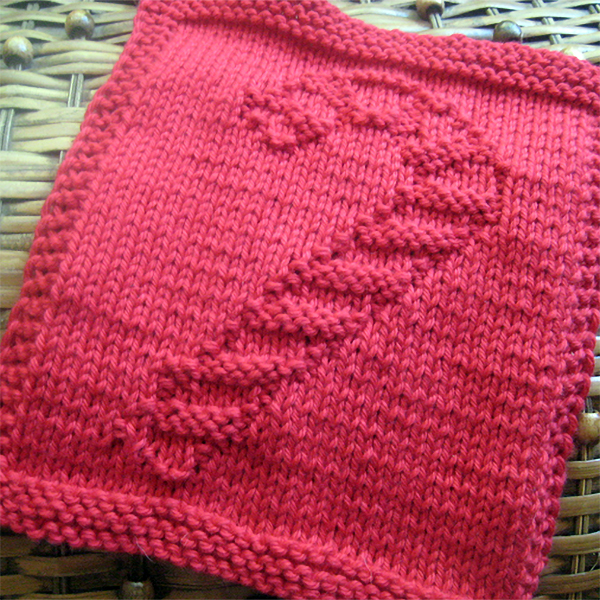 Candy Cane Dishcloth
Knit and purl Christmas motif dish or wash cloth. Rated easy by Ravelrers. Designed by Michelle Bouchard. Worsted weight yarn. Pictured project by PeachesnPurls

Finger Knit Wreath
Anne Weil designed this easy stylish decoration that is made by wrapping a finger knit cord around a styrofoam wreath form.

Elf Shoe Table Leg Covers
These adorable leg covers do double duty as decoration and protection for furniture during holiday gatherings. Circumference of Leg: 8" Length: 16". Designed by Stitch Studio Design Team

Mr. and Mrs. Bear Claus
Teddy bears dressed as Santa and Mrs. Claus. Pattern available for free with a free trial at Creativebug. Designed by by Noreen Crone-Findlay. Note that link is to a page of patterns, both knitting and crochet. This listing is toward the bottom of the page.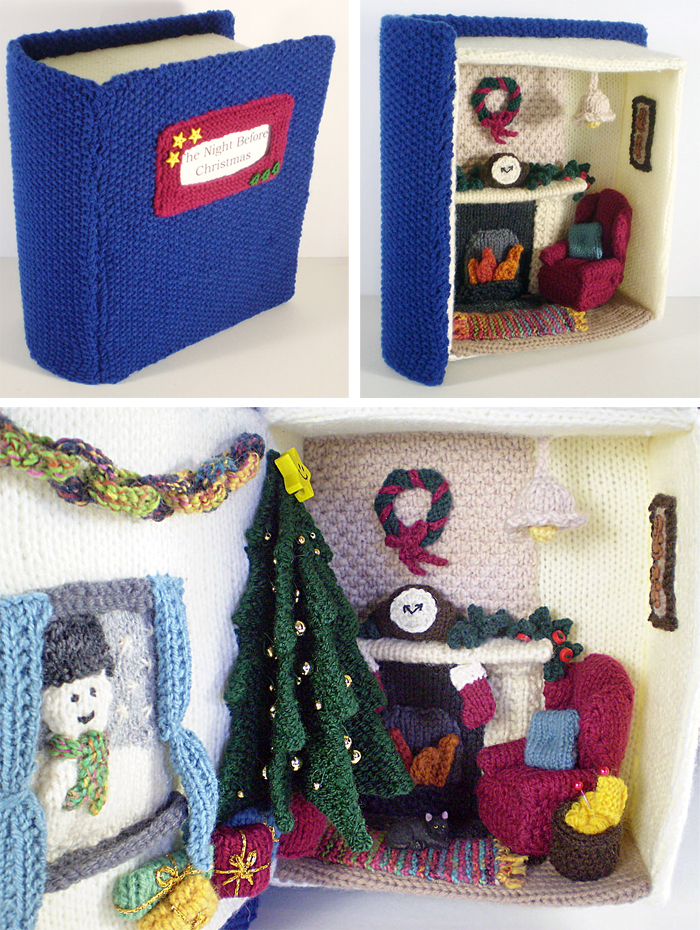 Night Before Christmas Diorama
This ingenious series of patterns creates a knitted box, shaped like a book, that opens to reveal a detailed Christmas scene with fireplace, tree, window, and more. The finished book measures 23 cm, 20 cm wide and 10 cm deep (9 × 8 × 4") when closed. Designed by the amazing Frankie Brown. This set consists of 24 patterns so it's a great Advent project – you can knit a piece each day.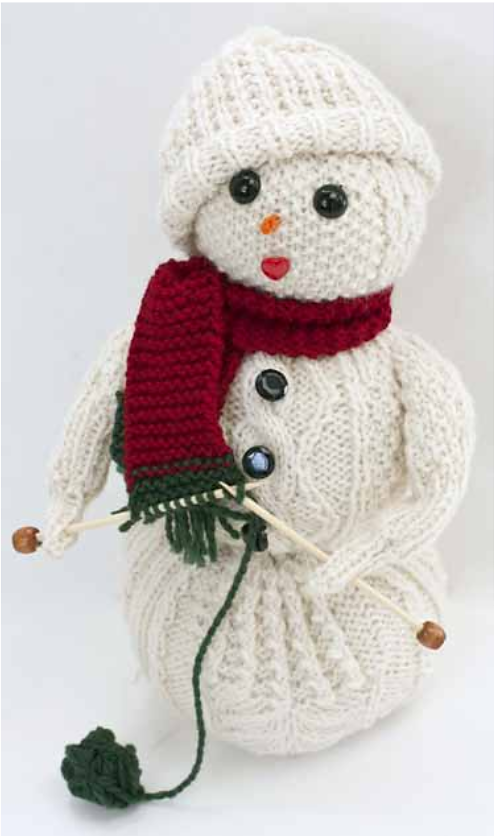 Snow Knitter
Frost Flower is a stuffed snow person who is knitting a scarf. Approx. 10″ without hat. Designed by Susie Bonell for Cascade Yarns.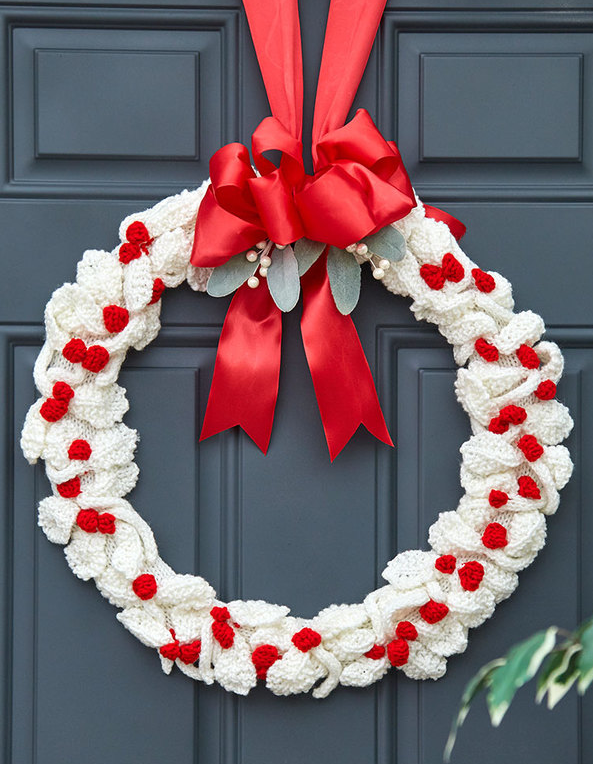 Berry Nice Wreath
Knit leaf sprigs and red berries to create a unique holiday decoration. Designed by Cathy Payson for Red Heart.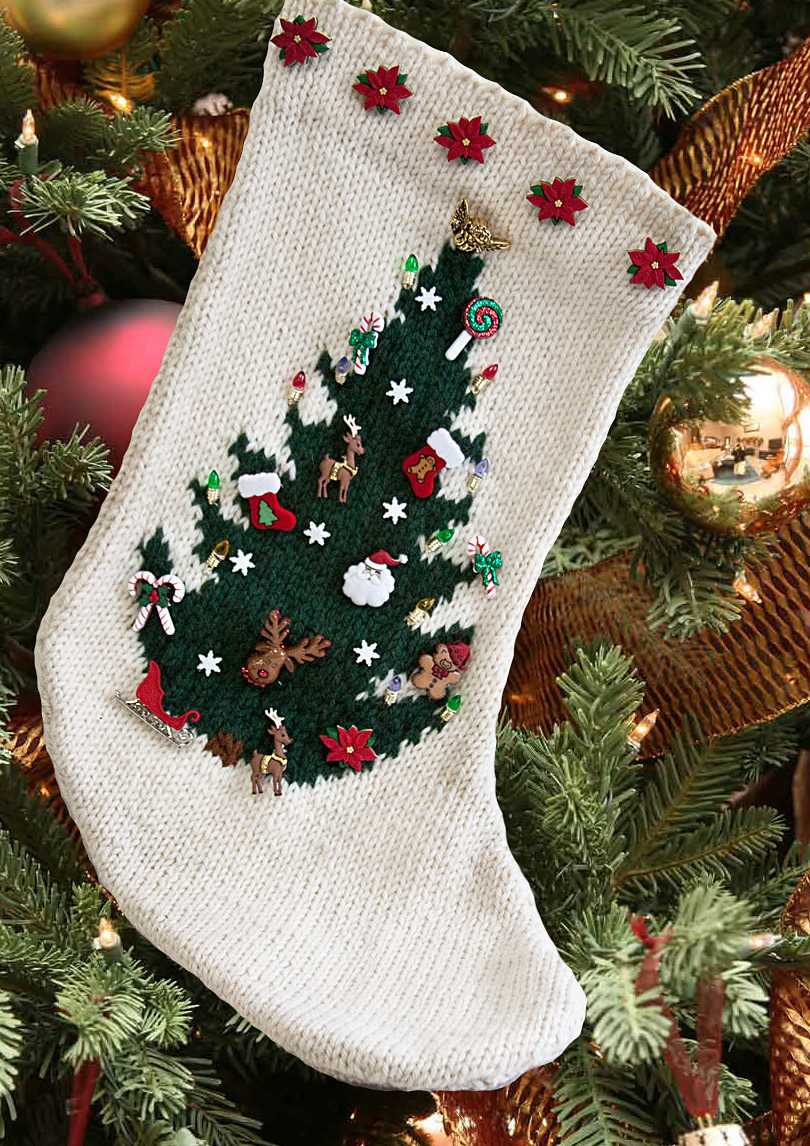 O Christmas Tree Stocking
I love the idea of this stocking. Knit an intarsia tree and then decorate the stocking with button "ornaments" and embellish with more buttons. Designed by Susie Bonell for Cascade Yarns.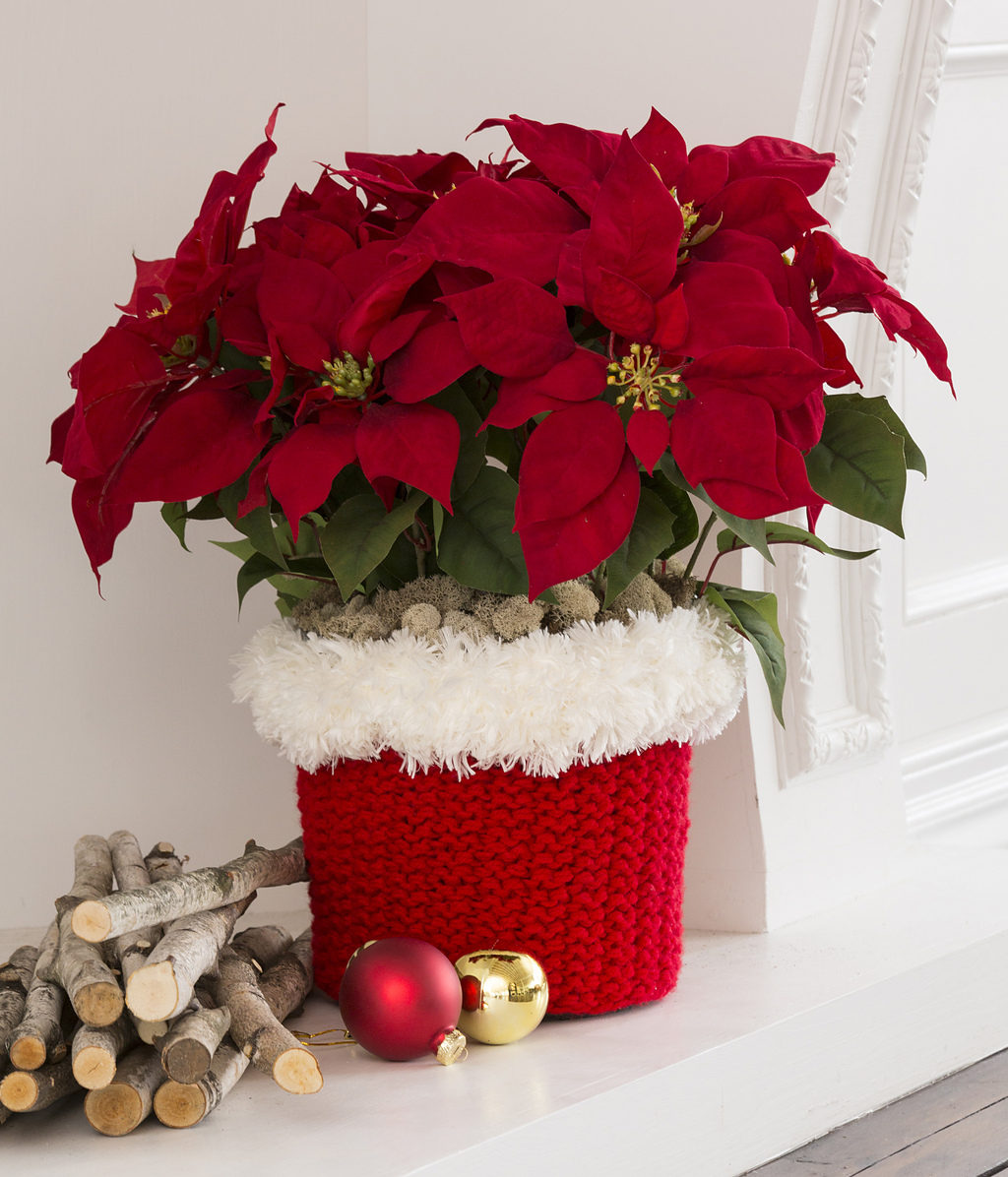 North Pole Pot Cozy
Knit a cozy for your poinsettia or other plants with Santa-inspired fur trim. Perfect for gifts, too. Fits a 1.75 gallon/66 liter black grower pot but I think you could customize for different sizes. Designed by Laura Bain for Red Heart.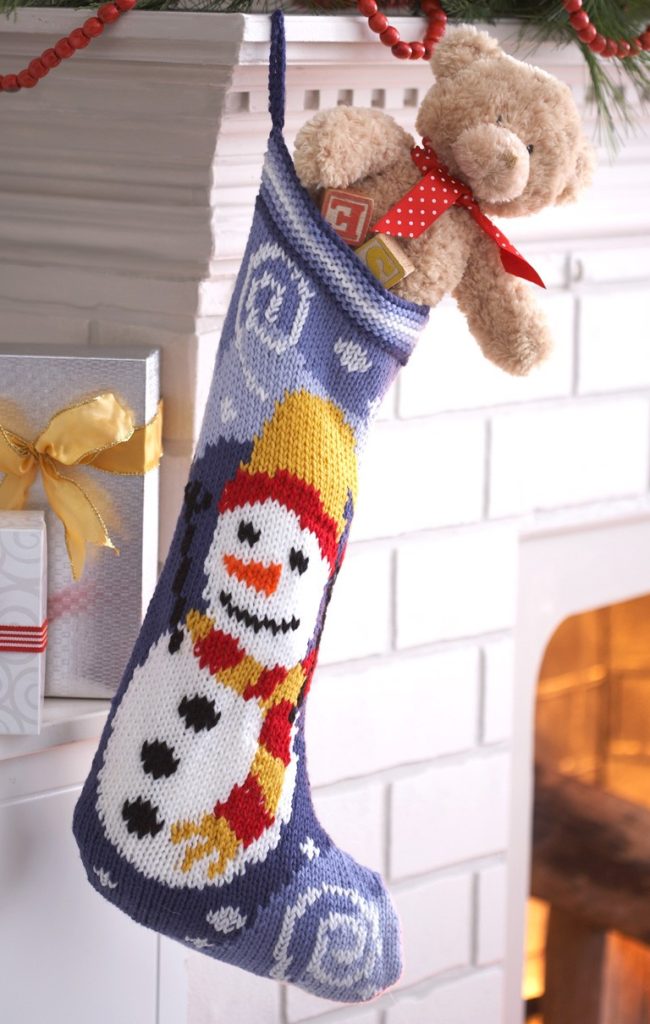 Snowman Stocking
Approx 15 ins [38 cm] long x 10 ins [25.5 cm] wide. Designed by Yarnspirations.

Christmas Sweater Wreaths
Four wreath designs inspired by traditional Christmas sweater / jumper Fair Isle and Norwegian motifs. Designs include: Reindeer,
Robins (not pictured), Red Cardinals , and Ivy, oak and holly leaves. Designed by Zoe Michel. Final dimensions: 35cm/13.75in diameter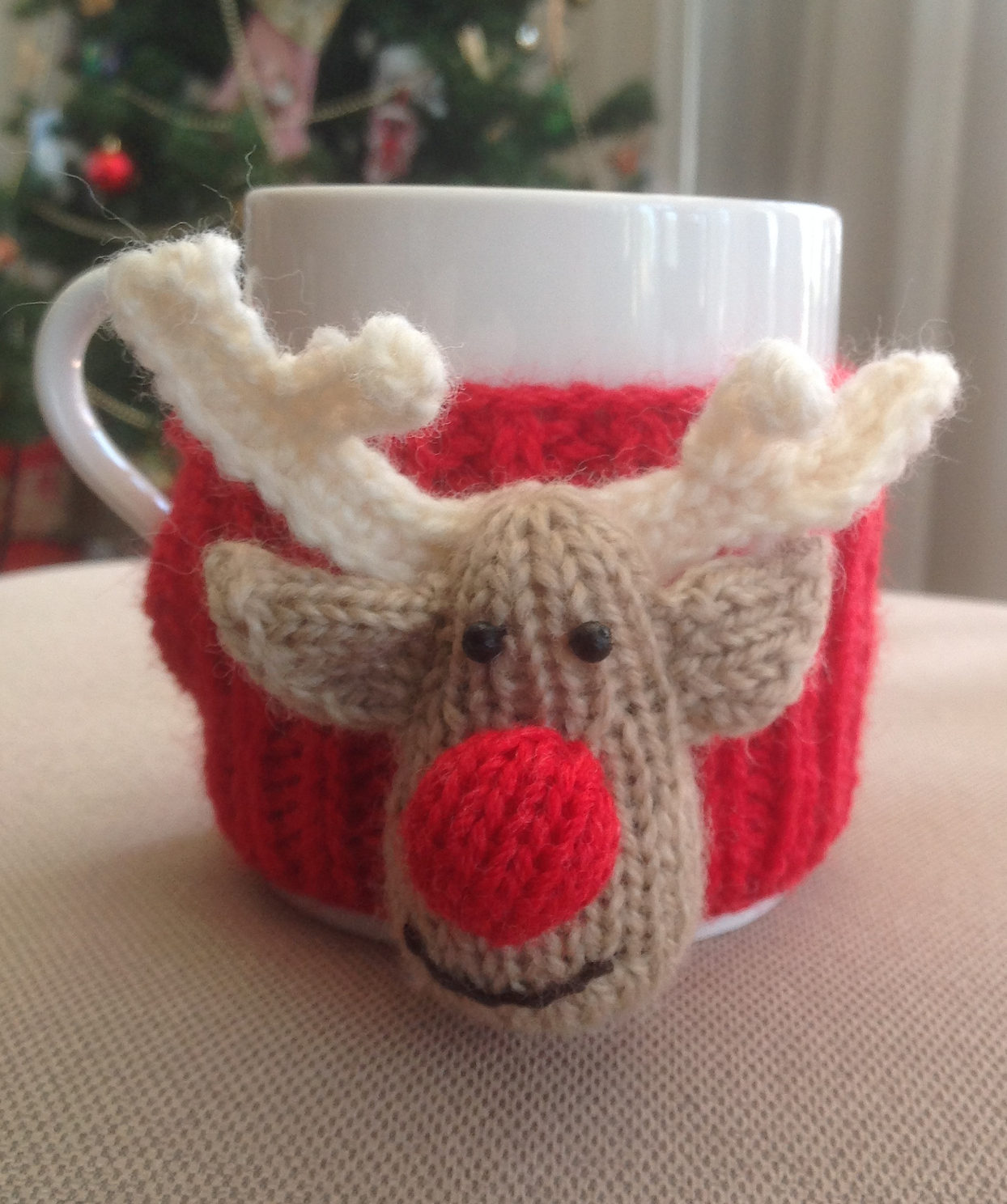 Reindeer Cup Cosy
Adorable mug cozy with Rudolph face. Small amount of crochet for antlers but you could probably figure out a knit adaptation. Designed by Jenny Stacey. Pictured project by karne71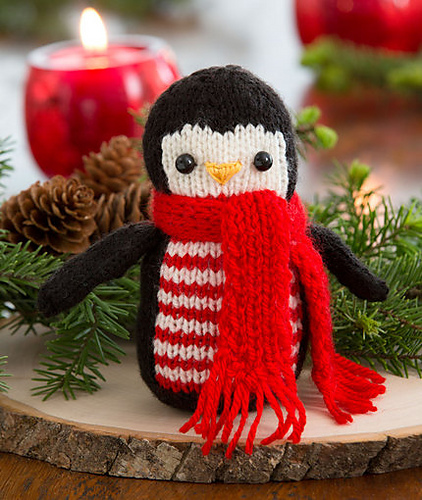 Cheerful Holiday Penguin Toy
Body is worked flat from head down and seamed at center back. Wings are worked separately in the round. 6" (15 cm) tall.Designed by Nancy Anderson for Red Heart. Great as a stocking stuffer or ornament too!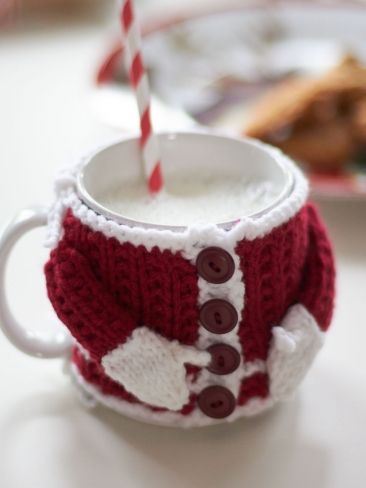 Santa's Mug Cozy
Designed by Yarnspirations.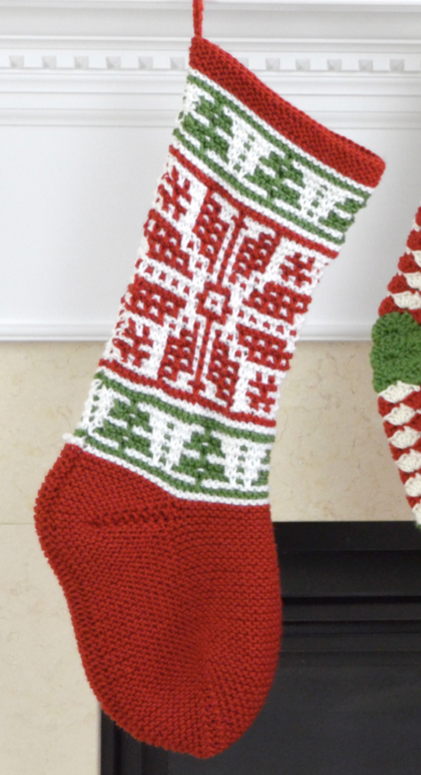 Mosaic Stitch Stocking
Christmas stocking with poinsettia and trees in easy slip stitch mosaic colorwork. Circumference: 14" Length: 23". Designed by Premier Yarns Design Team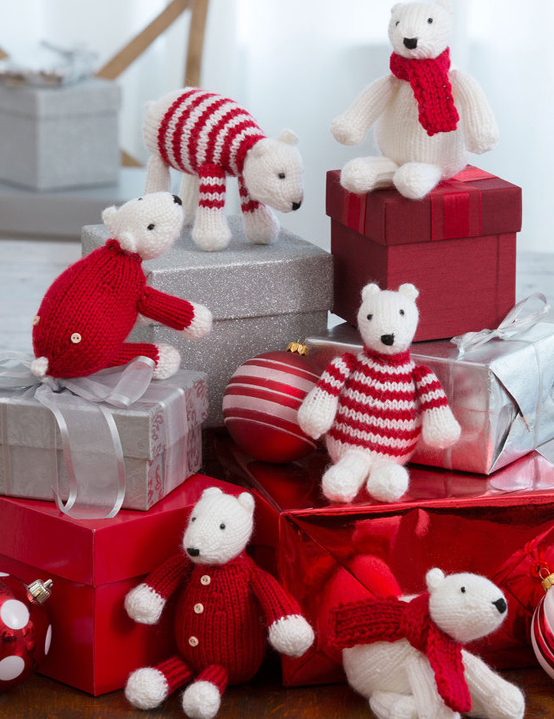 Polar Bear Toy Decorations
These adorable miniature polar bears are perfect for holiday decorating, gift decoration, and as gifts by themselves. Bears Measure: Standing version: 5" (13 cm) tall, Seated version: 6" (15 cm) tall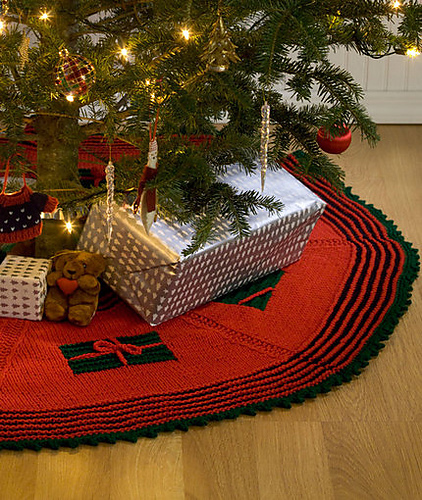 Gifts Around the Tree Skirt
Christmas tree skirt features present motifs and picot edging.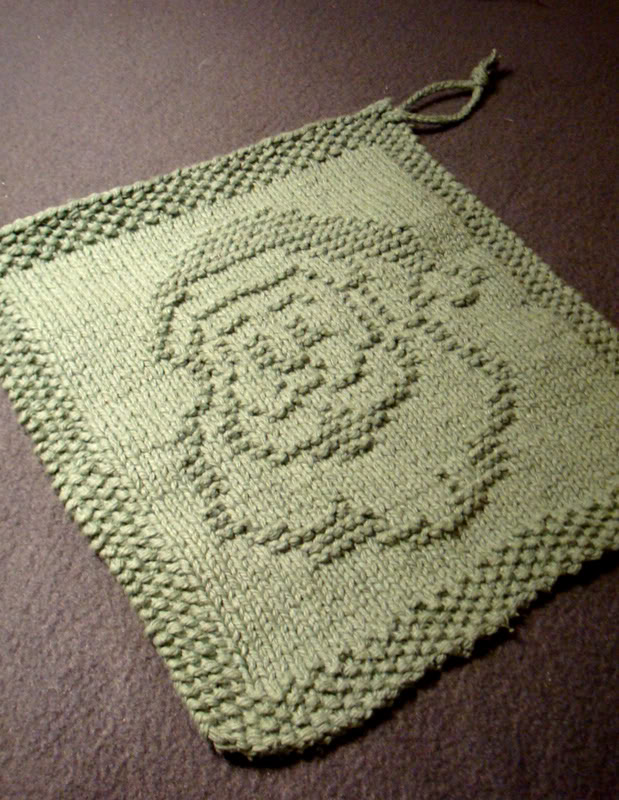 Santa Dishcloth
Designed by Kris Knits, this cloth is 10″x10″. The motif could also be used for blankets or other knitting projects.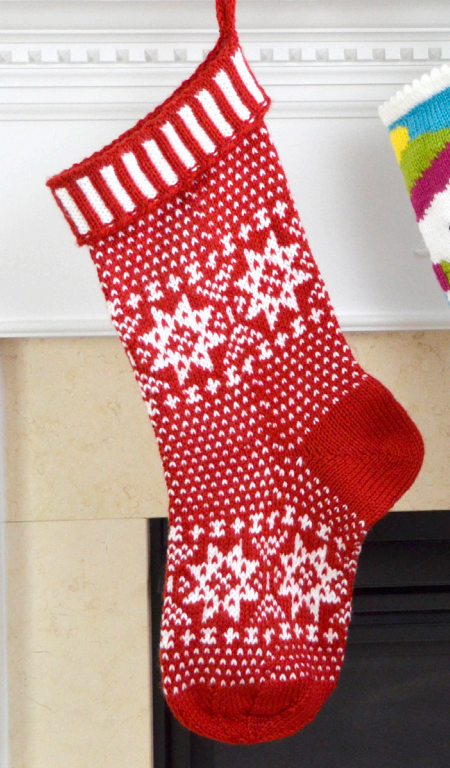 Scandinavian Stocking
Christmas stocking with traditional Scandinavian motifs. Circumference: 16" Length: 21". Designed by Premier Yarns Design Team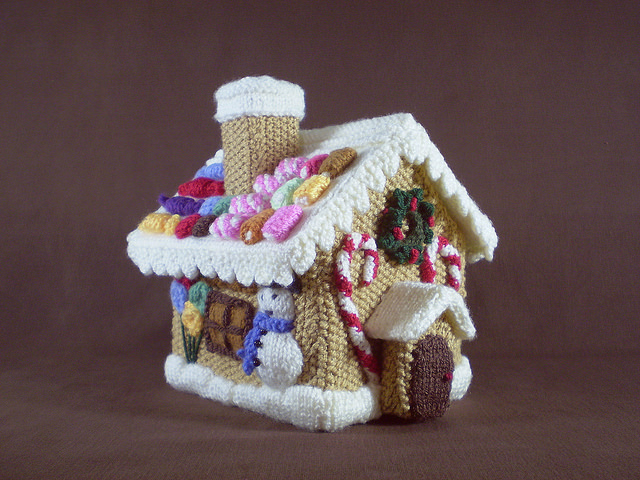 Gingerbread House
Frankie Brown's ingenious little house about 13 × 17 cm and 20 cm tall. Knitted treasures cover plastic canvas and the roof is hinged so you can store more treasures or treats inside the house.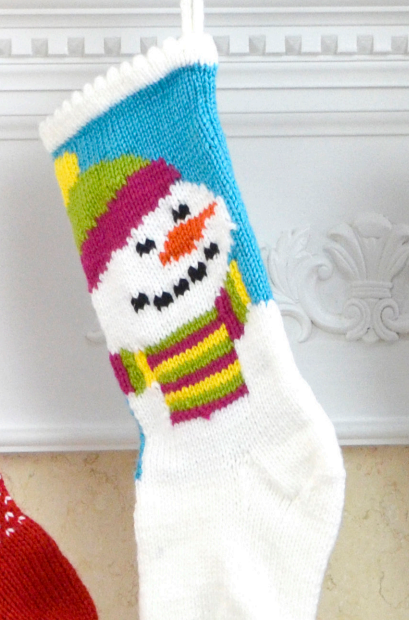 Snowman Stocking
Christmas stocking with colorwork snowman. Circumference: 12" Length: 17". Designed by Premier Yarns Design Team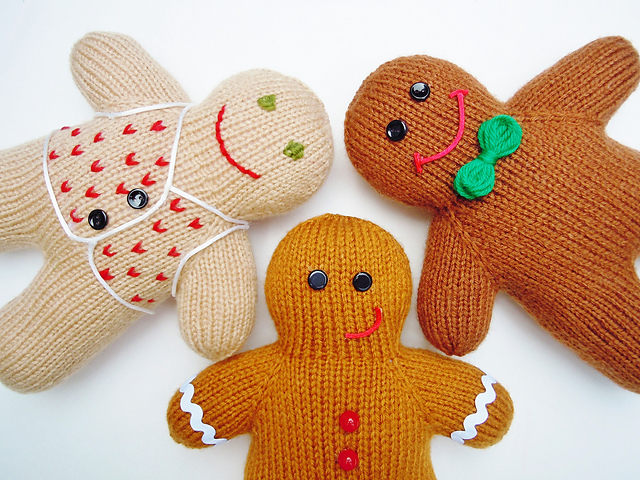 Gingerbread Boys
These adorable little toys are designed by Sara Elizabeth Kellner, who is featured throughout this site, most recently on Wild Animal Knitting Patterns. This gingerbread softie is easy and quick, knit all in one piece in the round. He's designed to be 11 inches tall but can easily be customized for a different size.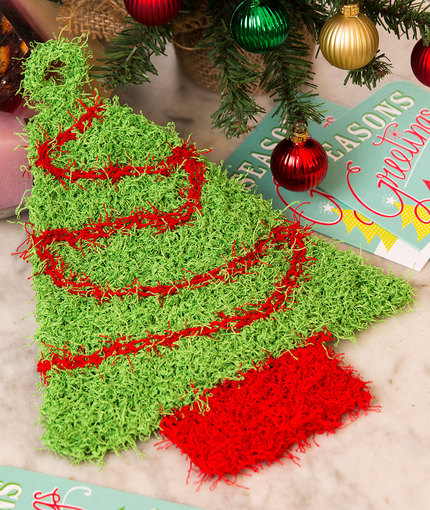 Christmas Tree Scrubby
Michele Wilcox designed this holiday pattern for Red Heart Yarn. If you use the recommended Red Heart Scrubby yarn, you'll get a textured cloth that's good for getting at dirt but made of polyester so it is durable and easy to clean.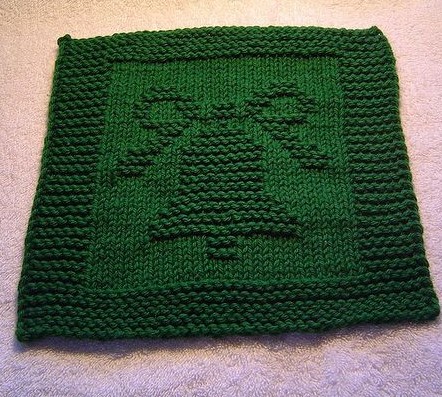 Christmas Bell Knitted Dishcloth
Melissa Bergland Burnham designed this bell motif that can be used for wash cloths, blanket squares, or motif in other projects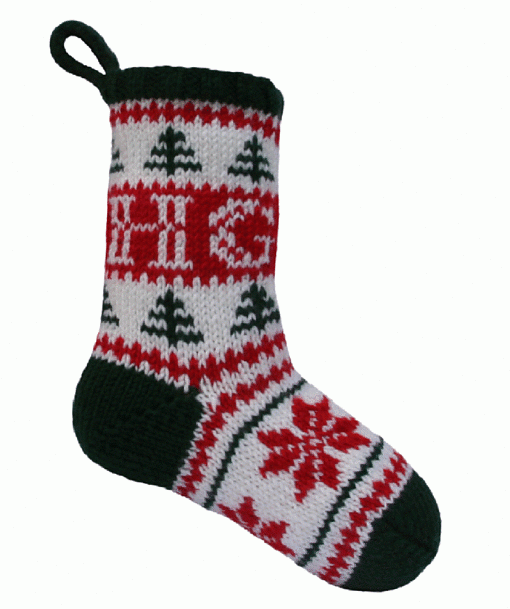 Personalized Christmas Stocking
Sarah Gasson of Knitables created this easy to customize stocking that is approximately 9cm (3.5in) wide by 24cm (9.4in) long. Can be knitted flat or in the round and comes with alphabet chart.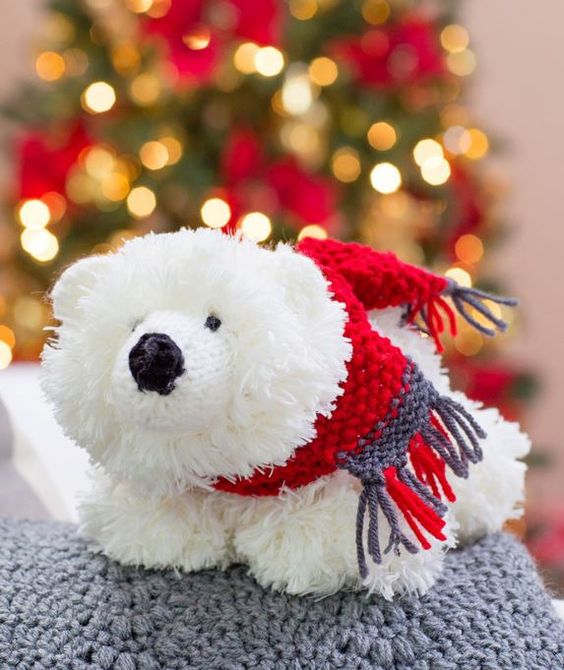 Fluffy Polar Bear Toy
Easy toy polar bear measures about 12½" [32 cm] long. Knit with wonderful furry yarn with his own winter scarf.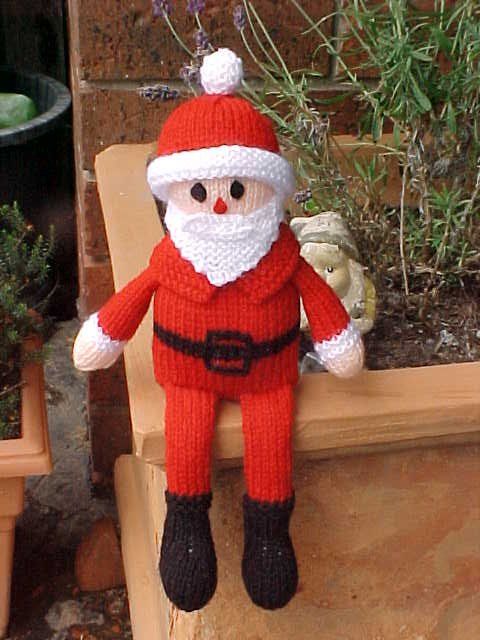 Santa Shelf / Computer Doll
Aussie Jean's Santa softie is 17.5cms (6.5/8″) not including legs.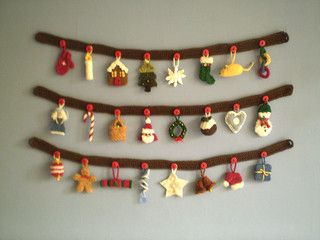 Advent Garland
Frankie Brown has designed the perfect Advent holiday knitting project. Knit an ornament a day for this beautiful garland. Set of 25 knitting patterns for garland and 24 ornaments.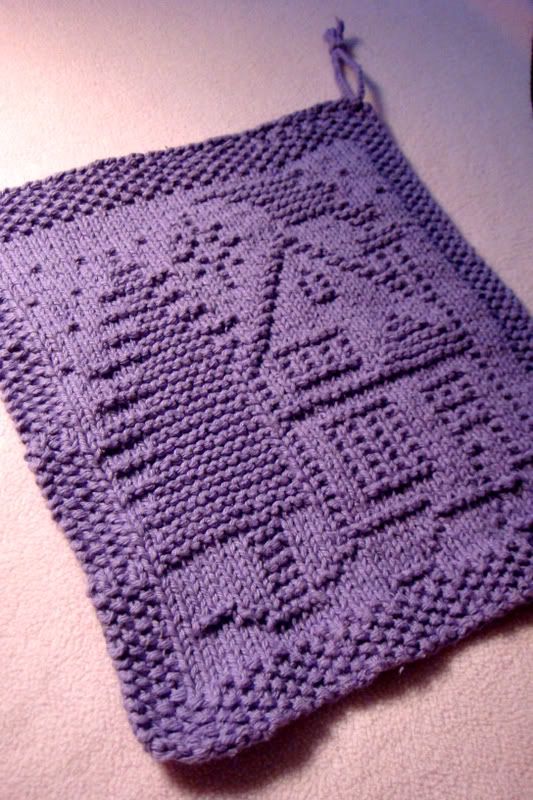 Christmas Dishcloth
Designed by Kris Knits, this cloth features a home for the holidays theme and is 9″x10″. The motif could also be used for blankets or other knitting projects.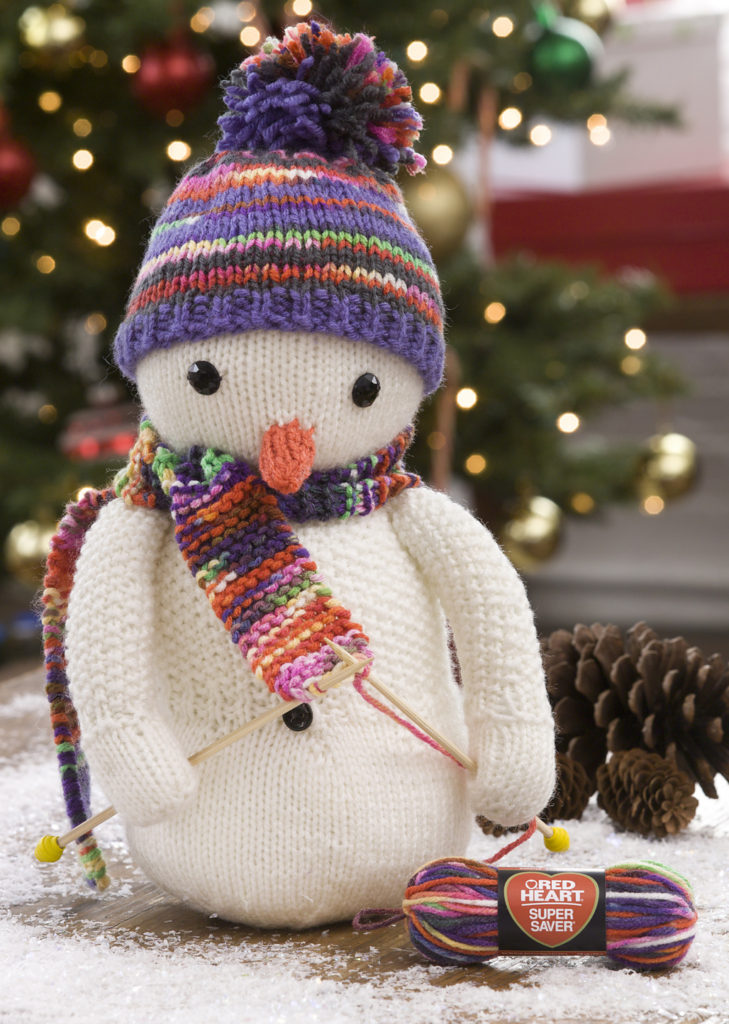 Knitting Snowman
This snow knitter softie is a perfect decoration or gift for the knitting household. Or you can leave out the knitting embellishments for a toy or decoration for the non-knitters in your life. The needles are made from skewers and beads and there are also instructions for creating the tiny yarn skein. 12 1/2″ tall. Designed by Nancy Anderson for Red Heart.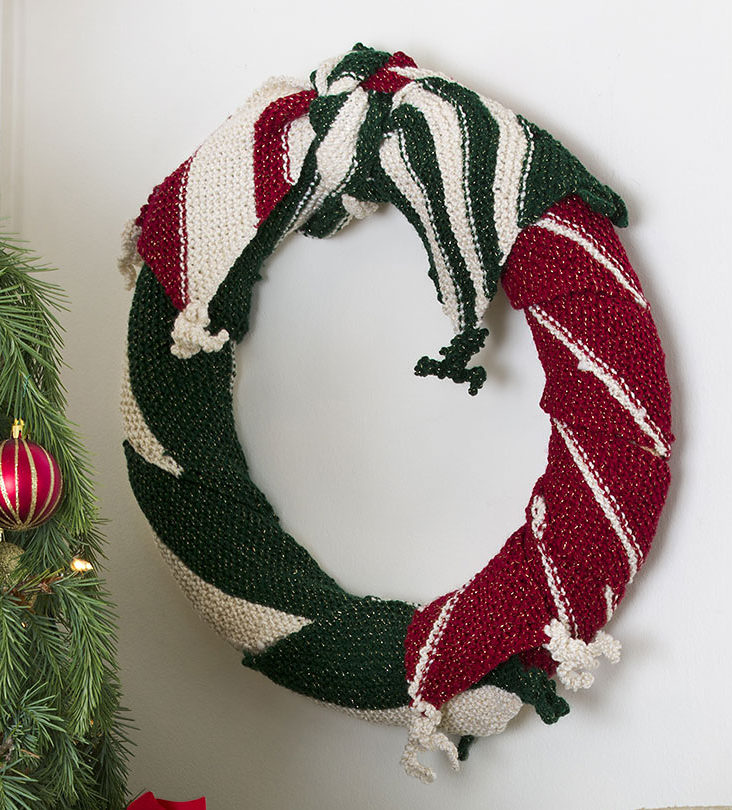 Be-Scarfed Wreath
This easy wreath is constructed by wrapping knitted scarves around a wreath form. You can also wear the scarves later!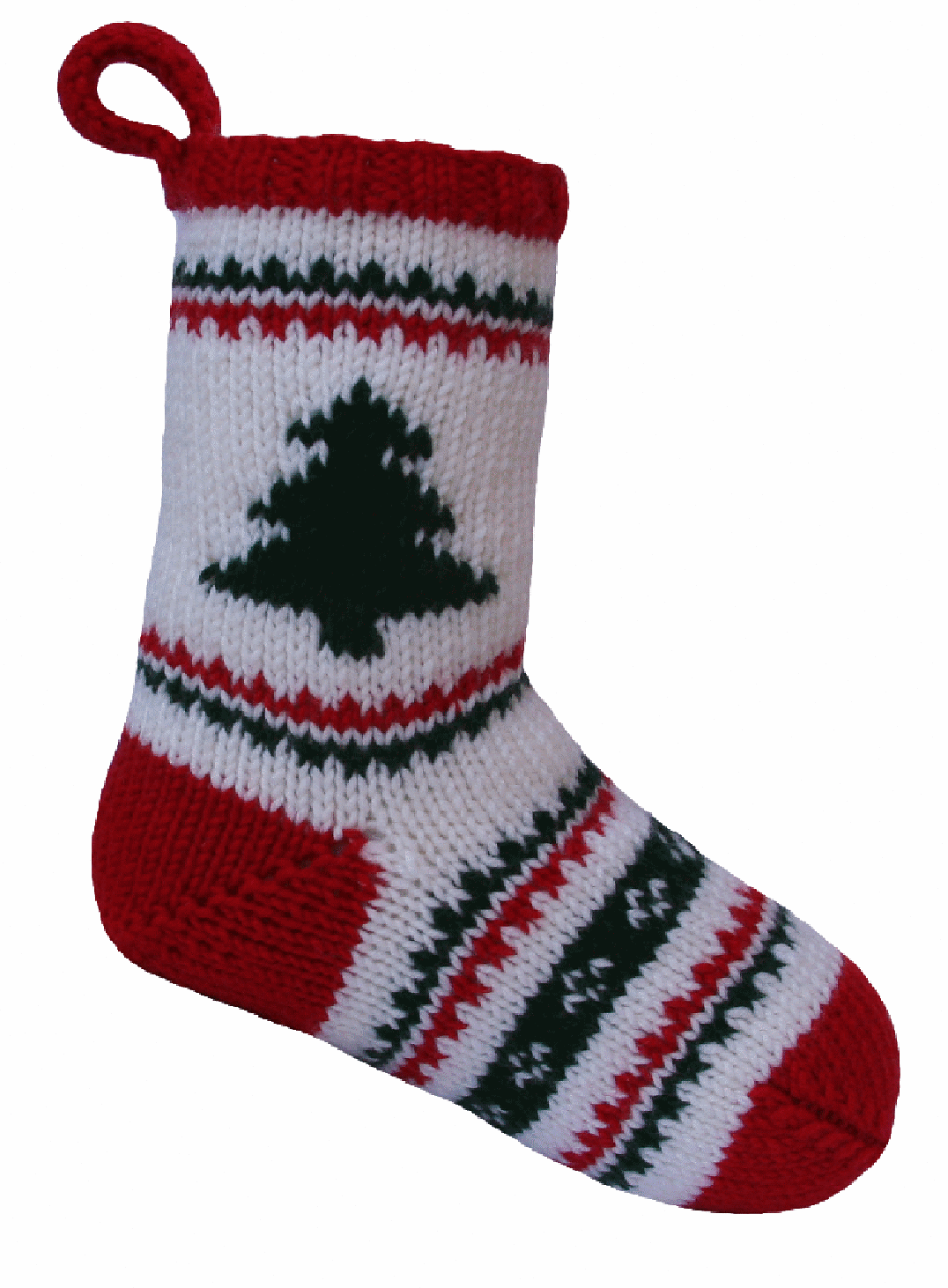 Christmas Stocking With Tree
Sarah Gasson of Knitables created this stocking that is approximately 9cm (3.5in) wide by 24cm (9.4in) long. Can be knitted flat or in the round.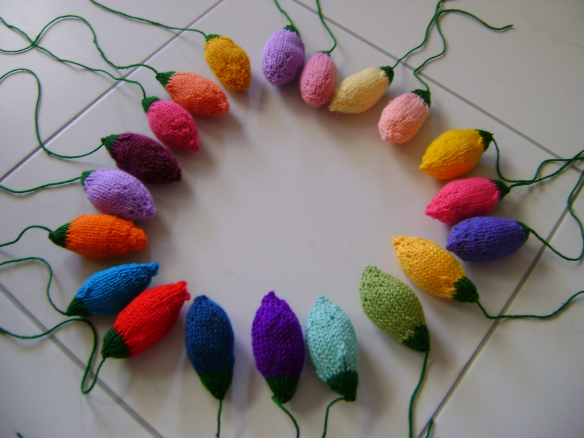 Christmas Lights
These lights designed by Kimberly Chapman will never go out! String them together for a garland or hang them individually as tree ornaments. Pictured project is from MelsNattKnits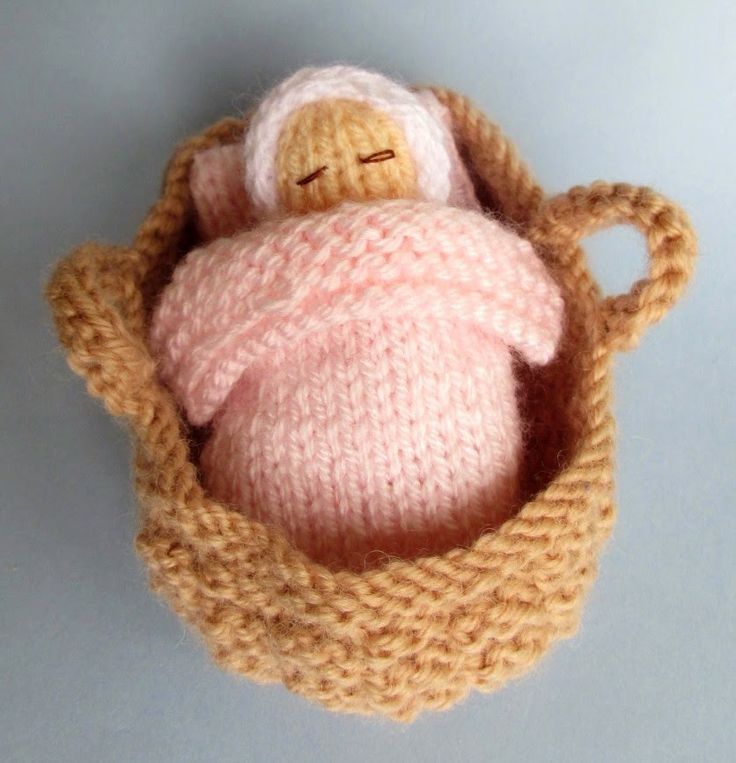 Baby in Basket
Flutterby Patch has a cute knitting pattern that I think could easily be adapted for a Baby Jesus ornament. The tiny baby is also separate from the basket. The baby measures just 5cm and the basket is 9cm
Patterns for Purchase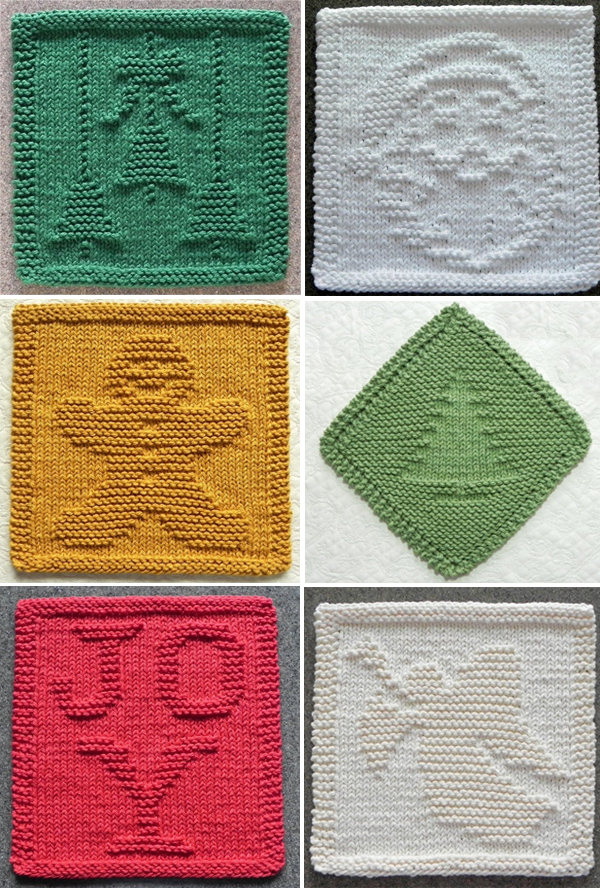 Christmas Cloths
Wash or dish cloths with holiday motifs in knit and purl designs including Santa, angel, bells, tree, Joy, gingergread. Purchase individually. Designed by Aunt Susan's Closet who also sells the finished cloths.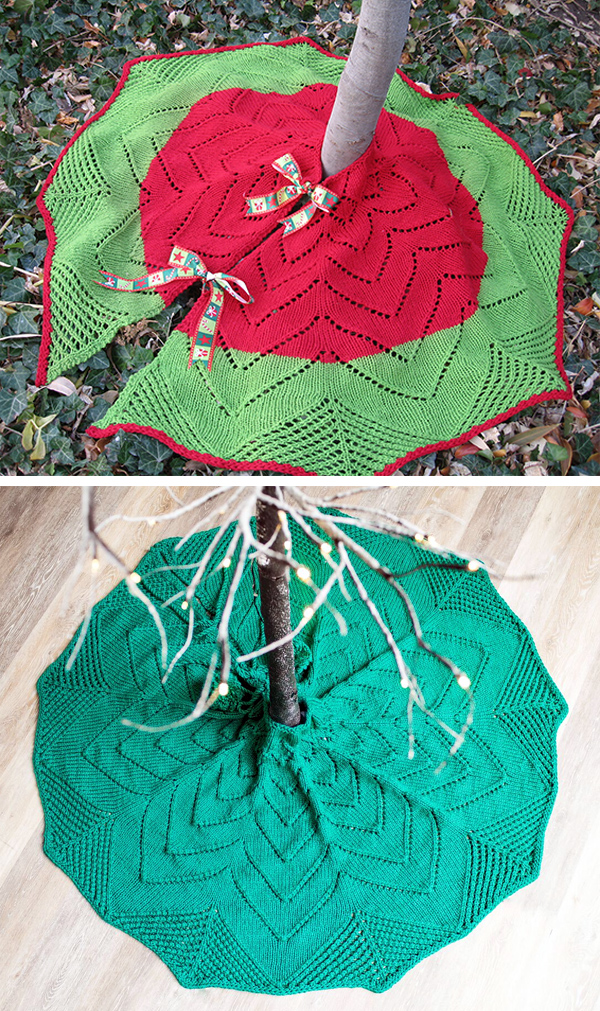 Christmas Tree Skirt
Lace tree skirt inspired by an 1897 doily. Designed by Mary Triplett. Bulky weight yarn.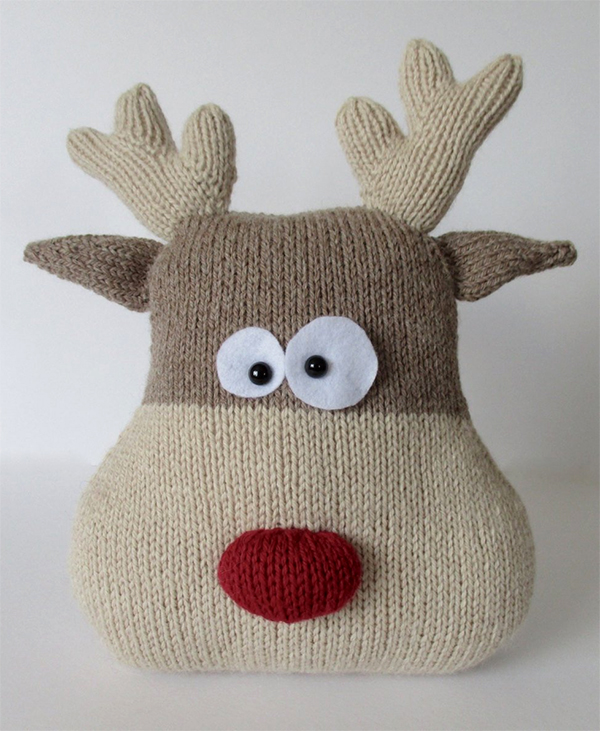 Reindeer Cushion
Reindeer shaped pillow, perfect for holiday decorations or toys. All pieces are knitted flat (back and forth) on a pair of straight knitting needles. Designed by Amanda Berry

Love of Knitting Holiday Knits 2014 Digital
I love these patterns so much I bought this issue for myself! Among the 35 patterns are a Gingerbread Stocking, Who Stocking, Poinsettia Wreath, Mug Cap Cozies, and Poinsettia Placemats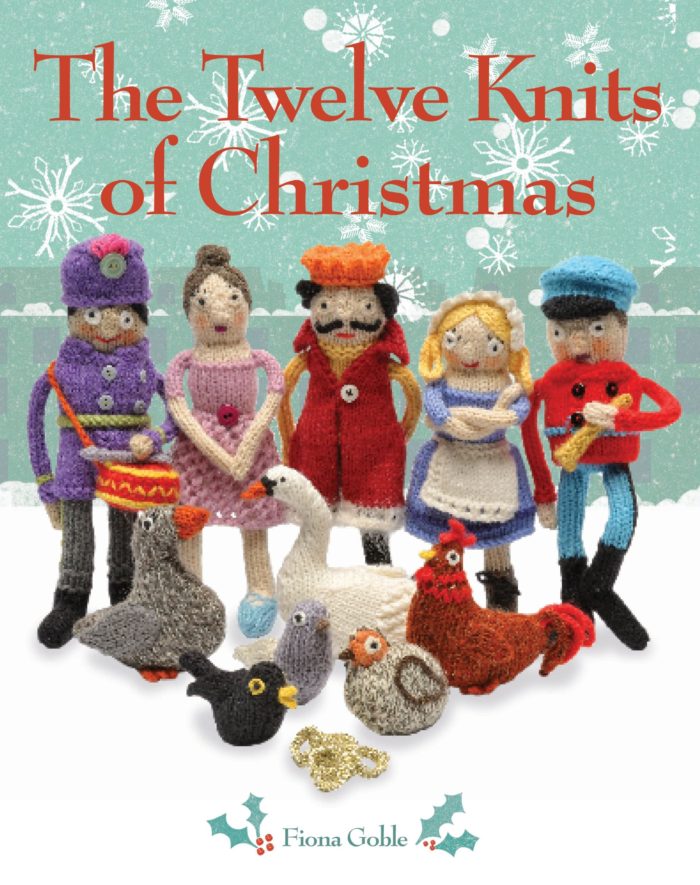 12 Knits of Christmas
From a partridge in a pear tree to twelve drummers drumming, Fiona Goble's The Twelve Knits of Christmas brings the popular verse to life as knitters of all skill levels create each of the twelve characters featured in the charming holiday song "The Twelve Days of Christmas.". Available in digital or paperback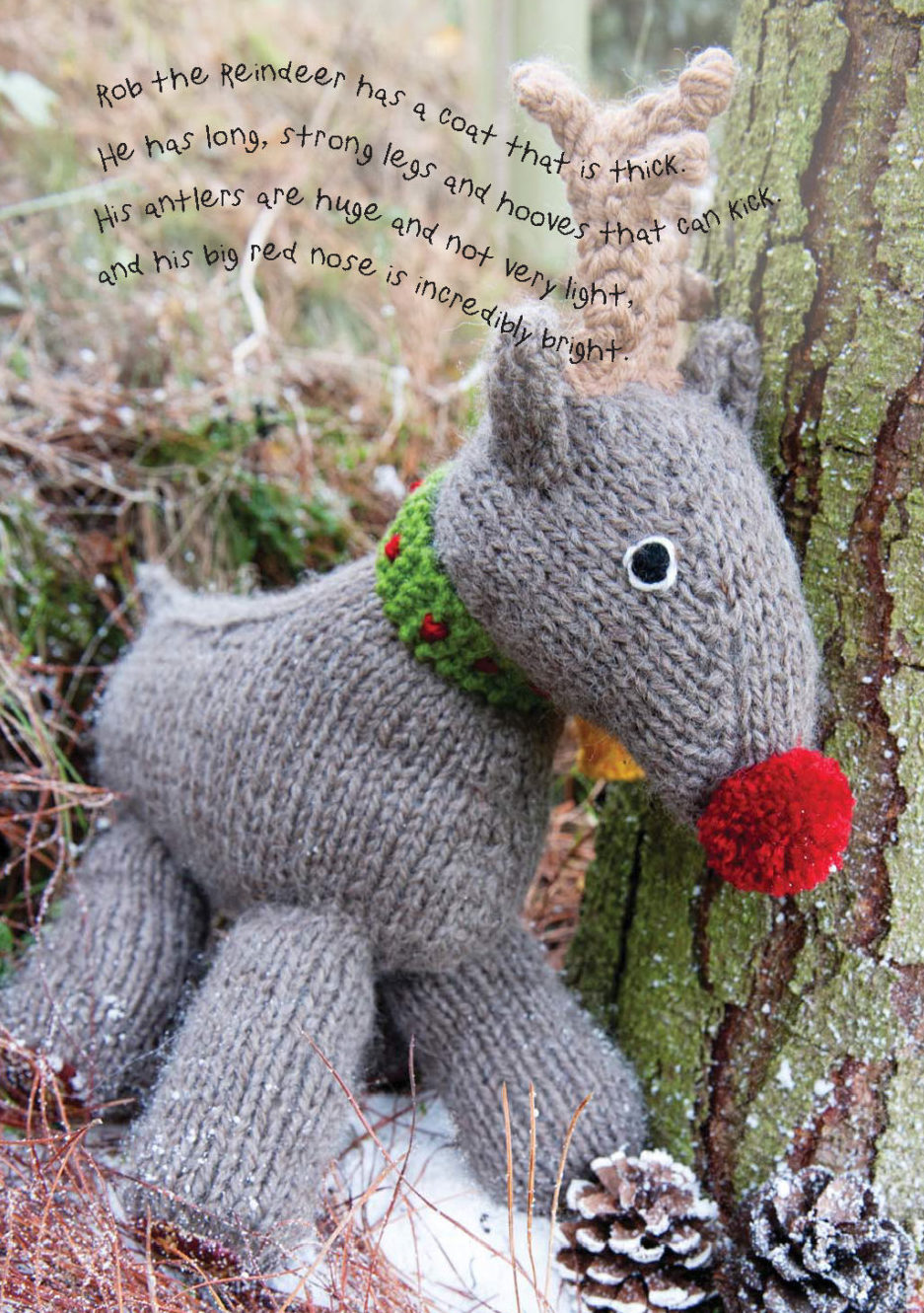 Red Nosed Reindeer Toy
Rob the Reindeer toy softie has red pompom nose. Designed by Laura Long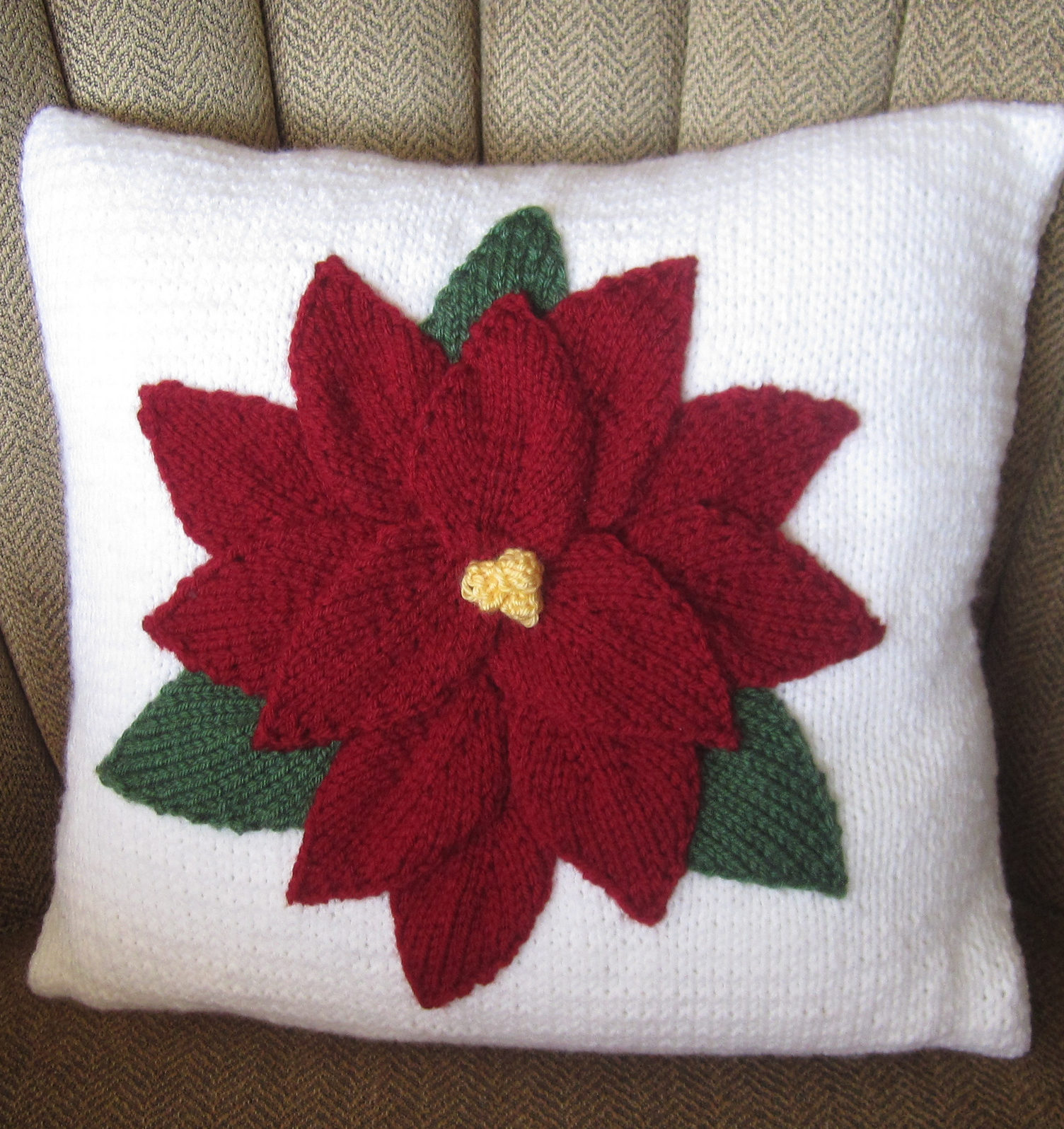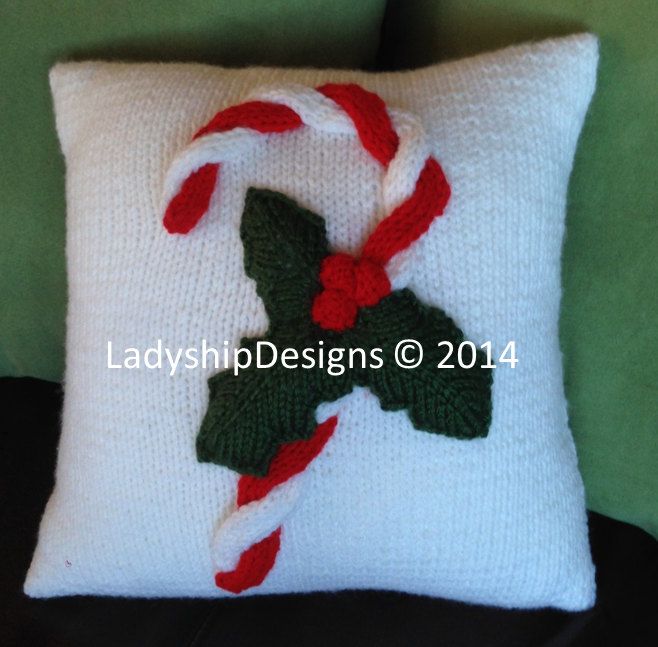 Poinsettia or Candy Cane Pillow
16″x16″ Poinsettia pillow cover with an envelope closure, Poinsettia is knit separately and sewn on. Candy Cane Pillow is the 14″x14" (35cm x 35cm) pillow cover knit in one piece in stocking stitch using worsted yarn. The leaves and berries are knit separately and sewn in place.
Holy Family and Three Wise Men
These holiday decorations measure approximately 25 cm = 10 inches using size 3 needles.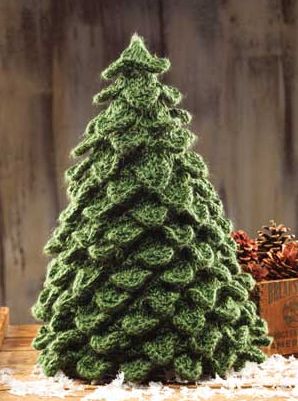 Knit Crocodile Stitch Tree
Yes, this is a knit crocodile stitch holiday decoration. Finished size is 24″ in circumference x 15″H. Includes video tutorials.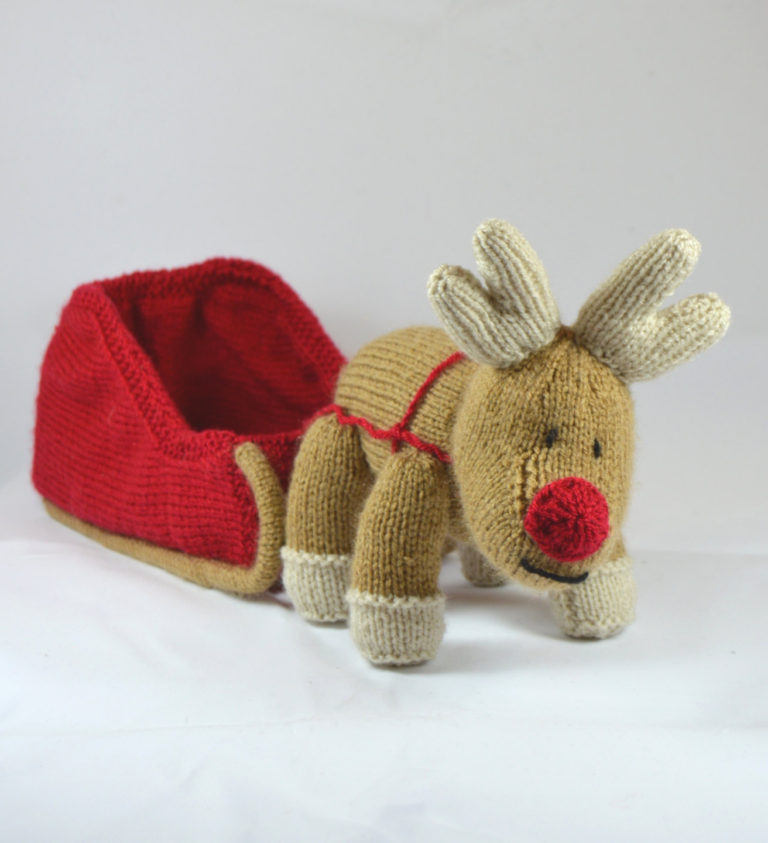 Reindeer and Sleigh
Christmas holiday decoration or toy. Reindeer is 20cm long and 20cm to antlers. Sleigh is 23cm long, 10cm wide and 12cm tall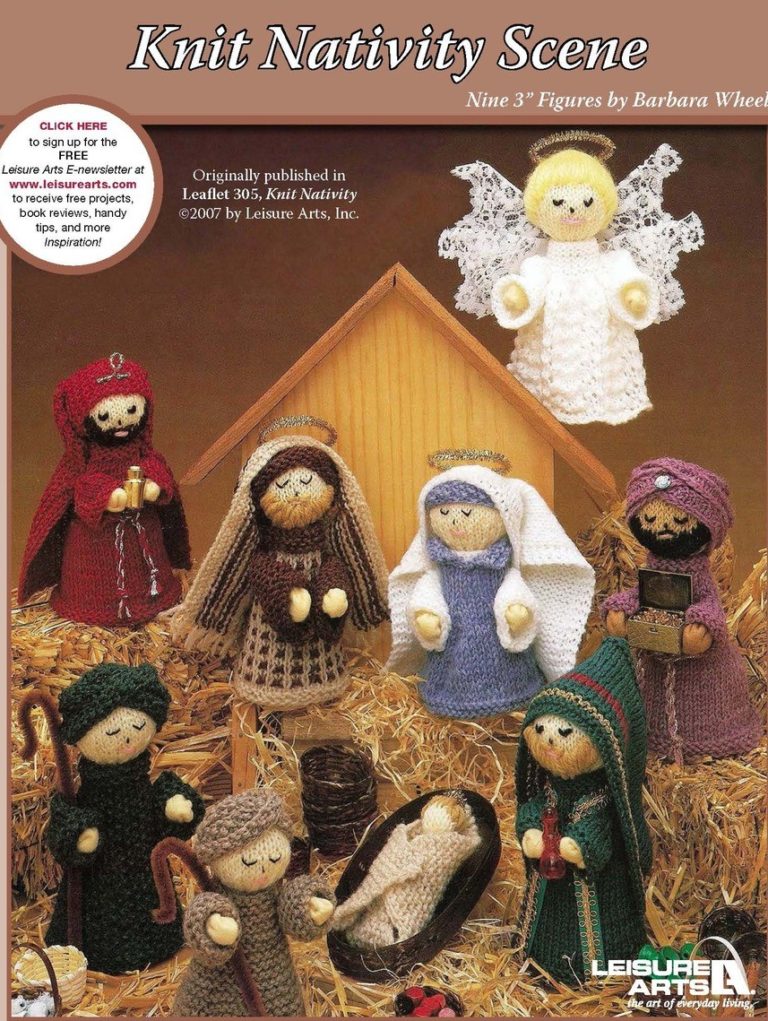 Nativity Scene
Set includes 9 figures: Baby Jesus, Mary, Joseph, Three Wisemen (Gaspar, Melchior, and Balthasar), Shepherd, Shepherd Boy, and Angel. Size: Each figure approximately 3″ tall. Digital Download. Designed by Barbara Wheeler.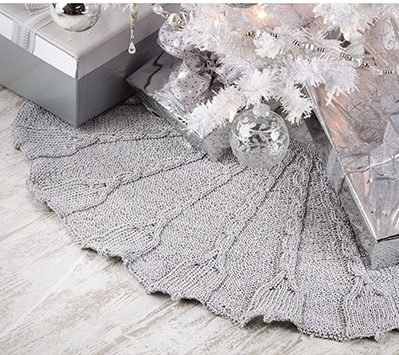 Silver Bells Tree Skirt
This is so clever – the cables end in silver bells.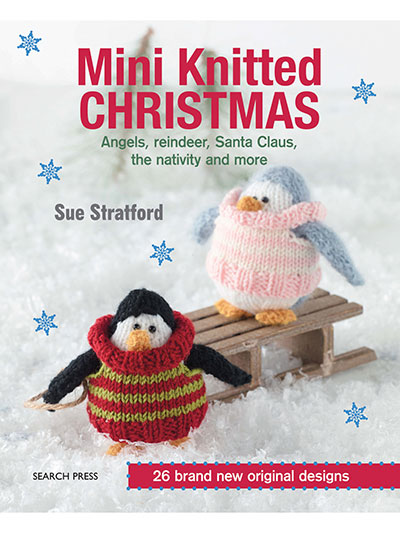 Mini Knitted Christmas
26 knitting projects by Sue Stratford including a nativity scene and reindeer and sleigh. Available in digital or paperback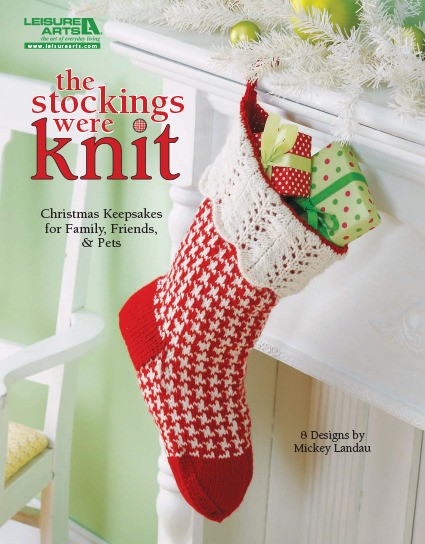 The Stockings Were Knit eBook
8 Knitting Patterns for Christmas Stockings. For My Best Friend (dog), Purr-fect Pastimes (cat), Hugs and Kisses (X's and O's), Familar Carols Play (bells), Old-fashioned Christmas (houndstooth pattern), Let It Snow! (snowflakes), Winter Wonderland (snowman scene), and Christmas Classic (gingerbread man).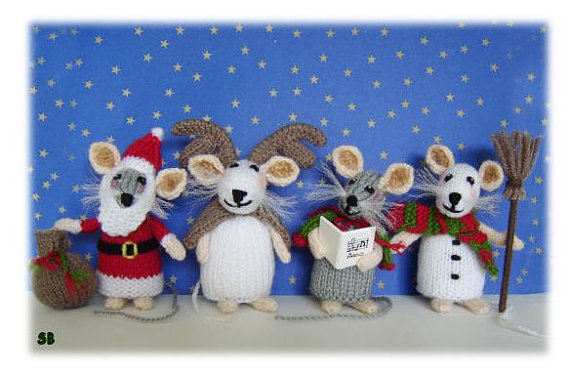 Snow Mice
These mice are getting into the Christmas spirit by dressing as Santa, a reindeer, caroler, and more.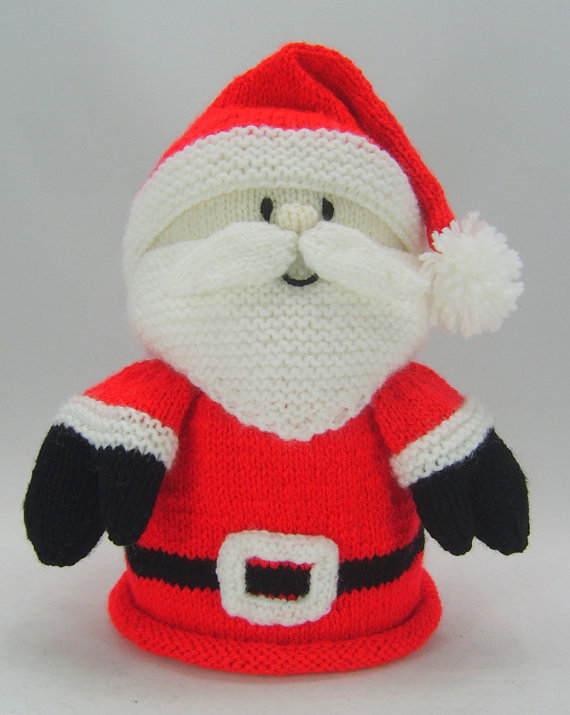 Santa Toilet Roll Cover
Although this is listed as a toilet roll cover, I think this Santa is cute enough to be adapted to other decorations or even a softie toy.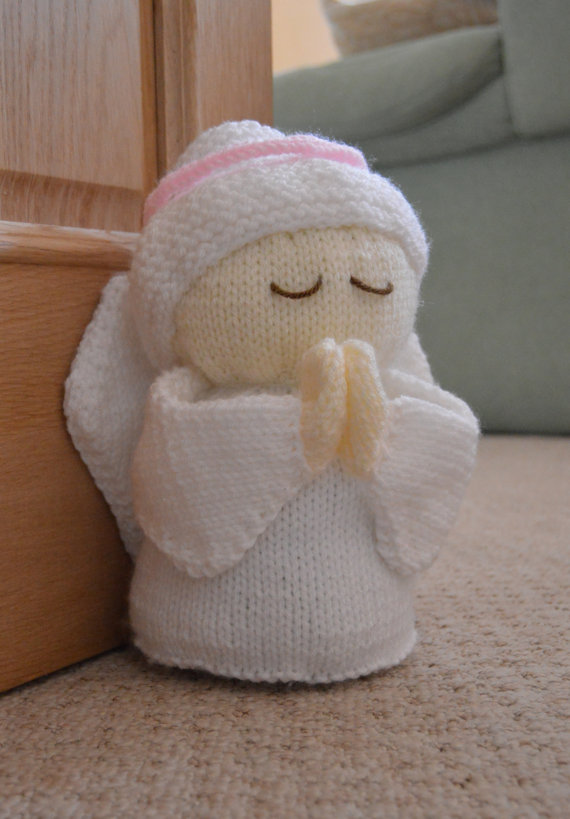 Angel Door Stop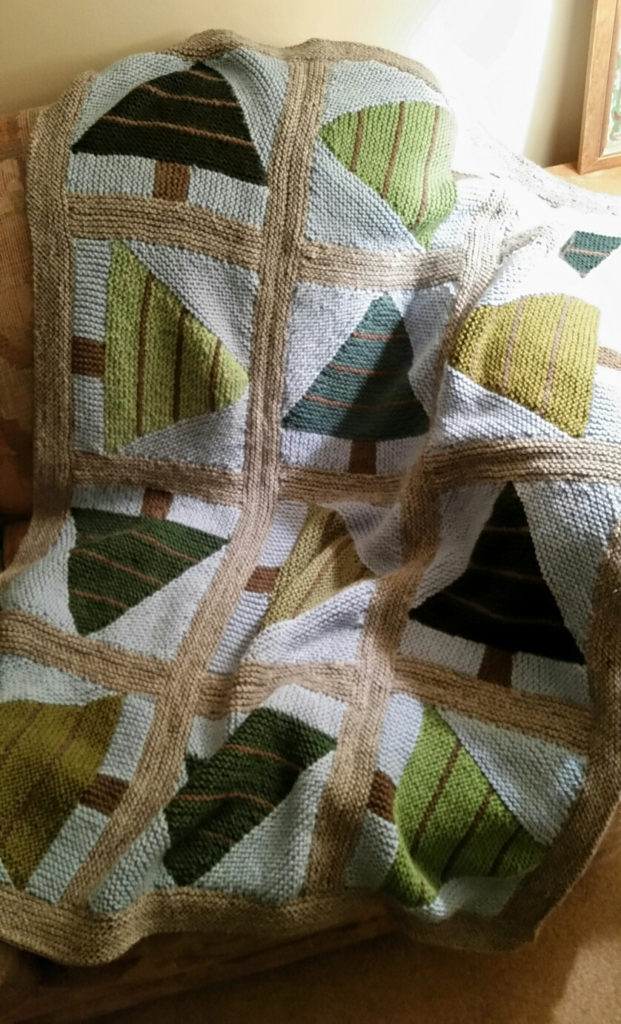 Cottage Christmas Blanket
This festive modular afghan features multi-direction trees in garter stitch. The original design features bobble "ornaments" on the trees. Pictured project by justlikegma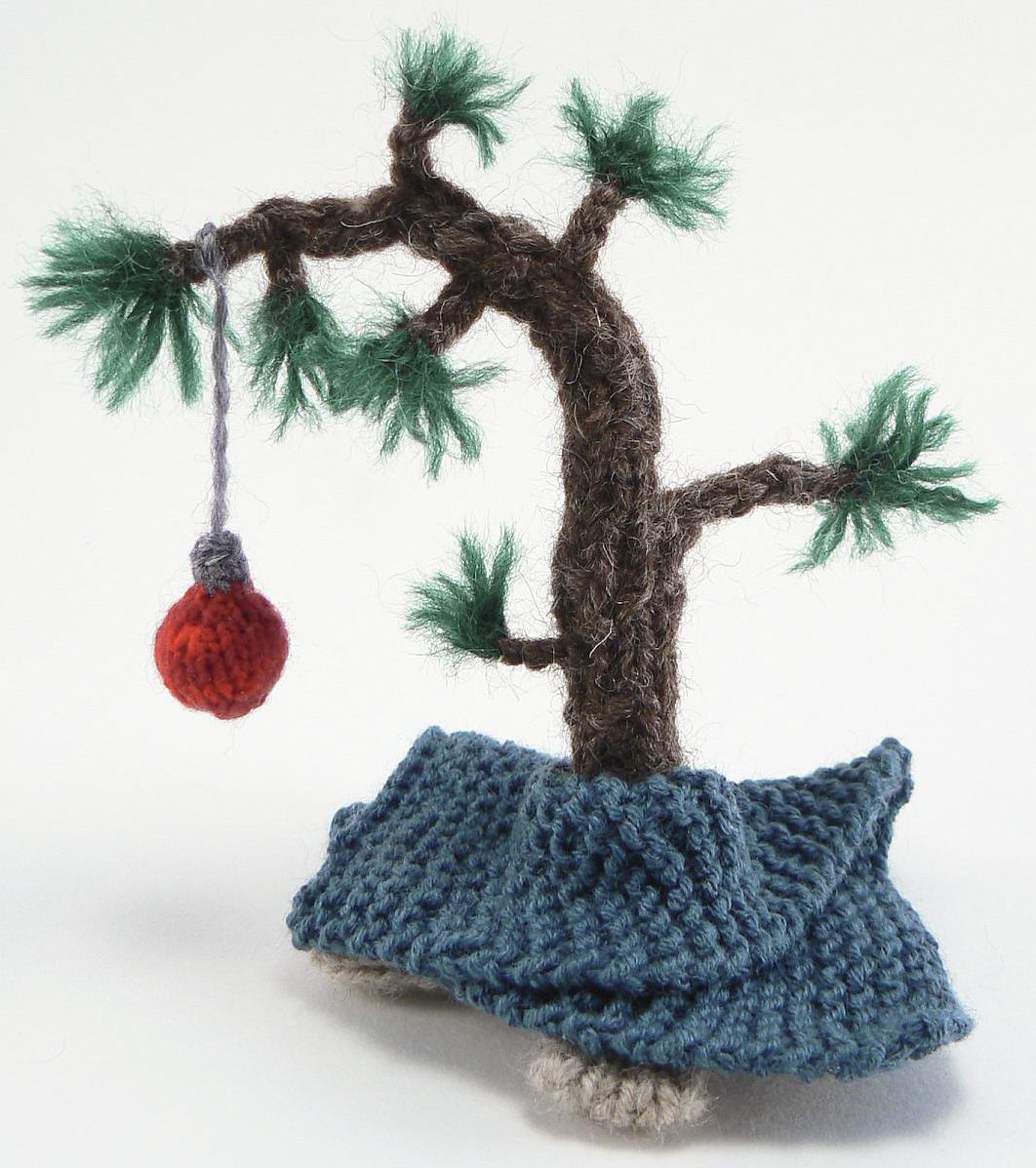 Charlie Brown's Christmas Tree
Good Grief! is a knitted decoration inspired by Charlie Brown's Christmas tree. Finished size: approximately 4½ inches tall. Designed by Morgen Dämmerung