Use up your leftover, stash, and scrap yarn with these blanket knitting patterns.
To get the knitting patterns, scroll down the page to the individual pattern you want and click on the link to that pattern.
These patterns are not my designs but links to other designers who have generously shared their patterns. If you have questions about how to knit a specific pattern, please contact the designer directly.
All links on this site are for informational purposes, but please note that some links are to affiliate sellers that pay me a small commission on purchases.
Free Patterns

Happy Blanket
This afghan uses short rows to create triangle patterned squares from your stash or scrap yarn. Knit in section rows of 7 separate garter stitch pieces. Designed by Camilla Gugenheim. Pictured project by Mirja. Also makes a fun scarf or shawl. Available in English and Italian.

The Big Marl Afghan
Blanket is marled and knit holding mutliple strands of different weights of yarn together diagonally in garter stitch and edged in I-cord. Perfect for using up stash yarn! The example was knit using the following combinations: 1 strand each of Aran, DK and Fingering weights, 2 strands DK weight and 2 strands of Fingering weight, and 3 strands DK weight. Designed by Beata Jezek for Hedgehog Fibres.

Overlapping Squares Afghan
This stashbuster is a variation on mitered squares. Knit in section rows of 7 separate garter stitch pieces. Designed by Irina Poludnenko

Sediment Scraps Blanket
This afghan is an addictive way to use up your stash according to Ravelrers. You knit with multiple strands of yarn to create bulky or super bulky weight and add different yarn as you run out of one strand. Knit diagonally in garter stitch. Designed by Katie Rose Pryal. Pictured project by natb7 who said, " I loved knitting this - I think it was seeing all my ugly yarn being used up, and the colour changes were interesting to see."

Lily's Scrap Blanket
This is a recipe for creating a chevron striped blanket than a rigid pattern by winding stash yarn into DIY monster yarn cakes (instructions provided). Great use for stash or scrap yarn. Designed by Webster Street Knittery

Color Pennant Afghan
Three Strips are made separately, then sewn together following a diagram to make the Afghan. Each Strip consists of 22 triangles worked using short rows. Great use for stash or scrap yarn. Designed by Irina Poludnenko for Lion Brand Yarn

Mosaic Tile Afghan
This afghan is a play on mosaic stitches presented in a random color format to suggest a mosaic tile wall. It is bordered by yet another mosaic pattern. 54 x 64" (137 x 162.5 cm) Designed by Judith L. Swartz. One of 7 knitting patterns in Cozy Knitted Blanket Patterns ebook by Interweave Knits.

Hourglass Blanket
Patchwork-inspired afghan worked in squares with a central hourglass shape in intarsia is great way to use scraps of worsted yarn. Or or course you can use the recommended yarn. Designed by famed quilt designer Kaffe Fassett for Rowan.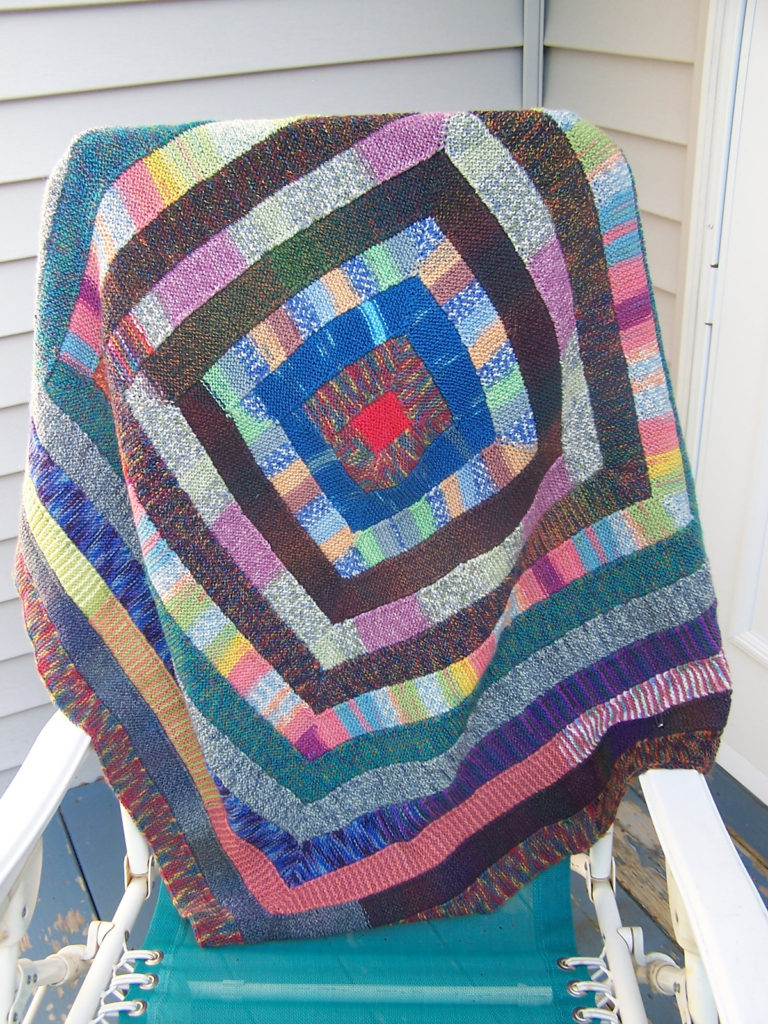 Ten Stitch Blanket
Frankie Brown's pattern is perfect for your scrap yarn and odds and ends. Start in the center and work in a square spiral, joining as you go. No seaming! Keep adding on until you run out of scraps or patience! Pictured project by mrsskr who used up sock yarn scraps.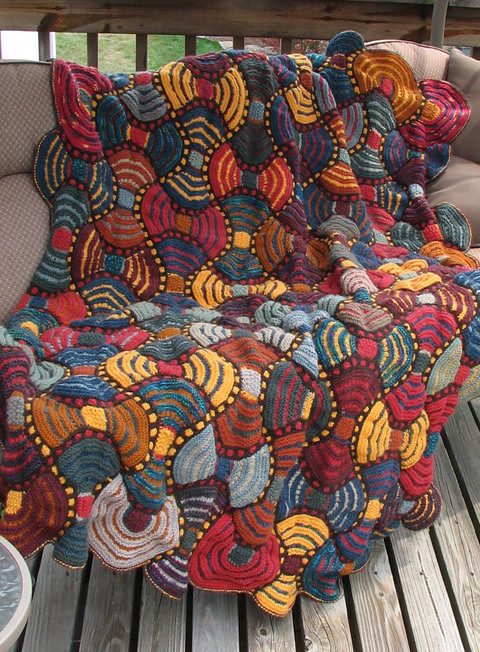 African Adventure Afghan
This colorful patchwork quilt is perfect use for scrap yarn. You can make smaller versions to use as table runners and more. Designed by Horst Schulz at South African workshops. Pictured project by hermanm

Mountain Cabin Afghan
25 Blocks are worked separately, then sewn together. Each Block begins with a Center, then 8 Logs are worked around the Center. Great use for stash or scrap yarn. Designed by Irina Poludnenko for Lion Brand Yarn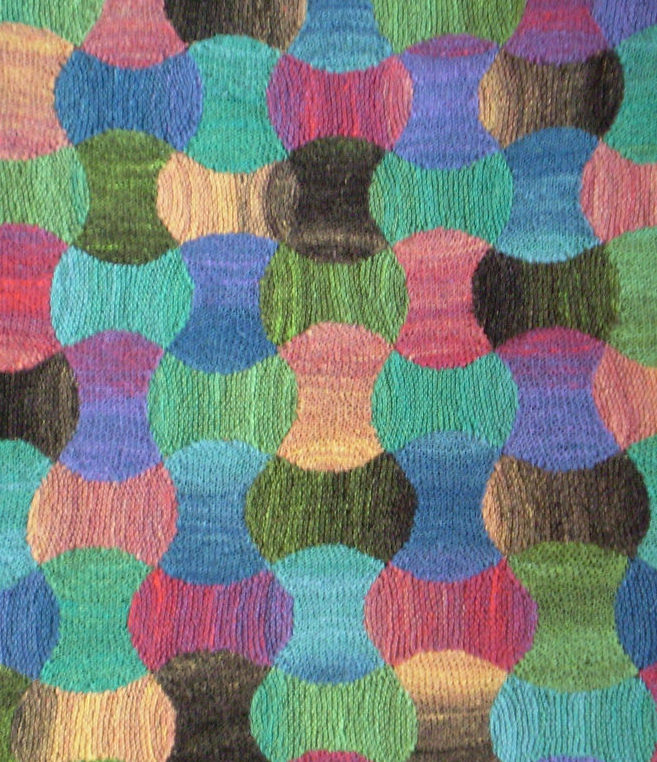 Apple Core Blanket
Frankie Brown says "The apple core shapes that make up this blanket are quick and easy to knit in garter stitch and the sewing up isn't as bad as it looks!" Edged with applied i-cord. Perfect for scrap yarn and stash busting. Rated easy by most Ravelrers.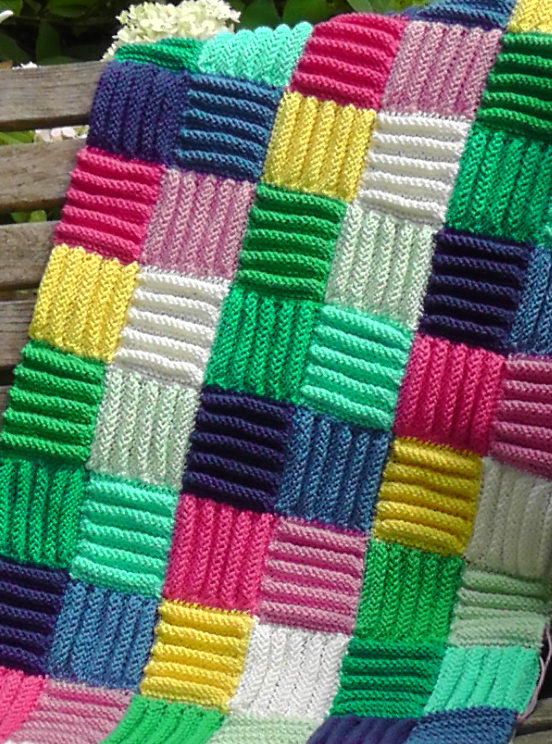 Corduroy Afghan
This easy throw is created from knitted squares with deep stocking stitch rolls to add coziness and texture. The designer Frankie Brown says it can also be used for a rug. Great use for scrap yarn. Pictured project by gicki .

4 Row Repeat Pastille Baby Blanket
This colorful baby blanket is created with stripes of easy slipped stitch mosaic colorwork in in a 4 row repeat. Most Ravelrers rated this easy. Perfect use for stash yarn - you can make the stripes any size and colors you want. Great with multi-color yarn! 25" x 29" but you can customize to any size. Designed by Vickie Hartog. Pictured project by Tyek.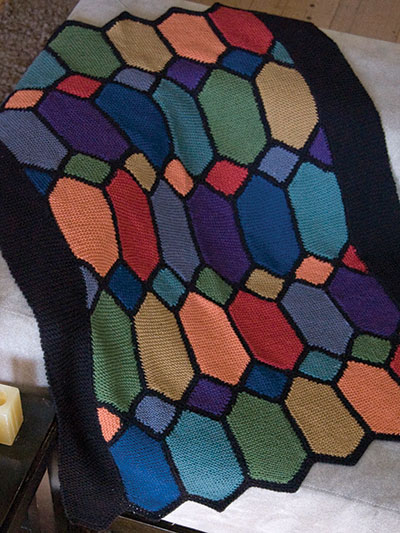 Stained Glass Afghan
This colorful afghan by Susan Levin is made of separate diamond pieces. Great stash buster!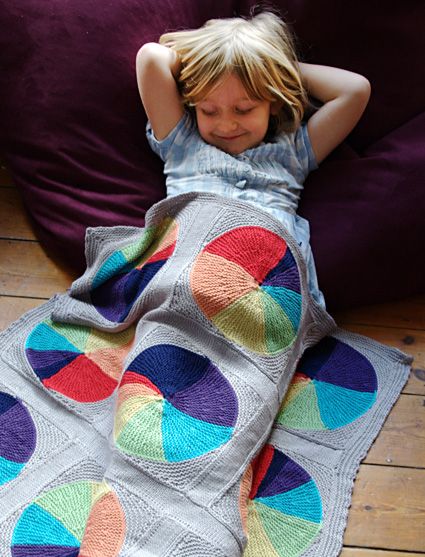 Easy as Pie Blanket
Mathematics and knitting come together in this design by OneHandKnits. Garter stitch short-rows are used to to form a full 'pie' of rainbow slices and again to 'square the circle'.
Get the free knitting pattern and see variations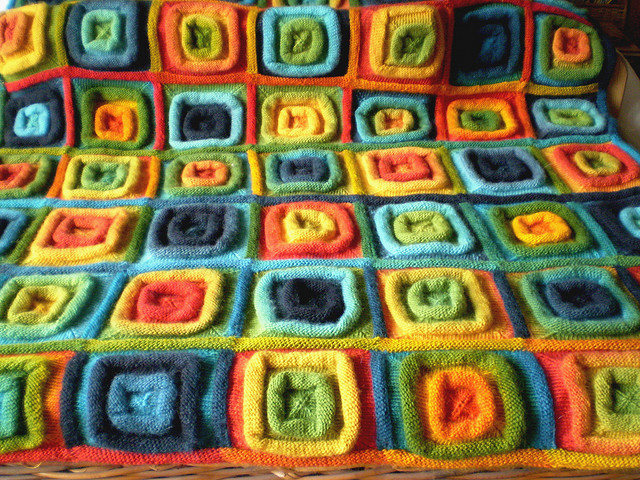 Squares on a Roll
Another fantastic design by Frankie Brown. Stocking stitch rolls add another dimension to these simple squares knitted in the round giving an exciting tactile fabric that is thick and warm.
Patterns for Purchase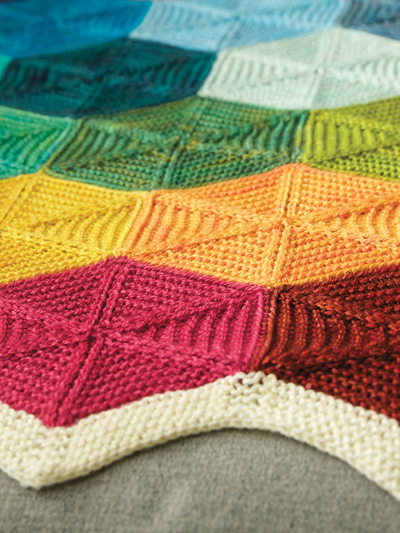 Polygon Blanket
This afghan is made of individual garter stitch hexagons that are knit individually and assembled. Great stash buster and portable project! Blanket as shown: 29 1/2″W x 37 1/2″L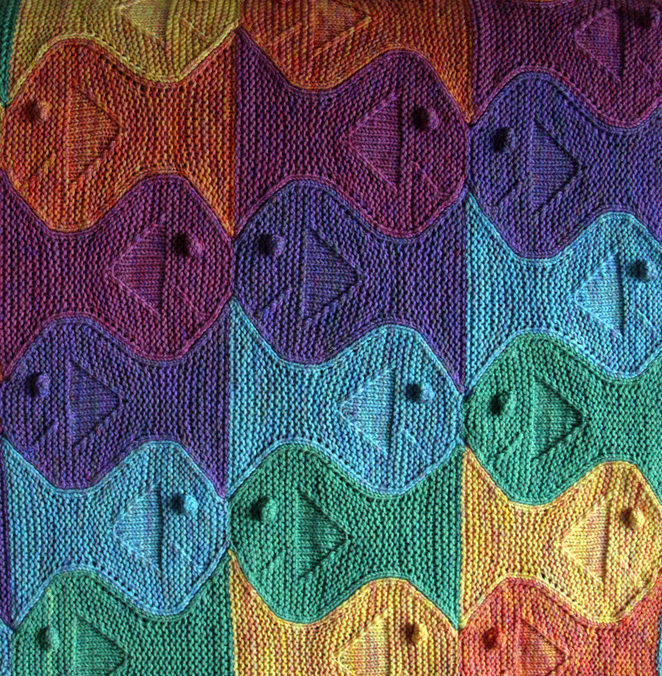 Festive Fish Baby Blanket
This modular afghan of tessalated fish is a great stash buster and portable project. Designed by Paula Levy. Available in Babies and Toddlers: A Knitter's Dozen. Pictured project by devittles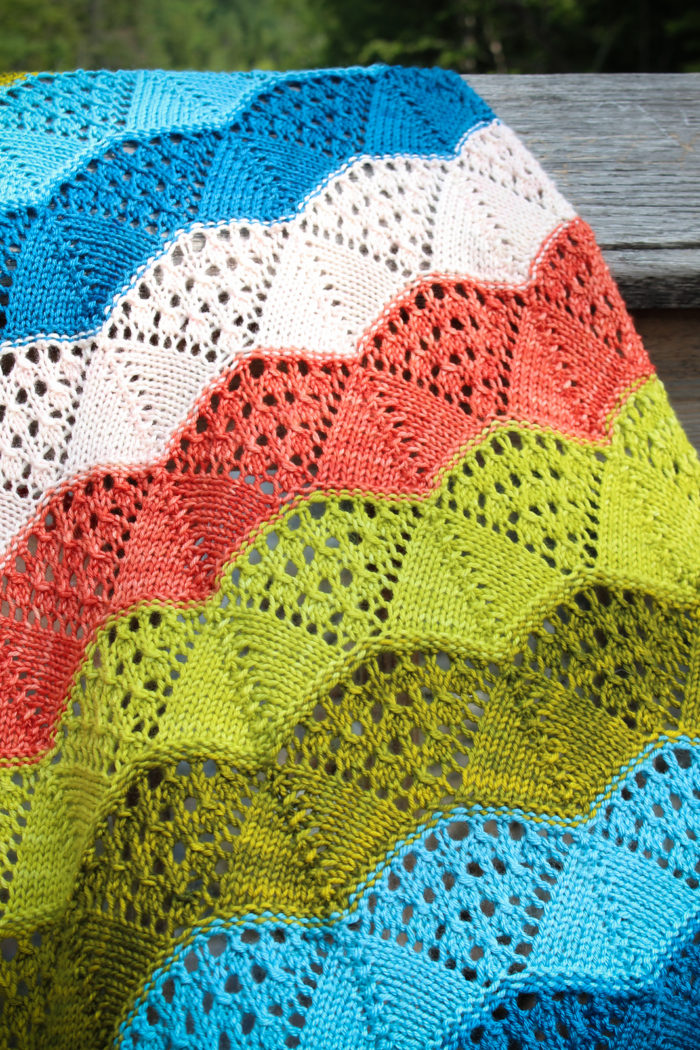 Lovequist Baby Blanket
Striped lace blanket is a colorful use for stash yarn The lace is ideal for babies because it offers ventilation and texture for them to play with. DK-weight yarn. 26" Wide x 42" High. Designed by Tanis Gray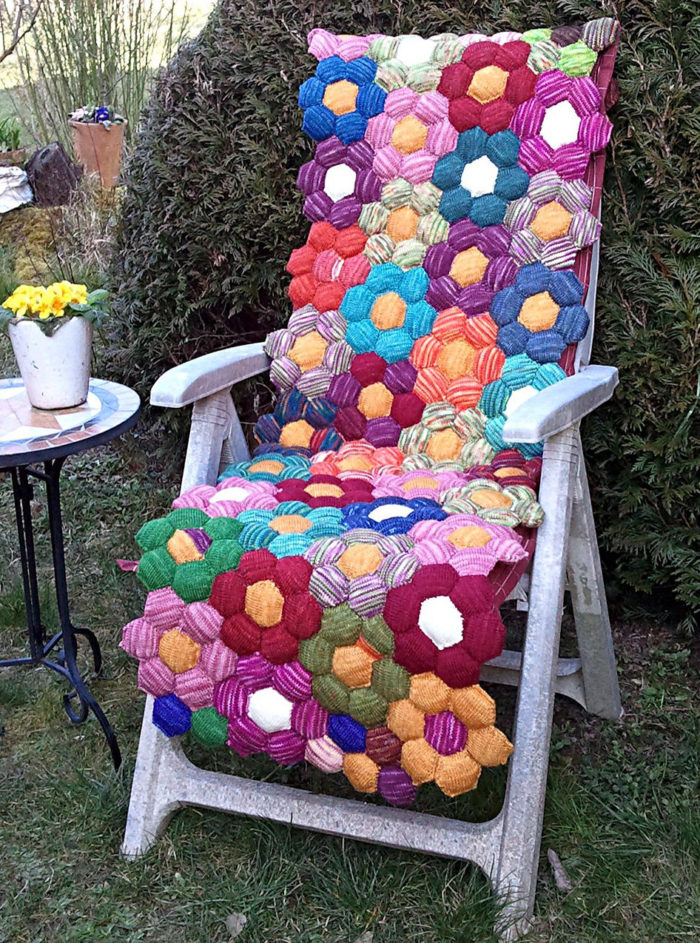 The Beekeeper's Quilt
Afghan made of little stuffed honeycomb shaped puffy pockets called hexipuffs. Great for scrap yarn and easy to join. Designed by tiny owl knits. Pictured projects by PorcupineSnuggles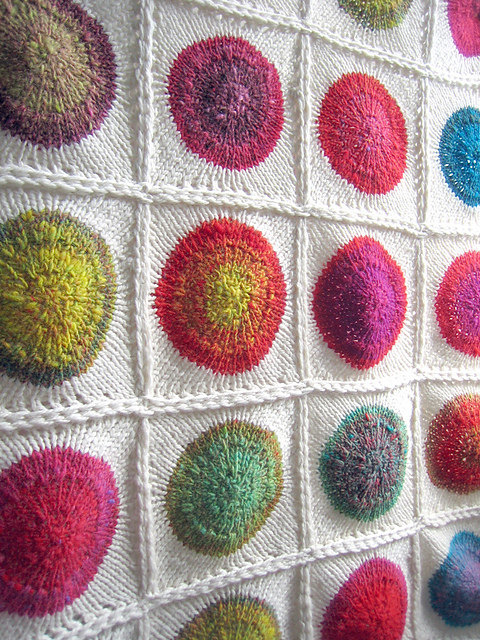 POP Blanket
This blanket is inspired by the graphics of comic books and American Pop Art. Great for scrap yarn. Designed by Tin Can Knits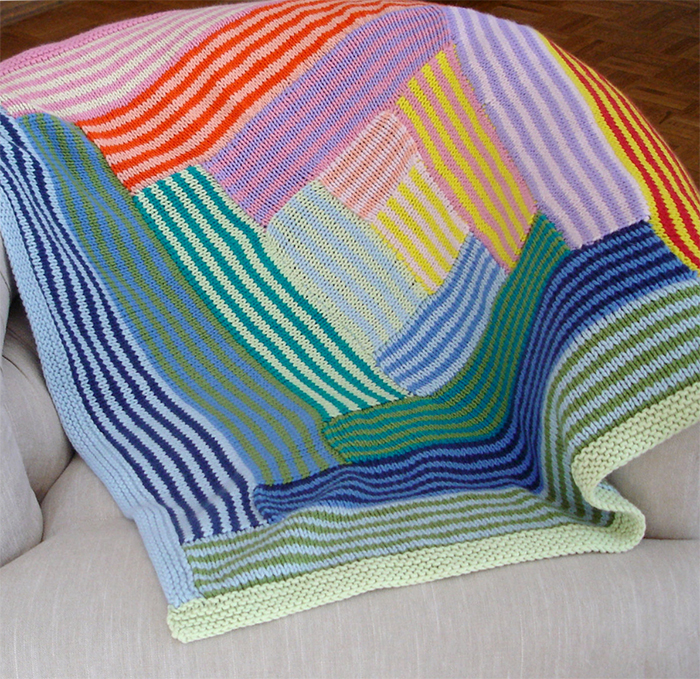 Striped Log Cabin Baby Blanket
Knit with a chunky weight yarn and a #10.5 needle. The sample was knit with approx. 80 yards each of 14 different colors. You can repeat colors as often as desired. Finished measurements approx. 35"x 35". Great for stash yarn. Designed by The Knitting Niche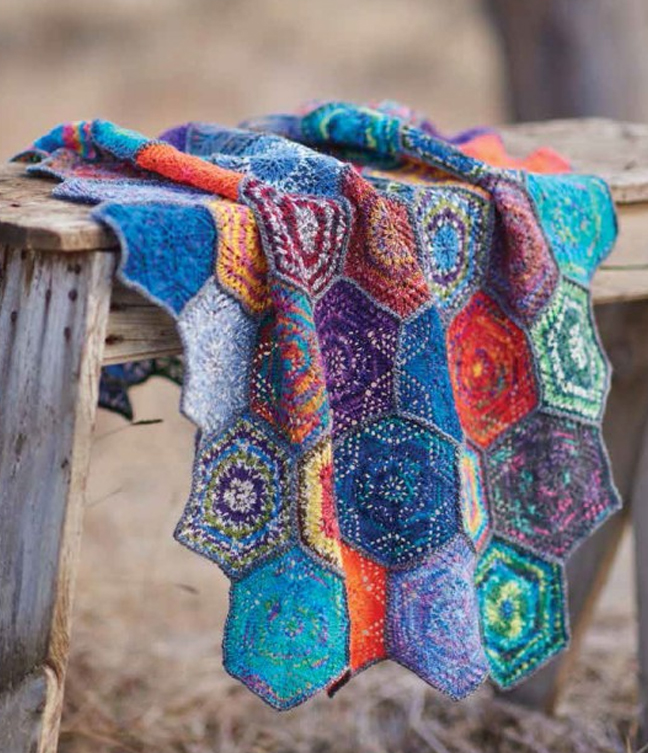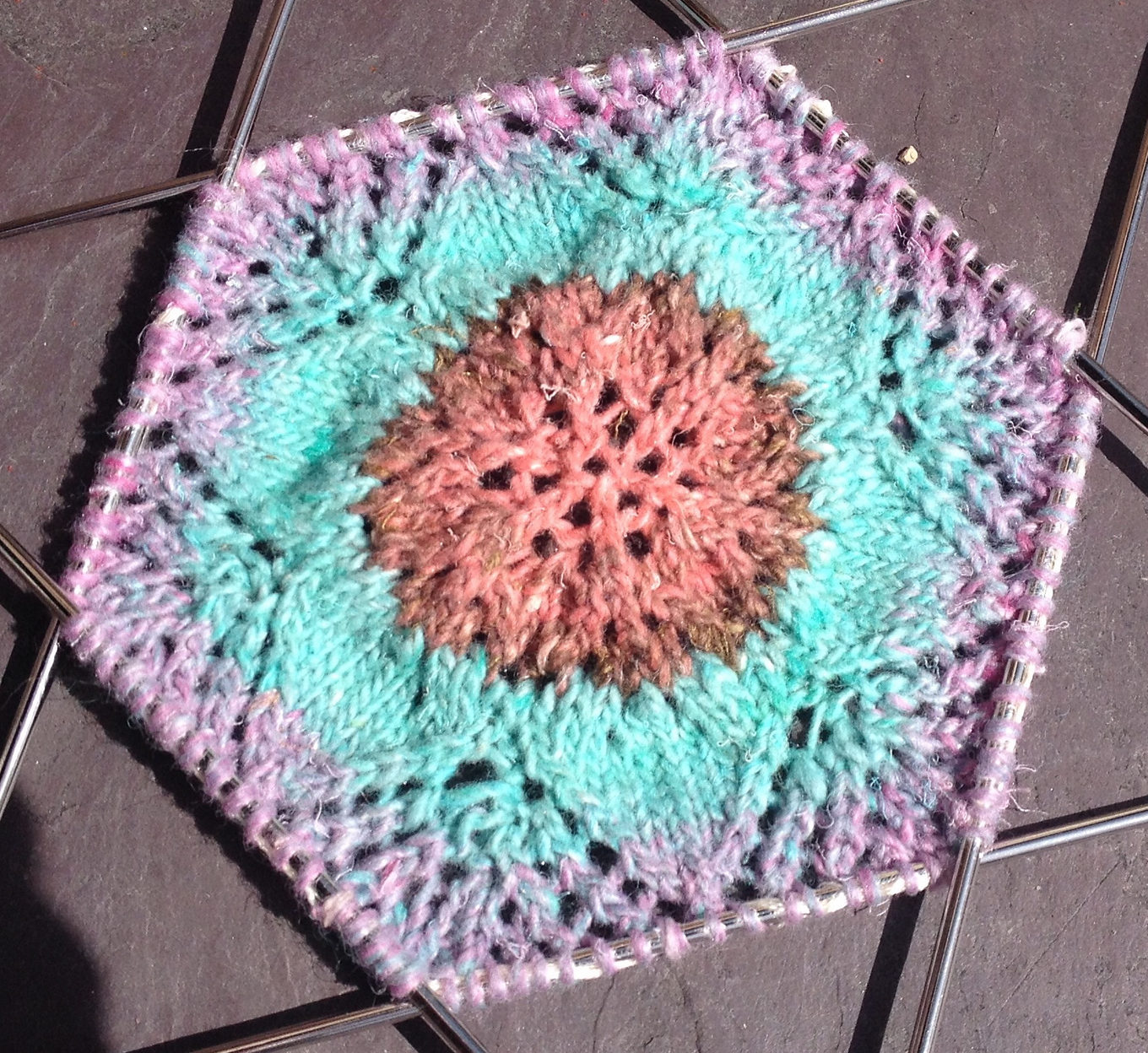 Margarita's Coverlet
This patchwork afghan is composed of simple lace hexagons, with a star pattern at the center, designed for leftover scraps of self-patterning sock yarn. 3 sizes are offered but it is easy to modify. Each hexagon takes about 25 yards or so of sock yarn. Designed by Andrea Jurgrau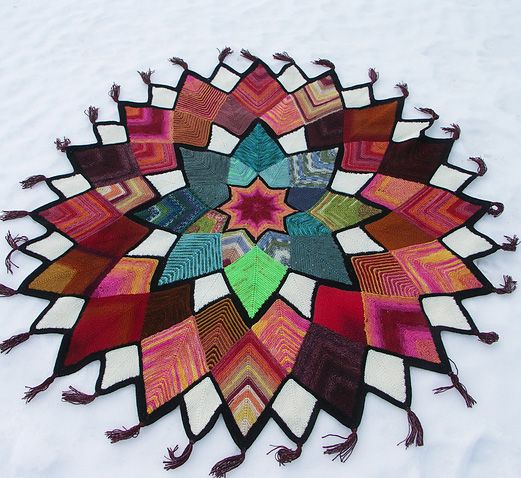 Domino Star Stashbuster Afghan
The center star is knitted in stockinette, and all the rest of the blanket is in garter stitch. The motifs consist of mitered squares, which are slightly modified to accommodate for the growing periphery of the circle.