Movie and TV Scarf Knitting Patterns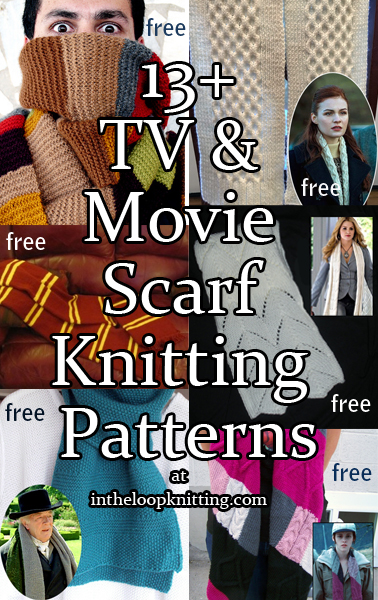 Scarf knitting patterns inspired by scarves worn by characters in movies and tv shows.
To get the knitting patterns, scroll down the page to the individual pattern you want and click on the link to that pattern.
These patterns are not my designs but links to other designers who have generously shared their patterns. If you have questions about how to knit a specific pattern, please contact the designer directly.
All links on this site are for informational purposes, but please note that some links are to affiliate sellers that pay me a small commission on purchases.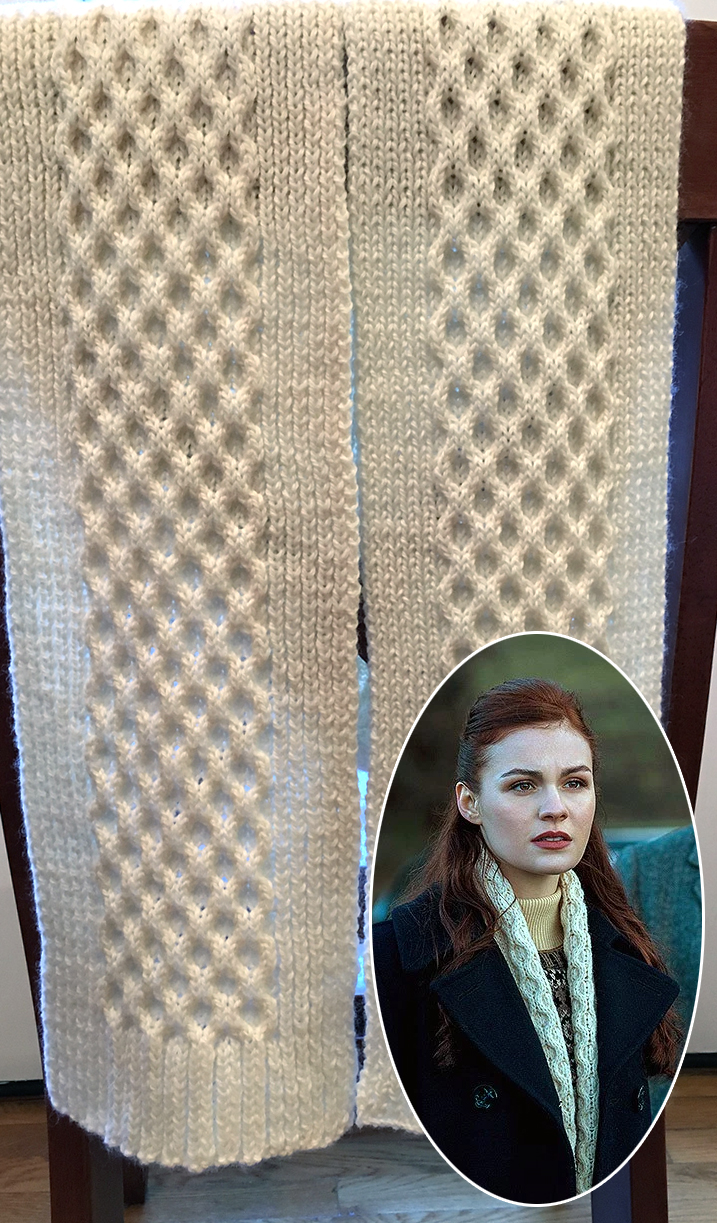 Outlander: Brianna Honeycomb Scarf
Scottish Princess's scarf was inspired by the scarf Brianna wore in season 2 finale "Dragonfly in Amber".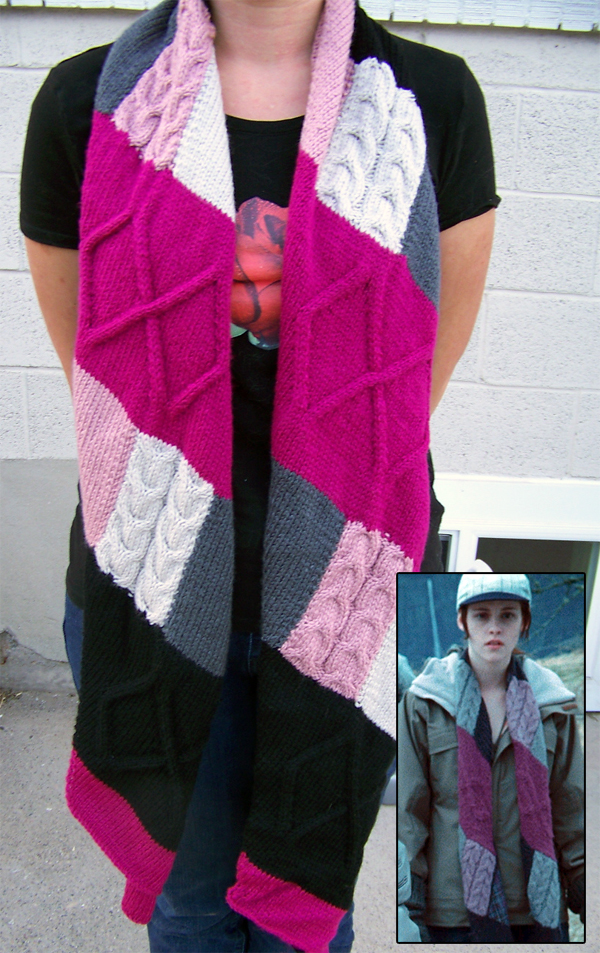 Twilight – Bella's Baseball Diamond Patchwork Scarf
Maggie Fangmann's recreation of Bella's cable patchwork scarf is constructed of eleven pieces. She shows some of the possible color and design variations at her pattern page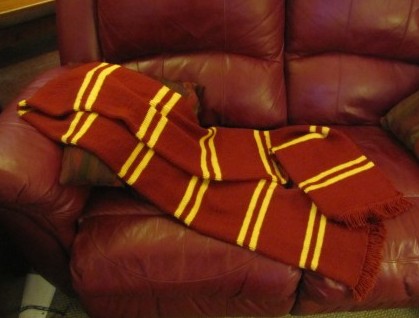 Harry Potter Prisoner of Azkaban Scarf
Gryffindor scarf designed by Rachel Alexandra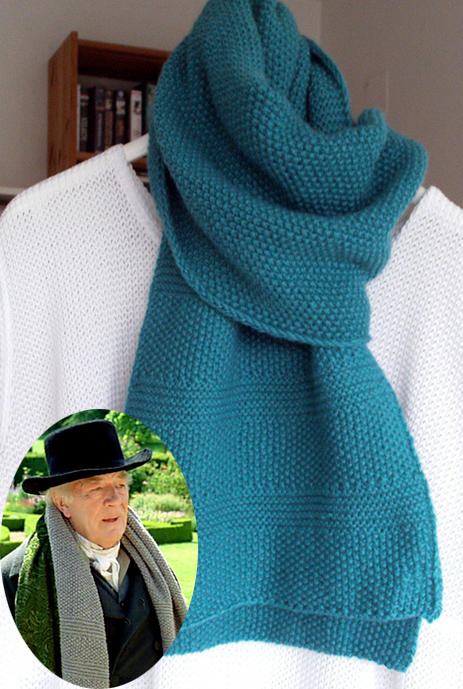 Emma – Mr. Woodhouse's Scarf
Unraveling Sophia was inspired by the scarf worn by Mr. Woodhouse in the 2009 moive version of Emma. Pictured project by Snowsheep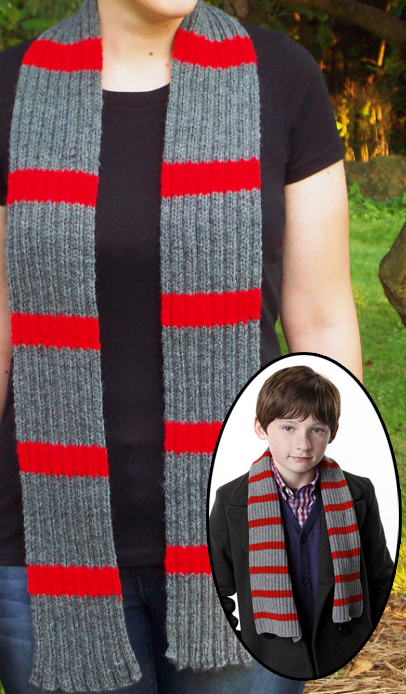 Once Upon a Time – Henry Mills Scarf
Melissa Prange's was inspired by the tv seriesOnce Upon a Time to recreate Henry's grey and red striped scarf. The pattern is easy, suitable for beginners.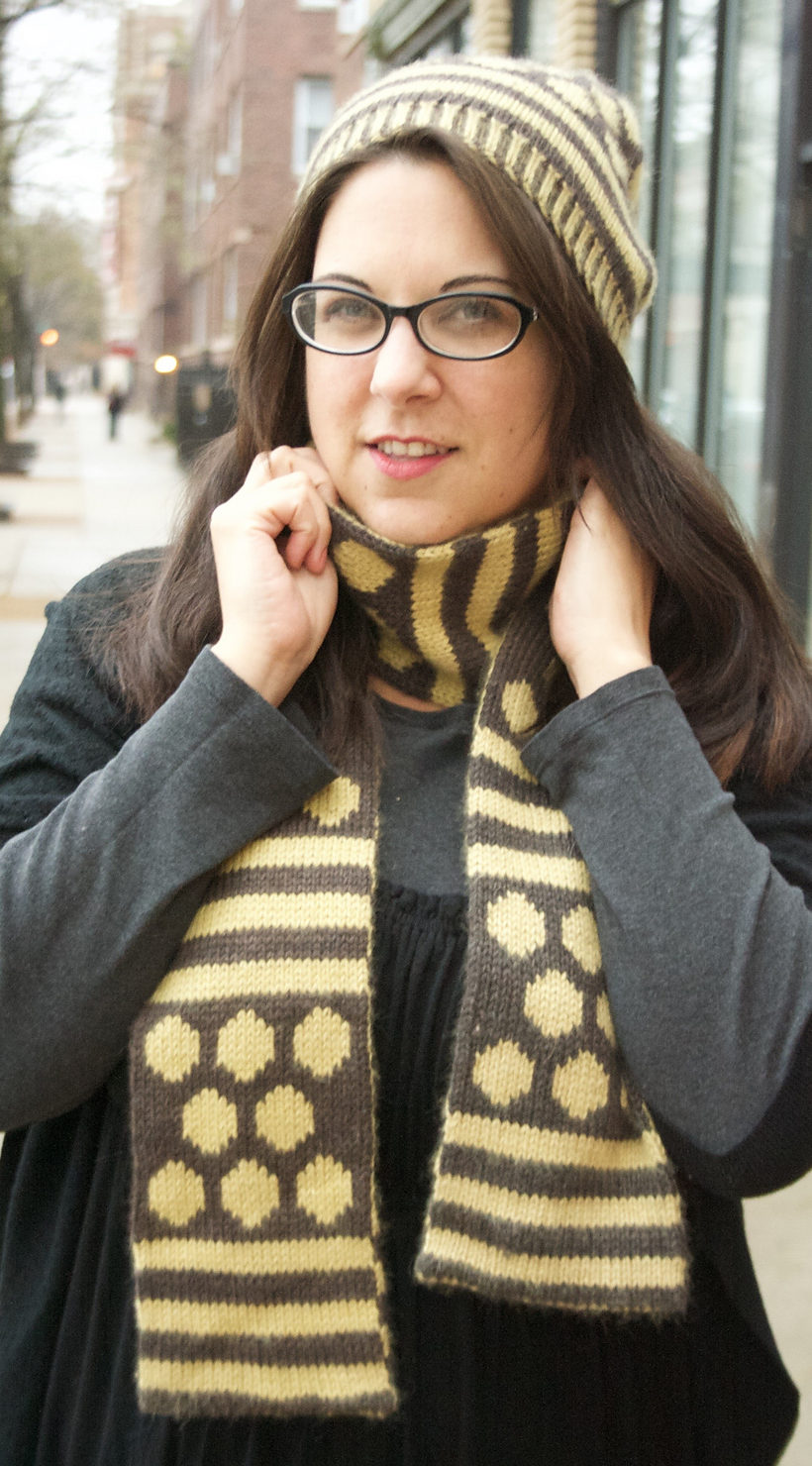 Gilmore Girls – Rory's Scarf
This is the official costume pattern for the scarf worn by Rory in the new season of Gilmore Girls: A Year in the Life on Netflix. Dots n Dashes scarf by Lisa Whiting and Lucia Blanchet comes with the matching hat pattern.
Gilmore Girls – Paris's Scarf
This is the official costume pattern for the scarf worn by Paris Geller in the new season of Gilmore Girls: A Year in the Life on Netflix. Eponymuff scarf designed by Lisa Whiting and Lucia Blanchet.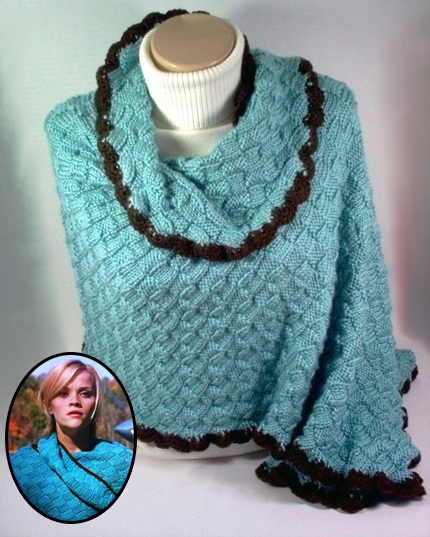 Sweet Home Alabama Shawl
Vicki Mann's shawl is inspired by the one worn by Reese Witherspoon in the movie Sweet Home Alabama.
In Her Shoes: Cable Rib Scarf
This chunky fringed scarf is inspired by the purple scarf worn by Cameron Diaz in the movie In Her Shoes. It adds a cable to the scarf that's not in the movie but if you want to be true to the movie just replace the cable with ribs.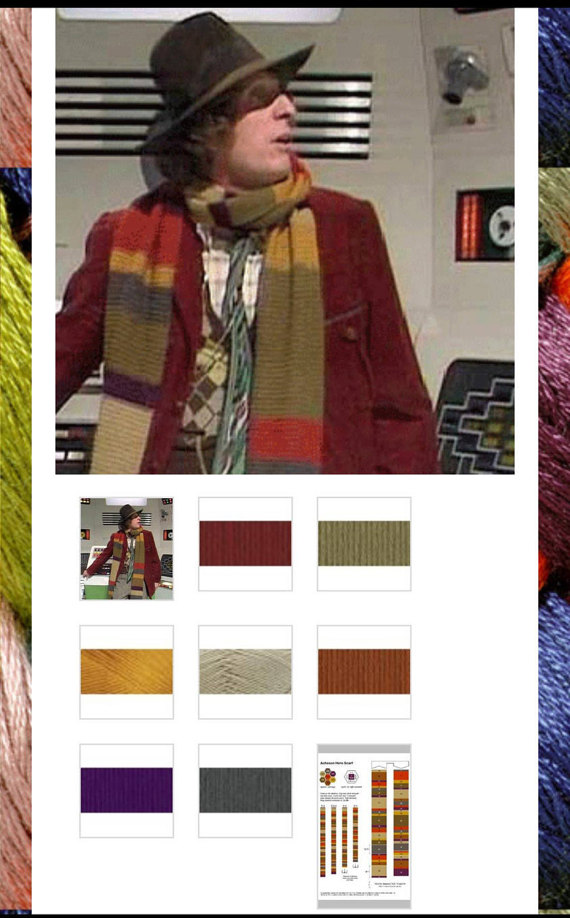 Fourth Doctor Scarf Kit
The hardest part of knitting a Doctor Who Scarf is chasing down the yarn. Here's a kit that did that for you. Included are 9 skeins in the carefully researched colors and the official pattern with variations to accommodate specific seasons/versions, from the Dr Who Scarf Pattern Page.
Terry Matz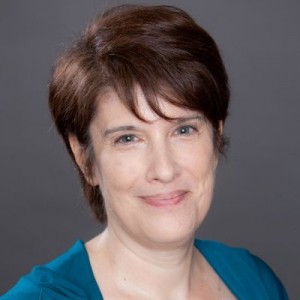 Terry is a knitting late-bloomer, learning to knit as an adult from Internet tutorials, because she wanted a craft that was useful, fun, and portable. Knitting hats for cancer patients inspired her to design her own patterns—available for free at her blog, intheloopknitting.com. Terry met her husband Ken at a science fiction convention and moved to the Kansas City area to be with him more than 30 years ago. Terry supports her yarn stash by creating websites and other digital media. Terry firmly believes in Knitting in Public—it's a great conversation starter!