<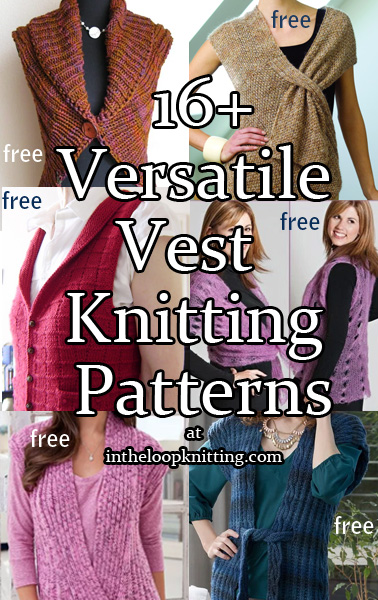 Knitting patterns for vests that can be worn in a variety of ways, in all seasons, including pullovers, button fronts and more. Most patterns are free.
To get the knitting patterns, scroll down the page to the individual pattern you want and click on the link to that pattern.
These patterns are not my designs but links to other designers who have generously shared their patterns. If you have questions about how to knit a specific pattern, please contact the designer directly.
All links on this site are for informational purposes, but please note that some links are to affiliate sellers that pay me a small commission on purchases.
Free Patterns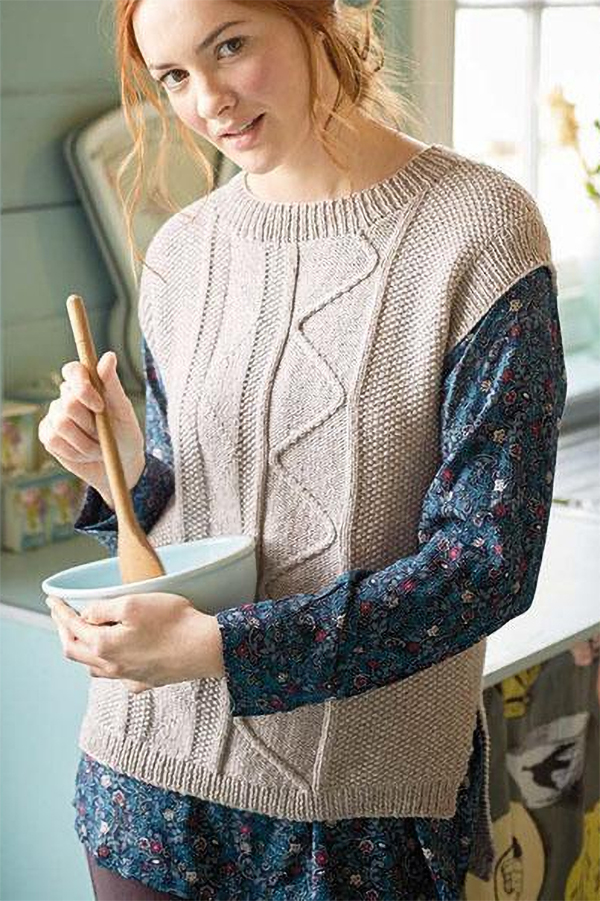 Scroll Vest
Pullover sleeveless vest or top with a unique wavy cable and textured seed stitch panels. Sizes 32-34(36-38,40-42, 44-46, 48-50)" 81-86 (91-97, 102-107, 112-117, 122-127) cm. Designed by Georgia Farrell. A kit is also available. DK weight yarn.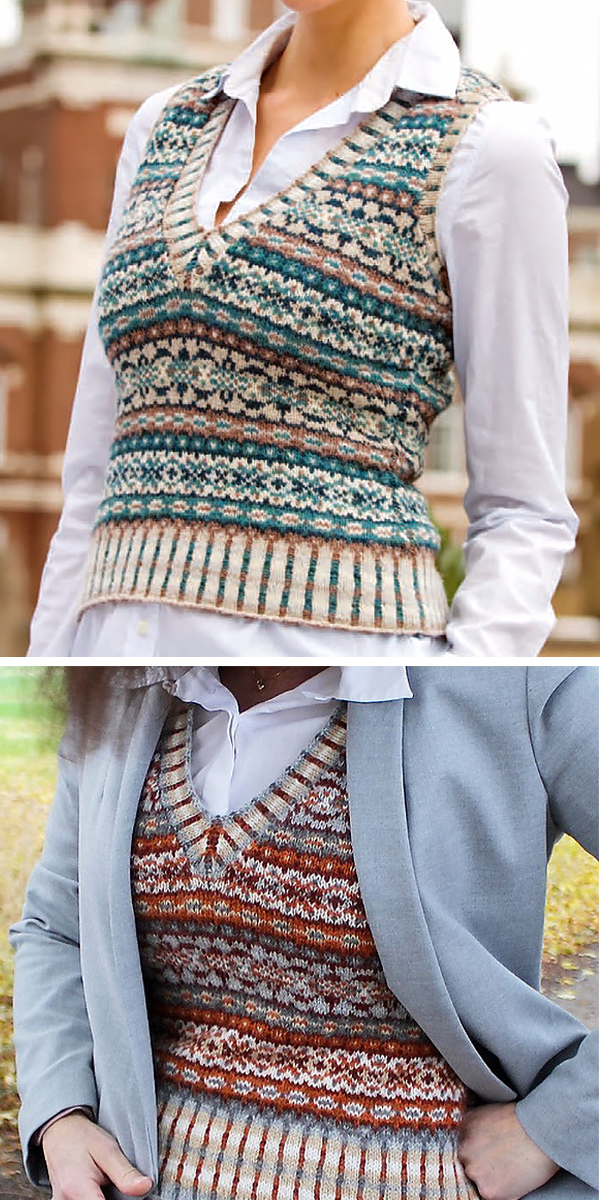 Ivy League Vest
Play with colorwork in this fair isle pullover v-neck vest. Knitters used color schemes from pinks to blues to watermelon colors, and beyond. Some knittrs even substituted other fair isle charts with animals, Doctor Who motifs, and more. Designed by Eunny Jang. Sizes 28 (31½, 34¾, 37¾, 41¾)" bust circumference. Pictured projects by the designer and Enebymaria. Need extra help? The designer also offers a class with this pattern.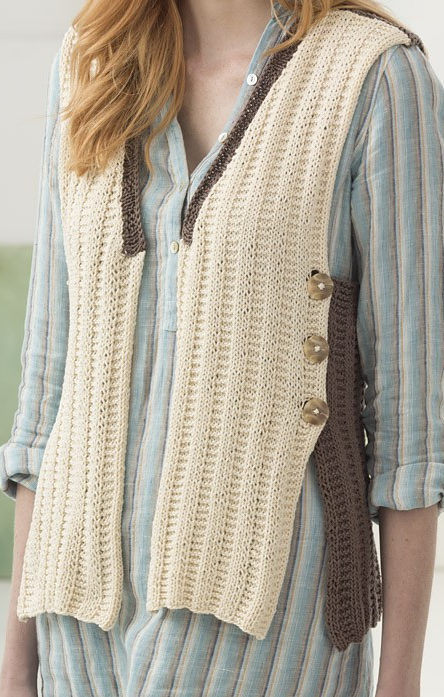 Milford Vest
This easy open front vest is knit in a two row repeat garter rib stitch and is buttoned the on sides. Designed by Irina Poludnenko for Lion Brand Yarn. XS/S (M/L, 1X/2X)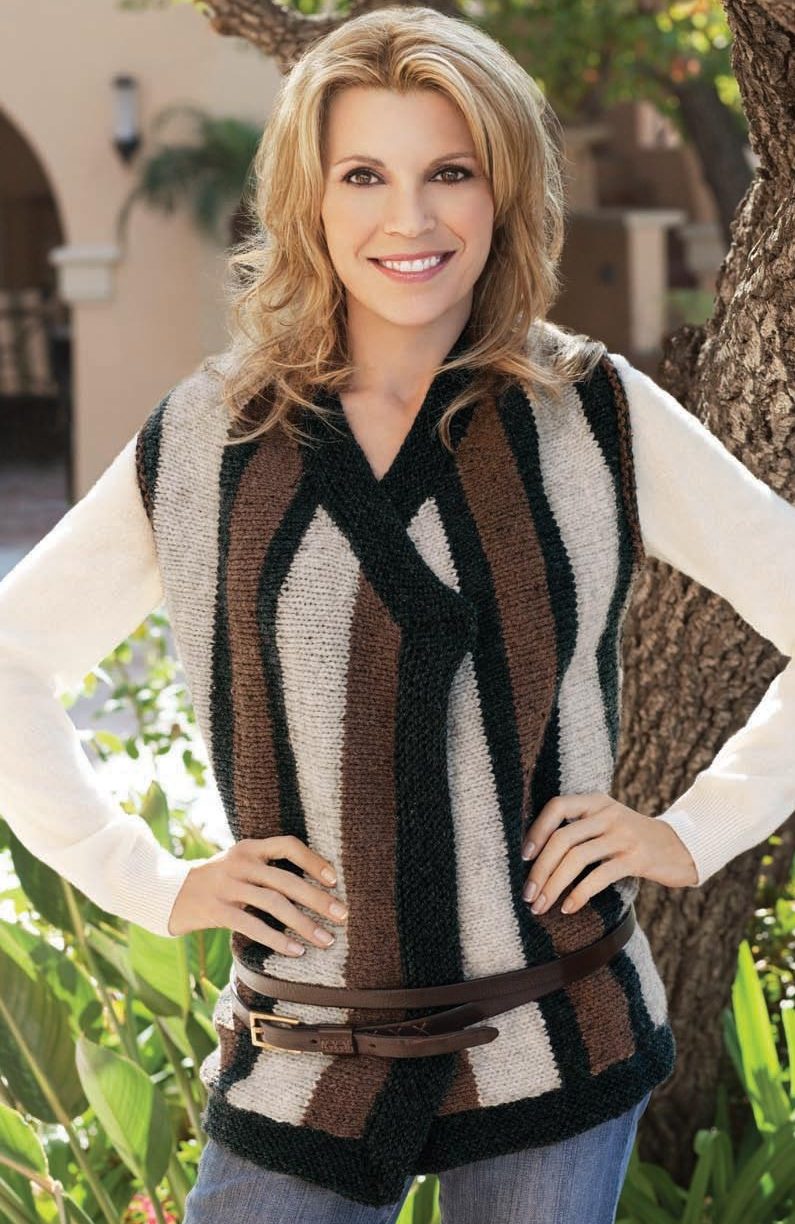 Vanna's Blanket Coat Vest
Striped open front vest. Designed by Lion Brand Yarn. Small, Medium, Large, 1X, 2X. Excerpted from Vanna's Lifestyle.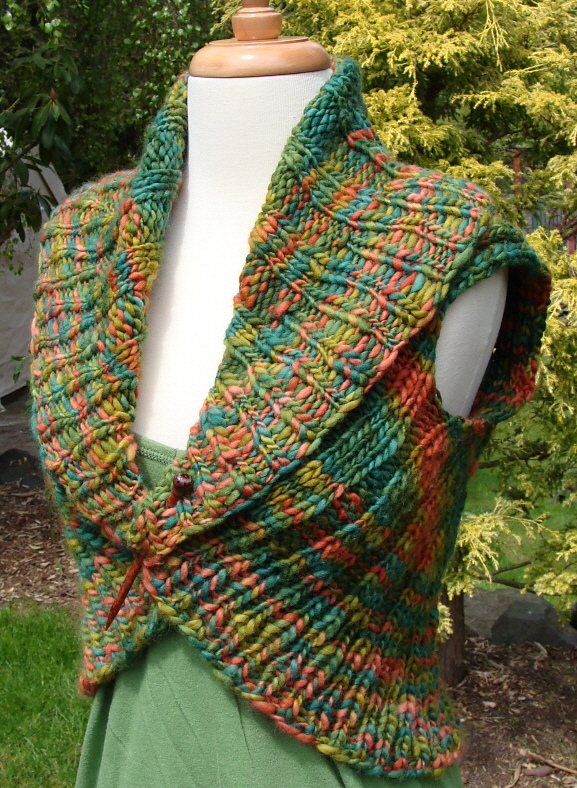 Shawl Collar Vest
This easy circle shrug / vest by Jennifer Miller is knit in chunky yarn. Great for multi-color yarn.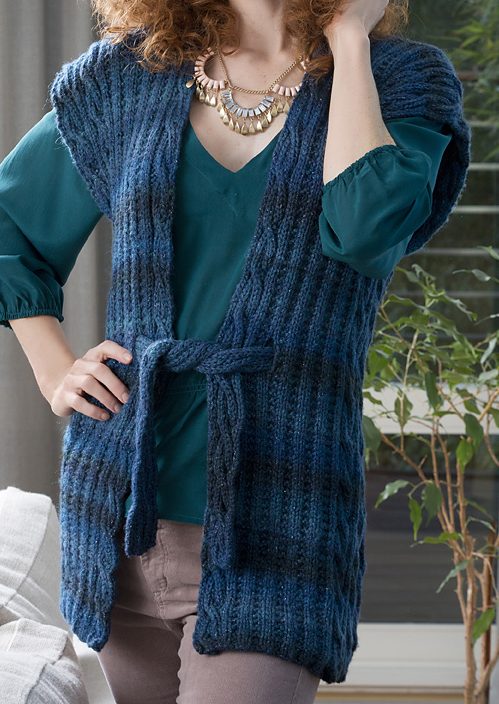 Ruana Style Vest
Susan Nadel's design is knit in a rectangle with slits for the cable belt and seamed to form armholes. This versatile style features cables and ribbing in a vest suited to all sizes that can be dressed up or down. Great with multi-color yarn.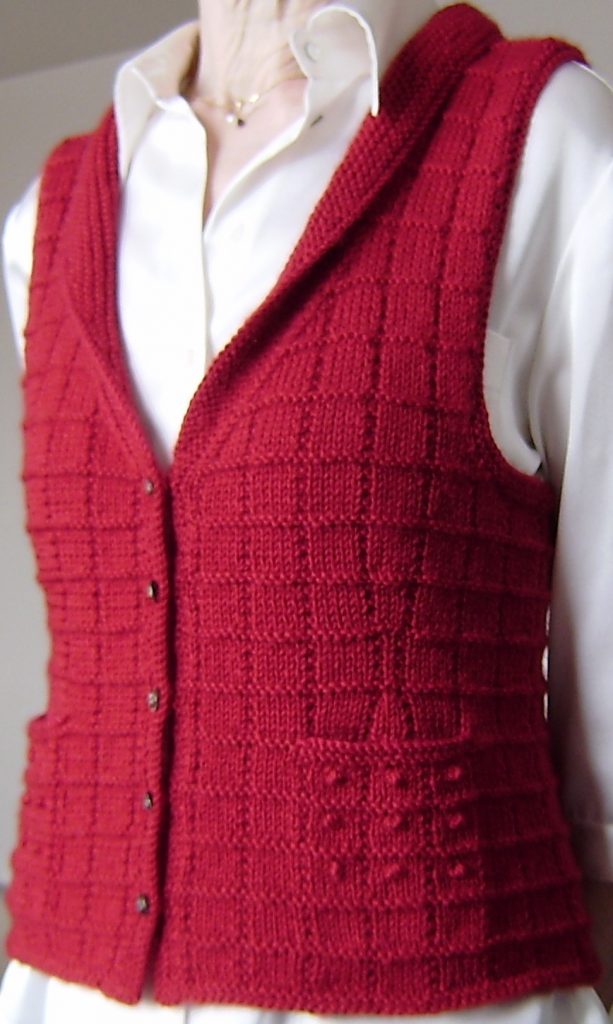 Buttonbox Vest
Elizabeth McCarten's vest features a modified gansey pattern with french knots and pockets. Knitters have customized this pattern for other stitch textures, without the pockets, or deeper shawl collar. Great range of sizes XS/S-3X. Pictured project by Tricodentelle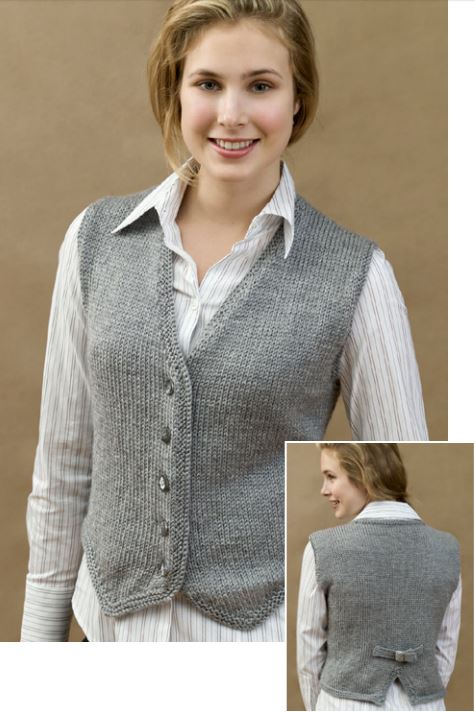 Vested and Stylish
Classic buttoned vest in bust sizes 30-32 (34-36, 38-40-42-44)". Designed by Kathleen Sams for Red Heart
More Free Patterns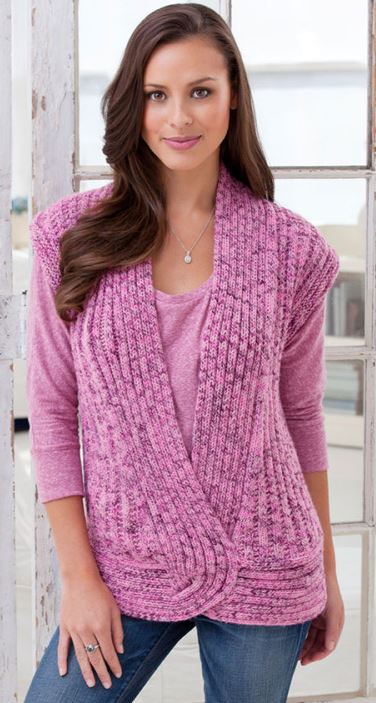 Rib and Twist Vest
Heather Lodinksy's flattering vest features a unique construction and easily transitions from day-to-night. Chest 35″, 39″, 42″, 46″ 50″, 54″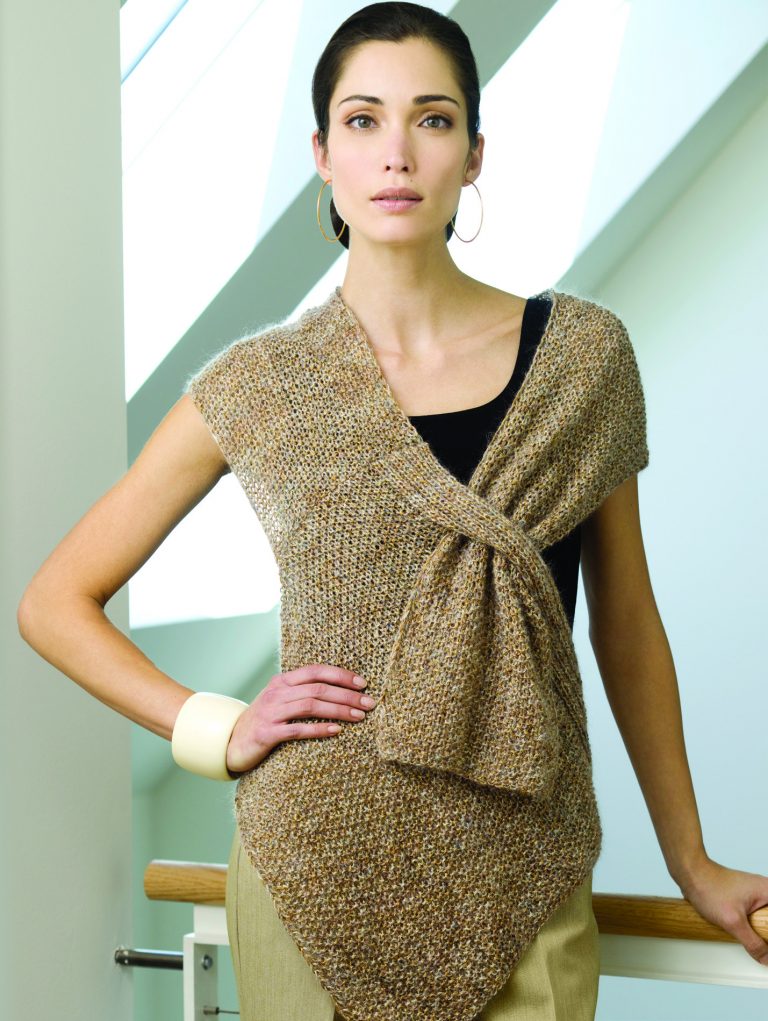 Tyra Top
This easy pattern by Irina Poludnenko has fascinated me for a long time because of its keyhole shawl shoulder fastening. It's more than a shawl because it has a band on the lower back, yet it's more than a top because it is made for layering. So I'm calling it a vest! Rate easy by the designer and Ravelrers, it is sized for X-Small (Small/Medium, Large/XL, 2X)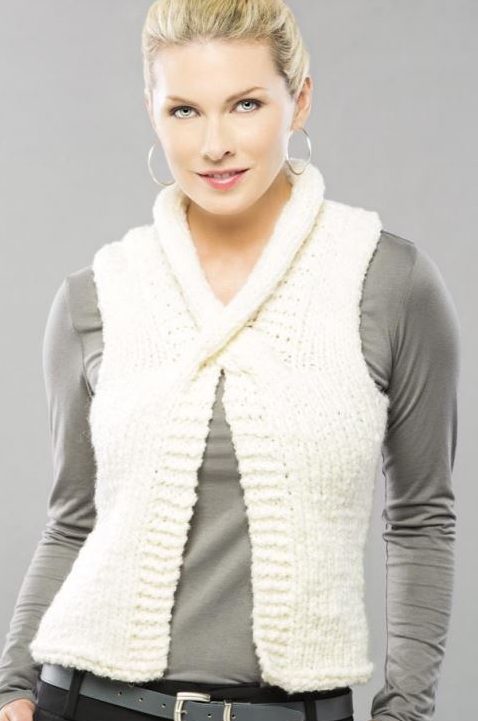 Collar Cross Vest
This pullover vest from Universal Yarns is a quick knit in in super bulky yarn. (One knitter reported knitting the pieces in less than 4 hours.) Wide range of sizes Small (Medium, Large, 1X, 2X)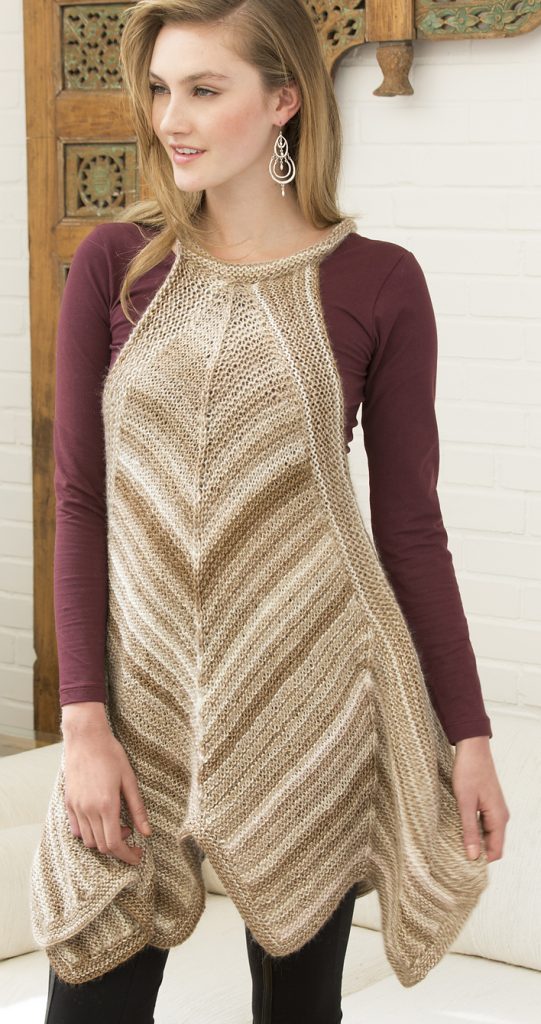 Swing Vest
This easy-to-wear vest by Nancy J. Thomas uses mitered squares in garter stitch to create a drape that flatters any figure and easily becomes a dressy look. Great with multi-color yarn. Sizes small/medium, Large, 1X/2X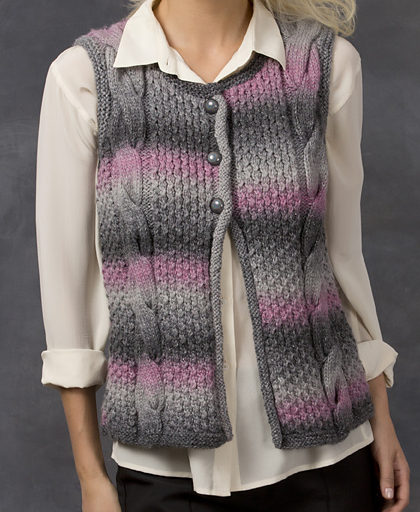 Cable Best Vest
Buttoned best featuring large braided cables on a honeycomb cable background. Great in multi-color yarn! Sizes small – 2X. Designed by Heather Lodinsky for Red Heart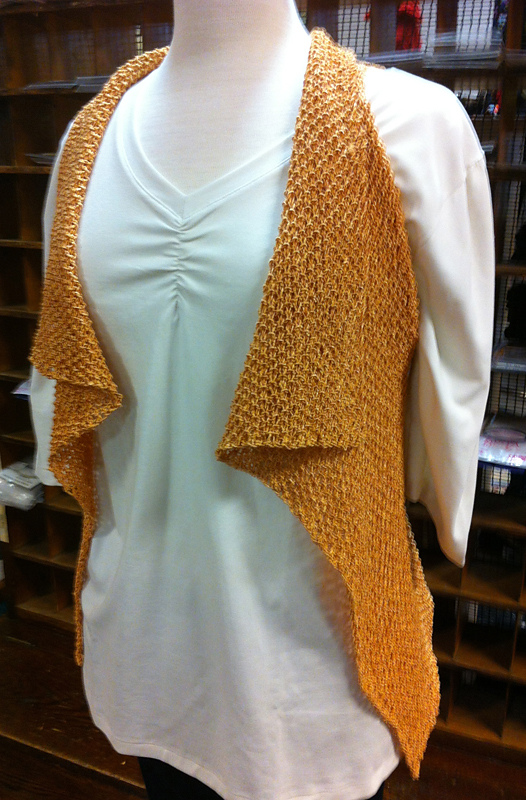 Seabrook Vest
This draped vest by Amanda Keep Williams is super easy. Just knit a single rectangle with armholdes in seed stitch at a loose gauge and it drapes naturally. Pictured project by lippyone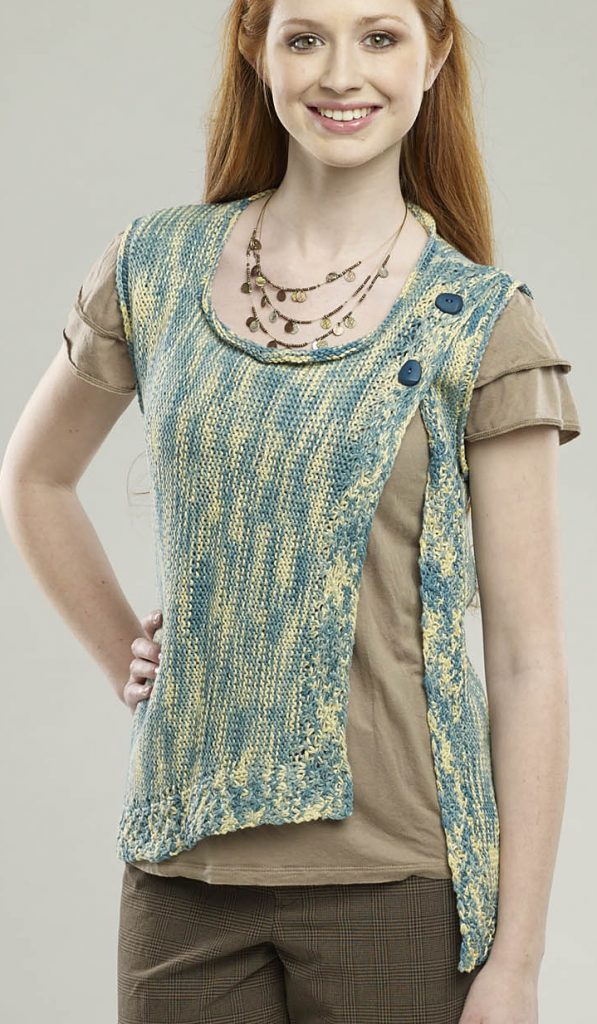 Sailboat Askew Vest
Amy Gunderson's high-low vest features an asymmetric front. Great with multi-color yarn. Wide range of sizes 34 (38, 42, 46, 50, 54)"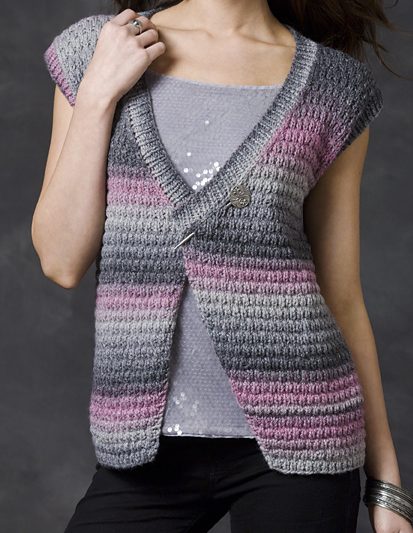 Midnight Sky Vest
Jodi Snyder's vest features a unique textured stitch that completments multi-color yarn.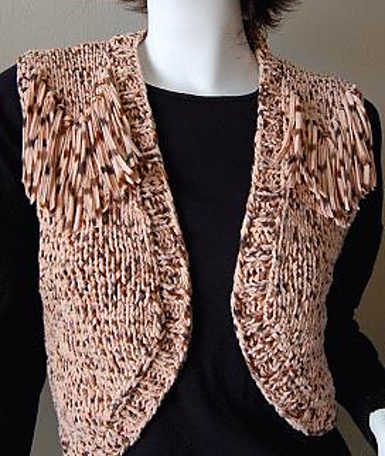 Fringed Cowgirl Vest
This western-style vest can be made with fringe or without. Quick knit in super bulky yarn. Designed by Barbara Breiter for Crystal Palace Yarns.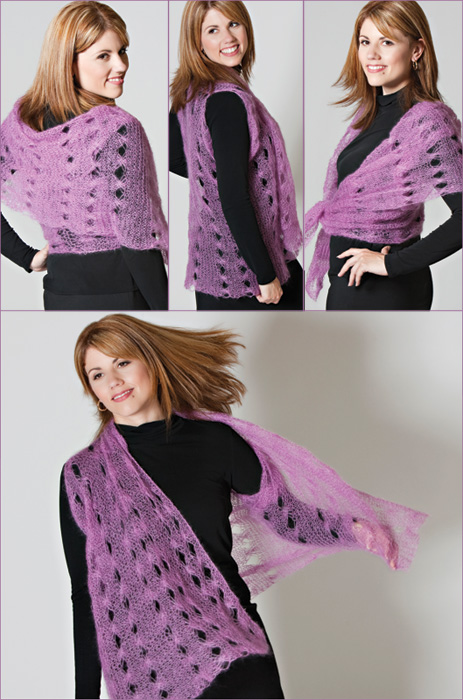 Crosshatch Vest
This versatile accessory by Robyn M. Schrager can be worn many different ways. Knit one rectangle in a drop-stitch cable and garter pattern and then make a clever Y-shaped seam to fashion the armholes. You can now wear the Crosshatch as a swing vest, a sleeveless jacket: with tuxedo cutaway styling, or draped with a handkerchief neckline and fastened at the shoulder with a shawl pin. Knit in lace yarn on large needles.
Patterns for Purchase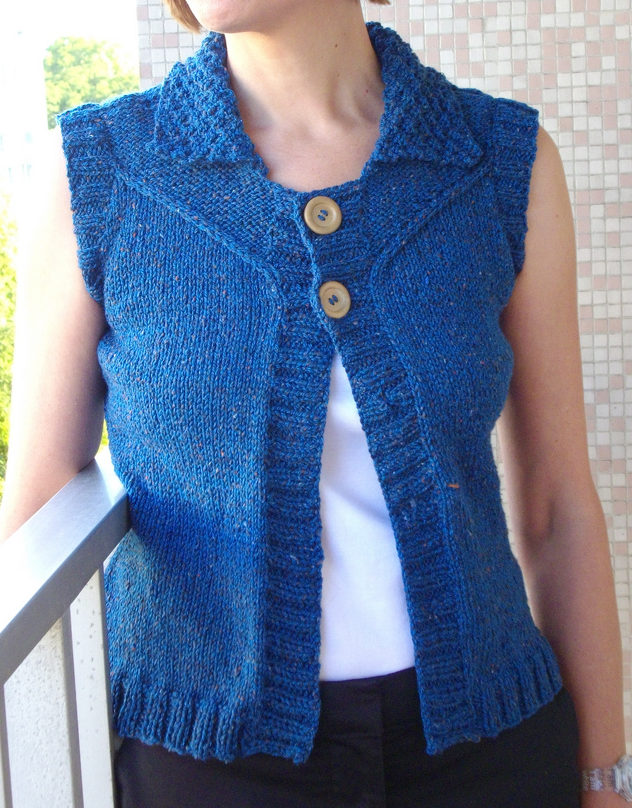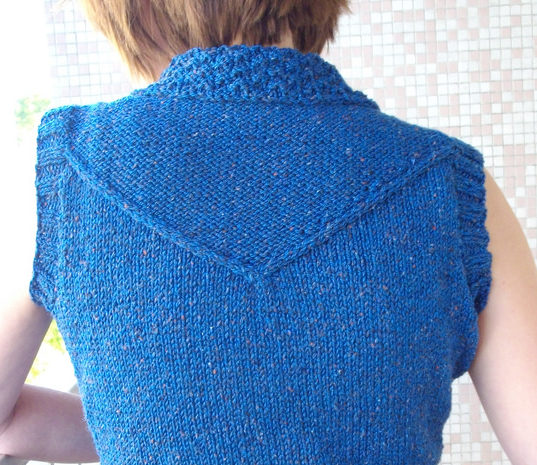 Loretto Vest
Love the detailing on this vest including cabled bodice, collar, waist shaping, and shoulder shaping. Sizes: 33 (37, 41, 45, 49, 53)" finished bust circumference. Designed by Cassie Castillo. Pictured project by Freddycat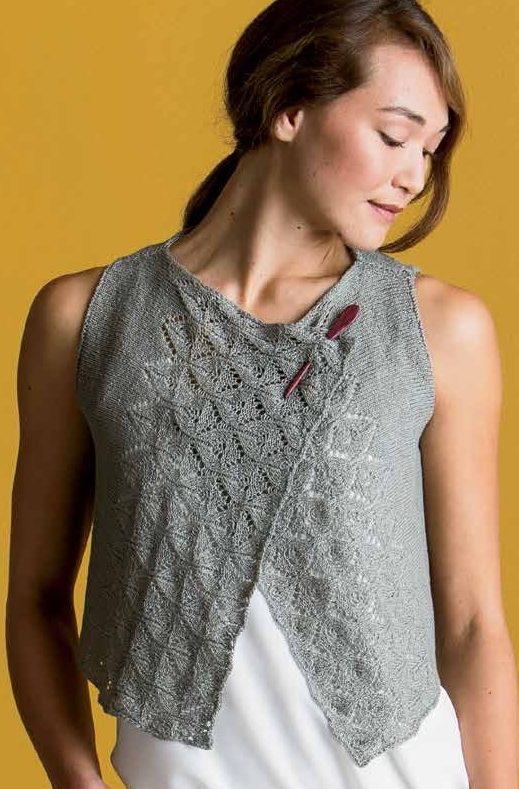 Die Cut Vest
When worn open the lapels of this lace vest by Sara Morris form a flattering drape, when closed it has a modern asymmetric look. Sizes 32 (36, 40, 44)" bust circumference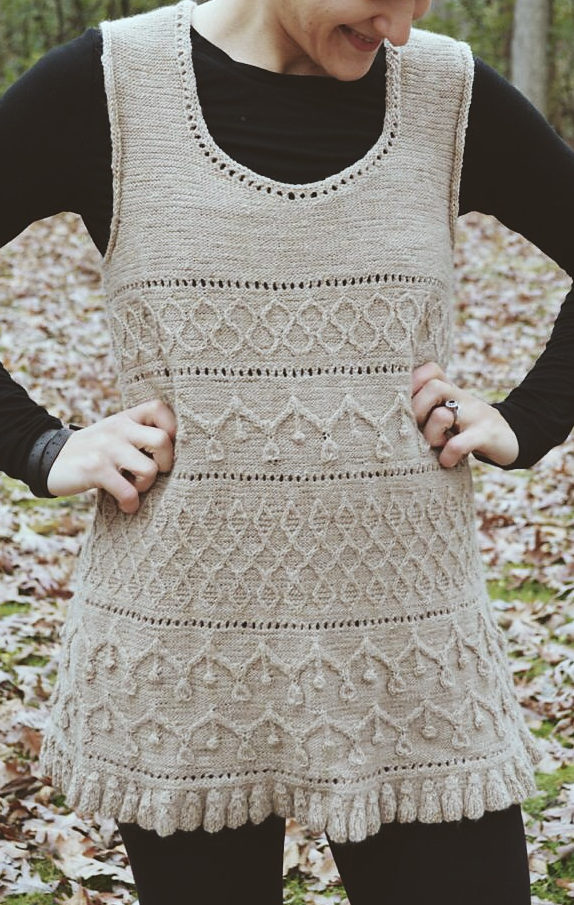 Nadia Tunic
This statement piece is an A-line sleeveless pullover featuring eastern motifs with cables and tassels. Bust: 32 (36, 40, 44, 48, 52, 56, 60)"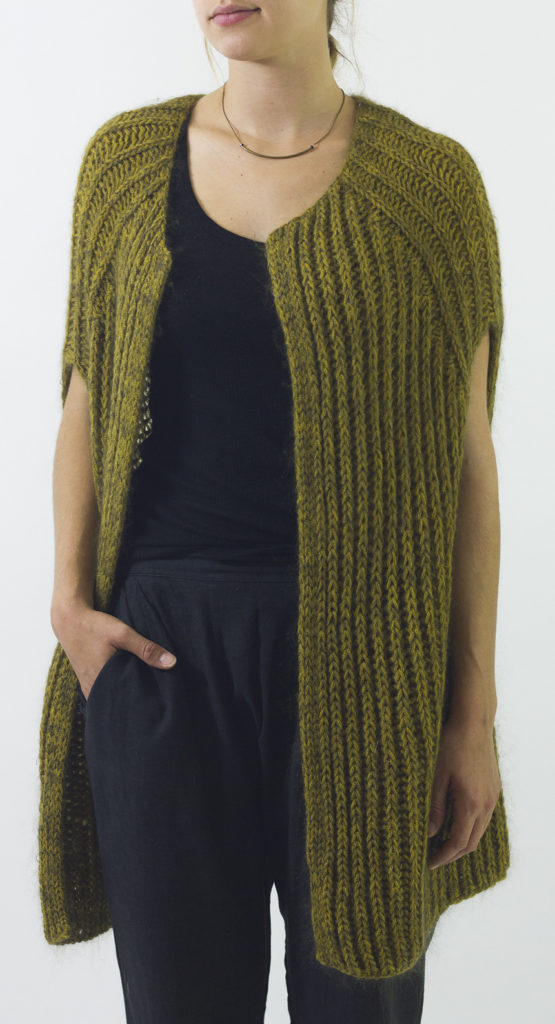 Francis Vest
Easy cocoon vest pattern is knit in Fishermen's rib and is a quick knit on large needles. Woman's S (M, L)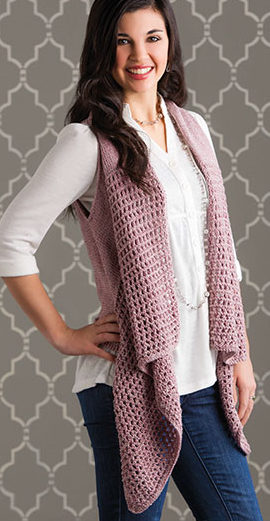 Breezy Mesh Vest
Easy vest pattern with a draped front is a quick knit. Woman's S (M, L, XL, 2Xl)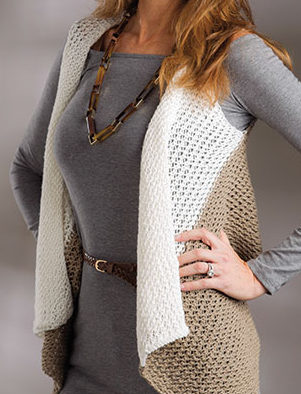 Caldew Vest
Easy draped front lace vest is essentially a rectangle with arm holes. Woman's S (M, L, XL, 2XL)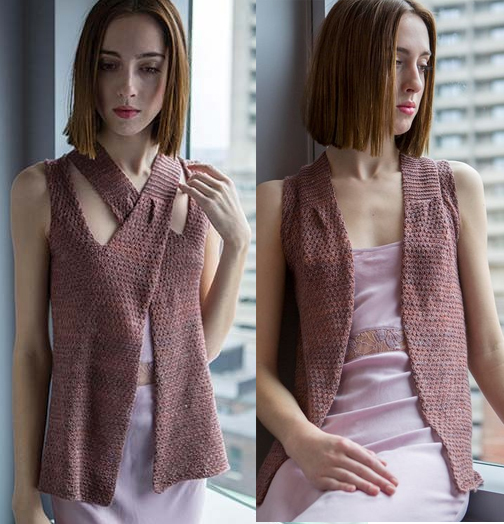 Crosstown Vest
Designed by Norah Gaughan, this intriguing vest can be worn with the center front straps crossed in the front, or uncrossed and open. Knit in one piece from the bottom to underarms, then split to work the back and two fronts separately.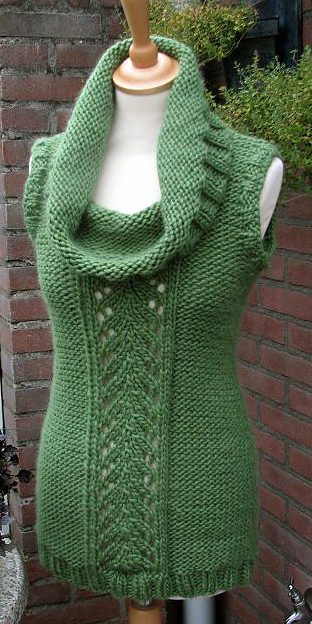 Big Montana Vest
Fast knit in super bulky yarn. Cecily Glowik MacDonald's sleeveless pullover sweater features an oversize cowl and lace front. Finished Size 30 ¼ (34 ¾, 39, 43 ½, 47 ¾)" bust circumference. Pictured project by meisje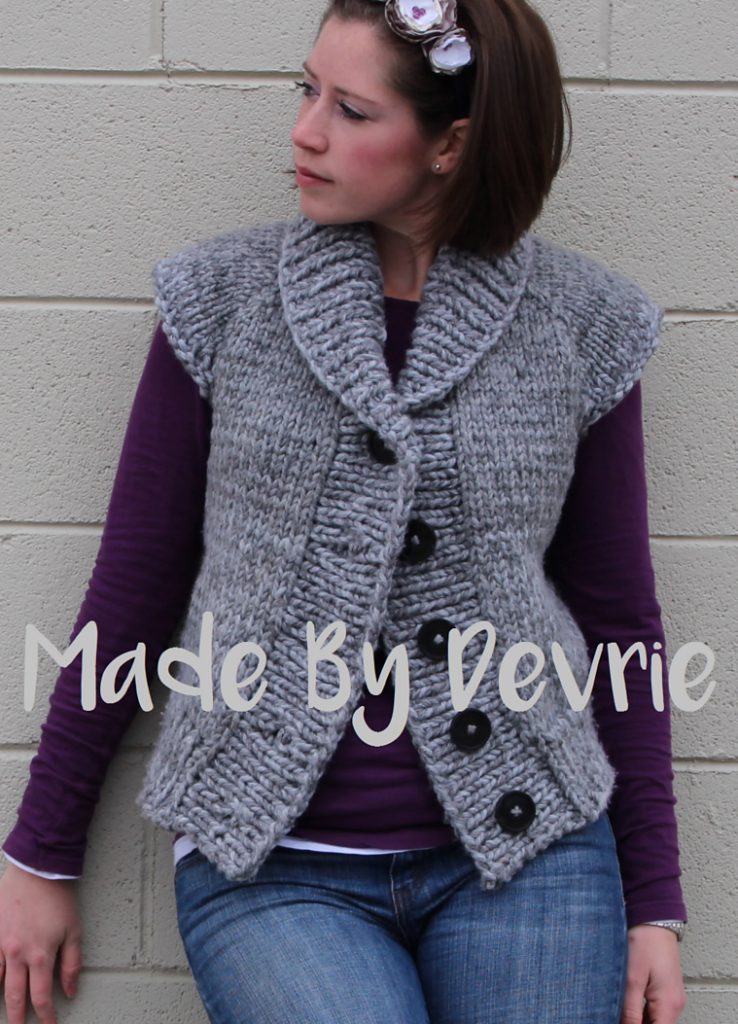 Shawl Collar Vest
The 242 Vest by Devrie Metcalf is a cozy cardigan vest that is perfect for layering and a fast knit with several strands of bulky yarn.