These hat knitting patterns were inspired by hats worn by characters in movies, yet are striking accessories even if you aren't a fan of the movie. Most patterns for free.
To get the knitting patterns, scroll down the page to the individual pattern you want and click on the link to that pattern.
These patterns are not my designs but links to other designers who have generously shared their patterns. If you have questions about how to knit a specific pattern, please contact the designer directly.
All links on this site are for informational purposes, but please note that some links are to affiliate sellers that pay me a small commission on purchases.
Free Patterns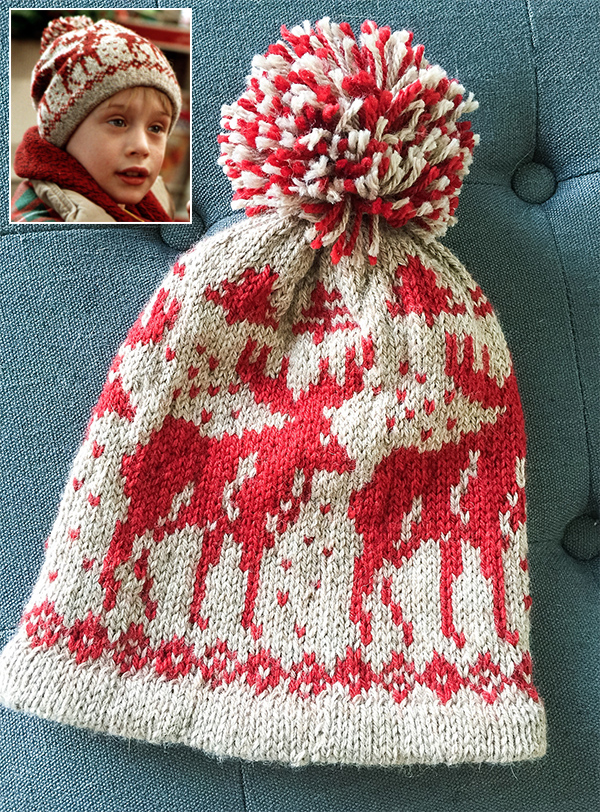 Home Alone Moose Hat
Recreation of the hat that Kevin McCallister wears in the Home Alone movie. The hat is a slouchy, colourwork toque with a large pom pom worked in the round with two colors. Designed by Vrock Knits. DK weight yarn. Pictured project by laurenveronica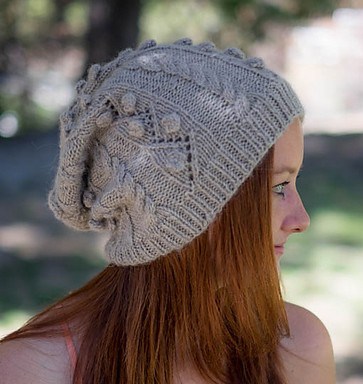 Gwen Stacy Hat
Hailey Knits' bobble, cable, and lace hat was inspired by the hat Gwen Stacy wore in the Amazing Spiderman movie. Slouchy and shorter styles available. Pictured project by britsknits2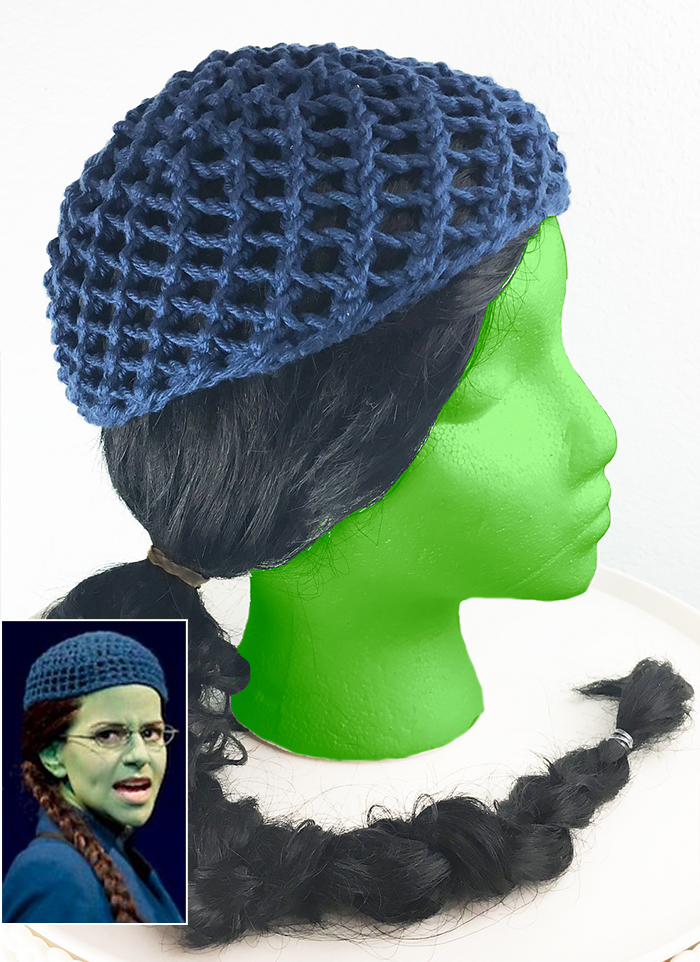 Elphabulous Hat
Okay, this is from the Broadway show, not a movie hat. Easy openwork beanie inspired by the one worn by Elphaba in Wicked, but this is knit in a 2 row repeat mesh instead of crochet. Great as a costume or everyday hat. Worsted. Designed by Kate Scalzo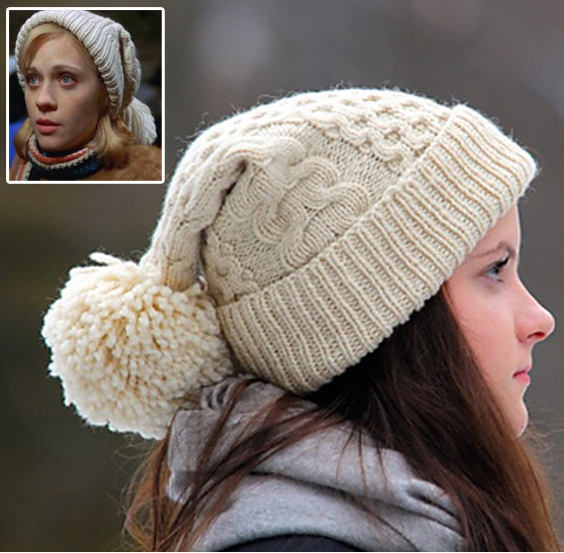 Elf – Jovie's Hat
Bezzi's cabled toque is inspired by the scene where Jovie is with the crowd in Central Park while Buddy and Santa are escaping the Central Park Rangers. Jovie leads the crowd in singing Santa Claus is Coming To Town while wearing a beautiful cabled stocking cap. Pictured project by Triknittyknots who made a few modifications.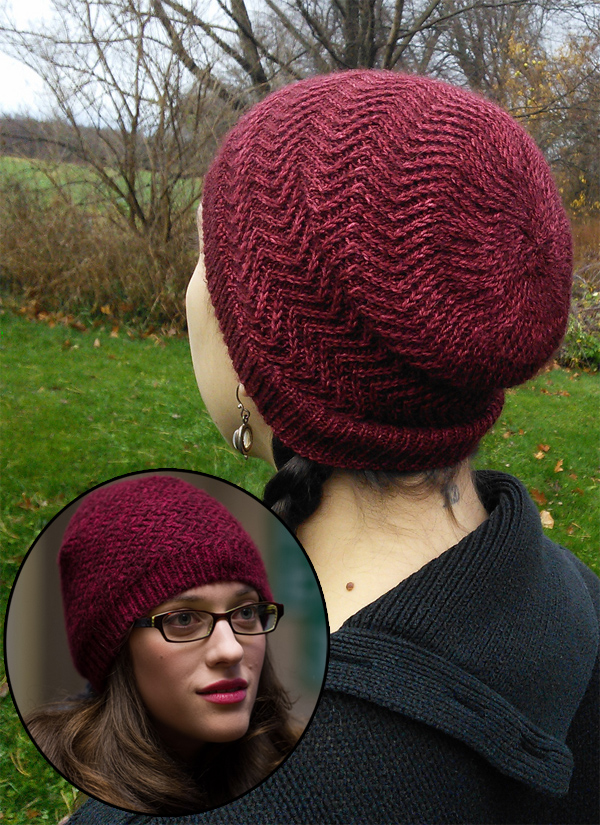 Thor: The Dark World – Darcy's Hat
The Mjolnir Hat is Raven Sherbo's recreation of the zigzag lace beanie that Darcy wears in Thor: The Dark World.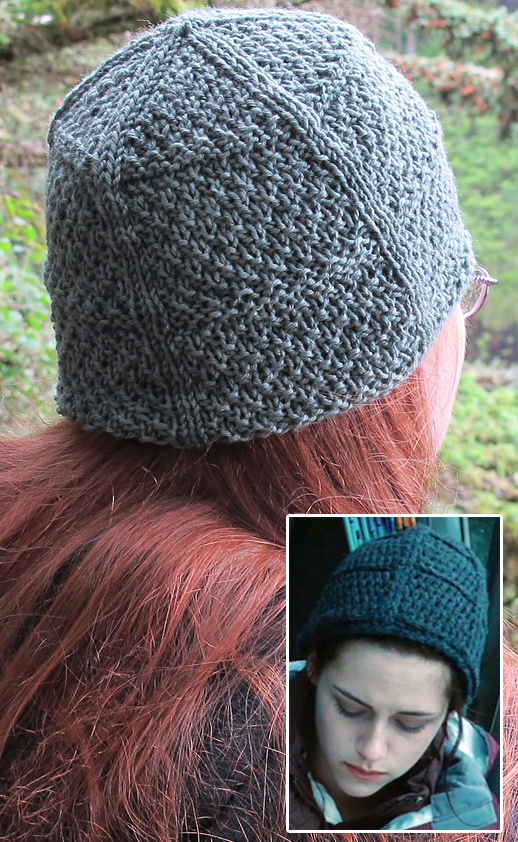 Twilight – Bella La Push Hat
Nancy Fry recreated the hat that Bella wears in the Twilight movie when she is down at La Push beach and sees Jacob again. Pictured project by oddlief.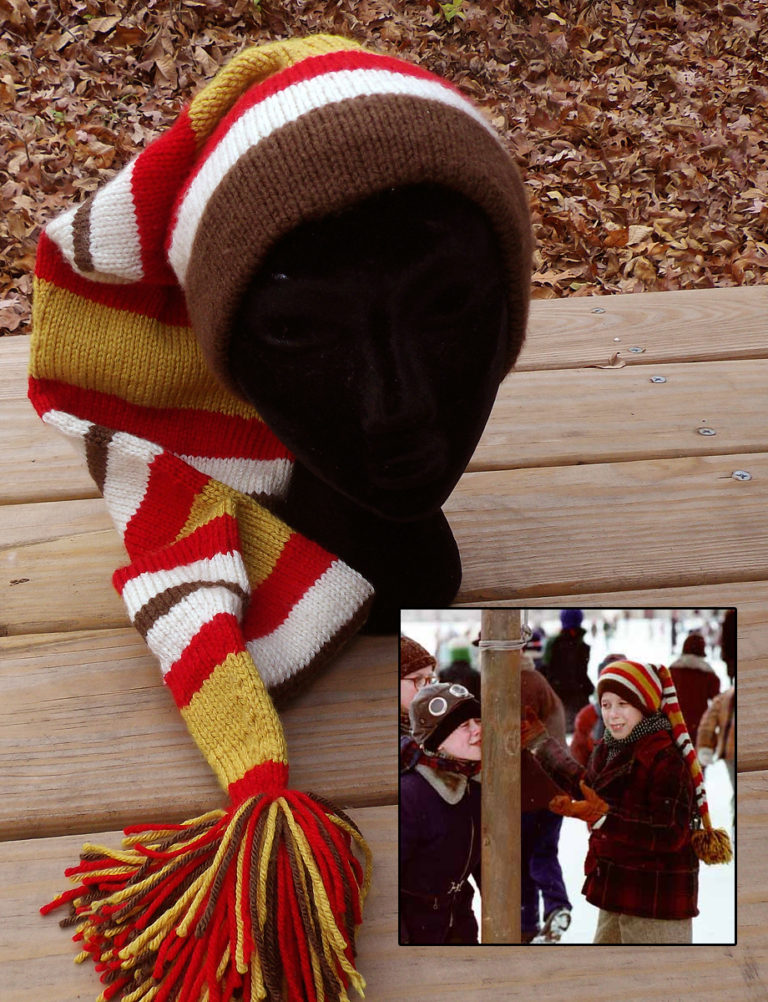 A Christmas Story – Schwartz's Stocking Cap
LaDonna Bubak recreates the iconic long striped hat worn by Schwartz in the classic "triple dog dare" scene in A Christmas Story. Pictured project by knitforewe.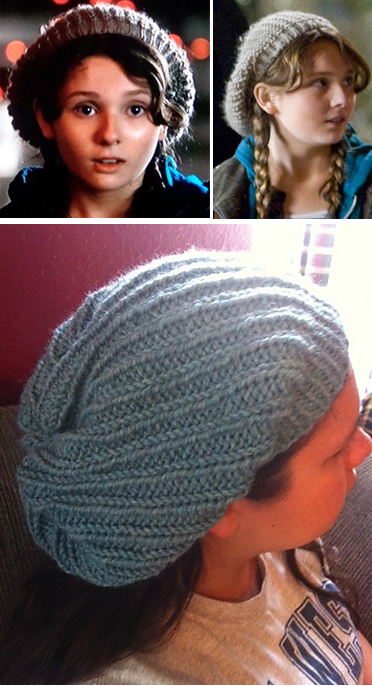 Zombie Killer Slouch
When I saw Zombieland, I was obsessed with Little Rock's slouch hat. Fortunately, so was Luciana Young who recreated the hat for all of us. Pattern includes two alternate decreases. Pictured project by Elle70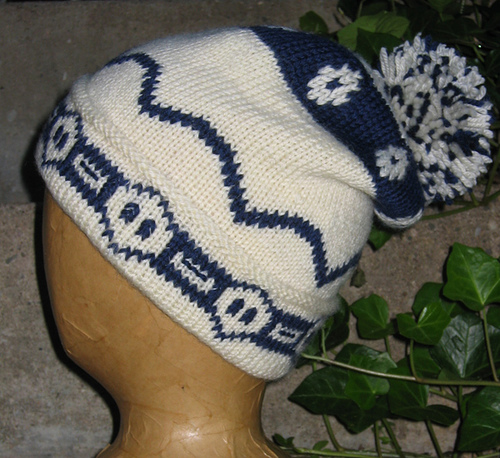 Weasley Twins' Ski Cap
Pattern designed by Dale Hwang with reference pics from movie.
More Free Patterns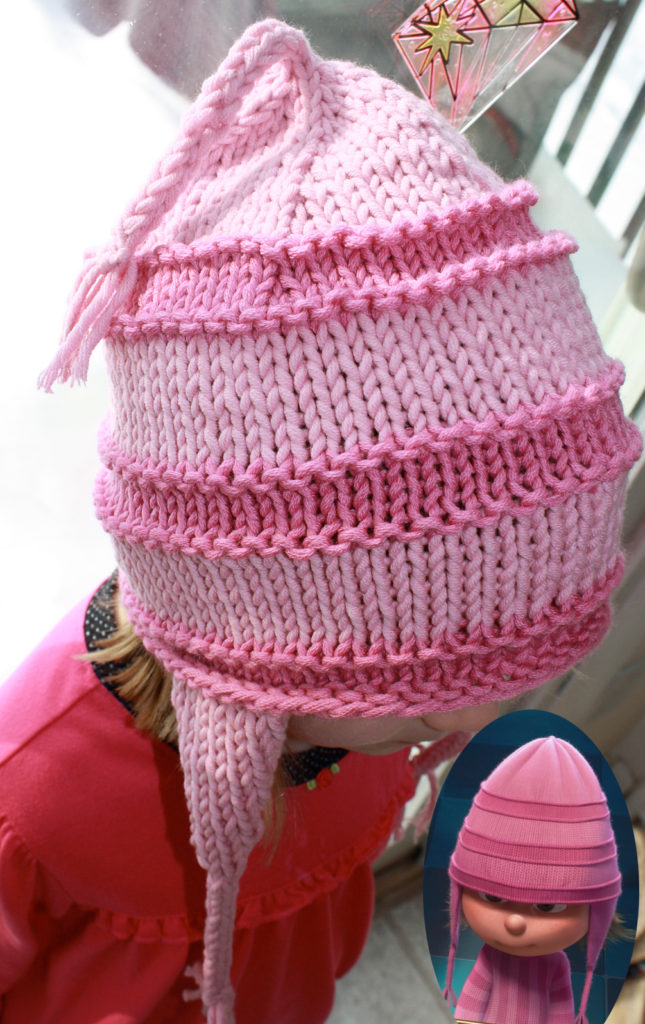 Despicable Me Edith Hat
Designed by Christie Allen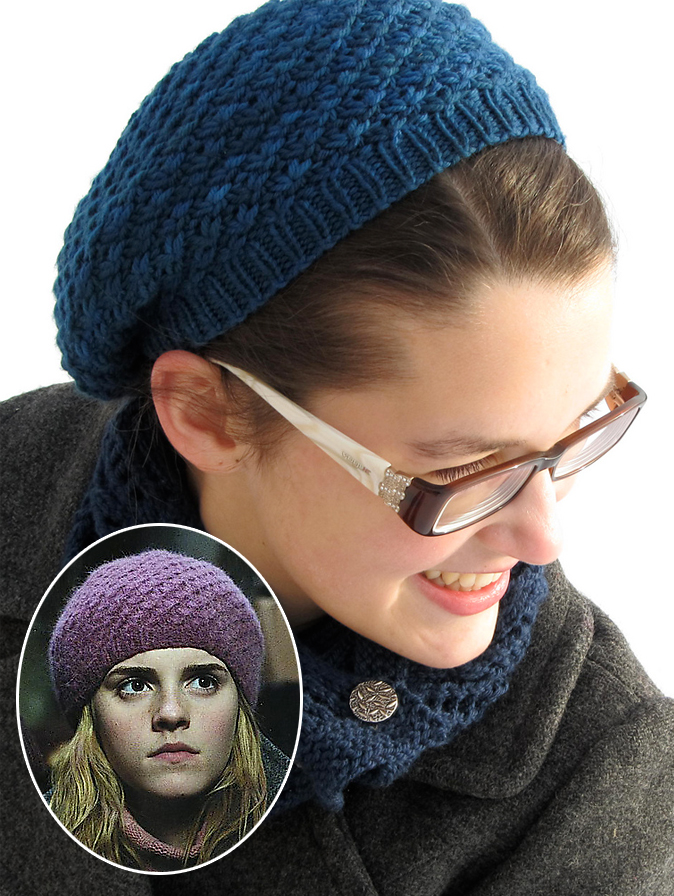 Godric's Hollow Hat
Designed by Rebecca Beam after the hat Hermione Granger wears in Harry Potter and the Deathly Hallows Part 1 during the Godric's Hollow scene.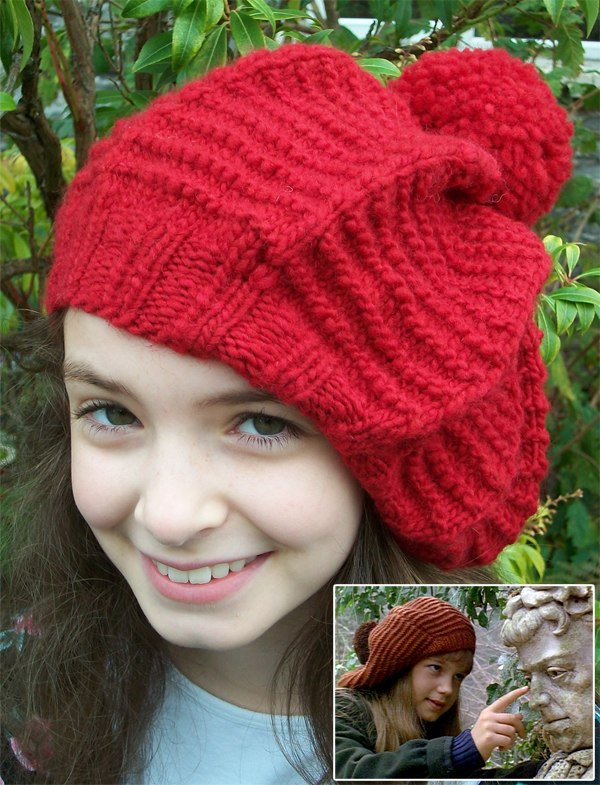 Secret Garden Tam
Meghan Munro's beret is inspired by the hat Mary wears in the 1993 movie version of the beloved book by Frances Hodgson Burnett. Pictured project by dovenest.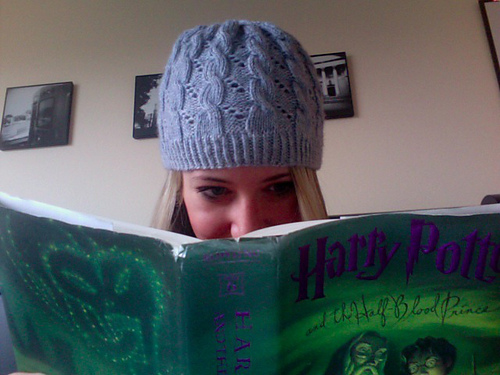 Hermione Hearts Ron Hat
Designed by Christy Aylesworth after the hat Hermione wears in the movie Harry Potter and the Half Blood Prince with the scarf above.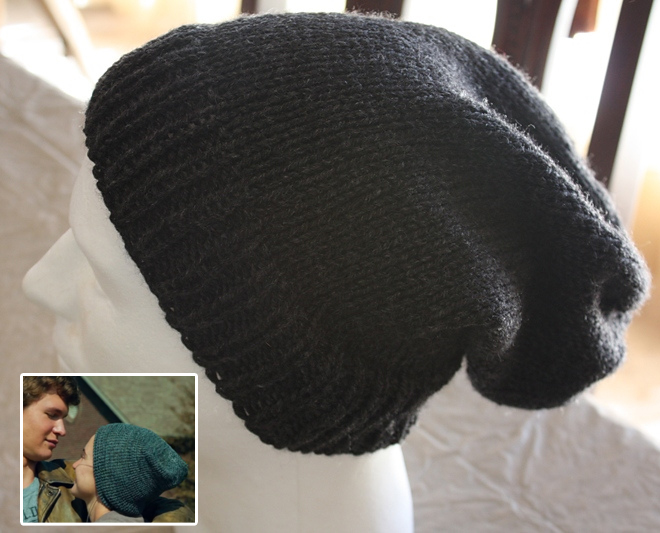 The Fault in Our Stars Slouchy Beanie
This easy slouchy hat pattern by Kristen McDonnell is recreation of that beanie Hazel wears in the egging scene of The Fault in Our Stars movie. Great unisex hat and fast knitting project. Pictured project by Snooks22.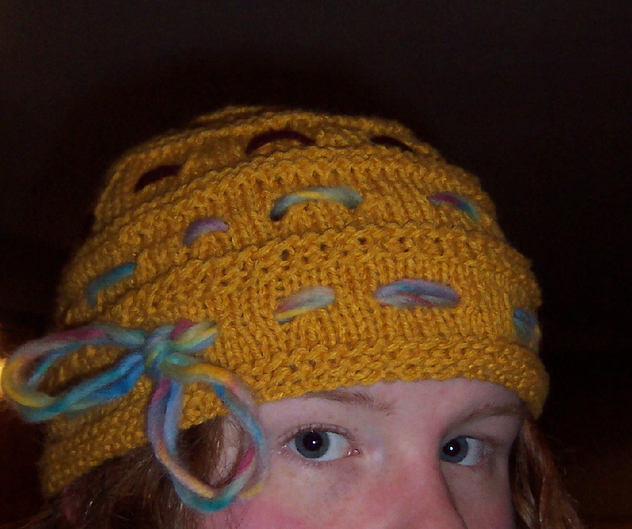 Ginny Weasley's Goblet of Fire Hat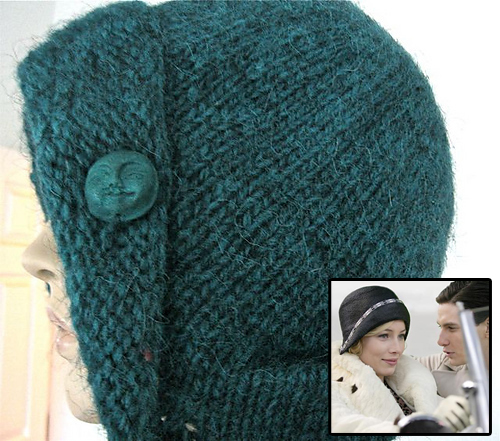 Easy Virtue Cloche
Fanny Liege was inspired by the cloche hat the main character wears in the movie "Easy Virtue". Knitted in one piece, from the top down, it's a quick project in bulky yarn.. Pictured project by jcap.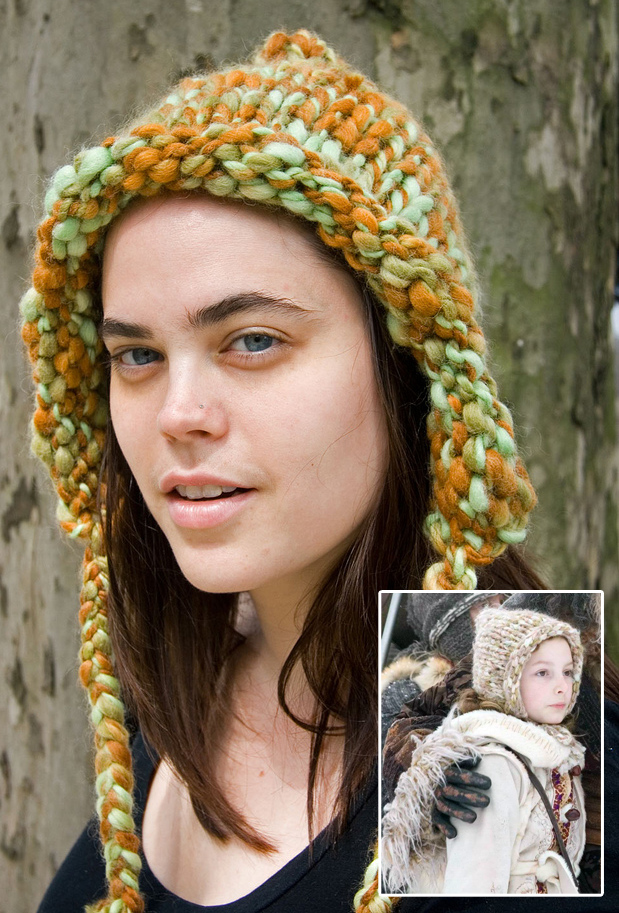 Golden Compass – Lyra's Hood
Renee Sparkes replicated the hood hat worn by Lyra in the Golden Compass movie for sizes from preschooler to adult. Quick knit in super bulky yarn, the hat only takes a couple of hours to knit. Pictured project by kaskadia.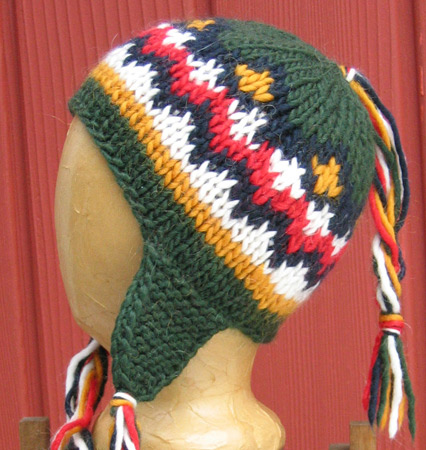 Ron's Animal Cracker Hat
Designed by Dale Hwang after the hat Ron wore in the Prisoner of Azkaban movie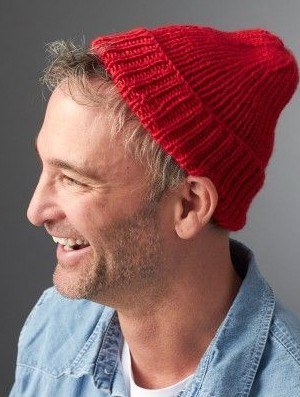 Steve's Beanie
Yarnspirations' unisex beanie is inspired by the iconic Team Zissou hat from The Life Aquatic with Steve Zissou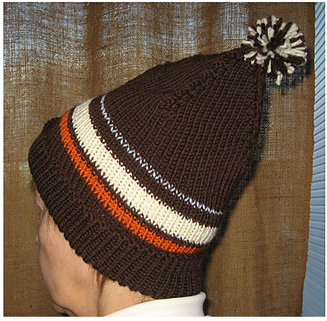 Ron's Toque
Designed by Fairisle Fibres inspired by the hat worn by Ron Weasley in Harry Potter and the Half Blood Prince movie.
Patterns for Purchase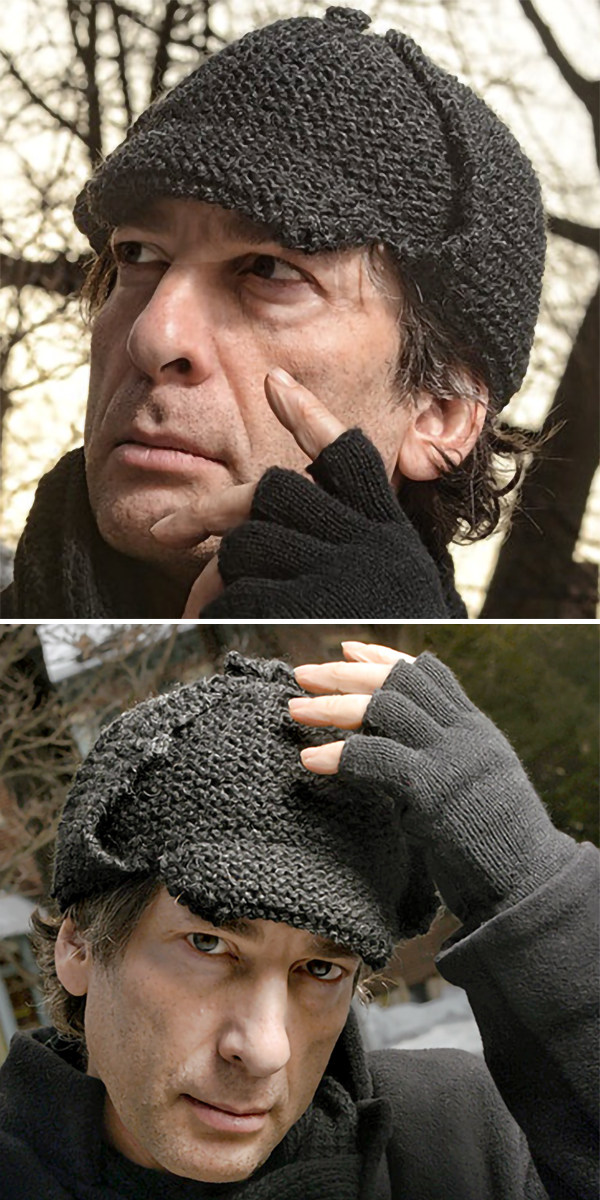 Sherlock Holmes Hat
Baker Street Hat is a deerstalker hat inspired by Sherlock Holmes movies and yes, modeled by Neil Gaiman. Sizes Small and Large. Aran weight yarn. One of the patterns in Geek Knits. Designed by Joan of Dark aka Toni Carr.

Scott Pilgrim Hat (The Original Costume Pattern)
This is the original pattern that costume designer Lulu Bee created for the movie Scott Pilgrim vs the World. She says it takes about 12 hours to knit and is suitable for beginners.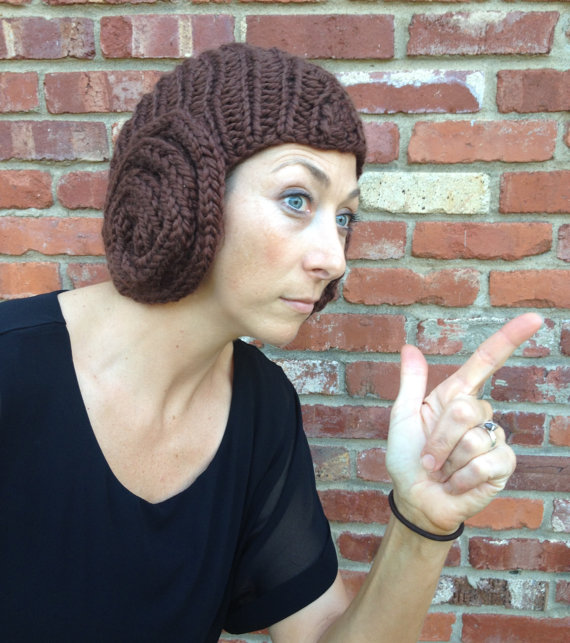 Princess Leia Hat
Doubles as wig for a Leia costume and a funny earflap hat!
See more Star Wars inspired knitting patterns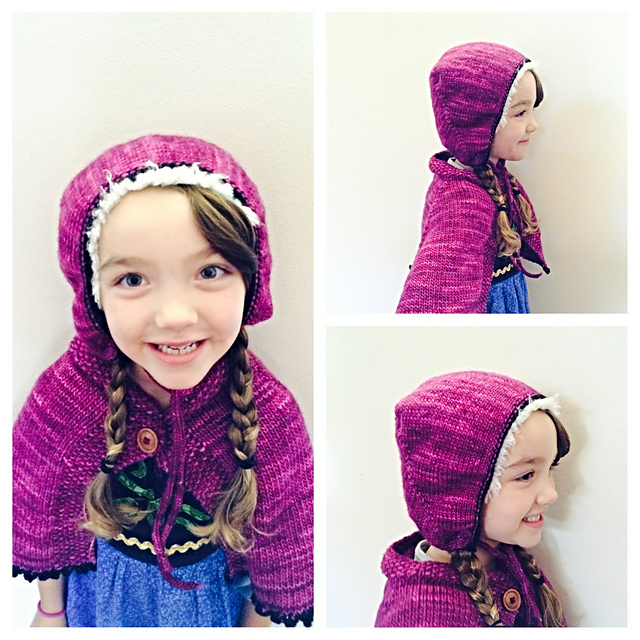 Frozen Anna Cape and Hat Set
The cape designed by Hope Bell fits child size 4-7 (shown size 6 ).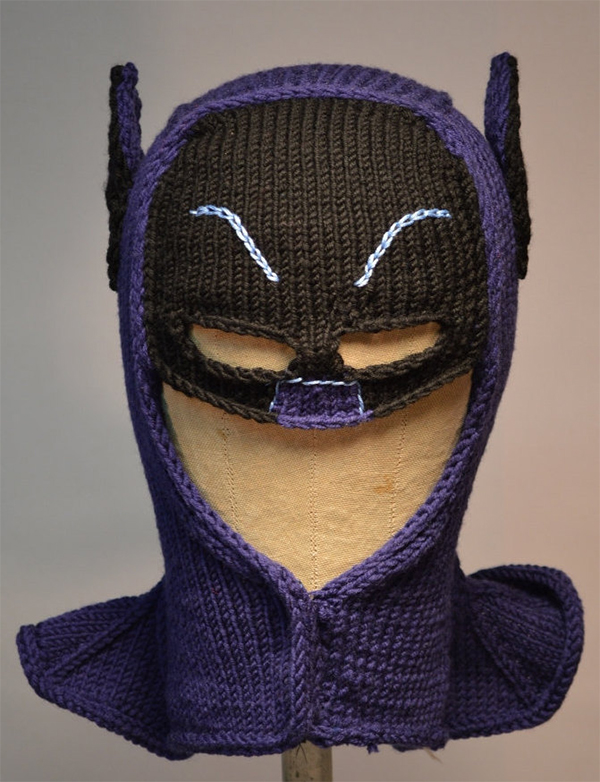 Baby Bat Cowl
Batman inspired balaclava mask for babies and children. Worsted weight yarn. Designed by Laura St. Louis for Williams Studio 2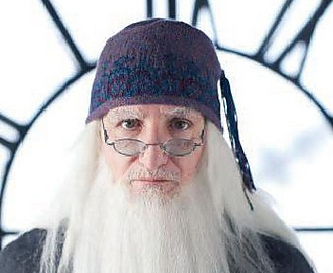 Dumbledore's Smoking Hat
Designed by Moira Engel.
Get Dumbledore's Hat pattern in the Unofficial Harry Potter Knits book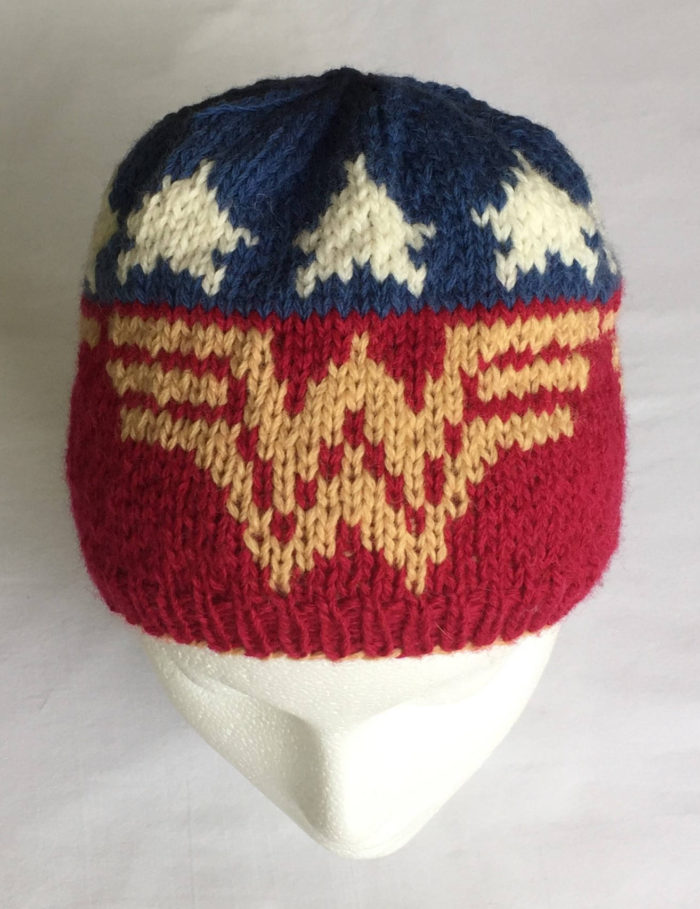 Wonder Woman Beanie
Wonder Woman Hat knitting pattern in 3 sizes from 3 years old to adult. Designed by imalulu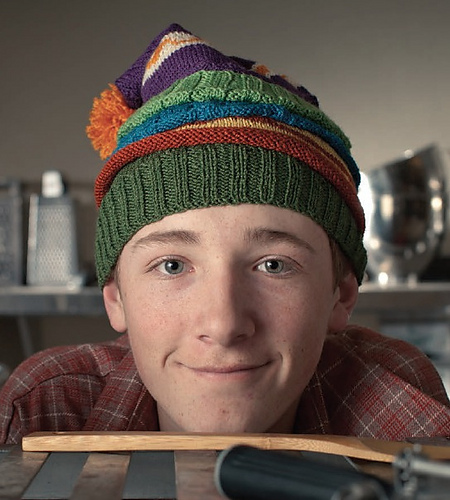 E.L.F. Hat
The E.L.F. (Elf Liberation Front) Cap was inspired by the scene in Harry Potter and the Order of the Phoenix where Dobby wore a stack of hats that Hermione knitted to free the house-elves.
This hat looks like five separate hats, but is really one continuous piece.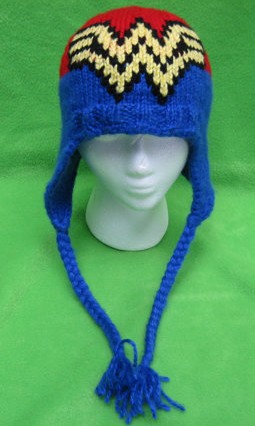 Wonder Woman Earflap Hat and Braids