Movie Hat Knitting Patterns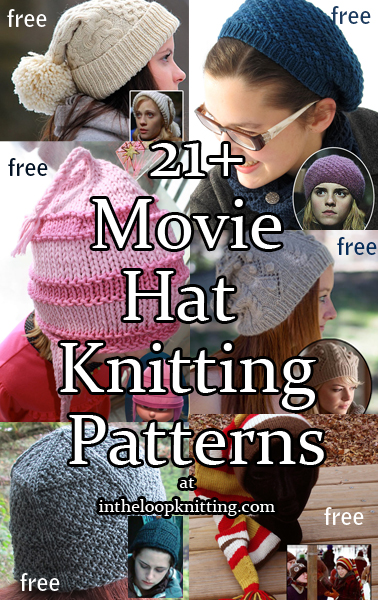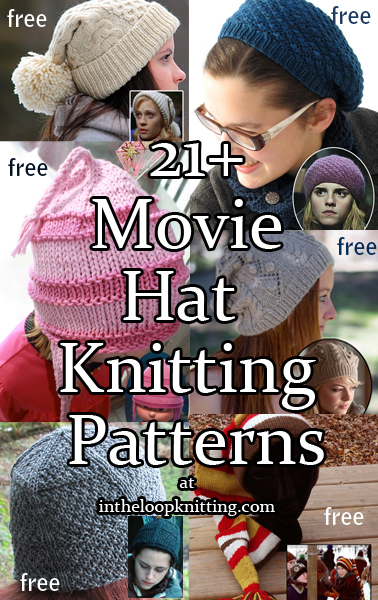 These hat knitting patterns were inspired by hats worn by characters in movies, yet are striking accessories even if you aren't a fan of the movie.
To get the knitting patterns, scroll down the page to the individual pattern you want and click on the link to that pattern.
These patterns are not my designs but links to other designers who have generously shared their patterns. If you have questions about how to knit a specific pattern, please contact the designer directly.
All links on this site are for informational purposes, but please note that some links are to affiliate sellers that pay me a small commission on purchases.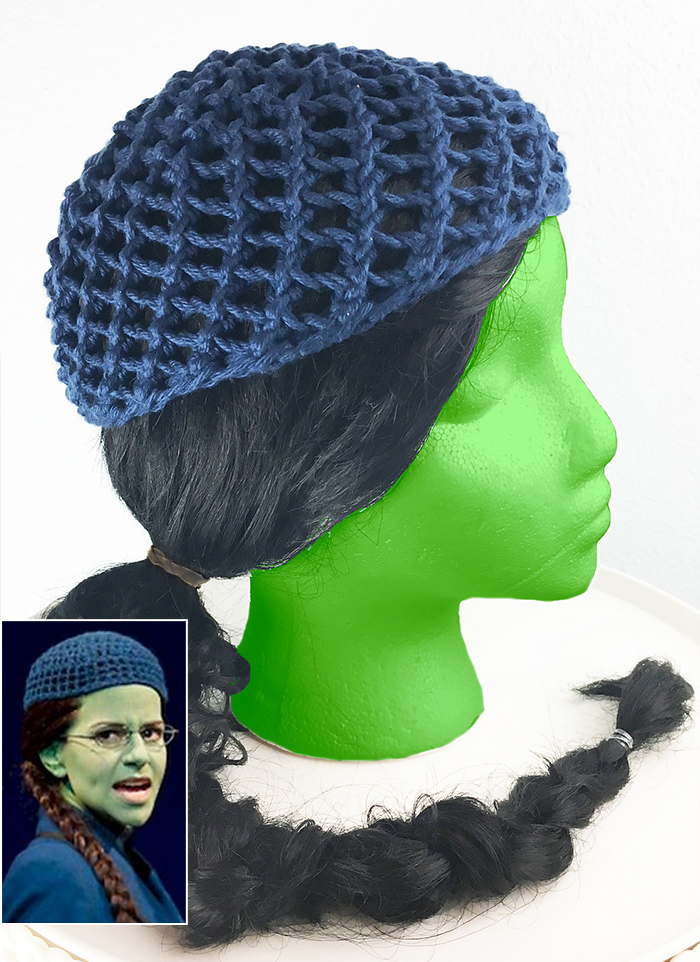 Elphabulous Hat
Okay, this is a Broadway hat, not a movie hat. Easy openwork beanie inspired by the one worn by Elphaba in Wicked, but this is knit in a 2 row repeat mesh instead of crochet. Great as a costume or everyday hat. Worsted. Designed by Kate Scalzo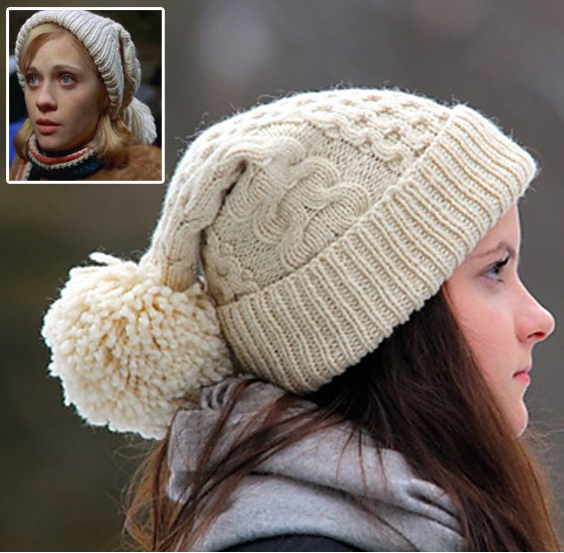 Elf – Jovie's Hat
Bezzi's cabled toque is inspired by the scene where Jovie is with the crowd in Central Park while Buddy and Santa are escaping the Central Park Rangers. Jovie leads the crowd in singing Santa Claus is Coming To Town while wearing a beautiful cabled stocking cap.  Pictured project by Triknittyknots who made a few modifications.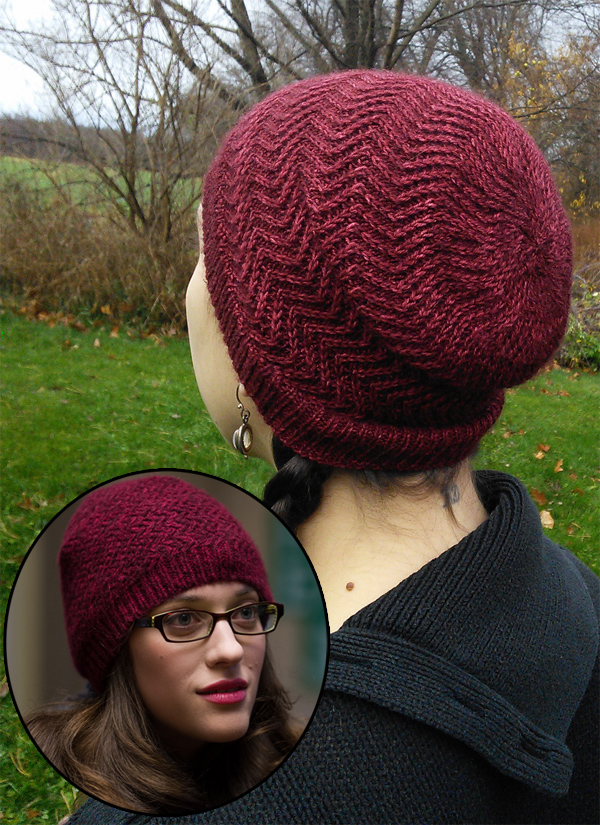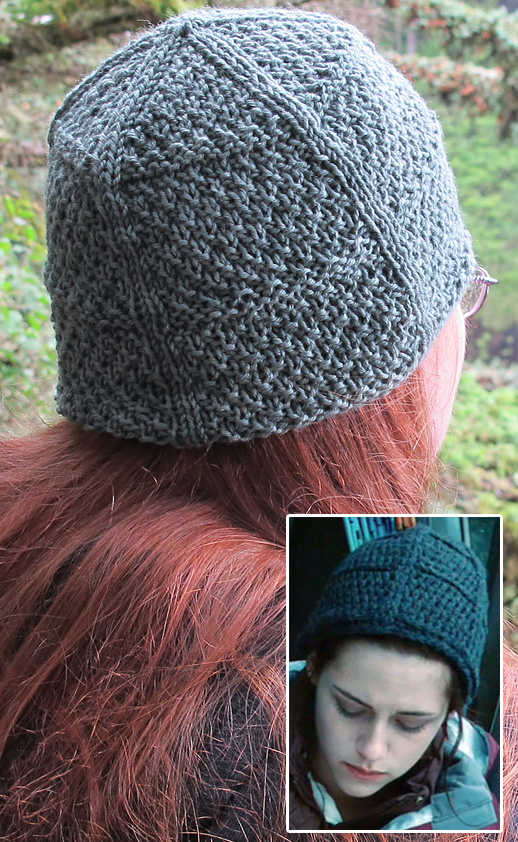 Twilight – Bella La Push Hat
Nancy Fry recreated the hat that Bella wears in the Twilight movie when she is down at La Push beach and sees Jacob again. Pictured project by oddlief.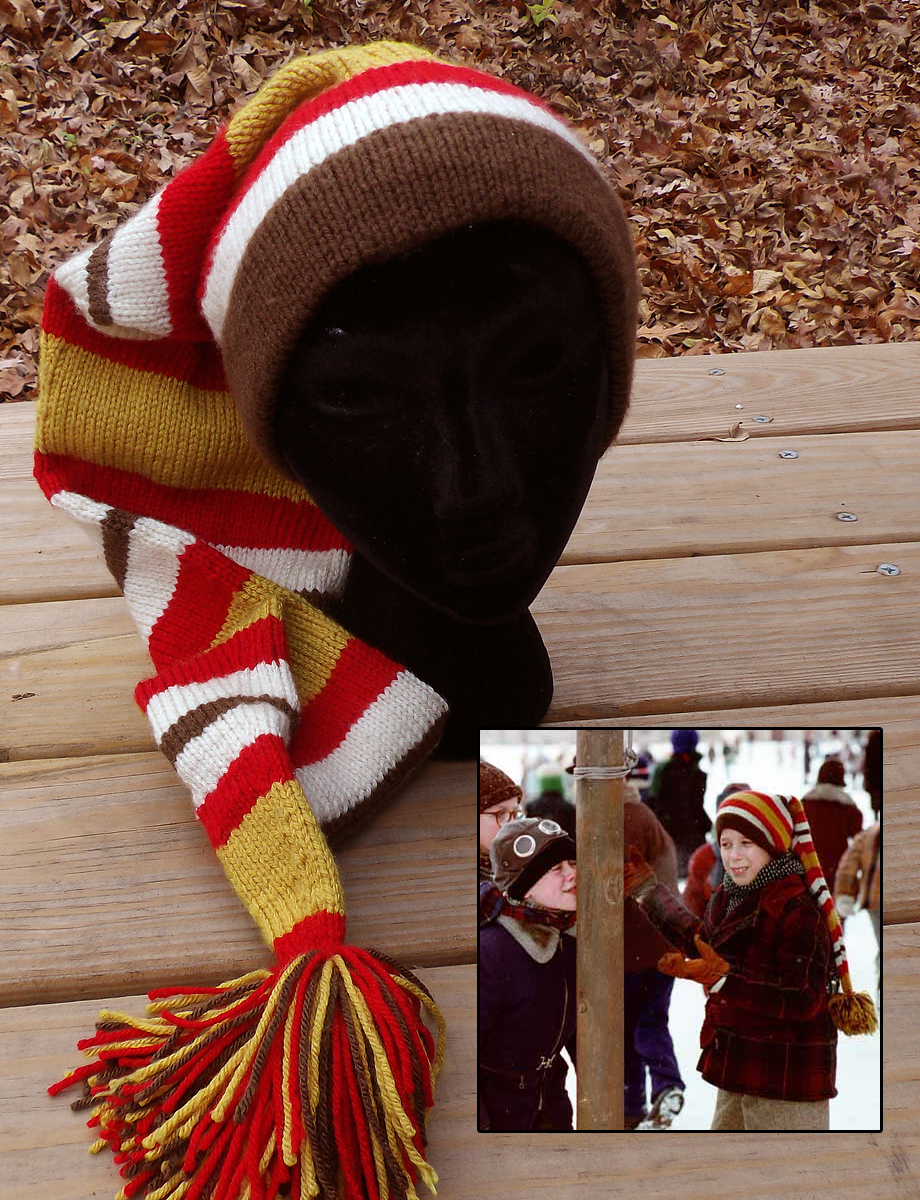 A Christmas Story – Schwartz's Stocking Cap
LaDonna Bubak recreates the iconic long striped hat worn by Schwartz in the classic "triple dog dare" scene in A Christmas Story.  Pictured project by knitforewe.
Elizabethtown Hat
Theresa Belville's pattern Mary Jane's Pithy Hat includes two hat patterns inspired by Kirsten Dunst movies. This beret featuring tiny cables is inspired by the hat from the movie Elizabethtown. Pictured project by Milda.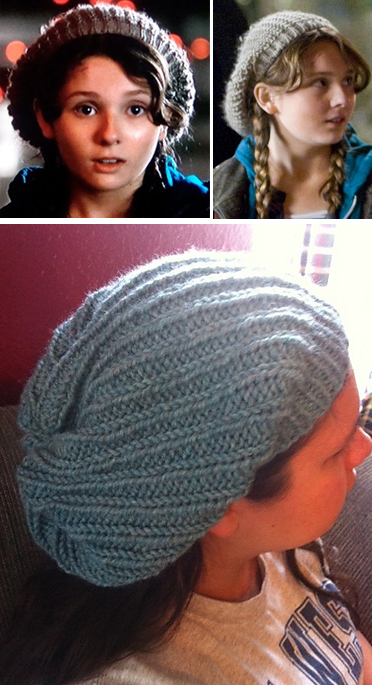 Zombie Killer Slouch
When I saw Zombieland, I was obsessed with Little Rock's slouch hat. Fortunately, so was Luciana Young who recreated the hat for all of us. Pattern includes two alternate decreases. Pictured project by Elle70
Weasley Twins' Ski Cap
Pattern designed by Dale Hwang with reference pics from movie.

Scott Pilgrim Hat (The Original Costume Pattern)
This is the original pattern that costume designer Lulu Bee created for the movie Scott Pilgrim vs the World. She says it takes about 12 hours to knit and is suitable for beginners.
Home Alone Holiday Hat
Designed after the hat worn by Kevin in the first Home Alone movie.
E.L.F. Hat
The E.L.F. (Elf Liberation Front) Cap was inspired by the scene in Harry Potter and the Order of the Phoenix where Dobby wore a stack of hats that Hermione knitted to free the house-elves.
This hat looks like five separate hats, but is really one continuous piece.
Terry Matz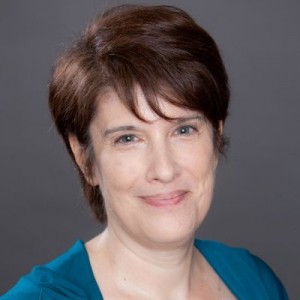 Terry is a knitting late-bloomer, learning to knit as an adult from Internet tutorials, because she wanted a craft that was useful, fun, and portable. Knitting hats for cancer patients inspired her to design her own patterns—available for free at her blog, intheloopknitting.com. Terry met her husband Ken at a science fiction convention and moved to the Kansas City area to be with him more than 30 years ago. Terry supports her yarn stash by creating websites and other digital media. Terry firmly believes in Knitting in Public—it's a great conversation starter!