Knitting projects that feature words, letters, statements, signs, and quotes.
To get the knitting patterns, scroll down the page to the individual pattern you want and click on the link to that pattern.
These patterns are not my designs but links to other designers who have generously shared their patterns. If you have questions about how to knit a specific pattern, please contact the designer directly.
All links on this site are for informational purposes, but please note that some links are to affiliate sellers that pay me a small commission on purchases.
Free Patterns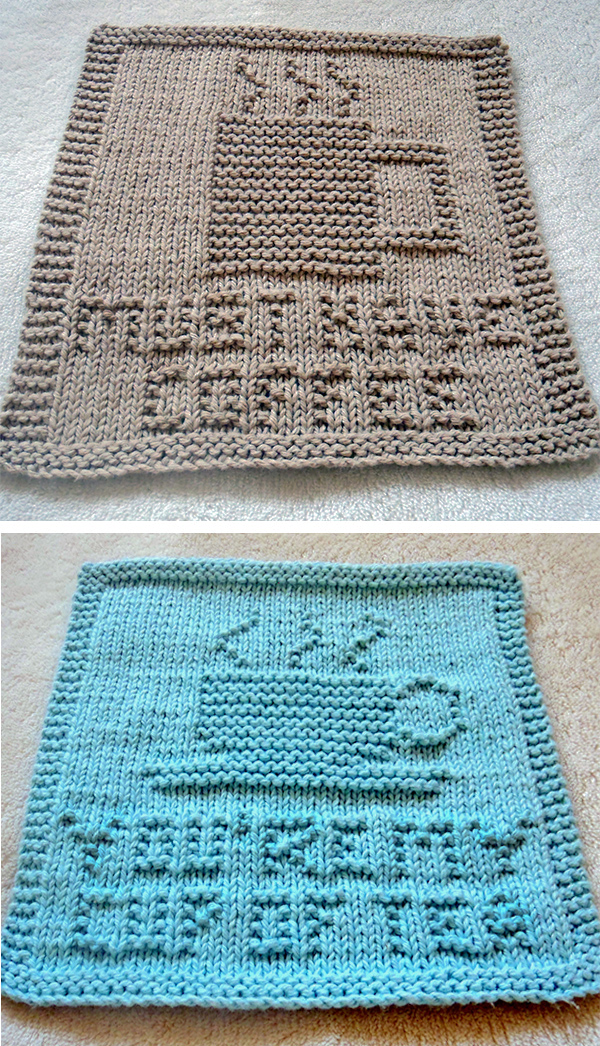 Must Have Coffee and You're My Cup of Tea Cloths
Dish or wash cloths for coffee and tea lovers with either a coffee mug or tea cup and a motto in knit and purl stitches. Designed by Louise Sarrazin. Aran weight yarn.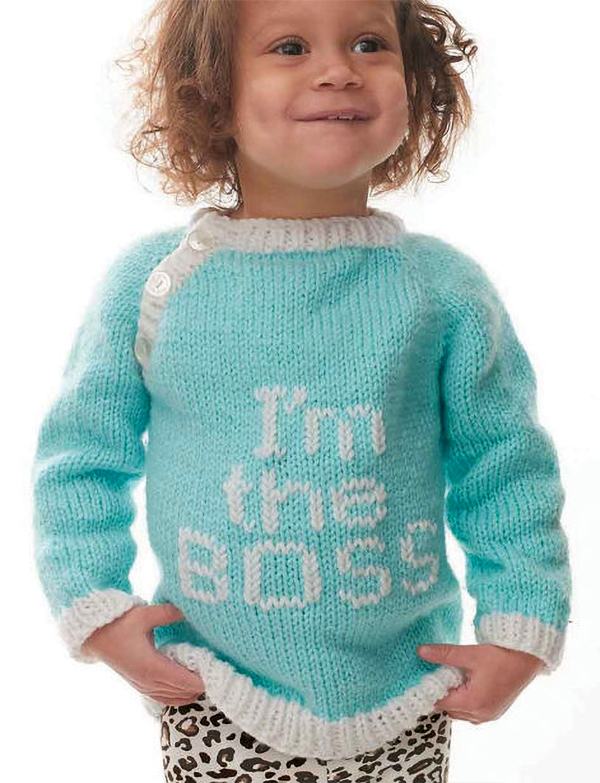 I'm the Boss Sweater
Baby and toddler pullover with button closure at shoulder for easy dressing. Sizes 6 mos to 24 mos. Designed by Bernat. Worsted weight yarn.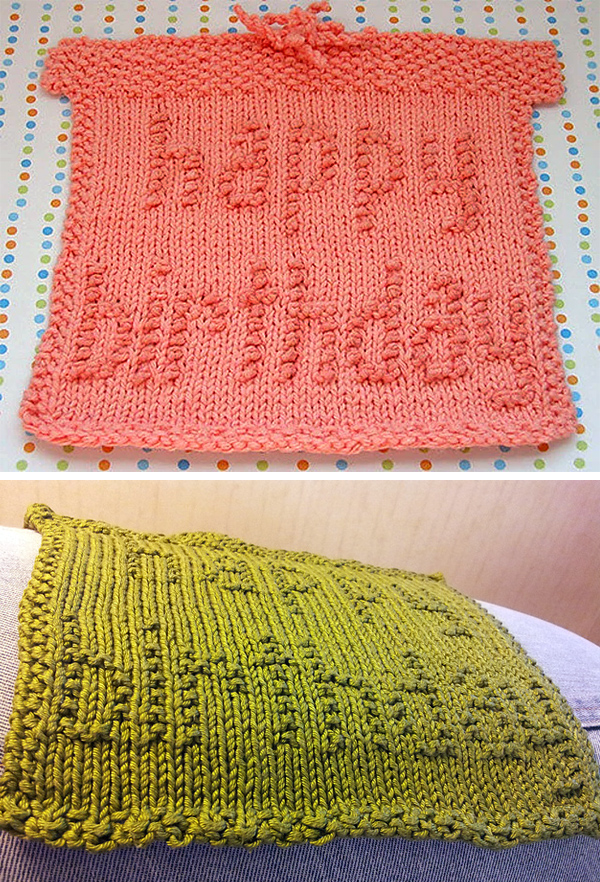 The Birthday Box Cloth
"Happy Birthday" in knit and purl stitches on a gift shaped dish or wash cloth. Great quick gift or decoration. Designed by Knitted Kitty~Carol. Worsted weight yarn. Pictured project by the designer and anklicka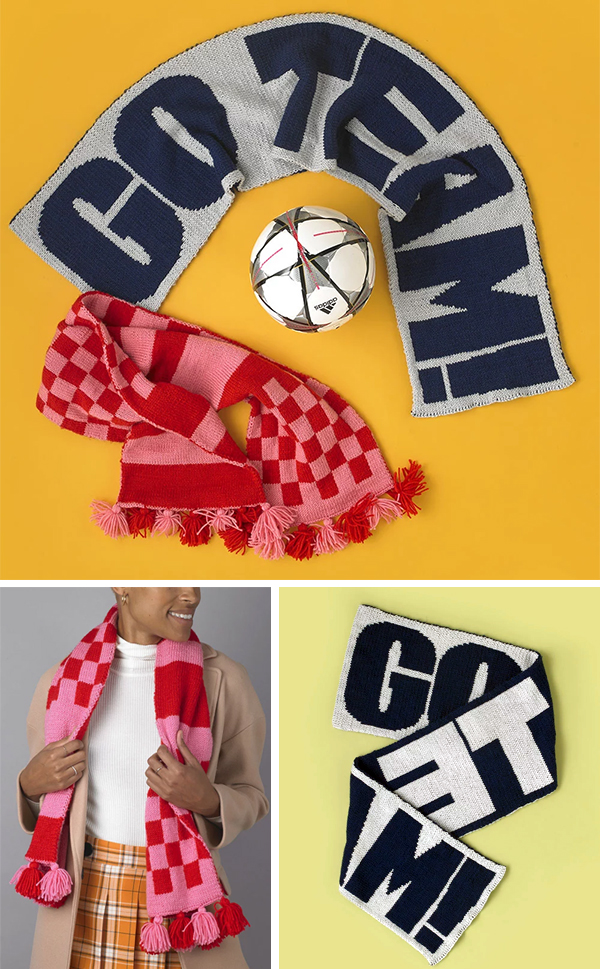 Rallying Reversible Scarves
Support your team with either the Go Team! slogan scarf or a checker board design, customized with your team's colors! Scarves are double knit so they're reversible. Designed by Paintbox Yarns. DK weight yarn.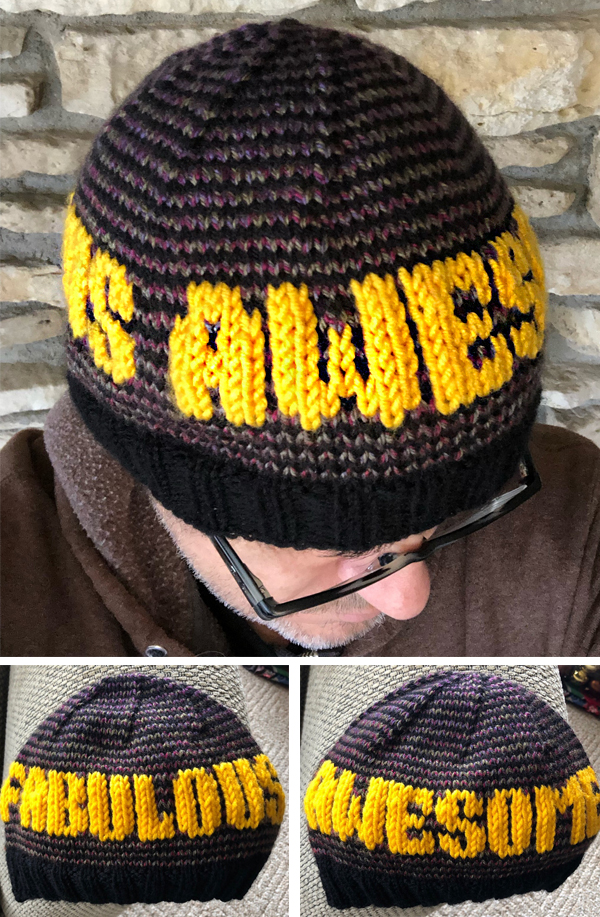 Awesome Fabulous Beanie
Hat with helix striped background and stranded words in a heavier yarn to stand out. Designed by William Sanders. Worsted weight yarn.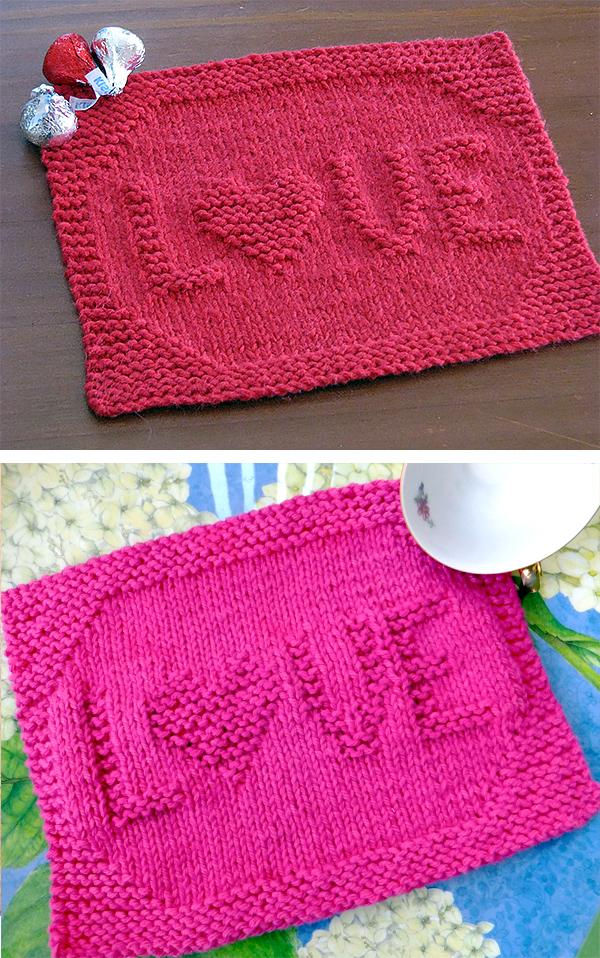 LOVE Dishcloth
Dish or wash cloth with the word "love" with a heart replacing the letter o in knit and purl stitches. Great for showing your feelings at Valentine's Day, weddings, and any time. Designed by Kelly Montag. Worsted weight yarn. Pictured projects by the designer and beachrose.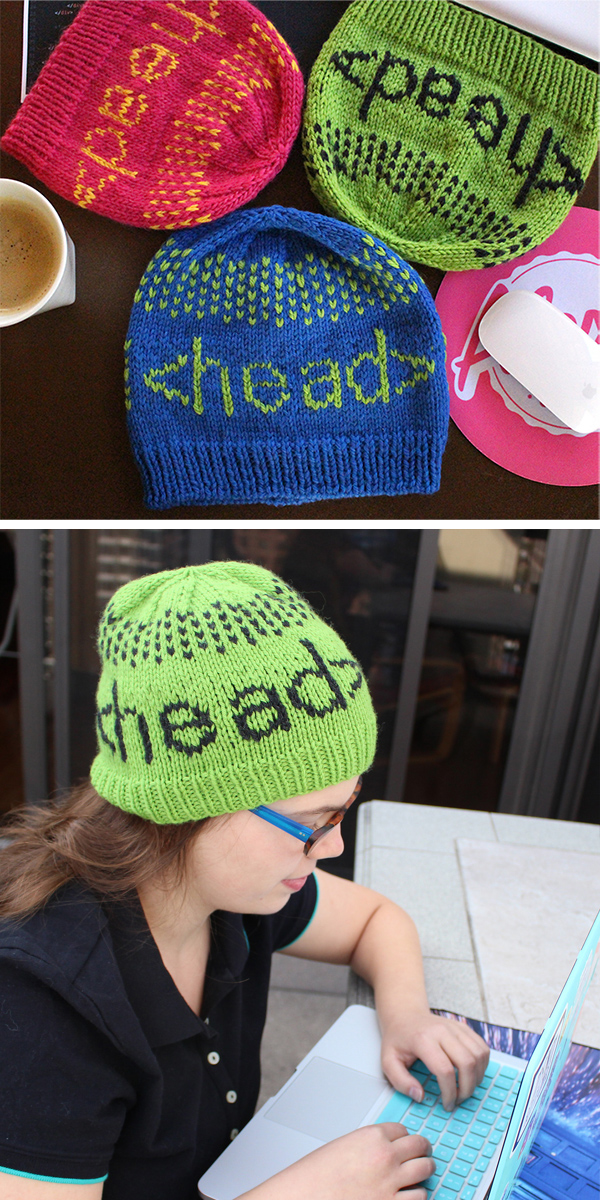 Programmer's Headgear
Beanie for your favorite coder with the "head" tag in stranded colorwork. Sizes XS(S, M, L, XL). Designed by Merri Fromm for Knitty. Worsted weight yarn.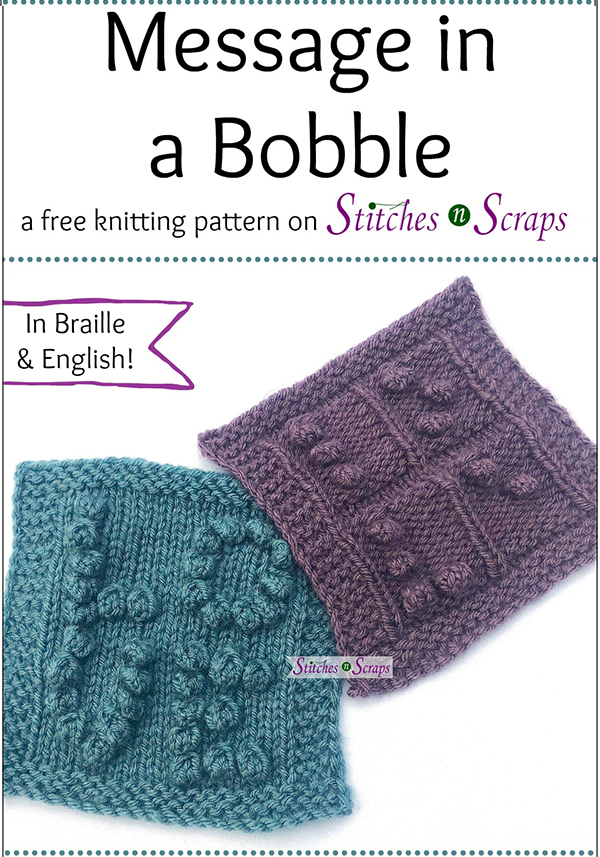 Message in a Bobble
The puffy bobbles on this 12-inch blanket square spell out the word "Love", in both braille and English. The pattern also includes both written and charted versions of the instructions. Designed by Pia Thadani for StitchesnScraps. Aran weight yarn.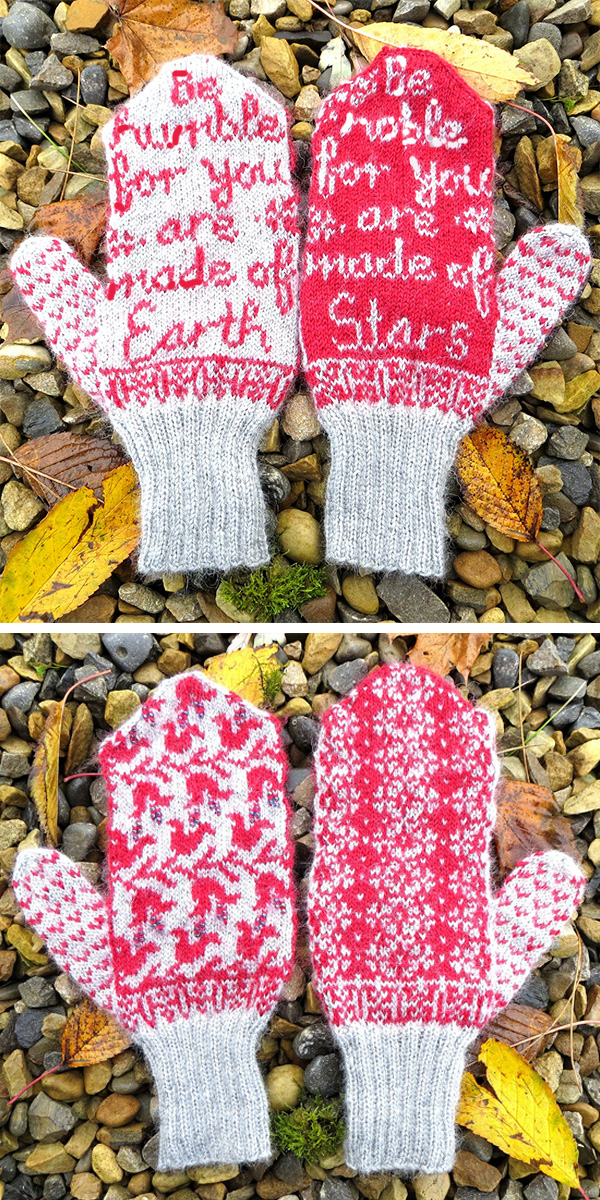 Earth and Stars Mittens
The proverb "Be humble for you are made of Earth, Be noble for you are made of stars." is worked in stranded colorwork on the top of these mittens. The palms feature a floral garland (earth mitten) and abstract stars design (stars mitten). Designed by Emily Bujold. Fingering weight yarn.
More Free Patterns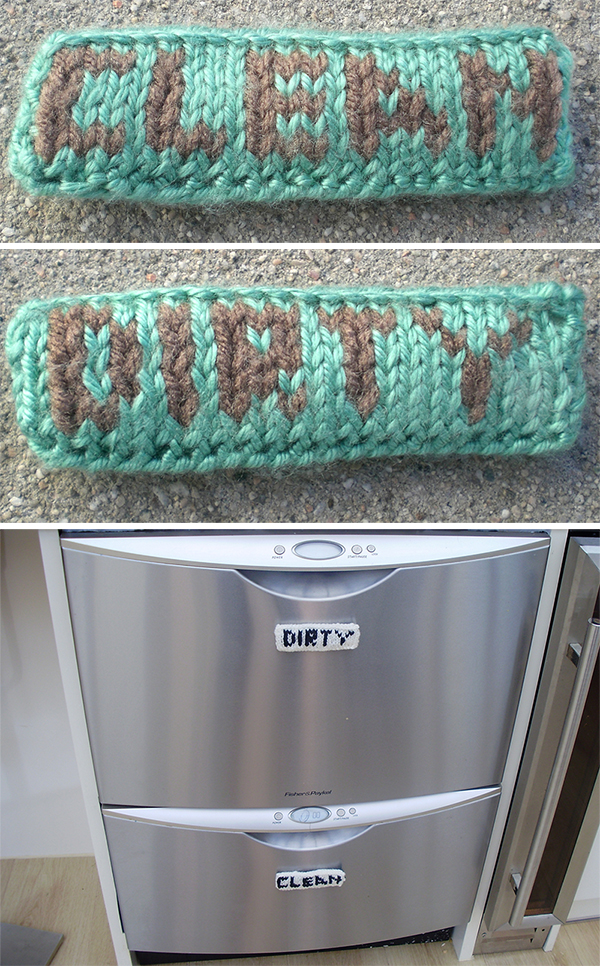 Clean/Dirty Dishwasher Sign
No more wondering if the dishes in the dishwasher are clean or dirty with this easy knit sign. All you need is a few scraps of yarn and either a magnet or a suction cup to attach to the dishwasher door. Designed by Andrea Walborn. Pictured projects by the designer and Susan40james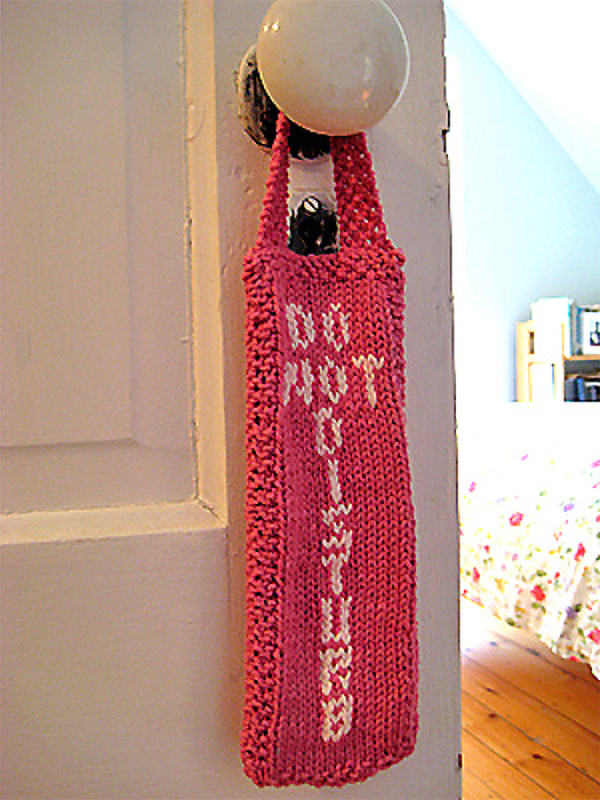 Do Not Disturb Door Hanger Sign
Intarsia sign that's great for getting some privacy to knit, sleep, or other activities. Bring one with you when you travel, too, because they're easy to pack. Designed by Clara Parkes for Knitty. Many Ravelrers have substituted names or other words to the door hangers.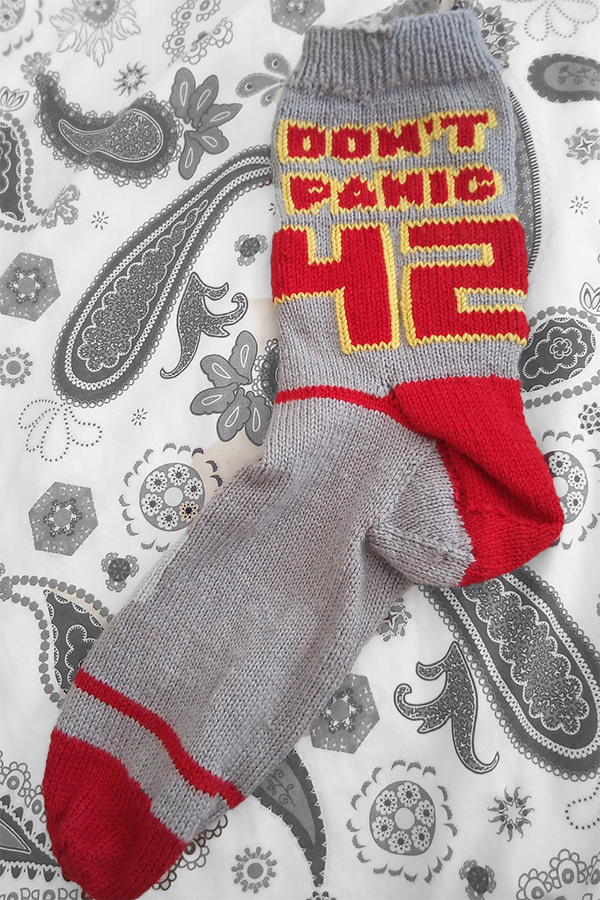 Don't Panic Sporty Socks
Hitchhiker's Guide to the Galaxy inspired socks. The designer used duplicate stitch for the colorwork but you could also use other colorwork. Designed by Catherine Wadle. Fingering weight yarn.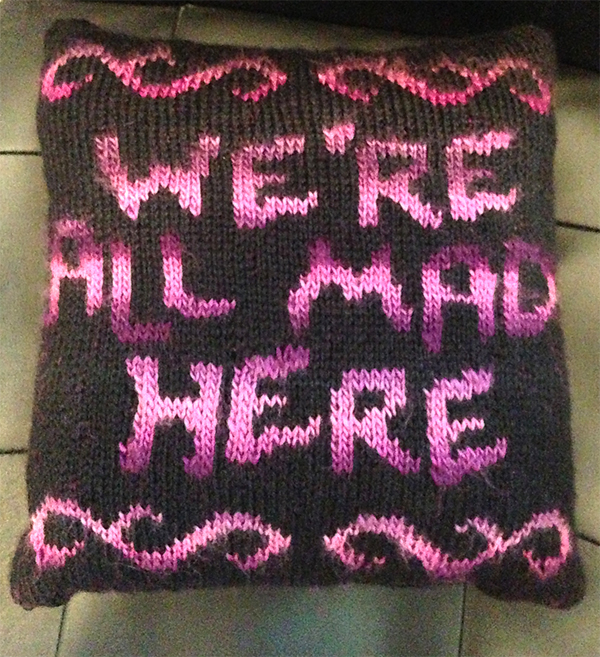 We're All Mad Here Pillow
Pillow featuring the Alice in Wonderland quote in stranded colorwork. Designed by Samantha Fortner. Aran weight yarn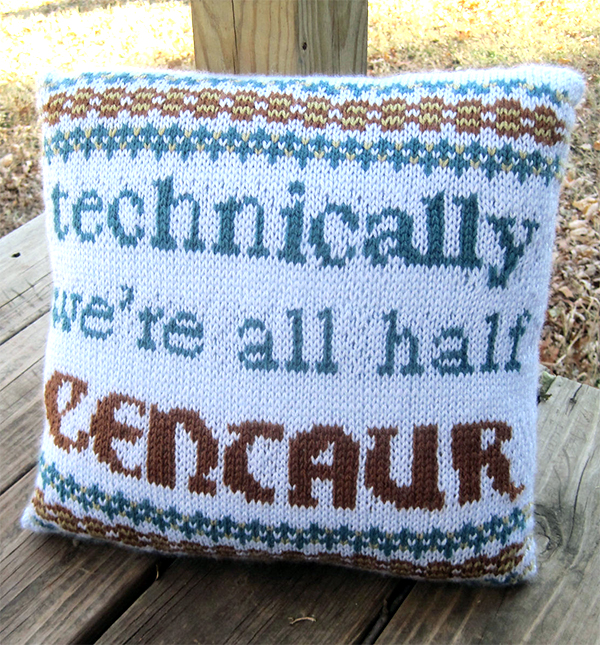 Technically We're All Half Centaur Pillow
Decorative pillow design features the Ron Swanson quote from Parks and Recreation in stranded colorwork paired with traditional fair isle designs. Designed by Sarah Long. Dk weight yarn.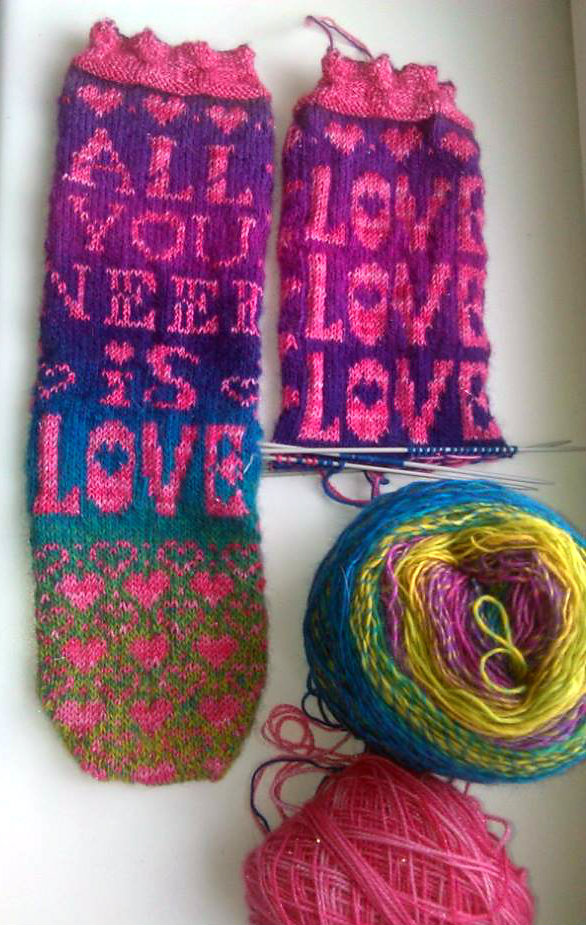 All Is Love Socks
Socks with "All You Need Is Love" and hearts in stranded colorwork. Designed by Cita Steinmeier. Available in English and Danish. Great with multi-colored yarn to automatically change colors.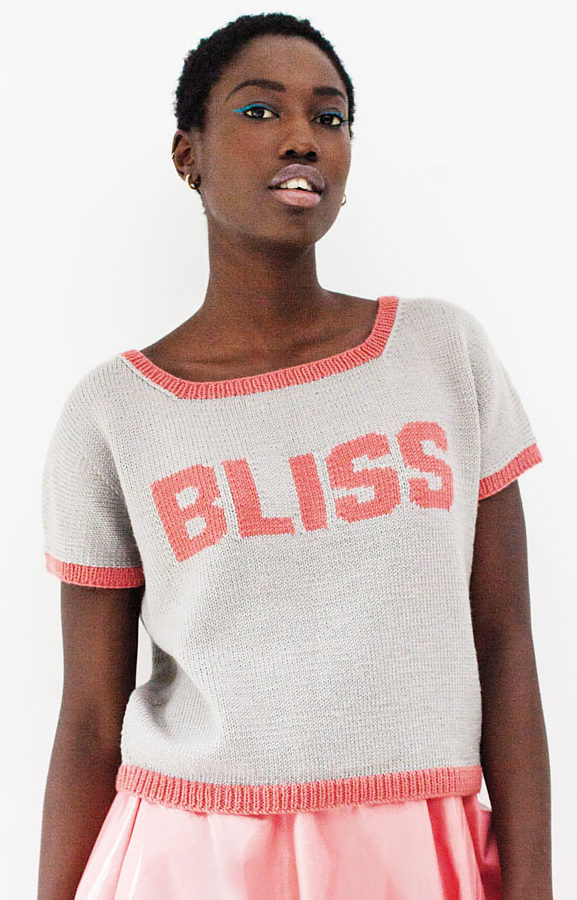 Queen B Bliss Top
Short sleeve pullover with sleeves worked in one piece with the body and BLISS spelled out with intarsia. Bust 81, 86, 92, 97, 102, 107, 112 cm / 32, 34, 36, 38, 40, 42, 44 in. Designed by Debbie Bliss. Sport weight yarn.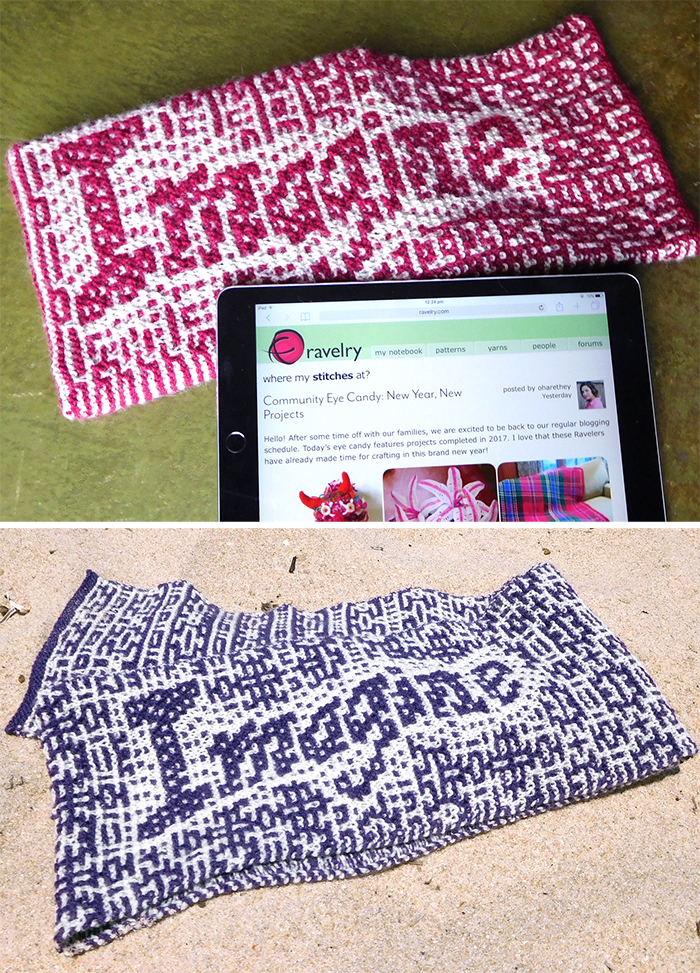 Imagine Pouch
Pattern for long pouch, tablet cozy or even a baby cocoon knit in mosaic garter stitch with the word "Imagine". Designed by Mylene Pijpers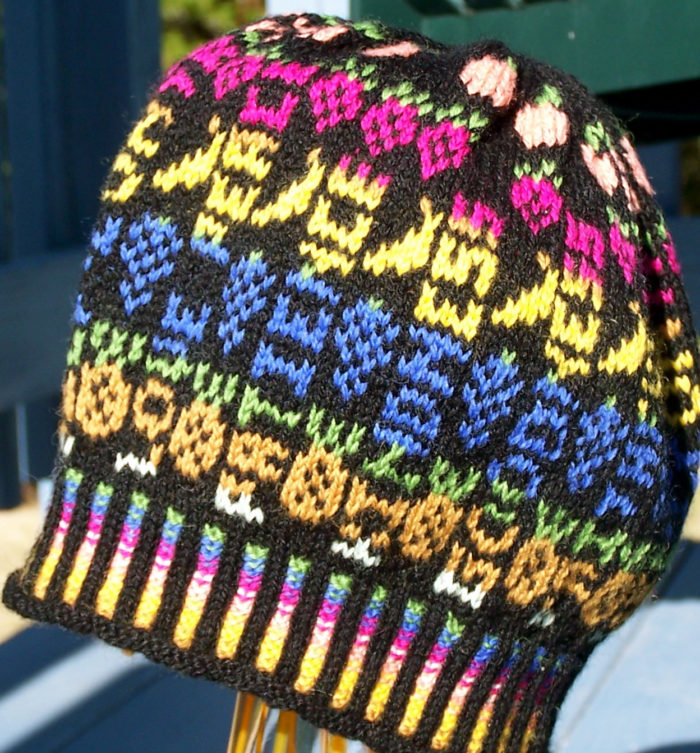 Fruit of the Spirit Hat
Fair isle hat with the words love, joy, peace, patience, kindness, goodness, faithfulness, gentleness and self-control, as well as fruit motifs and corrugated ribbing. Kit is also available. Designed by Donna Frost Ritchie
Patterns for Purchase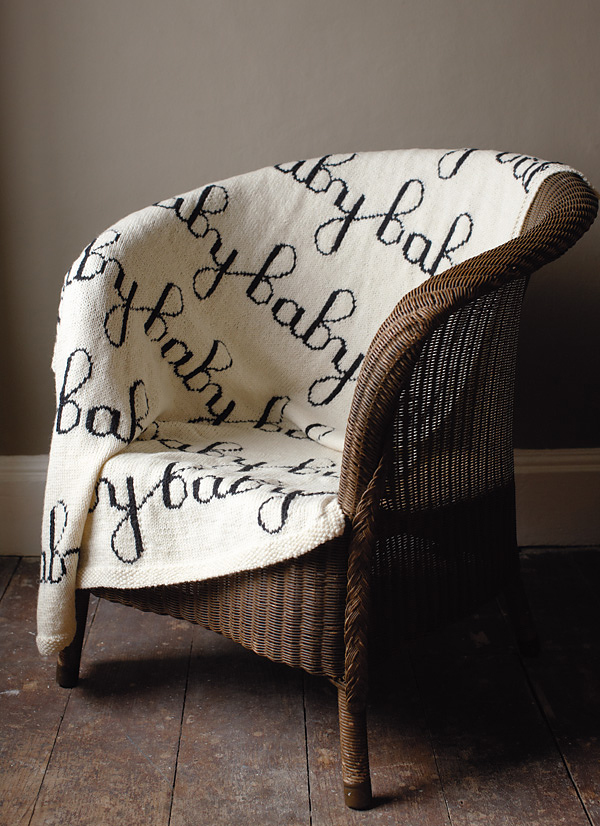 Bambino Baby Blanket by Martin Storey
Baby blanket features the word "baby" in an allover intarsia design. Designed by Martin Storey. Size 34.5" (87 cm) wide and 49.5" (126 cm) tall. Worsted weight yarn. Also available as kit.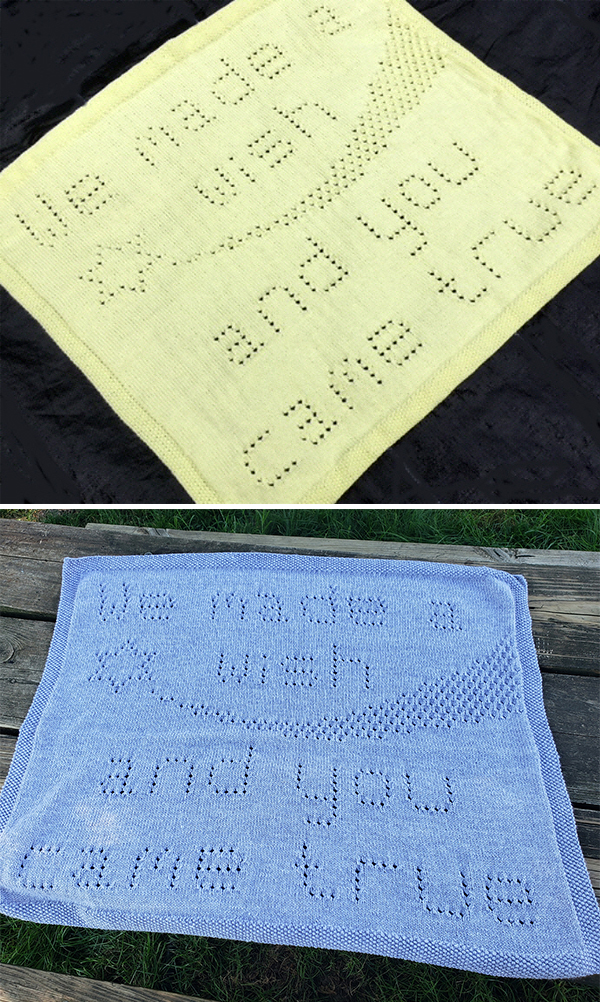 We Made a Wish Baby Blanket
Baby blanket knit in with eyelet lace shooting star and message "We made a wish and you came true". Designed by Peach.Unicorn. Size 30" x 36". DK weight yarn.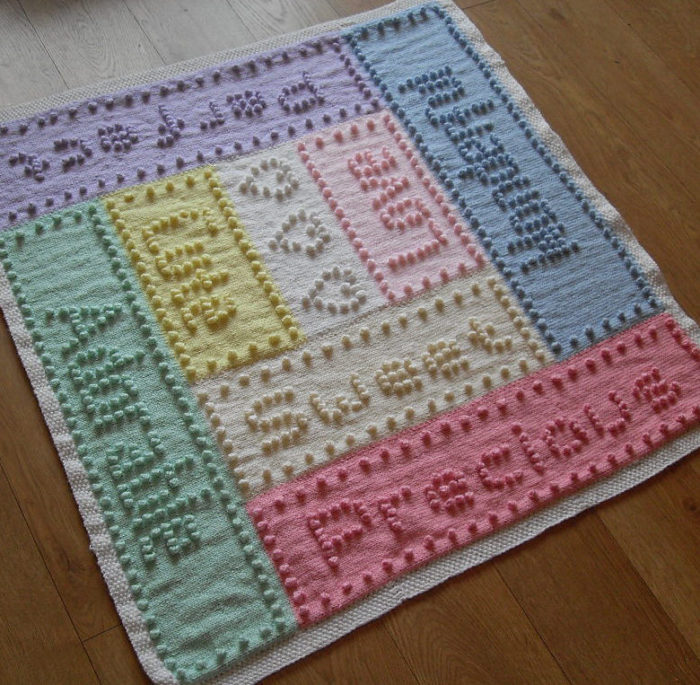 Sweet Dreams Bobble Baby Blanket
Baby blanket knit in one piece with bobble/popcorn spelling out Love, Cute, Sweet, Precious, Adorable, Wonderful, Perfect. Suitable for an advanced beginner according to the designer Peach.Unicorn. Size 39″ x 39″ (100cm x 100cm)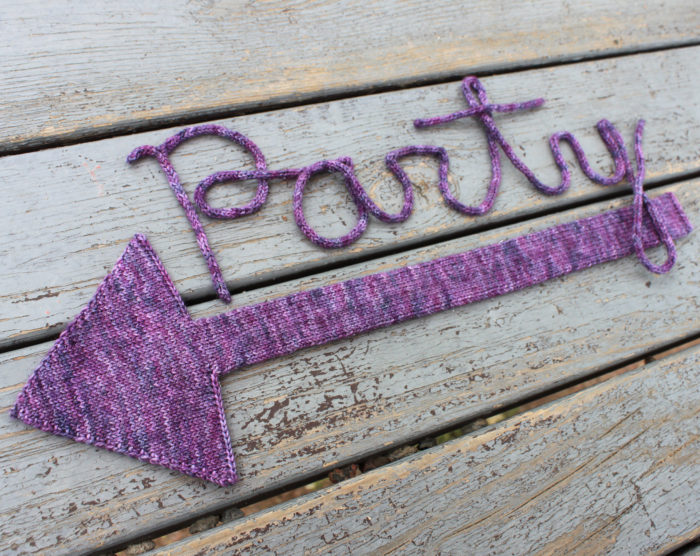 Party Arrow Sign
Design and customize your own event sign! The length of the arrow is adjustable, and a simple i-cord is used to work the lettering, so you can make any word you want. Arrow measures 15" long and the text measures 12" long (but both are customizable). Designed by Lucky Fox Knits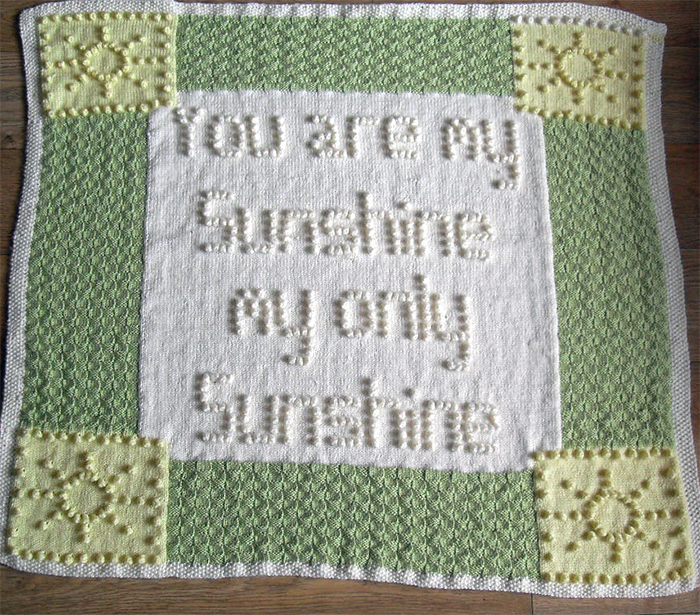 You Are My Sunshine Bobble Baby Blanket
Baby blanket knit in one piece with bobble/popcorn suns and sunshine quote. Suitable for an advanced beginner according to the designer Peach.Unicorn. Size 34 in x 38 in

Cuppa Cozy
The unique cabled letters spell out "coffee" and "tea" in cursive in these statement cup cosies. Knit with 50 (55) yds sport-weight yarn. Fastened with ties to adapt to different sized mugs,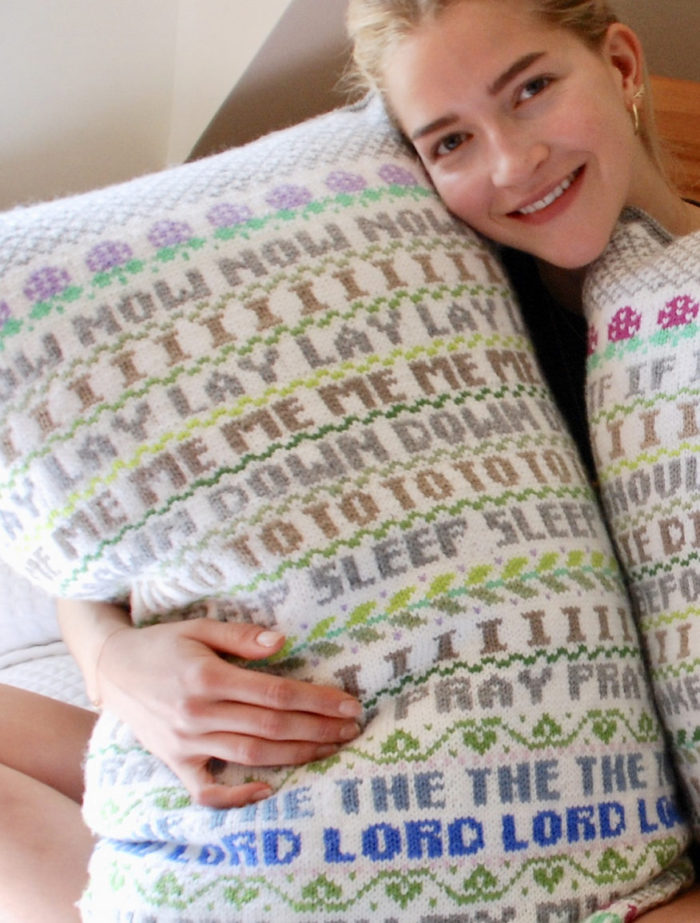 Now I Lay Me Pillow Set
This pillow set depicts the 'Now I Lay me down to sleep' prayer. Although it might look intricate, it is actually quite easy to work – one just needs to follow & knit the graphs in-the-round. The pillows are worked as tubes and then joined on one end. Designed by Cathy Carron. One of the 6 patterns in Ticker Knits vol. 3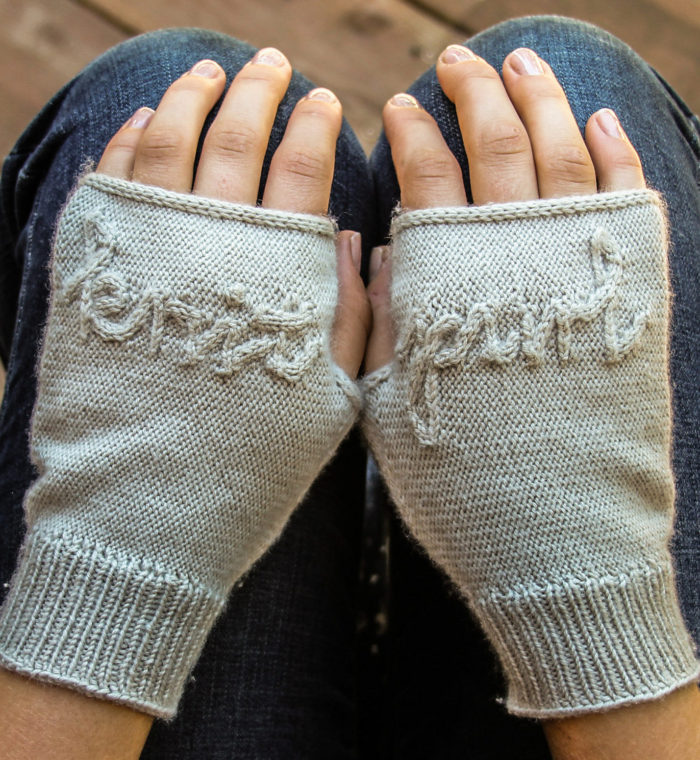 Knit & Purl Hand Mitts
Show some love for your favorite craft with these statement mitts! Fingering-weight yarn. 3 sizes. Designed by Bekah Knits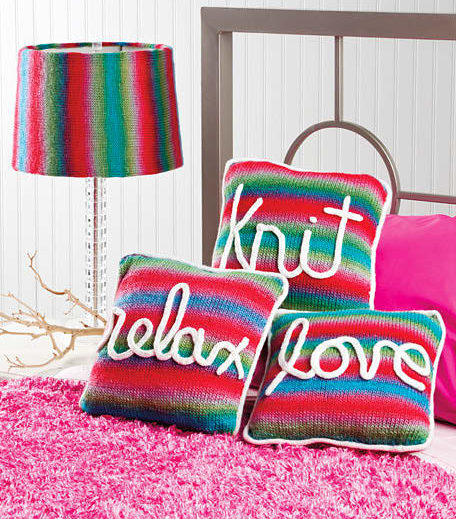 Love, Knit, Relax Pillows and Lampshade
Easy pillows can be personalized with I-cord words. Pillow: 12″ x 12″ Lampshade: 12″ diameter at top, 13″ diameter at bottom, and 9″ height. Designed by Lorna Miser