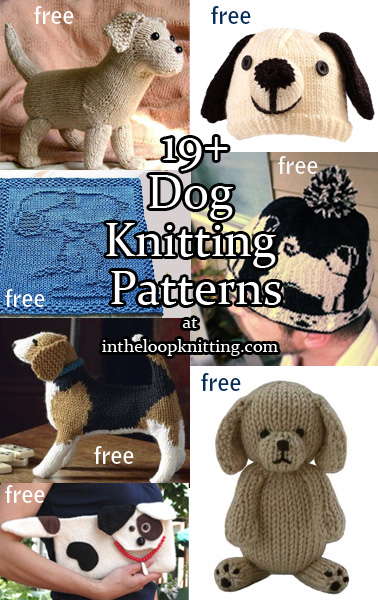 Cute toys, hats, and other knitting patterns with your favorite pups!
To get the patterns, scroll down this page and click on the individual pattern links.
To get the knitting patterns, scroll down the page to the individual pattern you want and click on the link to that pattern.
These patterns are not my designs but links to other designers who have generously shared their patterns. If you have questions about how to knit a specific pattern, please contact the designer directly.
All links on this site are for informational purposes, but please note that some links are to affiliate sellers that pay me a small commission on purchases.

Petey the Puppy
Dog softie approx 12 ins [30.5 cm] tall. Designed by Bernat

Pug Socks
The pug socks are knitted cuff down, with a hidden rib that helps you keep your socks up, but doesn't interfere with the cuteness! Designed by Johanna Eriksson

 Luis The Long Puppy
Toy dog designed by Rebecca Borkowski is a great stashbuster.

Floppy Dog
This puppy softie pattern is excerpted from Knitted Toys: 25 Fresh And Fabulous Designs by Zoë Mellor. Size: Approx. 31 cm (12 in) tall. Pictured project by adoherty. Pattern is on the web archive and is multiple pages.

Precious Puppy
Huggable toy dog designed by Michele Wilcox for Red Heart is about 7" [18 cm] tall and 10½" [26.5 cm] long
[widget id="black-studio-tinymce-17″]

Easy Puppy Trio
Small dog toy softies designed by
Sachiyo Ishii
. The file needs to be unzipped after download. Great stash buster!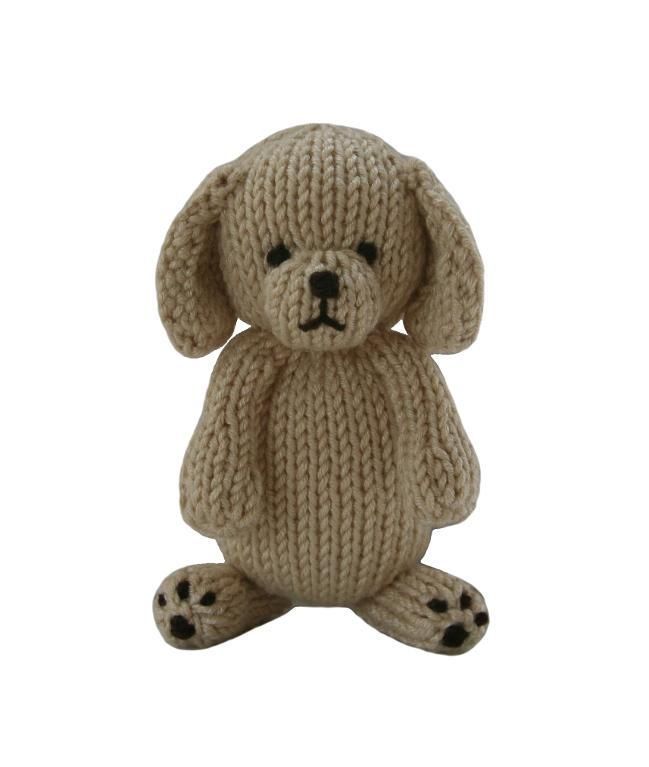 Puppy
Sarah Gasson's adorable toy dog is 12cm tall.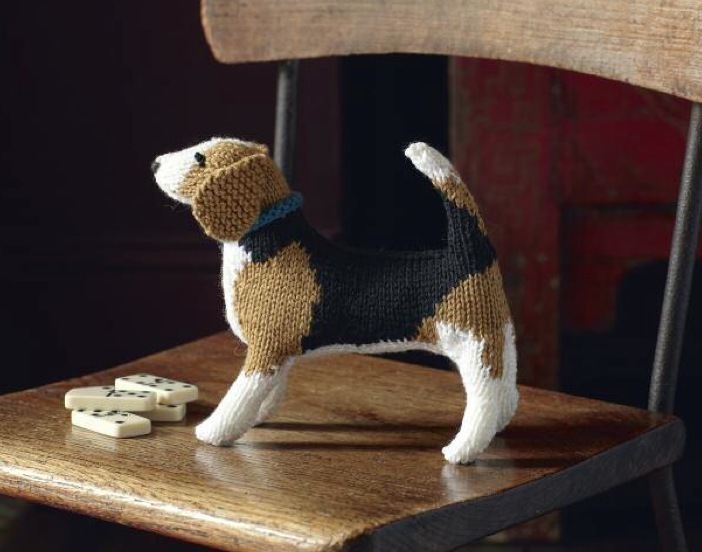 Beagle
Cut Out and Keep published this softie amigurumi pattern from Knit Your Own Dog, by Sally Muir and Joanna Osborne. Length: 17cm (63⁄4in) , Height to top of head: 15cm (6in). Scroll down the page to get to the pattern.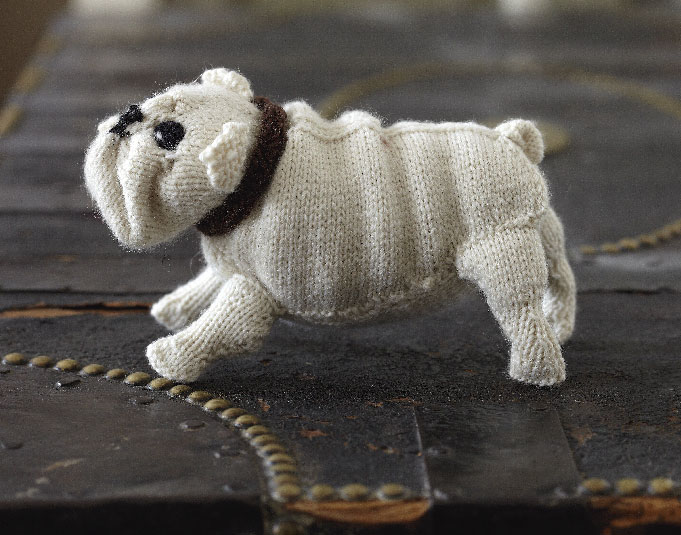 English Bulldog
Canadian Living published this softie amigurumi pattern from Knit Your Own Dog, by Sally Muir and Joanna Osborne. Don't over-stuff your bulldog as he needs to be slightly wrinkly. 7 inches by 4 1/2 inches.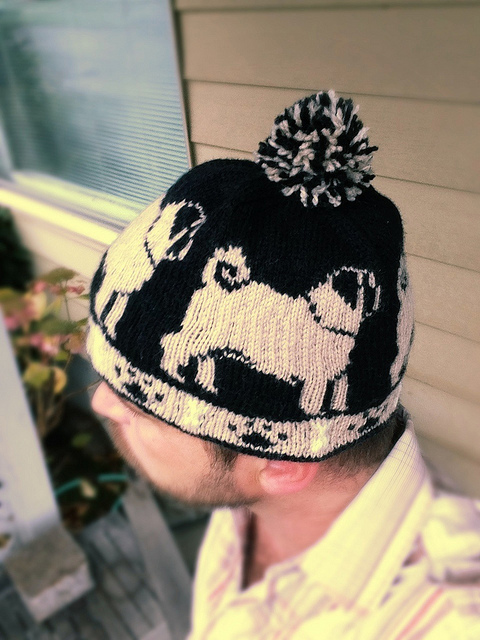 Pug Love Beanie
Michael Snow created this cozy and cute hat with some duplicate stitching.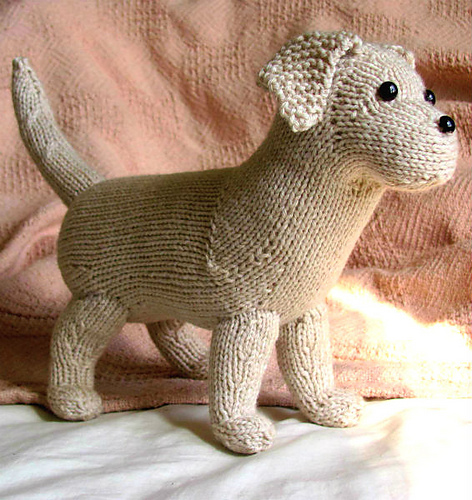 Puppy
Designed by Dyah Dyanita, this puppy is approximately 8 inches / 20 cms tall to the tip of the ears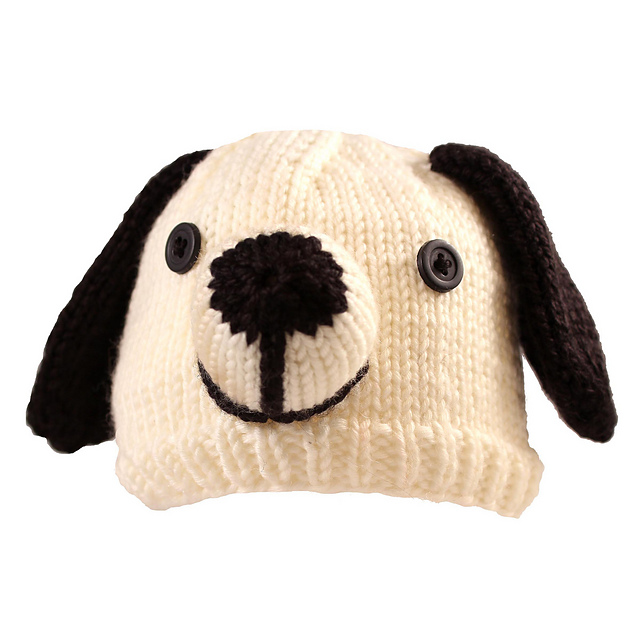 Puppy Hat
Donna Sires designed this hat sized for Newborn to 6 months. The pattern contains instructions for the Magic Loop method.
That Old Beagle Washcloth
Designed by Lisa Vienneau & Allison Barrett, this motif could also be used for baby blankets, sweaters, bibs, and more.
Puppy Lovey
Designed by Rachel Hill, this baby blanket buddy is knit in the round.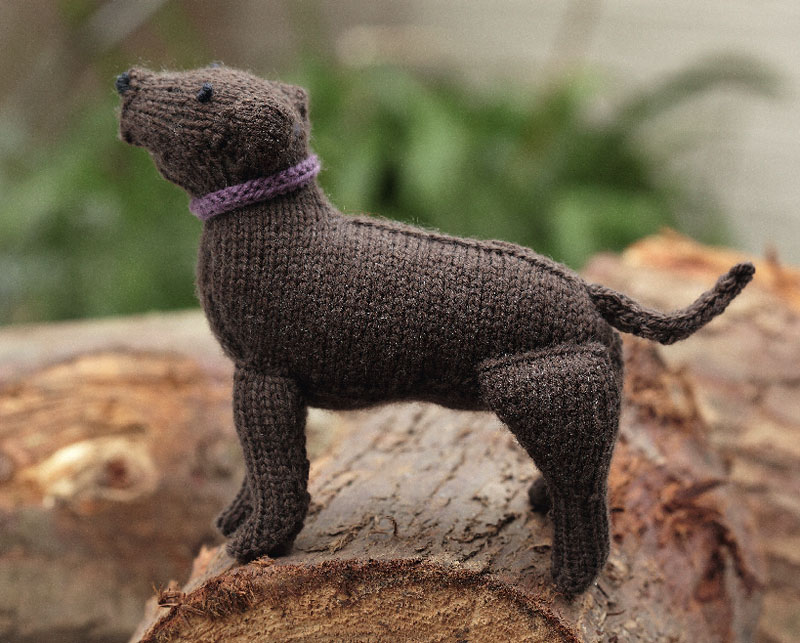 Labrador Retriever
Canadian Living published this softie amigurumi pattern from Knit Your Own Dog, by Sally Muir and Joanna Osborne. Length: 17cm (63⁄4in) , Height to top of head: 15cm (6in).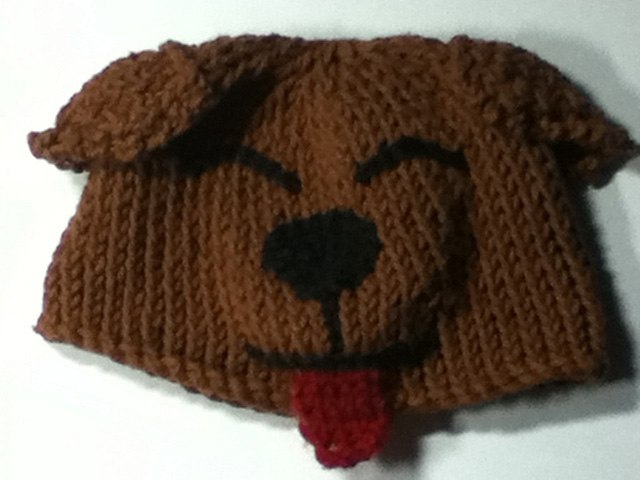 Bow Wow Beanie
Cleo Lititz designed this cute baby hat.
[widget id="black-studio-tinymce-13″]
Doggy Draft Dodger
This cute little pup by Yarnspirations helps guard your home against those sneaky cold drafts coming under windows or doors but he's so cute, he may wind up in your arms instead! Approx. 33in (84 cm) long x 3in (7.5 cm) diameter.
Jack Russell Clutch
Squirrel Picnic designed this dog inspired purse. Lots of pictures and instructions on felting, lining, and assembling the purse as well as knitting it. Finished size (after felting): 14″ wide by 5 1/4″ tall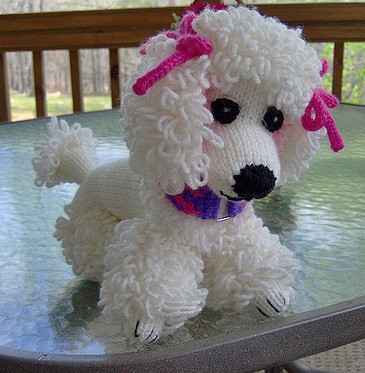 Poppet the Poodle
Vintage pattern from 1950s uses loop stitches for curles.
[widget id="black-studio-tinymce-13″]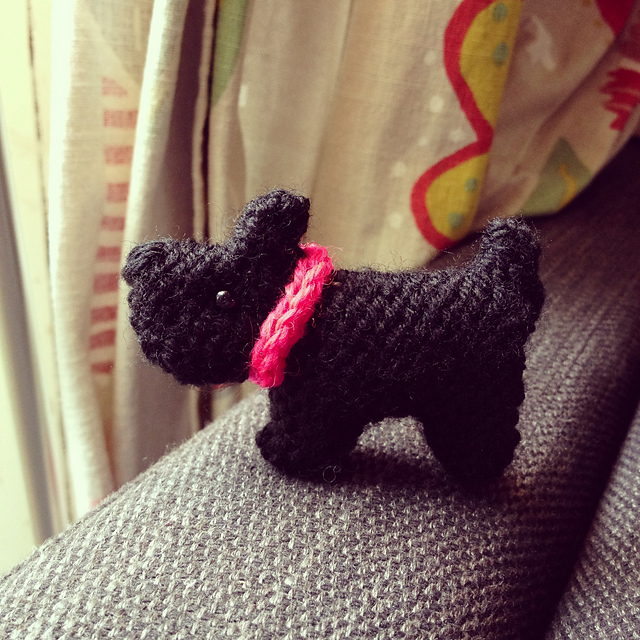 Tiny Scottie Dog
Sue Stratford's puppy is only 6 cm long, about 2.4 inches. Great use for stash yarn!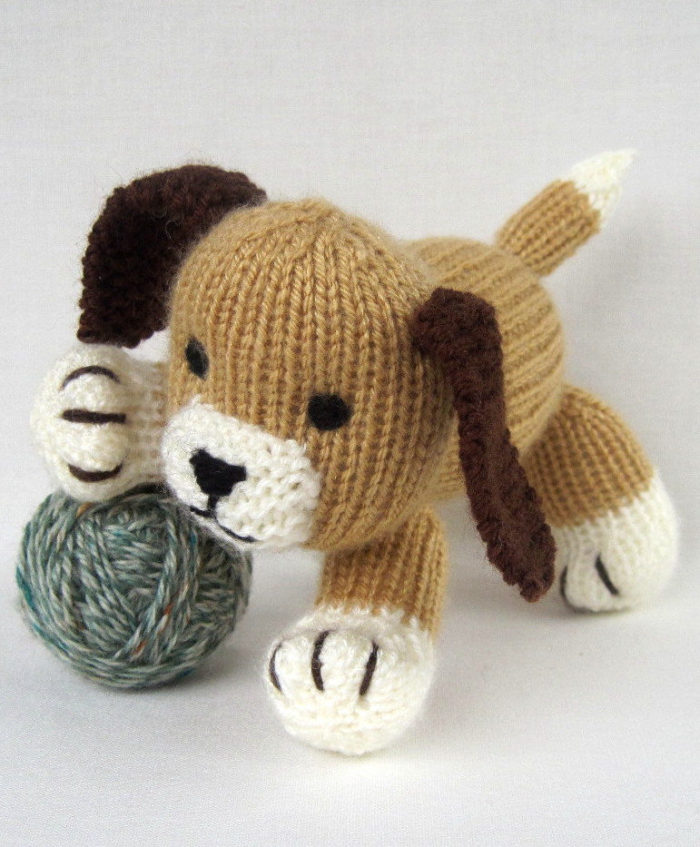 Muffin the Puppy
MUFFIN measures 13cm (5.5in) to the top of his head and has legs that move so he can be easily positioned. DK yarn. Designed by Elizabeth Phillips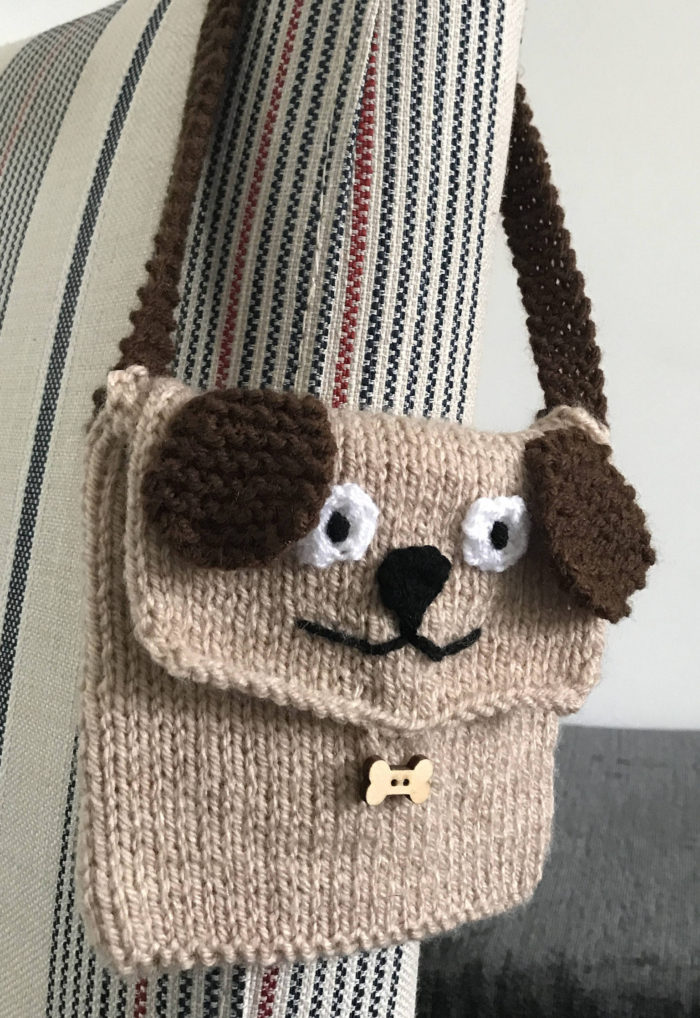 Puppy Purse
Dog bag is knit flat and the designer LittleWhitsKnits says it is suitable for beginners.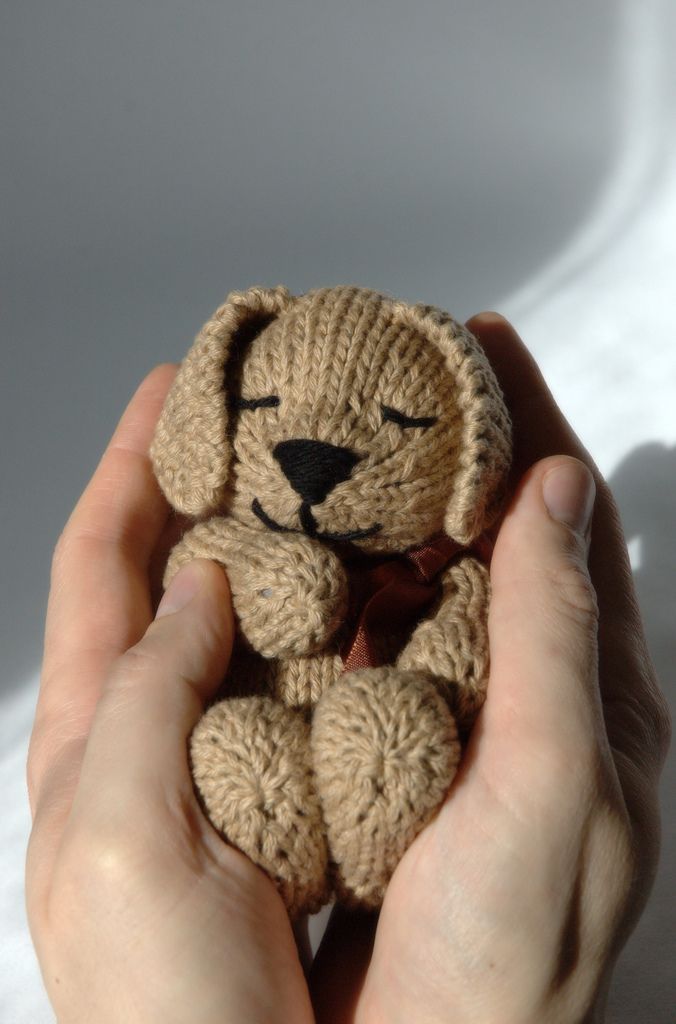 Sleepy Puppy
Barbara Prime designed this cute little puppy as a variation on her popular Pupster pattern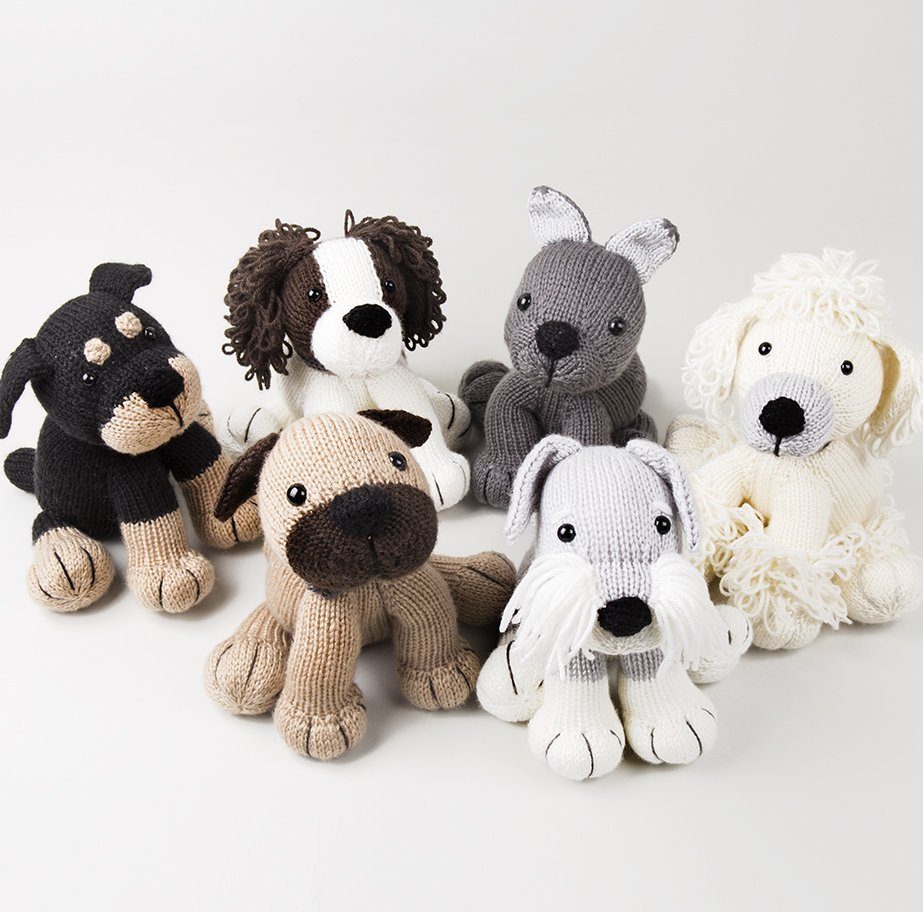 Best Show in Kit Kit
The Dera-Dogs collection contains six patterns and yarn for puppy softies including Rottweiler, Schnauzer, Pug, Poodle, Spaniel and Bulldog. Designed by Amanda Berry. Finished size between 17-20cm.
[widget id="black-studio-tinymce-29″]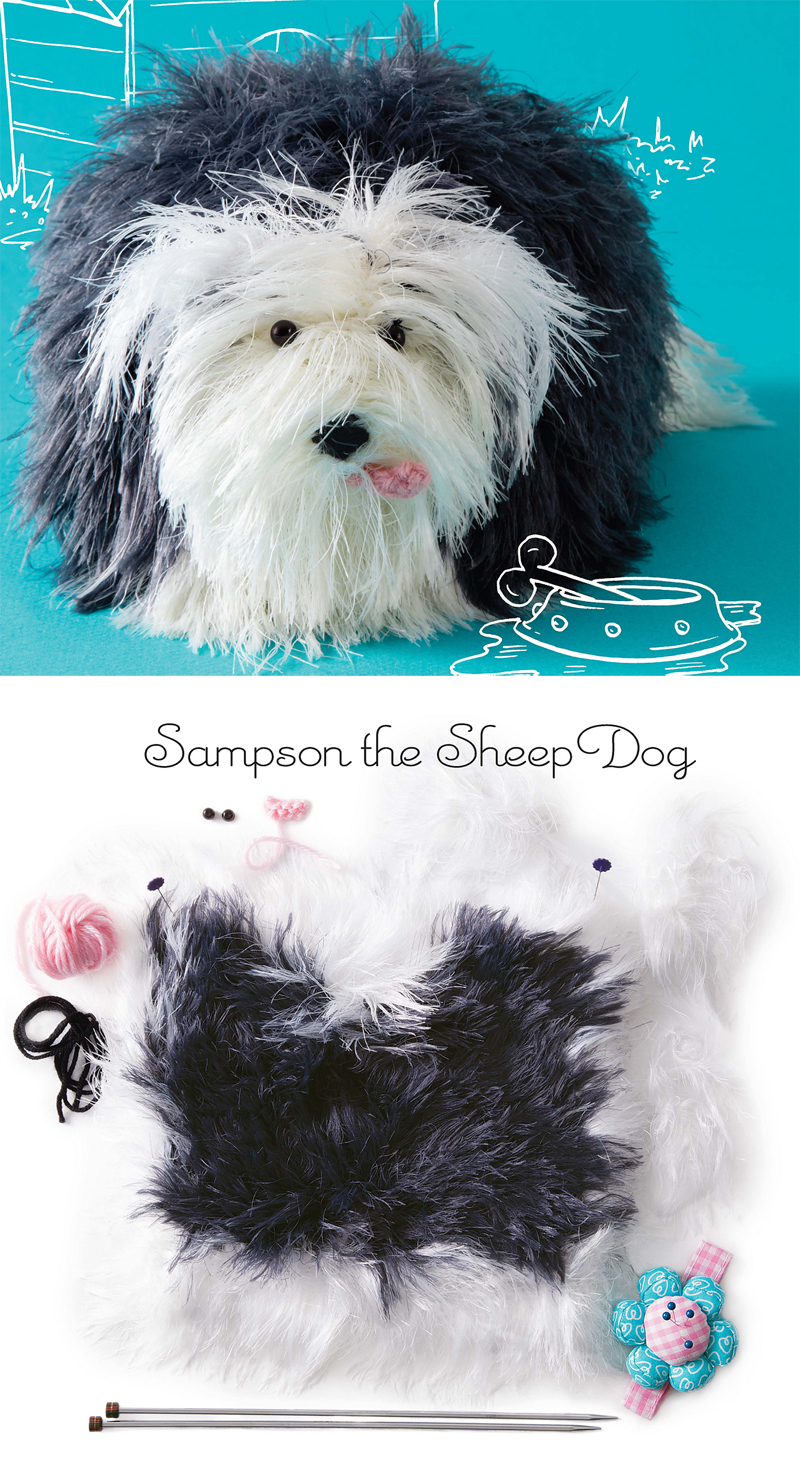 Sheepdog Knit From a Square
Sampson the Sheepdog is constructed from a square knit in faux fur yarn that is folded and seamed into a dog toy shape. Tail is knit separately. The dog can be knit to different sizes by using different yarn weights. One of the 25 animal patterns in Nicky Epstein's Knit a Square, Create a Cuddly Creature: From Flat to Fabulous – A Step-by-Step Guide.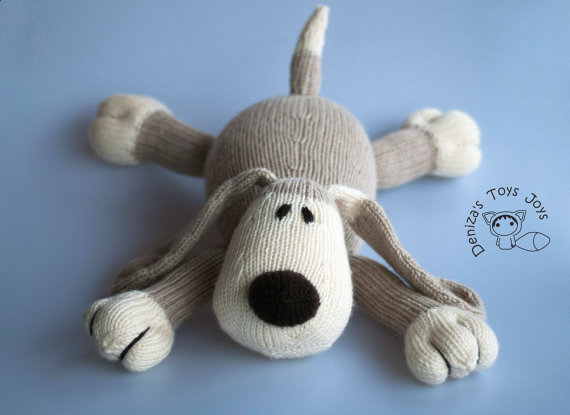 Floppy Dog
The toy is knitted round and is approximately 15,75*18,9 inches (40*48cm).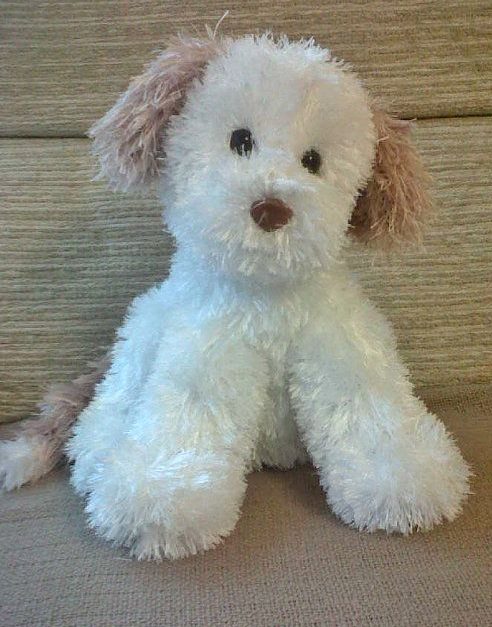 Puppy Dog
This cute furry puppy stands 10 inches/25 cms and is knit flat and assembled.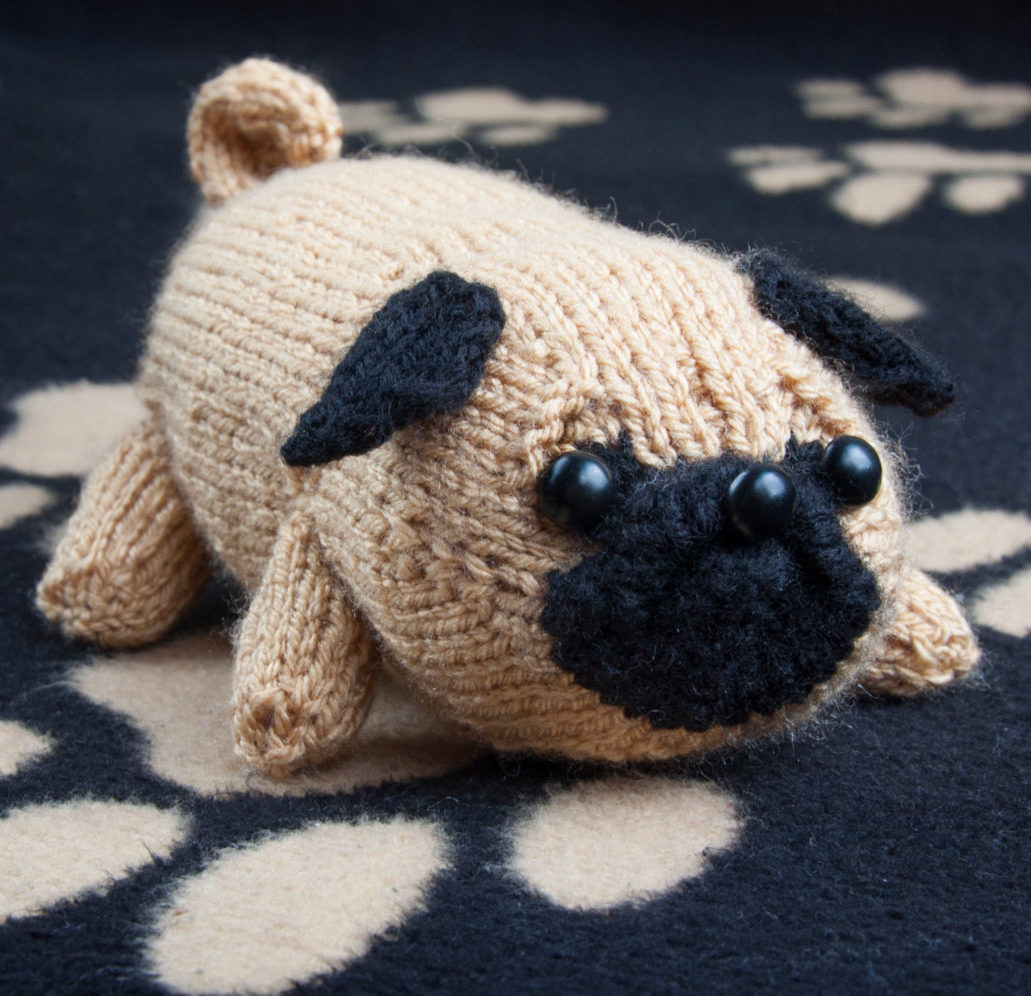 Pug Puppy Amigurumi
Jolly The Pug toy dog softie measures 18cm long x 8.5cm high and 12cm wide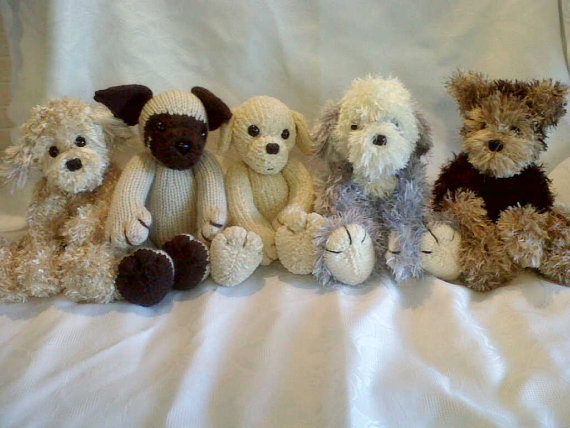 Puppy Pack
Knitting patterns for 5 puppies:  Cockapoodle, Labrador, Pug, Sheepdog, and Yorkshire Terrier. These 6 inch puppies are made from the same basic pattern with customizations for ears, tails, and yarn for each breed.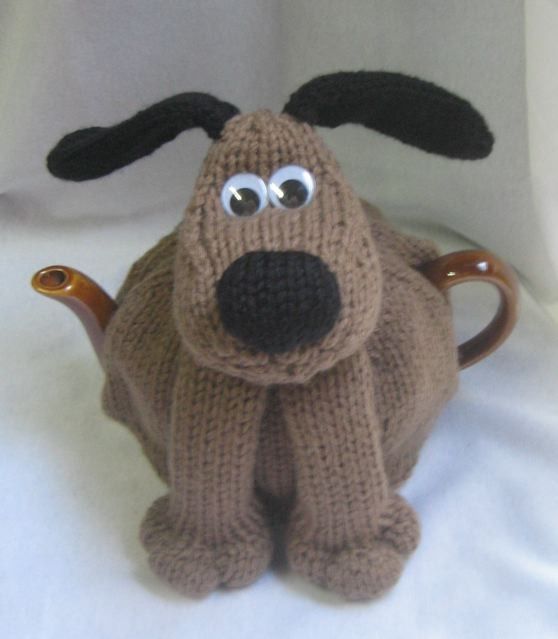 Dog Tea Cosy
This teapot cozy reminds me of Gromit!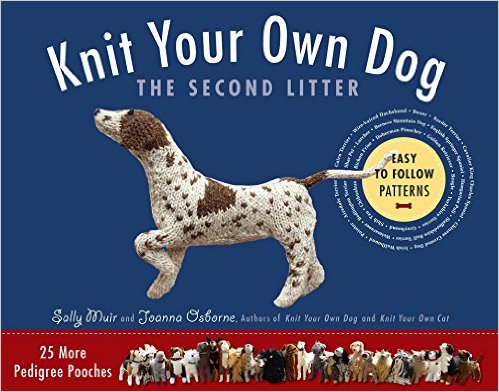 Knit Your Own Dog Book 1 and Book 2
Each volume of Knit Your Own Dog by Sally Muir and Joanna Osborne includes patterns for 25 different pedigree pooches,