Scrap Yarn and Oddments Knitting Patterns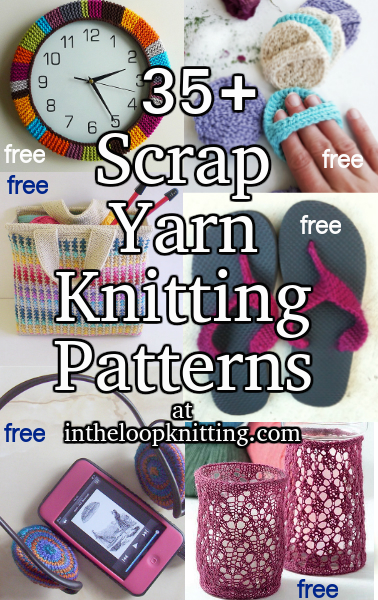 These quick projects are designed to use up those leftover bits of yarn. Many use less than 25 yards!
To get the knitting patterns, scroll down the page to the individual pattern you want and click on the link to that pattern.
These patterns are not my designs but links to other designers who have generously shared their patterns. If you have questions about how to knit a specific pattern, please contact the designer directly.
All links on this site are for informational purposes, but please note that some links are to affiliate sellers that pay me a small commission on purchases.
 
Kitchen Towel Holder
Easy waffle stitch towel holder uses a clever construction to hold the towels. Just wrap the flat knit piece around a handle, pull the i-cord loop through a "buttonhole" and hang your towel through the loop. Uses just 5 – 10 yards (5 – 9 m) so it's perfect for scrap yarn. Designed by Marcia J. Prill. Pictured project by kpet

Ice Cream Cozy
The Gelato Hug pattern keeps your hands warm while enjoying ice cream. It features decreases to make a nice flat bottom surface. Great for stash and scrap yarn! The pattern is designed for a 4 oz container but I think it could easily be adapted to larger sizes. Designed by Stacey Lee

Mandala
This mandala is knitted back and forth, then joined and blocked to shape. It's knitted with scraps of 4 ply yarn and measures about 26 cm / 10 " across. A felt backing gives it more weight so that it can be used as a mat.. Designed by Frankie Brown

Earbud Covers
Knit soft colorful cozies to replace earbud covers. Uses just 15 yards of scrap sock fingering yarn. Designed by MJ Saunders

Mug or Teacup Handle Sweater
Knit a flat rectangle of 10 to 20 yards, add buttons to fasten around a handle, and you have an easy cozy to keep your fingers comfortable when handling hot cups. Designed by DaniDo Crafty. Pictured project by KatieDaugherty


Traffic Cones
These traffic cone softies are a great use for scrap yarn – especially orange – and can be used as human or cat toys. Designed by Sarah Jenkins. Pictured projects by Csorrels805 and MrsZoom. Rated easy by Ravelrers.

EZ as pi Headphone Covers
Transform your hard or worn out headphones with scraps of your favorite sock yarn knit into soft colorful cozies. Designed by Jocelyn Blair. Pictured projects by elizanca who made
modifications
, 
aKnitOnTheSide
, and AllieSan

Facial Scrubbies
Less than 10 yards of cotton yarn creates these cute and useful face scrubbers. Designed by Knits by West. Great for gift baskets!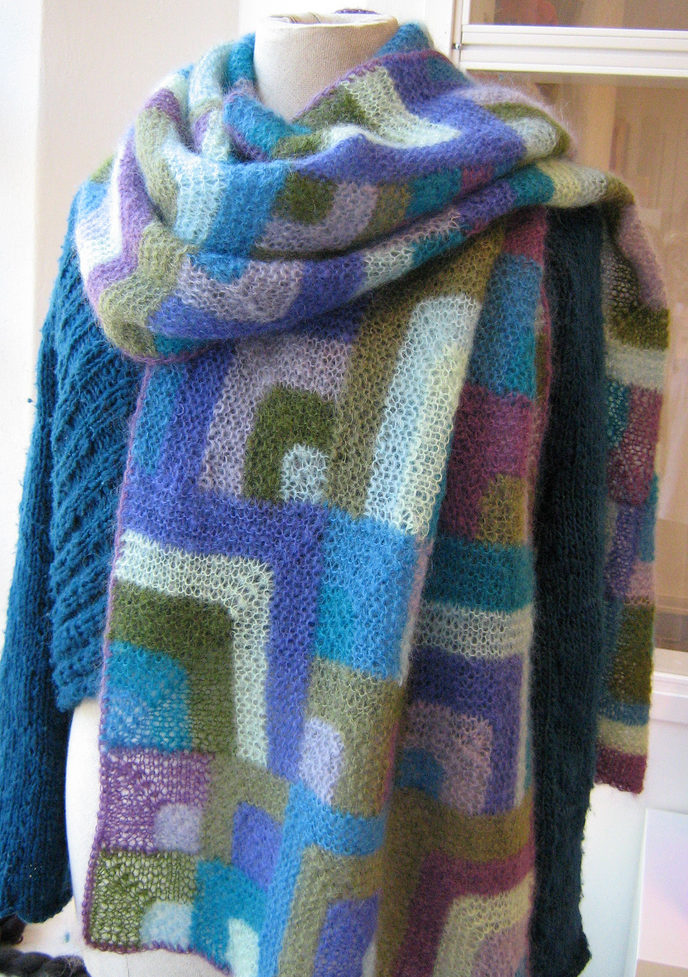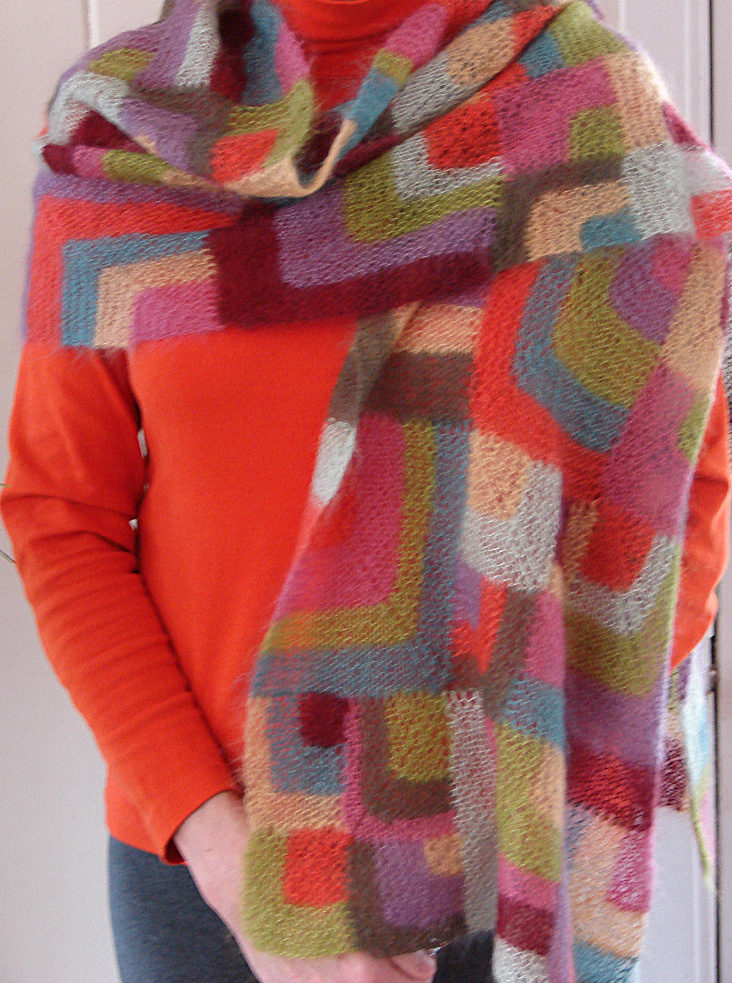 Modern Quilt Wrap
This wrap/oversized scarf is created with the mitered-square method of color knitting, as effortless as working in stripes, but the results are far more impressive. Great use for stash or scrap yarn! Designed by Mags Kandis. Pictured projects by karinhoja and summerinatlanta. There are several ways to get the pattern. Also the designer recommends weaving in the ends as you knit.
Sherbert Bear
This colorful bear is knit with easy intarsia patchwork that makes it great for scrap yarn. 20 cm tall. Designed by Sachiyo Ishii. The file needs to be unzipped after download.

Wine Glass Slip-on Coaster
This little cozy slips on the bottom of a glass or goblet and allows you to put a wine glass anywhere you are while protecting furniture from rings. Uses just 30 yards of yarn so it's great for scrap yarn. Designed by Terry Morris. Pair a set with wine glasses or wine for a great gift!

Badge Holder Cozy
So you have to wear a badge? You don't have to make it boring. This stockinette cover is knit in the round from center out to fit standard-sized
retractable reel ID badge holder
. It's the perfect way to show off a leftover bit of pretty sock or lace weight yarn and to display your love of knitting at work. Designed by E.B. Fouts-Palmer. Pictured projects by ekellyo and sarahmags who added a decorative button.
Googlers
This finger / hand puppet toy is knit with about 10 1/2 m (11 1/2) yards of yarn. Perfect for scrap yarn! They also only take about 30-40 minutes to make so they are the perfect last minute gift or stocking stuffer. Knit flat on straight needles. About 6 1/2cm (2 1/2″) tall. Designed by Kookla Creations who allows the selling of finished items.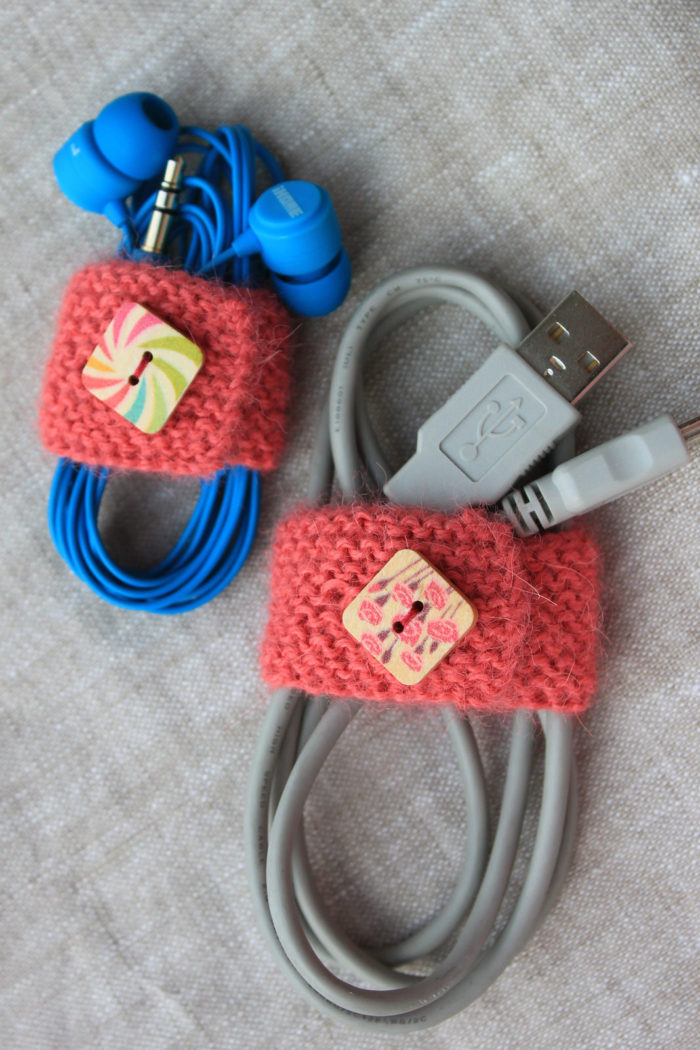 Cord Organizer
This nifty little knitting pattern turns the chaotic tangle of your headphones and other household cords into perfectly organized bundles of cuteness! 2 sizes. Uses only 30 – 35 yards (27 – 32 m) so it's great for scrap yarn. Great quick gift. Designed by Valya Boutenko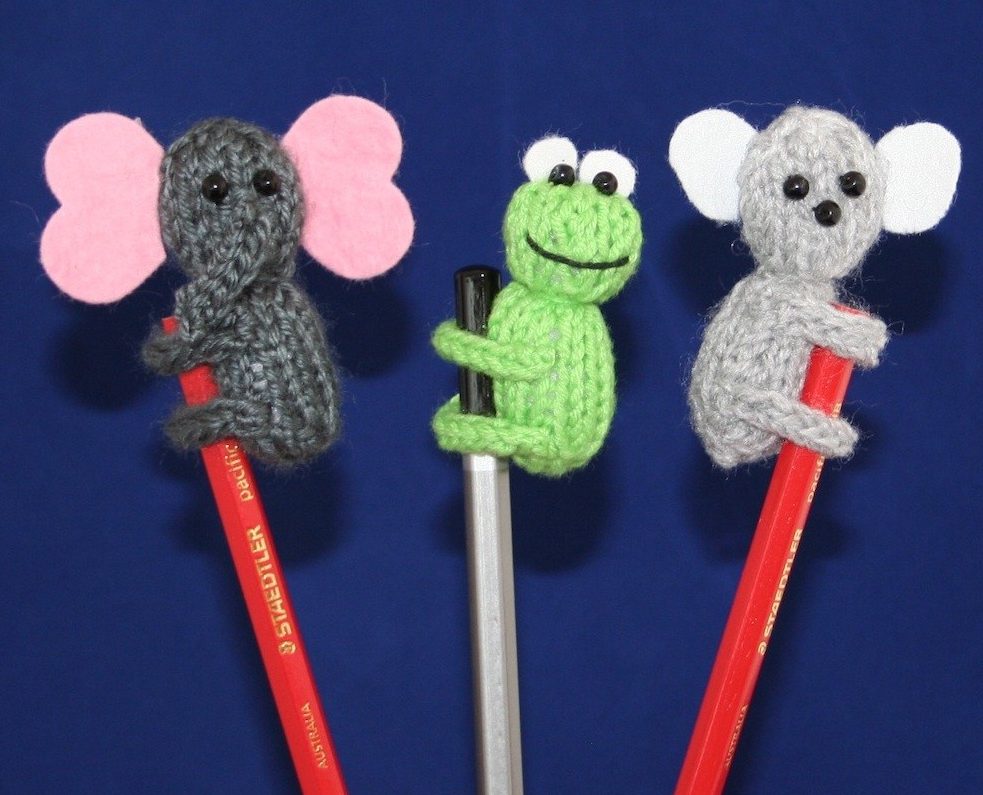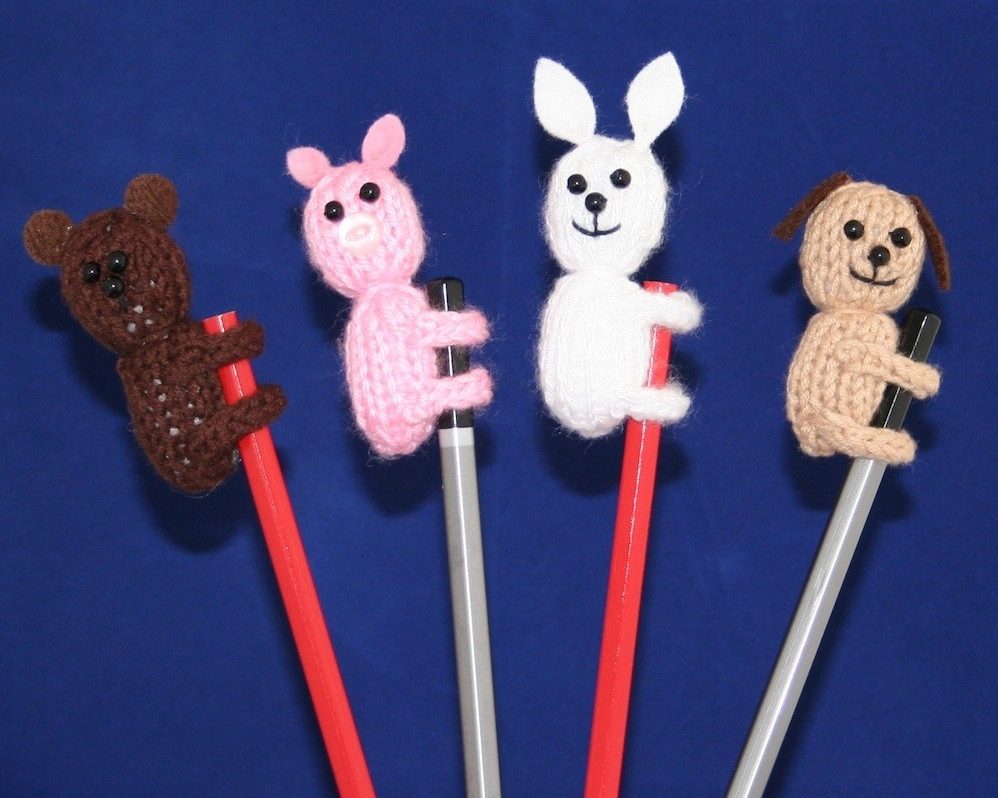 Animal Pencil Toppers
Elephant, frog, rabbit, dog, teddy bear, koala and pig pencil toppers but with different coloured bodies and ear shapes you can make any animal you want. Knit flat on straight needles. About 6 1/2cm (2 1/2″) tall. Designed by Kookla Creations who allows the selling of finished items.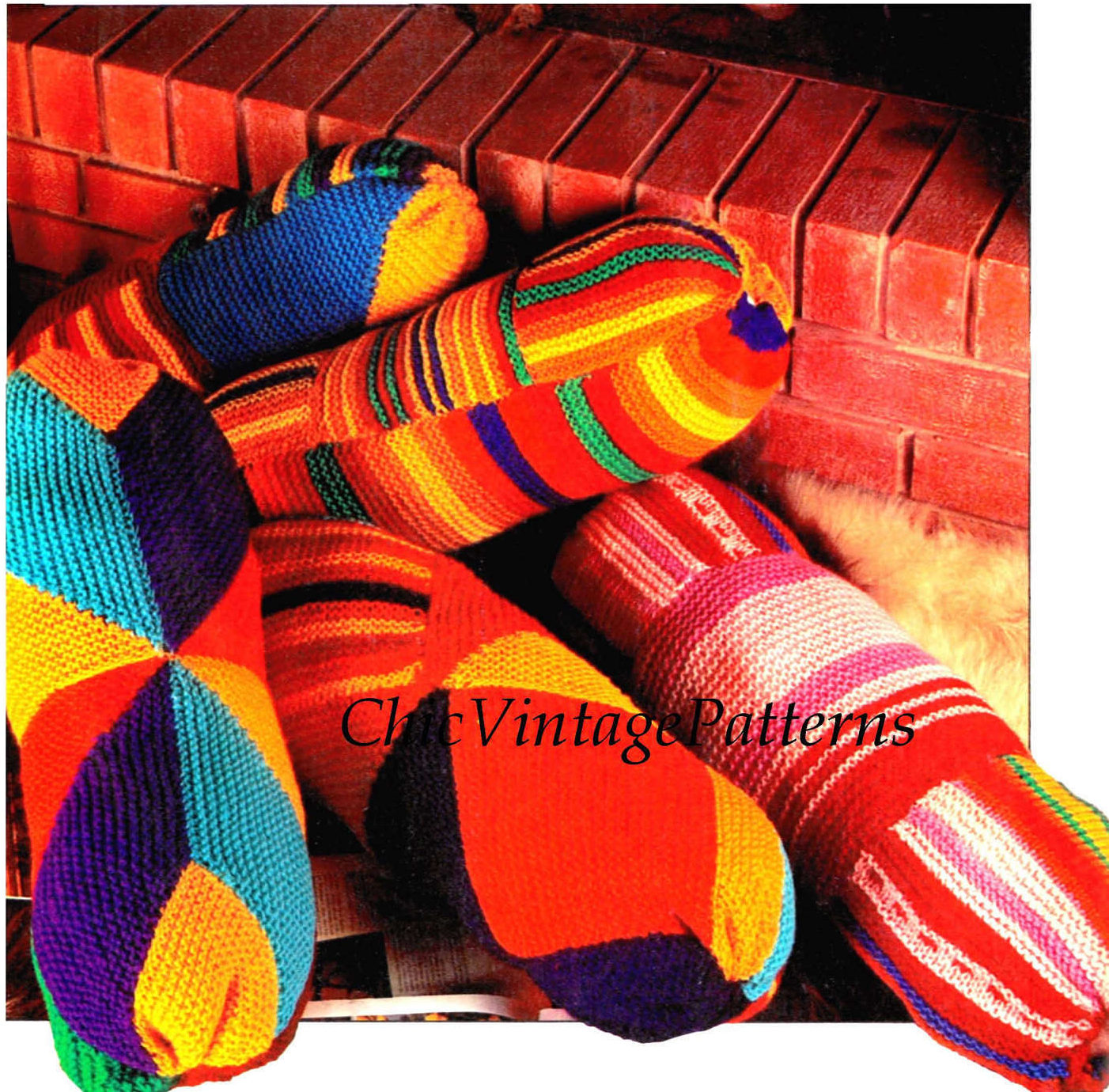 Patchwork Bolster Pillows
A pattern to make five different types of bolster cushions. Great use for scrap and stash yarn!
Happy Go Scrappy Socks
This sock pattern is designed to use up all those leftovers from previous socks. Great use for scrap and stash yarn! Designed by Anita Grahn. Available in English, Danish or Swedish
Wrapped Up Baby and Baby Bear in blanket and basket
The baby in both patterns are the same size so they are interchangable with the basket and blanket. Knit flat on straight needles. The babies are about 9cm (3 1/2″) long and 7cm (3″) wide. The basket measures about 13cm (5″) long and 9cm (3 1/2″) wide. Designed by Kookla Creations who allows the selling of finished items. Great use for scrap yarn!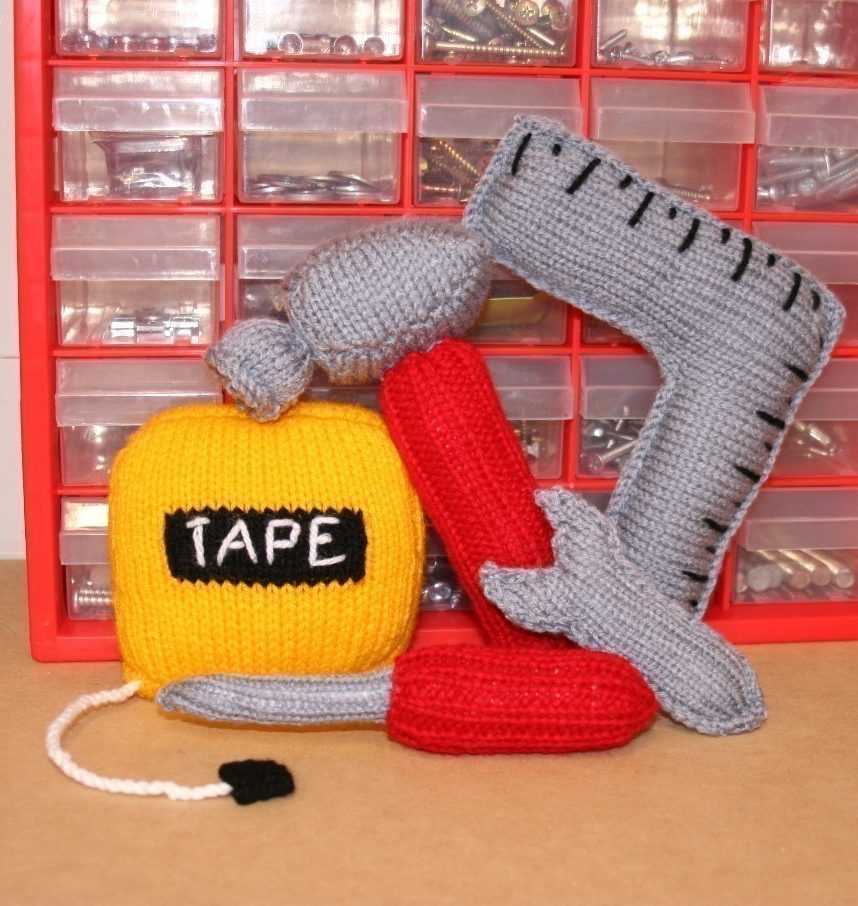 Tool Set
This pattern includes instructions for a hammer, tape measure, screwdriver, spanner and set square toy softies. The hammer measures 17cm (7″)high.Designed by Kookla Creations who allows the selling of finished items. Great use for scrap yarn!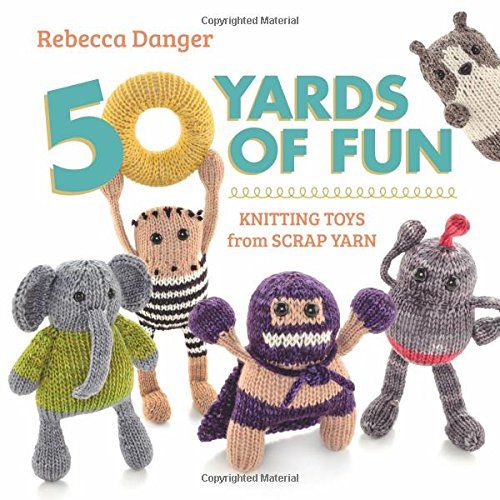 50 Yards of Fun: Knitting Toys from Scrap Yarn
More than 30 irresistible toys by Rebecca Danger that use only about 50 yards of yarn and can be used for ornaments, gifts, mobiles, and baby toys.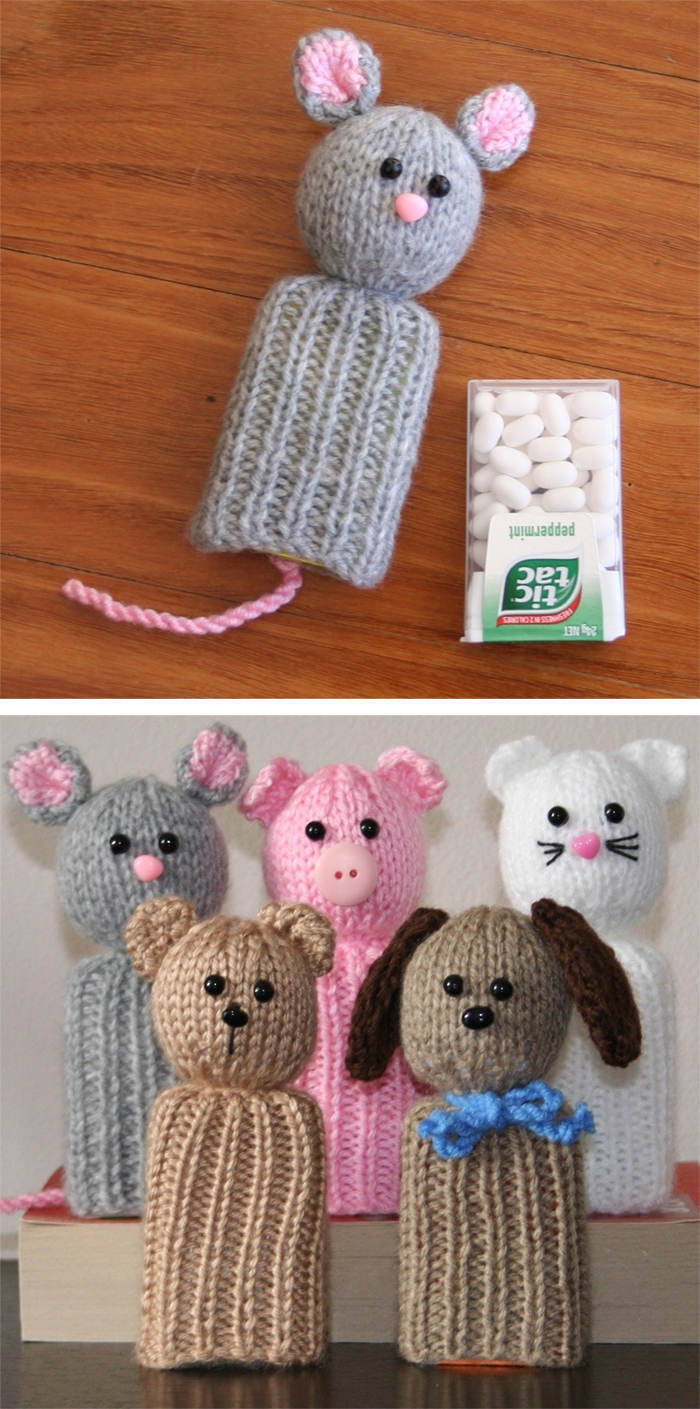 Tic Tac Toys
Knit these animals to place over the Tic Tac type boxes. They have many uses:
a cover for your Tic Tacs
a tooth box for the tooth fairy
a secret note holder
a goody bag at a birthday party
a rattle – sew up the bottom to enclose the box totally, fill with beads
This pattern includes instructions for a mouse, puppy, cat, bear, and pig. Designed by Kookla Creations who allows the selling of finished items. Great use for scrap yarn!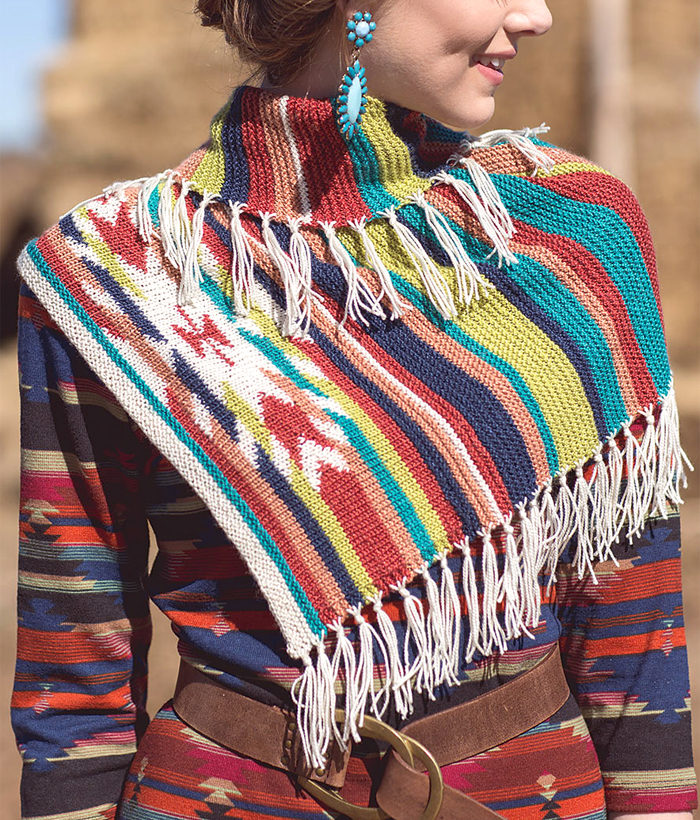 Serape Shawl
This Southwest-inspired is shawl worked side to side in varying stripes of garter stitch, while the intarsia motif is simple stockinette stitch. Great way to use up scraps of fingering weight yarn.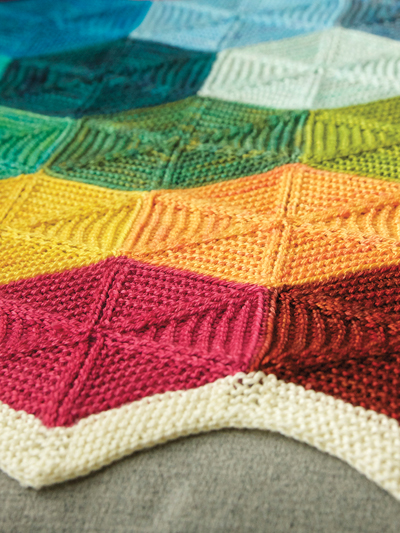 Polygon Blanket
This afghan is made of individual garter stitch hexagons that are knit individually and assembled. Great stash buster and portable project! Blanket as shown: 29 1/2″W x 37 1/2″L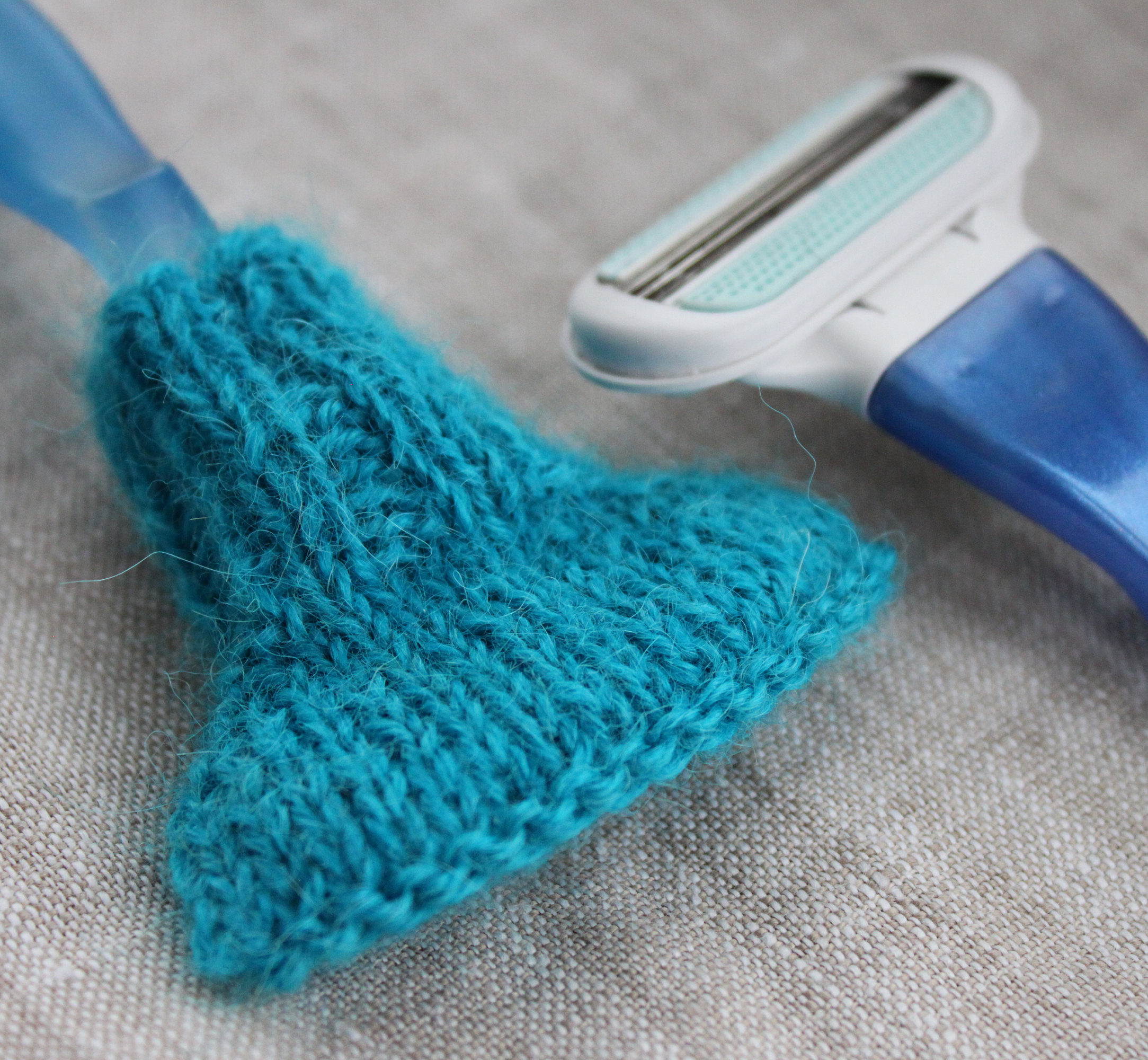 Razor Cover
This razor cover is designed to protect from razor cuts when your razor is packed in your luggage, gym bag, or purse. It easily slips on and off your razor head. And slipping it on when the razor is wet serves to block the cover to the razor shape. This knitting pattern is seamless and works up very quickly. Great for scrap yarn and last minute gifts.
Terry Matz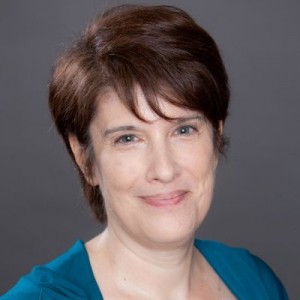 Terry is a knitting late-bloomer, learning to knit as an adult from Internet tutorials, because she wanted a craft that was useful, fun, and portable. Knitting hats for cancer patients inspired her to design her own patterns—available for free at her blog, intheloopknitting.com. Terry met her husband Ken at a science fiction convention and moved to the Kansas City area to be with him more than 30 years ago. Terry supports her yarn stash by creating websites and other digital media. Terry firmly believes in Knitting in Public—it's a great conversation starter!