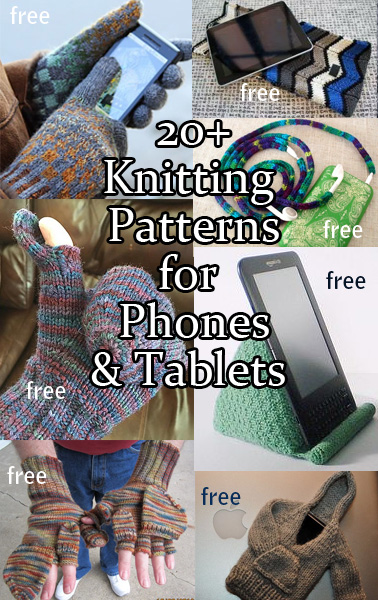 We can't live without our electronic devices or our knitting so it's natural to bring the two together. I've collected knitting patterns for your phones, tablets, and electronic devices including gloves and mittens designed for texting and touchscreens, and sleeves and cozies, most are free patterns.
To get the knitting patterns, scroll down the page to the individual pattern you want and click on the link to that pattern.
These patterns are not my designs but links to other designers who have generously shared their patterns. If you have questions about how to knit a specific pattern, please contact the designer directly.
All links on this site are for informational purposes, but please note that some links are to affiliate sellers that pay me a small commission on purchases.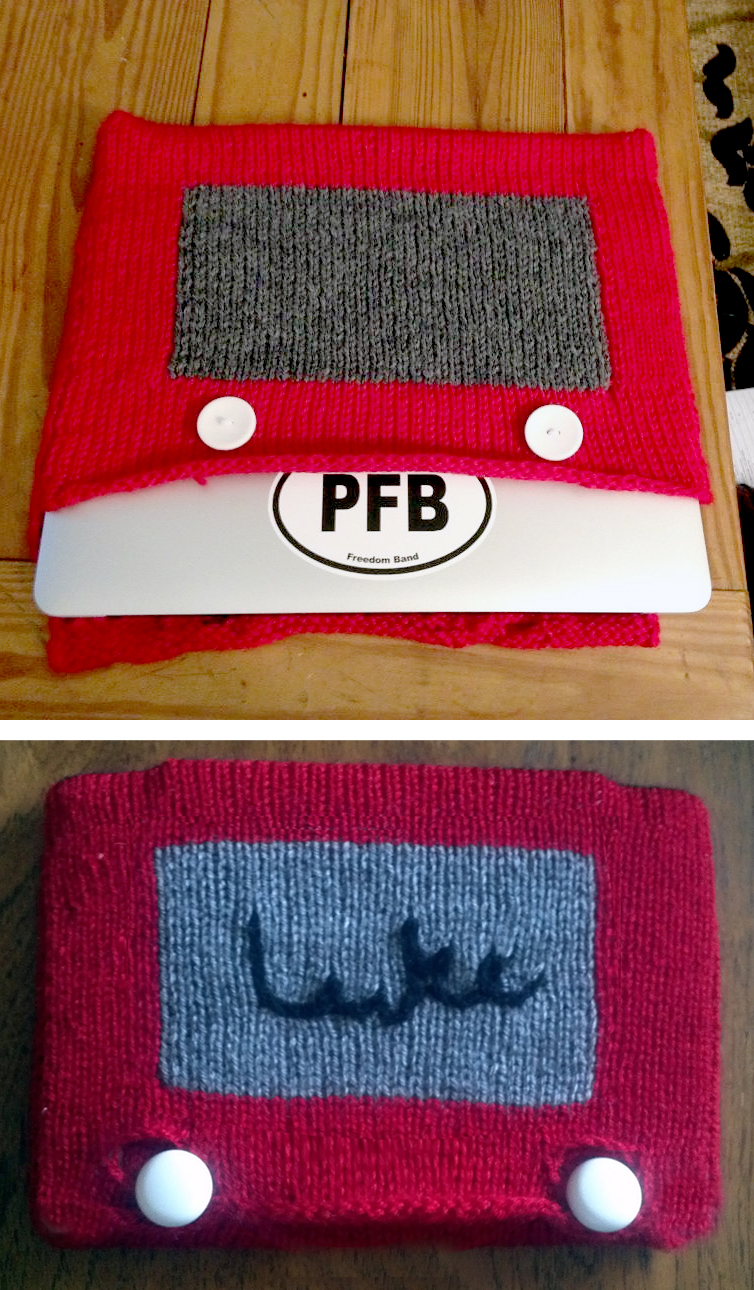 Etch A Sketch Tablet Cozy
Tablet, laptop, or device cover inspired by the favorite toy. You can customize by embroidering your own sketch on the screen. And you can felt if you want. Designed by by Lyndee Pitiak. Pictured projects by DoubleLune and Tawnybeth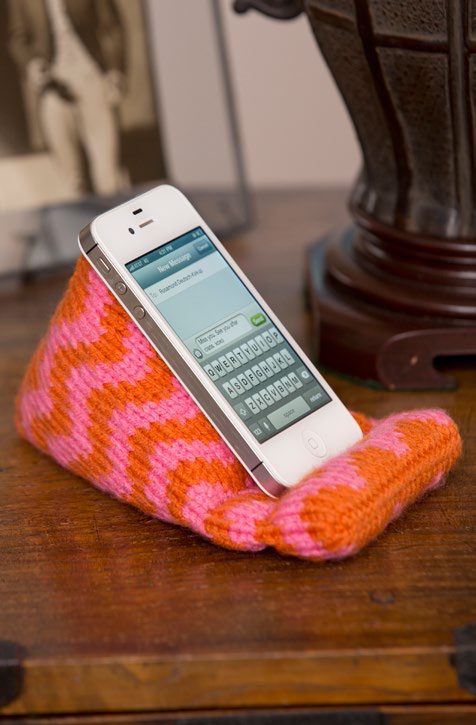 Cell Phone Resting Place
This easy pattern creates an angled rest for your mobile phone so you can keep an eye on it hands free. Great for Face Time, or if you're watching video while you're knitting, or reading a digital pattern. Great gift and stash buster! Designed by Sahrit Freud-Weinstein for Red Heart.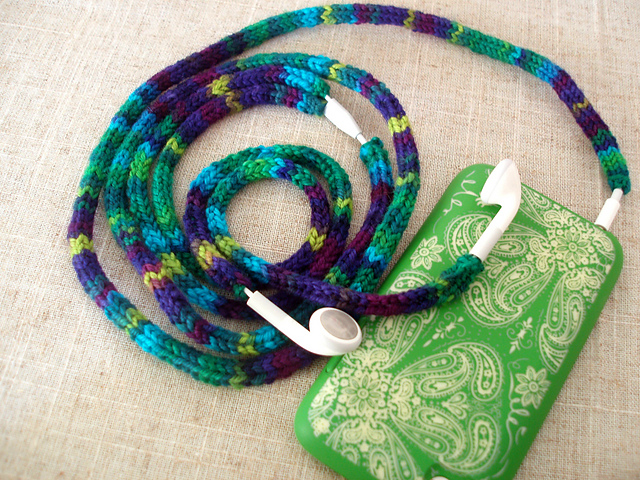 Untangled Ear Bud Cozies
Designed by Samiha Qureshi, these cozies keep your ear bud wires from tangling and look great too! Great use for leftover yarn.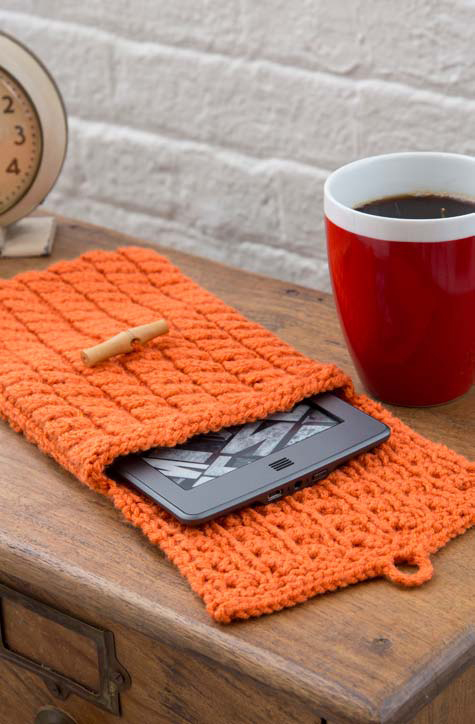 Cabled E-Reader Cozy
Perfect for small tablet or e-readers, this easy tablet sleeve measures 6″ (15 cm) wide x 10″ (25 cm) long. Great gift idea! Designed by Jodi Lewanda for Red Heart.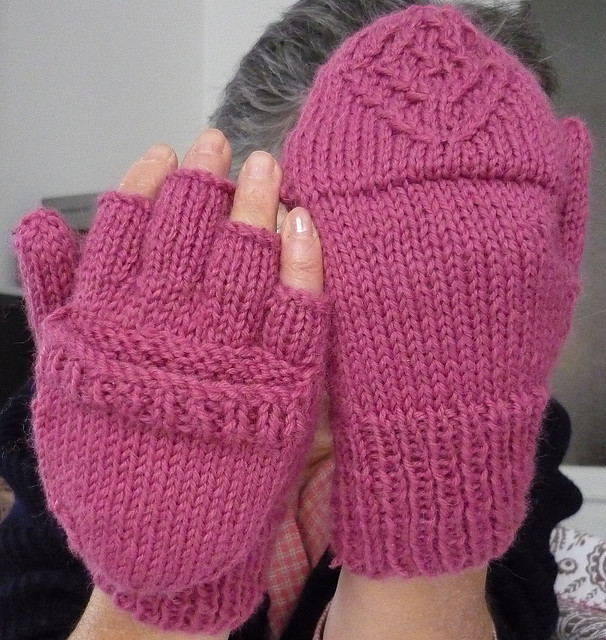 Urban Necessity Gloves
Designed by MagKnits these convertible flip top mittens keep your hands warmer than gloves but let you flip the top to text, use a touchscreen, grab change, and more. The mitten top is designed to lie flat when it's off. Size is Large but can be customized.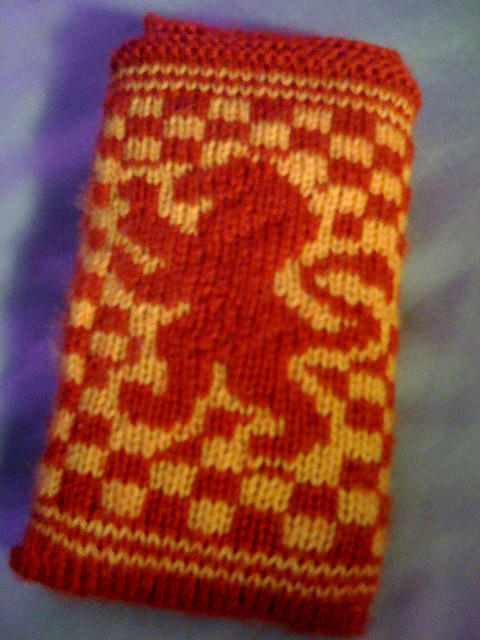 Gryffindor iPhone Cozy
Rosemary Waits designed this Harry Potter inspired cozy. Charted with some instructions.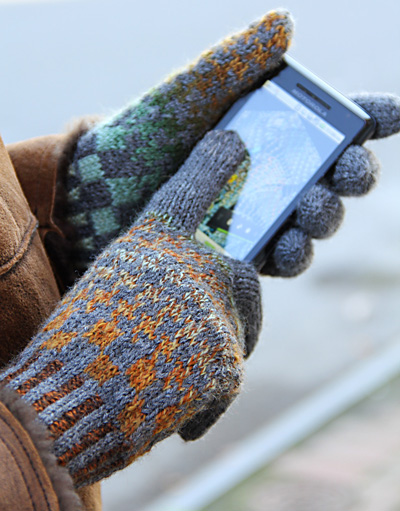 Teknik Touchscreen Gloves
Conductive thread makes these gloves work with touchscreens because it conducts the body's electricity to the device. Designed by Laura Nelkin, the body of the gloves is knit with a main color and variegated color for the pattern. Then the index fingertips are knit with conductive thread.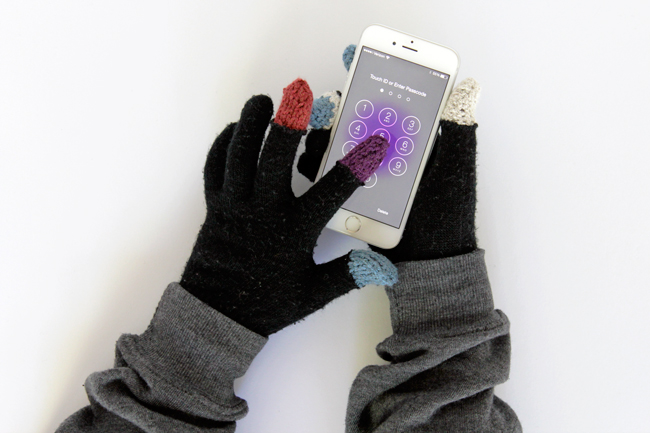 Touchscreen Glove Fingertips
Knit or crochet these fingertips designed by Heidi Gustad with conductive yarn or thread and then sew them on to store bought gloves to create easy touchscreen gloves. If you use conductive thread instead of conductive sport weight yarn, you might want to knit with two strands, one of thread and a second of regular sock yarn, or whatever works for you.
Texting Mittens
Designed by Mary Anna Yram, this design keeps your hands cozy in what look like regular mittens. Then when you want to text or check your phone, just poke your thumb through the hole.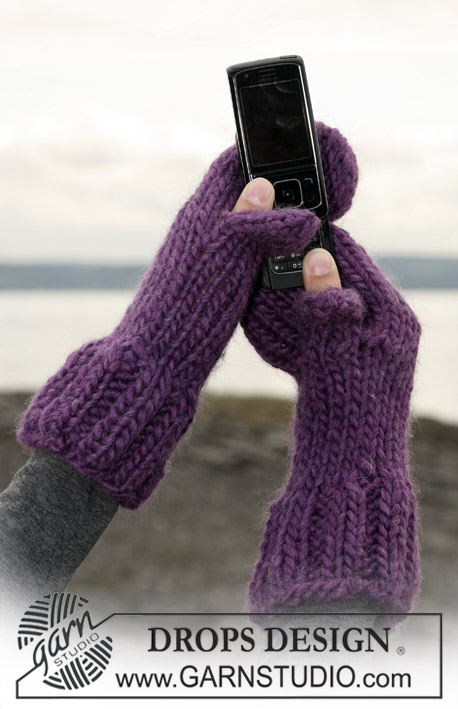 Mittens With Texting Hole in Thumb
DROPS Design created super bulky version of the texting mitten.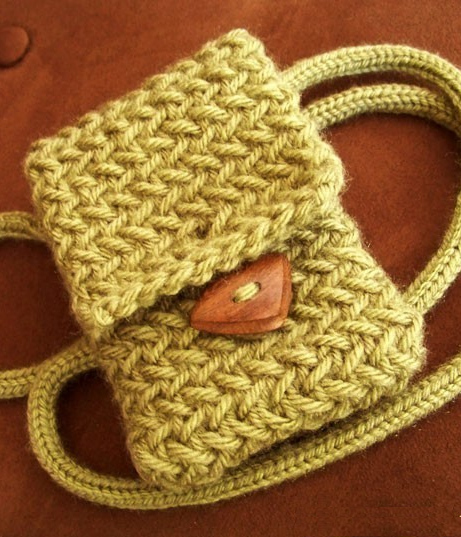 Rustic Phone Case
Easily customizable pattern for your phones and devices.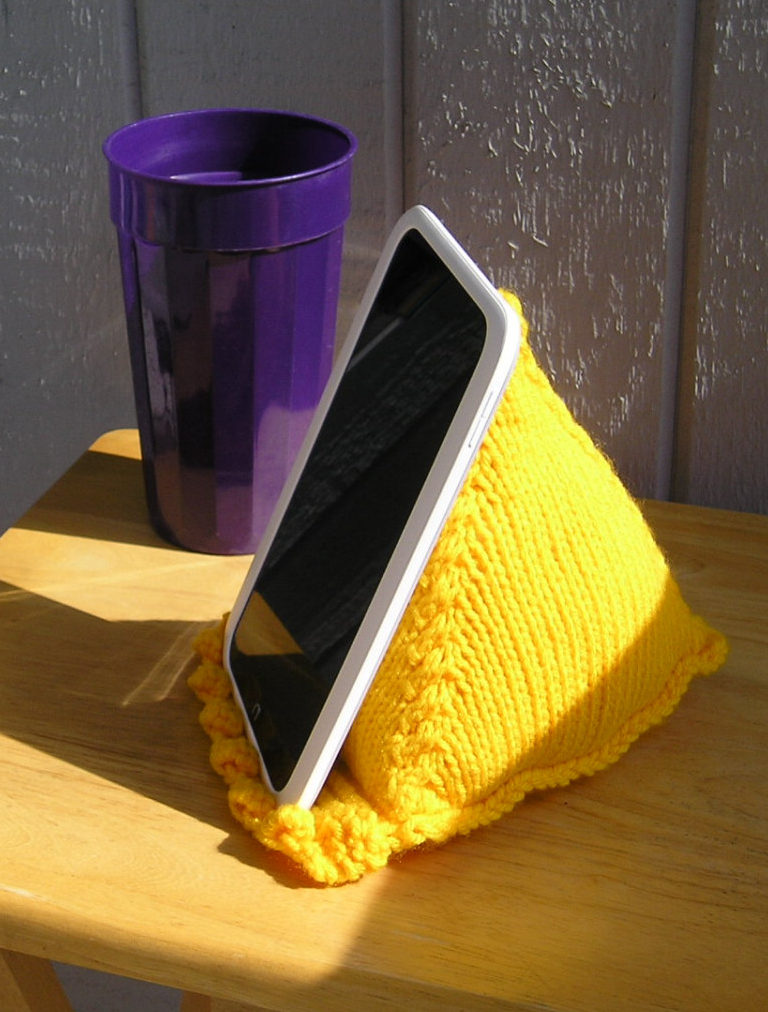 Tablet Buddy
This pyramid pillow stand is great for propping up your ereader, smartphone, or tablet so you can knit or cook or relax hands free.
Cable Phone Cozy
Also doubles as a beautiful small purse! Pattern includes option to knit a detachable handle so that the cozy can be attached to a belt loop or through the strap of a purse.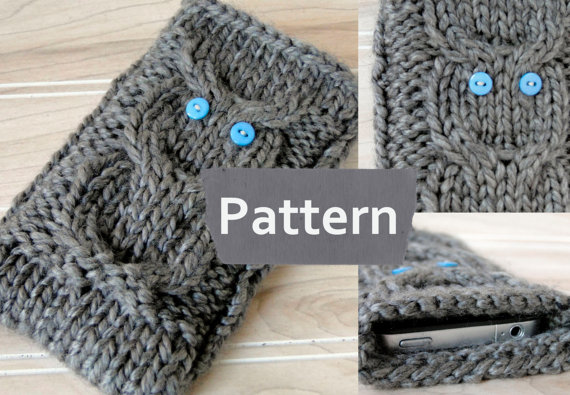 Owl Phone Case
Cables form an owl in this sleeve.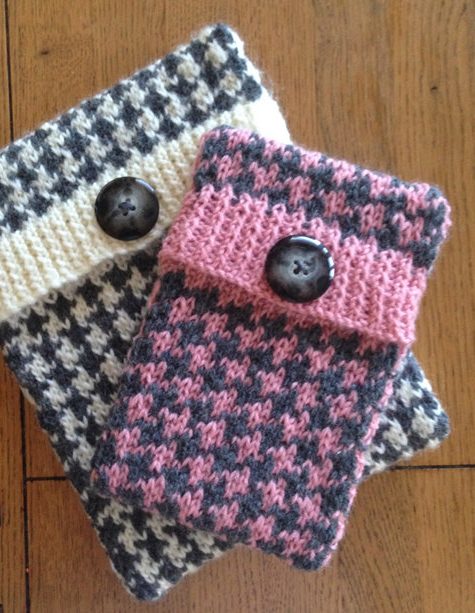 Houndstooth Tablet or Phablet Case
Ideal for a beginner knitter who is ready to tackle a simple two color stranded colorwork pattern, this cover is knit as one piece. The pattern comes with instructions in two sizes: Small = approx. 5"x 8" (12.5 x 20 cm) Large = approx. 7.5"x 9.5" (19 x 24 cm)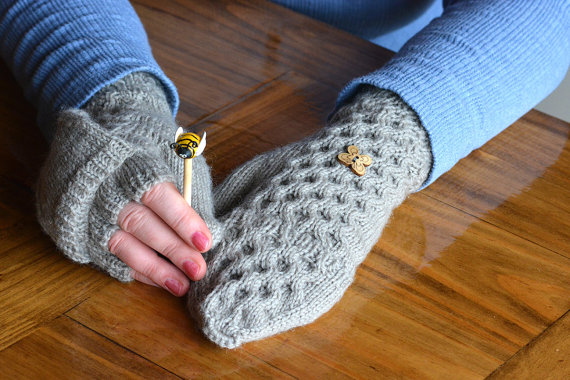 Honeytree Convertible Mittens
Sized for wee hands up to a Men's Medium in both aran-weight yarn for the shell and a plain stockinette fingering-weight liner (which you can sew in or use separately), you can mix and match design options for all the special people in your life, and not have to make the exact same thing twice!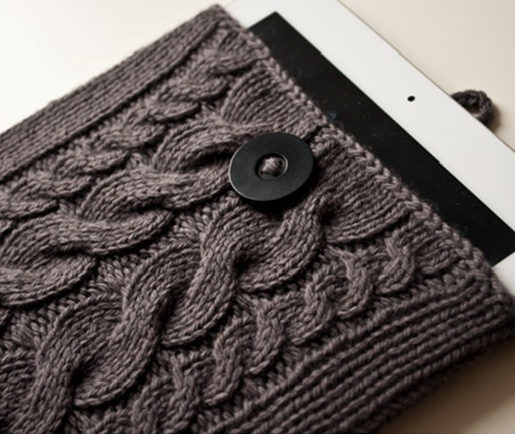 Signature Cable Knit iPad / iPad Air Case
This stylish iPad sleeve can be knit seamlessly or with one seam.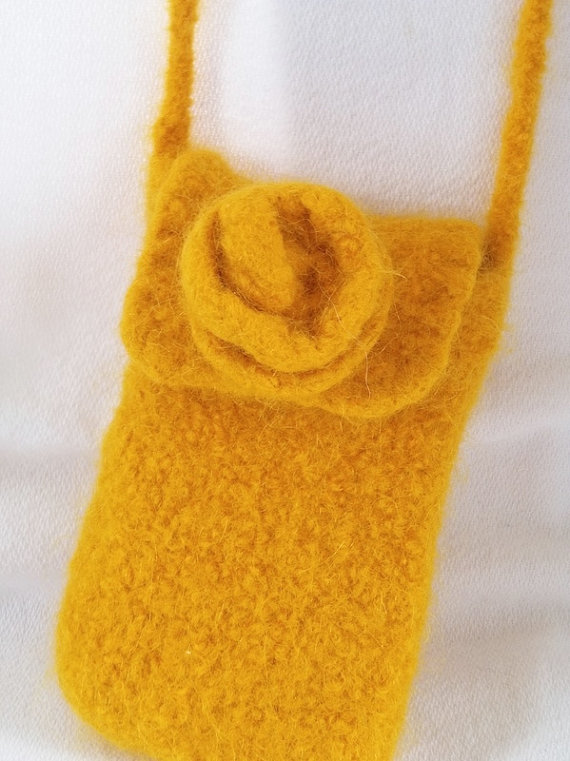 Felted Phone Case With Flower
Easy to follow Instructions for a felt phone case in two sizes.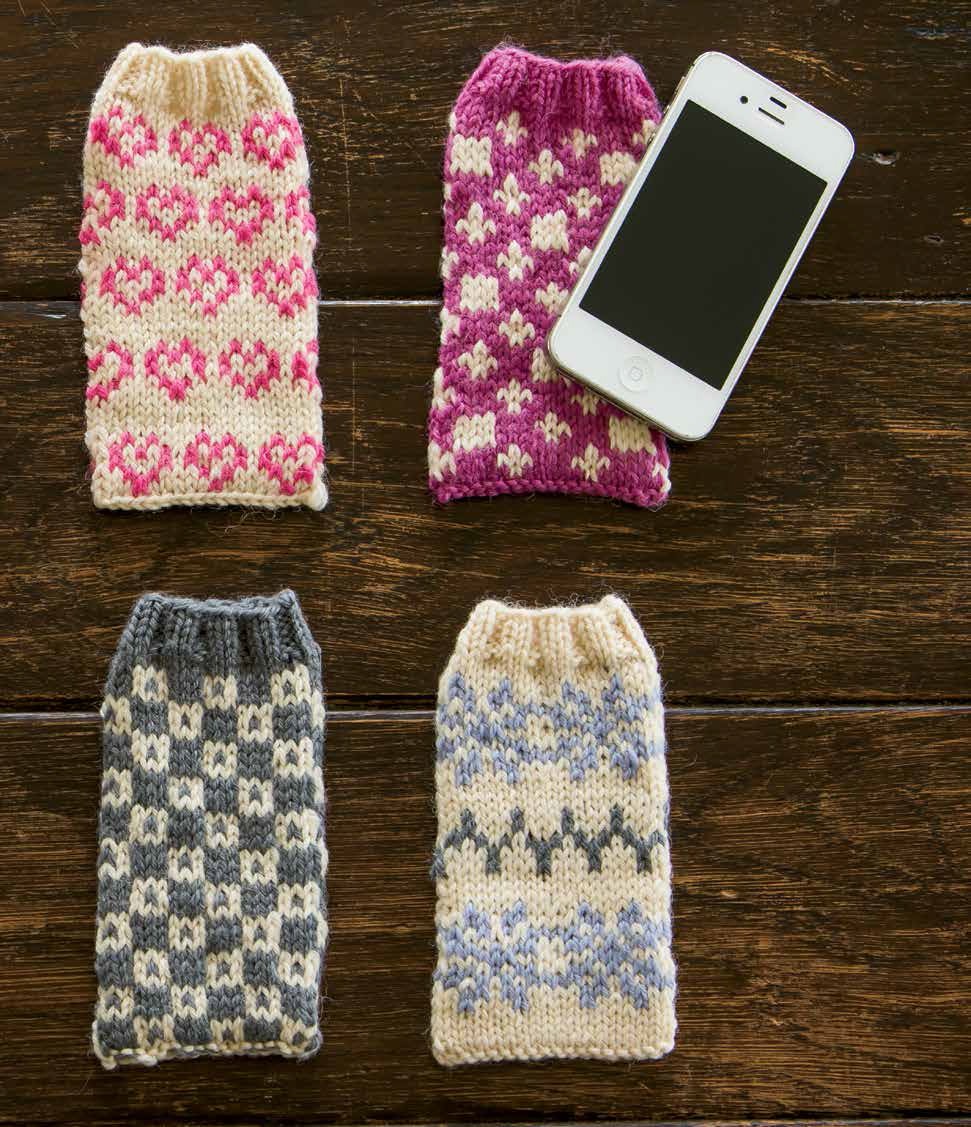 Faeroe Phonecovers Knitting Pattern
The Faeroe Islands are known for their gorgeous knitted colorwork. Here's your chance to bring a bit of the old world to your modern life.