Super Hero Knitting Patterns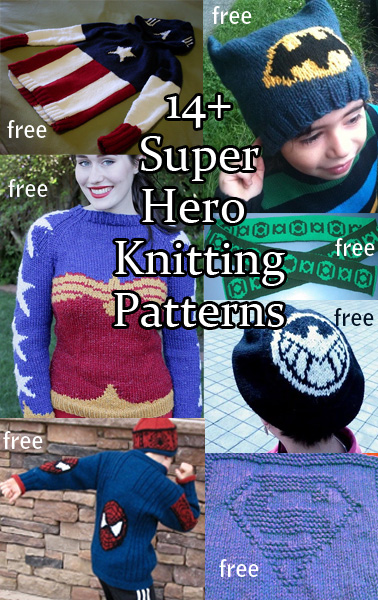 Iron Man Mitts
Irene McCormick's fingerless gloves pattern is written to fit a 3-5 year old with basic instructions on how to make larger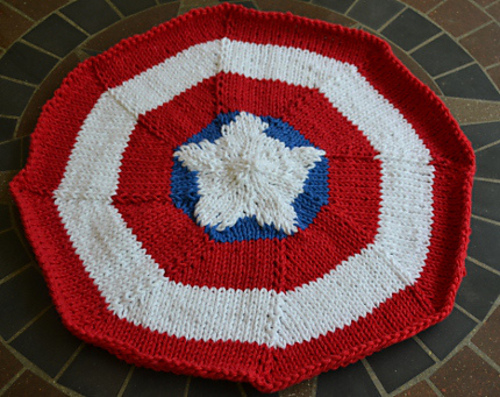 Captain America Placemat
Captain America's shield inspired this fun round placemat that could also be used as a trivet or, as my three-year-old declared the moment she saw it, a blanket for a baby doll. Designed by Rita at Craftbits
Captain America Hoodie Sweater
Beth Kluckhohn designed this medium-sized sweater pattern.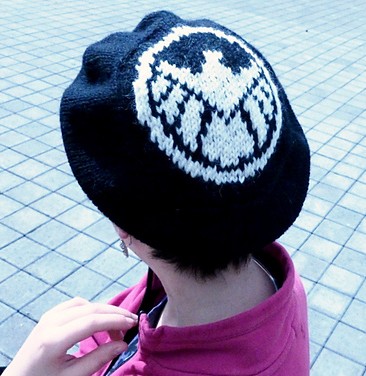 S.H.I.E.L.D. Insignia
A colorwork chart for the SHIELD insignia designed by Ellen Hyde. Be sure to check out the projects to see how other knitters used this for hats, mitts, and other items.

Deadpool Pillow
Andrea Trooperschaf designed this pillow after her favorite superhero. Links on the page to her crochet patterns for the pictured potholders and an amigurumi Deadpool Care Bear.
Web Spinner Jacket
Irene Johnston's jacket design is written in several sizes so the whole family can go "Spidey" crazy. It has motifs on the back and both of the sleeves. She also includes instructions for the hat. Sizes: Child's (4,5),(5,6)& (7,8),Adults S,M,L,XL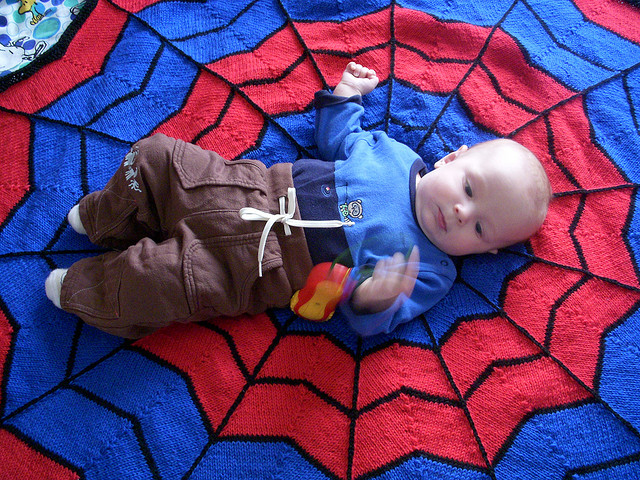 Spiderman Blanket
Annen Blogi designed this colorful design.
Roll the Dice – Marvel
Andrea "Trooperschaf" designed this six-sided softie with your favorite superhero emblems. Roll the die and see who comes up! You can also use the motifs for other projects.
Hat of America
IM4MAN was inspired by Captain America to design this beanie.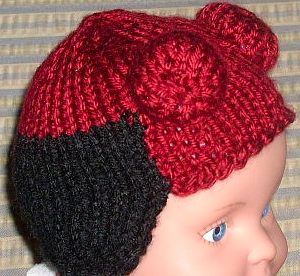 Hellboy Baby Hat
Designed by Glenna Anderson after the movie and comic character.
Green Lantern Corps Scarf
The doubleknit scarf designed by Marsha Auguste showcases the superhero emblems of the JLA members. The pictured project is by WonderfulMouse who has good notes about the pattern.
Captain Marvel Fingerless Gloves
Maratini Knits' gloves are knit in one piece from the cuff down. The stars are stitched on afterwards using duplicate stitch. The pattern includes instructions on how to easily adjust sizing and a small colourwork chart.