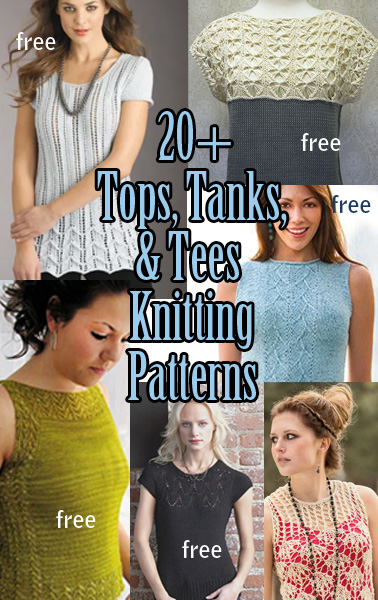 Here's a collection of tops perfect for warm (or hot!) weather — and yet versatile enough to be used in layering a few months from now when the weather gets cooler.
For more free top knitting patterns see
To get the knitting patterns, scroll down the page to the individual pattern you want and click on the link to that pattern.
All links on this site are for informational purposes, but please note that some links are to affiliate sellers that pay me a small commission on purchases.
Free Knitting Patterns
Patterns For Purchase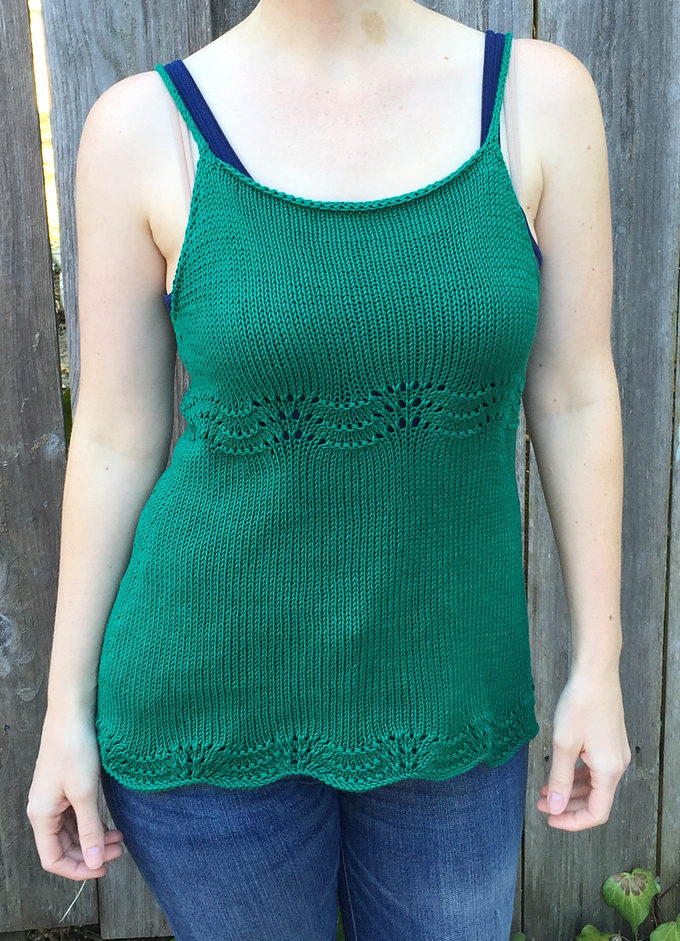 Sarah Tank Top
Cute camisole style top features lace under the bodice and lace at the hem. Designed by Christine Buhagiar. Pictured project by mbirnie who made some mods.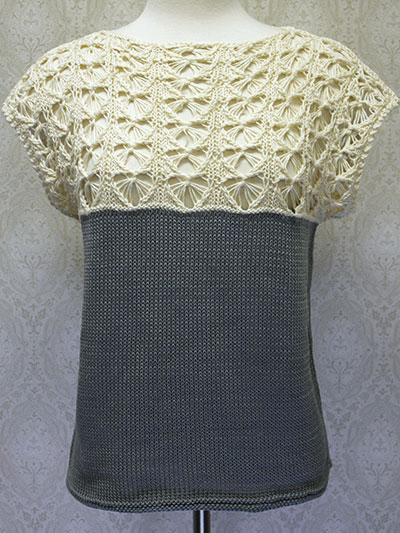 Butterfly Tee
This unique top has a butterfly lace yoke.
Get the free knitting pattern for free registration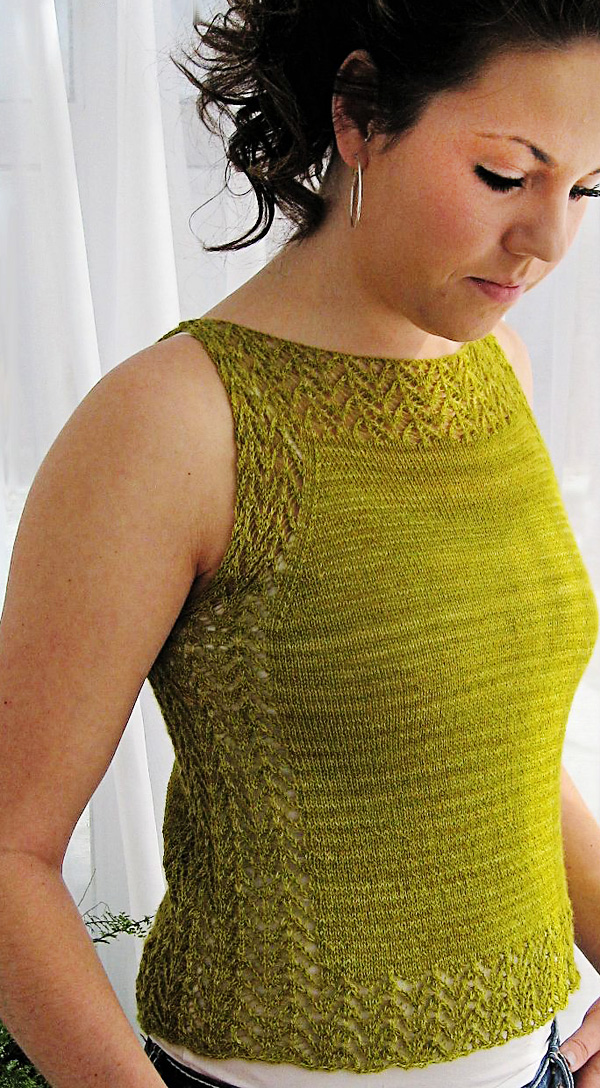 Etherial Lace Tank
Designed by Jamie Besel, this lace top is worked mostly in the round.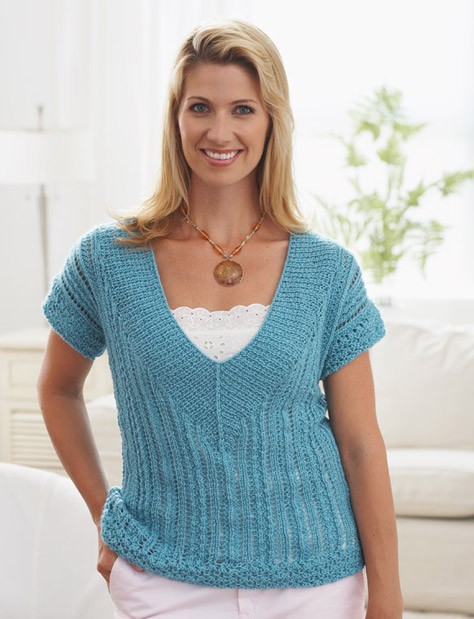 Swept Up Broomstick Top
A simple, light and airy V-neck pullover, fashionable for Spring and Summer days.
Feather and Fan Ribbed Tee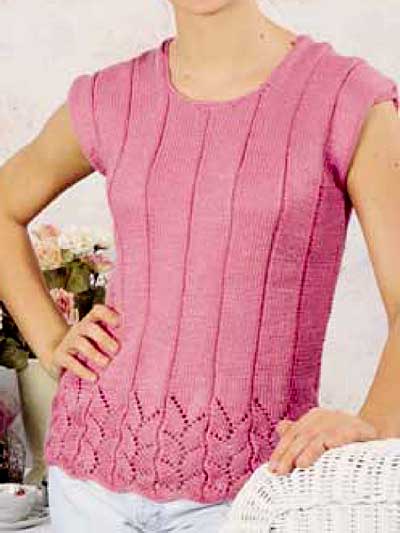 Summer Breeze Top
Designed by Nazinin Fard
Get the free knitting pattern for registration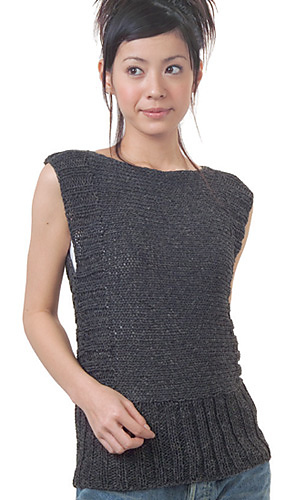 Retro Tee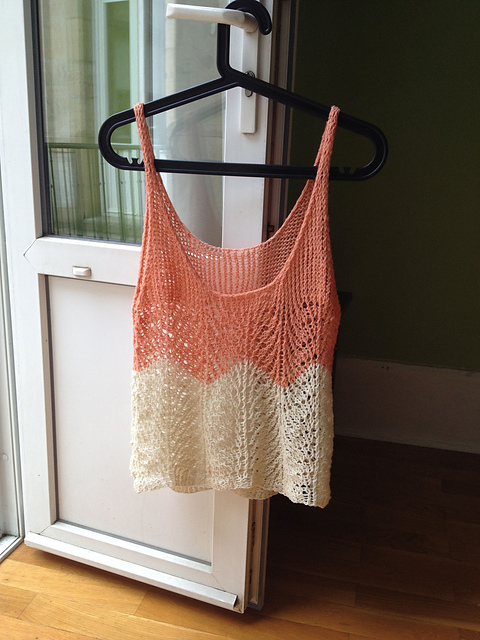 The Dijon Top
Designed by Karina Harper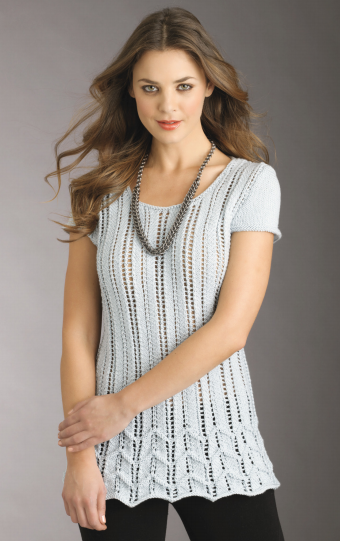 Lace Chevron Top
Vertical eyelets with lacy chevrons make this a perfect summer top. The pattern is part of a booklet Patons 3841 Patons Smoothie DK Summer Style.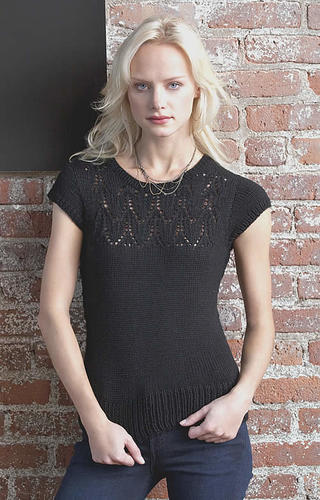 Hotness Top
Designed by Lorna Miser, for sizes S through XXL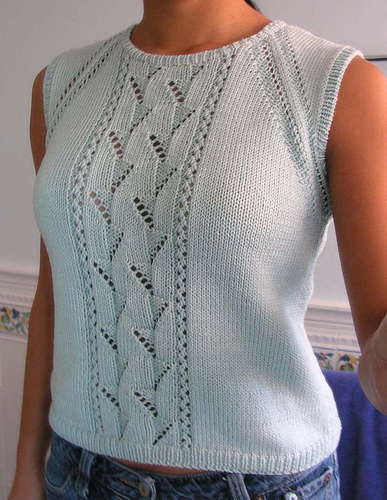 Pull Sans Manches
Sleeveless lace front top by Bergère de France.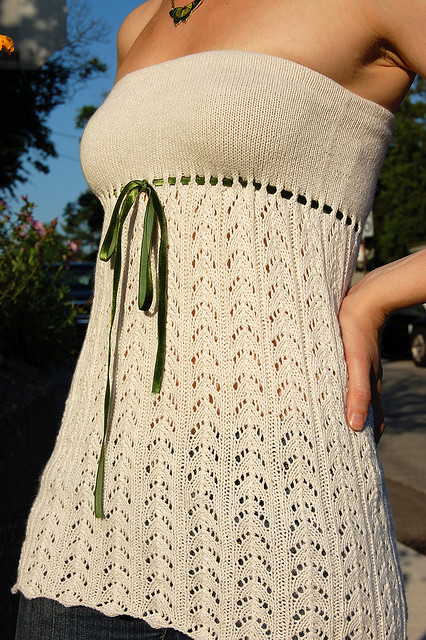 Lelah Top
Designed by Christine Buhagiar, this strapless top (optional strap directions included) is knit in the round with fishtail lace and eyelet ribbon accent.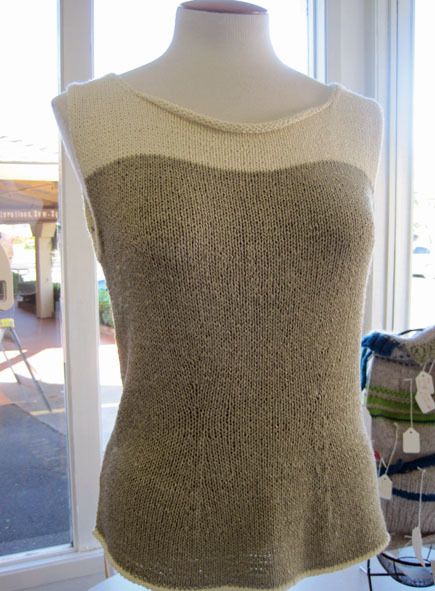 Bonsai Shell
Designed by Lee Gant, this shapely free sweater pattern is a shapely shell and can be adapted for multiple sizes and gauges.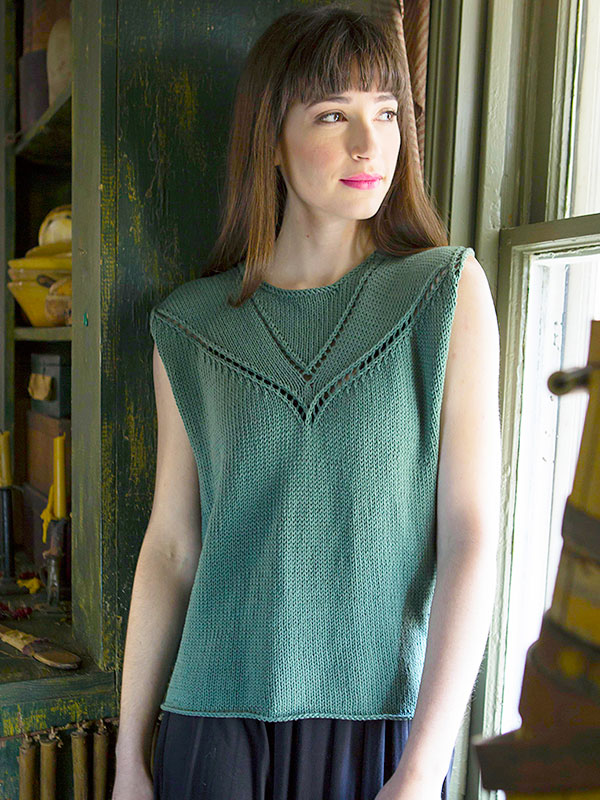 Admit by Berroco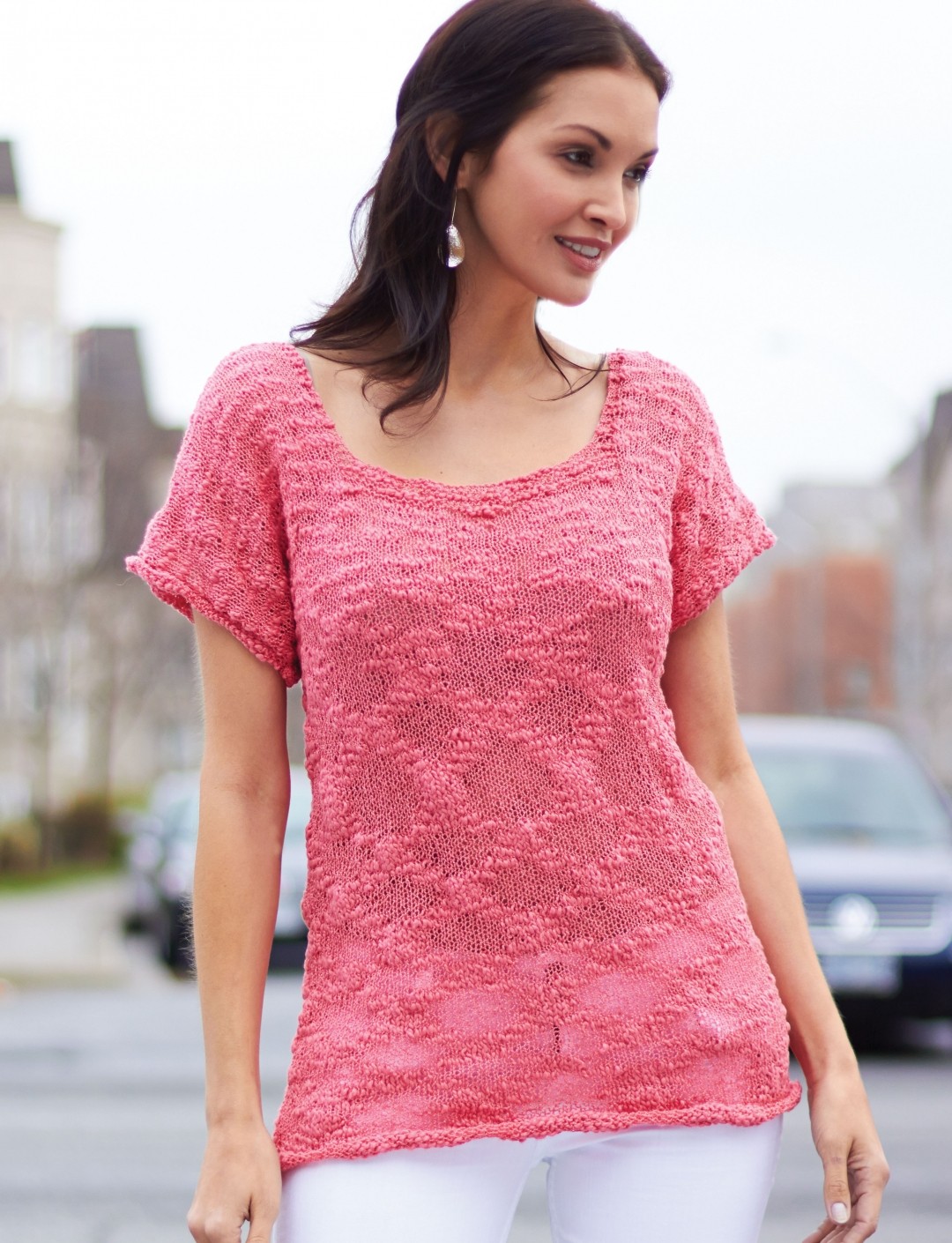 Swingy Top
Scoop neck tee with lots of summer flair. Perfect for beginners looking to try their first garment! The yarn adds the unique texture.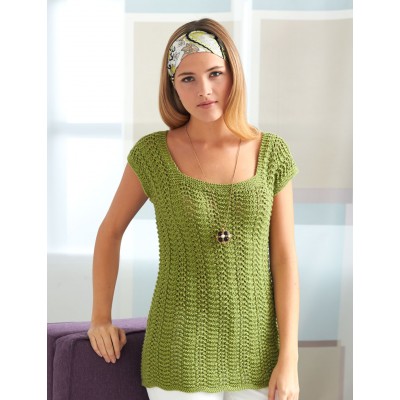 4 Row Feather and Fan Top
The repeat combines 3 fast rows, which are all knit or purl, with 1 row of eyelets.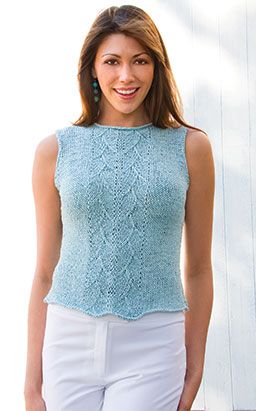 Icy Blue Shell
Designed by Kennita Tully with a lace panel. Sized for S to 2X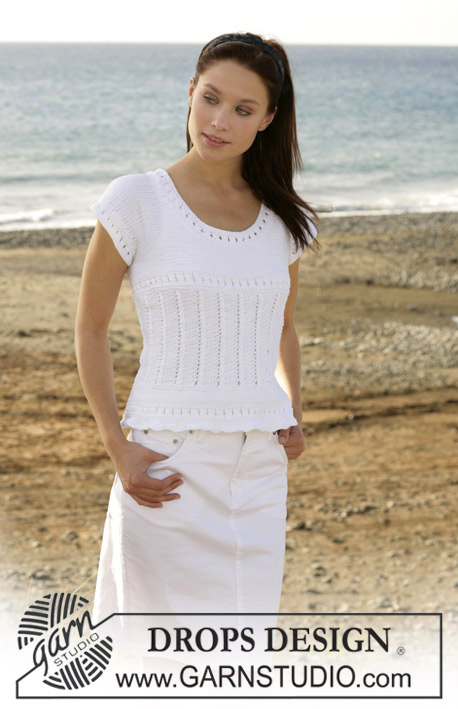 Lace Top in Muskat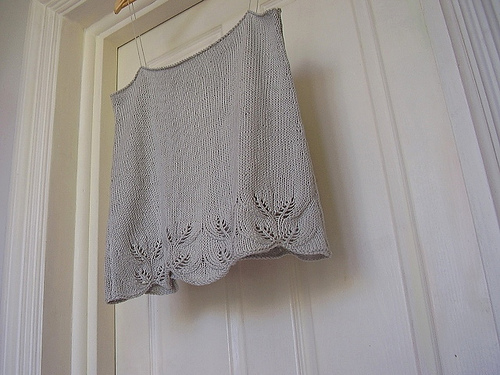 Beaded Cami
The delicate lace border of this camisole is embellished with beads. This pattern designed by Black Dog Designs is sized for 34″ bust.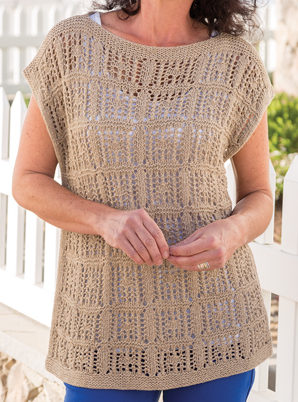 Squared Away Tee
This top features lace repeats in a grid. Woman's S through 2X/3X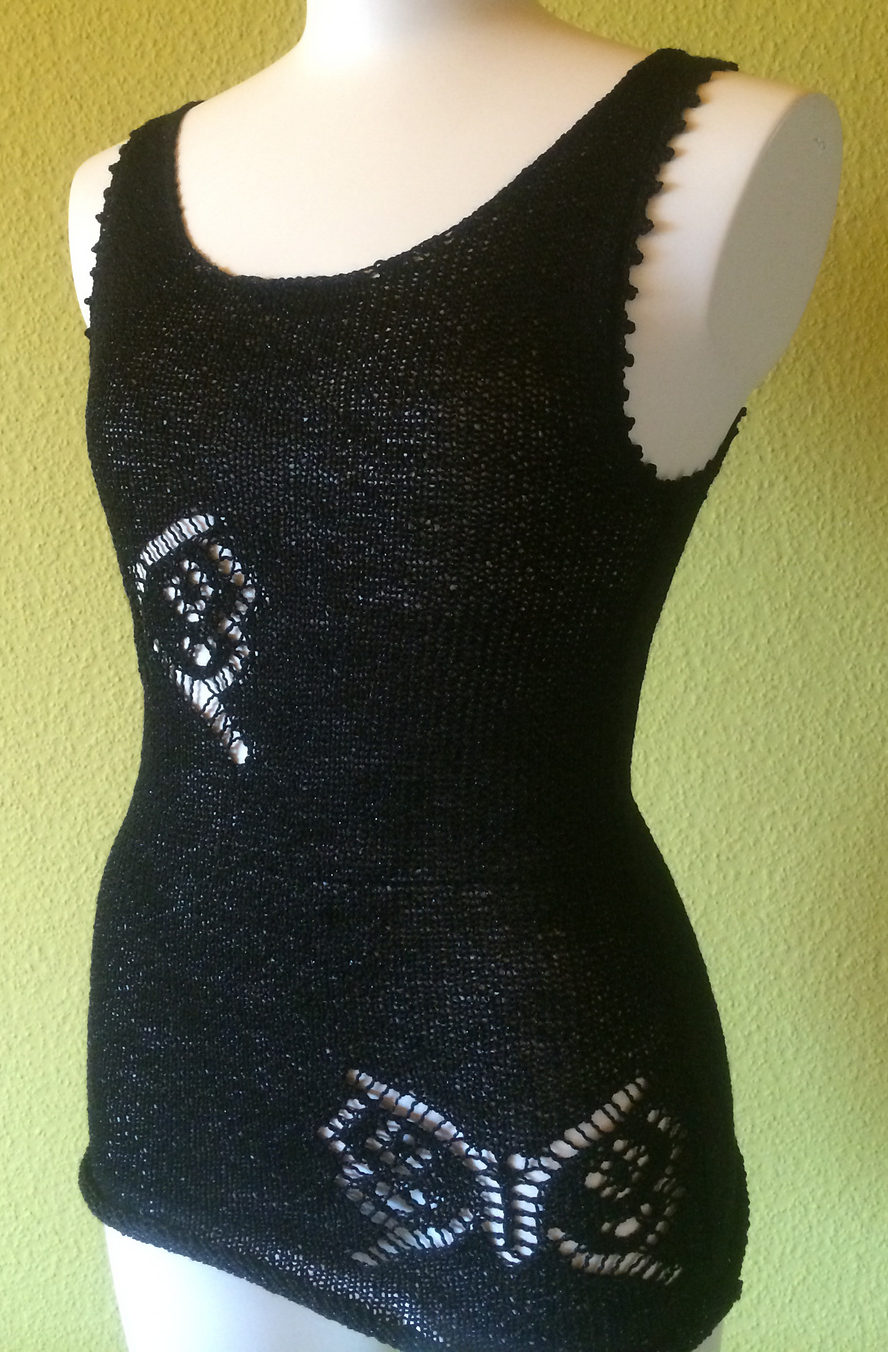 Butterfly Fairy Tank
Sleeveless top with 2 lace butterfly motifs on the front and one on the back. Pictured project by staq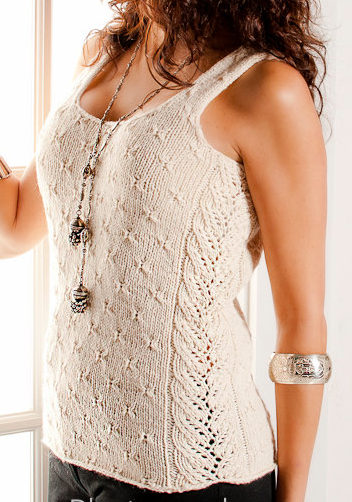 Lace Women's Tank
Lace side panels and little "butterfly" twist stitches and elegance to this tank. S (M, L, 1X, 2X, 3X, 4X, 5X) $6.00 at Etsy
See more pics and details at Etsy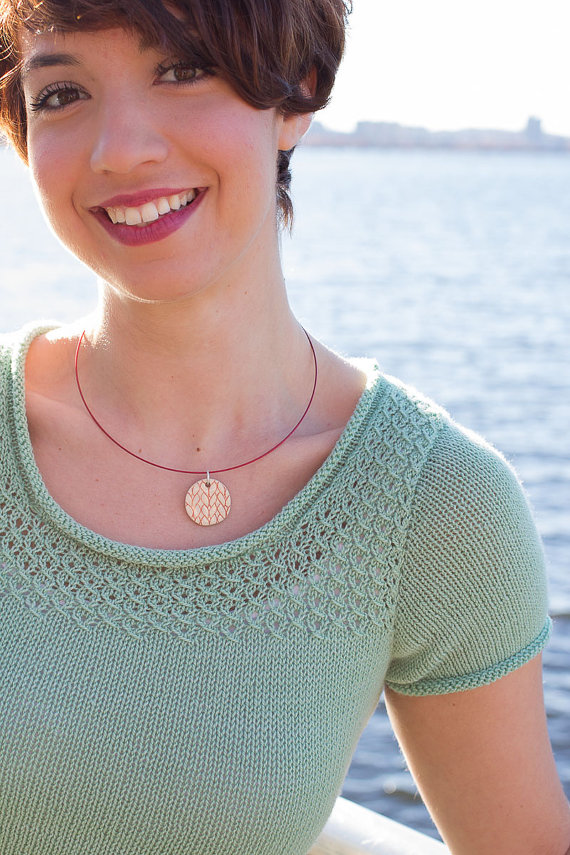 Roanoke Tee
a lightweight, loose-fitting tee with casual rolled hems, cap sleeves, and lace detail around the neckline. SIZES: XS (S, M, L, 1X, 2X, 3X) $7.50 at Etsy
View more images (the lace detail is gorgeous!) and details at Etsy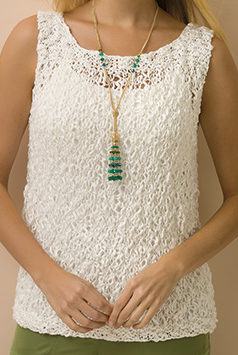 Hope Tank
This simple lace top knitting pattern comes in sizes S (M, L, XL, 2XL, 3XL).
Get the pattern for $5.99 at Annies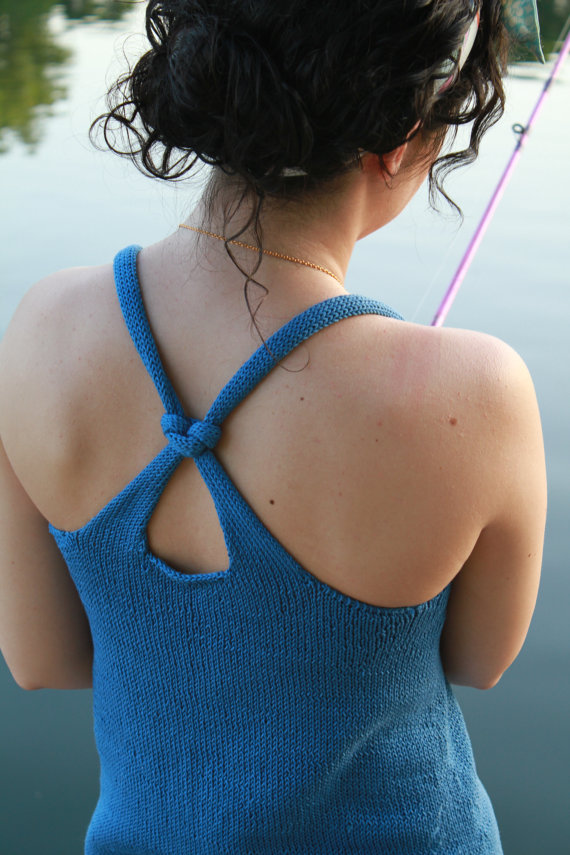 Reef Knot Tank Top
Simple stockinette in cool cotton gets a twist on plain when you tie the back straps into a reef knot! Ladies XS (S, M, L, XL) $6.00 at Etsy
View more pics and details at Etsy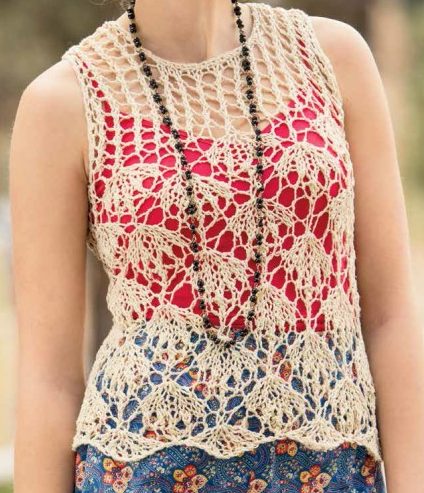 Bethel Tank
Women's trendy racerbank lace tank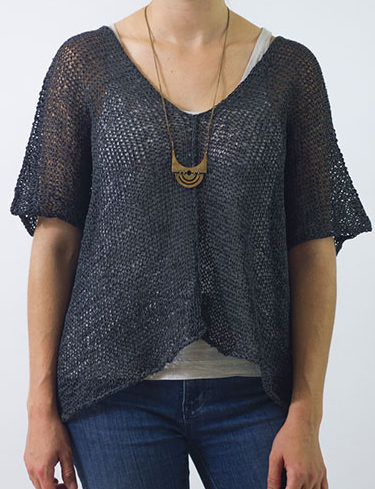 Helena Top
Easy to knit versatile top to wear year round – as a beach cover up, or layer over a tee shirt or sweater. Wardrobe staple! Bust: 48 (52, 56, 60, 64, 68)";