Math Inspired Knitting Patterns
To get the knitting patterns, scroll down the page to the individual pattern you want and click on the link to that pattern.
These patterns are not my designs but links to other designers who have generously shared their patterns. If you have questions about how to knit a specific pattern, please contact the designer directly.
All links on this site are for informational purposes, but please note that some links are to affiliate sellers that pay me a small commission on purchases.
Summation of i Mitts
These fingerless arm-warmers have stripes that conform to the formula for the summation of i (between 1 and 9) – the formula used to compute the summation of the integers between 1 and 9. This formula is n(n+1) /2. So the summation of 1 through 9 would be 9 (9+1)/2 = 90/2 = 45. The mitts have 9 blocks of 10 for each of the integers and each block divided in 2 stripes with increasing by 1 row in one color and decreasing in the other color to represent the integer. Adding the rows of each color will give you the summation.2 sizes. Designed by Tasia Block

Fibonacci Cables Hat
This clever beanie features cable in heights that change following the Fibonacci sequence (going backwards from 21 since the hat is knit from the bottom up). Child and Adult sizes. Designed by Maghouin Beg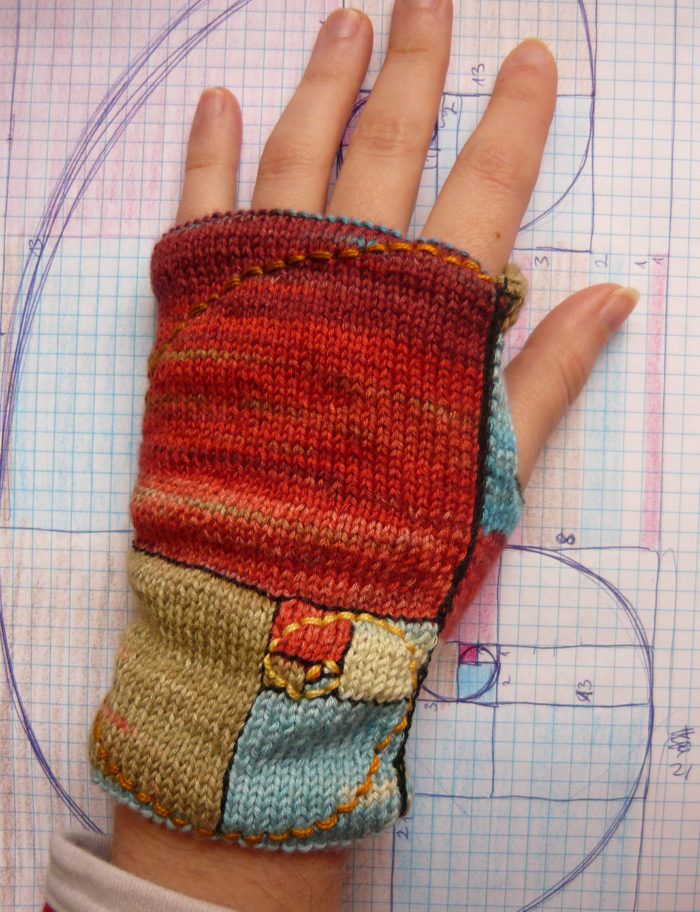 Golden Mean Mitts
These fingerless mitts feature the golden mean with spiral on the top and on Fibonacci numbered stripes on the palm. These mitts depict the classic geometric representation of the golden ratio.  From Wikipedia: Two quantities are in the golden ratio if their ratio is the same as the ratio of their sum to the larger of the two quantities. Designed by Buús-Zsohár Anna
Fractal-Shawl Mandelbrot
Lina Wolf's fractal wrap / shawl / scarf was designed to honor Benoît B. Mandelbrot who developed fractal geometry and the Mandelbrot set that is partially pictured in this double knit shawl. Lina's original design included Mandelbrot's name.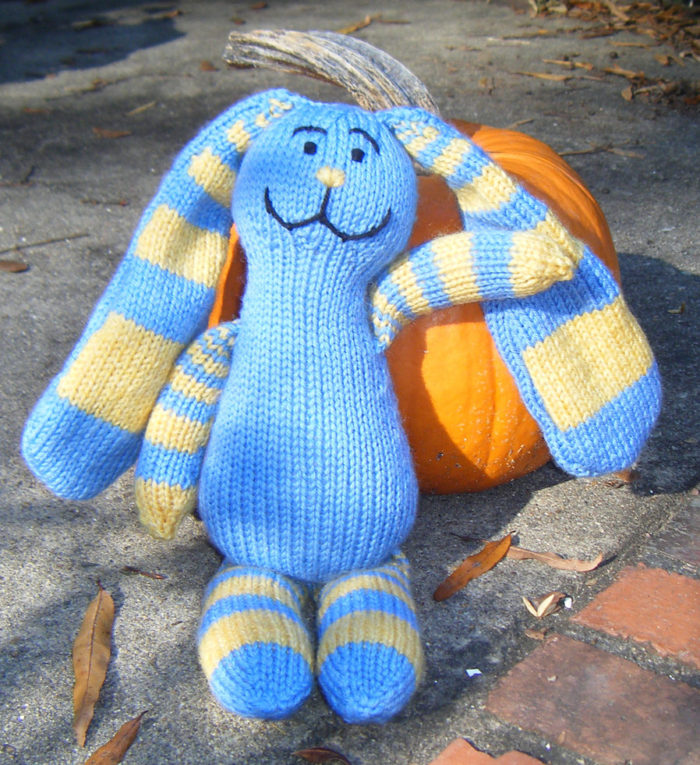 Fibonacci Bunny
Fibonacci Bunny is a cute whimsical toy that makes use of the Fibonacci Sequence for the stripes.Fibonacci Bunny is 14 inches tall. Designed by Julie L. Anderson. Pictured project by giraffadae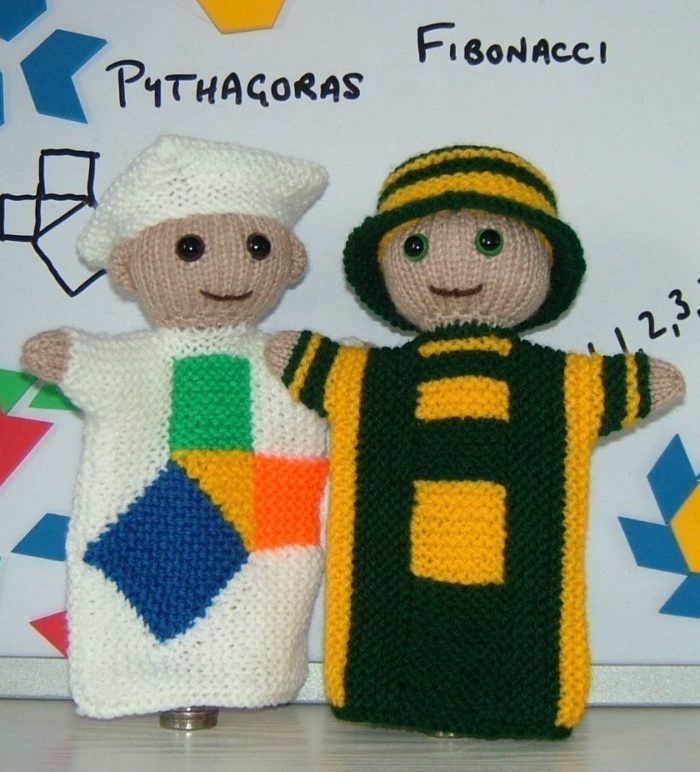 Mr Pythagoras and Mr Fibonacci Puppets
Mr Fibonacci wears a robe designed to show his well-known sequence, in two directions. He also wears a hat showing the same pattern of numbers. Mr Pythagoras wears an example of his theorem on his front. These were designed with adults in mind but are small enough to also be used by a child. Designed by Woolly Thoughts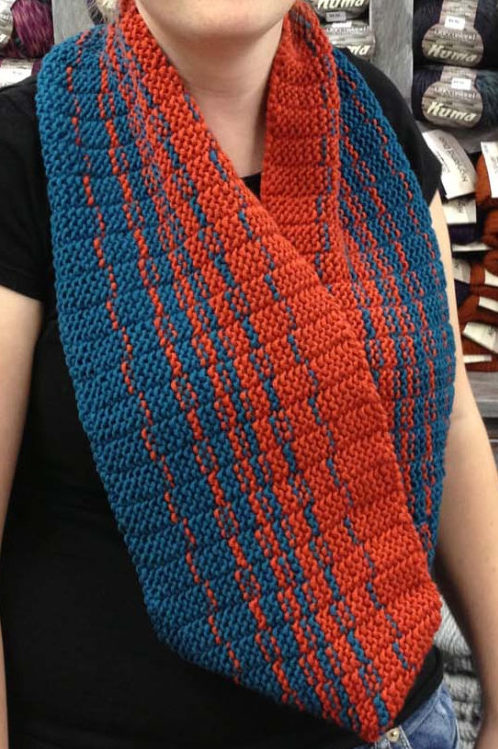 Fibonacci Cowl
The Fibonacci Cowl Class is a 2-color, reversible cowl that can be worn as a loop, doubled as a cowl and also pulled up to be a hooded scarf. The pattern harmoniously blends two colors using the Fibonacci numbering sequence in the row count. 8" wide x 60" in circumference. Designed by yarnhappybeadhappy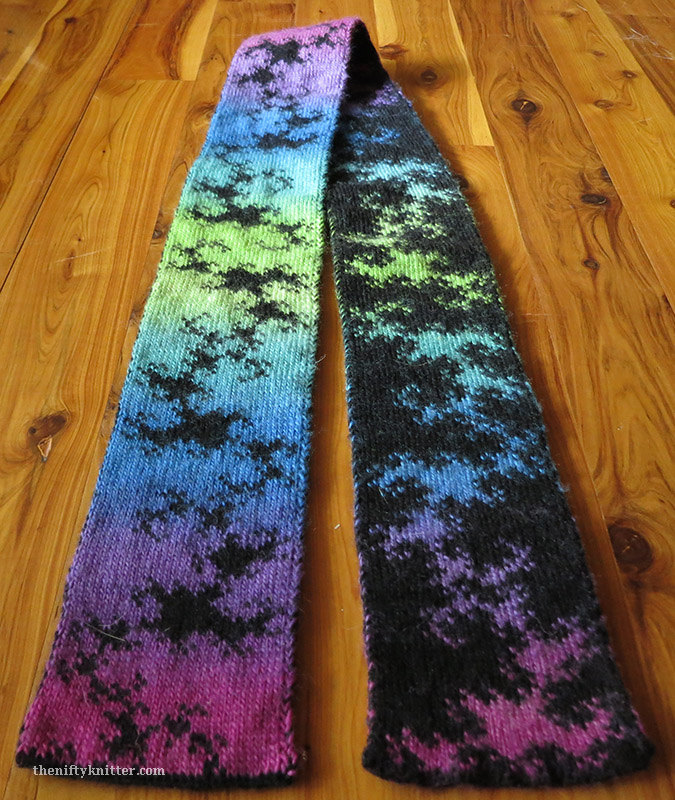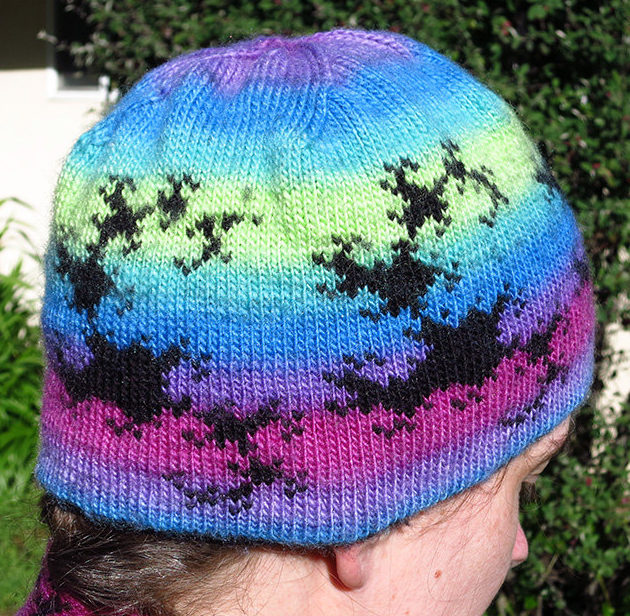 Dragon Curve Fractal Scarf and Hat
The Dragon Curve Fractal is the fractal featured in the chapter headings for Jurassic Park by Michael Crichton and is repeated in this doubleknit scarf and hat. Designed by the Nifty Knitter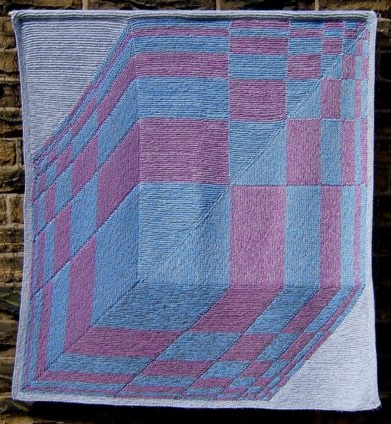 Fibo-optic Afghan / Wall Hanging
Fibo-optic uses the Fibonacci Sequence in two directions, in each of the three dimensions, to give the illusion of a large flying cube.
This design by woollythoughts is nowhere near as complicated to make as you may think. If you can knit garter stitch, you can do it.
Terry Matz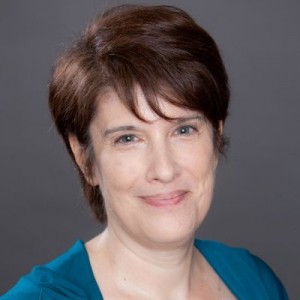 Terry is a knitting late-bloomer, learning to knit as an adult from Internet tutorials, because she wanted a craft that was useful, fun, and portable. Knitting hats for cancer patients inspired her to design her own patterns—available for free at her blog, intheloopknitting.com. Terry met her husband Ken at a science fiction convention and moved to the Kansas City area to be with him more than 30 years ago. Terry supports her yarn stash by creating websites and other digital media. Terry firmly believes in Knitting in Public—it's a great conversation starter!