Hat, Scarf, and Mitt Sets Knitting Patterns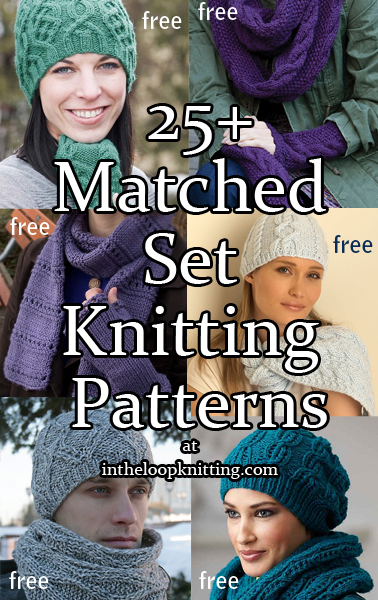 Knitting patterns for matching head, neck, and/or hand accessories in various combinations.
To get the knitting patterns, scroll down the page to the individual pattern you want and click on the link to that pattern.
These patterns are not my designs but links to other designers who have generously shared their patterns. If you have questions about how to knit a specific pattern, please contact the designer directly.
All links on this site are for informational purposes, but please note that some links are to affiliate sellers that pay me a small commission on purchases.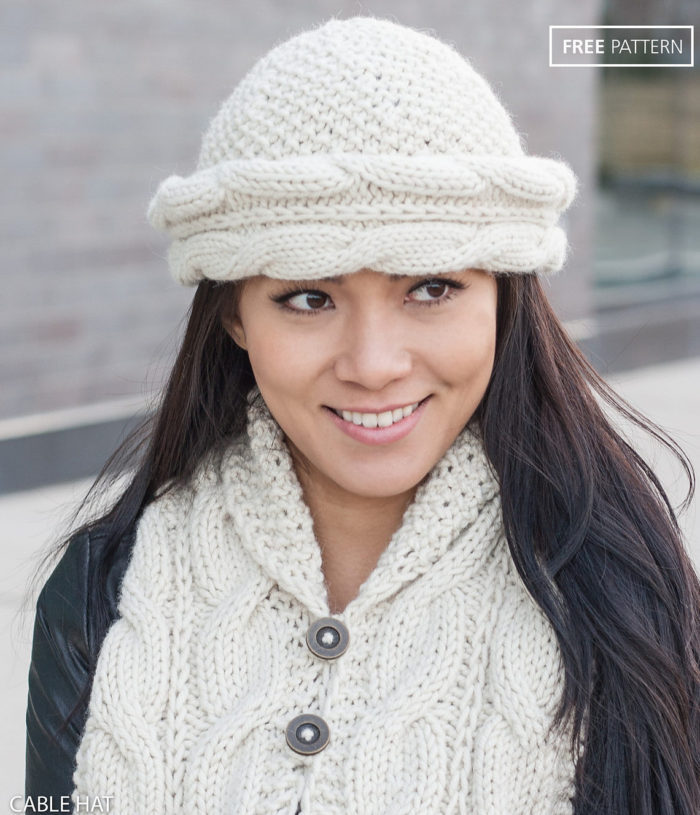 Cable Brim Hat and Cable Shawl Collar Set
Matching beanie with seed stitch in cable brim and buttoned cowl are quick knits in super bulky yarn. Designed by Michelle Porter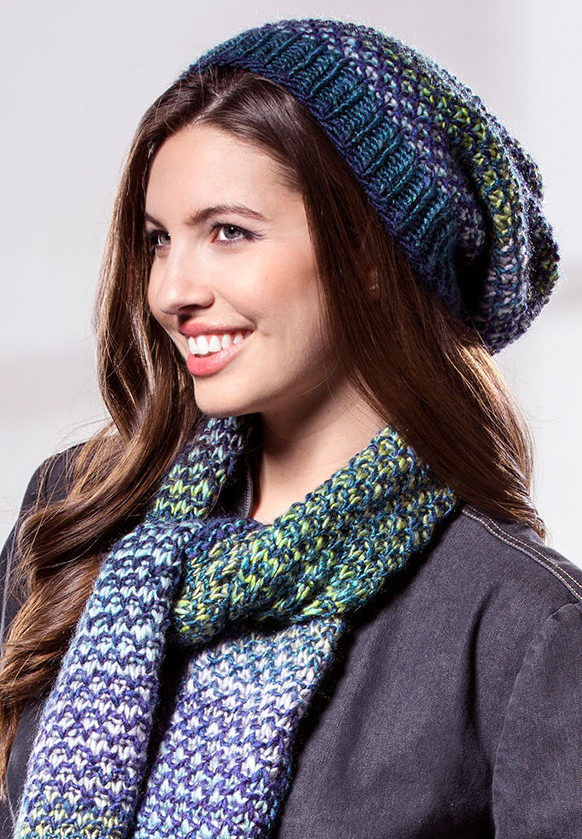 Pebble Hat and Scarf Set
Matching slouchy hat and scarf are knit in a 2 color 4 row repeat broken rib pattern with constrasting multicolor yarns.

Mrs. Pickles Hat, Mitts, and Cowl
This matching set features practically jogless stripes. Great stashbuster. Rated very easy by Ravelrers. Designed by Little Church Knits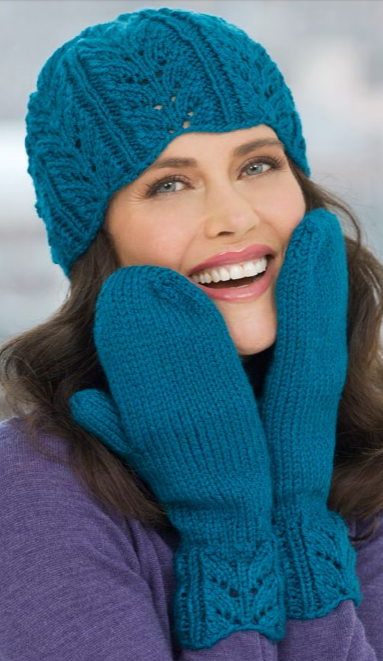 Lacy Leaf Hat and Mittens Set
Matching lace hat and mittens with leaf lace. Designed by Brenda Lewis for Red Heart. Rated easy by Red Heart.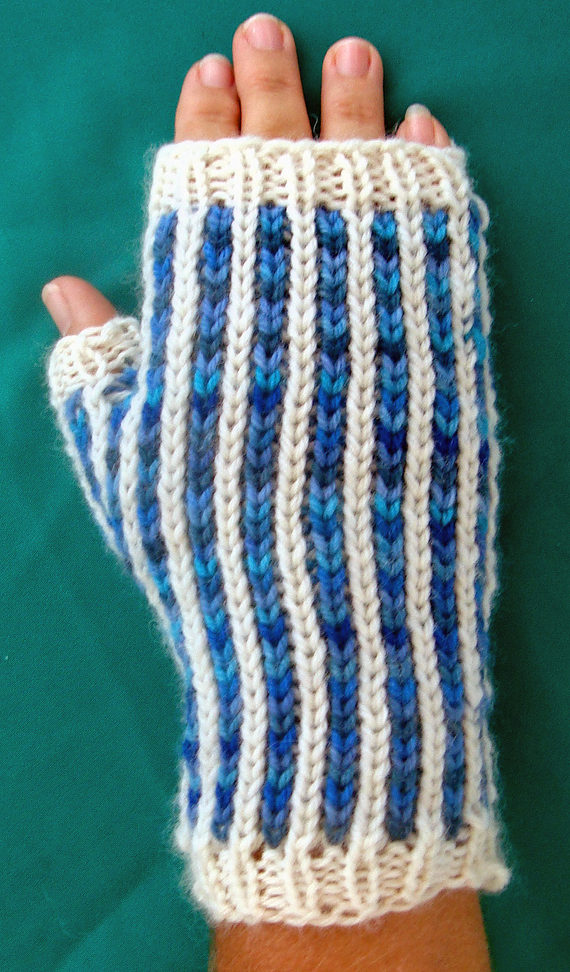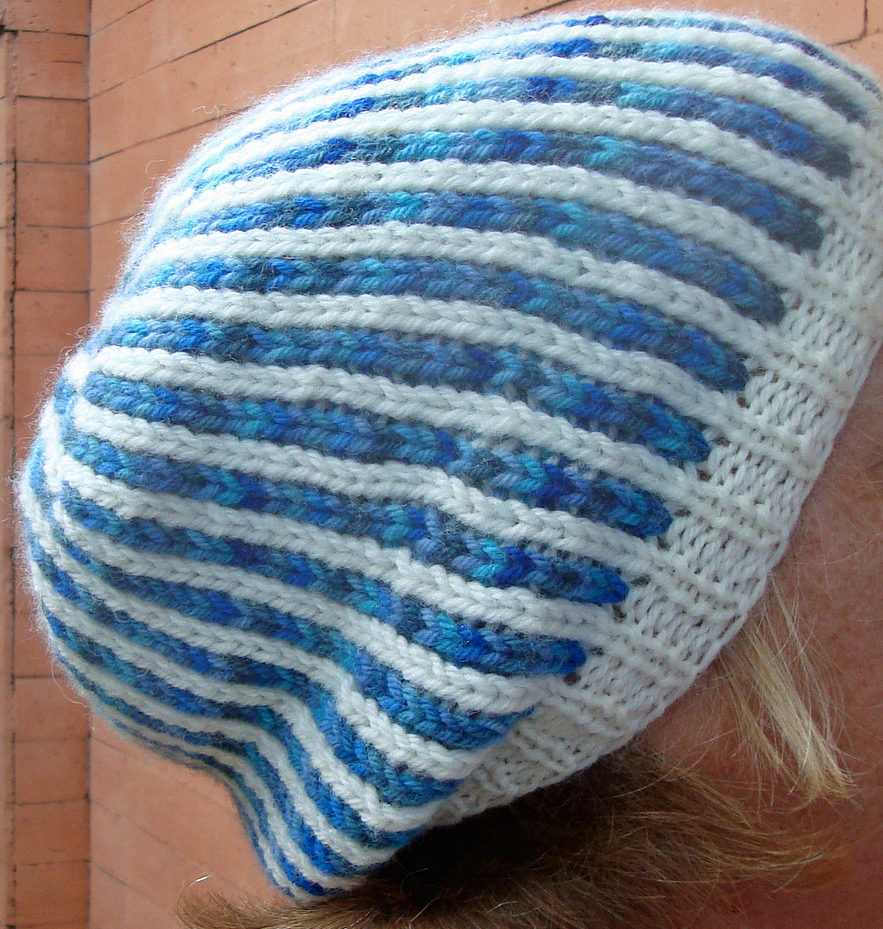 Matching Bi-Color Mitts and Slouchy Hat
The vertical stripe colorwork in this set is knit with NO stranding or slipping any stitches. Mitts pattern has an option for full mittens. Hat can be knit flat or in the round. Great with multi-color yarn. Designed by Terry Morris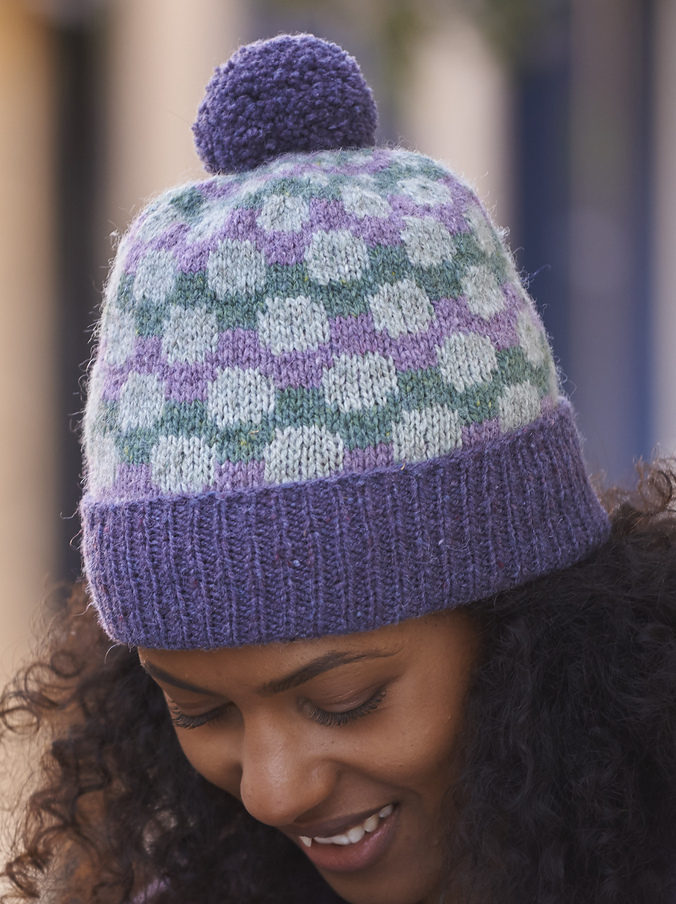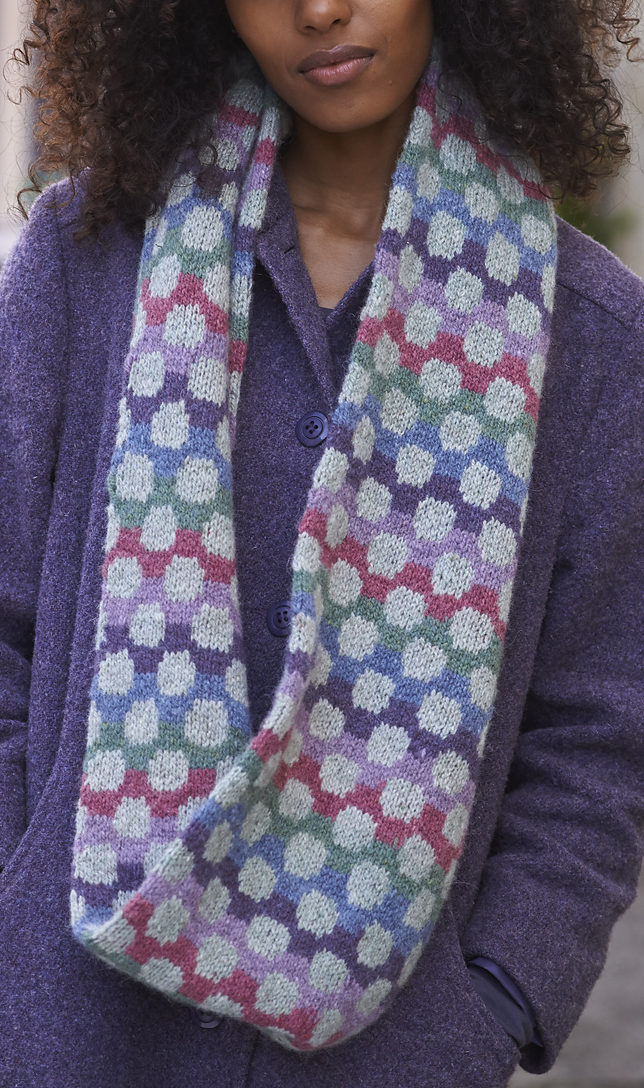 Pointillist Hat and Infinity Scarf Set
Inspired by the work of Georges Seurat, this matching beanie and cowl feature stripes and spots in stranded colorwork. Designed by Katie Green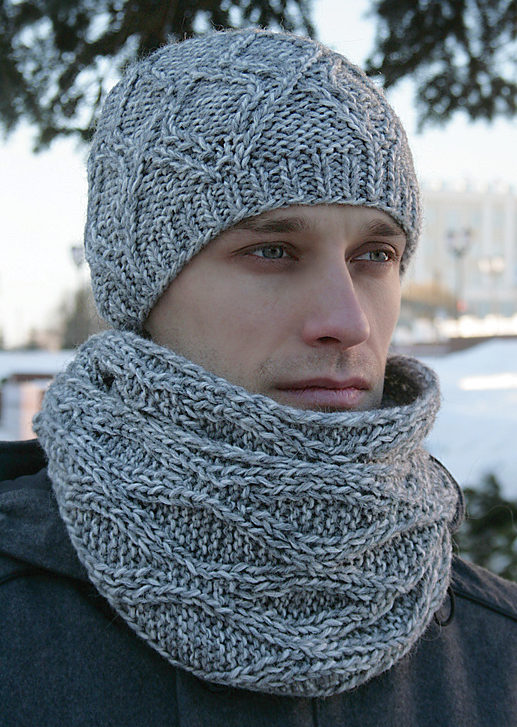 Rhombus Hat and Scarf Set
Matching unisex beanie and scarf with cables. Scarf can be joined to form a cowl. Designed by Nadya Kalakina.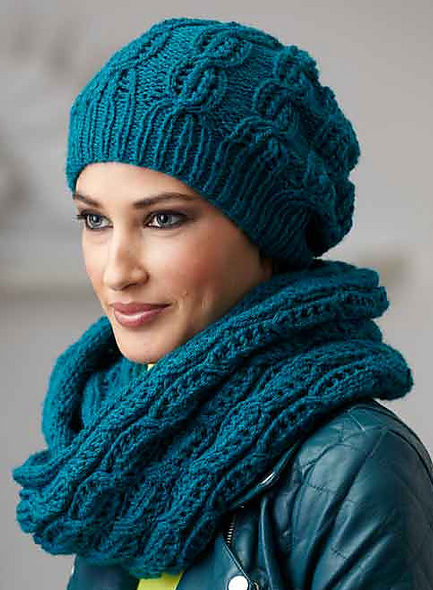 Northern Lace Hat and Loop Scarf Set
Matching slouchy beanie and infinity scarf with a lace motif. Designed by Schachenmayr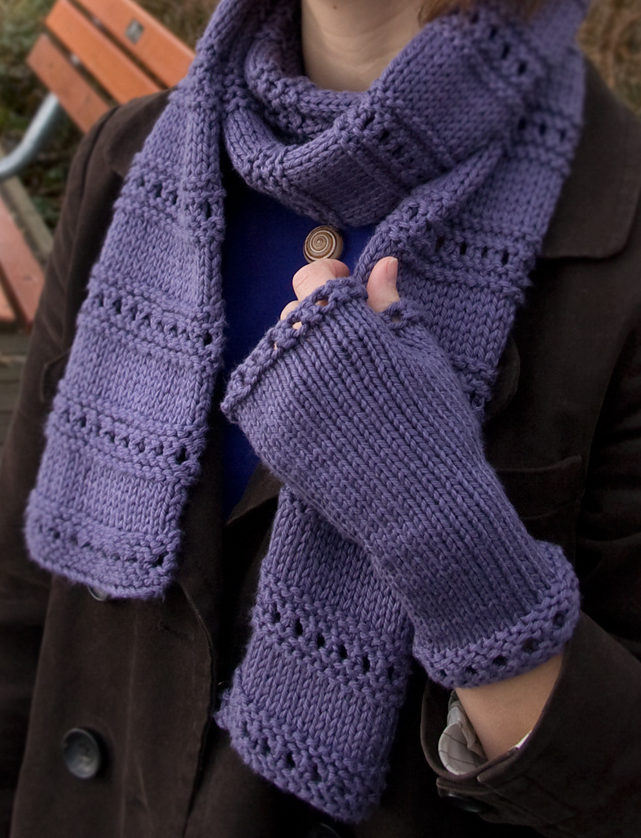 Montgomery Scarf and Mitts Set
Rows of garter stitch eyelets give a simple touch of style to this matching set of scarf and fingerless mitts. The scarf is rated very easy by Ravelrers and the designer says it is suitable for beginners. The mitts are also rated as easy but are knit in the round Designed by Megan Goodacre

Bernat Cable Hat, Mittens, Scarf and Socks
This ultimate cabled set includes matching hat, scarf, gloves, and socks.. Designed by Bernat Design Studio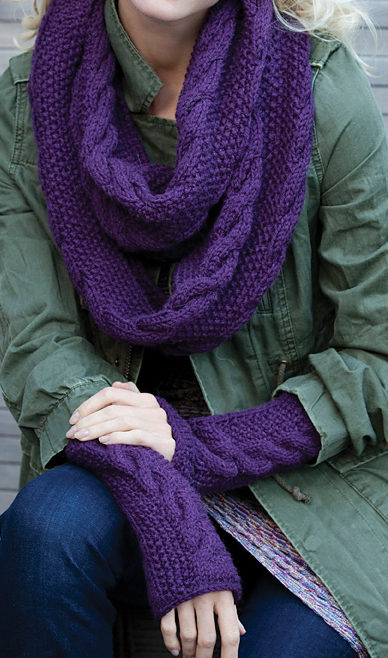 Infinity Trinity Cowl and Mitts Set
Matching infinity scarf and fingerless armwarmers featuring braided cables on seed stitch. Designed by Sandy L. Harris for Red Heart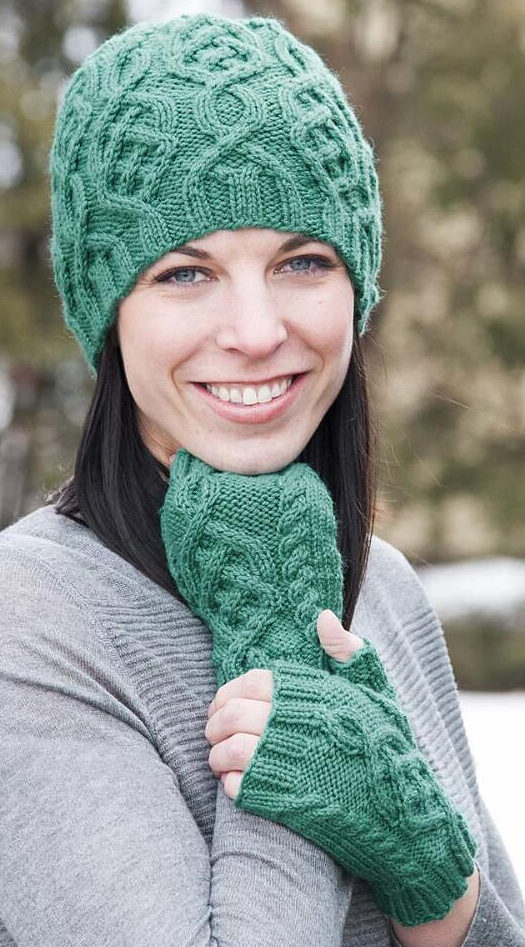 Brigid Hat and Mitts Set
Matching beanie and fingerless mitts featuring Celtic cables. Cable patterns are both fully written out and charted. Designed by Rae Blackledge for Willow Yarns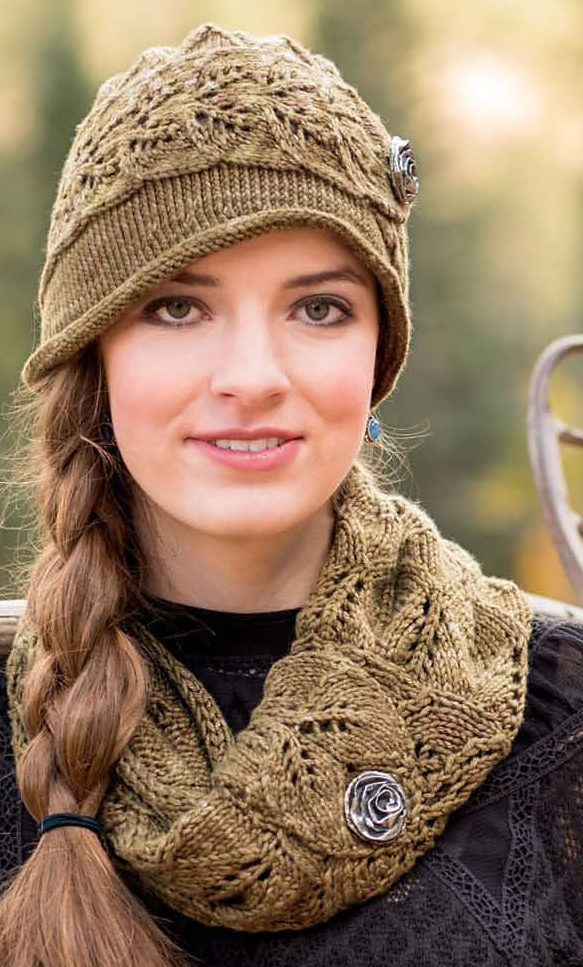 Virginia City Cloche and Cowl Set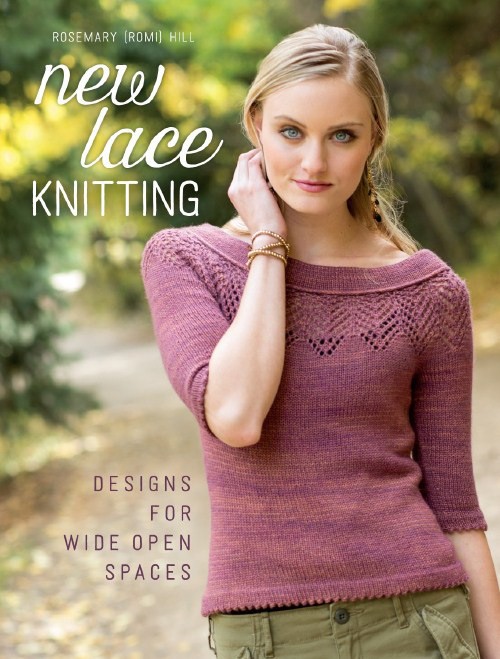 This matching hat and neckwarmer feature a twin leaf lace pattern. Designed by Rosemary (Romi) Hill. One of the 19 patterns in New Lace Knitting.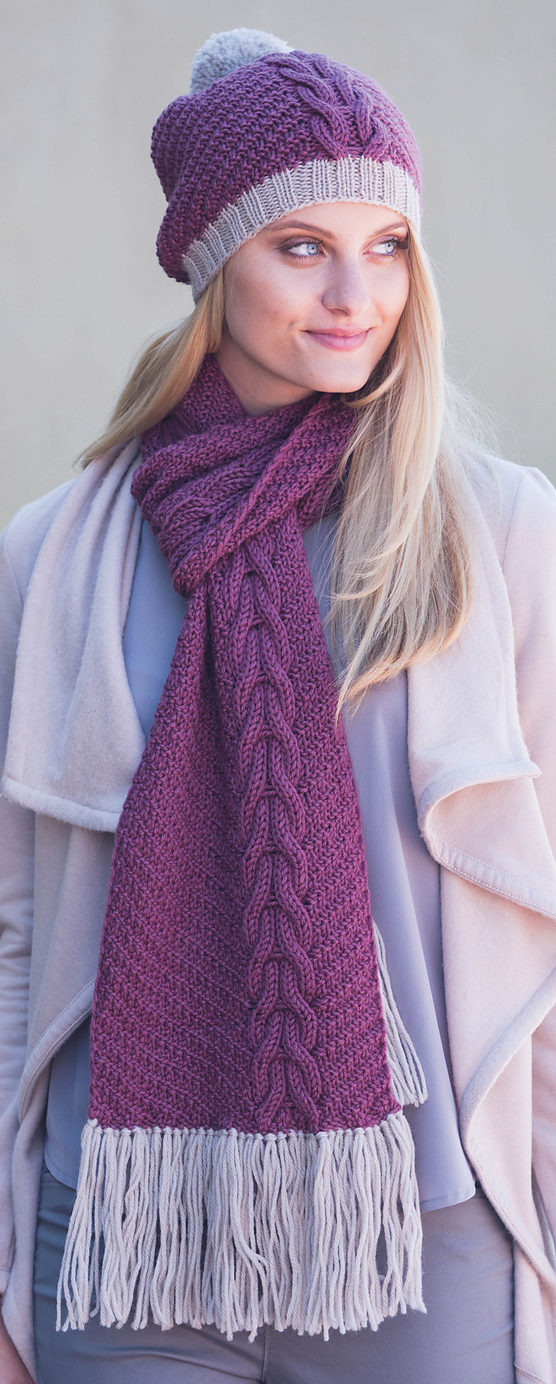 Vernon Hat and Scarf Set
This matching reversible scarf and hat features a single reversible cable on a diagonal texture background. Designed by Amy Gunderson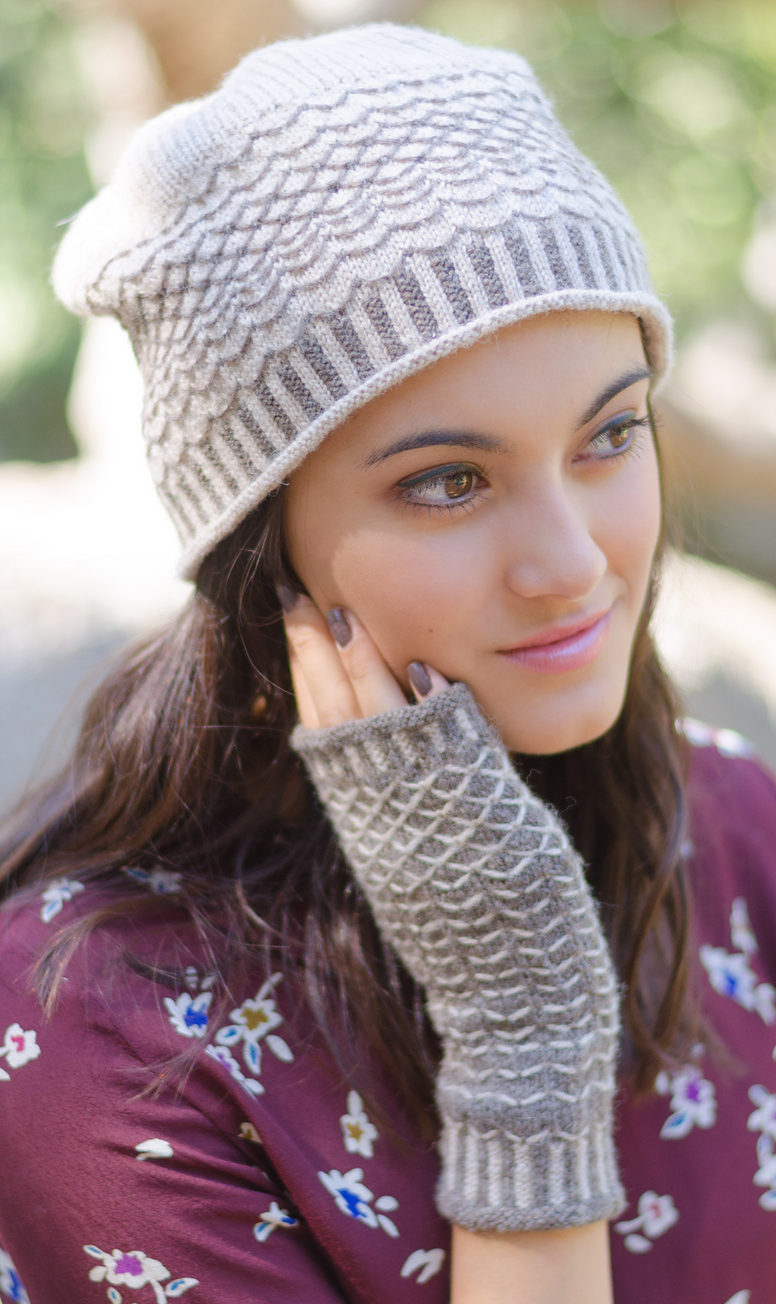 Quilted Lattice Hat and Mitts
Set of matching slouchy beanie and fingerless mitts with stranded colorwork. Designed by Pam Powers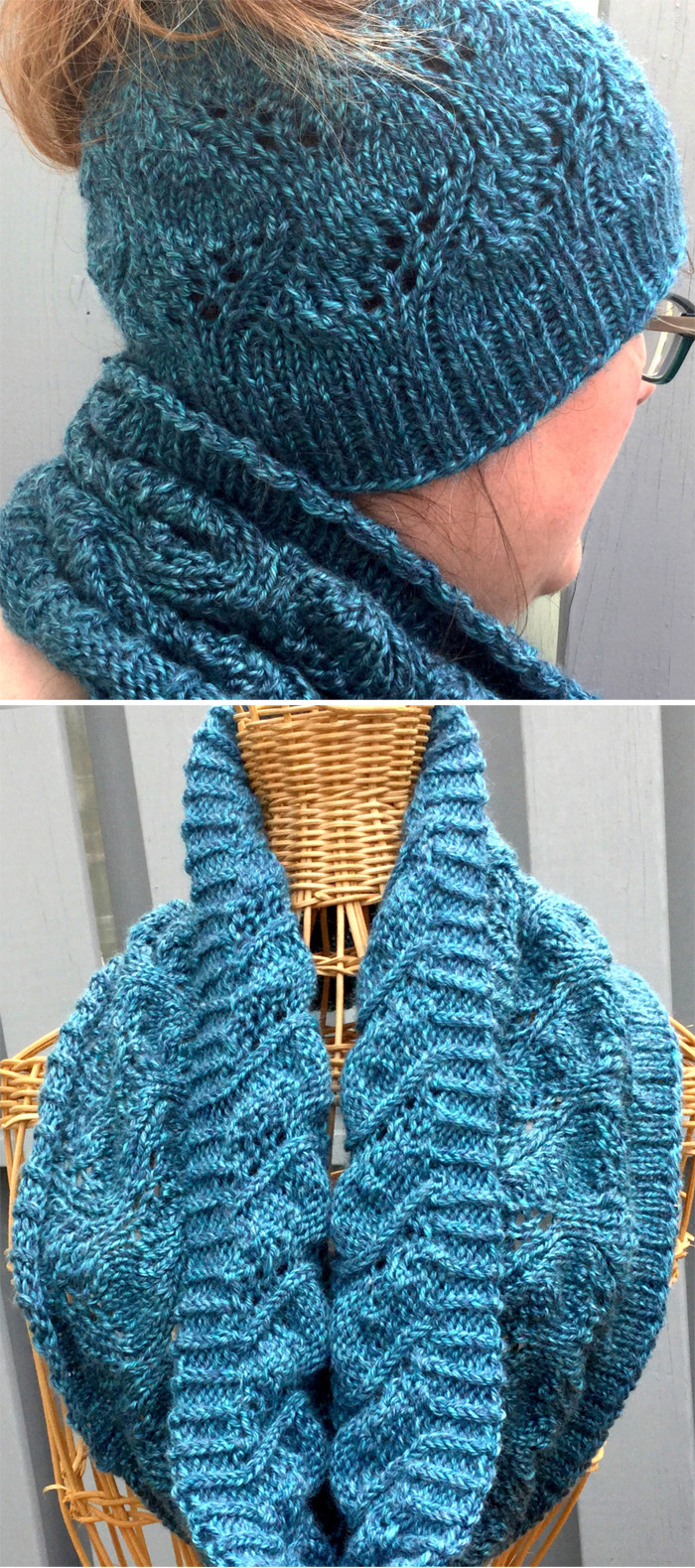 Mapleton Bun Hat and Cowl Set
Matching lace messy bun ponytail hat and infinity scarf cowl.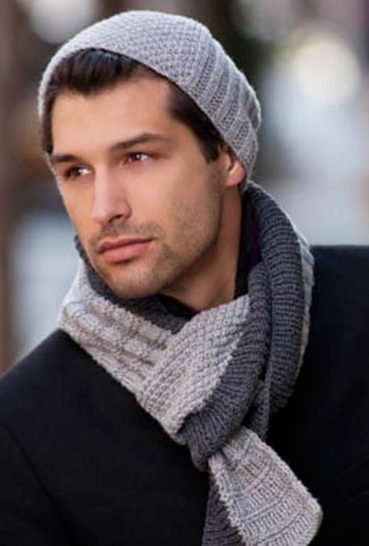 Treviso Men's Hat and Scarf Set
Mixed texture stitches in a timeless color combination make a hat and scarf perfect for men.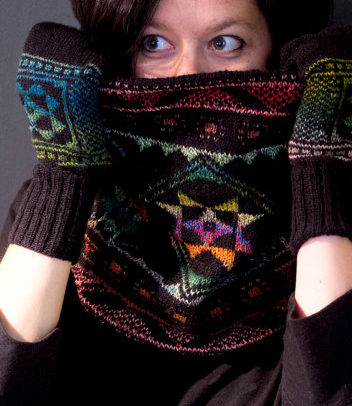 Pysanky Cowl and Mittens Set
Colorful accessories inspired by the tradition of Eastern European pysanky (Easter eggs)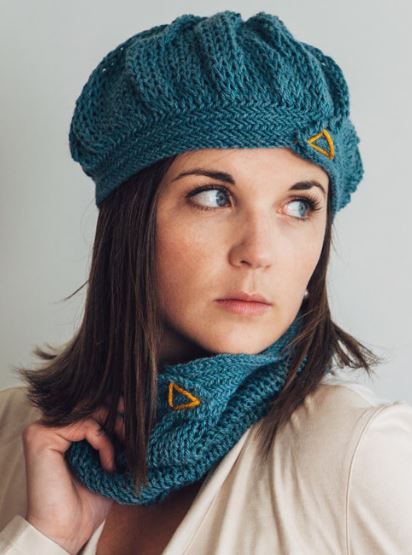 City Mouse Hat and Cowl
One skein of DK yarn makes both hat and cowl in this set. Herringbone and knit stitches create a striking texture contrast in this set, and the loose knit of the hat body makes it the perfect hat shape for many heads.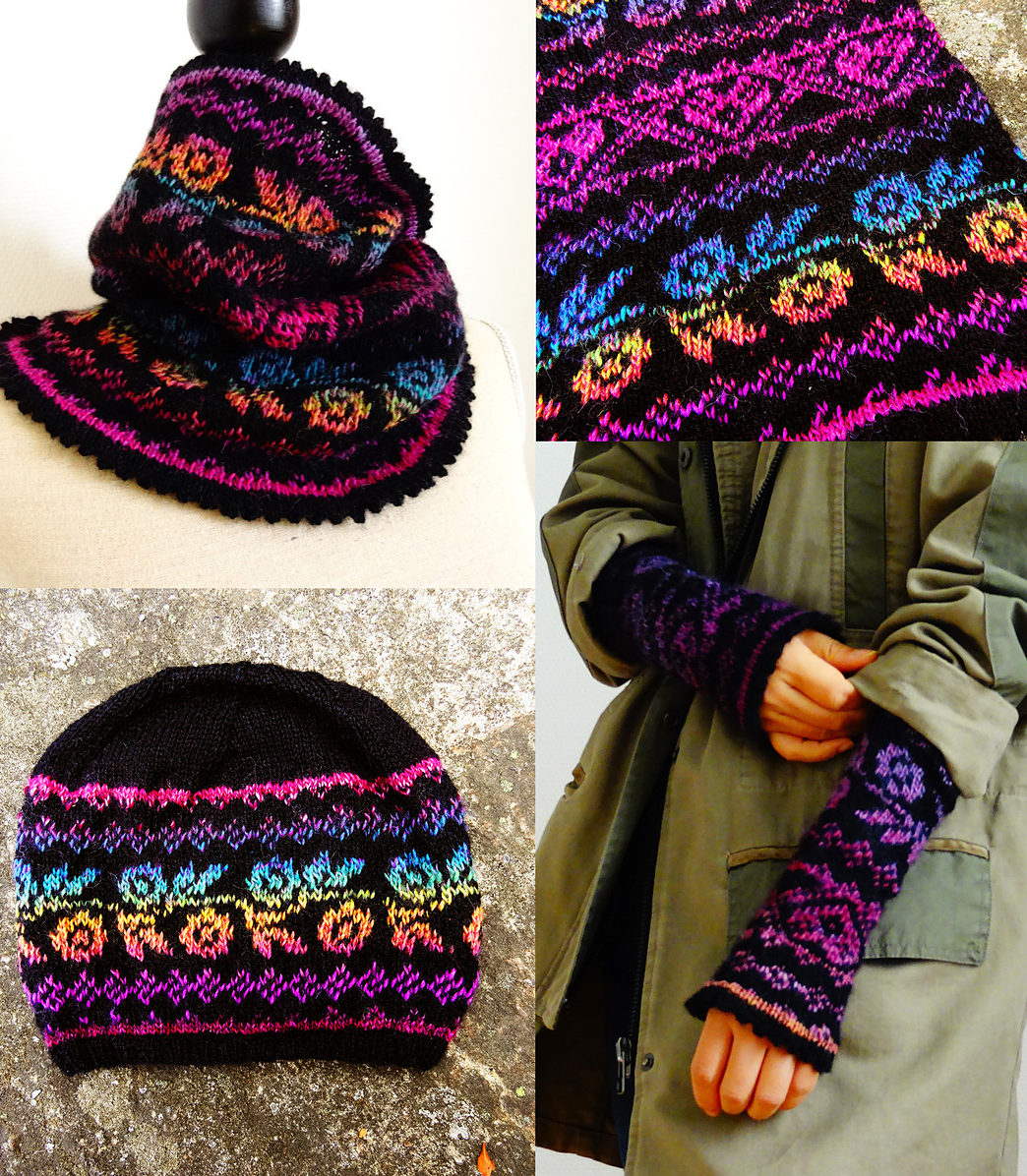 Rosie Accessory Set
Despite its appearance, this matching set with neck warmer, wristers and beanie is knitted with only 2 strands of yarn: a solid main solid color and a contrast variegated color, in a pretty rose/heart fair isle pattern, plus a simple picot edging for a feminine touch on the neck warmer and wristers.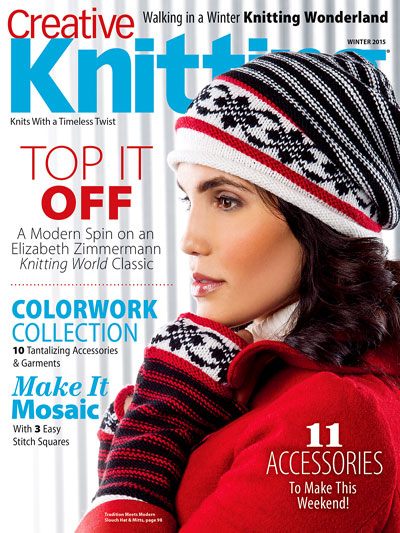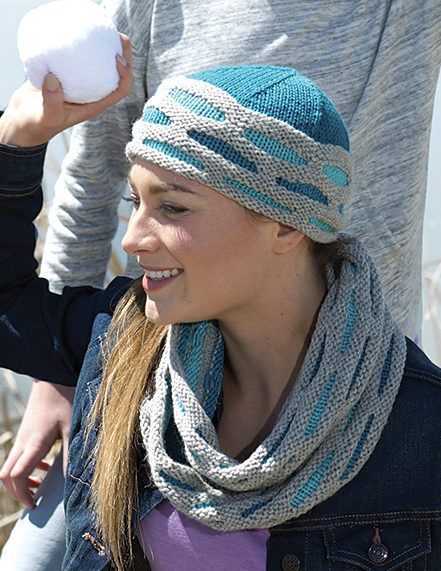 Chain Links Hat and Cowl Set
Slipstitch patterns make this colorwork easy. Three skeins of yarn is enough for the small hat, the medium hat, and the cowl if you change up the main colors.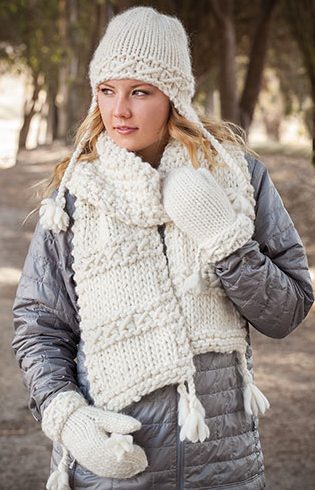 Lovikka Hat, Scarf, Mittens Set
This pattern set is quick knit in super bulky yarn and was inspired by Lena Skvagerson's childhood in Sweden.

5 Matching Hat and Neckwear Sets
5 colorful scarves with matching hats are included in Stylish Knits You'll Love by Melissa Leapman. Available as Digital Download or Paperback.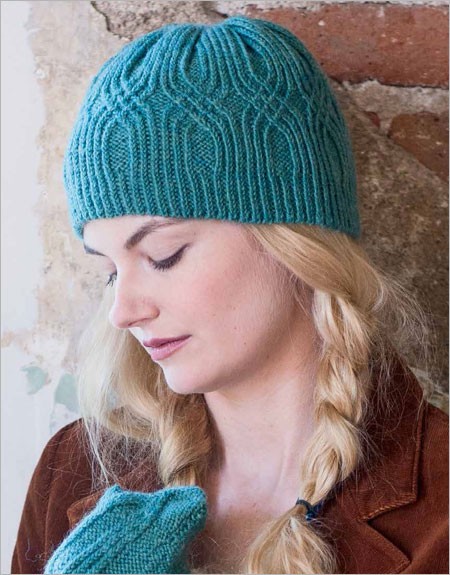 Hallgrim Hat and Mittens
The gothic architecture of Reykjavik, Iceland's Hallgrim Church inspires the twisted stitch lines of this hat and mitten set.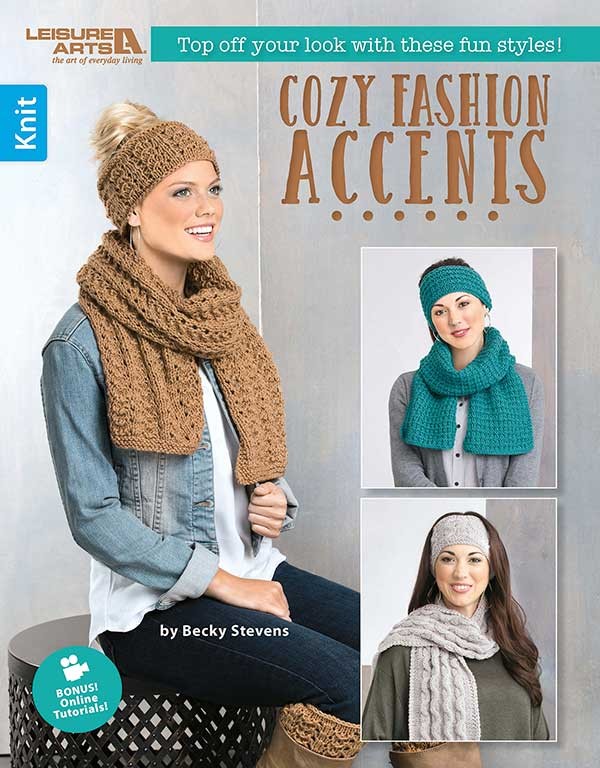 10 Earwarmer, Scarf, and Bootcuff Sets
This ebook Cozy Fashion Accents includes 10 patterns for matching sets.
Terry Matz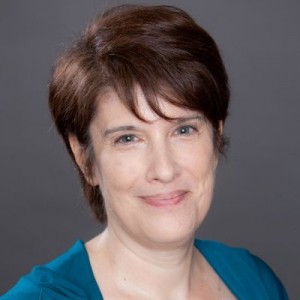 Terry is a knitting late-bloomer, learning to knit as an adult from Internet tutorials, because she wanted a craft that was useful, fun, and portable. Knitting hats for cancer patients inspired her to design her own patterns—available for free at her blog, intheloopknitting.com. Terry met her husband Ken at a science fiction convention and moved to the Kansas City area to be with him more than 30 years ago. Terry supports her yarn stash by creating websites and other digital media. Terry firmly believes in Knitting in Public—it's a great conversation starter!