To get the knitting patterns, scroll down the page to the individual pattern you want and click on the link to that pattern.
These patterns are not my designs but links to other designers who have generously shared their patterns. If you have questions about how to knit a specific pattern, please contact the designer directly.
All links on this site are for informational purposes, but please note that some links are to affiliate sellers that pay me a small commission on purchases.
Free Patterns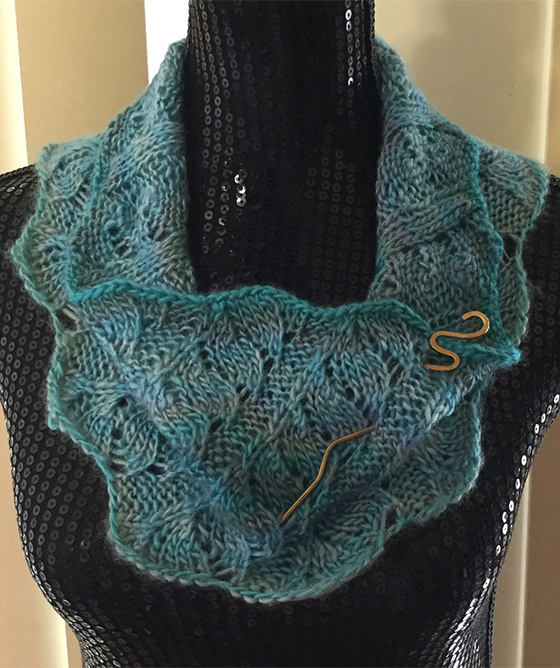 Gossypium Cowl
Versatile infinity scarf knit in a 4 row repeat lace pattern. Worsted weight yarn. Designed by Jenn Kinzel Rated very easy by Ravelrers. Pictured project by Donnaputer who knit a longer cowl in DK.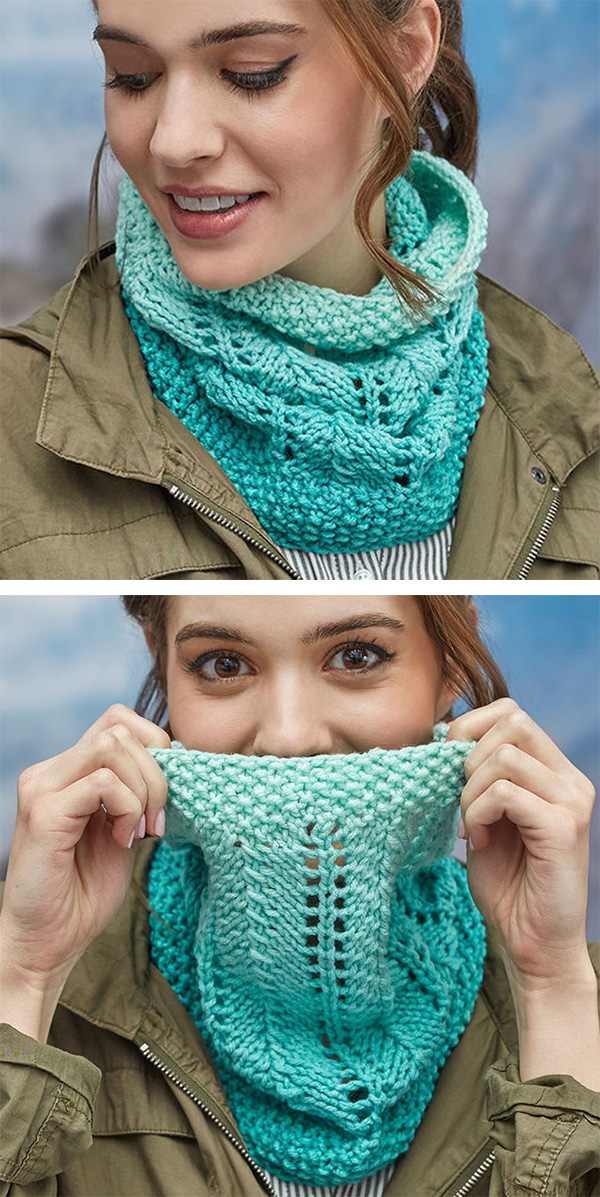 Cozy Lace Cowl
Knit flat in a 2 row repeat lace pattern with seed stitch borders and seamed. Rated easy enough for beginner knitters by Red Heart. Aran weight yarn. Designed by Kia Love for Red Heart.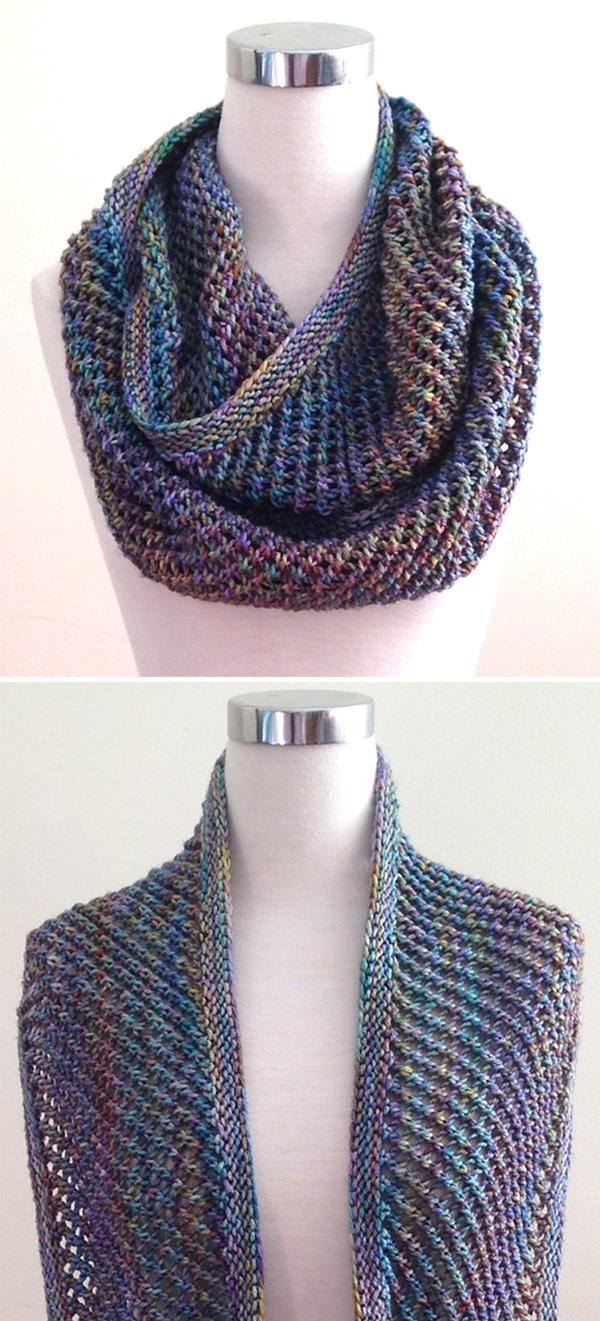 Autopilot Cowl
This 2 row repeat cowl got its name because it's so easy that the designer says it can be knit on autopilot while traveling, watching tv, or socializing. And it doesn't need blocking! It can be adjusted in both length and width. Rated very easy by Ravelrers. Designed by Dominique Trad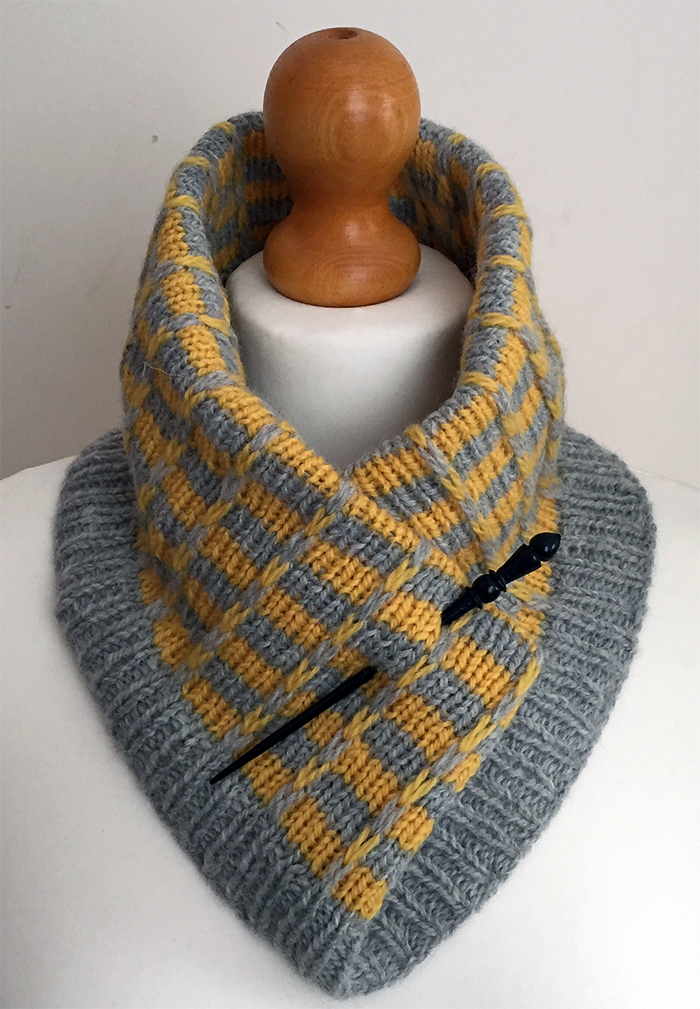 Fittleworth Cowl
Using just one color at a time, easy slip stitch colorwork creates a striking design. Designed by Sarah Knight who says this is a great first colorwork project. Rated very easy by Ravelrers. Sport weight yarn.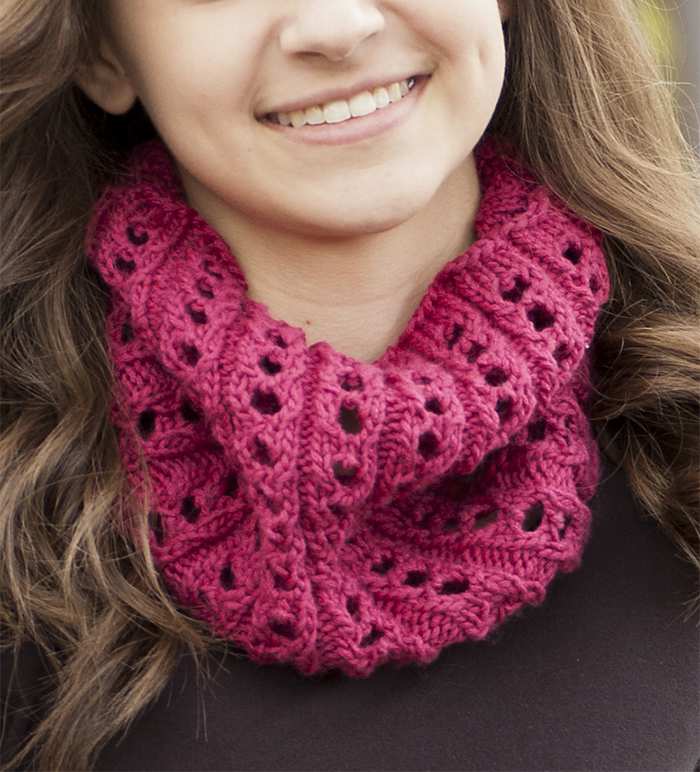 Large Eyelet Rib Cowl
Easy cowl knit with a 4 round repeat pattern. Worsted weight. Designed by Shannon Dunbabin for Cascade Yarns. Rated very easy by Ravelrers.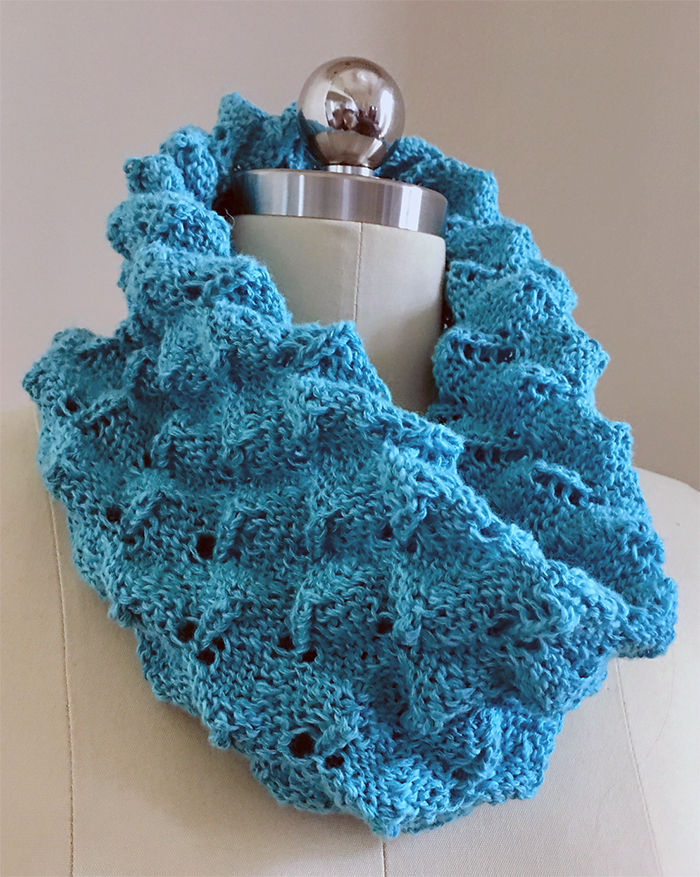 Roly Poly Cowl
Three-dimensional stitch knit with a 10 stitch 16 round repeat pattern, but there are only 4 different rounds. Designed by Wei Wilkins. Sport weight yarn. Rated easy by the designer.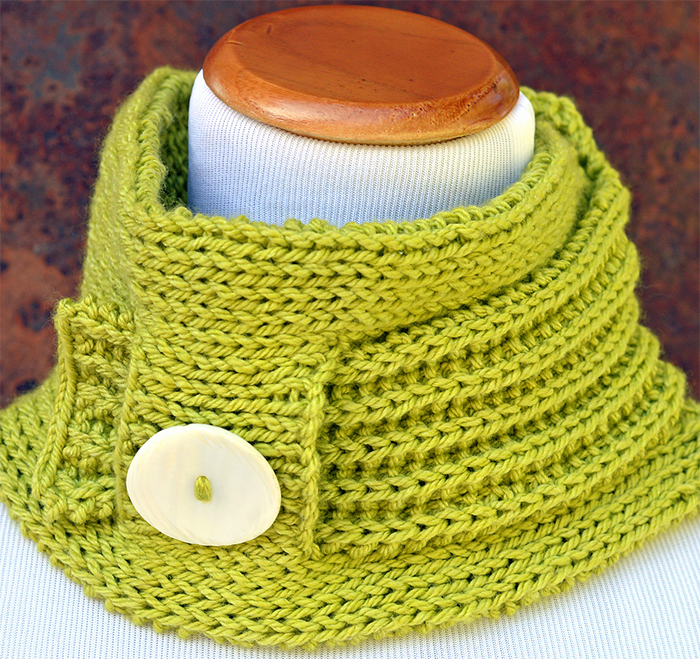 Embracement
Neckwarmer knit flat with an easy slipped stitch pattern. The narrow end of the neck wrap slides through a pair of strategically placed holes, making it adjustable and easy to take on and off. Designed by CLaura Crowley. Worsted weight yarn. Rated very easy by Ravelrers.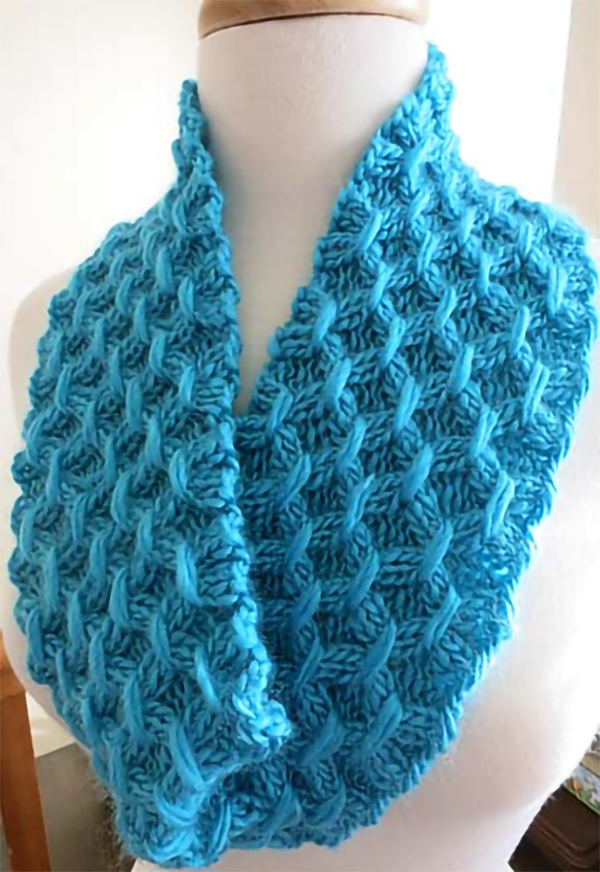 Sheaf Cowl
This easy cowl is knit lengthwise with an 8 row repeat. Rated very easy by Ravelrers. Worsted weight. Designed by Kathy North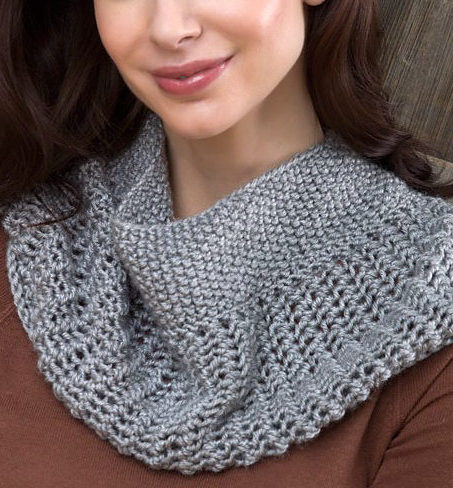 Easy Charming Cowl
This easy lace cowl is knit with a 2-row repeat seed stitch followed by a 1-row repeat lace stitch. Designed by Mareva Lynde for Red Heart.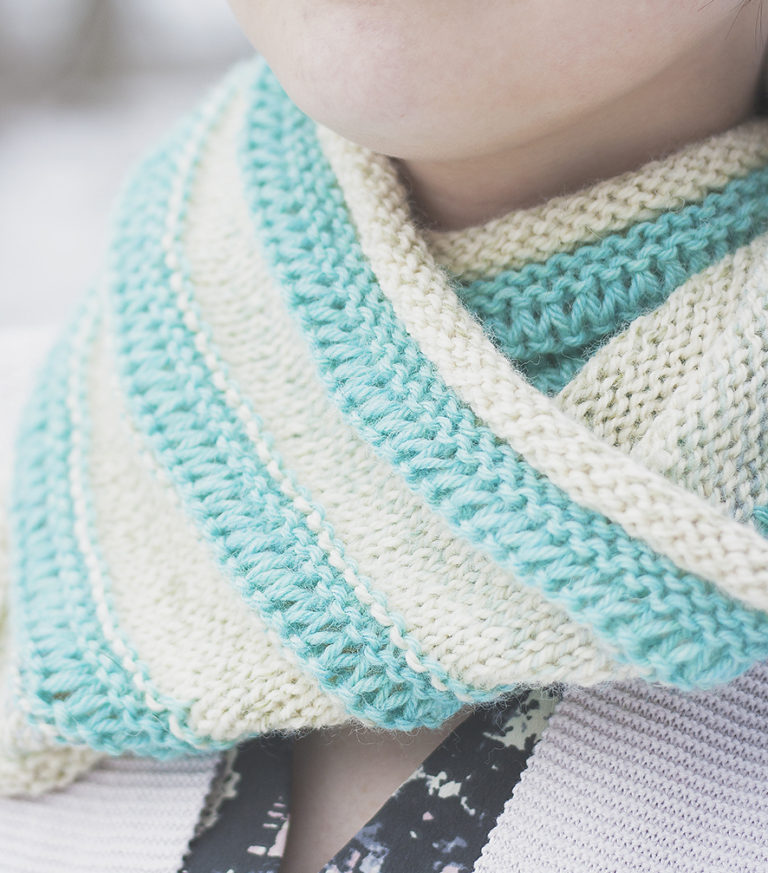 Drop Stitch Cowl
This easy cowl by Margo Snyder can be worked in any colors with any weight of yarn. Great stash buster!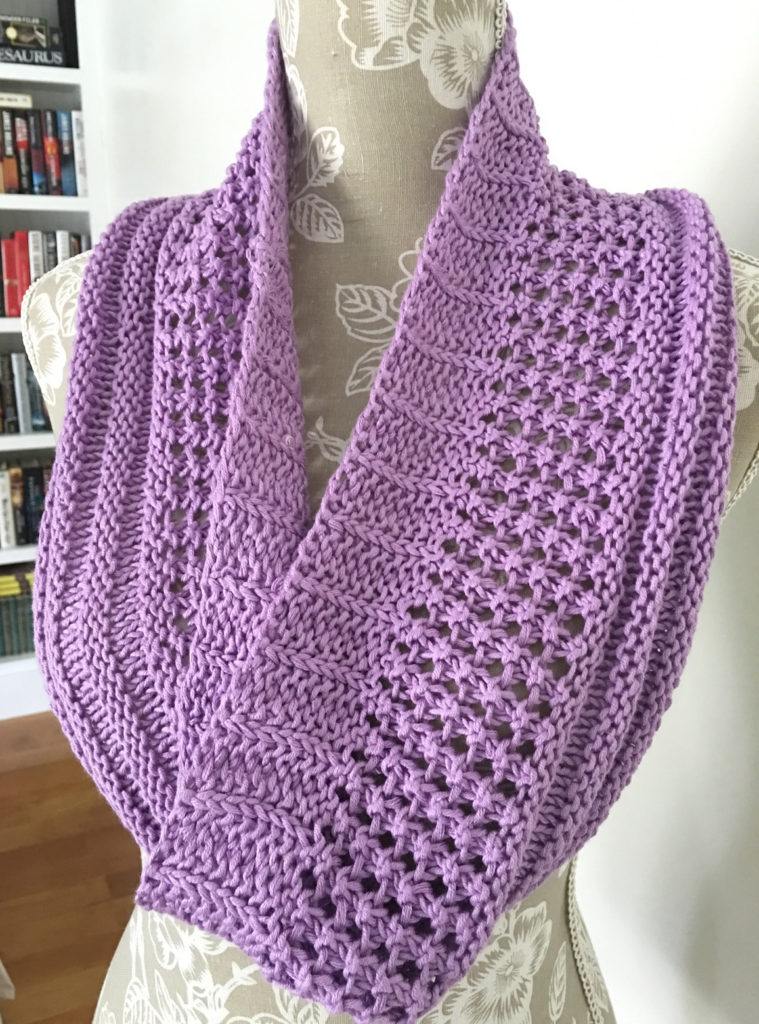 Layer Cake Loop
Easy infinity scarf cowl is reversible and features 3 textures knit on circular needles. Designed by steepndeep. Pictured project by mtorresusa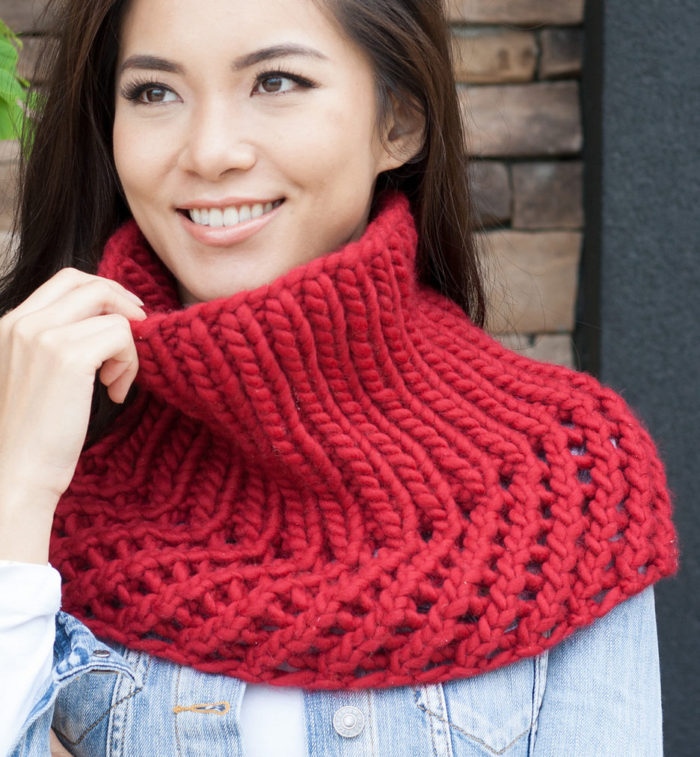 Ribbed Cowlette
This easy cowl/ shoulder cozy is knit in with 2 row repeat mesh and ribbing. Super Bulky yarn. Designed by Shannon Charles for Estelle Yarns. Rated easy by Ravelrers and the designer.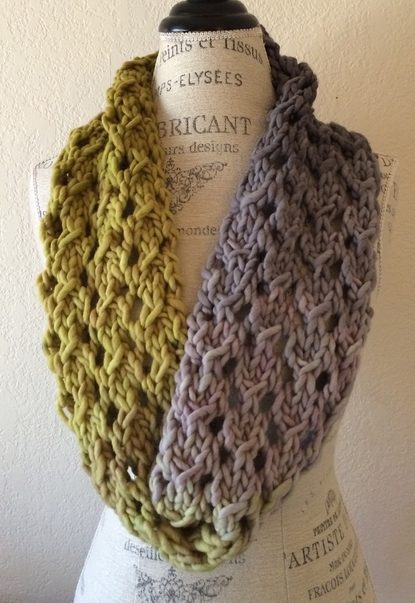 Bulky Lace Cowl
This cowl from NobleKnits is knit in a super bulky ombre yarn that works up in just a few hours. The easy 4 row lace repeat is a perfect first lace project.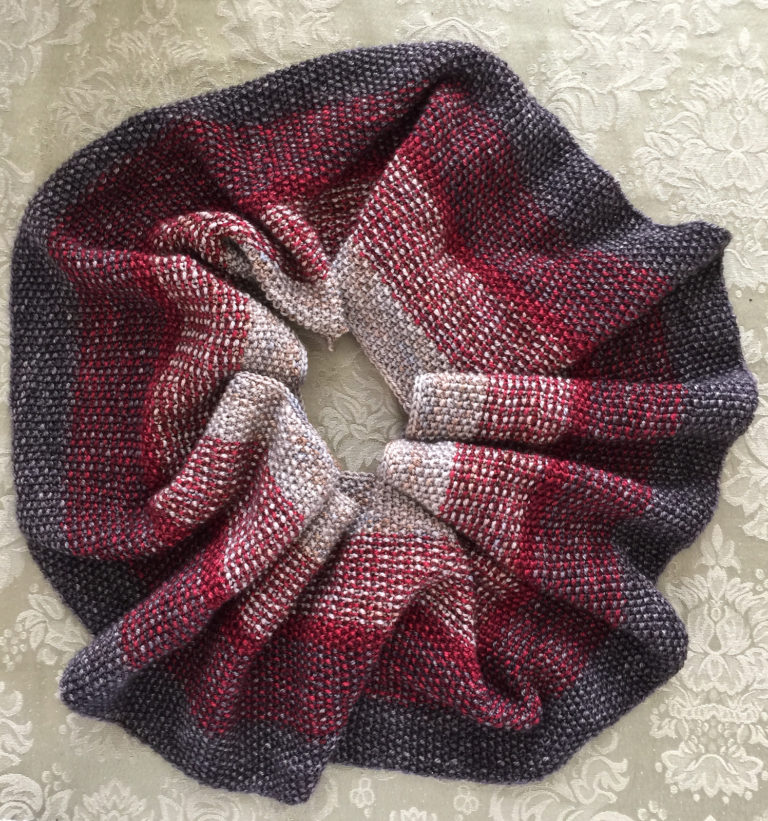 Nightfall Infinity Scarf Cowl
The gradient effect in this easy infinity scarf is created with 3 colors of yarn in seed stitch. Designed in two sizes by Kristine Vejar Pictured project by noeknitter
One Skein Copilot Cowl
This easy cowlfeatures a mesh lace separated by garter stitch sections. Designed to use one skein of that special fingering weight (4ply) yarn, it can be adjusted in both length and width. Rated very easy by Ravelrers. Designed by Dominique Trad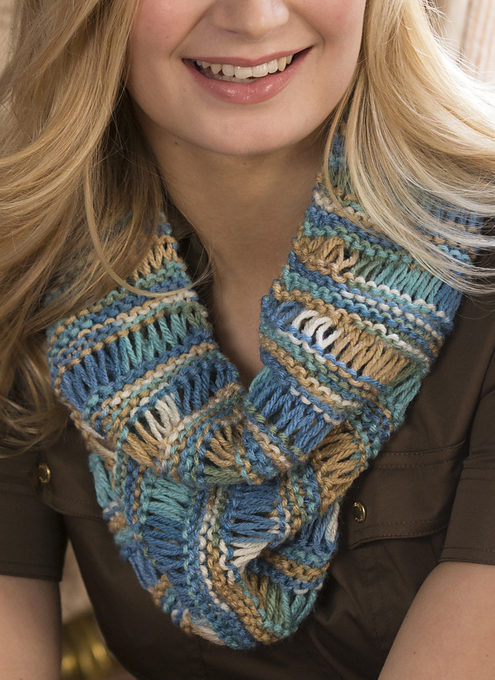 Drop Stitch Cowl
This easy cowl by Red Heart features a drop stitch pattern that looks great in multi-colored yarn. Uses just one ball of the recommended yarn.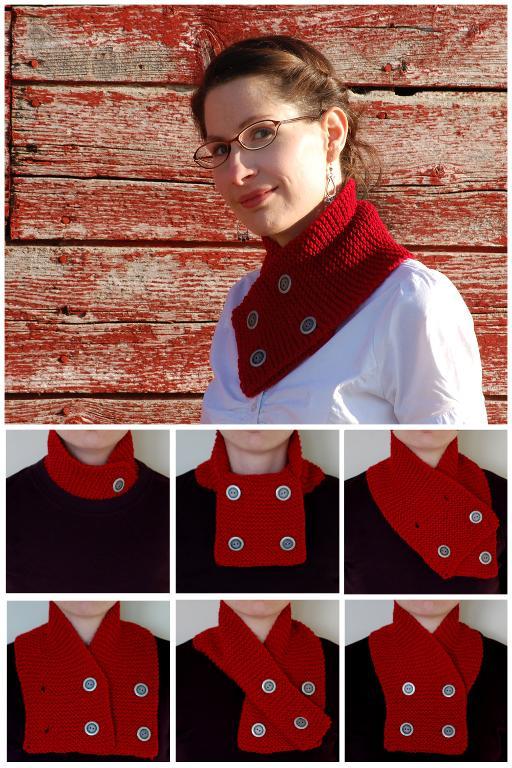 Beginnings
This easy and versatile design by Erron Anderson can be worn many different ways and is knit in garter stitch and dressed up with buttons. A great quick project for beginners.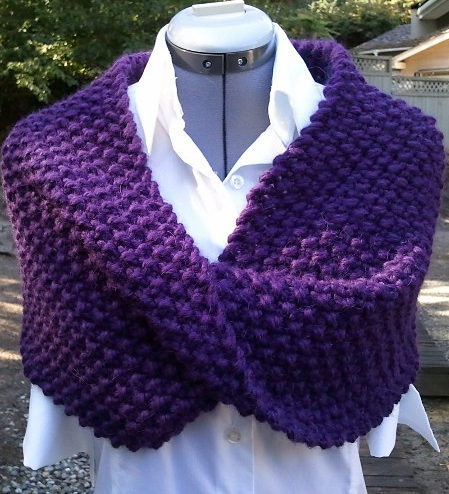 Slouchy Cowl
Moebius cowl is a quick knit with two strands of bulky yarn held together and easy enough for beginners. Designed by nina: a well-knit shop. Pictured project by vanesapolo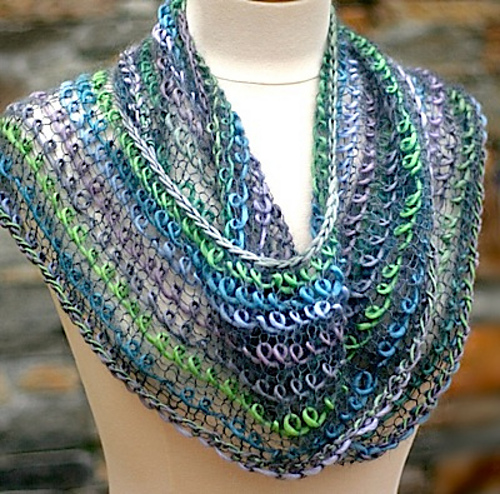 Interpretations Scarf
I'm fascinated by the look of this scarf / cowl. It's actually easy and the effect of the floating loops of yarn is made by knitting with laceweight yarn alternating with a bulky multi-color yarn. Poncho pattern also included. Designed by Laura Cunitz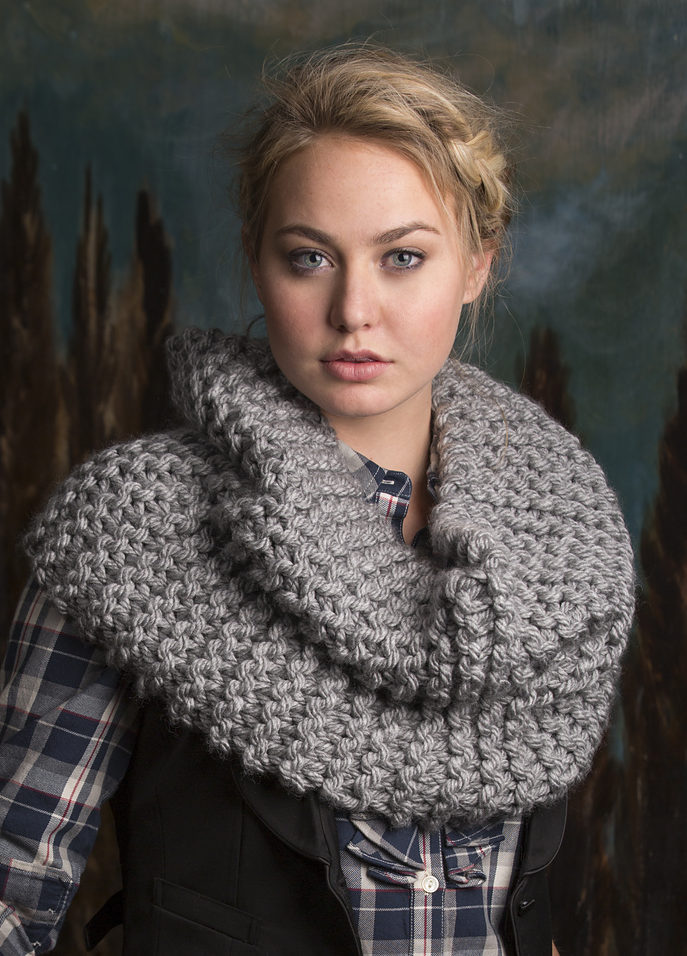 Rendezvous Cowl
Easy fast cowl knit flat in garter stitch with super bulky yarn inspired by Claire's cowl in Outlander.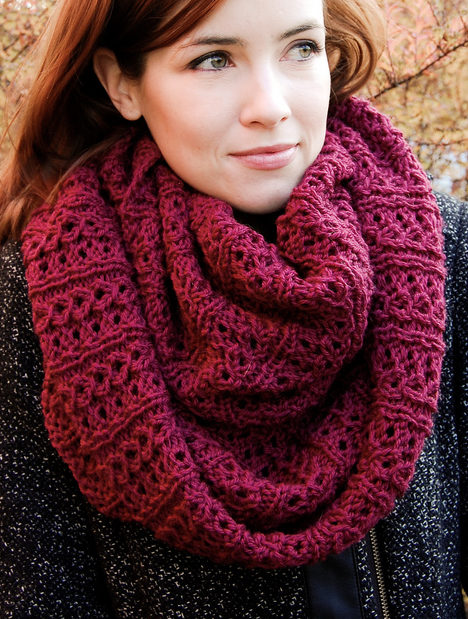 Stockholm Infinity Scarf
This cowl features a completely reversible stitch pattern with a 4 row repeat that is easy to memorize. Designed by knittedblissJC
Patterns for Purchase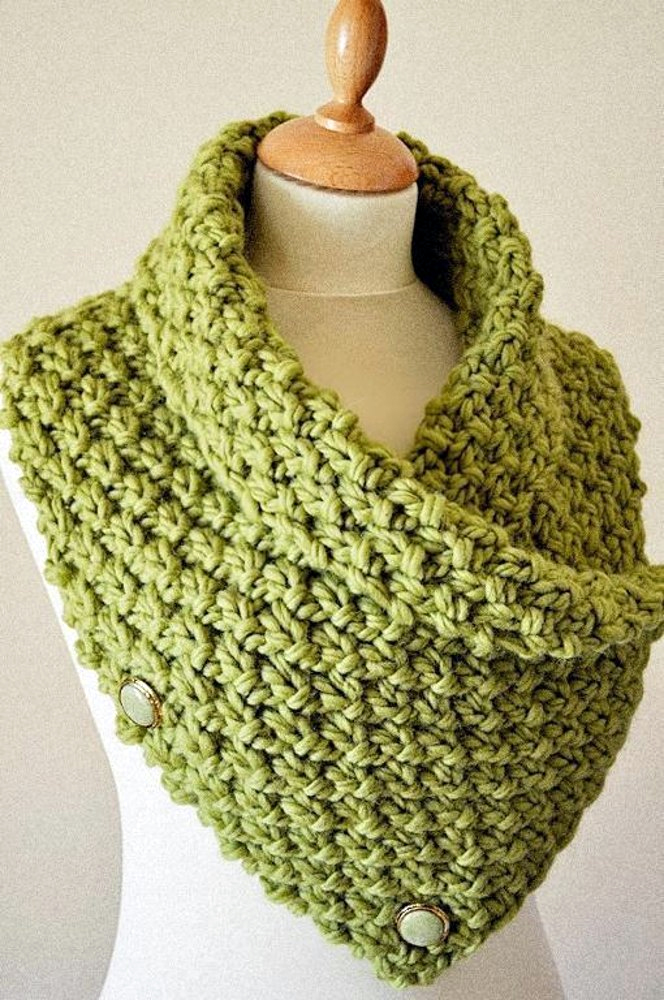 Easy Chunky Knit Neck Warmer/Cowl
Textured cowl looks like it's knit in moss stitch. Quick knit in super bulky yarn. Rated easy by the designer. Designed by Arty Lou.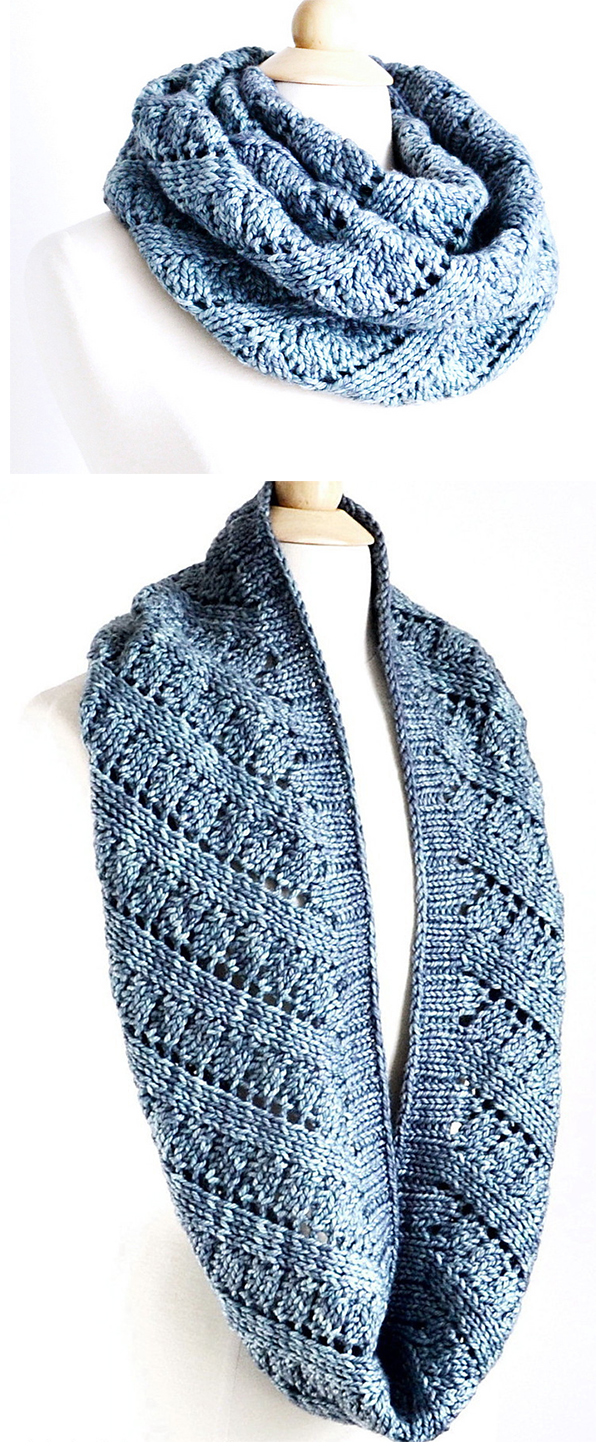 Ascend Cowl
This infinity scarf is easy enough for the beginning lace knitter, according to the designer Robin Ulrich. Rated easy by most Ravelrers. Bulky weight yarn.
Mendia Cowl
Easy cowl features an eyelet edging with twisted ribbing merging into a fun twisted eyelet chevron pattern. Designed by Ambah O'Brien. Pictured project by Tatterz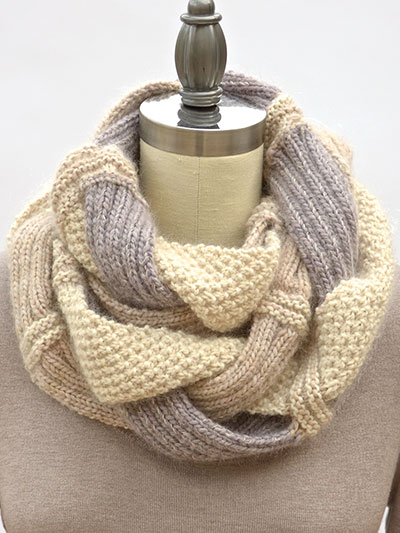 Challah Infinity Scarf
Easy braided scarf cowl features contrasting textures.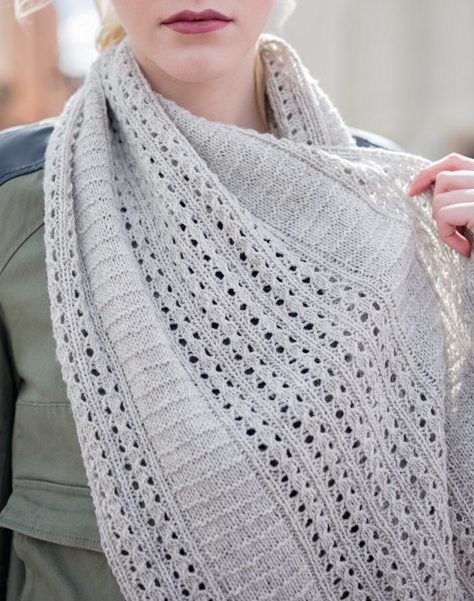 Firehouse Alley Infinity Scarf Cowl
Easy to remember stitch patterns in sections of lace and texture make a fabric that's beautiful loose or wrapped around the neck. Designed by Bonnie Sennott. Finished Size: 66″ circumference and 16½" wide.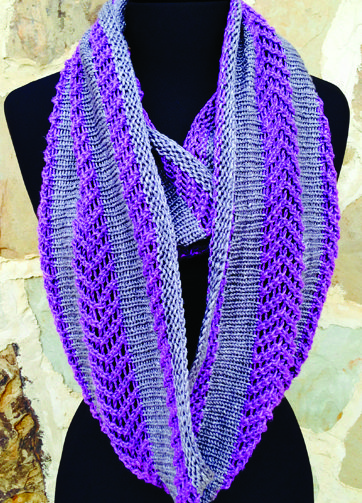 Maverick Cowl
Easy infinity scarf combines color and texture for a bold, fashion-forward look. Designed by Benjamin Matthews.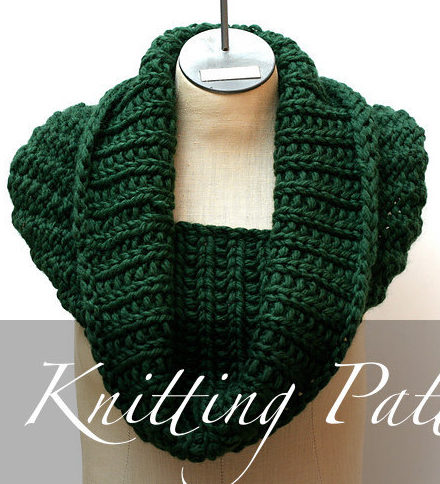 Forest Canopy Cowl
Quick easy cowl features a reversible, deep textured stitch pattern that folds, drapes, and wraps perfectly around you. Suitable for beginners, it's knit in super bulky yarn.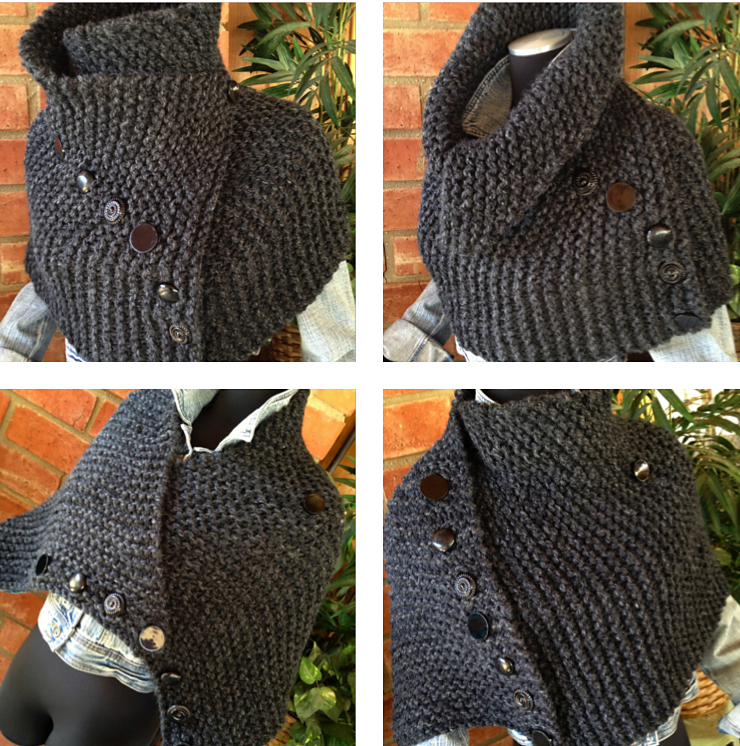 Ribbed Hugger Cowl
Easy versatile wrap that can be worn many ways knit in garter stitch and suitable for a beginner according to the designer. Quick knit in bulky weight yarn Designed by CharmedFibers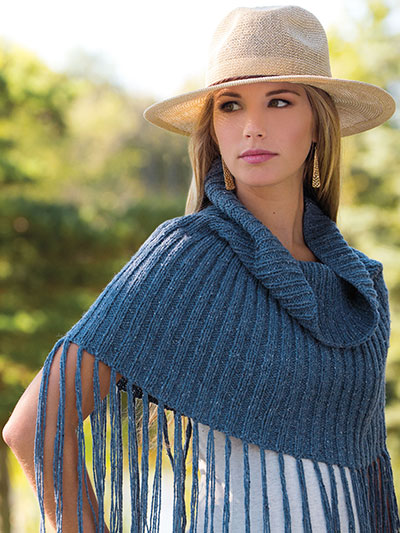 On the Fringes Capelet Poncho
Easy short poncho features a cowl neck and fringe