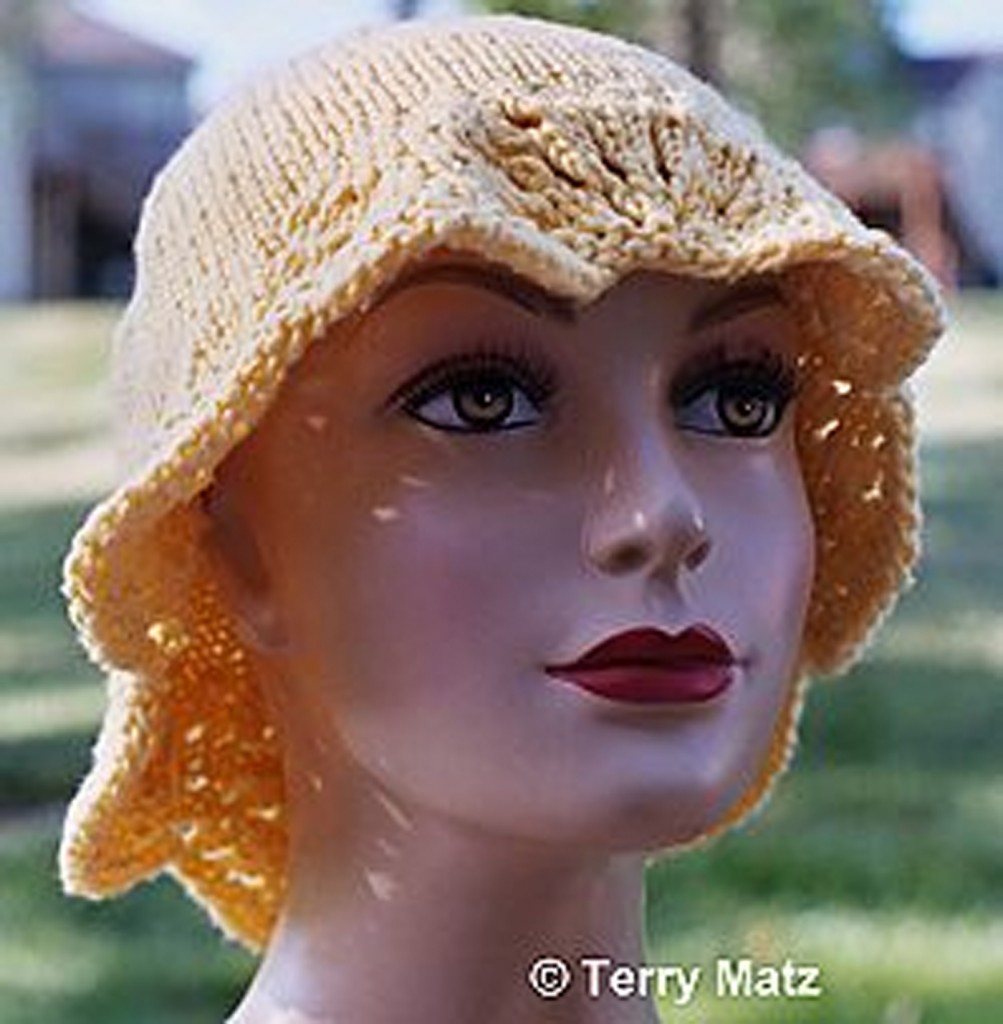 This easy hat is my own design. You can sell the finished hats if you wish but please don't distribute the pattern itself witout permission. Ruffle stitch adapted from Knitting on the Edge, by Nicky Epstein. This is one of my favorite stitch books. Highly recommended. Available at Amazon or ebay
All links on this site are for informational purposes, but please note that some links are to affiliate sellers that pay me a small commission on purchases.
Materials
Yarn: 3 oz worsted weight yarn. For a summer hat I recommend worsted weight cotton yarn. The original hat was done with Bernat Cottontots which has been discontinued. Check for similar yarns at Yarnsub.com.
Circular Needles, Size 9 US (5.5 mm), 16″ long. I love 16″ Addi Turbo Circular Knitting Needles (the best!), but I also have found that knitting with bamboo circular needles work well with slippery cotton.
Double pointed needles, size 9 US, 5.5 mm. I used 7 Inch Clover Takumi Bamboo Premium Double Point Knitting Needles
Stitch markers. I prefer flat, soft stitch markers like Soft Stitch Ring Markers because they don't break or get tangled up in the yarn.
Gauge: about 4 st per 1 in (or about 8 st per 5 cm)
Ruffle: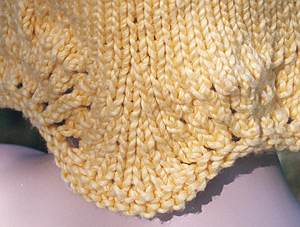 Cast on 127 stitches. I recommend putting stitch markers every 18 stitches to help keep track of the pattern. This will create seven scallops along the edge.
Round 1: Slip first stitch. Knit to last stitch. Knit last stitch with slipped first stitch, being careful not to twist the row. This will close the round and decrease one stitch. 126 st. Place marker.
Round 2: Purl. This forms a neat edge for the scallops.
Round 3: * k1, (k2tog 3 times), ([yo, k1] 5 times), yo 1, (k2tog tbl 3 times), rep from *
Round 4-6: Knit.
Repeat rounds 3-6 twice.
Round 15 (decrease to end ruffle): k2tog, k1. 84 st.
Hat body: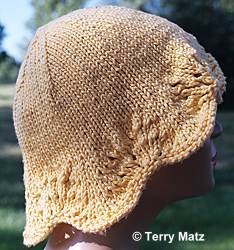 Knit until hat measures 5.5″ – 6″ from the tip of scallop.
I suggest moving the stitch markers to every 12 stitches. This will help you track the decreases later.
Decrease:
Switch to double pointed needles at the beginning of the decrease or whenever it becomes difficult to knit on the circular needles. I just knit off an equal number of stitches on to the double pointed neeedles on the first decrease round.
Round 1: (k10, k2tog) around. 77 st.
Round 2 and all even rows: Knit.
Round 3: (k9, k2tog) around. 70 st.
Round 5: (k8, k2tog) around. 63 st.
Round 7: (k7, k2tog) around. 56 st.
Round 9: (k6, k2tog) around. 49 st.
Round 11: (k5, k2tog) around. 42 st.
Round 13: (k4, k2tog) around. 35 st.
Round 15: (k3, k2tog) around. 28 st.
Round 17: (k2, k2tog) around. 21 st.
Round 19: (k1, k2tog) around. 14 st.
Round 21: k2 tog around. 7 st.
Finishing:
Cut the yarn leaving about 6″ tail. Using a tapestry needle, thread the tail through the remaining stitches. Pull stitches together tightly. Thread tail through hole in crown. Draw crown closed securely by pulling tail. Weave the tail and all other ends through stitches on wrong side.
Finished measurements: Hat body about 20″ in circumference. 8-9″ from ruffle to crown.
Increase or decrease in multiples of 18 for the pattern of the ruffle. You will need to adjust the decrease for your total number of stitches.