Quick Afghan Knitting Pattterns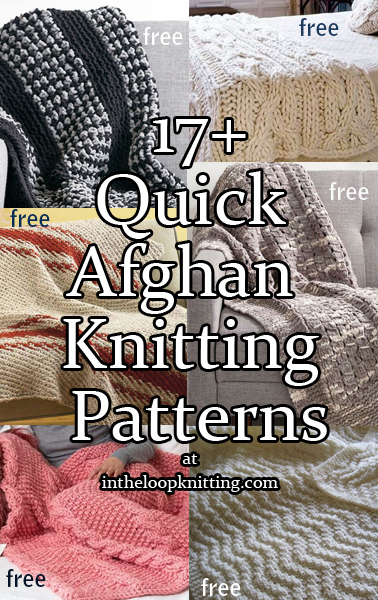 The easy stitch repeats in super bulky or bulky yarn of these blanket and throw knitting patterns help make quicker projects.
To get the knitting patterns, scroll down the page to the individual pattern you want and click on the link to that pattern.
These patterns are not my designs but links to other designers who have generously shared their patterns. If you have questions about how to knit a specific pattern, please contact the designer directly.
All links on this site are for informational purposes, but please note that some links are to affiliate sellers that pay me a small commission on purchases.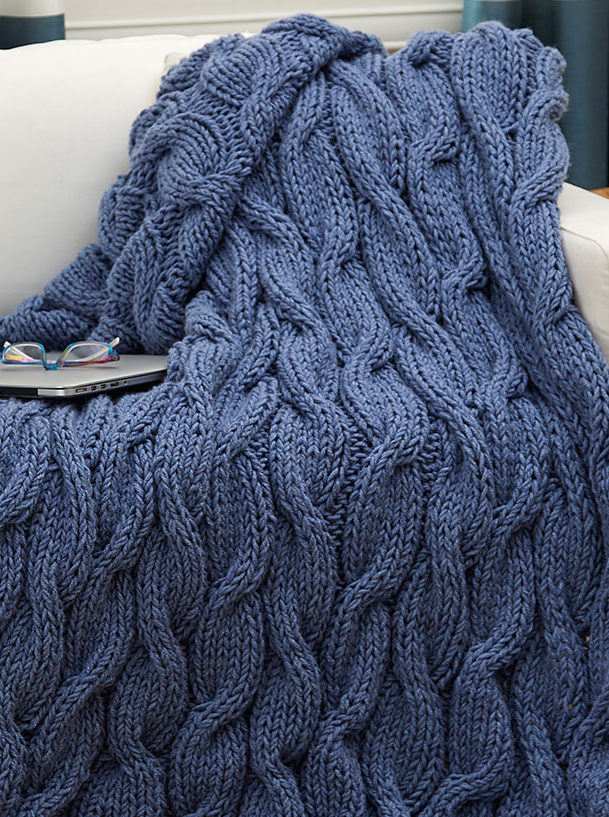 Casual Cables Throw
This easy afghan is a quick knit in bulky yarn that also gives the cables a softer, flowing look. Designed by Laura Bain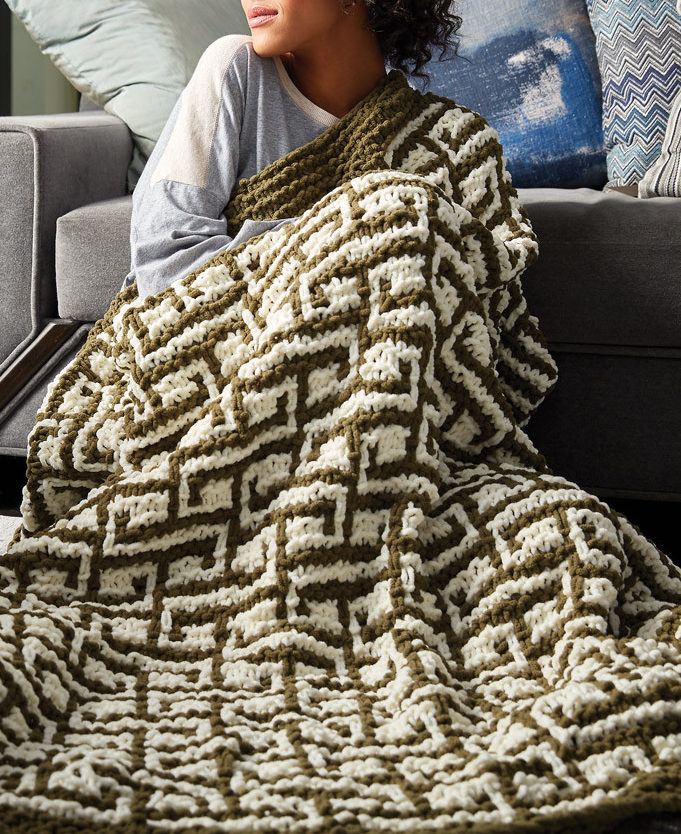 Let It Slip Blanket
Greek key inspired design knit in easy mosaic slip stitch colorwork. Quick knit in super bulky yarn. Designed by Bernat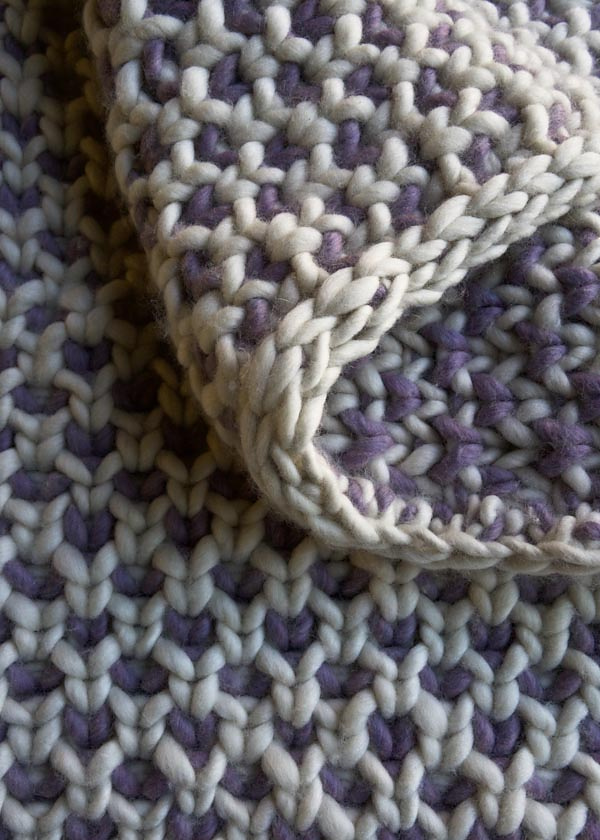 Beautyberry Throw
Purl Soho's blanket can be sized as an afghan or baby blanket. Six row repeat creates colorwork created by knitting in the stitch below and sliding some rows.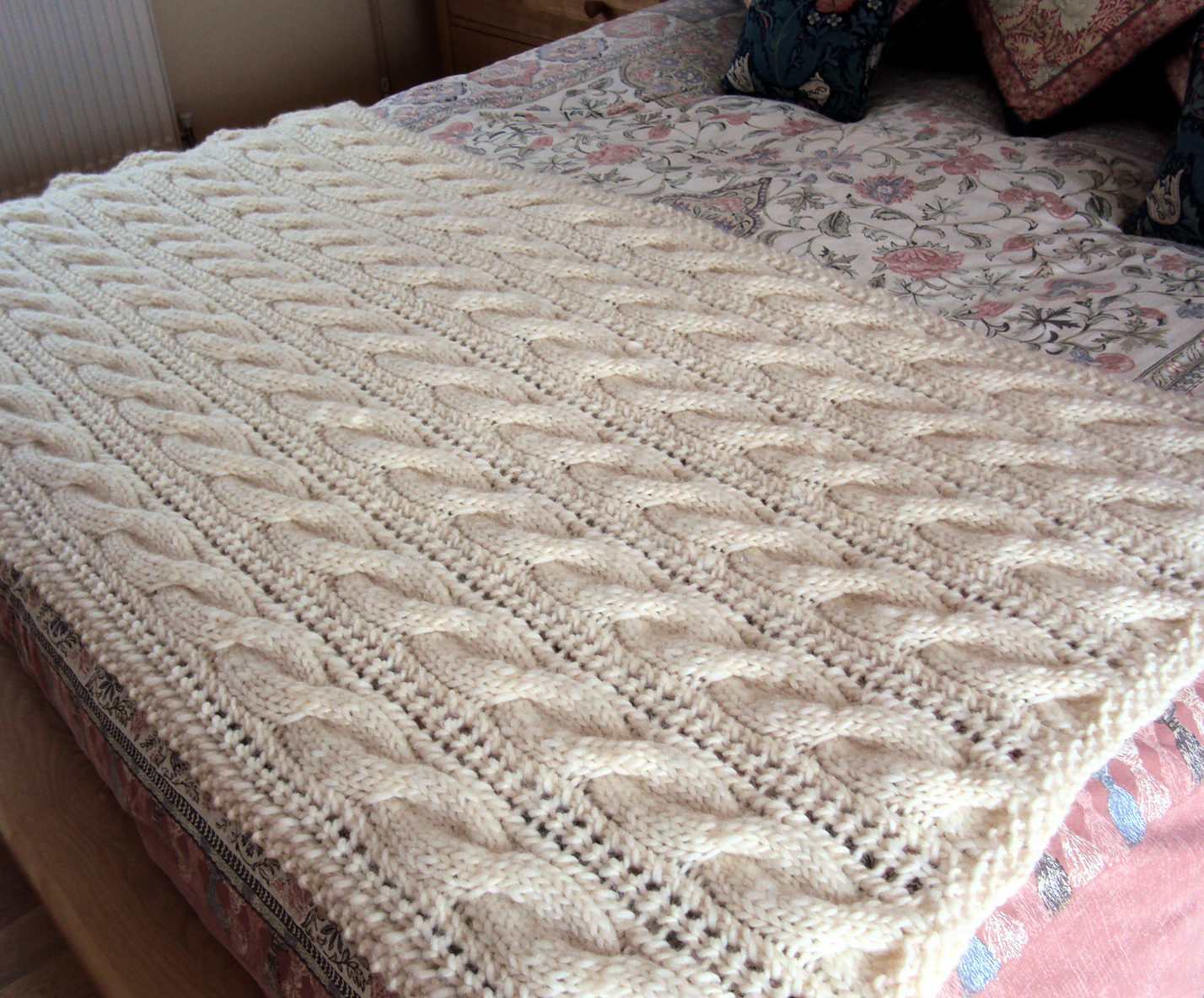 Dreamy Decor Throw
Mary Jane Protus designed this intermediate cable afghan for Red Heart that's a quick knit in super bulky yarn. Pictured project by KnittingNixon using DROPS Eskimo.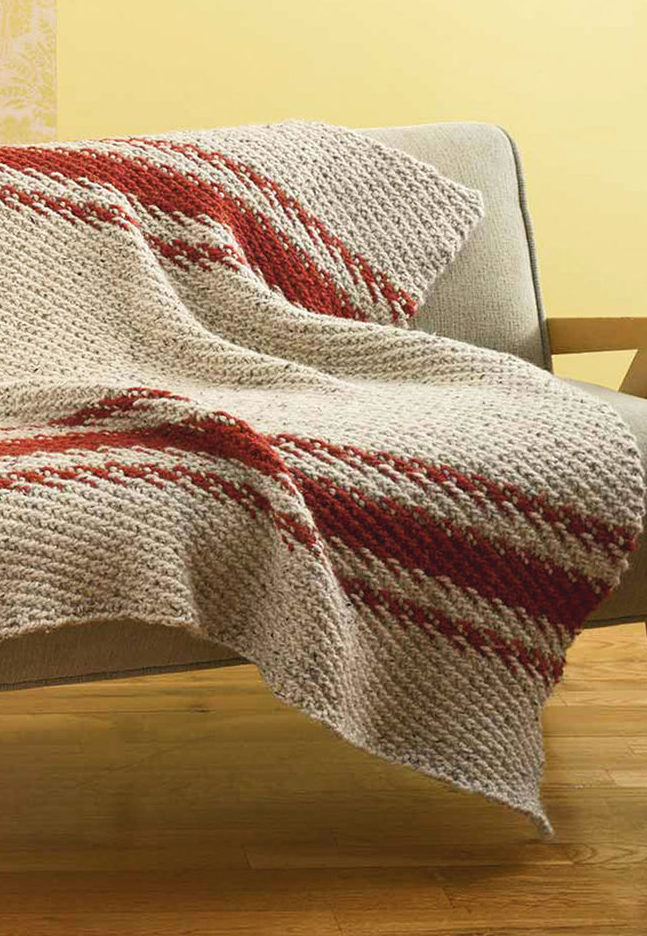 Cozy Nook Throw
A woven stitch with just a four row four stitch repeat gives a diagonal texture to this blanket knit in super bulky yarn.
Big Cables Throw
Laura Bain designed this easy cable afghan for Red Heart that's a quick knit in super bulky yarn.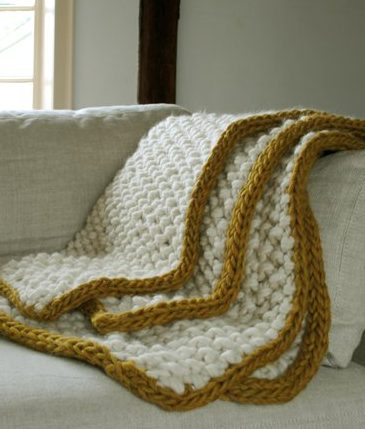 Eleventh Hour Blanket
Purl Soho's quick afghan features seed stitch in super chunky yarn doubled with an applied i-cord edge in a contrasting color.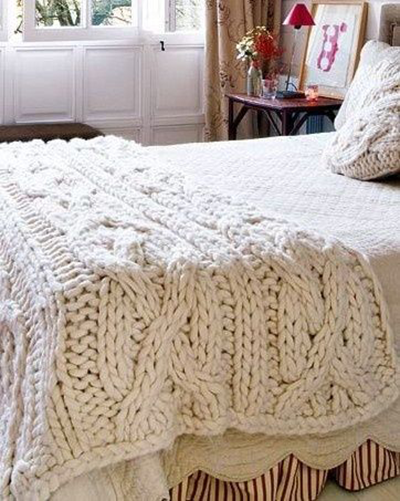 Giant Cabled Throw
Maria McClean's blanket in super bulky yarn is an 8 row repeat with two cable rows.
6-Hour Afghan
This afghan pattern by Lion Brand is fast because it uses 4 strands of yarn knit together on size 50 (25mm) needles. The four strands gives you an opportunity to really play with color. It has a lot of good reviews but it may take you longer if you need to get comfortable with giant needles and four strands. I'd personally use circular needles. It seems like straight needles would be very awkward. 34 x 54 in. [86.5 x 137 cm], not including fringe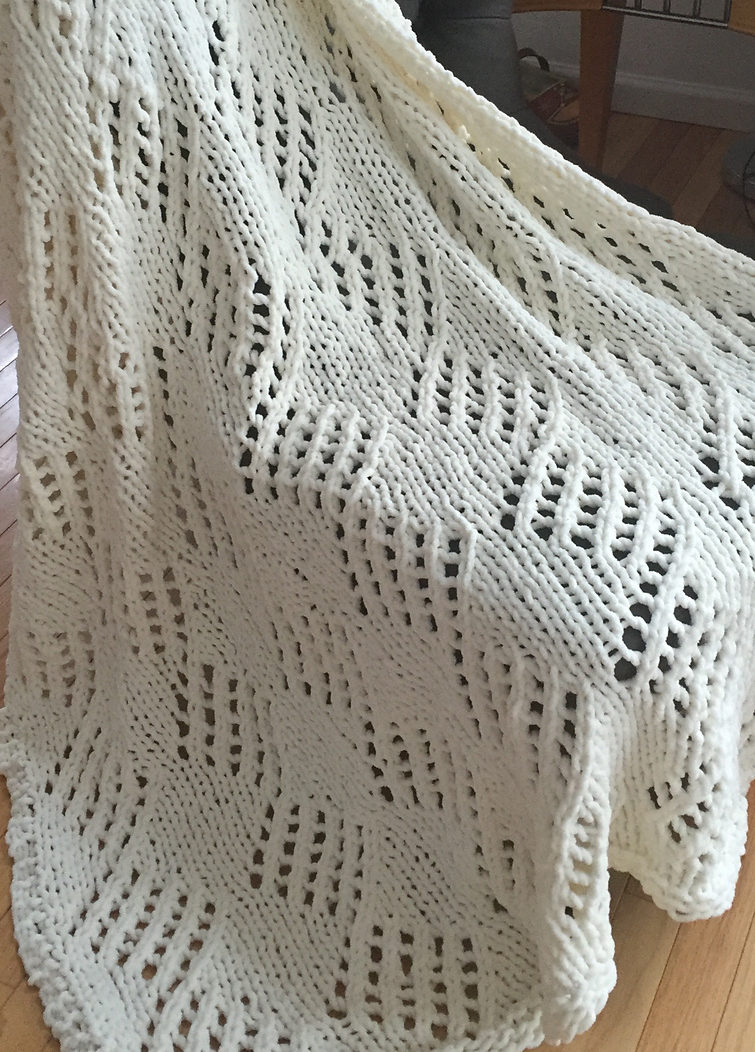 Angled Eyelet Blanket
An easy lace afghan that's a quick knit in super bulky yarn. Designed by Bernat for Bernat Blanket yarn. Pictured project by camas2012 using the recommended yarn.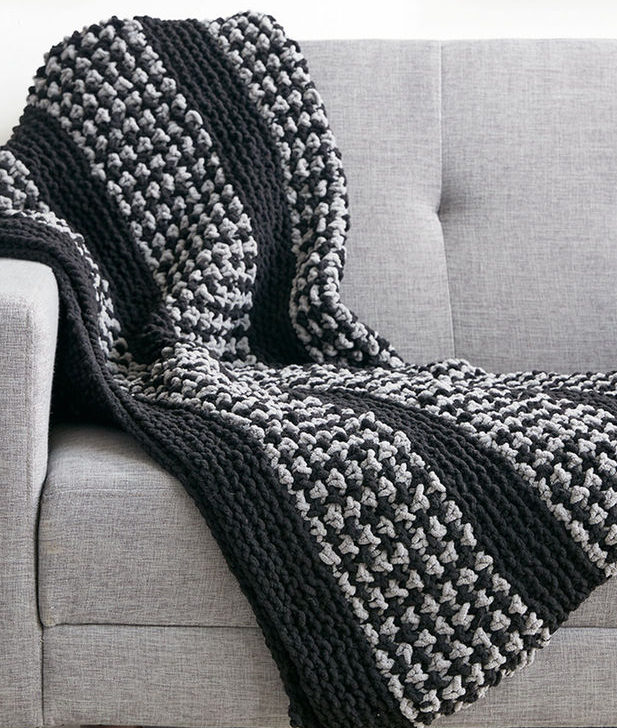 Dots and Ridges Blanket
A colorwork slip stitch technique creates dot pattern in super bulky yarn. Approximately 50" x 62"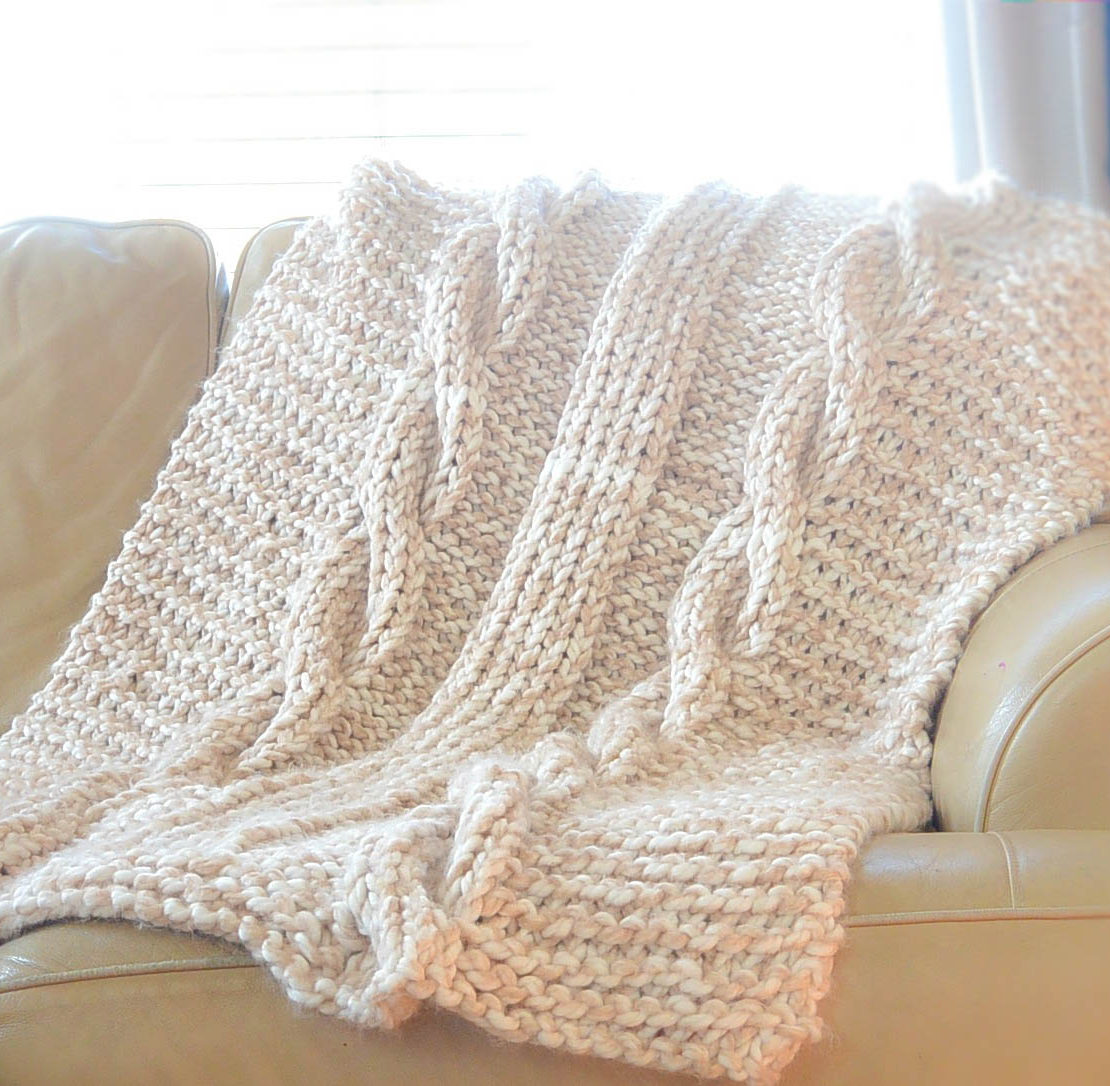 Endless Cables Chunky Afghan
Mama In a Stitch designed this easy laphan throw knit with jumbo yarn on size 35 needles. Approximately 34″ wide x 50″ long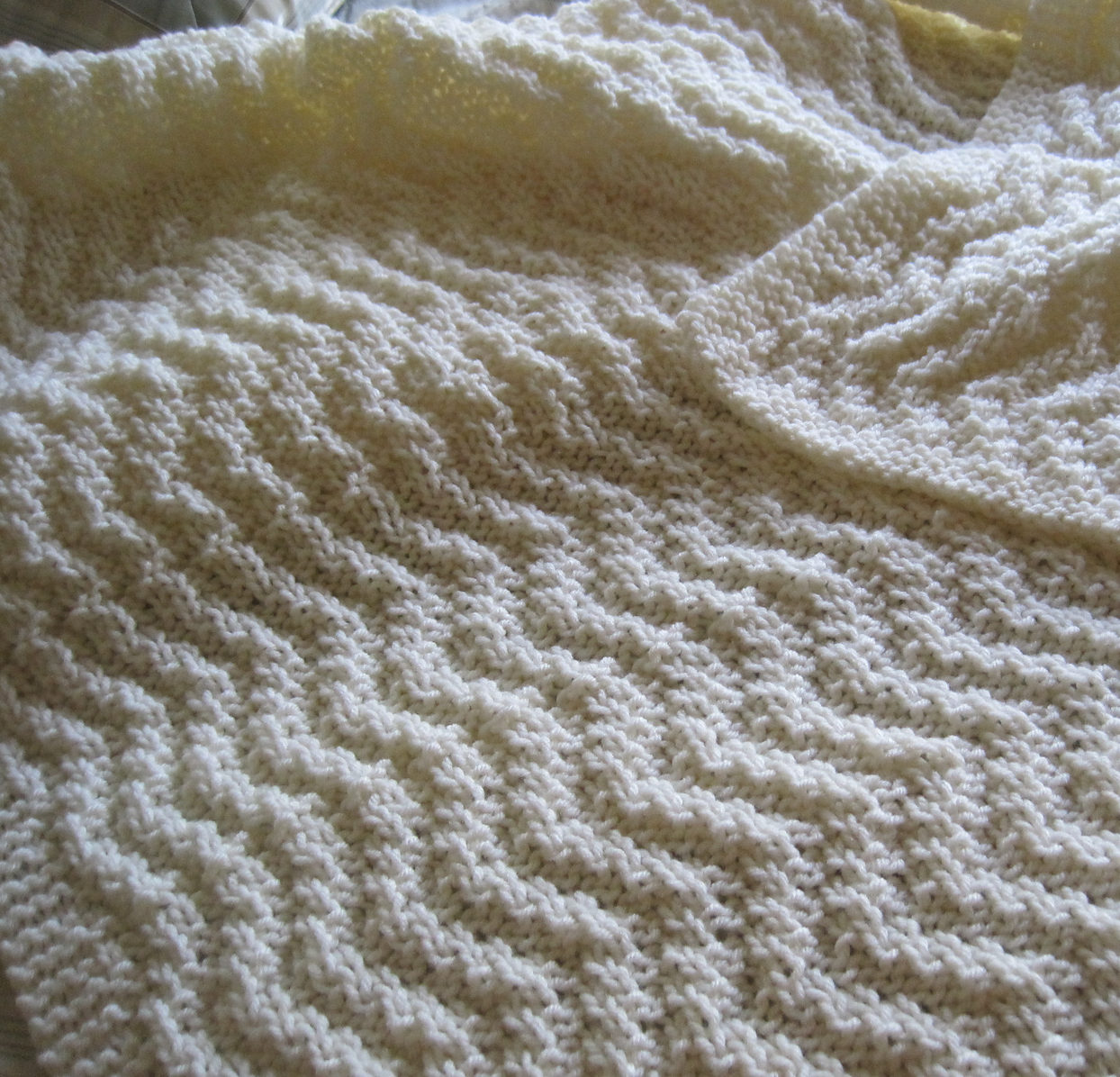 Quick Chevron Blanket
An easy zigzag pattern in chunky yarn makes this Red Heart design a fast, comfy project. Approximately 41″ (104 cm) x 58″ (147 cm) Pictured project by dmn0813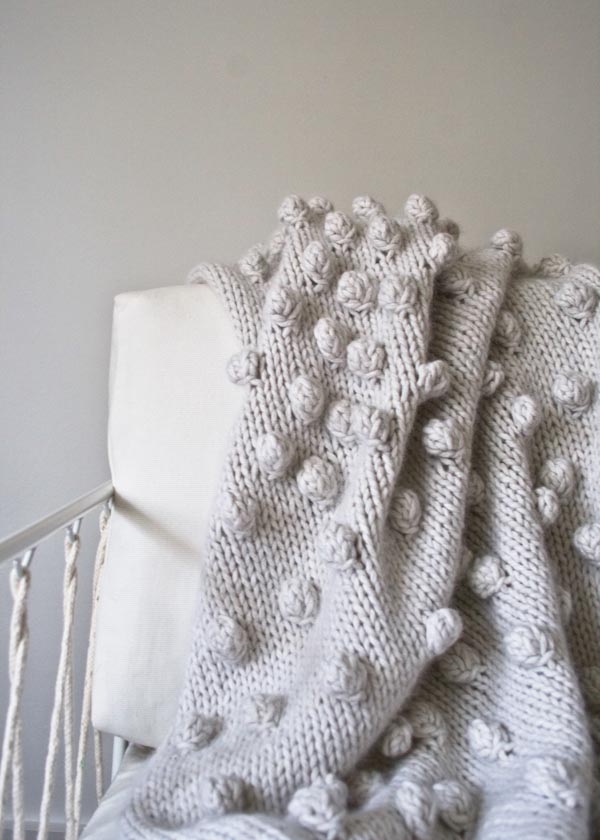 Falling Bobbles Blanket
Purl Soho's easy afghan is a quick knit in stockinette, bobbles, and super bulky yarn.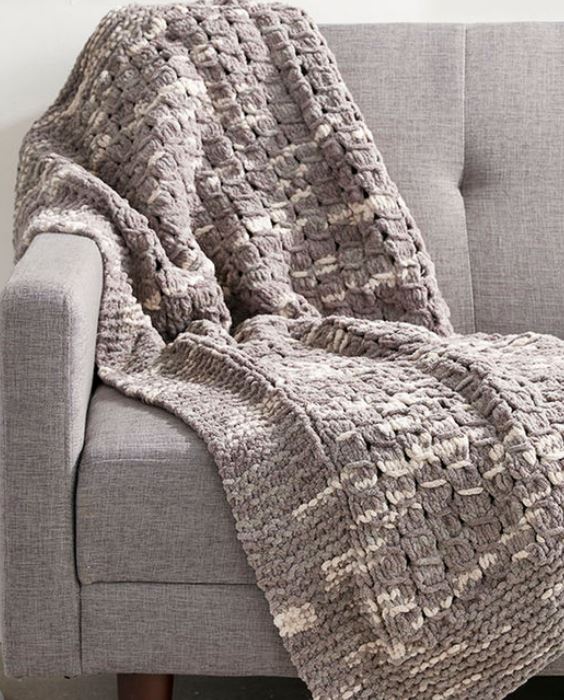 Daydream Blanket
Knit in super bulky yarn with what looks like a variation of the bamboo stitch.

Arm Knit 3 Hour Blanket
Use 4 strands of super chunky yarn to knit this throw. Approximately 45″ [114.5 cm] wide x 60″ [152.5 cm] long.

Cushy Cables Knit Blanket
Designed for Bernat, this cable throw knits up fast with super bulky yarn. Approx. 54″ x 60″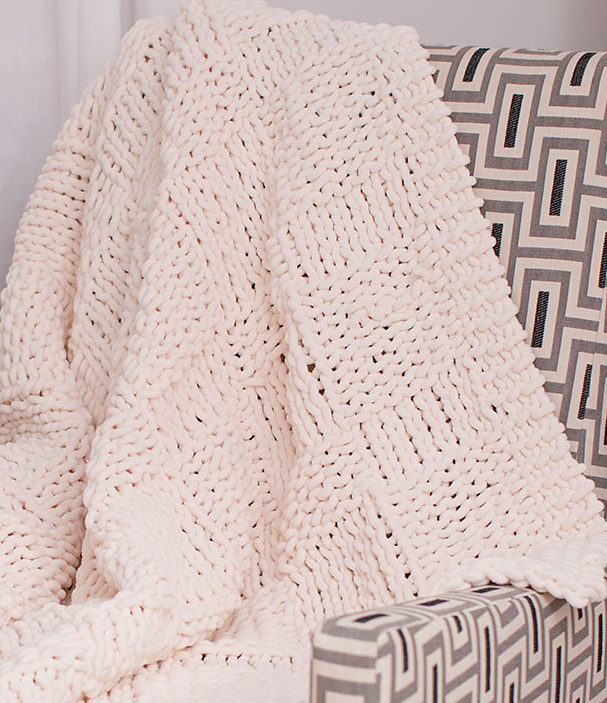 Heavenly Throw
This basket weave throw is an easy quick knit designed for jumbo yarn.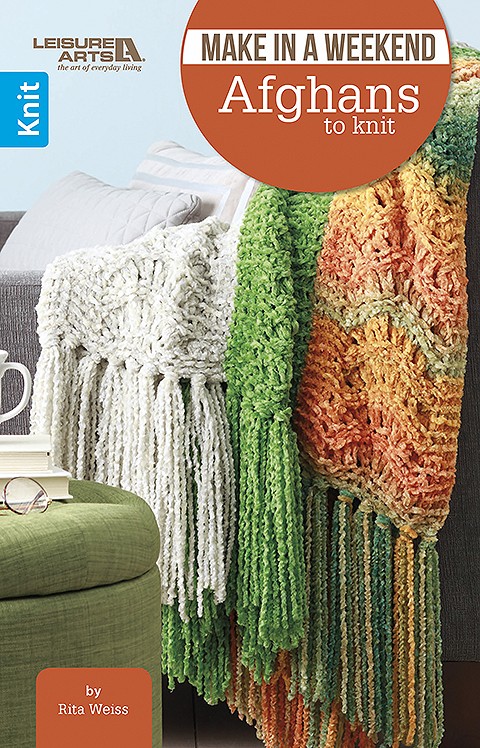 Make in a Weekend Afghans to Knit
10 fast easy blanket and throw designs by Rita Weiss of The Creative Partners LLC. All designs are for Easy or Beginner skill levels and are knit using medium or bulky weight yarn.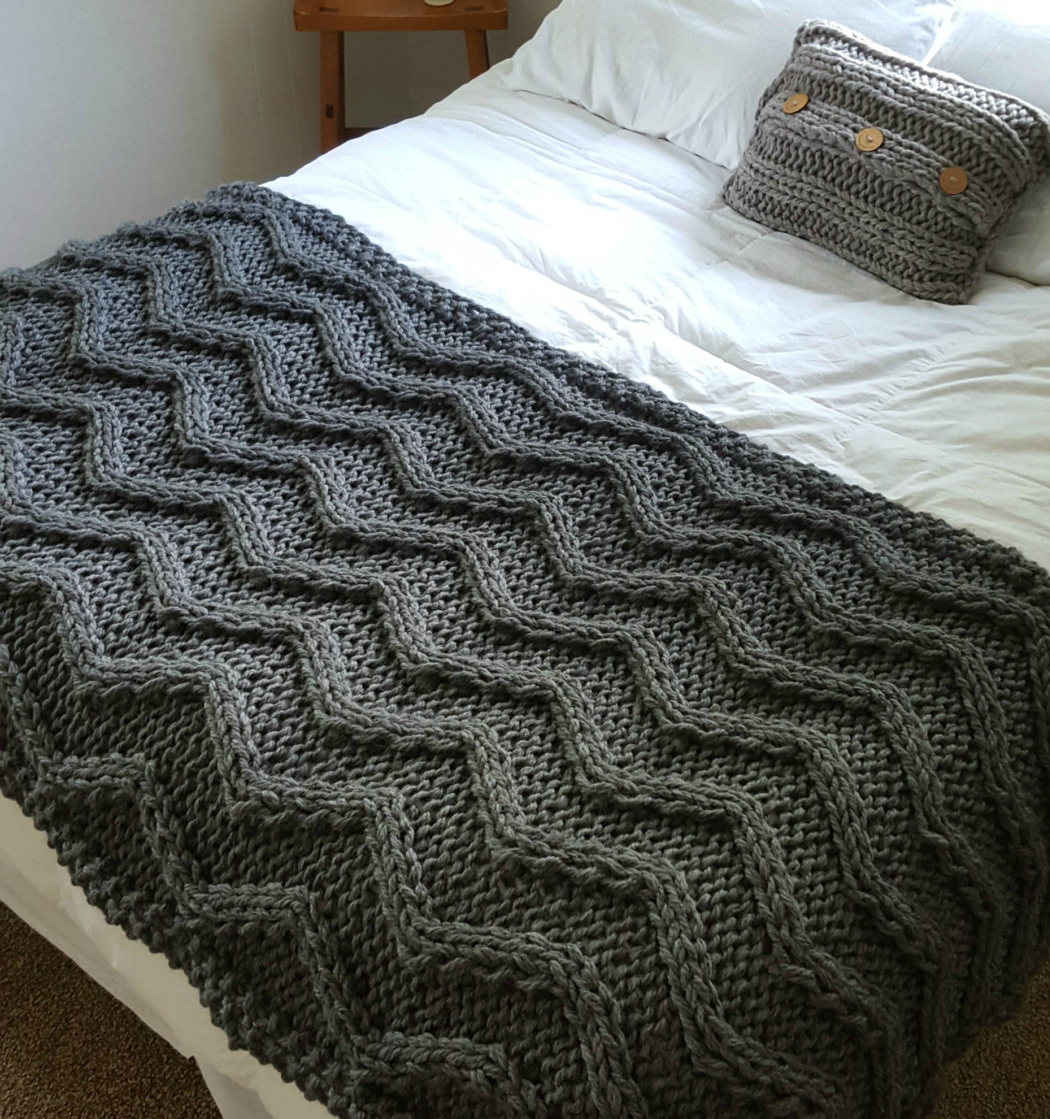 Chevron Cable Blanket
Big braided cables framed by knit and purl stitches in super bulky yarn make this a fast heirloom afghan. Approximately 42 x 80 inches. Designer rates the pattern as easy.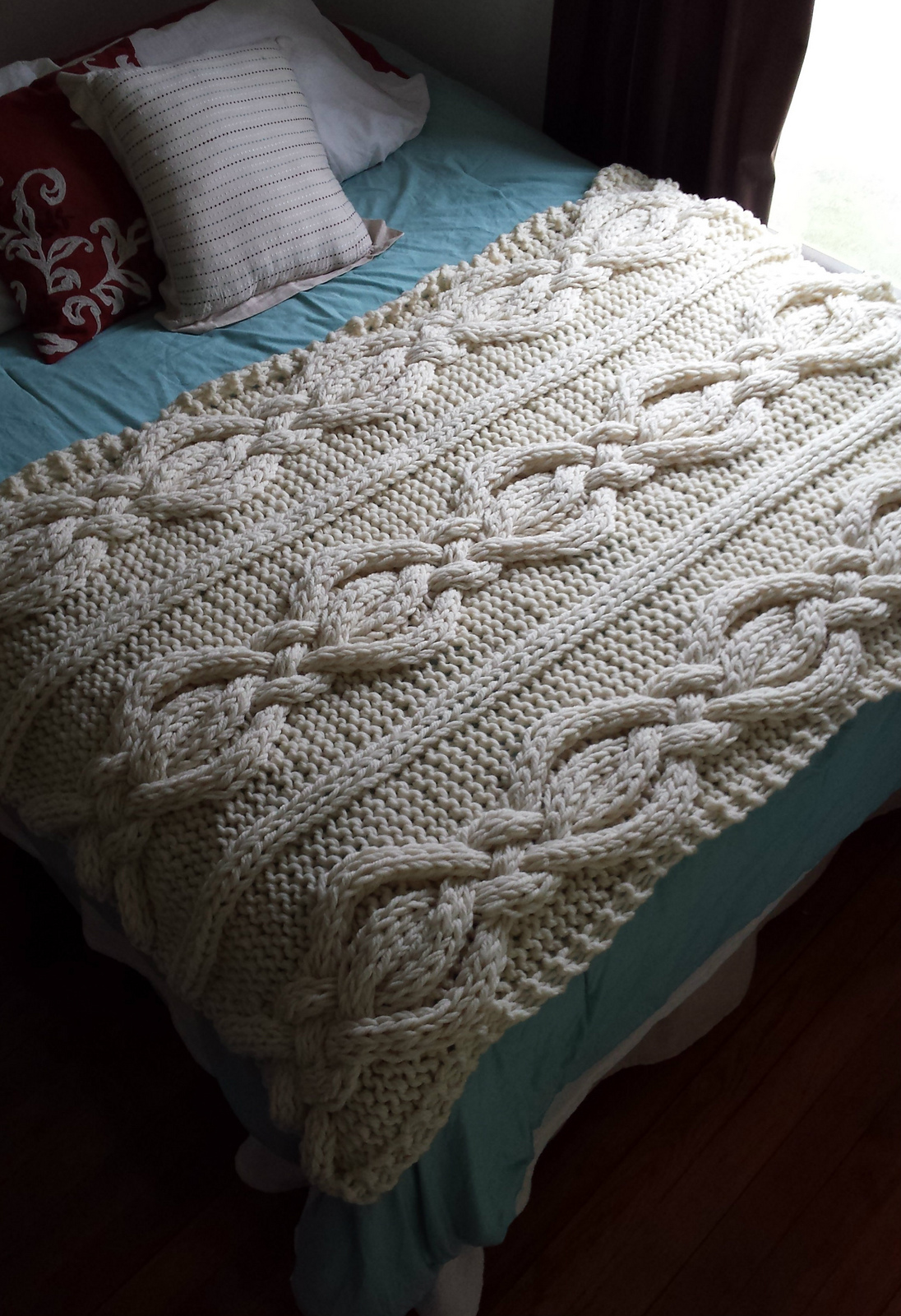 Twisted Cable Blanket
Big braided cables framed by knit and purl stitches in super bulky yarn make this a fast heirloom afghan.
10 Hour Afghans and Throws
6 projects: 3 afghans, 3 throws. Electronic download.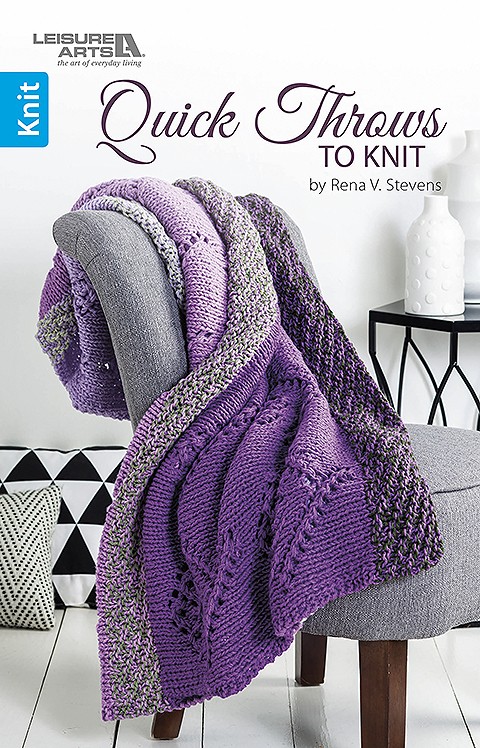 Quick Throws to Knit ebook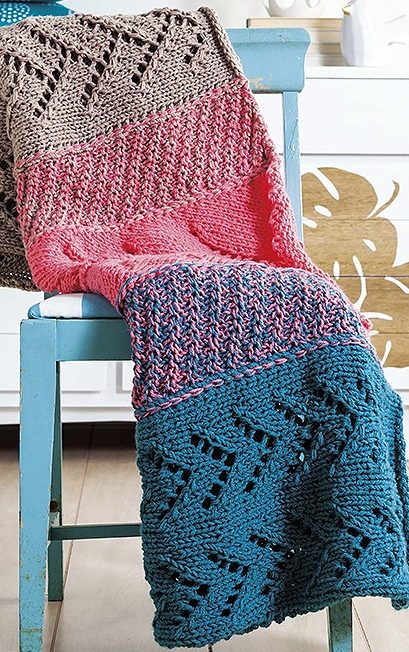 4 Quick afghan knitting patterns for $5.99 by Rena V. Stevens. Fast projects knit on big needles and two strands of medium weight yarn held together.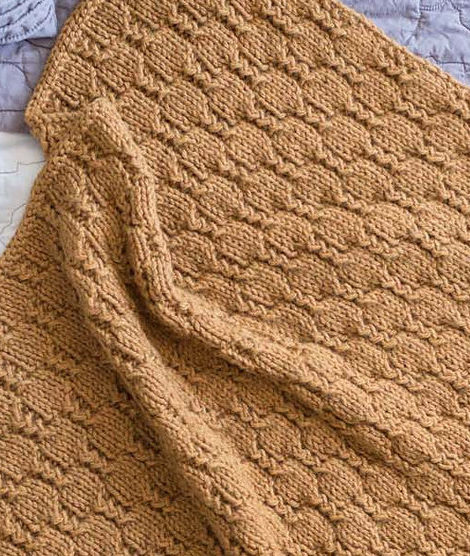 Cobblestone Throw
An easy afghan knit in bulky yarn features an interesting texture formed by mini cables.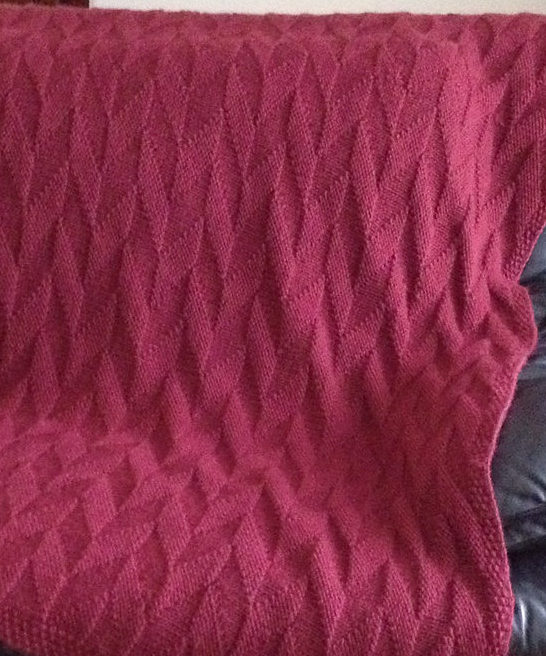 Graphic Afghan
A simple repetitive chevron stitch pattern in bulky yarn makes a quick throw. Pictured project by iheartbooks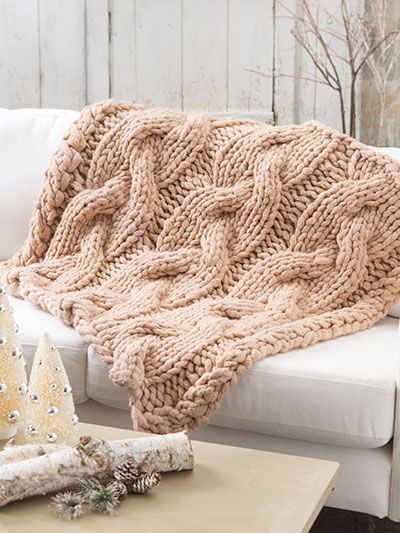 Funky Chunky Throw
This cable afghan is a quick knit in super bulky yarn. Funky Chunky Throw is one of the patterns in Creative Knitting. Designed by Hattie Townsend
Terry Matz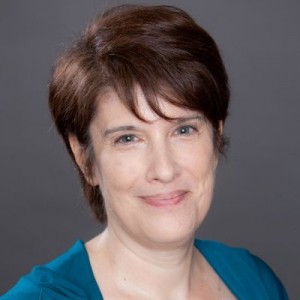 Terry is a knitting late-bloomer, learning to knit as an adult from Internet tutorials, because she wanted a craft that was useful, fun, and portable. Knitting hats for cancer patients inspired her to design her own patterns—available for free at her blog, intheloopknitting.com. Terry met her husband Ken at a science fiction convention and moved to the Kansas City area to be with him more than 30 years ago. Terry supports her yarn stash by creating websites and other digital media. Terry firmly believes in Knitting in Public—it's a great conversation starter!