[widget id="text-11″]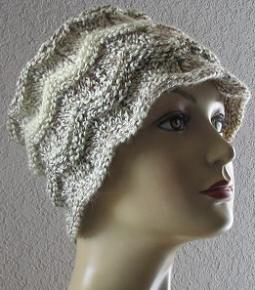 Chevron stitch adapted from 450 Knitting Stitches – Volume 2 (Harmony Guides)Copyright © Collins and Brown, 1998. This book is out of print, but is sometimes available on Etsy as well as other books in the series
Knitting this pattern is a joy because as you do the decreases and increases you watch the straight garter stitch section pulled into chevrons.
It's also easy — just one simple variation to remember creates an unusual effect that looks more complicated than it is.
The pattern book recommends using two different yarn colors — one color for the garter stich section plus one row of the shaping and the other color for the rest of the shaping section. I didn't use it for this hat because of the variegation in the yarn but it sounds like it would create a fun hat.
Materials
Yarn: 3 oz, 150 yards worsted weight. The example was done with Simply Soft Shadows Yarn-Pearl Frost, which seems to have been discontinued.
Circular Needles, Size 9 US (5.5 mm), 16″ long. I recommend 16″ Addi Turbo Circular Knitting Needles (the best!)
Double pointed needles, size 9 US, 5.5 mm.
[widget id="black-studio-tinymce-11″]
Gauge in pattern: about 11 st per 2.5 in
Finished measurements: Hat body about 22″ in circumference (hat should be loose to maintain shape). 8-9″ from cast-on edge to crown.
Increase or decrease in multiples of 11. You will need to adjust the decrease for your total number of stitches.
k2tog – Knit two stitches together. This will decrease one stitch.
k2f&b – Knit into the front and back of the next two stitches to increase to four stitches.
sl1 – Slip stitch from left needle to right needle without knitting.
psso – Pass slipped stitch over the last knitted stitch. Take left needle and lift slipped stitch on right needle. Lift it over the last knitted stitch on right needle and off right needle. This will decrease one stitch.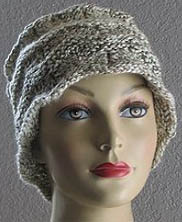 Body:
Cast on 100 stitches. I recommend putting stitch markers every 11 stitches to help keep track of the pattern.
Round 1: Purl. (First round of hat only: Slip first stitch. Purl to last stitch. Purl last stitch with slipped first stitch, being careful not to twist the row. This will close the round and decrease one stitch. 99 st. Place marker.)
Round 2, 4: Knit.
Round 3, 5: Purl.
Rounds 6, 8, 10, 12: * k2tog, k2, k2f&b, k3, sl1, k1, psso rep from *
Rounds 7, 9, 11: Knit.
Repeat rounds 1-12 three more times. You should have a total of four chevrons.
Decrease: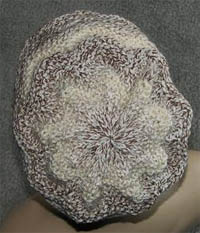 Switch to double pointed needles (or continue with the circular needle as far as you comfortably can — for me until about round 6 — and then switch). I suggest purling off an equal number of stitches on to the double pointed neeedles on the first decrease round.
Round 1: Purl (no decrease).
Round 2: *k2tog, k7, K2tog. (81 st)
Round 3: Purl.
Round 4: *k2tog, k5, K2tog. (63 st)
Round 5: Purl.
Round 6: *k2tog, k3, K2tog. (45 st)
Round 7: Knit.
Round 8: *k2tog, k1, K2tog. (27 st)
Round 9: Knit.
Round 10: k1, *k2 tog. (14 st)
Finishing: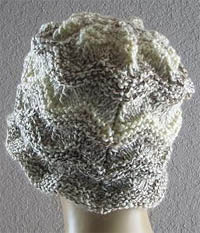 Cut the yarn leaving about 6″ tail. Using a tapestry needle, thread the tail through the remaining stitches. Pull stitches together tightly. Thread tail through hole in crown. Draw crown closed securely by pulling tail. Weave the tail and all other ends through stitches on wrong side.
Also available as a Ravelry download: http://www.ravelry.com/patterns/library/chevron-hat-2
[widget id="text-11″]