To get the knitting patterns, scroll down the page to the individual pattern you want and click on the link to that pattern.
These patterns are not my designs but links to other designers who have generously shared their patterns. If you have questions about how to knit a specific pattern, please contact the designer directly.
All links on this site are for informational purposes, but please note that some links are to affiliate sellers that pay me a small commission on purchases.
Free Patterns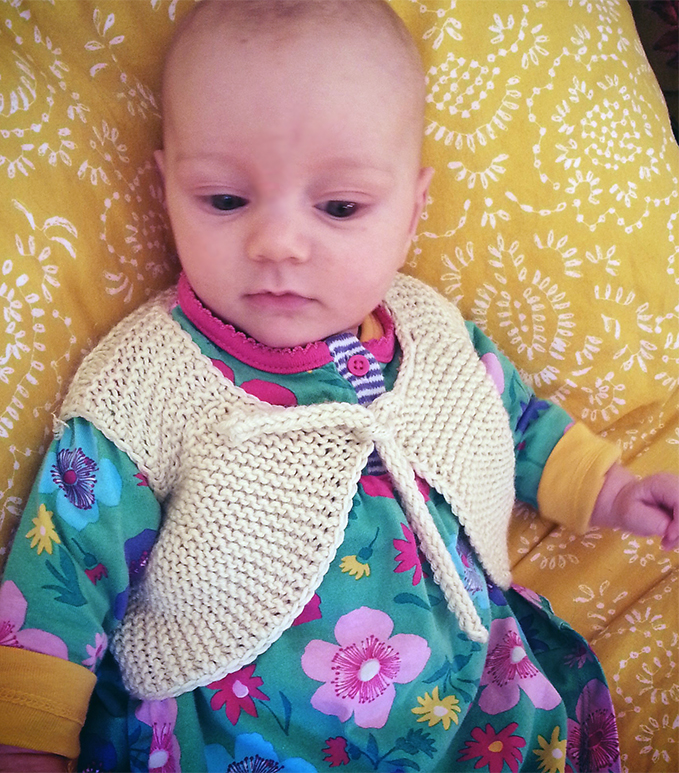 Little Garter Gerkin
Shrug / bolero that is knitted in one piece using garter stitch shaped with short rows. You can use any needles and yarn, and can customize as you knit. All sizes (baby/child/adult). Designed by Gina Jones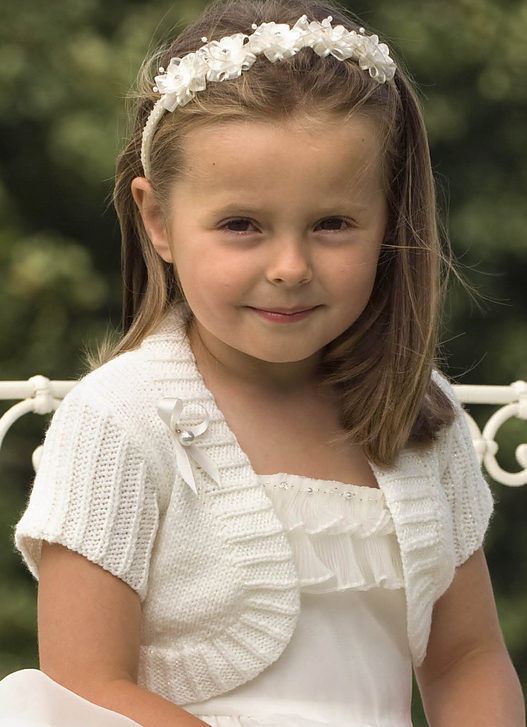 Wendy Bolero
Pretty shrug sized for toddler and children, worked flat. Sport weight yarn. Designed by Thomas B. Ramsden & Co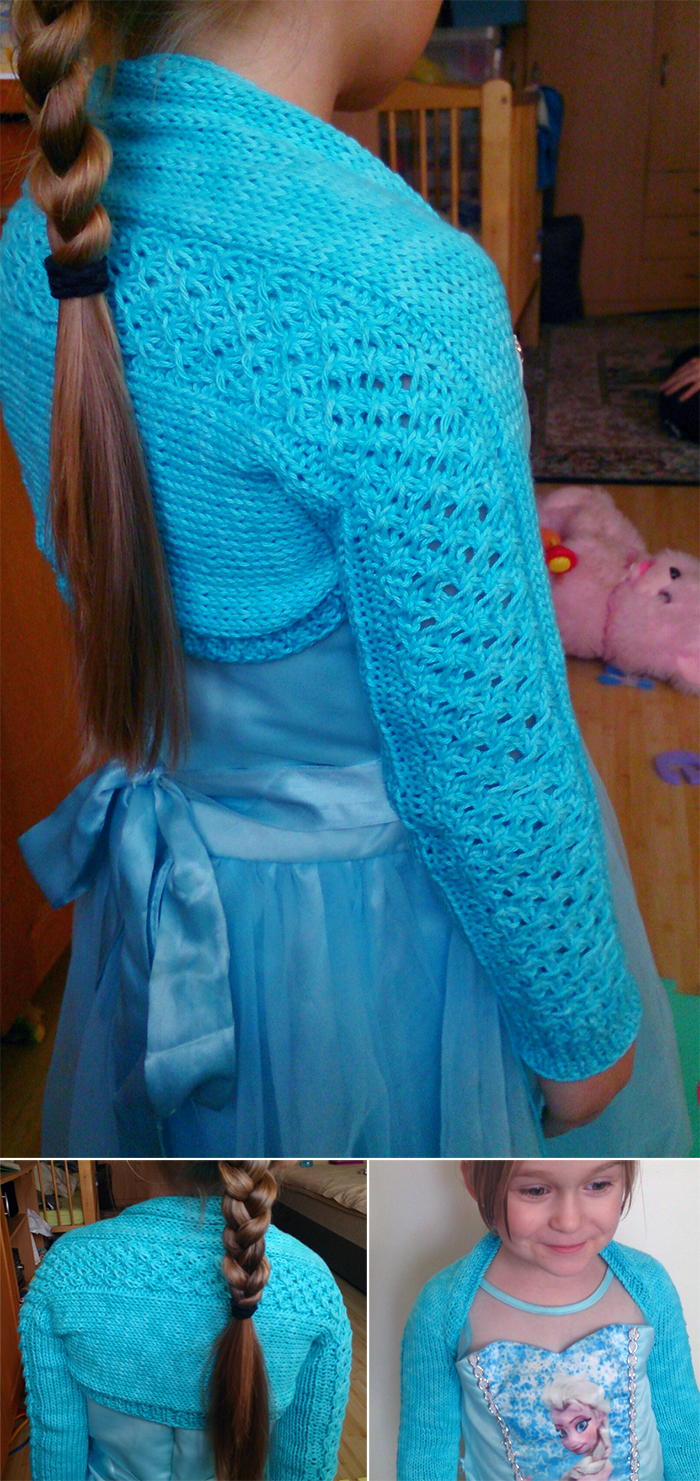 Daisy Lace Child's Bolero
This easy long-sleeved shrug features a band of daisy stitch along sleeves and back. Sport weight yarn. Designed by Kirsti Ummelas. Available in English and Estonian.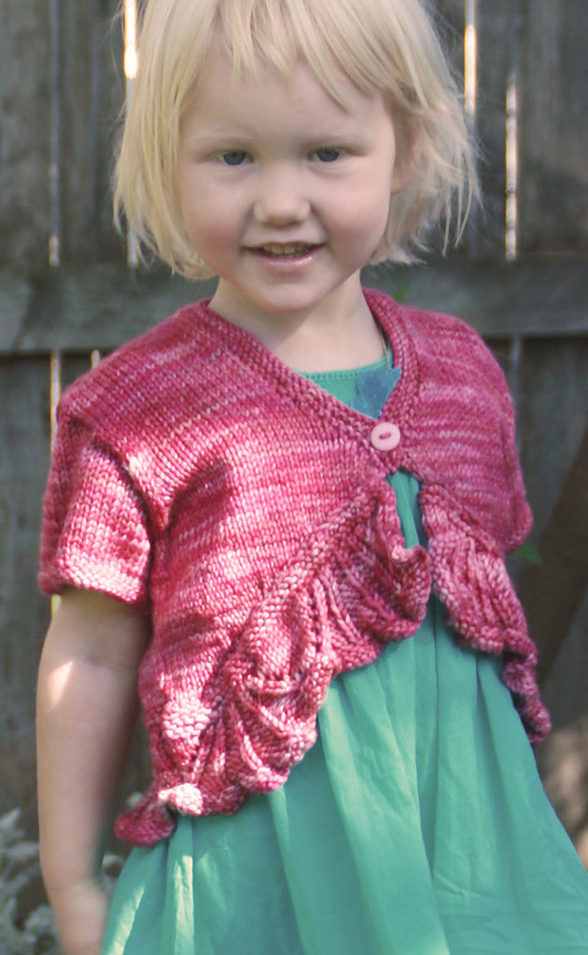 Spring Peplum Cardy
Bolero cardigan with lace peplum border. Sizes 6-9 mnths, 9-12 mnths, 12-18 mnths, 18-24 mnths, 3-4 yrs! 5-6 yrs. Worsted weight yarn. Designed by Charm Knits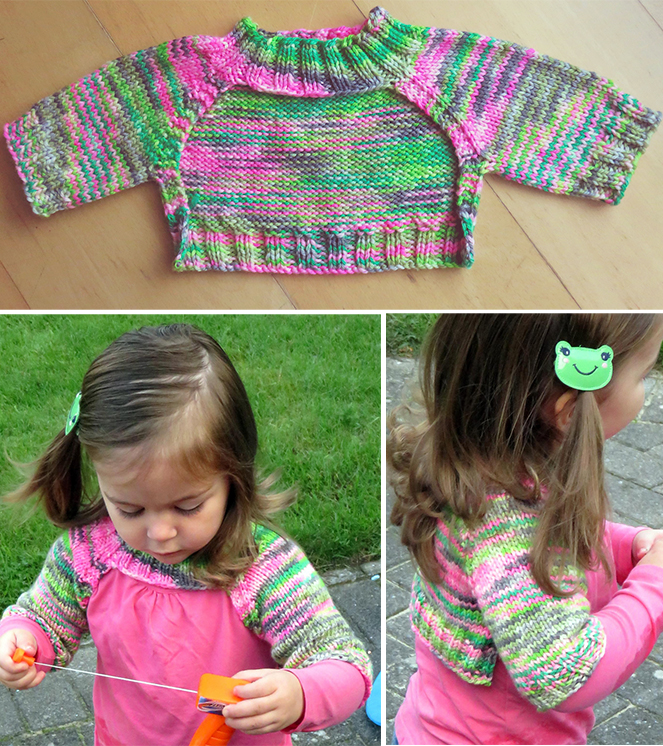 Peppar Baby Shrug
Pullover shrug with ribbed front collar so it will stay on little ones comfortably. Knit top down without seams. Sizes Newborn-3m/6-12m/12-18m/2-3y (4-6y/8y/10y/12y). Worsted weight yarn. Designed by Yarn-Madness. Rated very easy by Ravelrers. Pictured project by listentothelion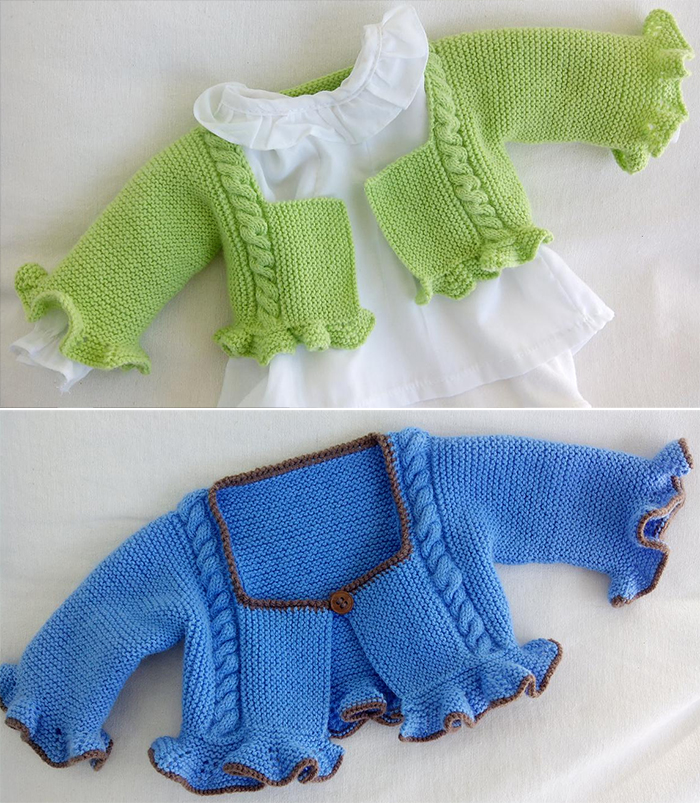 Fiesta Baby Shrug
Cabled short cardigan with ruffles at cuffs and hem. Sizes 0-3 months and 3-6 months. Fingering weight yarn. Designed by Verde Celadon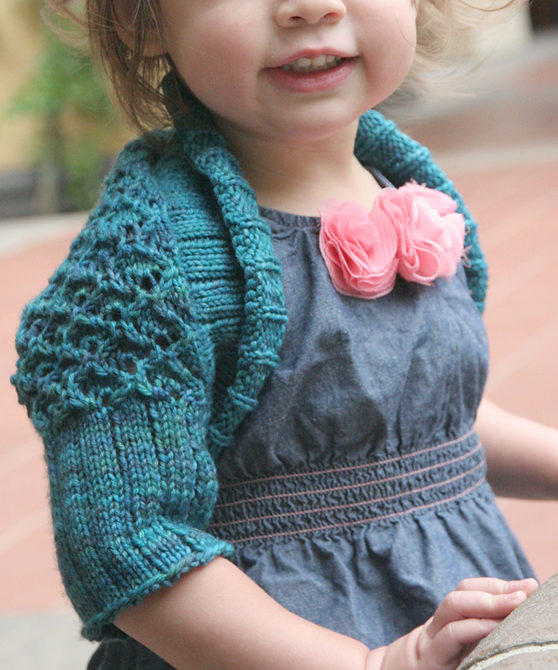 Baby Lace Shrug
Lace shrug with 2 ribbing options. Sizes doll, 6 months, 12 months, 2 years, 4 years, 6 years, 8 years, 10 years. Designed by Gabrielle Danskknit, Pictured project by ilovemath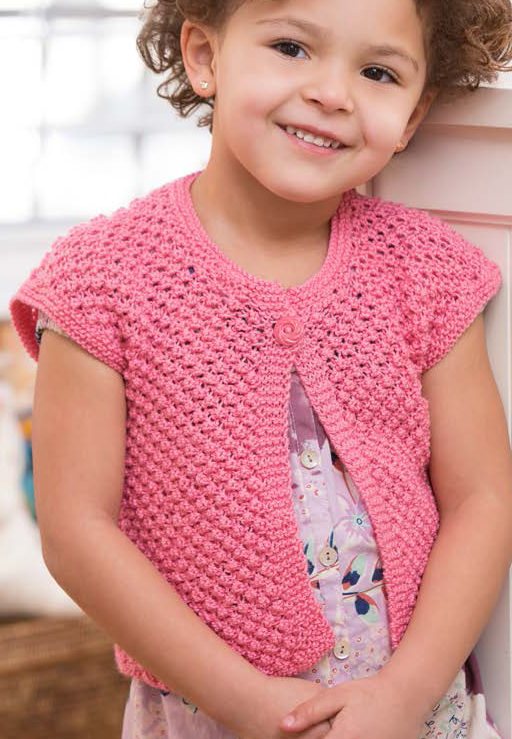 Easy Little Girl Shrug
This easy child's cardigan is knit in a 4-row repeat trinity stitch. Sizes 2, 4, 6, 8 years. Designed by Cathy Payson for Red Heart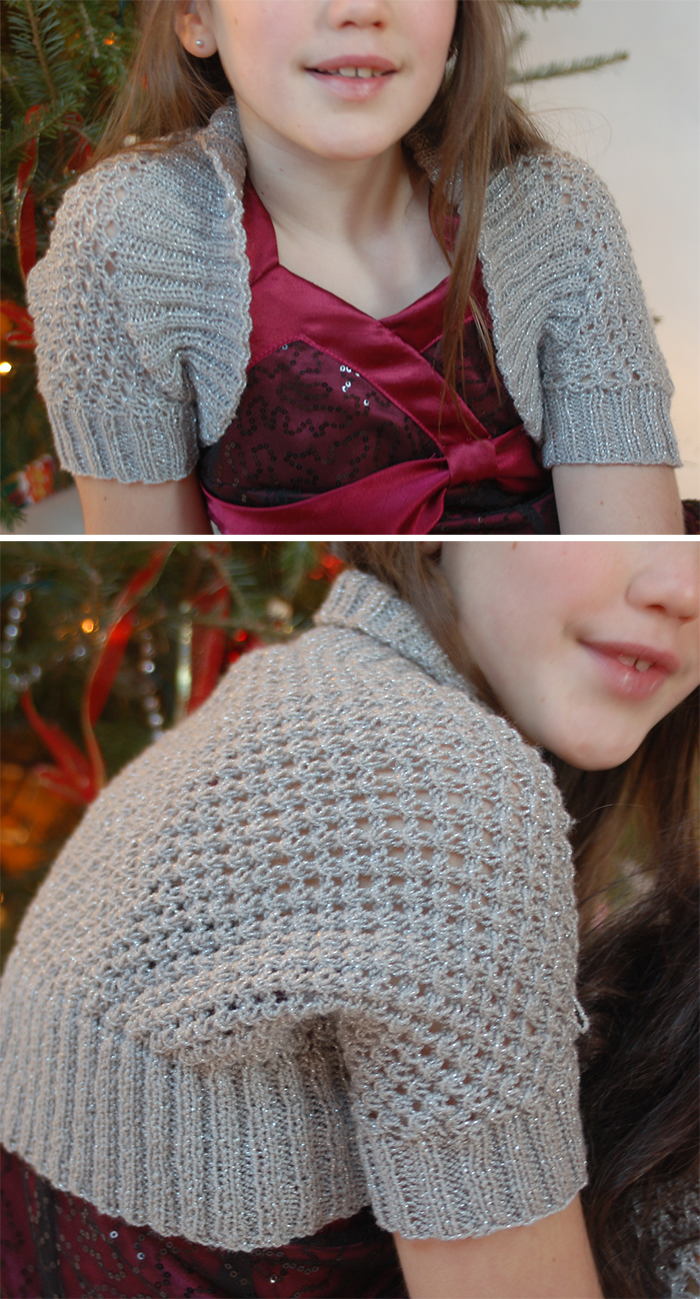 Knotted Openwork Girl's Shrug
This shrug features a 4 row repeat lace pattern. Also comes with matching American Girl size. Sizes Girl's 10/12 and 18-inch doll. Sport weight yarn. Designed by Kristen Renneker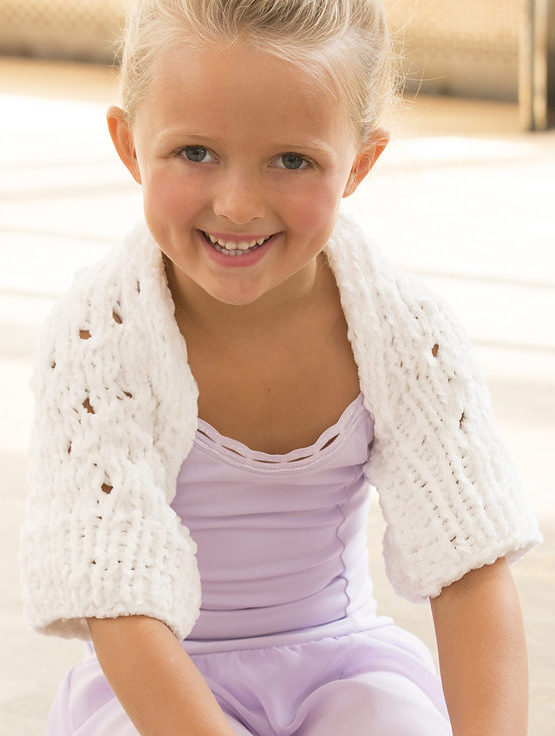 Warming Up Shrug
Quick knit in bulky yarn. Sizes 4 years – 10 years. Designed by Cathy Payson for Red Heart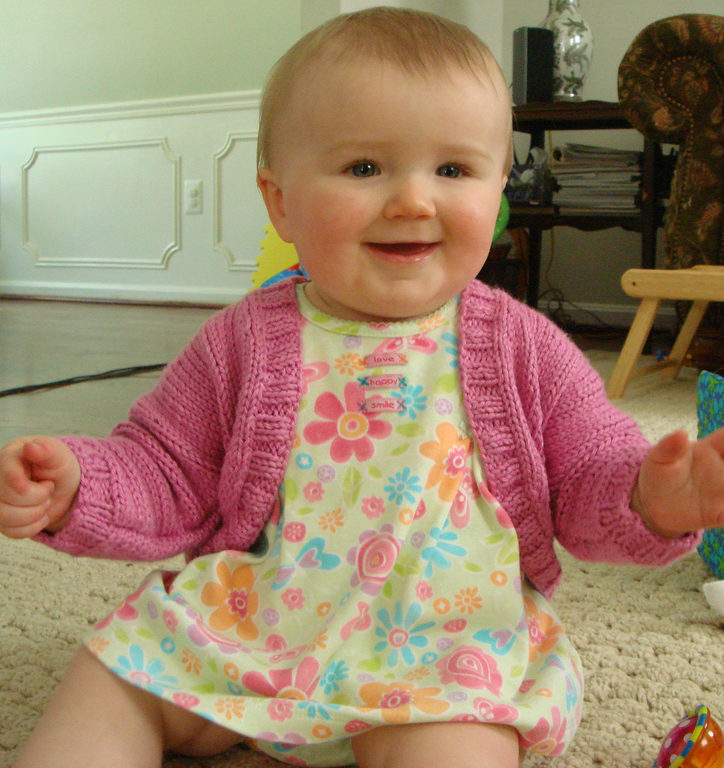 Baby Shrug
Designed by Debbie Bliss, this shrug is knit in one piece and seamed. Sizes 3-6 months, 6-9 months, 9-12 months, 12-18 months, 18-24 months. Pictured project by suecrafty
Hugs and Kisses Baby Bolero
X and O cables embellish the long sleeves of this baby shrug. Sizes Newborn, 3M, 6M, 9M, 12M, 18M. Designed by Rachel Dickman
Patterns for Purchase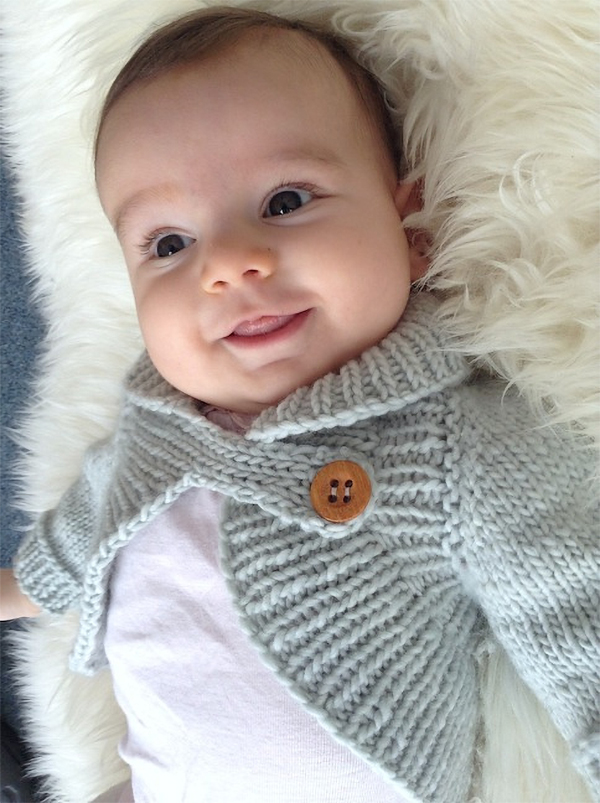 Miss Daisy Shrug for Babies and Children
This cardigan features a stylish shawl collar and flared shape. Sizes: 3mo (6mo, 12mo, 18mo // 2y, 3y, 4y, 5y, 6y). Designed by Lisa Chemery of Frogginette Knitting Patterns. Worsted weight yarn. Available in English and French.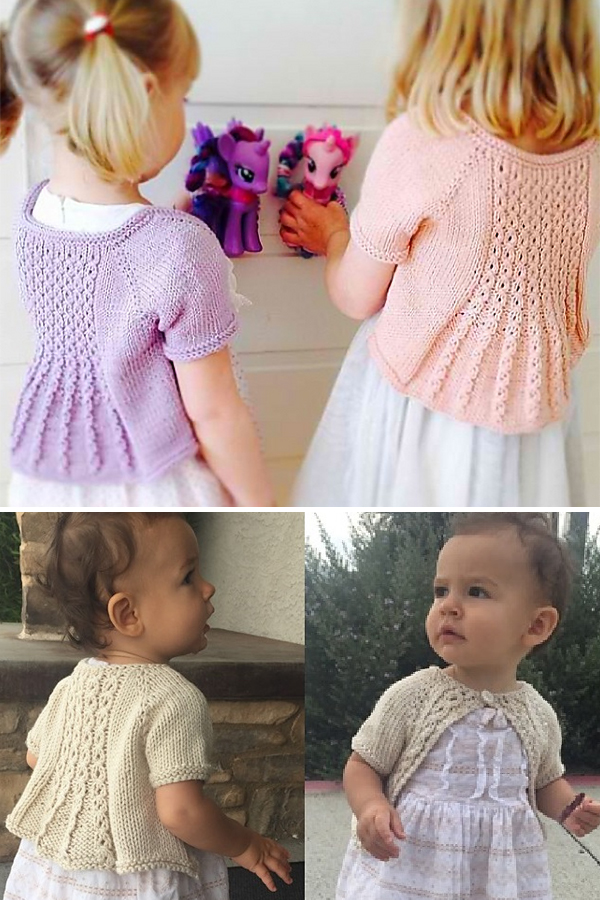 Marian Shrug for Baby through Adult
Marian is a feminine open cardigan/shrug, and has a flared lace back panel. 3 patterns in sizes from newborn to adult. Designed by Taiga Hilliard Designs. Worsted weight yarn.
Sirdar Snuggly Baby Bolero and Hat with Flower 1817
To Fit Age: Premature to 12 Months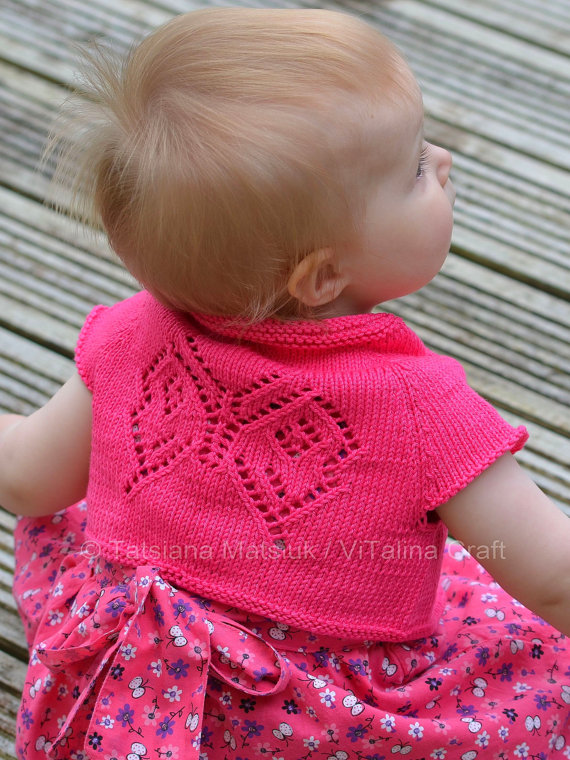 Papillon Bolero
This beautiful bolero is knitted bottom up as one piece with no seams. It has beautiful lace butterfly pattern on the back and raglan sleeves.
The pattern is written for seven sizes: 9-12 months; 12 – 18 months; 2 years, 3 – 4 years; 5 – 7 years, 8 – 10 years, 11 – 12 years.
Get the knitting pattern for $4.00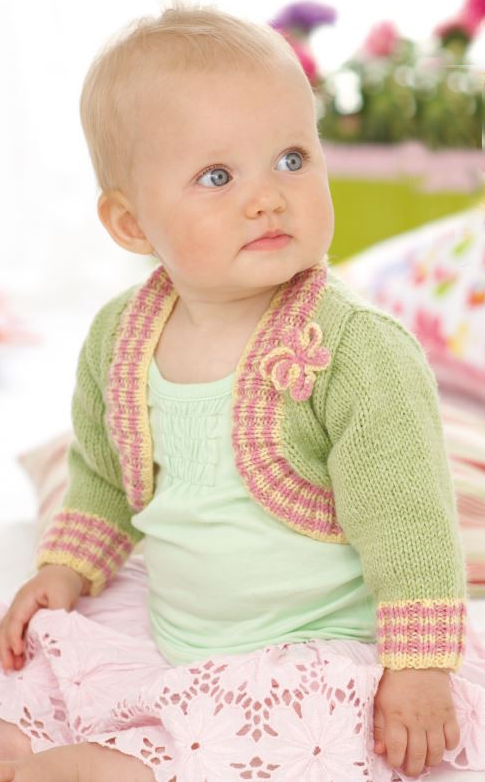 Snuggly Baby Bolero
Ribbed border with optional color stripes, attached knitted flower. Sizes Birth – 7 years (chest 16-26″/41-66cm). Designed by Sirdar. (No longer free.)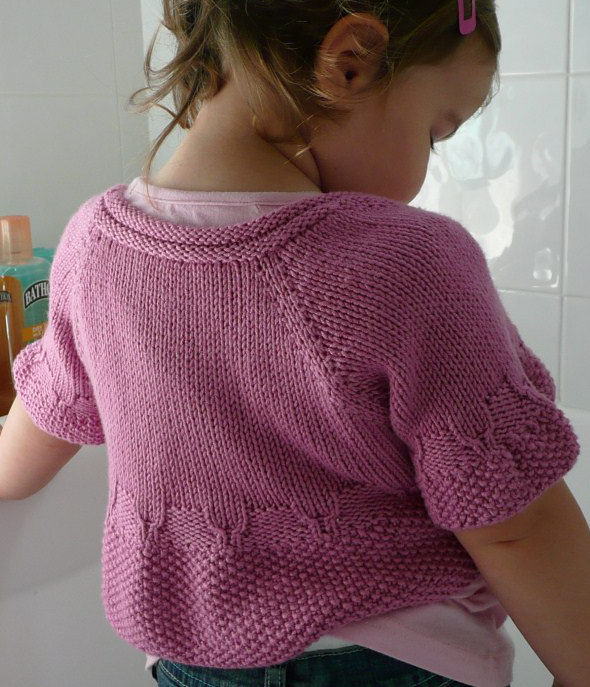 Whirligig Shrug
This baby cardigan is rated easy by the designer Stefanie Japel and most of the Ravelrers who tried it. Sizes 3, 6, 12–18, 24 months. One of the patterns in 5 Favorite Knitting Patterns for Babies and Kids from Interweave. Pictured project by sofiecat